10 Spectacular Wisconsin Fall Road Trips And Scenic Drives You Won't Want To Miss
Fall is when Wisconsin's natural beauty is at its peak. When Wisconsin becomes as beautiful as it possibly can and we get to see its very unique side. It's during the times when Wisconsin puts on those beautiful colors, that a scenic Wisconsin fall road trip is called for, it's an experience that can not be duplicated.
Wisconsin is filled with so many scenic places to visit, all of which are sure to put a smile on your face. Let us play travel guides and share with you some of the many Wisconsin places that we have visited this past year. They need to be on your list to visit so you can experience their fall colors first hand. All of these places put on their most vibrant colors during the fall.
Just picture with me, miles of fields filled with bright orange pumpkins, apple orchards dotted with vibrant red apples, vineyards filled with the ripest grapes all set on a stage of trees covered in oranges, yellows, and green leaves. These places are calling your name, so pull out your road trip checklist from our earlier post, pack the car and grab your keys because adventure and excitement await.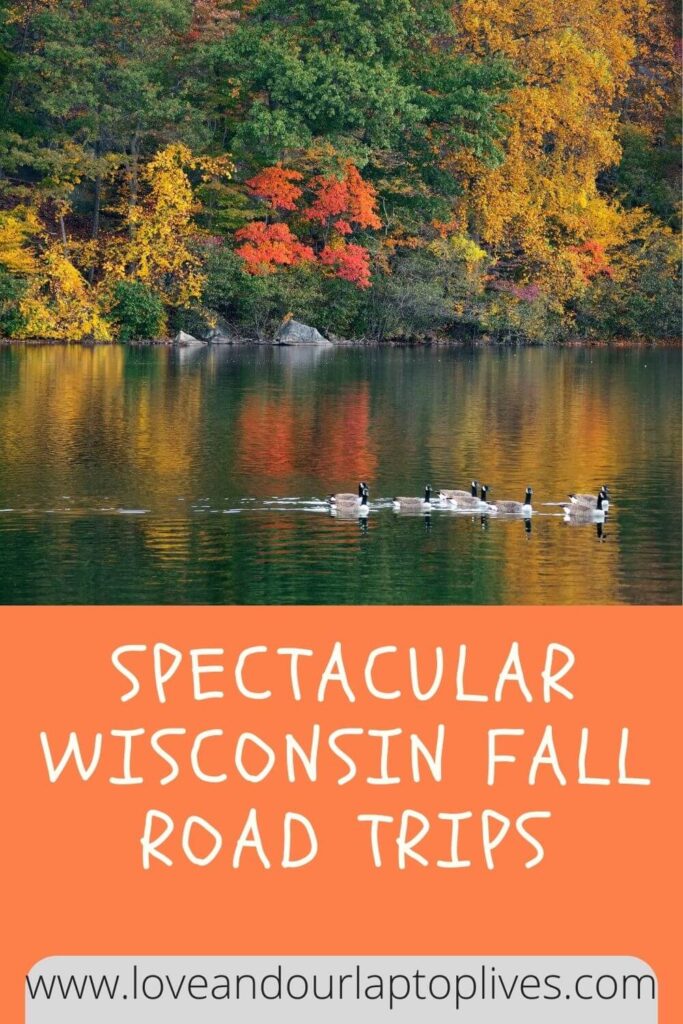 This post may contain affiliate or sponsored links. If you click on a link and make a purchase, I may receive a small commission (at no additional cost to you). Please see my full disclosure policy for details.

1 Wisconsin Fall Road Trip ~ Wausau/Stevens Point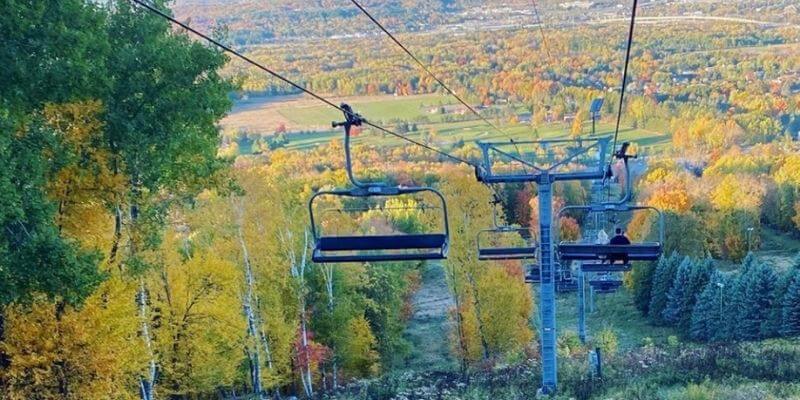 Wausau, Wisconsin is located in Marathon County close to the center of Wisconsin. It was one of our stops on our adventure to the 45×90 Marker: Center of the Northwest Hemisphere. This area is a great place to see Wisconsin's fall colors from a new perspective.
In the fall Granite Peak Ski area opens up its chair lifts, for a small cost passengers can ride the chair lifts and enjoy the spectacular view of the fall colors on Rib Mountain. The panoramic view of the area and treetops is jaw-dropping.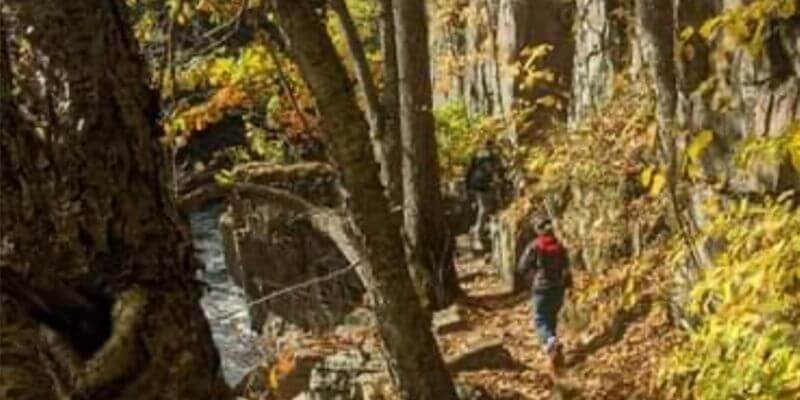 After a visit to Granite Peak, take a short drive east of Wausau to the Dells of Eau Claire. This area is part of the Ice Age Trail, filled with hiking trails, amazing rock formations, and cascading waters.
While in the area, if you love watching wildlife, go the short distance to Schmeeckle Reserve in St. Point. These 280-acres are filled with trails, boardwalks, and a beautiful lake. Don't forget your camera, you'll want pictures of your adventure.
Granite Peak ~ 227200 Snowbird Ave, Wausau
Dells Eau Claire ~ County Hwy Y, Aniwa
Schmeeckle Reserve ~ 2419 North Point Drive, St. Point
2 Wisconsin Fall Road Trip ~ Chequamegon-Nicolet National Forest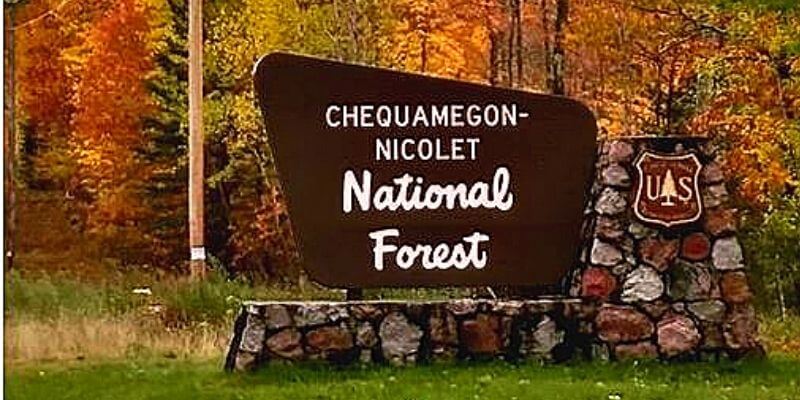 The Chequamegon-Nicolet National Forest in Marinette County was home to our first waterfall road trip adventures this summer. As amazing as this road trip is in the summer, we knew it was someplace we had to go back to and enjoy in the fall.
A five-dollar park pass is required for the day and will get you entrance into all of the waterfall parks on our tour. The pass can be purchased at your first stop.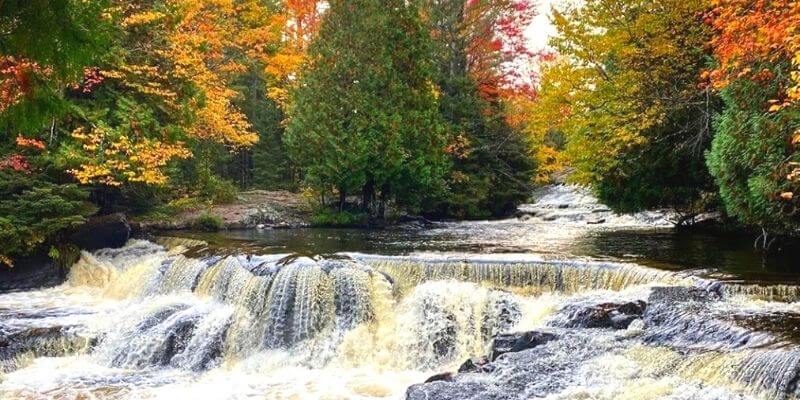 The fall colors against the amazing waterfalls are even more breathtaking then visiting the waterfall over the summer. Our summer road trip included 7 different waterfalls and many miles of just enjoying the tree-lined roads and getting lost.
We have saved our Google map so you can visit the same seven waterfalls in the Chequamegon-Nicolet National Forest that we did. Once on the Google map, you can make adjustments such as adding extra places you would like to stop or taking a detour. It's easy to get lost and end up on a road that might be just access roads like we did, and then discover that you don't have reception in the forest. So please take some kind of map with you.
3 Wisconsin Fall Road Trip ~ Wisconsin Dells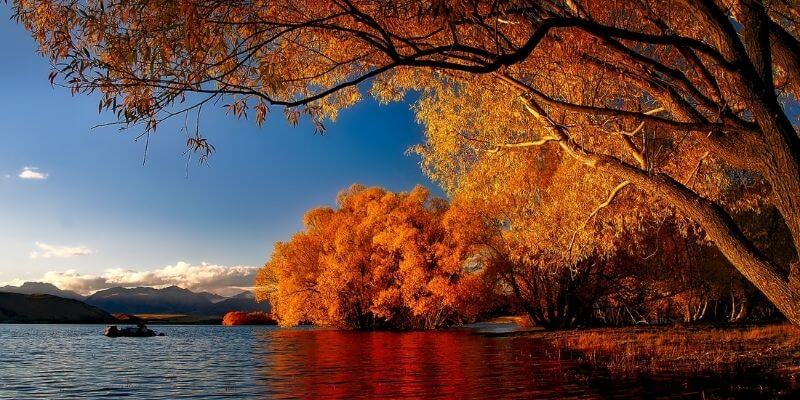 Wisconsin Dells is located in southern Wisconsin in Sauk county. It is known as the water park capital of the world. But there is another side to the Wisconsin Dells. Visitors that have looked past all of the tourist stuff that the Wisconsin Dells has to offer, have found a more natural and beautiful side to the Wisconsin Dells.
Our Trip to the Wisconsin Dells in the fall gave us a glimps of how beautiful the Wisconsin Dells once was.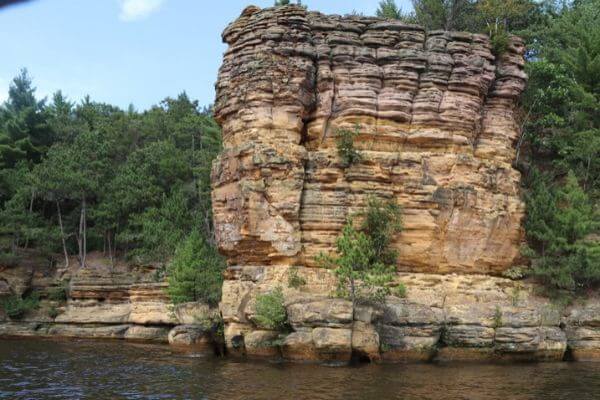 The Wisconsin Dells area is filled with many glacier-carved sandstone formations. Mirror Lake State Park can be an outdoor enthusiast playground. The fall colors can be enjoyed by boat, horseback, or hiking. All of which add their own unique view that the Wisconsin Dells has to offer.
4 Wisconsin Fall Road Trip ~ Door County
Door County is on a peninsula in Wisconsin, located between Green Bay and Lake Michigan. It is known for miles and miles of shoreline and parks. It's one of the few places where you can see the sunrise in the morning and the sunset in the evening.
This treasure is somewhere that everyone must visit at least once. Gary and I have taken many Day Trips to Door County, each filled with a different adventure. While in Door County you can not miss taking Highway 57 North until you come to the Washington Island Ferry. That last few miles of Highway 57 is a photographers' dream when you can keep the traffic away.
Unfortunately, Door County is not undiscovered and we have found it can be extremely busy. Avoid weekends and just go! That stretch from Sturgeon Bay to the Washington Island Ferry is gorgeous when it puts on its fall colors.
Door County is filled with many impressive sights ~ even with the tourist Door County has that small harbor-town feel.
Cave Point State Point ~ known for its limestone rock formations and the beautiful view of Lake Michigan.
Al Johnson's in Sister Bay ~ Al Johnson's is a Swedish restaurant but even if you are not looking for breakfast or lunch, do stop and watch the goats that graze on the roof.
Vinyard ~ Door County is home to several vineyards. A stop at one or several of these is a must for any Door County trip. Many of the local wineries also serve a sampling of their local wines.
Washington Island ~ After taking the drive to the tip of Door County it's only fitting that you indulge in a ferry ride to Washington Island. The Washington Island ferry takes you across Deaths Door, a passage between the Bay of Green Bay and Lake Michigan, which is said to have claimed many ships over the years.
Door County Fish Boil ~ No visit to Door County is complete without experiencing the fish boil a Door County tradition.
5 Wisconsin Fall Road Trip ~ The Great River Road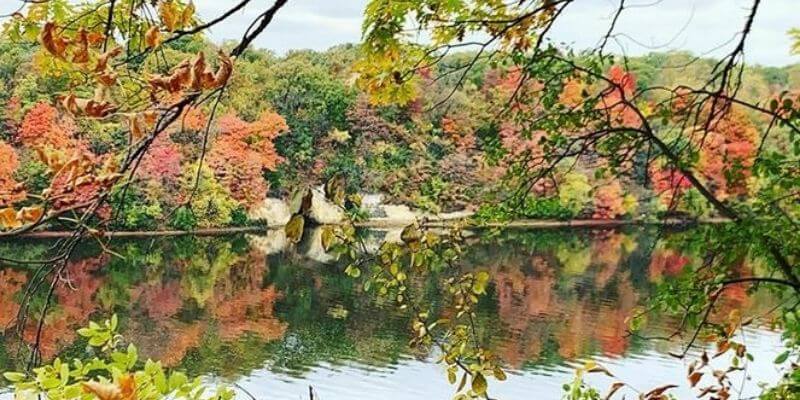 The Great River Road is Wisconsin's only national scenic byway. It is Wisconsin's most unbelievably beautiful scenic drive. The Great River Road extends almost 3000 miles through 10 states in total. In Wisconsin, it runs along the Mississippi on the Minnesota border.
The Wisconsin portion of the Great River Road runs from Potosi in southern Wisconsin for 250 miles north through 33 quaint towns to Prescott. The great River Road drive is filled with the beauty of the Mississippi River to your west and bluffs, quaint towns and state parks filled with wildlife, hiking, and camping to your east.
6 Wisconsin Fall Road Trip ~ Superior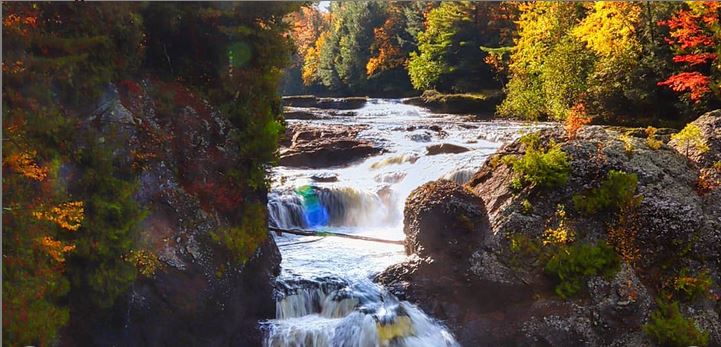 Superior was the area of our second waterfall trip over the summer, where we stopped at several waterfalls including Wisconsin's tallest waterfall. Even without the fall colors being at their peak, this area took my breath away.
The drive through upper Wisconsin from Superior Falls in Saxon, Wisconsin through Ashland to Big Manitou Falls in Superior offers you many opportunities to stop and enjoy all of the amazing views. Both waterfalls offer chances to do a little day hiking and enjoy the nature in the parks surrounding the waterfalls.
A stop in Ashland is a must, if time permits I would recommend a boat trip to enjoy The Apostle Islands and get the fall view from the water. If a boat trip does not fit your schedule driving through Ashland is still a must just to enjoy the fall colors while overlooking Lake Superior.
Superior Falls, Saxon, WI
Big Manitou Falls ~ 6294 WI-35, Superior, WI (Pattison State Park)
7 Wisconsin Fall Road Trip ~ Baraboo / Devils Lake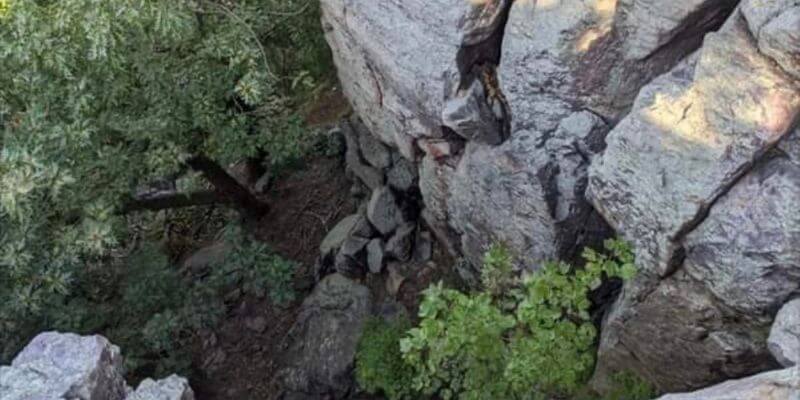 Devils Lake State Park is a hiker's dream. Devils Lake is located in Baraboo, Wisconsin. It is one of Wisconsin's most popular parks. The park is open 6 am – 11 pm and it does require you to have a Wisconsin state park sticker to enter.
There are a lot of activities at Devil's Lake State Park to keep everyone busy. You will find picnic areas with grills, large sandy beaches, and over 29 miles of hiking and biking trails.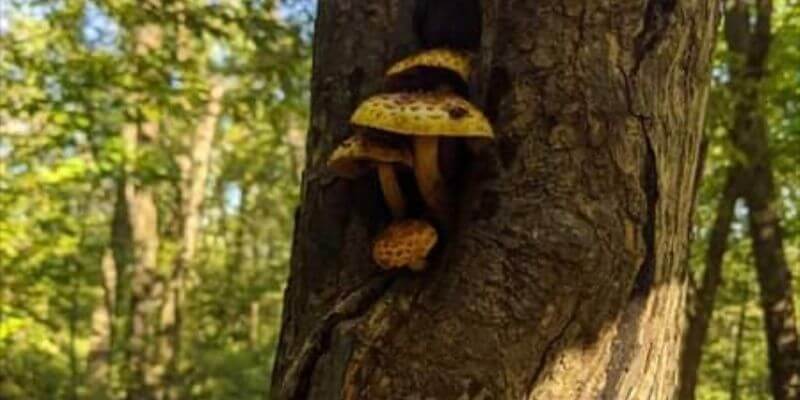 In the fall the area comes alive with colors and with trails for the experienced day hiker to the novice. This is someplace that everyone can and should go to enjoy the fall colors.
8 Wisconsin Fall Road Trip ~ Spring Green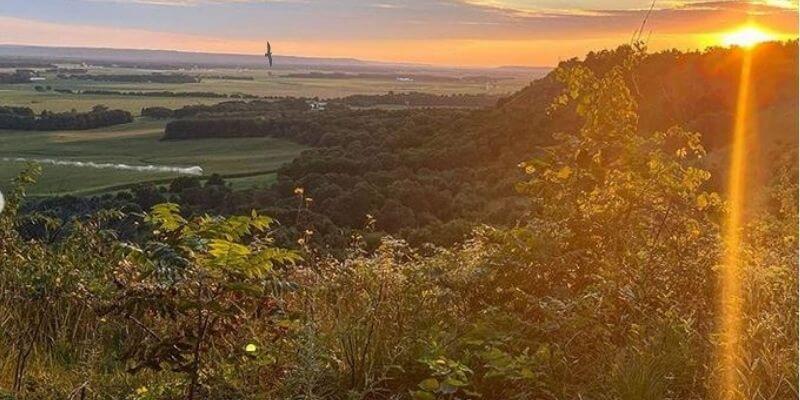 A road trip to the Spring Green, Blue Mound, and Mt. Horeb area is an amazing escapade in itself. The roads to any of these areas are filled with excitement around every curve and over every hill. Making the drive itself and adventure.
If you are looking for more than just a drive to enjoy the scenery, this area is home to Frank Lloyd Wright's Tailspin, where Wright lived much of his life. It is also home to the infamous and fabulous House on the Rock. An unusual home built by Alex Jordan Jr. that is now opened as a museum and house many of Alex Jordan Jr.'s unusual collections, including the world's largest carousel. You will also find Cave of the Mounds and Troll Town USA (Mt.Horeb) all within driving distance of each other.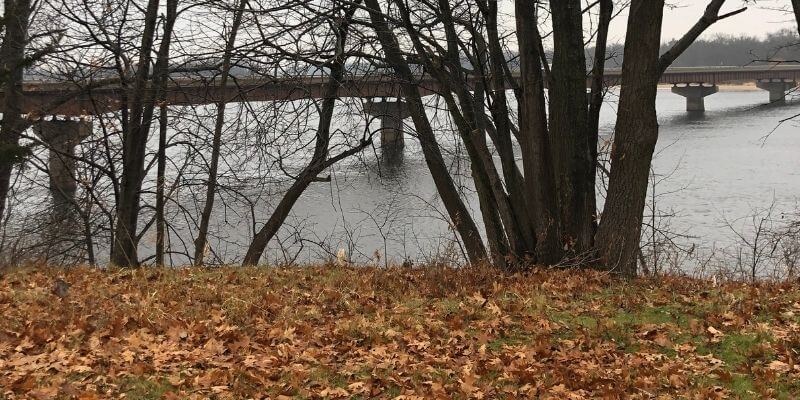 This is a Wisconsin fall road trip you won't want to miss.
You can link directly to our Google map for this adventure and add any additional stops you wish to include on our road trip.
Taliesin ~ 5481 County Rd C, Spring Green
House on the Rock ~ 5754 WI-23, Spring Green
Cave of the Mounds ~ Cave of the Mounds, Blue Mounds
Mt. Horeb ~ Mt Horeb, WI
9 Wisconsin Fall Road Trip ~ Minocqua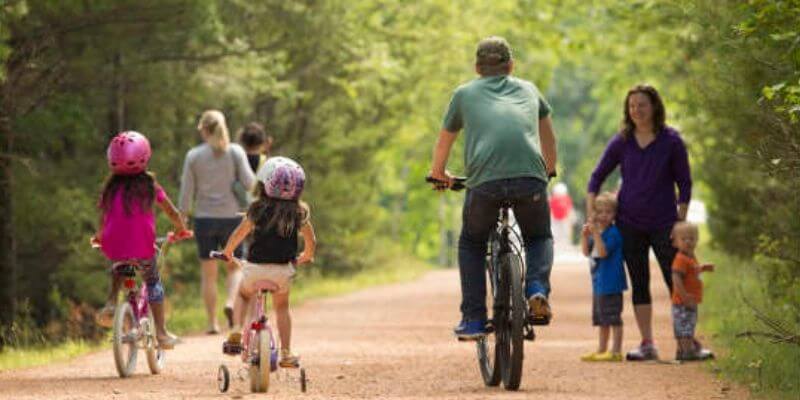 Minocqua is located in northwest Oneida county. It is a nature lovers paradise. Throughout the summer it is filled with vacationers seeking fun on the water. Whether it be boating or fishing, Minocqua has it.
Once fall sets in and the foliage starts to change, the number of vacationers dwindle. This becomes hikers and cyclist's dream when the foliage is breathtaking. It's time to hit Bearskin trail, an 18-mile ride starting in downtown, past blue lakes and through thick forest along Bearskin Lake and across trestle bridges.
Minocqua is also home to several smaller, spectacular trails and clean clear lakes. Beaches and campgrounds are still available in the fall.
Stop in at the local tourist bureau and pick up a color map and be sure to not miss these jaw-dropping colors of Minocqua.
10 Wisconsin Fall Road Trip ~ Horicon Marsh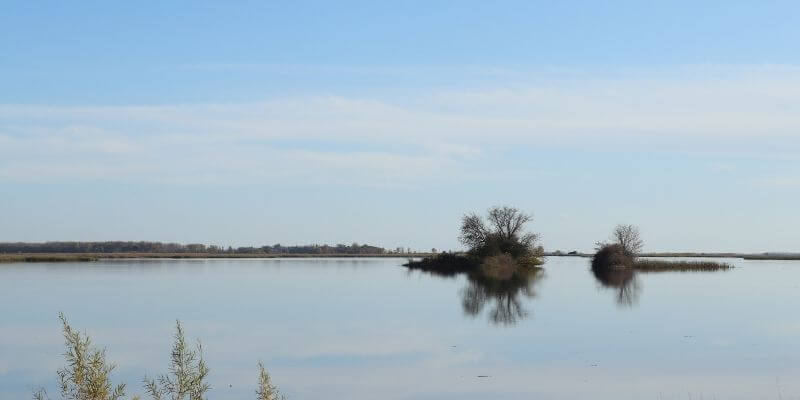 The expansive Horicon Marsh is located in part, in Southern Fond du Lac County. Horicon Marsh is both a national park and State Wildlife refuge. It is the largest freshwater cattail marsh in the United States encompassing thousands of acres.
When Gary was younger he used to visit Horicon Marsh in the fall. Horicon Marsh was at one time the main resting area for more than 500,000 Canadian geese, and other waterfowl, migrating south. He recalls it being an amazing sight with the sky and water were blackened due to the massive numbers of the migrating Canadian Geese.
Our drive to the marsh was beautiful but our visit was different than he remembers as a child. Although the geese were migrating very few were to be found in the waters and the sky. According to the DNR, with such large numbers of geese stopping in one marsh, the potential for a disease wiping out large numbers of birds and destruction of property was too high.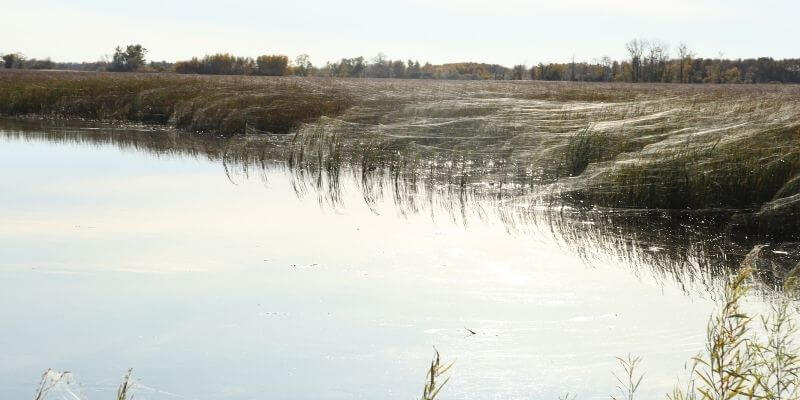 Over the years, The geese have been spread out into surrounding marshes to reduce the risk of disease and create a more sustainable population. An amazing 100,000 + geese still stop at Horicon Marsh on their way south. So does some other time little creatures.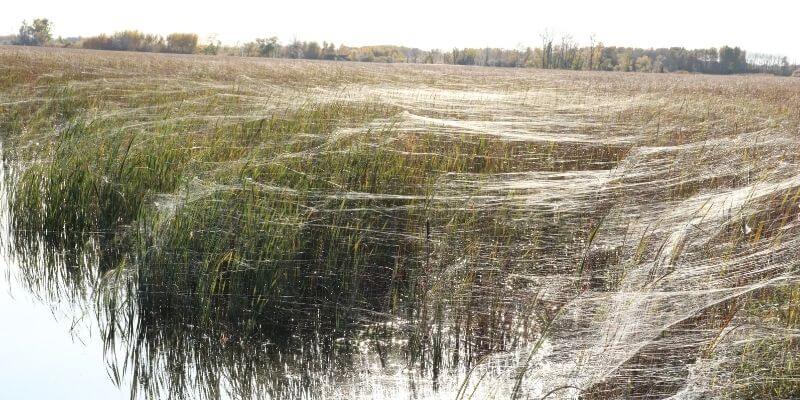 Fall is also the time of year when baby spiders hatch and put their web in the wind. Although I am not a fan of spiders, it was awesome to see how these tiny, but multitudinous, spiders gracefully decorated all of the brush and cattails (and our truck) with their webs. Looks like they have been very busy! Not a sight one sees very often.
With fall in the air be sure to check out our additional blog posts.
Wisconsin Dells in the Fall
Simple Fall Decorating
Cozy Fall Nights
Self-care Activities for the Fall
Romantic Fall Bucket List
Whistler in the Fall
Each of these road trips take you into some amazing places, each very different. Which Wisconsin fall road trip will be on your list this year? Please share with us any Wisconsin fall road trip that might not have made it to our list. We always love finding new places to share with you.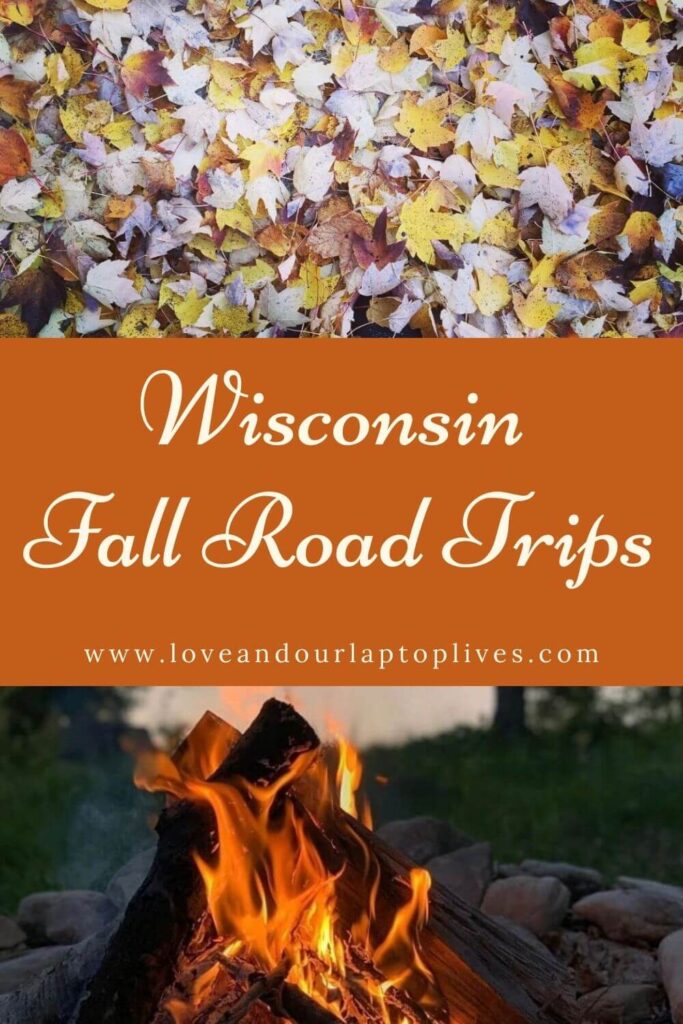 Thanks for stopping by! If you would like to reach us with a
feature idea, you can email us at ~ [email protected]
We would love to partner with you to feature your travel destination.
Follow us on Social Media
Facebook @ Love and our Laptop Lives
Pinterest @ Love, Travel and our Laptop Lives
Instagram @ Love our Laptop Lives
Twitter @ Love and our Laptop Lives
Youtube @ Love and our Laptop Lives
Amazon Store @ Love and our Laptop Lives