Ready or not fall is here! Whatever life looks like for you this fall, simple fall decorating ideas can make your home feel comfy and cozy. Many of us are choosing to stay put, whether you are staying in or not making our home feel warm and inviting is important.
This year I'm choosing to get away from the bright colors we all associate with fall and I'm not going over the top with decorating. A more neutral pallet with just little accents of color will be our background for fall. It's all about the little touches in unexpected places. They instantly transform our home into feeling warm and inviting.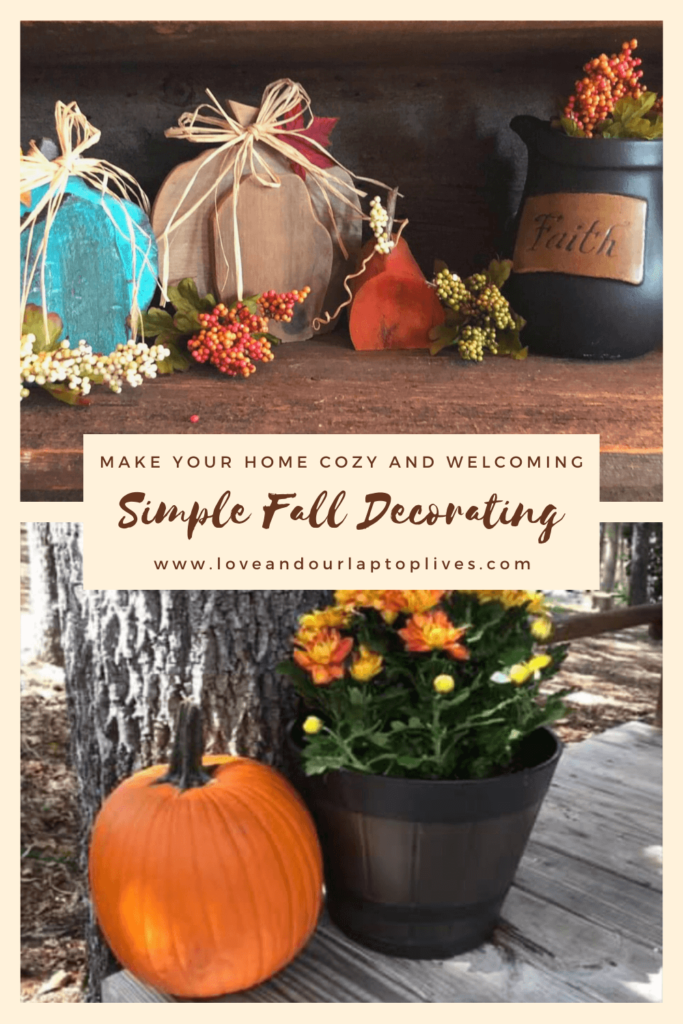 Warm, Cozy, and Simple Fall Decorating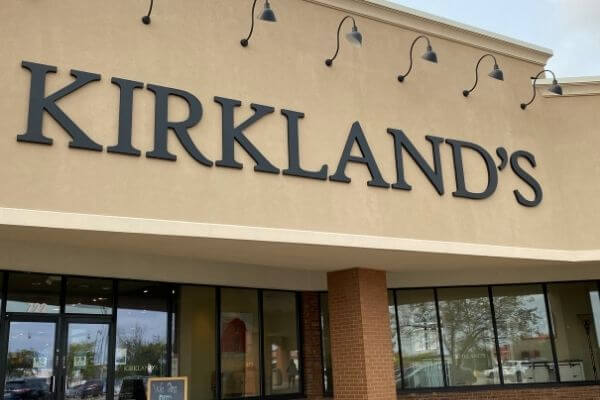 This post may contain affiliate or sponsored links. If you click on a link and make a purchase, I may receive a small commission (at no additional cost to you). Please see my full disclosure policy for details.
Most of my decorating ideas this year are coming from Kirkland's. I love the fact I can go into the store and play with the items, move things around and see what works. I get to not only see the items but I get to feel them, know the textures, and see how they all work together. If you don't want to go into the store you can still have Kirkland's great fall items. No need to worry all items are available online, ship to your local store for car side pick up or ship directly to your home.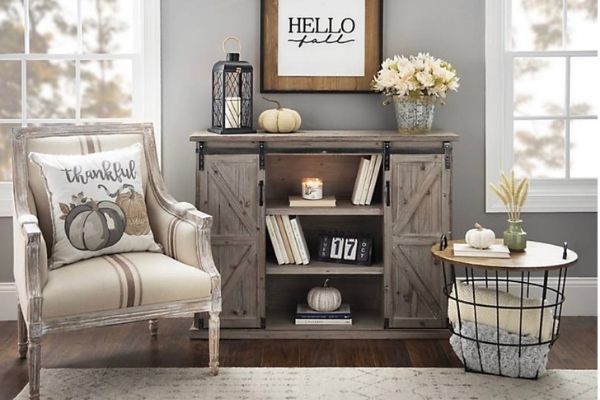 Kirkland's is one of the nation's leading home decor retailers. They are experts in everything home decor. They offer a wide range of unique, high-quality, and affordable products to enhance any home such as wall art, plaques, candle holders, holiday decor, furniture, and much more.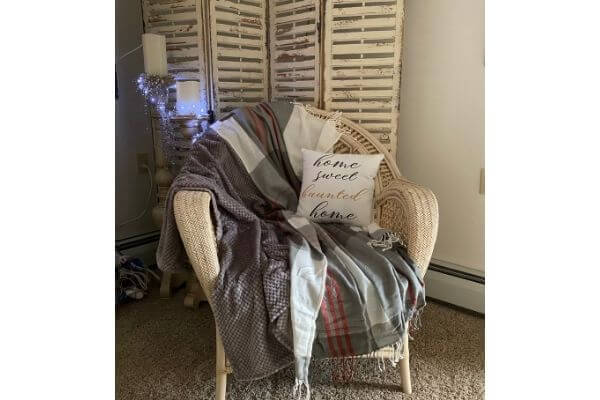 These neutral tones of gray and cream with just the slightest touch of dark burgundy make this corner warm and inviting. The glimmer string lights make it even cozier. Come Christmas, for an easy transition I'll be able to just replace the pillows with red ones.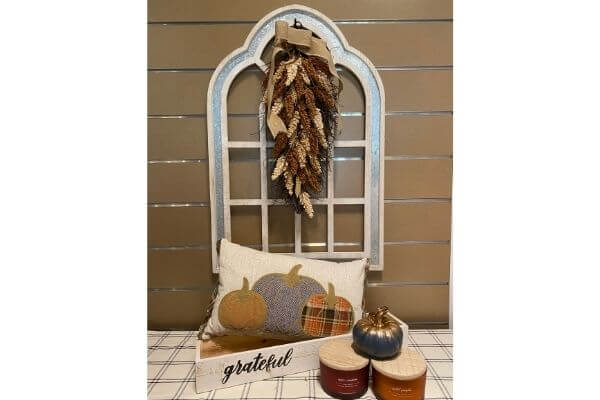 While I was in the store looking at this year's fall selections, I started doing a little playing to see what they had that I could use with some of my already existing neutral fall items. Keeping in mind I'm looking to do some simple fall decorating, these are just a few of the items we found that would work with our neutral pallet.
With my home looking and feeling so cozy, it's a great time to plan a Romantic Date Night home for two or a Romantic Weekend Staycation.
Kirkland's three-wick candles in the fall fragrances really sets the tone when walking through the door. Apple Cinnamon, Salted Pumpkin, and Pumpkin Apple Cider are just a couple of their more popular ones.
Simple fall decorating shouldn't stop with just pulling out those totes of decorations. Carrying the fall feeling through to your dinner table doesn't have to involve great cost or even a set of new dishes. By adding a fall napkin ring our Kirkland's buffalo checked dinnerware easily transitions to play center stage on our table.
Don't overlook your porch, Fall is a great time to give your front door that new and exciting look. Your front door is the first thing your visitors see. Kirkland's has some great options for your front door. It's easy to start with a general fall look: leaves or sunflowers, add some outdoor lanterns, using either wooden crates or straw bales to create some height and dimension. Add that welcoming doormat. Pile on the pumpkins or gourds and your front door is more than welcoming.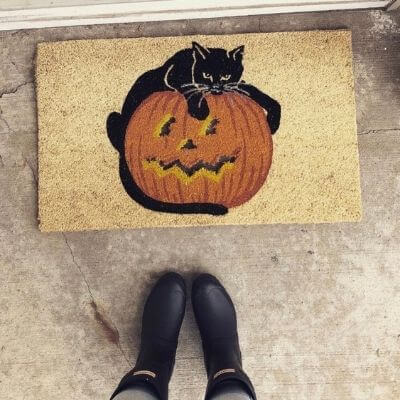 Orange pumpkins will give you that traditional look, but right now there are so many other choices, choose the right mixture for your look.
Don't forget to add in that wreath. It can either be the centerpiece of your front door statement or small and more welcoming. Decorating is so much fun, it allows you to express yourself.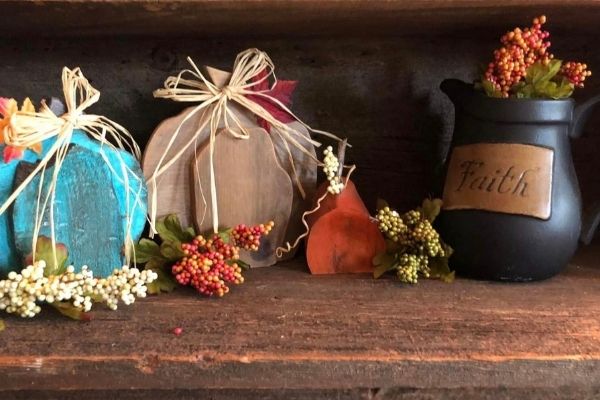 I love Kirkland's but don't limit yourself to just one place when it comes to decorating. By picking up pieces from various places, while on vacation, antique stores, or handmade items, that allow you to create a statement that's truly you!
Is it beginning to feel a little like fall? It definitely is here. Check out several of our fall blog posts to get your fall off to a great start.

Our Romantic Fall Bucket List ~ Take a look at all of these fun fall activities and download the Fall Bucket List to see how many of these fun fall activities you can check off before the first snow flies.
Self Care Activities for the Fall ~ This list of self-care activities will have you glowing and ready for anything fall has to offer.
Essentials for a Cozy night in the Fall ~ When the weather gets cooler and we head inside, get ready for some cozy time.

Simple Fall Decorating with Mrs. Meyers
In addition to the fall decorating and adding candles, another way we add warmth to our home is by swapping out our cleaners and soaps with fall scents. I have recently discovered Mrs. Meyers and the Grove collections. They have several fall scents like apple cider, spiced pumpkin, mum, and acorn spice. Any of these scents will give your home that warm and welcoming feel.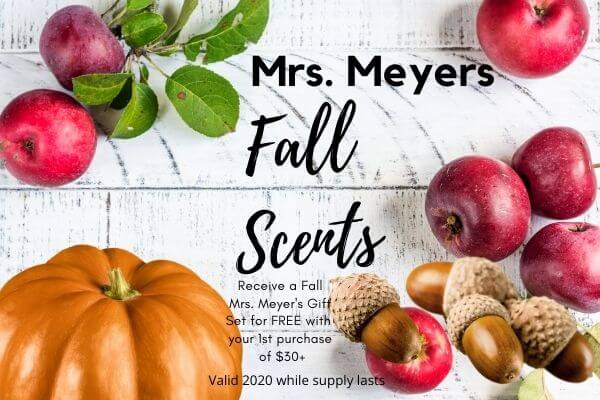 Right now all new customers who sign up with Grove will receive a Free Fall Set. And if you spend $49 or more you get an extra bonus gift. This is a great time to stock up on fall cleaning products and try some of Grove's amazing formulas and scents.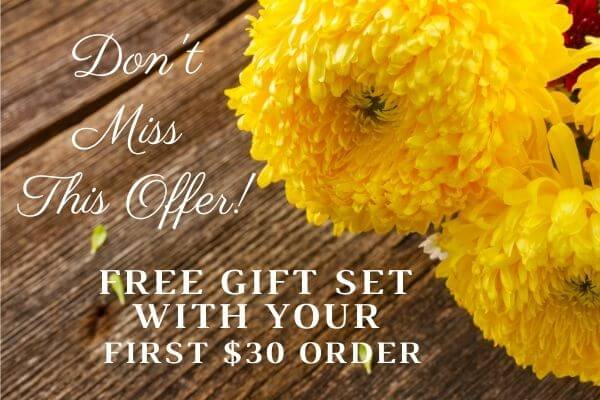 You really don't want to miss out on this offer! Not only will Grove save you precious time and money as you gear up for Fall, but the free fall set is full of some awesome products. Mrs. Meyer's fall scents are a must-have this time of year. The fun part is Mrs. Meyers is always including extra free gifts and you never know what free gifts you'll get so it's like Christmas morning when your first order arrives. And if you spend $49 or more, you'll get an additional bonus gift!
So what exactly is Grove Collaborative?
Grove is an online subscription service that makes getting the best cleaning, household, and personal care products totally effortless and affordable – from toothpaste to toilet paper to facewash. Each order is customizable and you can change the delivery schedule and products to fit your needs.
I'm a new fan of Grove and have found they help me save money and time. At the same time, they are helping me create a healthier and cleaner home. The extra bonus is I get all this without having to run to the store. I also don't have to worry about running out of dish soap or rushing to the store at the last minute.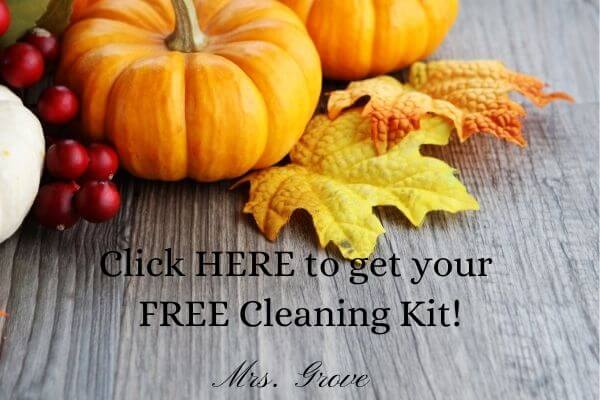 Click Here to get your free fall cleaning set
Note: Grove only ships to the lower 48 states at this time ~ no Canada, Hawaii, or Alaska at this time.
Disclaimer: This is a sponsored post by Kirkland's and Grove Collaborative. All opinions are my own and I only recommend products or services I use personally and believe my readers will enjoy.
Gary & Michelle
XOXO
Thanks for stopping by! We would love for you to stay in touch!
Whether you have a question about our site, want to work with us,
or just want to say "Hi" please feel free to send us a message.
You can reach us at [email protected]

Or follow us on Social Media
Facebook @ Love and our Laptop Lives
Pinterest @ Love, Travel and our Laptop Lives
Instagram @ Love our Laptop Lives
Twitter @ Love and our Laptop Lives
Youtube @ Love and our Laptop Lives
Amazon Store @ Love and our Laptop Lives