Things To Do In Whistler in the Fall
This blog posts may contain affiliate links. If you click a link and make a purchase through that link, we may receive a small commission at no extra cost to you.
Whistler is a small town in British Columbia, Canada, and is known for its' winter activities. For us, many places in Canada are high on our must-do list, and Whistler sounds like a great place to start.
Although Whistler may be beautiful, fun, and adventurous in the winter, fall would be the time of year we would like to visit.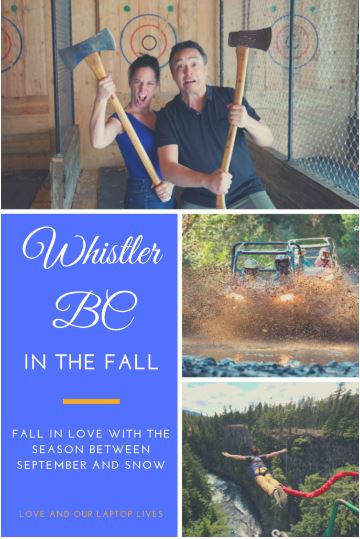 Although Whistler's lofty reputation as a world-renowned winter wonderland, this mountain town in the heart of British Columbia has lots to offer during fall. Mountain biking, RZR ATV Tours, ziplining, bungee jumping, and world-class accommodations, whether in or above the gorgeous fall colors on the mountain, are a few great ideas to get your adrenaline pumping and also regenerate to get after more adventure tomorrow.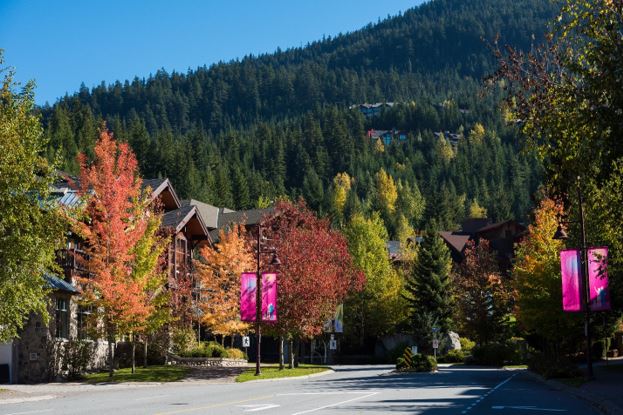 The jewel in the Whistler calendar, fall brings vibrant red and orange colors, crunchy autumn leaves, and a laid-back pace ahead of the peak winter season. The weather's great too. In fall, you can expect temperatures ranging from 8 degrees Celsius (high 30s) to about 20 degrees Celsius (the mid-50s), so you'll enjoy crisper, cooler weather without trundling through thick snow.

Maybe you're looking to relax and love to hike or fish. The hiking trails are blazed and there is year-round fishing whether on your own, with a guide or by charter. Be sure of one thing, that you have packed plenty of clothes for layers and prepare for a host of adventures. Here's our guide to visiting Whistler in autumn.
Top Fall Activities in Whistler
Whistler is an adventurer's paradise and there are a number of great activities just waiting to be enjoyed, even before you dust off those skis and snowboards.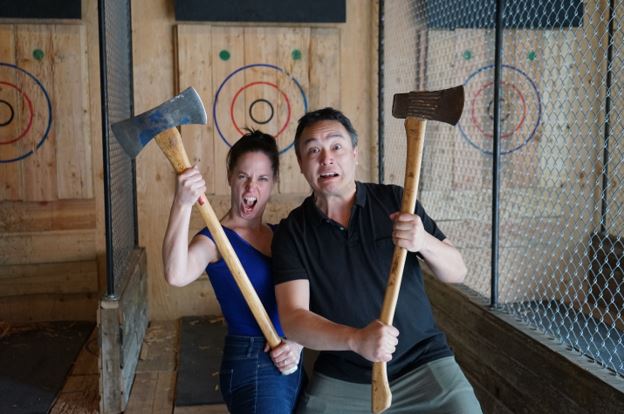 Axe Throwing|Spend chilly fall afternoons trying your hand at the lumberjack sport of axe throwing. Formerly reserved for woodland lumberjacks, this intriguing pastime is now a bonafide sport and top party activity. Forged Axe Throwing has all you need to give it a try and you and your friends can even compete in your very own tournament. There's something hugely liberating about throwing an axe at a wooden target and unleashing your inner lumberjack.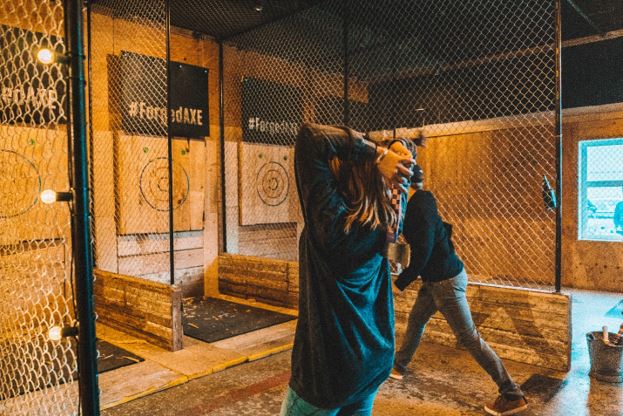 Helicopter Tours| Whistler's Helicopter Tours are truly epic offering a breathtaking view of mountains, lakes, and volcanoes. Choose from a number of helicopter packages including mountain picnics and heli-yoga, or for those feeling brave, try an adventure with a glacier landing and step out onto a 12,000-year-old glacier on Rainbow Mountain.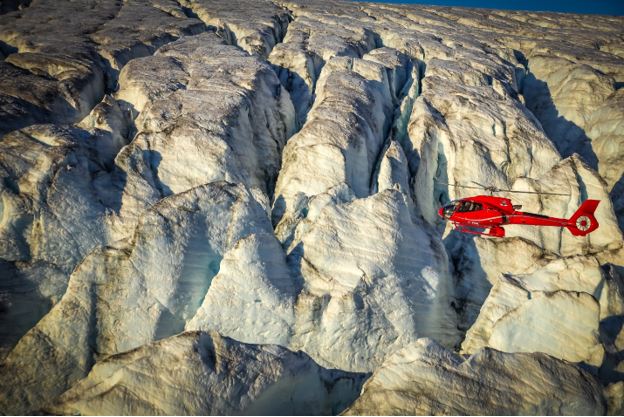 Hiking | Guided hikes in Whistler are the best way to immerse yourself in nature and really get close to the beauty of your surroundings. With the snow yet to arrive, the trails are clear and accessible so you'll enjoy the perfect vantage points from which to check out the fall colors.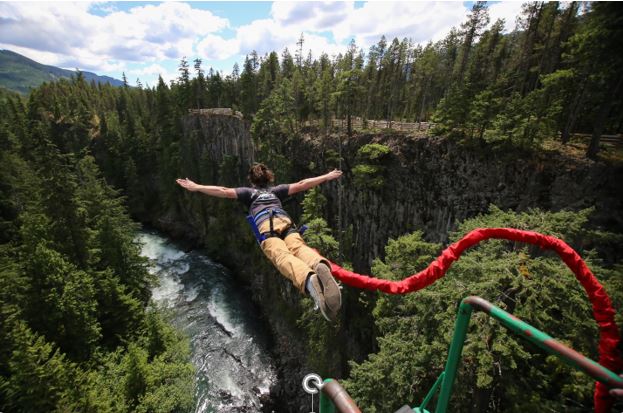 Mountain Biking | While riding a bike along the Whistler trails is most popular during summer, fall offers plenty of opportunities to get out and about on two wheels. Mountain biking in Whistler is ideal for all ages and a number of outlets in the village provide bicycle hire.
Ziplining | Ziplining in Whistler is the perfect way to see the beauty of British Columbia from above. Explore the boardwalks and trails before soaring above the old-growth forests strapped into a harness. You'll even get the chance to ride side-by-side with your partner and share this incredible experience.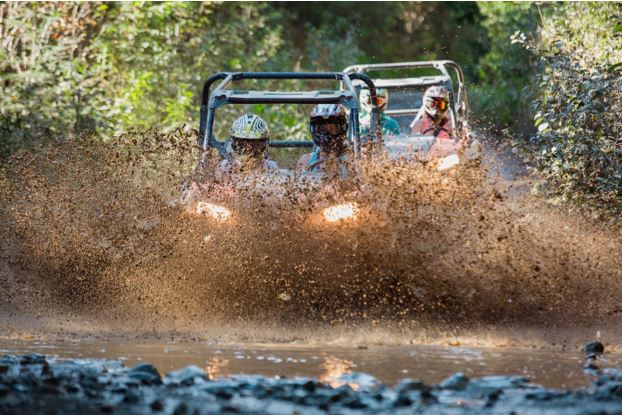 RZR Tours | Choose from 2 or 4-seater RZRs and hurtle through the Whistler backcountry taking in the scenery and gripping on for dear life in a Whistler Adventure RZR Tour to remember. Not for the faint-hearted, this experience is for those looking to rip through dirt-filled trails and get a taste of Whistler's wild side.
Where to Stay
Lodges and Resorts | Whistler has a host of accommodation options available to suit every taste and budget. Fall can be a great time to take advantage of competitive pre-season deals too, so be sure to shop around.
Discerning couples won't go wrong with the Four Seasons Resort, and their Romance Packages prove particularly popular with those on their honeymoon. Each room boasts luxurious comfort along with a spacious walk-in closet to hold outfits for all occasions.

Another luxury option, the 539-room Fairmont Chateau Whistler offers jaw-dropping mountain or village views alongside spectacular service. Specialty rooms and luxurious suites provide plenty of options for couples.
For a lakeside setting, check in to Nita Lake Lodge. Comfy king-sized beds, double soaker tubs, and expansive mountain views come as standard. The Aura restaurant located inside the hotel is highly recommended.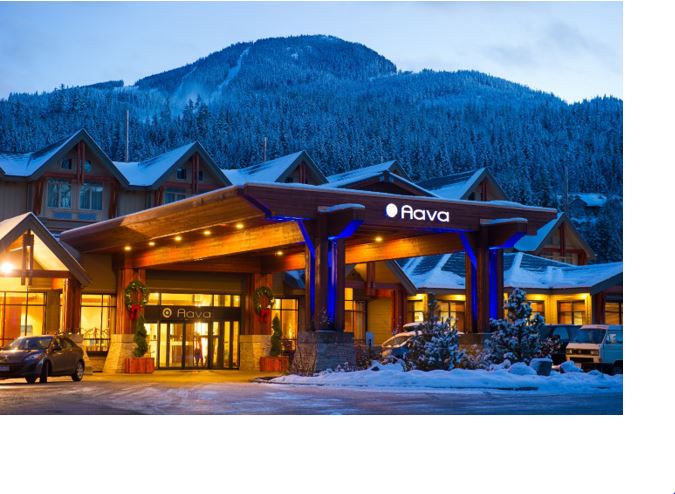 For those couples on a budget, the Aava Hotel is well worth checking out. Situated just 5 minutes walk from the base of Whistler mountain and within reach of all amenities, the Aava provides great value for couples enjoying a honeymoon in Whistler. The hotel has an impressive swimming pool and hot tub and even provides free GoPro hire so you can record your adventures along the way.
Submitted and written by: Rachael Hoopwood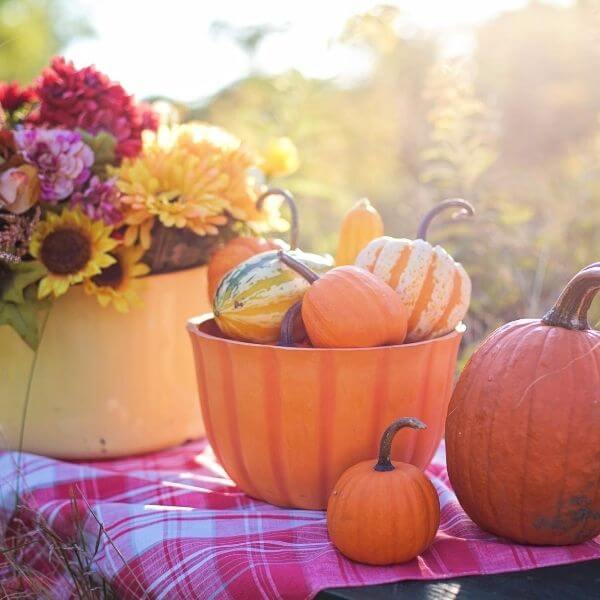 For all your Fall needs check out our **"Fall Store" (paid link)