"There are numerous romantic and fun things to do in Appleton Wisconsin for couples.
Appleton is a city located on the Fox River and is bustling with romance, history, and charm,
just waiting for you to visit."
Appleton, Wisconsin, is part of what's referred to as the Fox Cities. The Fox Cities are cities and towns along the Fox River from Lake Winnebago to Green Bay. With Appleton being the largest city.
For most Wisconsinites, Appleton is a destination for shopping. During the holiday season, the city is bustling with shoppers. Yet Appleton has so much more to offer. It is a trendy place to vacation for all ages.
In addition to being a great place to shop, Appleton is a city filled with history, culture, fun, and romance. Couples can find art galleries, unique museums, and fine dining in addition to all the outdoor activities available.
Being located on the Fox River, couples looking for outdoor adventures won't be disappointed when visiting Appleton, Wisconsin.
Couples looking to enjoy nature will have opportunities for hiking, biking, and water activities. Making Appleton the natural place for outdoor lovers.
If you are looking for a great place to visit in Wisconsin, Appleton should definitely be on top of your list.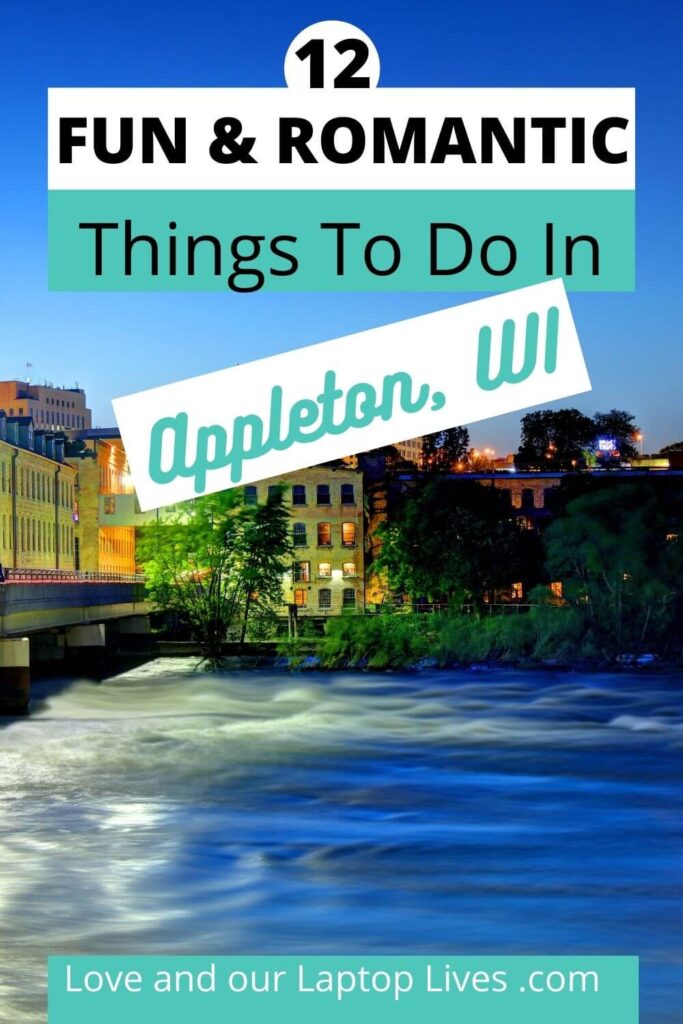 This post may contain affiliate or sponsored links. That means if you click and buy, I may receive a small commission (at no cost to you). Please see my full disclosure policy for details.
Romantic and fun things to do in Appleton for couples
Appleton is located about 85 miles north of Milwaukee. We have enjoyed many amazing romantic weekends in Milwaukee, Wisconsin. Milwaukee is home to Wisconsin's largest airport. From Milwaukee, you can catch a flight to Appleton or rent a car and enjoy a weekend getaway before returning home.
1 | Visit The Hearthstone Historic House Museum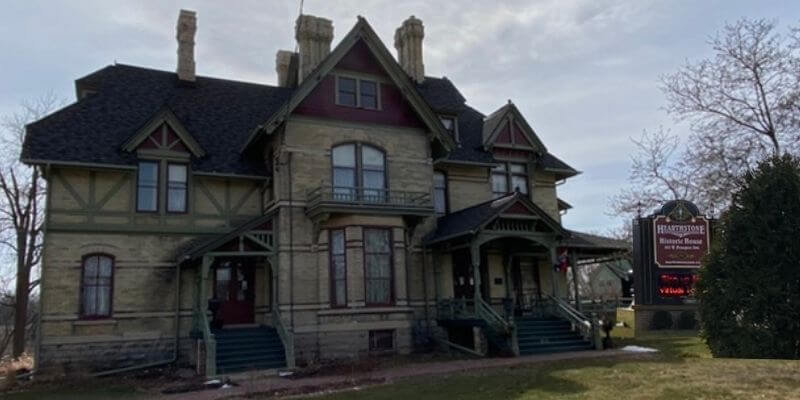 The now bustling city of Appleton, Wisconsin, was first settled in 1847 and is proudly the home to America's first hydro-electric station designed by Edison Company.
Driving into the small parking lot of the Hearthstone House Museum, you can almost feel yourself transported to the past filled with the romance of years gone by. This stately house with Victorian charm paints a picture of simple time, croquet in the front yard with a pitcher of lemonade waiting on the front porch.
This beautifully restored home is a very romantic example of Queen Anne Victorian architecture. The home has a breathtaking interior and exterior.
Yet, it is not this vision of romance that makes the Hearthstone House a place you must visit. The Hearthstone House Museum is on the National Register of Historic Places for its technology, history, architecture, and artistic significance.
On September 30th, 1882 the Hearthstone Historic House became the first private residence anywhere in the world to be illuminated using hydro-electricity from a central Edison system. The house still has the original Edison light fixtures and switches from 1882.
The Hearthstone House is the perfect place to start your romantic weekend by stepping back in time to a simpler time, a time filled with romance and the excitement of the future.
Address ~ 625 W. Prospect Ave, Appleton, Wisconsin
More About Milwaukee, Wisconsin…
Visiting The Harley Davidson Museum in Milwaukee Wisconsin
Milwaukee's Historic Third Ward District
Romantic and Historic Pfister Hotel in Milwaukee
2 | Fox Cities Performing Arts
The Fox Cities Performing Arts Center often called the PAC, is located in downtown Appleton, surrounded by hotels and fun eateries, making it the perfect spot to plan an entire evening in Appleton's Downtown.
The Fox Cities Performing Arts is a premier venue for live performances. The center is home to Broadway Across America and the Fox Valley Symphony. The center has brought many professional performances to the valley, such as the Nutcracker, Wicked, Disney's Lion King, and Les Miserables. The Fox Cities Performing Arts is also home to the Fox Valley Symphony.
This gathering place of culture arts is sure to have something to offer a romantic night out for two. Grab a glass of wine or beer in the lobby and enjoy an evening performance.
Tickets to performances are available online or at the box office.
Address ~ 400 W College Ave, Appleton, Wisconsin
3 | Butterfly Gardens of Wisconsin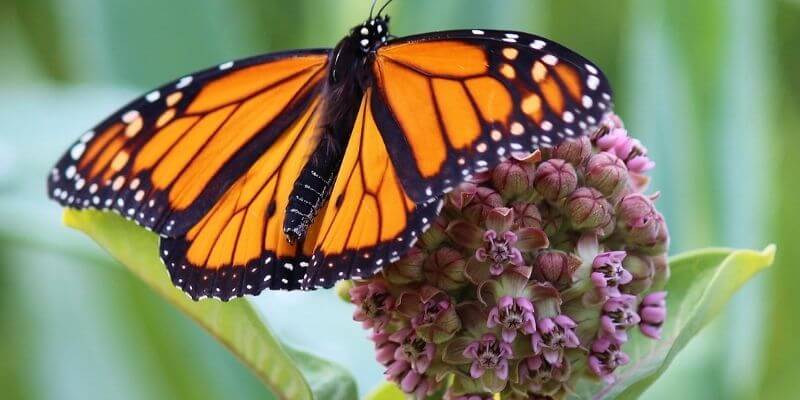 Butterfly Gardens of Wisconsin is home to the Wisconsin's largest butterfly house and butterfly shaped maze.
A very unique experience is a trip to the butterfly gardens. This mesmerizing place is not just for kids. Young or old where else can you get up close and interact with hundreds of fluttering butterflies?
Entering the oversized butterfly house is a magical experience, and who better to experience it with than, the one you love. Stepping inside, you will encounter hundreds of colorful butterflies, including the monarch butterfly.
This is a very romantic one of a kind experience.
Address ~ N2508 State Hwy 47, Appleton, Wisconsin
4 | Gordon Buboltz Nature Preserve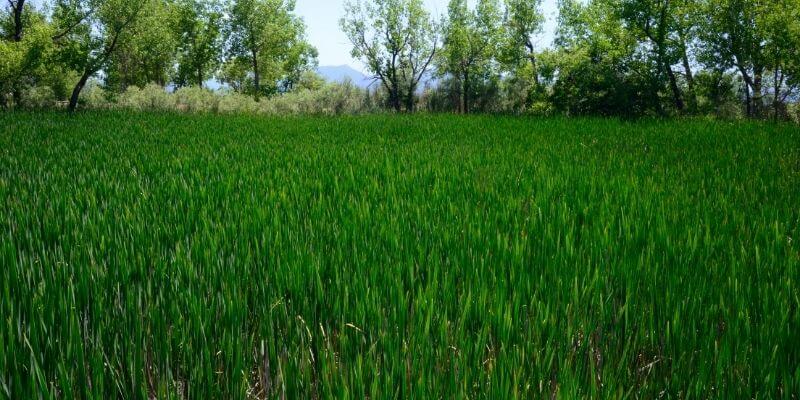 For the couple that enjoys the outdoors and exploring nature while being unplugged for a bit, check out the beauty of Gordon Buboltz Nature Preserve.
Being together enjoying nature is a great way to just enjoy being together without life getting in the way.
Gordon Buboltz Nature Preserve says its mission is to serve as a gathering place for people to become inspired by and appreciate nature.
Any time of year, you will find the trails welcoming. Whether you desire to do a little hiking, find a quiet spot to sit and be together, or looking for a place to strap on some snow shoes, check out the Preserves.
For the couple looking for a beautiful backdrop for that special day the Preserves has some great options.
Address ~ 4815 N Lynndale Dr, Appleton,
5 | The History Museum at the Castle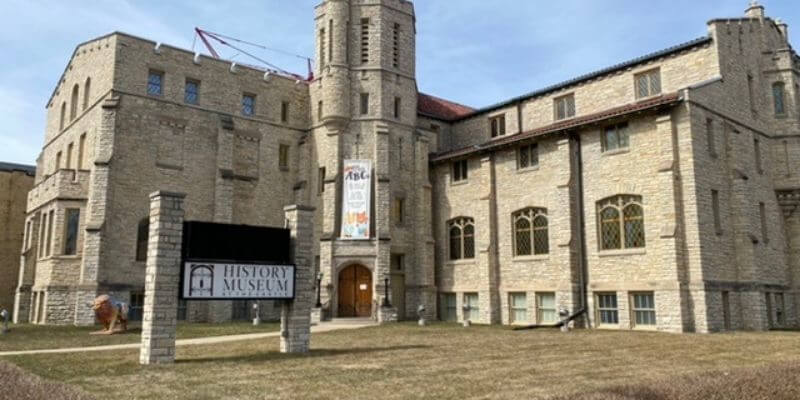 Visiting the Castle may be more fun than romantic, but a visit to the History Museum at the Castle needs to be on your list of weekend activities.
Just driving past the castle, your head turns, and you know it is someplace you need to turn around and check it out. Walking up to the large front door, the anticipation builds as you wonder about what awaits inside.
Much of the museum is what would one would expect to find. Amazing history of Appleton and the surrounding Fox cities. Most of it was new to me and we found it exciting to learn it together.
We found the floor that houses artifacts and information about one of Appleton's most famous residents, Harry Houdini, the most fun. Harry Houdini was born in Appleton, Wisconsin, and some of the secrets to a few of his magic tricks are exposed in the museum. Many of the Houdinis displays are hands on, allowing couples to play and discover each other's hidden talents. Is the one you have a secret escape artist?
To add a little fun to your romantic weekend consider adding a trip the History Museum at the Castle.
Address ~ 330 E Collage Ave, Appleton, Wisconsin
6 | Appleton Memorial Park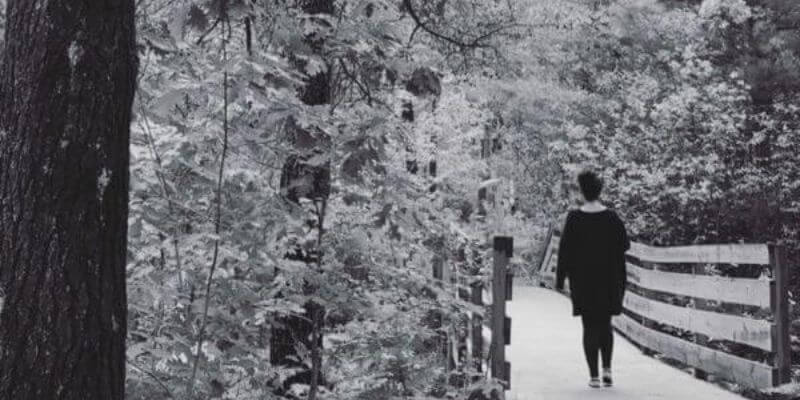 Appleton Memorial Park is one of our favorite places for a romantic evening stroll. At 143 acres, it is the largest park in Appleton. You will always find something calling your name. Whether you are looking to take a stroll on one of the park's trails or wanting to feel like a kid and grab a swing to reach for the sky, Memorial Park is the perfect place to visit.
In the summer, Memorial Park comes alive with activities. Families, kids, and couples visit the park to enjoy one of the playgrounds, go fishing, play softball or stroll on one of the many trails.
Winter can be just as enjoyable! The park offers a sledding hill and cross county skiing, with plenty of room for snowball fights and fort building.
Address ~ 1620 E Witzke Blvd, Appleton, Wisconsin
7 | Fox River Views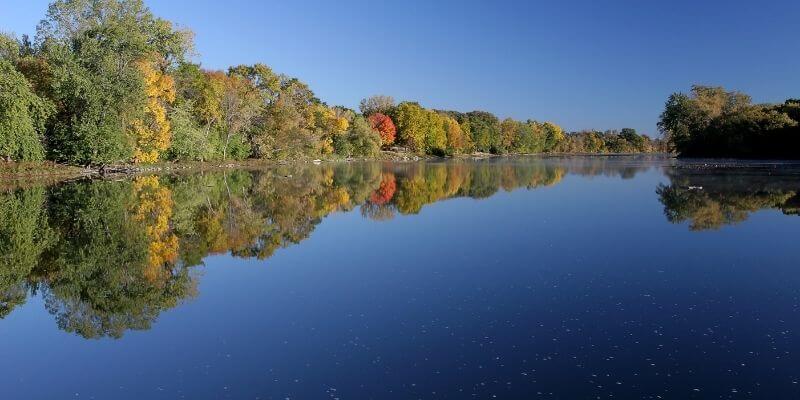 After a day of sightseeing, shopping, and discovering the romantic side of Appleton, it's time to take some time and enjoy the amazing views of the Fox River.
The current on the Fox River is slow. There are large areas perfect for canoeing and kayaking, with access being available in many of the parks along the river.
Kayak and paddleboards can be rented from Fox River Kayaking Company and several other places in Appleton.
If you are looking for a slower pace, stop at one of Appleton's local deli and pack a picnic lunch. Then head for one of the many parks along the Fox River and just enjoy the view with your sweetheart.
8 | Fox Cities Trestle Trail ~ Friendship Trail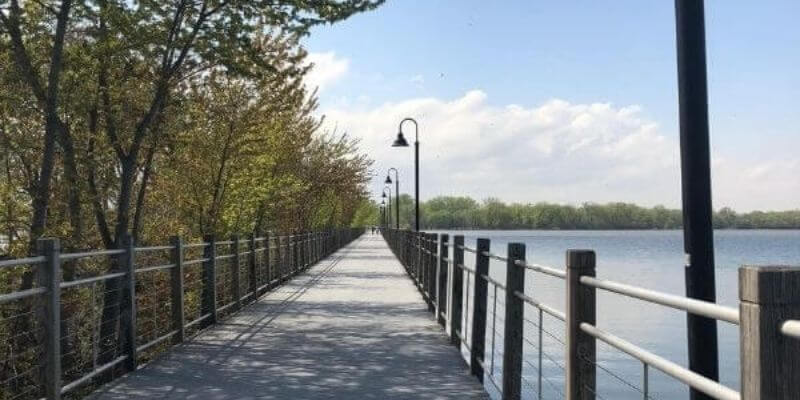 Trestle Trail Bridge is the longest-lighted pedestrian bridge in Wisconsin. It stretches 1600 feet over a section of the Fox River known as Little Lake Butte des Morts. Halfway across the bridge is a central pavilion with seating. A couple can sit and enjoy each others' company while taking in the view of the lake. There are also several small fishing areas along the bridge.
Take your time when walking over the bridge. Gary and I leisurely strolled, stopping several times to enjoy the surprises along the way. In addition, to the breathtaking sights and sounds of the water, it was fun to watch the fishermen and talk with them about the different fish that call the lake home.
Along the way, we watch turtle families interacting and sunning themselves and ducks and geese in some of the areas.
Once across this section of the bridge, we walked to the locks. Although there was no activity in the locks while we were there, it was interesting to get up close and see how they work.
A walk or bike ride at sunset or any time of day on the Trestle Trail Bridge is amazing.
The Trail is open 24 hours a day year round for your enjoyment.
An interesting fact about the Trestle Trail Bridge ~ It is also part of the Friendship Trail, which will eventually run from Stevens Point, Wisconsin, to Manitowoc, Wisconsin. Check out the link at the distance of that Friendship Trail. I was amazed at the project size.
Address ~ Fritse Park, 899 N Lake St. Neenah, Wisconsin
9 | Trout Museum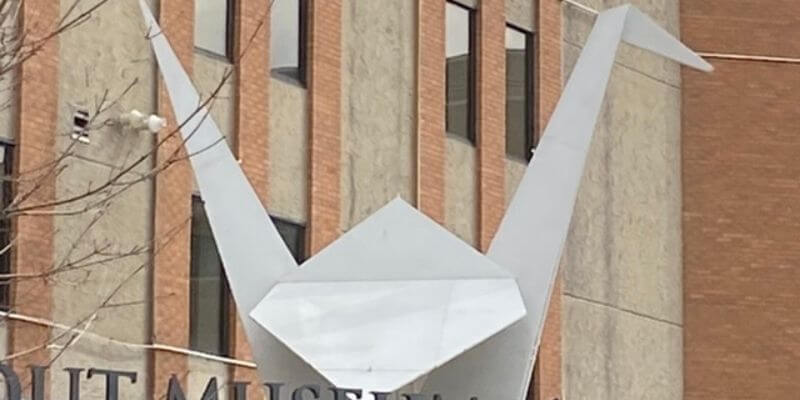 If you are an art lover, then a visit to the Trout Museum should be on top of your list. This two-story building is located right in the heart of Appleton's Historic District.
This museum is the permanent home to the extensive art collection of Dr. Monroe and Sandra Trout. Their private collection contains over 150 original art pieces and is permanently on display at the Trout Museum.
In addition to the Trout's private collection, the Trout Museum is a venue for temporary exhibits of local and inspiring artists.
Visitors to the Trout Museum can purchase original pieces from local artists and purchase prints through the large shop located on the lower level.
Address ~ 111 W. Collage Ave, Appleton, Wisconsin
Wisconsin Travel Information
Find and book the perfect flight with Skyscanner
Find tours by using Viator
Check out reviews on Trip Advisor
Rent a car with the best rates using Alamo Rent a Car.
Never leave without Travel Insurance. We choose to get our through Nomad.
Find some romantic places to stay, we use Hotels.com
10 | Downtown Farmers Market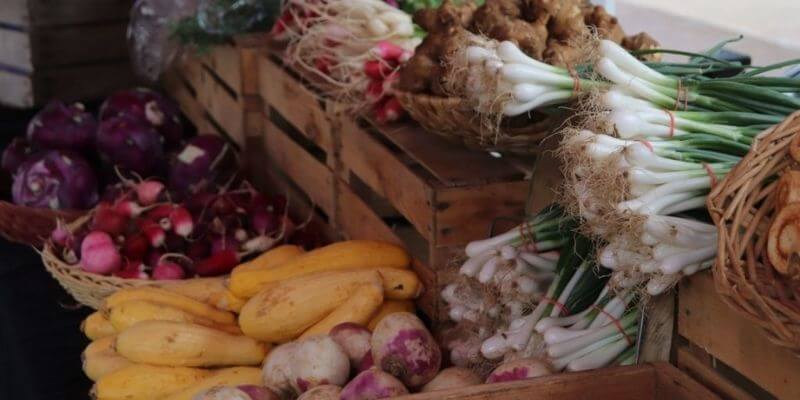 The perfect way to start any weekend is by paying an early morning visit to the downtown farmers market.
Appleton's downtown comes to life on Saturdays when artists, vendors, and farmers all come together to entertain and create an atmosphere of excitement.
The endless, and I do mean endless, booths of homegrown vegetables, baked good, egg rolls, snacks, crafts, and entertainment creates an exciting canvas for couples wishing to stroll and enjoy the friendly atmosphere of Appleton. It is exciting to watch locals come together to support each other while stocking up on produce and maybe even do some gift shopping.
Every Saturday, we head for Appleton's downtown to support Gary's egg roll need and pick up the ingredient we need to make jars of homemade salsa. My daughters can not get enough of it.
The farmers market is the perfect place for couples to stop and pick up trinkets of quality items to take home as well as snacks or picnic items for your Saturday sightseeing.
The farmers market is located on Collage Ave and spans for blocks.
Address ~ 333 W. Collage Ave, Appleton, Wisconsin
Further reading……..
Fun and Romantic Places to Stay in Wisconsin
Tips For Traveling As a Couple
Staying Healthy While Traveling
11 | Appleton Spa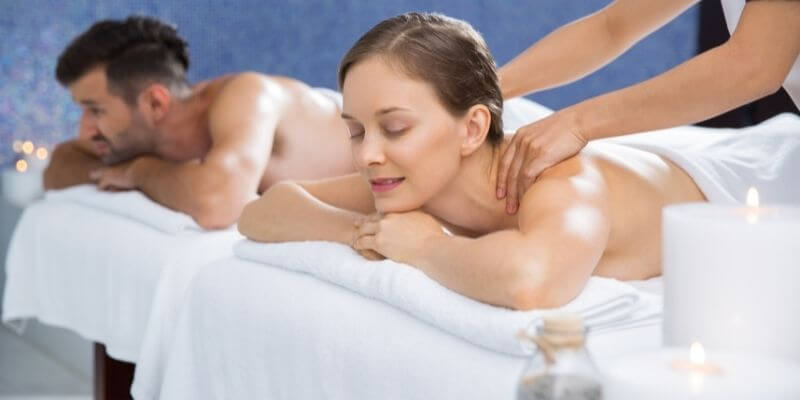 A romantic couples weekend calls for a couples massage. Our favorite place for a massage getaway is the top-rated Spa Ben Mar Nicos located in Copper Leaf Motel in Appleton's downtown.
A couples massage is the perfect way for couples to unwind and relax together. The relaxing, peaceful atmosphere of Ben Mar Nicos is first class.
Couples can choose from many amazing services and spa packages. From beginning to end, their spa specialists make sure your experience is relaxing and enjoyable.
Whether you are looking for a full spa package, a couples massage, or a body treatment, doing it together as a couple brings further intimacy into your relationship.
Address ~ 300 W. Collage Ave, Appleton, Wisconsin
12 | The Salt Room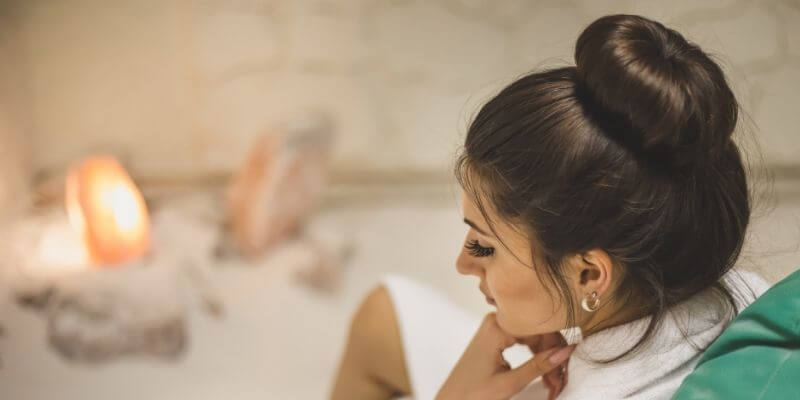 Sometimes the most productive thing you can do is relax. Being on vacation is the best time to slow down, relax and enjoy something new. The Salt Room in Appleton is the perfect place to do all three.
The Appleton Salt Room is open by appointment only. Be sure to go online and book your visit to The Salt Room. Permit yourself, as a couple, to slow down, unplug and relax for 45 minutes.
For many, the Salt Room experience is something new. The Appleton Salt Rooms are set up for 4 – 6 people. There won't be just the two of you in the room unless you choose to book the room privately.
Salt Rooms are fairly new in the States, but in Europe, they are well known as salt caves. Unlike the salt caves, your tranquil, spa-like salt room is covered with natural rock salt to create a sterilized environment. At the same time, the floors are covered in crushed pharmaceutical-grade salt that sounds and feels like walking on sand.
During your visit to The Salt Room, you can relax, listen to music, read a book while you cozy up in one of their zero gravity recliners, and breathe in the microscopic salt particles.
In addition to being very relaxing, unplugged for 45 minutes, the lasting effects of the salt therapy go with you once you leave the building. Salt Therapy has been said to be helpful when it comes to sinuses, allergies, and many other things.
As their sign says, "Inhale…..Exhale….Stay Healthy. Why not stay healthy together?
Address ~ 1196 N. Mayflower Drive, Appleton, Wisconsin
Romantic Places to Stay in Appleton, Wisconsin
In addition to the many chain hotels, we would recommend you check out in Appleton. The CopperLeaf Boutique might be a nice change. They offer many options for a romantic evening away.
The CopperLeaf Boutique Hotel and Spa ~ (This is also home to Spa Ben Mar Nicos, one of Appleton's finest spas) The CopperLeaf features several romantic packages for couples.
Enjoy your visit to Appleton, Wisconsin.
If you have additional time before heading home, we suggest you travel north and visit one of Wisconsin's premiere vacation spots, Door County, Wisconsin, where you will discover additional romantic things just for couples.
Romantic Things for Couples to do in Door County
Visiting Door Counties Wineries
Door Counties One of a Kind Fish Boil
Thanks for stopping by. We love making new friends!
If you would like to reach us with a feature idea
or discuss an idea or product our readers will enjoy,
please email us at ~ [email protected]
We would love to partner with you to feature your travel destination.

Want to follow along? We love making new friends!
Follow us on Social Media.
Facebook @ Love and our Laptop Lives
Pinterest @ Love and our Laptop Lives
Instagram @ Love our Laptop Lives
Twitter @ Love and our Laptop Lives
Youtube @ Love and our Laptop Lives
Amazon Store @ Love and our Laptop Lives