What To Expect At A Wisconsin Fish Boil | A Door County Tradition
Wisconsin is known for a few things. Fridays in Wisconsin are all about the Friday fish fry usually served with a Wisconsin-style old fashion. Yet in a certain area of Wisconsin and Upper Michigan, they do their fish a little differently. They do a fish boil. Now on the surface, the thought of a fish boil compared to a fish fry does not sound very appealing. What is a Wisconsin fish boil, how did it become a tradition along Wisconsin's coastal upper Great Lakes area and why the appeal?
No trip to Door County is complete without experiencing a fish boil. Those that have been to Door County and enjoyed a fish boil will tell you everyone must experience it at least once. A fish boil is a must-do addition to any Door County weekend getaway. Another one of our favorite Door County experiences is visiting one of the many Door County wineries.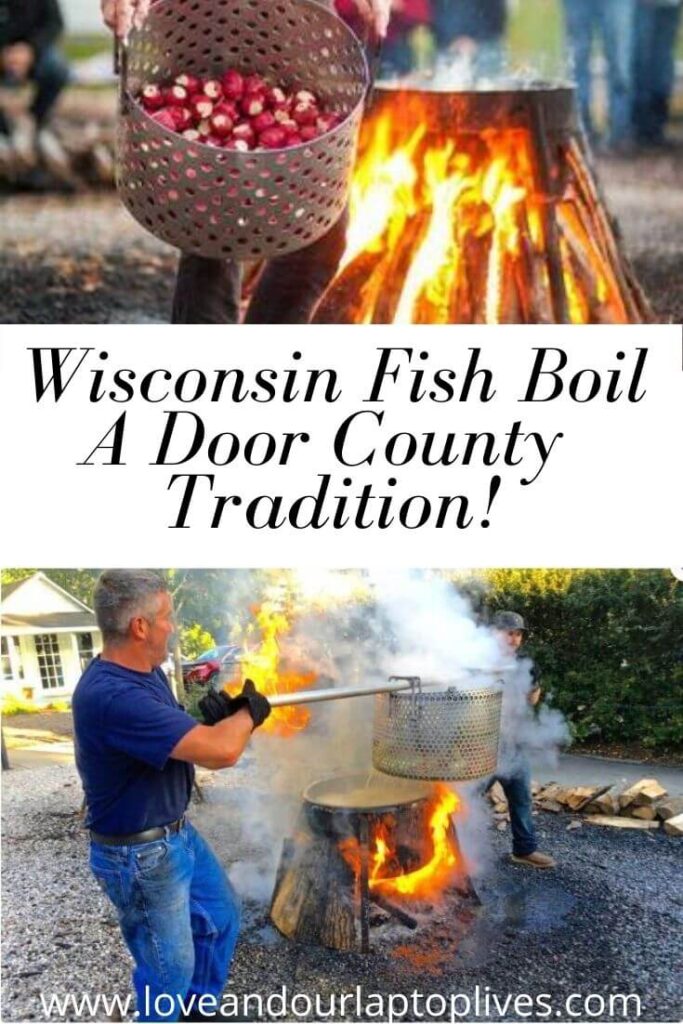 The History of Wisconsin's Fish Boil
The fish boil as we know it today has been a Great Lakes tradition for more than a hundred years. The question is how did it become a tradition? This is what I can conclude from the stories and my searches.
The fish boil dates back to at least the 1600s, and the earliest settlers around Lake Michigan. There are conflicting stories as to whether the tradition of boiling white fish originated with the Native Americans settled there or the Scandinavian settlers.
The Potowatomi, who were native settlers to the area, were fishermen who saw the value of the oils and fats that separated when you boil fish. They collected those fats and oils in a process known as 'boilover.' This process is caused when a sudden spike in temperature forces the water to overflow the boiling pot. When the pot boiled over the Potowatomi would somehow catch the oils.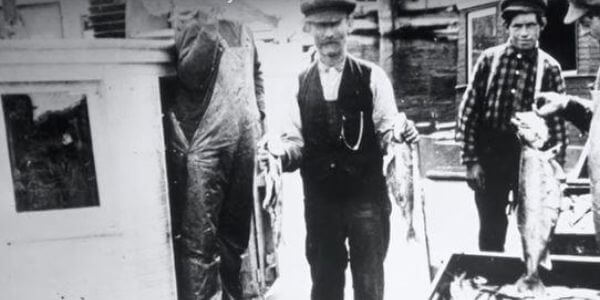 Yet legend has it that Scandinavians brought the custom to the early settlements around Lake Michigan. The Scandinavians didn't collect the fats and oils, they used the 'boilover' process to wash the fats and oils away leaving them with nothing but clean, sweet fish.
The Scandinavian settlers were fishermen and needed a way to serve a large number of hungry fishermen, lumberjacks, and locals, at the end of the long fishing day. Whitefish and lake trout were plentiful, it was easy to prepare a meal outdoors by boiling fish, potatoes, and onions together in a large pot called a cauldron. This met the need of feeding large numbers quickly.
People have been boiling fish for thousands of years. I don't know who did if first in Door County. Maybe the commercial Scandinavian fishermen who had access to lots of fish, and wanted a quick and easy meal, or maybe the Native Americans settled in the area. Either way, it's a tradition that grew from there and is still part of the Door County experience today.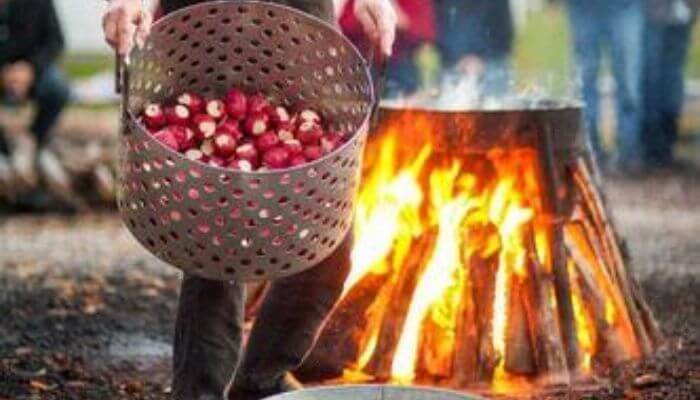 When did the commercial fish boil start in Door County, Wisconsin?
Viking Grill Inn was the first restaurant to officially offer a fish boil. Communities were hosting fish boils to raise money prior to any restaurant offering the experience.
Customers would come into Viking Grill Inn and ask if they knew when the next community fish boil was scheduled. When the reply was that there wouldn't be another one until the following year, patrons questioned why Viking Grill Inn couldn't add it to their menu.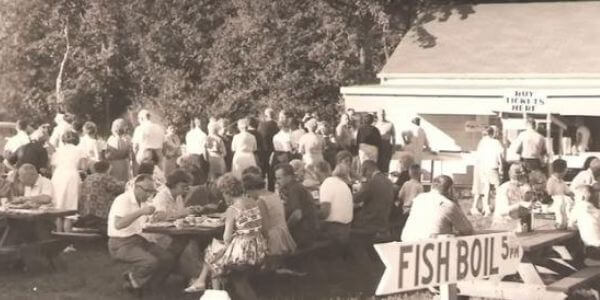 Finally in the early 1960s Viking Grill Inn started doing a nightly fish boil. Viking Grill saw it more about the entertainment than the food. They were the only ones in Door County offering a fish boil and we're serving up to 900 people a night.
Word got out and busloads of people were showing up from other areas of Wisconsin. Two years later White Gull Inn also started serving a fish boil. Today there are several places in Door County to find a fish boil (which are listed below). Also, several churches in the area occasionally offer fish boils as fundraisers. Every location offers their specialty. One even provides an all-you-can-eat fish boil with a full buffet included in the price.
What is a Wisconsin Fish Boil?
I would compare a Wisconsin fish boil to a New England clambake or a New Orleans shrimp boil. Same thoughts behind each, yet different depending on what seafood is plentiful in their area.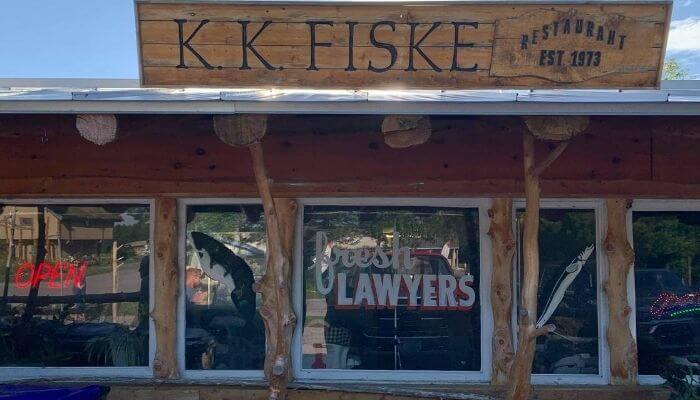 On Washington Island, a commercial fisherman who owns one of the few restaurants on the island uses his daily catch for his restaurants' fish boil. How fresh are the fish? From the morning catch to the dinner table, diners at K.K. Fiske Restaurant are eating the fish that were caught just hours earlier. This definitely adds to the experience. The fish boil was one of the experiences that our son and daughter-in-law enjoyed on their recent trip to Fragrant Isle on Washington Island.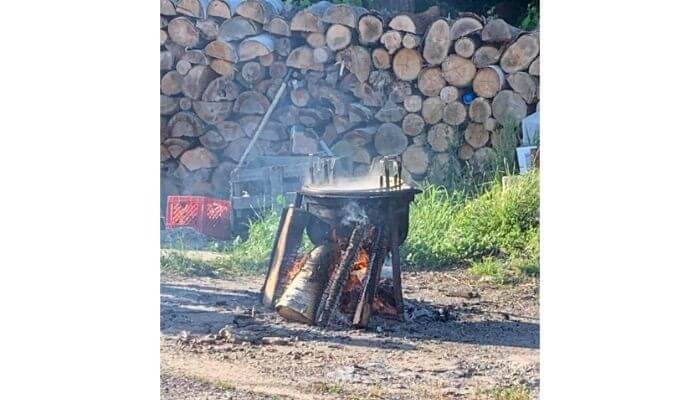 The process of a Wisconsin fish boil for a crowd is pretty standard. It is also extremely dangerous and is performed by an experienced boil master. Please do not attempt this type of boil over at home.
They start with an outdoor fire and a cauldron that holds at least 20 gallons of water
Add three pounds of salt to the water
The water is brought to a boil
When the water boils a basket with the new potatoes is placed into the water
About 18 minutes the onions are added to the potatoes
After an additional 3 minutes, a basket holding the white fish is placed on top of the potatoes
Everything boils for an additional 10 – 13 minutes
Additional salt is added throughout the cooking
When the fish is starting to float and fully cooked
A bell is rung signaling the cooking is complete
Fuel oil is added quickly to the fire, this causes the pot to 'boil over' and the oils and fat along with about 5 gallons of water boil over and out of the pot. (this step is left to the professional 'Boil Master') Not something to attempt lightly at home!!!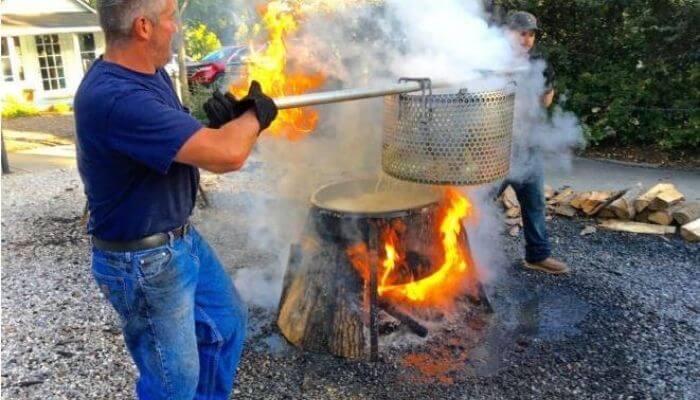 Now the fish and vegetables can be removed from the pot without the oils settling back onto the fish and vegetables.
The vegetables and fish are removed from the pot by way of a long rod through the handles of the baskets.
Plates of fish and potatoes are served with plenty of melted butter, lemon, coleslaw, and rye bread.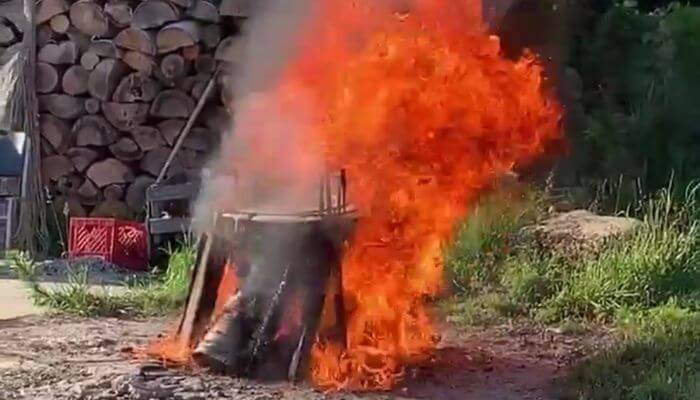 What is a Boil Master
Fish boils are preformed by Boil Masters. They are trained in the traditions of a fish boil and can answer most any question about fish boils. He is a cook, a storyteller, and an entertainer, all while being able to keep himself and everyone safe from the fire. This is not just a "job", it's a calling that pretty much chooses you and usually it's a family affair.
The Boil Master and owner of Pelletier's Restaurant, Mathew Peterson, in Fish Creek is a third-generation Boil Master. He learned his skills at the age of 18 by working alongside his father, Dan Peterson, who was the owner and Boil Master at Viking Grill Inn. Dan had also learned his skills when he was a young boy from his father who was also a Boil Master. So it's a family affair.
Interesting facts about the fish boil process
During today's fish boils the whitefish used comes straight out of Lake Michigan and at times it has only been hours since it was caught.
The fish are tossed into pots of boiling water in steaks – bones, skin, and all. The skin and bones keep the fish from flaking apart in the pot but must be removed at the table. It lends to the meal the same rustic enjoyment of cracking crab, peeling shrimp or crawfish shells. Personally, I dislike this part of it. I'm always so leary about missing a bone.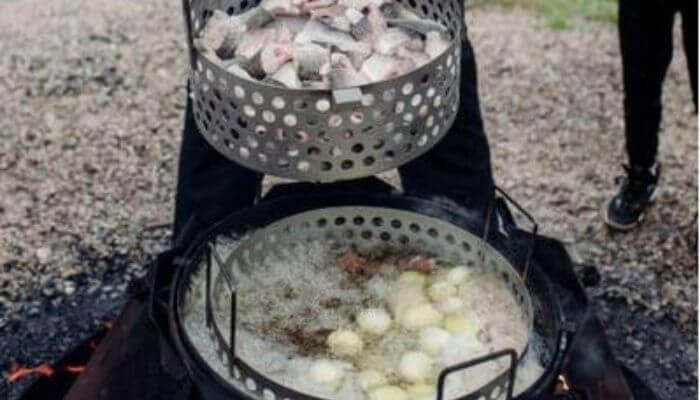 Small new potatoes and pearl onions are often grown in Door County and are the only other standard ingredient in the fish boil.
The only traditional seasoning is salt. Lots of salt! Chefs may add a pound for every couple of gallons of water. Many think this will leave your food salty, it does add seasoning but not as salty like you would think. The purpose of the heavy salt is to force the oils and fats from the fish to rise to the top of the water.
Preparing the potatoes is a simple process. A small slice, about a quarter-inch, is cut off the end of each potato before boiling. This helps the potato soak up a little salt and the flavor from the onions and fish boiling.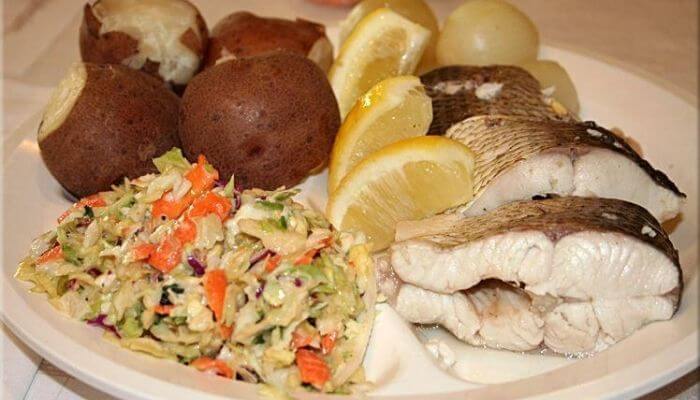 A fish boil is served with lots of melted butter and lemon wedges to give your fish flavor. Served alongside coleslaw and rye bread.
A Fish boil is not complete without Door County cherry pie and ice cream for dessert.
If Door County is too far from home and you can't make it to a Wisconsin fish boil, you can easily prepare one at home in your kitchen for yourself and friends!
A Fish Boil Recipe for an At-Home Experience
Note: You'll need a 5-gallon pot, preferably with a removable basket for draining. For small at home fish boils one basket is enough for both vegetables and fish. If your pot does not have a basket you can use cheesecloth. Use one cheesecloth pouch to hold the vegetables and another to hold the fish.

Recipe serves 8
16 chunks of Whitefish steaks or Haddock (2" slices)
16 small red potatoes (ends cut off)
16 small white onions (peeled)
2 cups salt
2 gal. water
Add 1 cup of salt to the water and bring to a boil.
Add potatoes and boil for 20 minutes.
Add onions and boil for 4 minutes more.
Add fish and another 1 cup salt, boil for 10 minutes.
When cooking outside, the professionals, toss a small amount of diesel fuel on the fire when the fish is done, causing the fish oils, which have risen to the surface of the water, to boil over the sides. Do not attempt this at home! Simply skim the oils off the surface with a spoon while the fish is cooking.
Drain into a colander. Serve with melted butter, lemon, rye bread, and coleslaw.
A Door County Fish boil is not just about the food, it's also about the experience and entertainment. At a Door County fish boil, the 'Boil Master' puts on quite a show as hungry patrons watch, take pictures, and ask questions. When the bell is rung signaling that the boil over is about to happen, all eyes are on the boil master, the crowd shouts "boil over" as he throws the fuel on the fire and forces the pot to boil over. The crowd instantly feels the heat of the large flames. Plenty of oohs, aahs, and smiles at the end.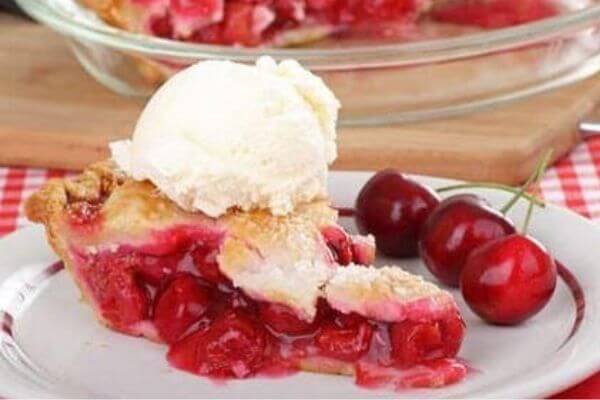 And don't forget, no fish boil would be complete without a slice of Door County cherry pie and ice cream!
You can make your own Door County cherry pie by using official Door County Cherry Pie Filling. To find other Door County recipes check out this Lake Michigan Cottage Cookbook. For additional Door County products we've got you covered in our Amazon Store.
Best Time to go to Door County
Door County's summer crowds thin out in late August. There really is no bad time to go to Door County but in September go for lower rates, pleasantly cool weather, and the first sight of the fall foliage, which is amazing in mid-October. Or you can go to the Cherry Drop on New Years Eve and then a New Years Day Polar Plunge at Jacksonport.
Gary & Michelle
XOXO
We would love for you to stay in touch!
Whether you have a question about our site, want to work with us, have a feature idea, or just want to say "Hi" please feel free to send us a message.
You can reach us at [email protected]
Or follow us on Social Media

Facebook @ Love and our Laptop Lives
Pinterest @ Love, Travel and our Laptop Lives
Instagram @ Love our Laptop Lives
Twitter @ Love and our Laptop Lives
YouTube @ Love and our Laptop Lives
Amazon Store @ Love and our Laptop Lives