25 Romantic Things For Couples To Do In Door County, Wisconsin

"The peacefulness, and the things to do in Door County, Wisconsin, make it the perfect place for a couples weekend that is filled with romance and adventure. Door County is the ideal getaway for couples."
Door County is often referred to as the "Cape Cod of the Midwest." Where you'll be surrounded by Midwest charm and Lake Michigan. The small-town charisma, maritime history, and seaside charm of Door County have much to offer a couple looking for a romantic getaway.
As you travel your way through Door County, it is filled with dozens of beach communities with names like Fish Creek and Gills Rock. With miles of lighthouse-dotted shoreline, breathtaking water views, and hundreds of miles of beautiful beaches, the sailboat-filled waterways seem to go on forever.
As you twist your way north up the coast, you'll travel past acres of cherry and apple orchards and numerous wineries offering wine samplings. These things to do in Door County add to the romance and make it the ideal place for a couple's getaway.
Finding 25 romantic things for couples to do in Door County, Wisconsin, was not difficult. Every season in Door County is filled with adventure and romance, and every season offers new and exciting things for couples looking for the ideal place to get away together.
Door County has many small islands right off the northern tip. Two of those islands: Washington Island and Rock Island, are travelable from the Door Peninsula by ferry.
The straight between the Door Peninsula and Washington Island is a dangerous passageway referred to as Deaths Door. The floor of Lake Michigan, known as Deaths Door, is scattered with shipwrecks.
Door County has, on average, 2 million visitors each year, all traveling from the nearby areas. Not bad for a year-round population of only 28,000. Even with the multitude of visitors, there is no shortage of romantic opportunities for couples.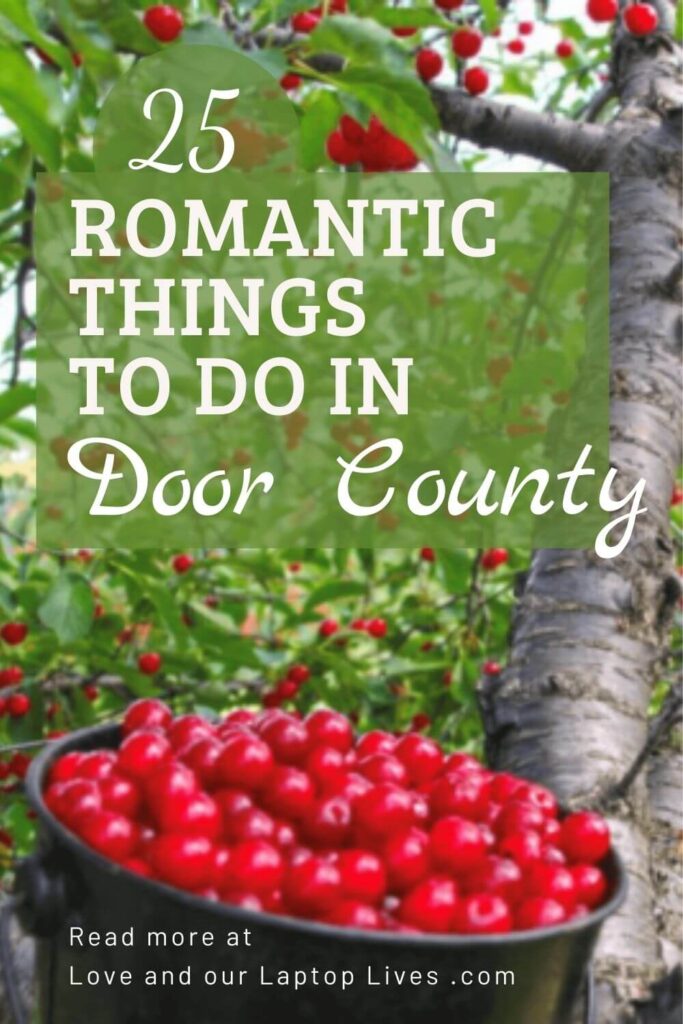 This post may contain affiliate or sponsored links. If you click on a link and make a purchase, I may receive a small commission (at no additional cost to you). Please see my full disclosure policy for details.
Wisconsin Travel Information
Find and book the perfect flight to Wisconsin with Skyscanner
Find tours in Wisconsin by using Viator
Check out reviews on Trip Advisor
Rent a car with the best rates using Alamo Rent a Car.
Never leave without Travel Insurance. We choose to get our through Nomad.
Find some romantic places to stay in Door County, we use Hotels.com
Things for couples to do in Door County, Wisconsin
Door County has become our retreat for a quick weekend romantic getaway. It seems like each time we visit, and no matter the season, we find something new to add to our list of favorites.
One of the first signs that we are on vacation is the sight and smell of Door County Coffee. The aroma when you enter their building is heavenly, even if you are not a coffee drinker. They have become our morning visit while in Door County. They also have a restaurant and gift shop where I like to pick up many of those unique gifts for my family and friends.
1 ~ Relax at the best beaches in Door County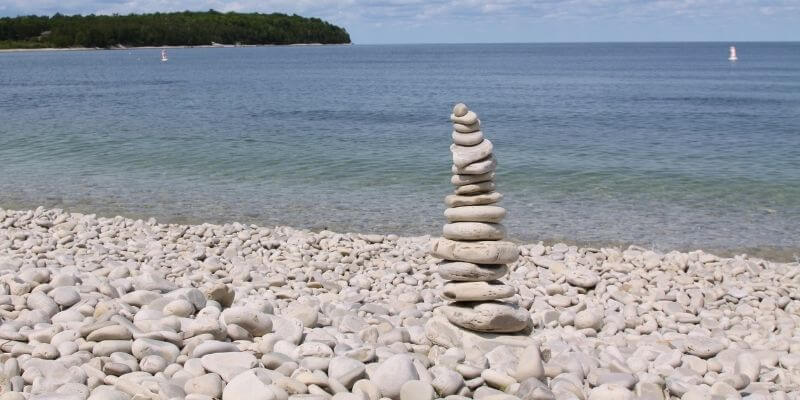 Door County is home to over 50 beaches, all with something special to offer.
Peninsula State Park is one of the best state park beaches in Door County.
Sister Bay Beach is the best beach to watch, relax and watch the sunset.
For a real treat, take the ferry to Washington Island, and enjoy one of the best beaches in Wisconsin, Schoolhouse Beach. It is one of only a few beaches that are covered with perfectly smooth limestone pebbles. Be sure to leave the rocks behind and only take the memories with you. The signs posted say it's illegal to take a rock with you.
2 ~ Enjoy a day of hiking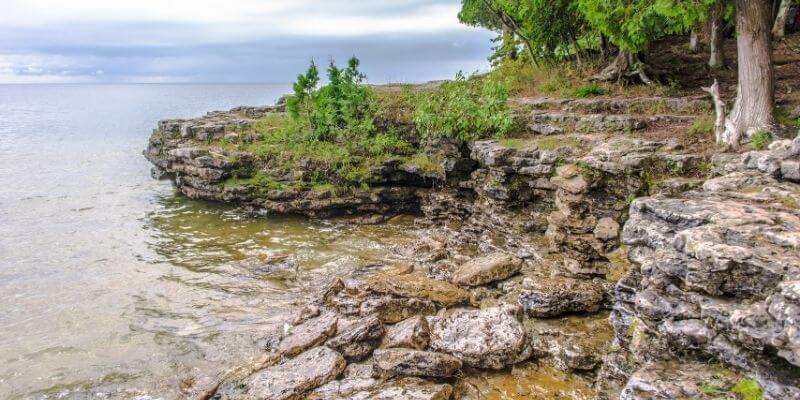 Door County is home to 5 State Parks. Each park again offers something unique to its visitors. Hiking is one of the best ways to explore the natural beauty of Door County. Most of the parks are undeveloped, giving visitors an authentic perspective of nature in its purest. A visit to Door County needs to include a hike through some very stunning natural landscapes.
Some of the best places to hike in Door County are ~
Cave Point County Park ~ The black hiking trail in Cave Point connects to Whitefish Sand Dunes.
Whitefish Dunes ~ has long trails which take you through the sand dunes.
Newport State Park ~ has longer hiking trails. One of the most popular trails in the park is Horz Loop which is seven miles long.
Peninsula State Park ~ Hiking the trails in Peninsula State Park is for the adventurous hiker. You will find yourself hiking through rocky landscapes and going down a steep descent.
3 ~ Camping in Door County, Wisconsin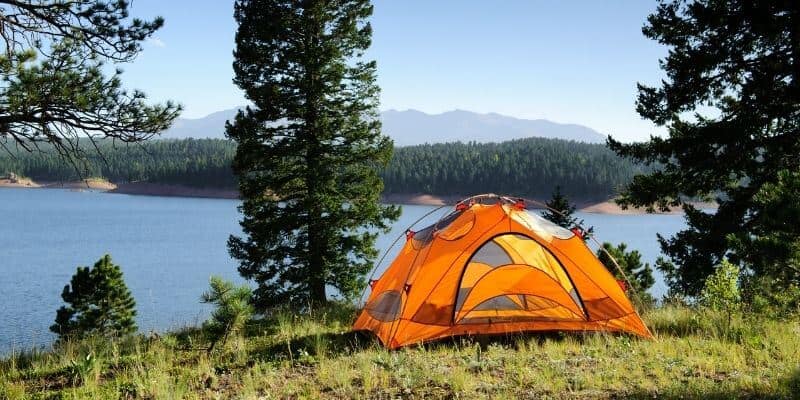 Four of Door County's State Parks offer camping, and Door County also has several private campgrounds. If you are looking for a lakeside or a quieter rustic option, you are sure to find it in Door County.
Rock Island, one of the small islands off the Door Peninsula, offers a once-in-a-lifetime camping experience. You need to take the Washington Island Ferry from the Door Peninsula to Washington Island and then take another ferry from Washington Island to Rock Island. There are no cars allowed on Rock Island. You have to bring everything in with you on the ferry. Be prepared to hike, and be sure to pay a visit to one of Wisconsin's oldest Lighthouses.
4 ~ Visit the Door County Lighthouses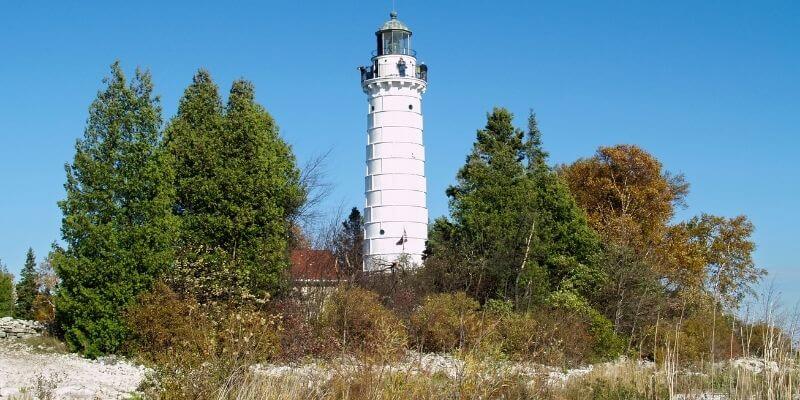 Door County is home to 11 Lighthouses. Some date back to the 1800s. Many of the lighthouses are only open during certain times of the year. Be sure to check the schedule if a lighthouse tour is on your vacation wish list. Three of Door Counties Lighthouses are said to be haunted.
5 ~ Trolley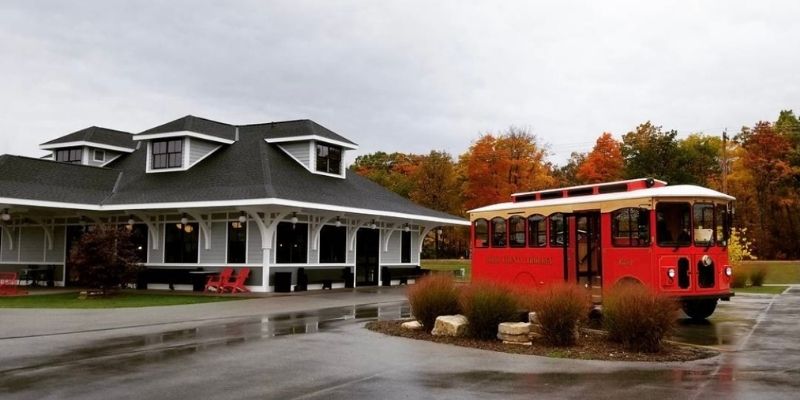 Door County Trolley should be your go-to destination for Door County fun. They have been a Door County staple since May of 2000 and have been named the best charter in Door County.
Door County Trolley believes in providing guests with the best possible experience. They specialize in Scenic tours and Wine Tours and offer 16 uniquely themed trolley tours for guests to choose from to truly explore the best of Door County.
From lighthouse tours to ghost tours, there is a tour you are sure to love! We have enjoyed several of the Door County Trolley Tours and were excited to find they offer three haunted Ghost Tours of Door County.
6 ~ Boating and Fishing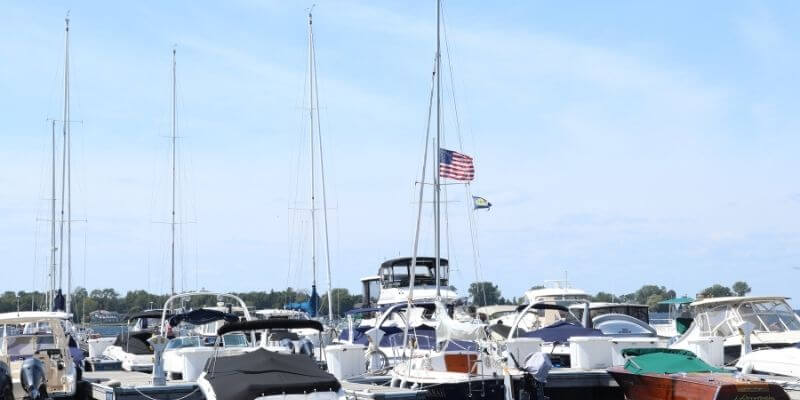 Boating and fishing ~ Door County is surrounded by Lake Michigan and the Bay of Green Bay. If you are looking to hit the water for recreation, sightseeing, or fishing, Door County is a great place to go.
You can bring your own boat or rent one. The are several sightseeing boat tours available also. What a great way to see some of the many lighthouses. For a real treat, take a glass-bottom boat tour and see some of the many sunken ships. The cold water of Lake Michigan has preserved the sunken ships throughout the years.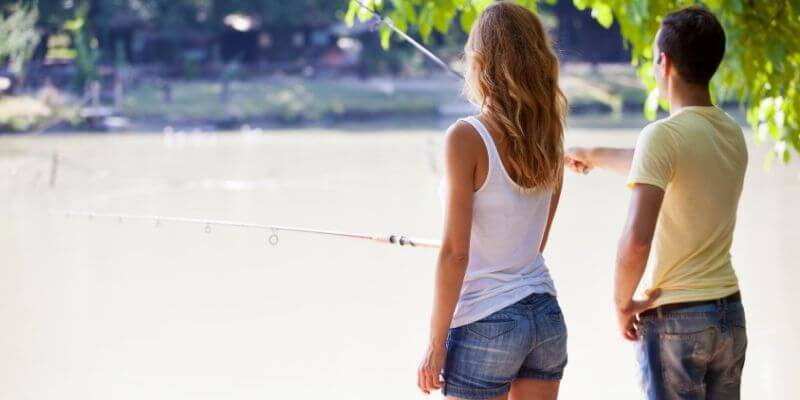 The waters around Door County are filled with Salmon, Bass, Walleye, and Whitefish, making fishing a sport available year-round.
7 ~ Enjoy a Fish boil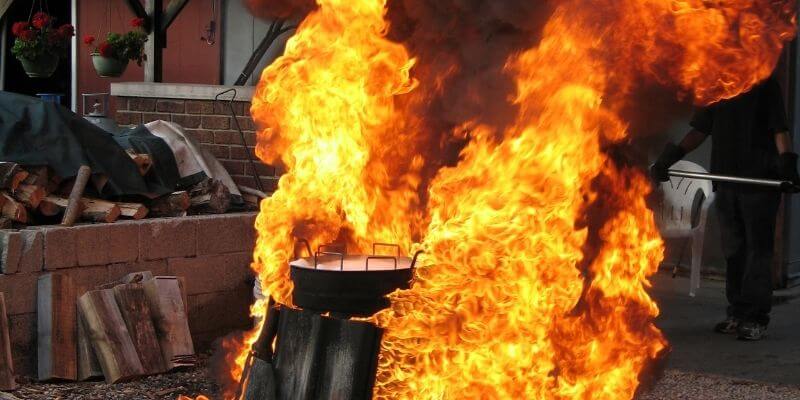 A visit to Door County would not be complete without experiencing a Fish Boil. This is a unique experience, I can describe it, but it's something you really need to see firsthand.
The Door County Fish Boil dates back to the 1800s when many Scandinavian immigrants brought this Nordic tradition to the area. With Lake Michigan abundant with white fish, this became an efficient way to feed large lumberman crews. With the tradition passed down through the generations, during the 1960s, the process was modernized, and it became a tourist must.
We have enjoyed several Authentic Wisconsin Fish Boils. This is definitely one of the top things for couples to do in Door County.
8 ~ Wineries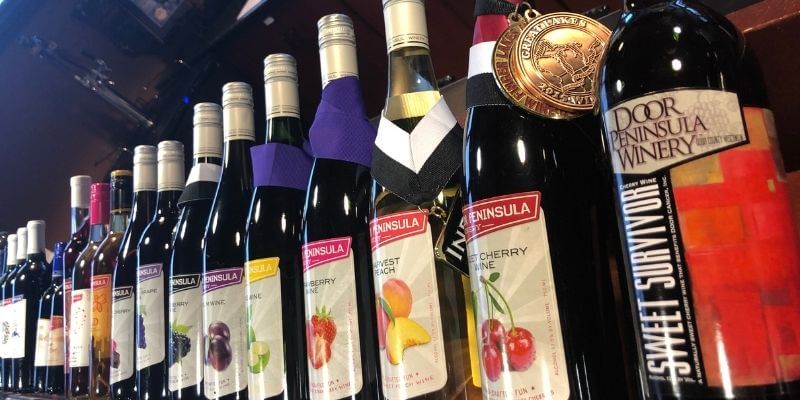 Door County is home to several wineries. The wineries create the ideal background for your romantic couples' time. I (Michelle) enjoy the sweeter wines, while Gary enjoys his reds and his white wines, depending on his mood. We have found a good variety of wines available at the wineries in Door County.
Door County Peninsula Winery has become one of our favorites. You can sample all of their wines and some of their locally made spirits. One additional fun aspect of visiting Door County Peninsula Wine is that you can observe some of the wine-making processes through glass windows.
We have many favorites from Door County Peninsula Winery. Munny Moscato is right on top of the list. Stepping through their door is like meeting up with friends. We laughed and had such a great time when we were there.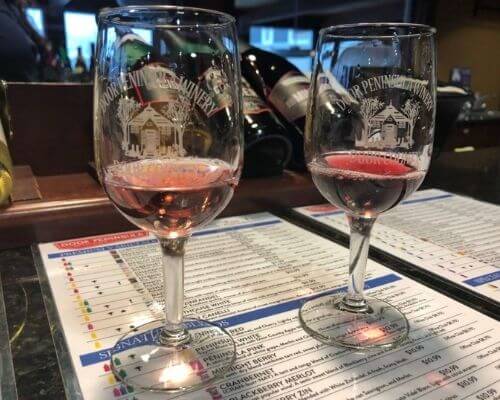 The free samples of the wine are an added bonus.
Lautenbach Orchard County Winery and Market is another of our favorite Door County Winery. Many of their wines are made from the fruit picked right from their own orchards. This definitely adds to the flavor and the charm of their blends.
This is a fun place to stop any time of year, whether for wine tasting or spending time shopping at their market. During cherry season, you can stop and pick your own cherries right off the trees to take home and enjoy. If your timing is spot on, you might catch their festival and get to try your luck at cherry spitting. We discovered Gary is pretty good at it, coming in second on his first try.
Any winey in Door County will be the perfect setting for a romantic couple's time together. For a list of Door County's wineries, check out the Door County Wine Trail.
Everyone at Door Peninsula Winery is so friendly A Trip to Door Peninsula Winery is Like Visiting a Friend. Check out this New Year's Day visit to see what I mean.
9 ~ Shopping in Door County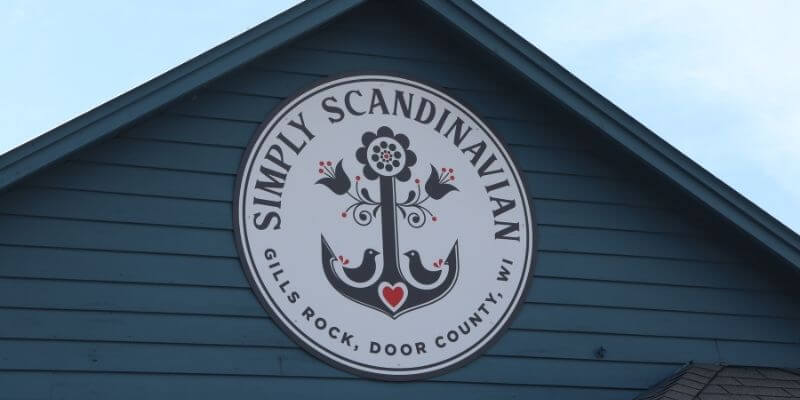 Each of the small towns that line the coast of Door County is filled with one-of-a-kind quaint and unique shopping opportunities with a wide variety of specialty shops.
While visiting Door County, don't expect to find any chain store once you travel north of Sturgeon Bay. Shopping in Door County offers visitors great opportunities to find some of the most unusual and unique gifts and home goods.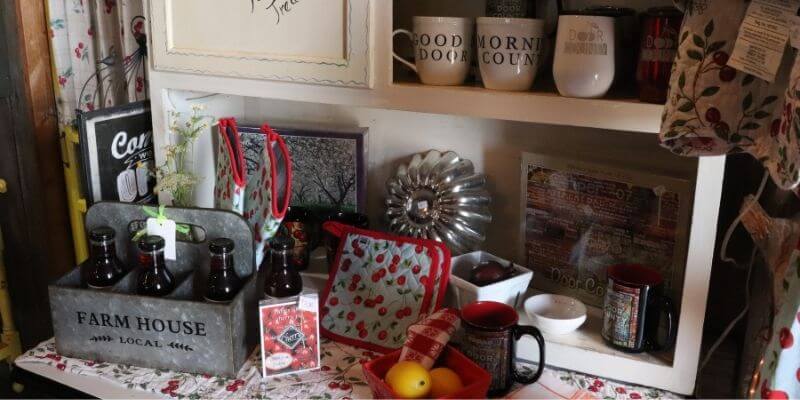 Shoppers will find one-of-a-kind antiques, gifts, men's clothing, women's clothing, Christmas items, children's clothing, furniture, locally roasted coffees, locally grown foods, and a whole lot more.
10 ~ Visit orchards in Door County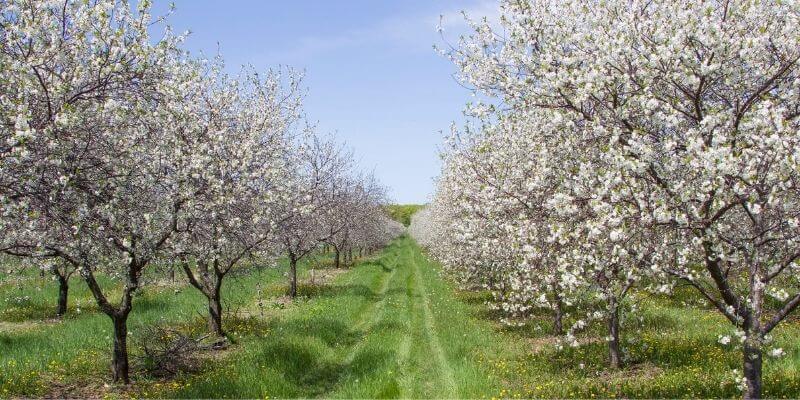 Door County must be home to the perfect soil when it comes to growing fruits. While driving along the roads of many small towns in Door County, you will see several different orchards. Apple and Cherry Orchards dot the landscape alongside the grape vineyards. It is a beautiful site.
Many of the orchards, during harvest, open up areas for the public to purchase and pick their own directly from the trees.
Check out our Mother-Daughter Day Trip to Door County for Cherry Picking. It was a first for both of my daughters.
We seemed to have had perfect timing on one of our trips to Door County. It was the peak of Cherry season. When cherries are ripe for picking, many places have activities going on to celebrate the harvest.
There are activities for the kids, free wine tasting for adults, cherry tasting, nightly music, and cherry pit spitting contests. Yes, this is a real thing. Gary tried his hand at it for the first time. He came in second. Who knew he had such a hidden talent?
We took advantage of every moment and activity, including cherry-picking. We stopped at each tree we picked cherries from to kiss each other to add a little more fun. I love that Gary is as affectionate as I am. It's fun finding ways to keep things exciting and fun. We are determined never to let things get stale between us.
11 ~ Take a ride on the Washington Island ferry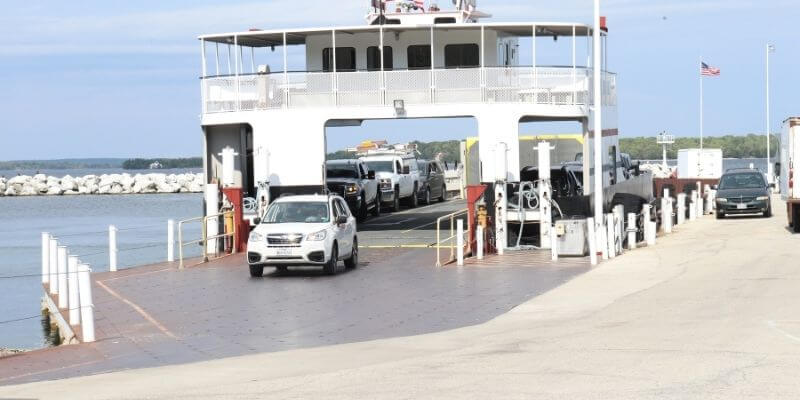 The Washington Island Ferry is a year-round mode of transportation that takes passengers and cars from the tip of Door County Peninsula through death's door passage to Washington Island.
Washington Island is home to more than 700 year-round residents, and Washington Island Ferry is their only transportation from the island to Door County Peninsula. Washington Island Ferry is also the transportation vacationers use to visit any of the island's hot spots.
Washington Island Ferry is an experience itself. It travels through an area known as Death's Door Passage. A passage is the chief navigational passage between the Bay of Green Bay and Lake Michigan. It lies between the northeast end of Wisconsin's Door Peninsula and the rocky shores of Washington islands.
There is a strong current, and many vessels and lives have been lost through death's door passage. It is frequently so strong that sailing vessels can not make headway against it.
History says on one evening, when the winds shifted, hundreds of warriors lost their lives in this stretch of water. Over the years, the passage has claimed 24 sailing vessels between 1837 and 1914 and nearly 40 in the nearby waters in the same period. Many of these sailing vessels still lay to rest on the bottom of Death's Door.
For 75 years, the Washington Island Ferry has made it possible for locals and visitors to cross Death's Door on the way to Washington Island.
12 ~ Visit Washington Island, Wisconsin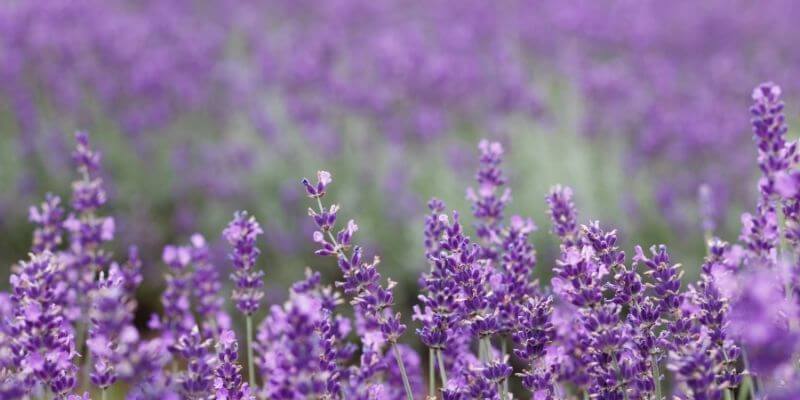 While on Washington Island but sure to slow down and enjoy a more relaxed atmosphere. Washington Island is home to several of our favorite romantic spots. Schoolhouse Beach is a unique beach that is worth visiting. This u-shaped beach is covered with perfectly smooth limestone rocks—one of only a few beaches in the world that can make this claim.
Fragrant Isle Lavender Farm is also located on this small northern island off the tip of Door County Peninsula. To enjoy the beauty and romance of the lavender fields at their peak, visit in July or August.
A visit to Washington Island is not complete without a stop at Nelson's Hall Bitter Pub. This one of a kind pub survived during prohibition by selling shots of bitters .
A visit to Washington Island is not complete without a stop at Nelson's Hall Bitter Pub. This one-of-a-kind pub survived during prohibition by selling shots of bitters marketed as a "stomach tonic for medicinal purposes. When visiting Nelson's Hall Bitters Pub, you can become a local and join the bitters club by slamming down a shot of bitters. As a member of the bitters club, you receive an official bitters club membership card.
Visit the Island Stavkirke, an almost historic Stave church operated by the nearby Lutheran Church. The Washington Island Stavirke has European architecture.
Door County is blessed with a history of many cultures, especially Scandinavian.
For additional reading…check out our post on
A Romantic Trip to Fragrant Isle Lavender Farm Washington Island Door County, Wisconsin
13 ~ Visit Door County Maritime Museum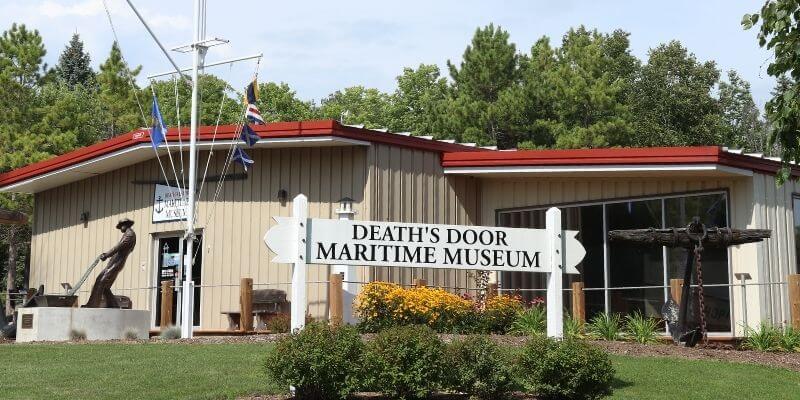 If you love lake lore, you will love the Door County Maritime Museum located along Sturgeon Bay's working waterfront.
The Door County Maritime Museum showcases the area's rich maritime roots. The museum features a treasure trove of artifacts, interactive exhibits, maritime stories, and videos, as well as a tour of the restored tugboat John Purves.
At the Maritime Museum, you will learn about the hard-working fishermen and brave ship captains. You will dig into the history of the lighthouses and light housekeepers that have guided ships to safety for many years. You will also see the vital role the county played in building Naval vessels during World War II.
The Maritime Museum is where Great Lakes maritime history comes alive. For a more spectacular glimpse of maritime history, check out the guided boat tours offered locally.
14 ~ Kayak and paddleboarding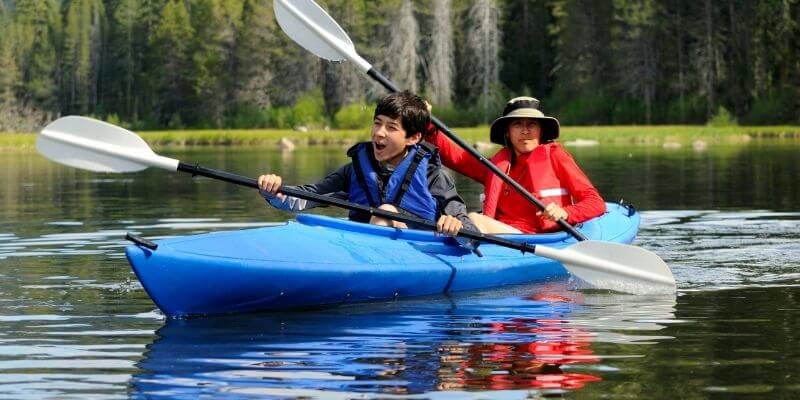 Kayaking and paddle boarding are two favorite water activities for locals and visitors of Door County.
With more than 300 miles of coastline and five state parks, Door County is a kayakers paradise. There is no lack of kayaking opportunities with Lake Michigan on one side and Green Bay on the other side.
Throughout Door County, there are many kayak rentals available. If you plan on Kayaking, pick up a Water Sport and Boat launch map for the information center of the community you are visiting. This map will show you all of the kayak launch ramps.
Door County Kayak Tours and Rentals can help you with your kayaking needs.
15 ~ Enjoy Door Counties State Parks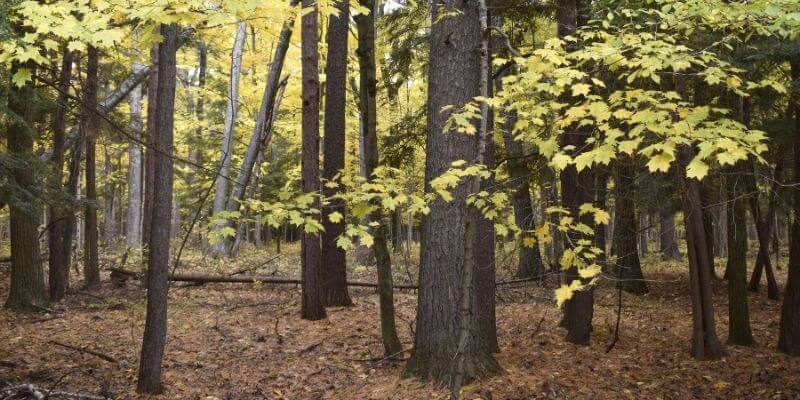 Door County is the only county to offer five wonderful state parks. among the parks, you can enjoy camping, hiking, boating, swimming, fishing, and even golfing.
Peninsula State Park and Potawatomi State Park have observation towers. Whitefish Dunes has the state's highest sand dunes. Newport State Park and Whitefish Dunes have beautiful swimming beaches.
A trip worth taking is to venture to Rock Island, the small island just off the shores of Washington Island, and see the historic boathouse at Rock Island State Park.
A vehicle sticker is required and is good for all Wisconsin State Parks. You can purchase your sticker online or at the entrance of most state parks.
16 ~ Golfing
Door County offers some of the most scenic golf courses in the area. The most northern golf course is located on Washington Island and is only accessible by ferry or private boat.
Has golfing on an island been on your bucket list? If it has and you are looking for pure luxury and scenic golfing, look no further than Deer Run Golf Course on Washington Island, Wisconsin. This nine-hole regulation golf course offers golfers a challenge that is configured to take advantage of the beautiful scenery. It includes large water hazards, sandtraps, and challenging greens.
Ephrain, Egg Harbor, Fish Creek, and Baileys Harbor are also home to scenic and challenging golf courses. With so many to choose from, you are sure to find the one that will challenge you just right.
Gary and I (Michelle) have enjoyed many rounds of outdoor miniature golf while on vacation in Door County.
If 9 or 18 holes of regular golf is too much for your vacation, you still don't have to look any further than Door County. Several miniature golf courses, both indoor and outdoor, are awaiting your pleasure.
17 ~ Shipwreck diving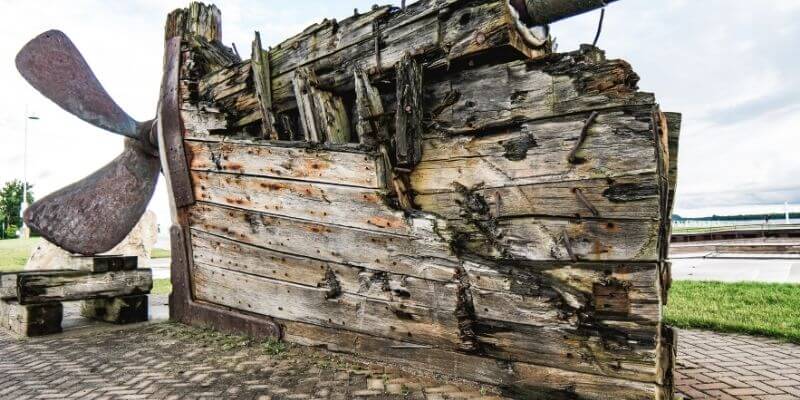 Shipwreck diving may not be the first thing that comes to mind when you think about the things for couples to do in Door County, but this may just be the most exciting one.
There are around 240 known shipwrecks in the waters of Door County. Adventurous divers can explore a number of them by shipwreck diving.
A handful of the wrecks are located in less than 60 feet of water. You will only need a love for the exciting and basic snorkeling equipment. If you are a more experienced diver and have specialized equipment and training, you can investigate the wrecks that are more than 100+feet deep in Lake Michigan.
If you are not a fan of being underwater, you can explore many of the shipwrecks at local museums or on scenic cruises. You can even explore the shipwrecks virtually.
18 ~ Ferry to Rock Island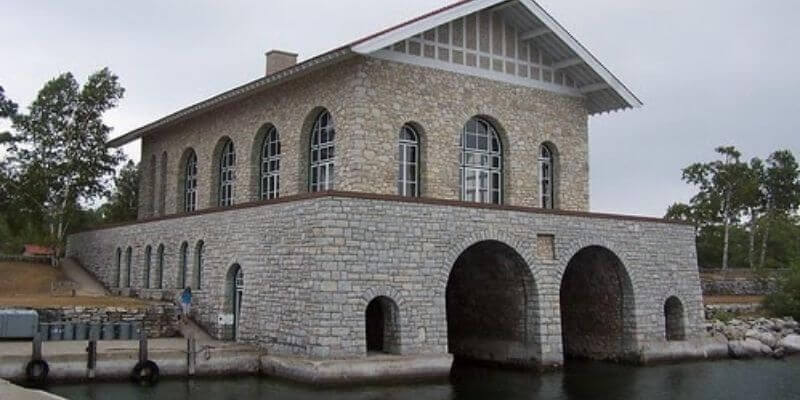 From Washington Island, you can take a ferry to the nearby smaller island of Rock Island. This uninhabited island does not allow any motorized vehicles. When visiting the island, you need to bring everything with you that you will need while there.
Rock Island is a Wisconsin State Park. The island was owned by a wealthy investor from 1910 until 1964. He left behind stone buildings and the Pottawatomie Lighthouse. The Wisconsin Department of Natural Resources currently owns this 900-acre island.
For the adventurous, romantic couple, overnight camping is available. Just remember to bring everything with you on the ferry.
19 ~ Horseback riding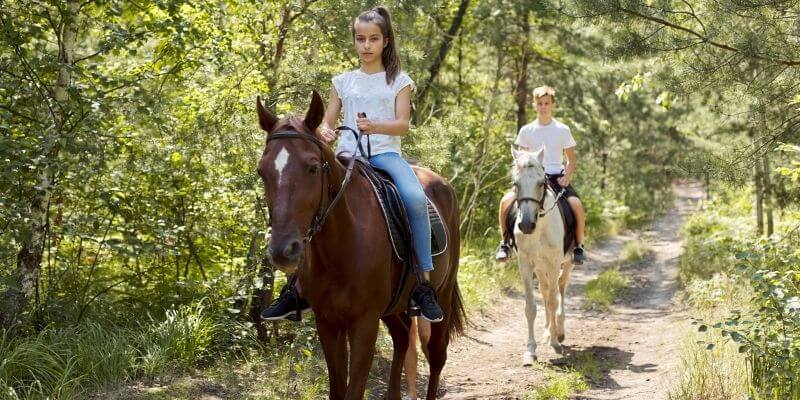 Horseback riding is another activity that couples can enjoy while in Door County. Kurtz Corral, a premier riding stable in Door County, is situated on 140 acres and uses neighboring land, including a wooded area on County I, allowing for 500+ acres for trail rides.
Kurtz Corral offers a wide variety of rides ~ arena rides, wooded rides, wine tour rides, and advanced riders. A great way to enjoy the Door County scenery and the fresh sea air.
20 ~ Skyway Drive-In
How nostalgic it is to visit a drive-in movie theater. Skyway Drive-In, located in Door County, is named #1 Drive-in by trip advisor. It is open May-Oct.
Grab a blanket, your own munchies, and head to Skyway Drive-In for a romantic night under the stars and the big screen. At the cost of fewer than ten dollars per person, this makes for not only a romantic evening for two but also an economical one. For the cost of admission, you are able to stay and watch both movies of the evening.
Skyway offers a snack bar complete with pizzas, nachos, hot dogs, and many other yummy items if you are craving more than the munchie that you brought with you.
When was the last time you held hands and kissed while in the car, like back in high school? Check out the movies at Skyway Drive-In to see what the nightly features are.
21 ~ Visit Cave Point County Park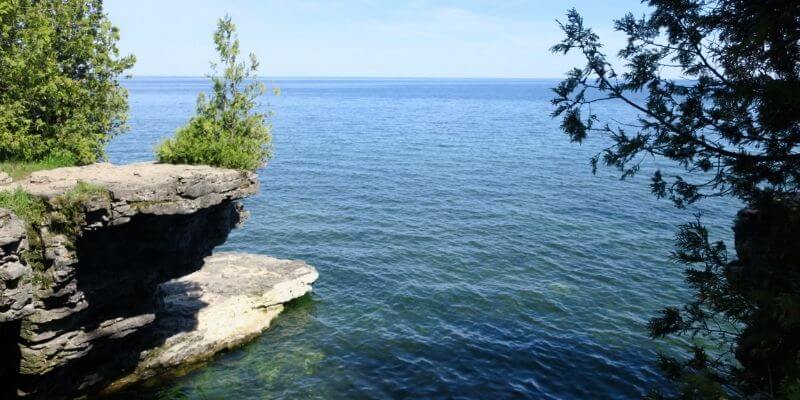 Residents find Cave Point Park the most iconic natural landscape in Door County. It is a popular place to visit. for residents but often overlooked by visitors.
Residents and visitors who know the area well know that the view from Cave Point Park is spectacular.
Cave Point County Park is one of the best things to do in Door County. Cave Point consists of 19 beautiful acres of wave-worn limestone cliffs facing Lake Michigan, underwater caves, and breathtaking views of Lake Michigan.
Photographers, scuba-divers, and fishermen love the area.
The road leading to Cave Point Park is blacktopped, and gravel has been put down on the trails for easy walking. Visitors will find picnic tables, grills, fire rings, and restrooms.
A park sticker is not required for a visit to Cave Point Park.
Cave Point Park is a great place to enjoy a romantic afternoon together, relaxing and enjoying the view of Lake Michigan.
22 ~ Segway tours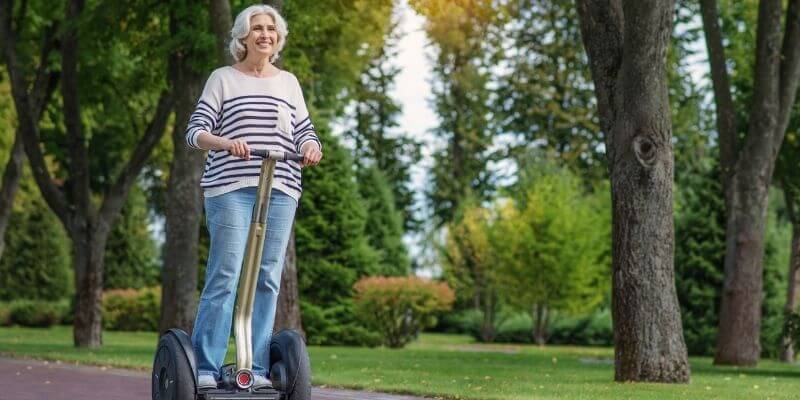 Have you ever wanted to try a segway? This is a unique and extremely fun way to see some of Door County. Choose your Door County location for your once-in-a-lifetime experience on two wheels, Peninsula State Park, Fish Creek, Ellison Bluff, Washington Island, Sister Bay, Cave Point & Whitefish Dunes, Baileys Harbor, Egg Harbor, or Sturgeon Bay.
You will enjoy and be amazed as you take in the sights and picture-worthy views of the many Door County areas while you are gliding on the two wheels of a Segway.
This is a great way to have fun and enjoy nature. Glide N.E.W. Llc offers many Segway tours throughout Wisconsin.
23 ~ Check out the graffiti at Anderson Dock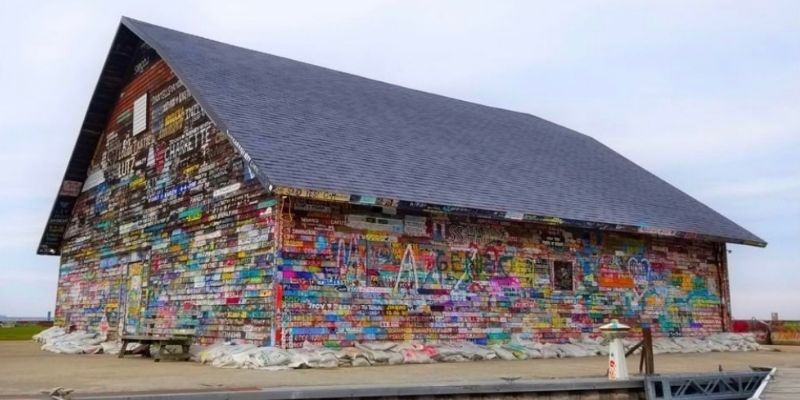 A visit to Anderson Dock gives you a real glimpse of tasteful and acceptable graffiti.
A sign posted states that boaters signed the dockside warehouse wall over the years with the name of their boat and the year it was docked at Anderson Dock. Boating visitors are encouraged to continue the tradition.
You must get creative and be tasteful; no spray painting or carving is allowed. Over the years, this tradition has left a very tasteful sight for visitors to enjoy. Anderson Dock makes a great backdrop for romantic pictures.
24 ~ Take home cheese curds and other delicious Door County specialties
Door County has some of the best specialty food you can find. It's home preserving at its finest.
Renard's Cheese Shop has some of the best cheese curds in the area. Their cheese curds are delicious! We can't leave Door County without taking some home with us.
Laudenbach has some of the best cherry salsa. This is something that I was hesitant to try, but now I am hooked.
25 ~ Best Dining in Door County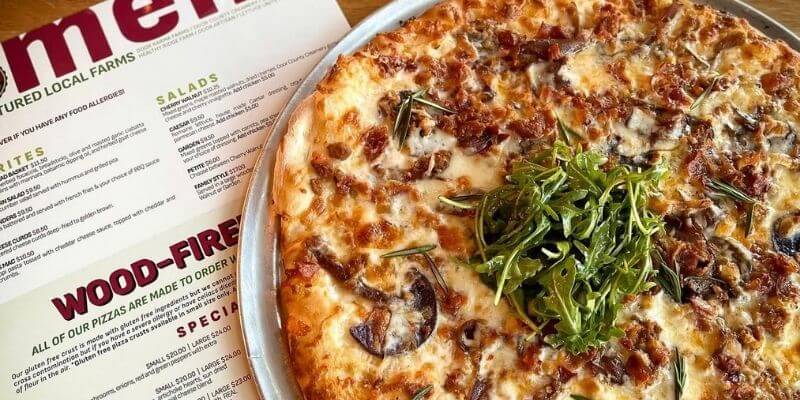 What's your dining pleasure? While in Door County, you won't find any chain or ordinary restaurants. Some of the finest and unique eating establishments can be found while enjoying your romantic weekend together.
A few of our favorites include ~
Old Post Office Restaurant is located in Ephraim. This is one of our favorite places for a Wisconsin Fish Boil.
Al Johnson's Swedish Restaurant is a true experience. In the summer, goats graze on the sod-covered roof while authentic Swedish food is prepared inside. You won't be disappointed with a visit to Al Johnsons.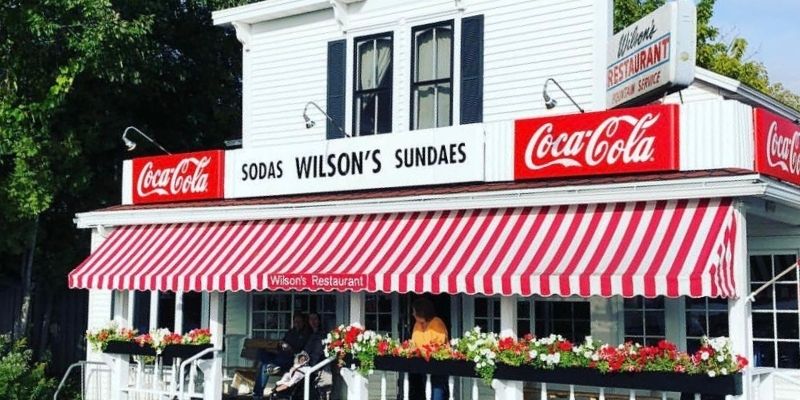 Wilson's Restaurant and Ice Cream Parlor is a classic Door County landmark. This old-fashioned soda fountain has some of the best burgers and ice cream around.
Waterfront Restaurant has some of the best seafood in the area. Add that to the beautiful view of the sunset. It's the ideal place for a romantic dinner for two. You couldn't want anything more.
The English Inn has the best beef wellington and prime rib.
Wild Tomato Wood-Fired Pizza and Grill has some of the best pizza I have ever eaten.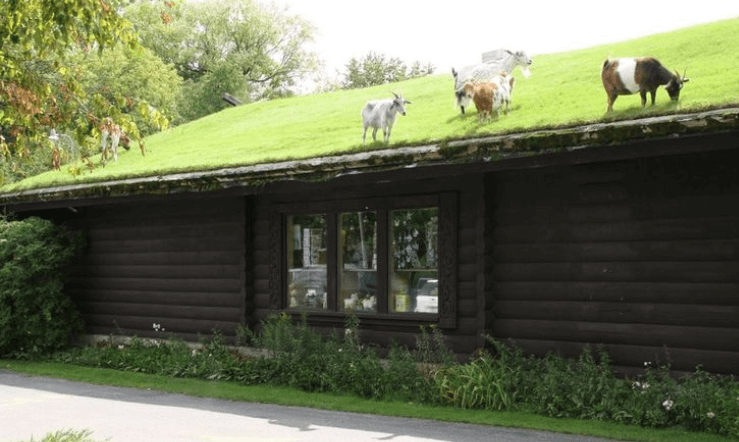 Many of the other attractions also have Scandinavian flair to them. Al Johnson's Swedish Restaurant is another must-visit for both locals and tourists. They are known for their Swedish pancakes with Lingonberries preserves and the goats grazing on the roof.
Door County offers some unique and exciting things. So what are you waiting for? Head to Door County for a romantic weekend for two.
Be sure to check out Travel Wisconsin for more exciting things to do in Door County and around Wisconsin.
PIN IN FOR LATER