Door County Cherry Picking | A Girls Day Out in Wisconsin
There are some days that you just need to get away, and there is no better way than to go with friends. When those friends end up being your daughters, who are two of your favorite people around, a girls day out on a road trip for Door County Cherry Picking and shopping is sure to be a blast.
Where is Door County, Wisconsin?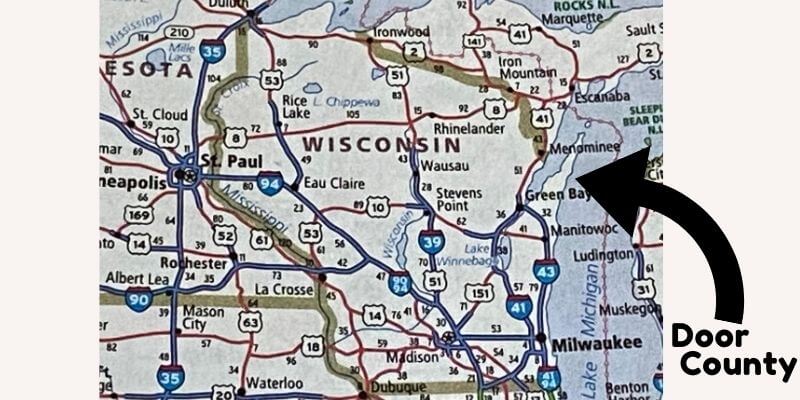 When looking at the map of Wisconsin many people say it looks like a glove. Door County is pretty much all of the thumb of the glove. Door County is made up of more than a dozen small charming towns on a peninsula between Green Bay and Lake Michigan.
Door County has more than 300 miles of shoreline and dozens of public beaches. You can watch the sunrise and the sunset without even leaving the county. It is beautiful, breathtaking and relaxing.
The earliest settlers to Door County were Scandinavian, and they brought with them many of their customs. The men were fishermen and lumberjacks. One of the customs they brought with them was known as a fish boil. A Door County Fish Boil is an experience that visitors to the area can still enjoy today.
There is no mistaking the Scandinavian flair to many of the shops and restaurants. Making shopping and eating in Door County a very unique experience.
The soil in Door County is perfect for growing cherries, grapes, and even lavender, making Door County a perfect retreat for wine tasting, cherry-picking, or just walking the lavender fields.
This post may contain affiliate links. That means if you click and buy, I may receive a small commission (at no cost to you). Please see my full disclosure policy for details.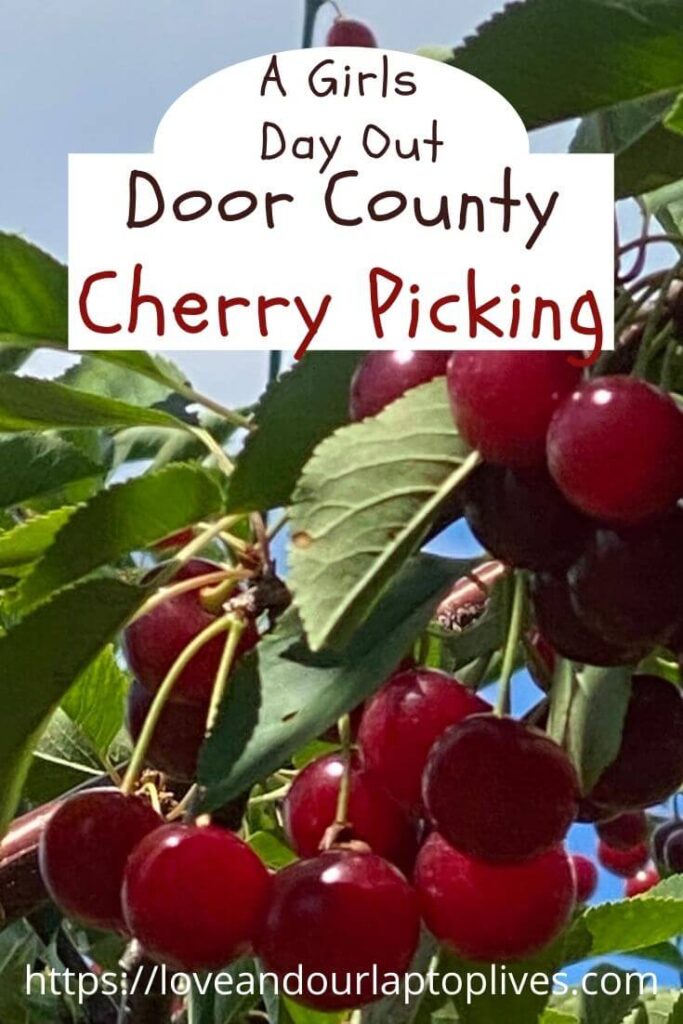 Getting to Door County
Getting to Door County is half the fun. Make the drive part of your trip, meaning if something catches your eye, give yourself permission to stop and explore.
For us, Door County is about 100 miles. The perfect opportunity for a girl talk and to catch up on what's been happening in everyone's life. Green Bay, Wisconsin is on the way and is about the last major city before hitting Door County. It would have been our stop for coffee except we all came prepared. Last year Cassie gave us all wonderful Corkcycle tumblers and we remembered to bring them. I'm not surprised, I love mine, it's great for hot or cold. My tumbler is always with me on road trips.
If you are flying, Green Bay Austin Straubel Airport would be your nearest major airport to Door County. From there the best way to enjoy Door County is to rent a car and enjoy the scenery during your short drive. You will want the car in Door County so you can get around to all of the unique places.
Things to do in Door County
My daughters have never been to Door County or went Door County cherry-picking, so the thought of planning our day together excited me. I was going to get to share with them something new. These are some of the many things we had to choose from during the day in addition to the cherry-picking.
Door County Coffee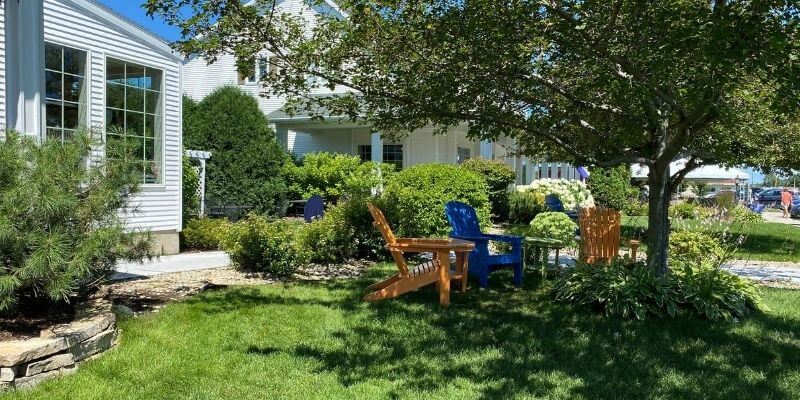 Door County Coffee and Tea has to be your first stop. I almost think you can smell the roasting coffee while driving up. For us, it was that perfect stop for our second cup of the day and a scone to go with it. We did a little shopping and stretching our legs before ordering. It was so nice to take our scones and coffee outside and enjoy the early morning sunshine and breeze under the trees.
Even if you are not needing your caffeine fix, you really have to include a stop at Door County Coffee on your list. Not only can you stop in and buy freshly roasted Door County Coffee to take home, but you can also buy scone mixes in their large attached store. You will also find so many gifts and special items under their roof. You will surely find something that needs to go home with you.
Strolling the Marina and Enjoying the Beach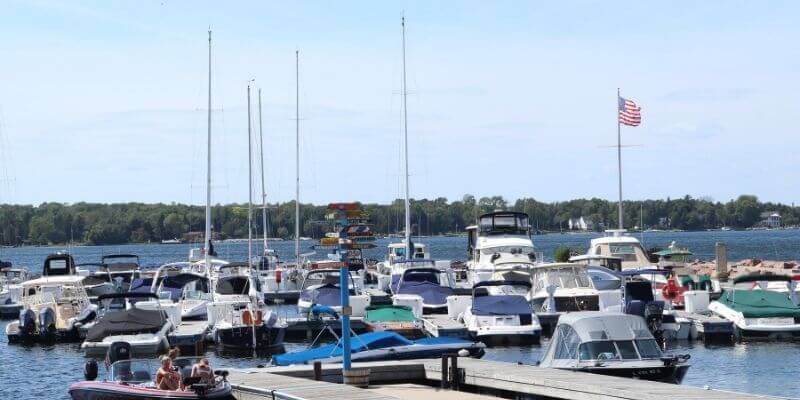 No stop in Door County is complete without a stop at the marina, it is so much fun to just stroll and dream. Depending on the weather you must put your feet in the sand. It may not be the ocean, but feeling the sand between your toes just makes it a vacation.
Door County Shopping
Shopping is so much fun in Door County. Each of the little towns along the peninsula offers its own unique shopping experience. You won't find any chain stores, each of the unique stores is locally owned and operated. You will find stores offering everything from one of a kind clothing, beachwear, holiday items, kitchen gadgets, home decor, jewelry, artwork, and antique shops. I couldn't keep up with the list of all the places we stopped to shop but these are just a few of our favorites.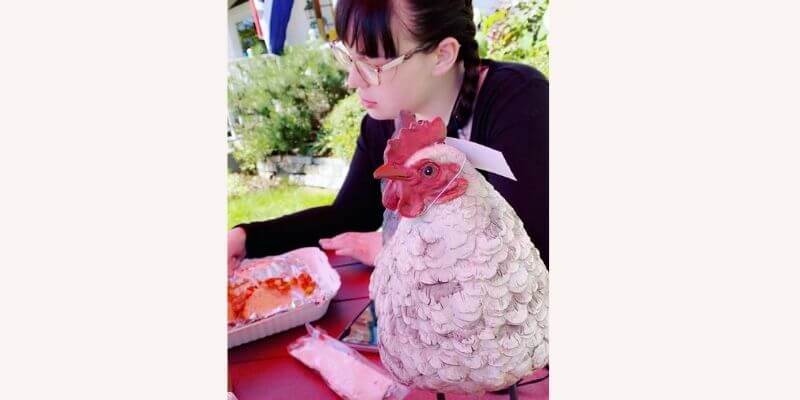 This list could go on forever, there are so many fun shopping opportunities in Door County ~ You may want to plan a girl's weekend and not just a one day girl's day.
Door County Restaurants
Door County is filled with a wide range of restaurants, Its really hard to choose where to eat. Everyone has their own specialty, and what they do they do well. We are going to have to make a return visit so the girls can try more places. Our day was just way too short.
Al Johnson's Swedish Restaurant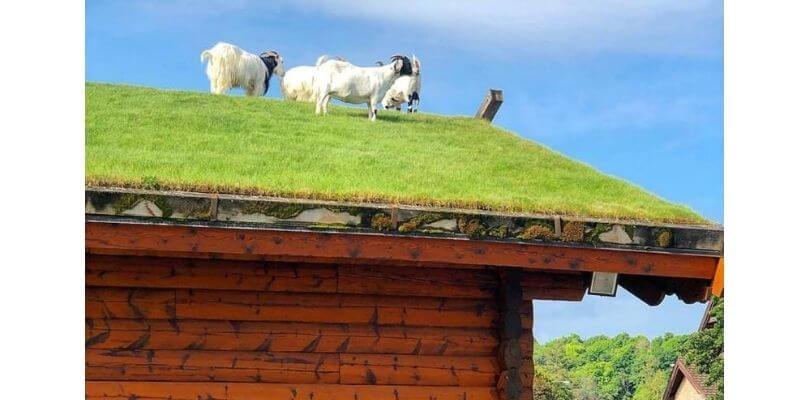 Al Johnson's Swedish Restaurant is an authentic Swedish family-owned business. It is known for two things, first is the goats grazing on the sod roof. Second is the ladies in Scandinavian garb serving authentic Swedish pancakes. Don't be fooled the pancakes are awesome, but so it all of their food.
Door County Ice Cream Factory
No girl's day would be complete without a stop at Door County Ice Cream There is nothing like local, homemade ice cream. While there, be sure to ask for samples before choosing. They have some amazing flavors like Door County Cherry and Deaths Door Chocolate. It's hard to pick a flavor.
Door County Cherry Picking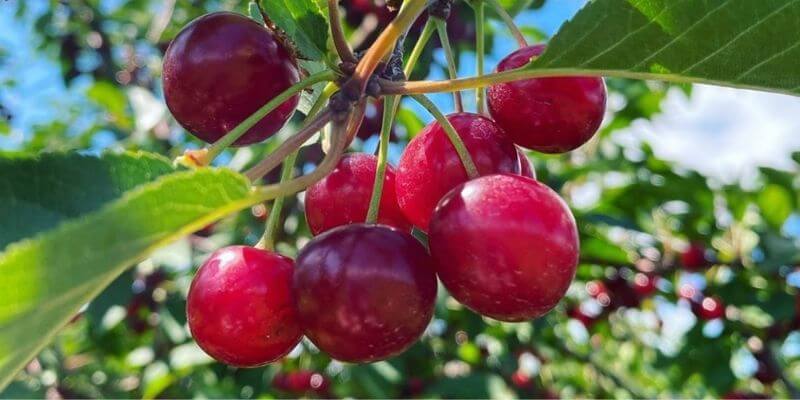 We timed our visit just right! It's Cherry season and many of the orchards are open for picking. When I mentioned to Felicia for our girls day out we were going Door County cherry picking she was very excited, but even more excited when I said shopping also. That girl is like her mom, always up for any adventure.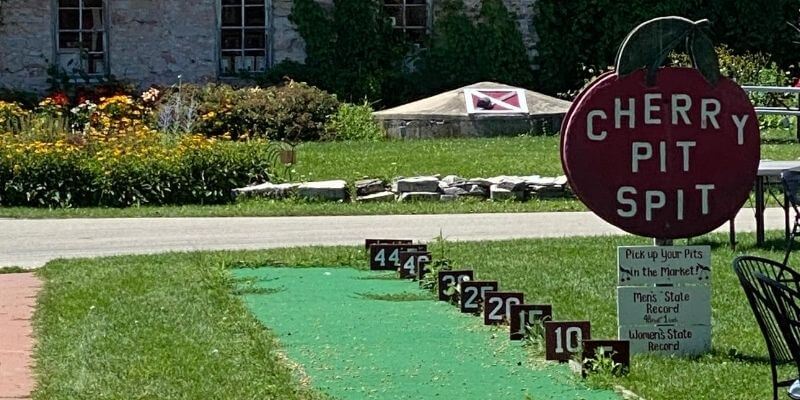 Our first stop was to stop at the Lautenbach Orchard store for a little shopping, fun, and wine tasting. Lautenbach's store is filled with all kinds of cherry items: bread, pie, jam, salsa, cheese, and wine. The store was also filled with gift ideas.
We were on a search for cherry salsa, which we found and so much more. We left having sampled wine ~ just enough samples to get us through Door County cherry picking. We also left the store with bags of goodies that were going home with us. And did anyone want to do some cherry pit spitting? Gary is really good at it, he tried his hand at in on one of our previous Door County weekends.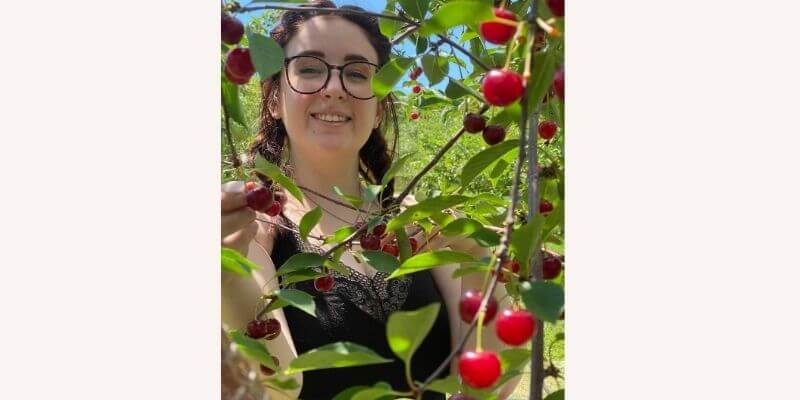 After shopping, we purchased empty cherry buckets in the Lautenbach Orchard store. Cherry-picking is a little different than strawberry picking, which we love to do also. Check out our blog post about Strawberries, for that adventure.
When cherry-picking you first purchase your bucket for a set price. You are then directed to the area of the orchard you can pick. For us it was way at the other end, we were able to drive out into the orchard and find our area to pick. We were free to enjoy the orchard and fill our buckets with nice ripe cherries. You always want to look for nice firm dark red cherries when picking. You fill your bucket as full as you can.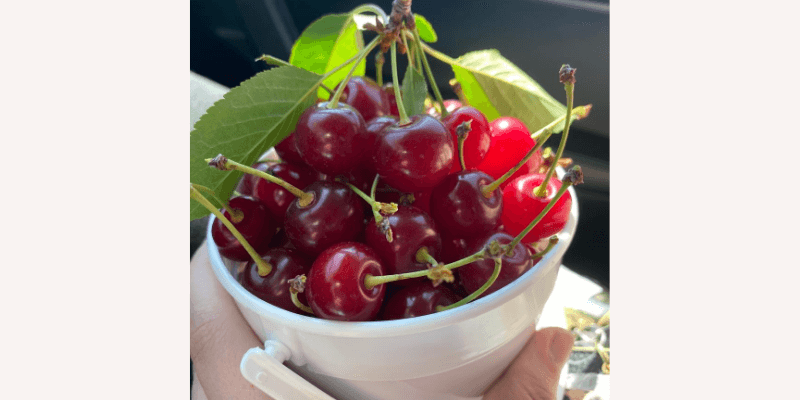 You don't need to go back and have them weigh your cherries like you do strawberries. Strawberries you buy by the pound, cherries by the bucket. If it fits in your bucket you are good to go.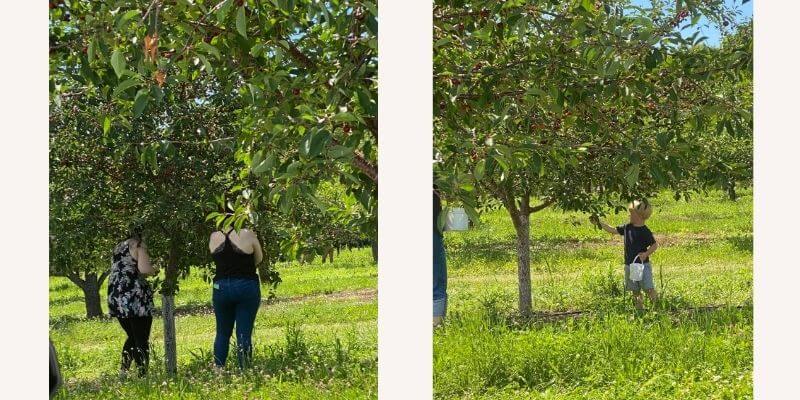 When we first drove out into the cherry orchard. We wandered for a while taking pictures before we chose our cherry tree and started picking. It was so much fun giggling, watching the families picking cherries, enjoying the trees and the neighboring grape fields.
Wine Tasting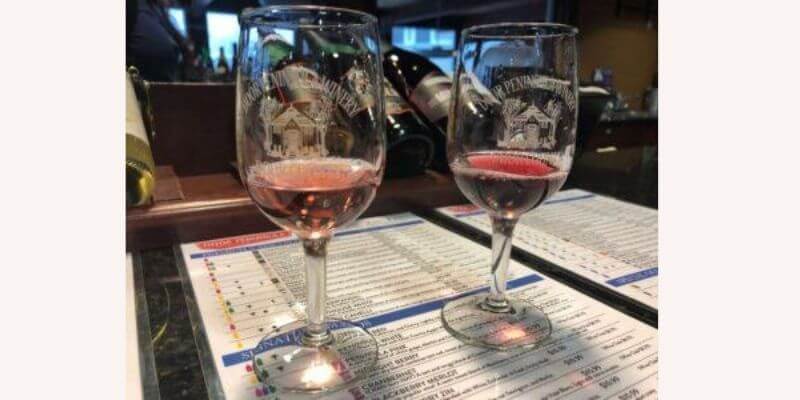 Our last stop of the day is to wind down after a long day of Door County cherry picking, shopping, and eating. Door County Peninsula Winery was our last stop of the day. Gary and I have stopped here several times and have a blog about wine and a new friend you'll want to check out. We love being able to sample the new wines of the season. It seems each year we find a new favorite.
Both girls are of age so this will be fun. This being 2020 the wine tasting was outside and the girls couldn't enjoy the full experience of the winery, but it was a great way to end the day before heading home. We may have each taken home several bottles of our favorite blend.
What a great day!!! So what are we going to do with all those fresh cherries? I'm pulling out a few of my favorite recipes.
Cherry Bounce
4 cups Door County Cherries (remove the pits)
1 quart of your favorite liquor
1/2 cup sugar
Combine all of the ingredients in a large mason jar. Refrigerate and set aside for at least 1 month (mine will wait till Christmas)
Occasionally tip the jar upside down and back again to mix.
Alcohol content increases the longer you let it sit.
Serve as a holiday drink or dessert.

Cherry Pie Filling
This is my favorite recipe from allrecipes
4 cups pitted tart red cherries
1 cup of sugar
1/4 cup cornstarch
Place cherries in a saucepan over low heat. Cover the pan and heat until the cherries release their juices and come to a simmer. About 10 minutes. Stir often.
In a bowl, whisk the sugar and cornstarch until smooth and blended. Pour the sugar mixture into the hot cherries and juice. Thoroughly mix. Simmer on low until the filling thickens. about 2 minutes. Remove from heat, and let cool.
Use as your pie or tart filling. You can water bath can the filling for later use.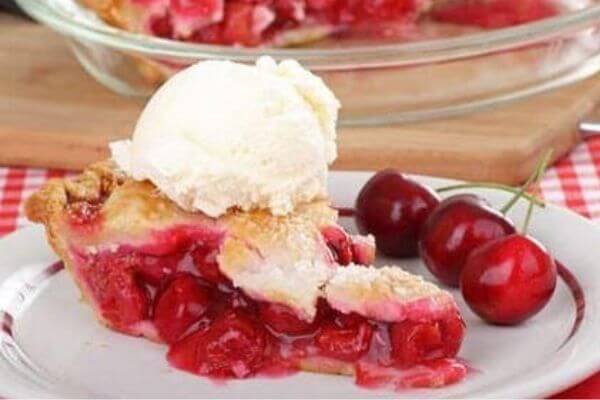 I also made cherry salsa, cherry BBQ sauce, cherry syrup, and cherry jam. It was a busy week but will be worth the extra effort. You can get all six of my cherry recipes by requesting them below.
Gary and Michelle
XOXO


We would love for you to stay in touch!
Whether you have a question about our site, want to work with us, have a feature idea, or just want to say "Hi" please feel free to send us a message.
You can reach us at [email protected]
Or follow us on Social Media

Facebook @ Love and our Laptop Lives
Pinterest @ Love, Travel and our Laptop Lives
Instagram @ Love our Laptop Lives
Twitter @ Love and our Laptop Lives
YouTube @ Love and our Laptop Lives
Amazon Store @ Love and our Laptop Lives