21 Must-Have Essentials To Bring On A Road Trip For Couples
"These must-have essentials to bring on a road trip checklist
will help you be prepared and ready for each road trip."
Road Trips have become a great American pastime. Road trips are the perfect getaway during every season. Seeing new places is exciting but trying to stay happy while traveling in such a small space can be a challenge.
It took us a while to embrace this way of travel. With some planning and preparation, we have learned to enjoy road trips.
By making sure our list of "essentials to bring on a road trip" are always packed and ready to go, we look forward to each road trip with excitement.
If road trips are not on the top of your list when you thin of a vacation, once you take a road trip adventure you will realize they can be as much fun as jetting off to faraway places after one road trip.
That may be just a little of a stretch. You may not always find warm sunny beaches but will discover hidden gems you may not have if it were not for a road trip.
When you plan your next road trip, be creative but leave wiggle room for unexpected pleasures along the way. Do plan and be prepared. Having a list of essentials to bring on a road trip will help you prepare for the unexpected.
We have never needed a few things on our list, but we travel easier knowing they are there if we need them.
This post may contain affiliate links. That means if you click and buy,
We may receive a small commission at no extra cost to you. Please see my disclosure policy to learn more.
Must have essentials to bring on a road trip
This list is just a starting point. Gary and I mainly travel just the two of us, but at times, I go on one-day road trips with my daughters, and our grandkids sometimes come with us. Our main list of essentials to bring on a road trip is the same on all o-ose trips, but we may need to add items depending on who is traveling with us.
With the proper planning, you will soon be saying you love road trips also!
Often, no one thinks about what to bring until it's too late. Let's change that and learn from "our" mistakes. After a few road trips with several mishaps, this is our revised list of the 21 must-have essentials to bring on a road trip. We wouldn't think about taking a road trip without them again.
We want to help make life easier by helping you organize before your road trip.
1~ Good Attitude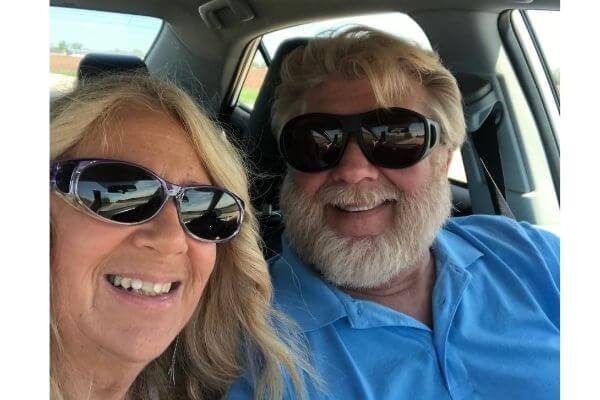 A good attitude is the first thing you need to make sure you "pack." Be involved in the planning, have a say in where you are going and what you will be doing on your road trip. This trip belongs to each of you, and sometimes that means there are things on the list that you want to do, but your travel partner does not. It goes both ways. It's give-and-take.
Who knows, you might find something new that you enjoy.
Gary wasn't too keen on waterfalls at first, but he enjoyed the road trip and
helped put together the details for our second waterfall adventure.
There might have been a road trip or two where Gary or I didn't have the right attitude. We stopped, talked, and adjusted our attitude.
Your attitude will make or break your road trip or any trip for that matter.
Focus on being together during your romantic travels!
---
2 ~ Snacks
Snacks are an important part of keeping everyone happy and keeping the "hangrys" away.
There will be times when you will be traveling from point "a" to point "b," and then other times you can stop at all of those cute dinners along the way.
Be prepared with plenty of healthy snacks in the car. That allows you to munch as you travel and even take detours at times because no one is famished.
In addition to the munchie snacks, cookies, crackers, and chips, you can bring along delicious cheese, fresh strawberries, carrots, or grapes. That way, you don't just load up on junk. Use the snacks as a quick pick me up in between stops or for a burst of energy while on a short day hike.
3 ~ Water and Healthy Drinks
It's essential to stay hydrated! Water, Gatorade, energy drinks, or other healthy drinks are important.
Avoid soda, it makes you thirstier, so you drink more, resulting in having to stop and use the restroom more often. Stick with water; it's your best defense when it comes to staying hydrated.
If you don't want to buy bottles of water, you can fill a gallon at home with water and then refill your insulated mugs along the way. It will save money and time.
To stay hydrated, the goal should be to consume 6 oz. of water per hour. Depending on your activity, this amount may need to be higher.
4 ~ Insulated Mug
Insulated mugs will keep your drinks hot or cold for a more extended period. Coffee will stay warmer than it does in those paper cups from coffee shops. Using an insulated mug you also don't have to worry about your coffee leaking through the bottom of the cups into your car's cup holder.
Have you ever tried to soak up all the coffee from one of those cup holders in your car? I have, and I don't think I've gotten it all to this day. As soon as we get our drinks, they go right into our travel mugs.
The Yeti is our personal favorite. It works great at keeping water cold for an extended period. We always travel with insulated mugs.
5 ~ Insulated Bag/Small Cooler
Always keep a small cooler in the car. Start your road trips with cold or partially frozen bottled water. The cooler keeps your beverages cool,and the cold water bottles keep our fruits and vegetables cool. It's a win-win!
Fill a gallon or half gallon jug for longer road trips the night before your trip and freeze it overnight. It should end up being just a bit frozen. Pack your cooler, and as the gallon of water thaws, you have drinking water to refill your insulated mug.
One of the bonuses of having an insulated bag/cooler always in the car is that when you stumble upon those unexpected finds along the way, you have no excuse not to stop.
An insulated cooler is great for keeping the car for grocery shopping also.
A couple of our favorite road trips unexpected finds ~
Nueskes An Unexpected Pleasure
Door County Cherry Picking / Fun with my adult daughters
Saturday Morning Farmers Market

6 ~ Wipes
Eating and driving can be messy! These need to be in everyone's car all the time. I'm sure if you have kids, you know what I mean. Whether it's wiping your hands before you snack or after, these types of wipes come in handy.
Wipes are great for having in your vehicle and handy for after you fuel your car. Or a lifesaver when you stop to use the restroom, and there is no soap. YUCK!
7 ~ Garbage Can / Bags
I double anyone likes having garbage floating all over their car. Keep a roll of garbage bags in the car to keep the temptation away and prevent the trash from piling up in the back seat.
We always have a garbage bag with us. They also work great for other emergencies, such as an emergency poncho or to lay it on the ground if needing to change a tire.
8 ~ Paper Road Map / Atlas
We learned the hard way how important it is to have a paper copy of the roads you are traveling. Gary and I recently got lost on the roads in Chequamegon-Nicolet National Forest ~ say that three times.
During one of our Wisconsin road trips searching for waterfalls, I realized we had lost cell phone service and no longer had access to maps.
I had just purchased an atlas off Amazon and thankfully had put it in the car. I have never really used an atlas. It was fun and quite the sight to see me trying to figure it out. Gary was very patient.
The area where we got lost was all gravel roads not shown in the atlas. Thankfully with Gary's' excellent compass skills and the general overview from the atlas, he could navigate us to our next planned stop and then finally out of the National Forest. But not without taking us down some questionable roads.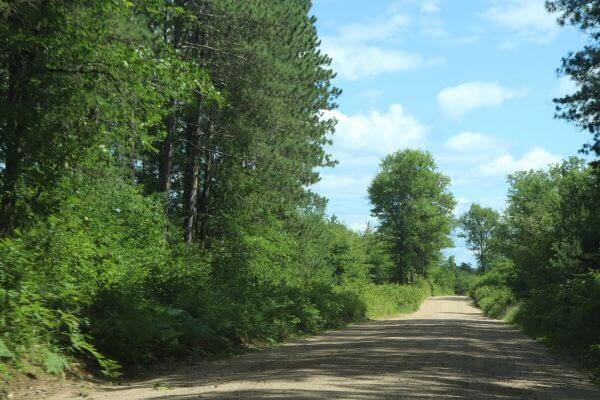 FYI ~ The Chequamegon -Nicolet National Forest covers more than 1.5 million acres of Wisconsin's North-woods, Just one more reason to have snacks and water with you in addition to the atlas. You don't want to get lost without those for any extended time.
9 ~ Emergency Road Kit
An Emergency Road Kit is something we should all have in the car, even if we are not going on a road trip. Having jumper cables and other emergency gear in the vehicle prepares us for an emergency. On one or more occasions, having a roadside emergency kit has allowed us to help others.
You may never have to use some of what's in the emergency car kit, but it's comforting to know if the need arises, we are prepared.
When my daughters got their first cars, a roadside emergency car kit was one of the first gifts I gave them. We are comforted in knowing that if an emergency comes up, they may have the needed equipment that will allow someone to help them.
10 ~ First Aid Kit
A first aid kit is another one of those things that you should always have in your car for emergencies. I can't even count the times this kit has been needed, scraped knuckles, banged knees, bug bites, or the time Gary slipped off the edge of wet rocks and scraped his ankle. He did a super job at saving the camera. Great save, Honey!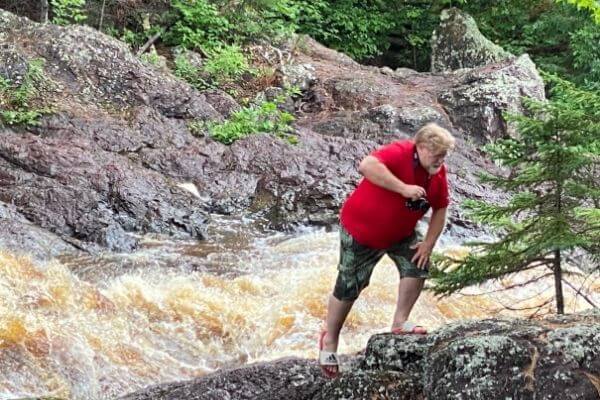 Note ~ If you have an older first aid kit, you may want to check the items and see if they need replacing.
FYI ~ I do take jabs at Gary a lot, but he's fun to pick on and always finds a way to jab back at me. We smile through it! Secretly I think he enjoys it. Plus, I'm writing this, and by the time he sees it, it's too late.
11 ~ Portable Phone Charger
Extra portable chargers can be a lifesaver. You may find yourself in areas where you can charge. The last thing you want is to find yourself without your cell phone or other electronics.
On a recent visit to the USS Lexington, We spent the entire day exploring the ship. Before the day ended, both of our cell phones had lost power, and so did our camera. Having the extra charges kept us on the go all day.
There are a variety of charges available to choose from available on amazon. Plan to have extra cords with you also.
12 ~ Download Playlist
Bring some of your favorite music to keep you company. You can make do with the radio, but if it's more than an hour of travel, our favorite station gets fuzzy for us.
With your music downloaded, you can listen to by updating your iTunes or downloading Pandora.
This is also a great alternative when you both want to listen to something different.
Another option is to sign up for ad-free music on demand – Try the Amazon Music ~ FREE for a 30 Day Trial.
Or sign up for Amazon Audible Plus, a brand new all-you-can-listen membership that offers access to thousands of titles, including a vast array of audio books and podcasts.
13 ~ Camera / Photo Equipment
Road trips are a great way to see some fantastic places in the U.S. Pictures are a great way to bring back your memories without buying souvenirs.
We use both our iPhones and a Canon SL2 camera. They are both very useful on a trip because they take pictures differently.
Make sure to also stock up on extra SD cards.
Having a camera in addition to your iPhone is an extra layer of
protection against one or the other getting erased.
14 ~ Pillow / Neck Pillow
If you are the passenger, having a pillow to put between you and the window may be the difference between getting a little shut-eye or ending up with a stiff neck when you get to your destination.
Cars were not designed for cat naps; You end up hitting your head with each little bump. A pillow will at least help you get comfortable.
The pillow also works well on your lap as a book rest.
15 ~ Blanket
There are numerous reasons to have one or two blankets in the car at all times. The blanket helps you get comfortable; you can use it to block the sun from coming in your window.
Having a blanket opens up the possibility for spur-of-the-moment picnics or romantic snuggling on the hood of the car watching fireflies.
They are a must to have in the event of an emergency.
16 ~ Flip Flops / Sandals
Do your feet get hot in the car? It's nice to slip off your shoes when you are in the car for hours as a passenger.
Having something extra, that's easy to slip on and off, like sandals or flip flops, is a must when getting out of the car for those short breaks. It's easier than having to put shoes on and off all the time.
17 ~ Sunglasses
Sunglasses help keep you and your eyes safe and healthy while driving and exploring. Good sunglasses will help prevent driver fatigue also. Whether you like grey, brown, yellow, or blue, make sure they are polarized.
As a bonus, a good pair of sunglasses looks cute.
18 ~ Raincoat / Umbrella
Don't let the rain dampen your adventures. Be prepared, have a raincoat and an umbrella in the car or your trunk. It could save your trip.
We started out using cheap emergency raincoats, and they do the job. Due to the fact we found we were not going to let the weather stop us from having fun, we invested in something more substantial.
When we visited the Disney Animal Kingdom in Orlando, Florida, it was raining. We had planned the visit for the last day of our vacation, and we were not about to let a little rain get in our way.
19 ~ Flashlight
Always be prepared! There are countless times when a flashlight has come in handy—changing a tire, checking under the hood, looking for something in the back seat or trunk.
Yes, we all have the light on our phones, but if you are out changing a tire, you don't want to be using the battery on your phone.
20 ~ Extra Car Keys
Things happen, and you never know when you might need an extra set of keys.
Picture this, you are hours from home, and you stop to get something out of your trunk. You pop the trunk and set your keys down. After getting what you were looking for, close the trunk, only to remember that instead of putting the keys in your pocket, you set them in the trunk.
Yes, this has happened to me. While the doors were locked, thankfully, Gary had the extra keys on his key ring, or we would have been stuck.
We always have two spare sets of keys with us.
21 ~ Duct Tape
Isn't duct tape a man's best friend? Duct tape can be used for so many things.
With duct tape being useful for so many things, it should be on your essential list of things to bring on a road trip. It is that one item that Gary added to our emergency kit in the trunk.

Enjoying your road trip depends on what you bring and don't bring with you. The keys to a successful road trip is thinking ahead, being prepared, and being organized.
One of our biggest tips is investing in a good car organizer. Organizing your essentials will help make your trip go a lot smoother.
This list of essential things to bring on a road trip is just a start; you will add items based on your needs. We have not had to use a few of the things on this list, but we are more at ease knowing they are there if we need them.
Like a well-trained scout, we are prepared.
Pop over to our Essential Road Trip Tips blog post for more on how to prepare yourself and your car for the ultimate road trip.
We'd love to hear from you if we missed something that you think is essential to have with you on a road trip. Leave us a comment and let us know what's in your trunk to make your road trip go smoother.
Additional ideas and inspiration,
check out some of our road trip fun ~
FAST Fiberglass Grave Yard
Wisconsin Dells Road Trip
Hidden Wisconsin Waterfalls
House on the Rock
Historic Third Ward, Milwaukee Wisconsin
Things to do in St. Louis
Pin Me For Later