St. Louis, Missouri is a city filled with many fun family-friendly activities. Not the place that many would think of to spend a family vacation. With so many things to do in St Louis, Missouri you will find things for families, singles, or couples. It was hard to narrow it down to our top 21.
We have had taken several vacations in St. Louis both as a family and as a couple. St. Louis offers history, adventure, and just pure fun. Let's explore some of the many exciting things there are to do in St. Louis, MO.
Caution with so many amazing and exciting things to see and do, you may need to be selective and decide what you are going to do and how much time to allow for each adventure.
Many of these activities are inexpensive and fit into a tight budget.
The following activities on the list are FREE!
Gateway National Park
Union Station Indoor Light Shows
Union Station Outdoor Fire and Water Shows
St. Louis Zoo
Citygarden
Grant's Farm
St. Louis Science Center
Missouri History Museum
THINGS TO DO IN ST LOUIS MISSOURI FOR FAMILIES
1 | THE GATEWAY ARCH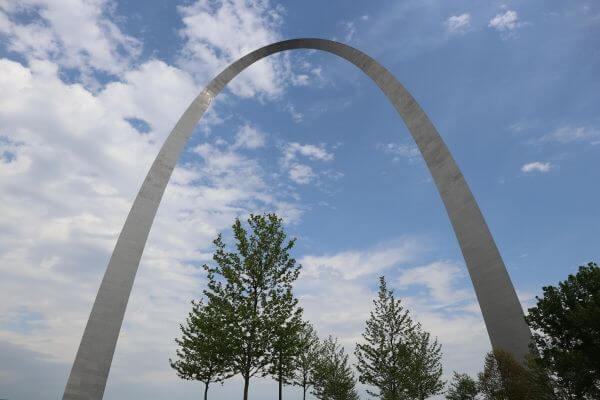 Our number one pick for things to do in St. Louis Missouri is to visit the Gateway Arch.
St. Louis is known as the Gateway to the West. Thomas Jefferson played an important role in the westward expansion of the United States and St. Louis played a key role in the expansion. The Gateway Arch – National Monument was built as a National Park and Landmark to be a memorial to Jefferson and the pioneers who first traveled west.
Enjoying the Tram ride to the top of the Arch is a big part of the adventure, it is scary and exciting all at the same time. It is only a 4 minute, 630-foot ride to the top of this world-famous stainless steel monument. You will not get a view of the city as amazing as this in anyplace else. Once at the top make sure to take your time and enjoy all the sights.
Gary had never been to the Gateway Arch and he joined me on a recent visit. Enjoy our visit to the Gateway Arch and learn some really interesting facts about the stunning national monument.
Cost: Tickets to the arch can be purchased online or at the monument. At the time of writing, ticket prices range from $12 – $16.
Hours of operation: 9 am – 6 pm
Location: 11N Fourth St, St. Louis
Visit the Gateway Arch WEBSITE for more details and to purchase tickets.
---
2 | GATEWAY ARCH NATIONAL PARK AND MUSEUM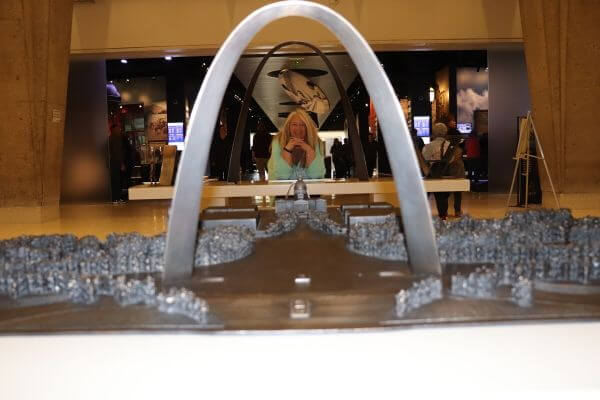 The Gateway Arch Museum ~ The Museum at the base of The Gateway Arch is free and is filled with the history of St. Louis and the construction of the Arch. Allow time to really absorb the information before enjoying the tram to the top of the Arch. It helps you fully understand the importance of the monument and the amazing construction process. Learn more about the Museum.
Gateway Arch National Park ~ The park surrounding the Gateway Arch is 90 acres of beautifully manicured landscaping. The park is filled with rolling hills, water fountains for drinking, and beautifully landscaped gardens that make this National Landmark warm and welcoming.
---
3 | THE OLD COURTHOUSE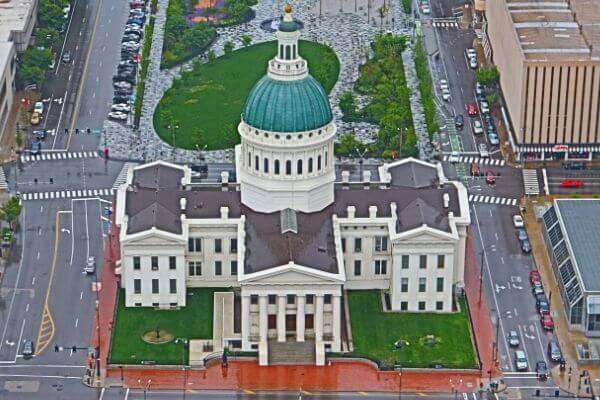 The Old Courthouse is only steps away from The Gateway Arch. The courthouse was built in 1839 and is a prime example of federal style architecture. Two landmark cases were heard at the historic courthouse.
In 1847 and 1850 one of the most important cases ever tried in the United States began here when Dred Scott sued twice for his and his wife's freedom.
In 1873 Virginia Minor and her husband filed a suit arguing for women's right to vote. Their suit was denied but played a big part in bringing attention to the fight for voting rights of all U.S. citizens.
You may tour this historic site and visit the restored courtrooms to learn more about the 19th-century judicial system.
Cost: FREE
Hours of Operation: 8 am – 5 pm Labor Day – Memorial Day
Location: 11 N Fourth St. St. Louis
Visit The Old Courthouse WEBSITE for more information.
---
4 | GATEWAY ARCH RIVERBOATS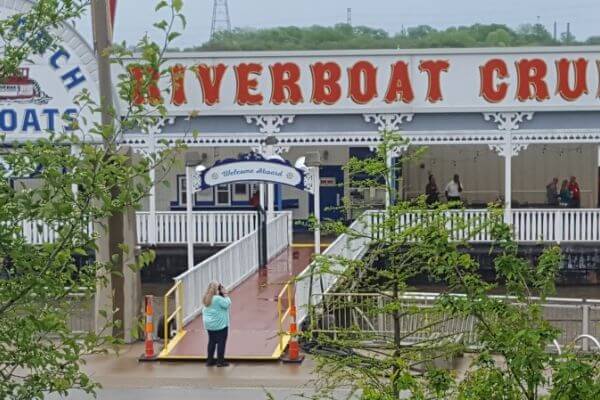 Adjacent to the Gateway Arch Park is the Gateway Arch Riverboats. Taking a riverboat cruise on the Mississippi River is like taking a cruise through time.
Riverboat cruises in St. Louis date back to 1964. During the construction of The Gateway Arch, so many city blocks around the construction site were barricaded off and curious onlookers couldn't get a glance at the construction's progress. Seeing an opportunity, Gateway Arch Riverboats began offering cruises that allowed passengers a chance to see the progress from the vantage point and safety of the Mighty Mississippi.
Today Gateway Arch Riverboats offers you a relaxing cruise on the Mighty Mississippi upon a Paddle-wheel boat. The Gateway Arch Riverboats offers several cruise options. A one hour narrated tour, specialty cruises, night cruises, dinner cruises, and even a haunted cruise.
Families will totally enjoy the one-hour narrated cruise. A cruise that travels down the Mississippi, past the Gateway Arch, and under several bridges, all while being narrated by the captain.
The last time we were in St Louis it was raining but that did not stop us from enjoying a riverboat cruise.
Cost: Gateway Arch Riverboat Cruise tickets cost between $22 and $55. The tickets can be purchased in combination with your Gateway Arch tickets or separately.
Hours of operation: cruise times vary
Location: 50 S. Leonor K. Sullivan Boulevard, St Louis
Visit The Gateway Arch Riverboat WEBSITE for more information.
---
5 | ST. LOUIS UNION STATION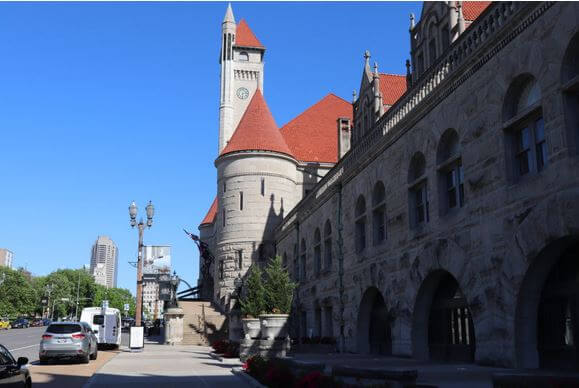 St. Louis Union Station is a fantastic place to stay and play. This historic hotel looks like a castle that overlooks a grand fountain. It was once a former railway terminal that connected the east and the west. For years, Union Station was the largest and busiest passenger rail terminal in the world, moving passengers from the east coast to the west coast daily.
In its day, Union Station saw 100,000+ passengers through its doors every day. This same station is where many servicemen and women have said goodbye to a loved one. In 1904 it saw many World Fair-goers pass through the station. A train theme is carried through the entire hotel and even into the individual rooms. Our stay at The Union Station Hotel was wonderful and relaxing.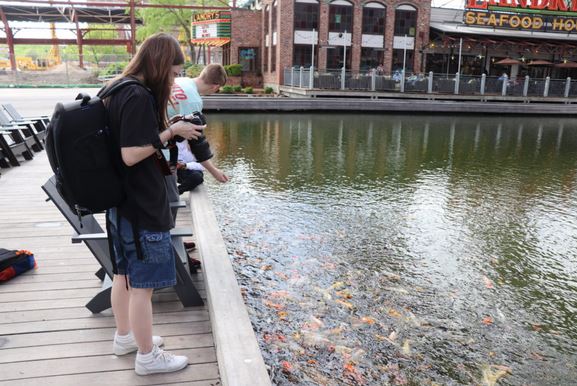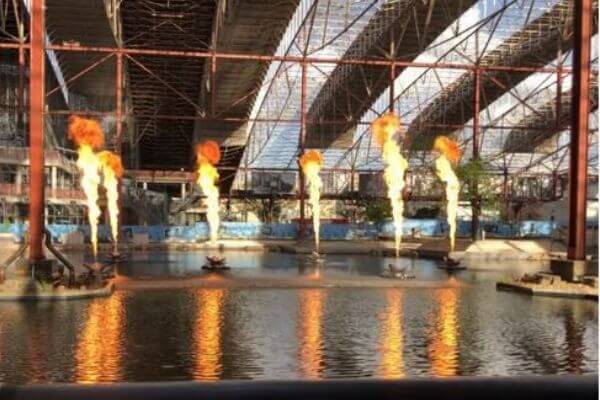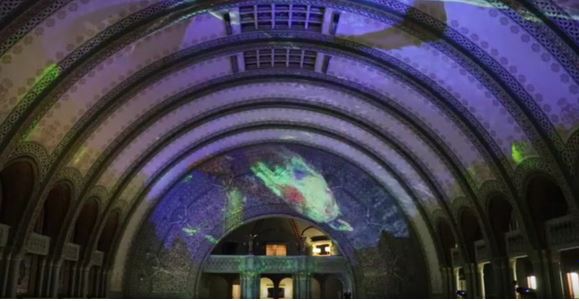 The hotel features a large outdoor koi pond, daily indoor laser light shows on the hour, and outdoor fire and light shows nightly on the hour. Even if you are not staying at Union Station these activities are free and so worth the visit.
Cost: Activities are Free
Location: 1820 Market St, St Louis
Visit Union Station Hotels WEBSITE for more information.
---
6 | AQUARIUM AT UNION STATION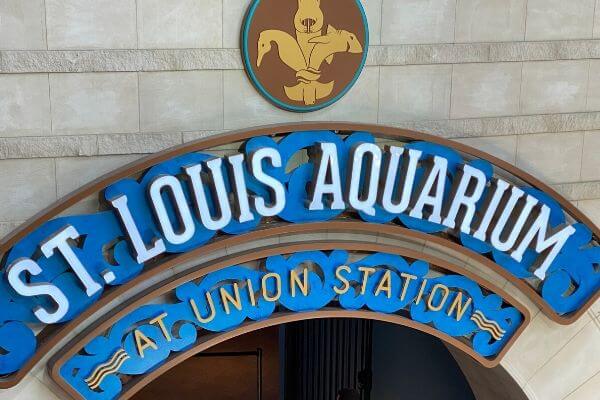 One of the newest features at Union Station is the Aquarium. The St. Louis Aquarium at Union Station opened it's doors on Christmas Day 2019, after several years of construction. The wait was well worth it for kids of all ages.
Although not grand in size, the St. Louis Aquarium houses some 13,000 aquatic animals, ranging from popular sharks, rays, jellyfish, and playful shrimp willing to clean your fingernails. All these and more now call the renovated area of Union Station's massive historical train shed home.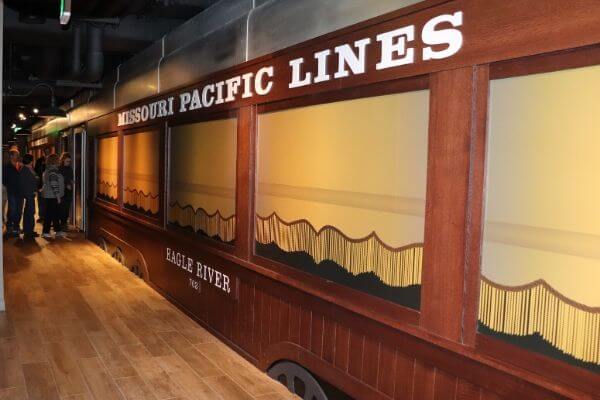 As a visitor to the Aquarium, you are first greeted with a train ride experience that shares the history of St. Louis with its passengers. Once you dis-embark train ride, passengers encounter a splashin' good time: 120,000 square feet, one million gallons of water, 13,000 aquatic animals, a 250,000-gallon shark habitat, 44 exhibits, and 257 different species.
Younger kids will be delighted with the numerous hands-on activities throughout the aquarium.
We were delighted to be invited during the construction phase of the St. Louis Aquarium at Union Station. We had so much fun going behind the scenes and then sharing the experience with our readers.
When the construction was complete we were able to travel back to St. Louis and see first hand all of the Things there is to do at Union Station Aquarium, St Louis, MO
Cost: Adult tickets $25, Child tickets (3-12) $18
Combo tickets are also available for purchase which could include a Ferris wheel ride and other available activities.
Hours of operation: Sun–Thurs. 9 am – 5 pm, Fri-Sat. 9 am – 8 pm
Location: 201 S. 18th St, St Louis
Visit The Aquarium at Union Stations WEBSITE for more information.
---
7 | UNION STATION ATTRACTIONS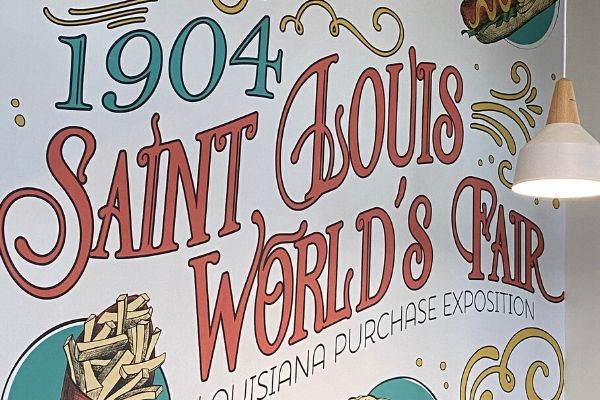 Adjacent to the Union Station Aquarium is a variety of activities with a 1904 World Fair feel. It was designed that way as a tribute to the many travelers that came through Union Station on their way to the fair.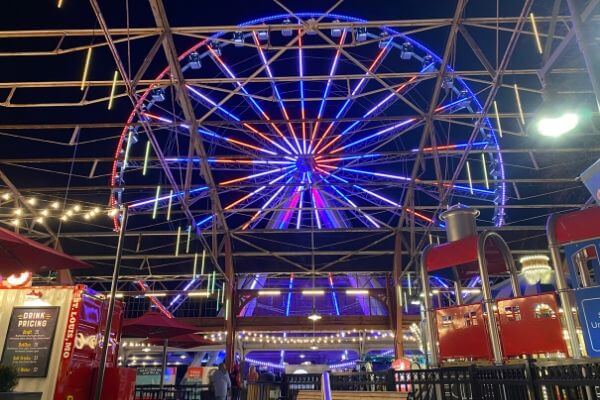 The St Louis Wheel
Carousel Union Station
Mini Golf Union Station
Amazing Discoveries Mirror Maze
Ropes Course
Union Station Soda Fountain
Cost: Varies
Hours of operation: 10 am – 8 pm
Location: Location: 201 S. 18th St, St Louis
Visit Union Station Attractions WEBSITE for more information.
---
8 | SAINT LOUIS ZOO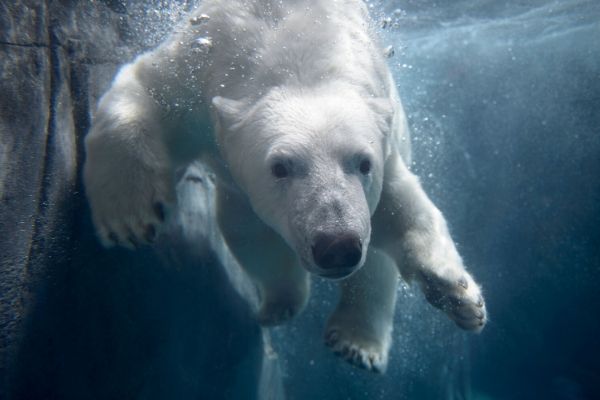 The St. Louis Zoo is one of only a few free zoos in the nation. It is hard to believe that a zoo as beautiful as the St Louis Zoo is FREE! My girls loved seeing elephants, monkeys, lions, kangaroos, and especially the bird exhibit.
The zoo itself is free, yet some of the attractions do cost. If you do not mind arriving early, between 9 and 10 you will be rewarded with free admission to the Children's Zoo and get a free ride on the carousel. During the summer you can also feed the stingrays for free that first hour.
Cost: FREE ~ There is a $15 fee for parking at the zoo, but you can find free parking spots on nearby streets.
Hours of operation: Daily 9 am -5 pm (currently you must reserve timed tickets)
Location: 1 Government Dr, St. Louis
Visit the Zoo WEBSITE for more information.
---
9 | CITY MUSEUM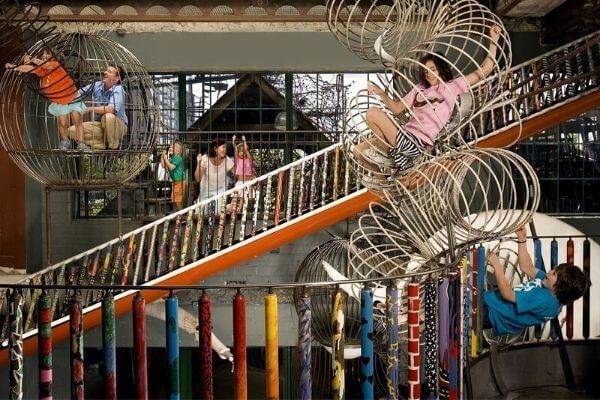 The City Museum is a 9 story high, old shoe factory turned into an industrial playground that is funky and fun for kids of all ages. Think of it as an adult playground that kids love as much as the adults. This is one of the most unusual places you will ever visit. Expect the unexpected!
The most exciting part is that the City Museum is not finished and never will be. You will find something different every time you visit.
The City Museum is full of surprises:
A rooftop Ferris wheel
Toddler town
A giant birdcage you can climb into
3 Stories of tunnels and caves
A 10-story spiral slide
A school bus hanging off the side of a roof that you can play in
Tunnels that look like a giant slinky
Playgrounds and ball pits
A circus and a train
Enchanted Caves
So Much More
Cost: $16 for ages 16 and up
Hour of Operation: 10 am – 5 pm
Location: 750 North 16th Street, St Louis
Visit the City Museum WEBSITE for more information.
---
10 | CITYGARDEN
This is no ordinary city park. An urban oasis in the heart of downtown. This city park is filled with sculptures, splash pads, and wading pools.
A perfect place to visit on a hot summer day. Grab the kids, your towels, and a picnic lunch and head to the Citygarden for a perfect afternoon, well within budget.
Cost: FREE
Hours: Daily from sunrise to 10 p.m.
Location: Along Market Street between 8th and 10th Street downtown St Louis.
Visit Citygarden WEBSITE for more information
---
11 | ST. LOUIS SCIENCE CENTER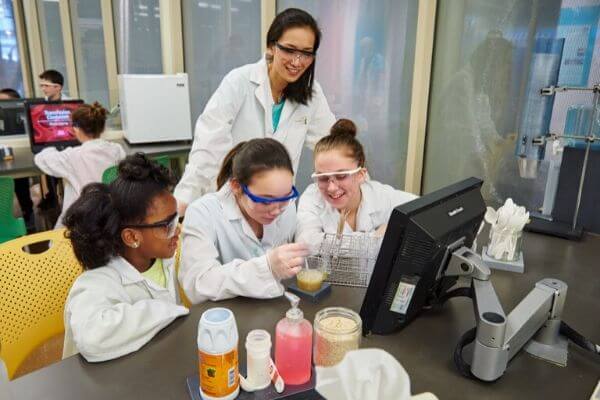 The St. Louis Science Center is filled with 700 hands-on exhibits and a ton of fun! Life-size dinosaurs, space ventures, animal care, at-home science fun, fossil digs and so much more awaits you at The St. Louis Science Center.
I can not forget the look on my daughter's face when she came around the corner to a life-size dinosaur….it was priceless!
Cost: General Admission FREE, there are extras for a fee
Hours of Operation: Friday – Monday 9 am – 3 pm
Tuesday & Wed. CLOSED
Thursday 12 pm – 8 pm
Location: 5050 Oakland Ave. St. Louis
Visit the Science Centers WEBSITE for more details.
---
12 | FOREST PARK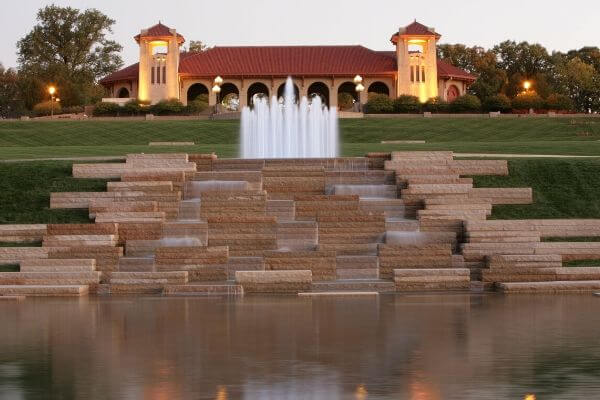 Forest Park was voted the #1 City Park in the country by readers of USA Today. Forest Park offers something for everyone, 1300 acres of beautiful landscapes sprinkled with forests, lakes and nature reserves. An inviting place for a leisurely walk or an intense workout. A great place to read a book or have a romantic picnic.
Forest Park played host to the 1904 World Fair. The proceeds earned from the fair were used to construct the park's World Fair Pavilion.
Located within the 1300 acres are 5 of the cities cultural centers: The St. Louis Art Museum, The St. Louis Science Center, The St. Louis Zoo, The Muny, and Missouri's History Museum.
Cost: Entrance to the Park is FREE
Hours of Operation: Sunrise to 10 pm
Location: 5595 Grand Drive, St. Louis
Visit Forest Park WEBSITE for more details.
---
13 | GRANT'S FARM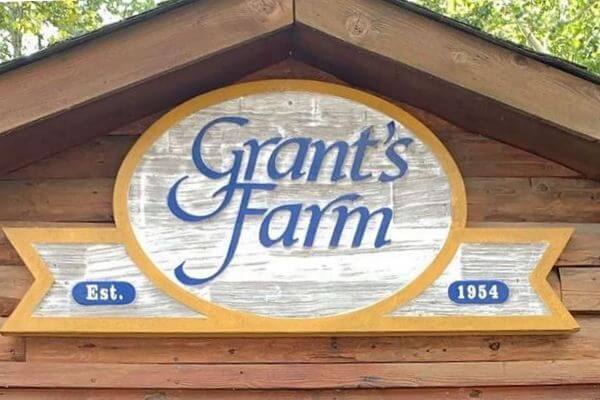 Grant's Farm in St. Louis has been a popular destination since 1954. It is the ancestral home of the Busch family, which owned Anheuser-Busch Brewing. This 281-acre farm is named after Ulysses S. Grant who at one time worked a portion of the farm.
Grant's Farm is home to the Budweiser Clydesdale's and is an animal refuge for more than 900 animals, representing more than 100 different species. Grant's Farm is open to the public.
Cost: Admission is FREE (with additional cost for parking and rides)
Hours of Operation: 9 am – 5 pm (call to verify)
Location: 10501 Gravois Rd. St Louis
Visit Grant's Farms WEBSITE for more details.
---
14 | THE MAGIC HOUSE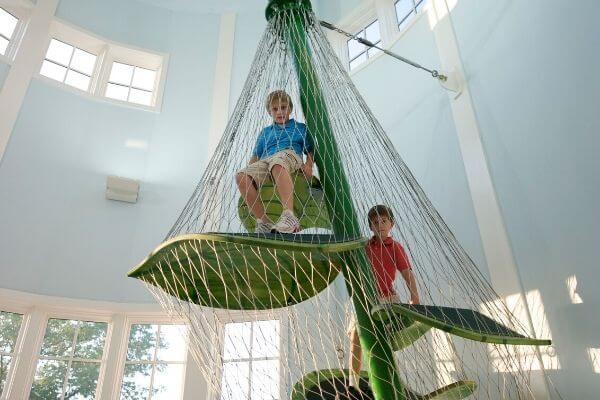 The Magic House is a hands-on children's museum offering a variety of interactive exhibits for younger kids to enjoy.
The Magic House features hundreds of interactive exhibits designed to pique the curiosity and spark imagination in children. With so many hands-on activities kids will not want to leave this place that is designed for them.
Picture your child's imagination as they climb Jack's Beanstalk, enter the Bubble Room, or enjoy an outdoor garden kaleidoscope. This and so much more await your little one at the Magic House.
Cost: $12.50 per person
Hours of Operation: Hours Vary – Advanced timed tickets required
Location: 516 S. Kirkwood Rd, St. Louis
Visit The Magic House WEBSITE for more details.
---
15 | MYSEUM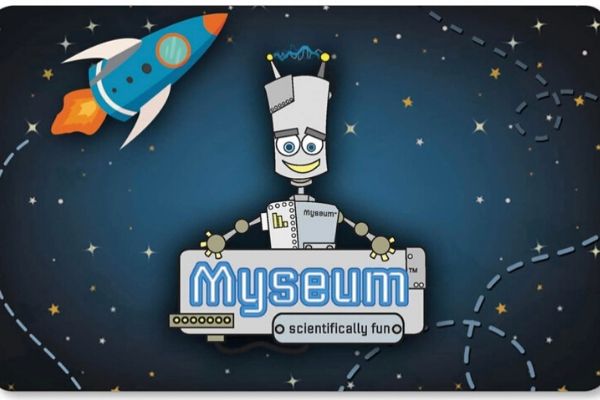 Kids love Myseum. This award-winning, discovery center is designed for kids and families. Kids 12 and under are sure to have a blast.
There is so much for kids to do, yet the facility is not so large that you will lose them. Picture your child running through a giant UFO maze, enjoying a dino-dig, discovering the magnetic ball wall, or becoming the zoo vet. All this and so much more awaits you and your child through the doors at Myseum!
Don't forget your socks ~ they are required.
Cost: Adults 18-59 $5.95, Child 2 – 17 $10.95
Hours of Operation: Mon-Sat 10 am – 5 pm, Sun 11 am – 5 pm
Location: 283 Lamp and Lantern Village, Town and Country MO
Visit Myseum WEBSITE for more details.
---
16 | THE NATIONAL MUSEUM OF TRANSPORTATION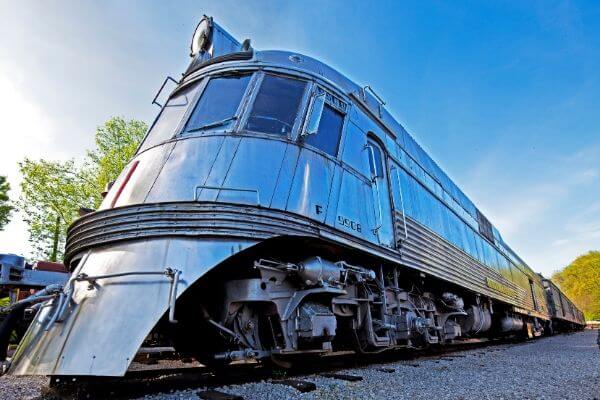 The National Museum of Transportation has more trains than any other mode of transportation. More trains reflect that the Midwest is known as a "great railroad crossroad".
The museum's collections include more than 190 major exhibits. A collection that is recognized as the largest collection of transportation vehicles in the world.
Due to the age and condition, some of the large exhibits are to be enjoyed with your eyes only.
The Museum of Transportation offers:
Miniature Train Ride
Trolley Ride
Handcar Village
Automobile and Train Collections
Guided Tours
Car Shows
Creation Station for kids 5 years and younger
Cost: $8.00 for ages 8 and up, $5.00 for children ages 3 – 12
$5.00 for a wristband which includes unlimited rides on the miniature train, handcars, and trolley.
Hours of Operation: 8:30 am – 3:30 pm
Location: 3015 Barrett Station Rd. St. Louis
Visit The National Museum of Transportation WEBSITE for more details.
---
17 | JEWEL BOX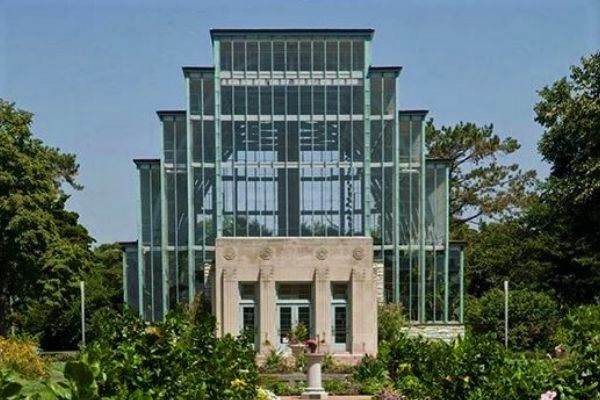 The Jewel Box is a display greenhouse in Forest Park filled with hundreds of flowers, water features, and a fountain. The main display area is 50 feet high, 55 feet wide, and 144 feet long. During the holidays the displays are complemented with seasonal displays.
The Jewel Box is one of the most beautiful sites in St. Louis.
Hint guys – This would be a romantic place to take your girl.
Cost: $1.00 per person – Free on Monday and Tuesday 9 am to noon
Hours of Operation: Monday – Friday 9 am – 4 pm, Saturday 9 am – 11 am, Sunday 9 am -2 pm
Location: the intersection of Wells and McKinley Dr. St. Louis
Visit Jewel Box WEBSITE for more details.
---
18 | BOTANICAL GARDENS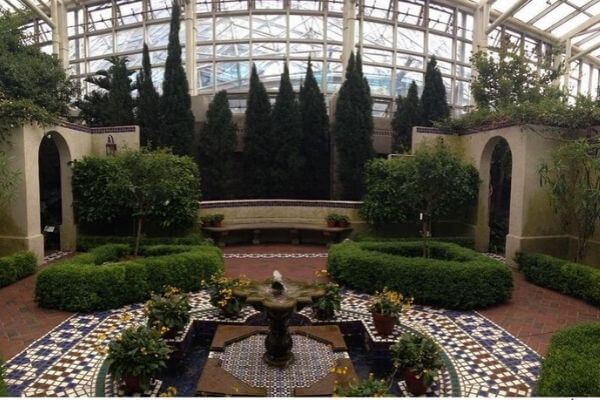 The St. Louis Botanical Gardens are beautiful! A perfect place to get some exercise and fresh air while enjoying the 79 acres of beautiful gardens, 4,800 trees, and exploring the conservatories.
The Botanical Gardens also offers, flower shows, live music and special events throughout the year
The best part is kids love this place! Why wouldn't they? The Doris I. Schnuck Children's Garden features a tree-house to climb along with a limestone cave and steamboat to explore.
Cost: $12.00 for 12 and over – Free admission on Wednesdays after 5 pm
Hours of operation: 9 am -5 pm Tuesday – Sunday
Location: 4344 Shaw Blvd., St Louis
Visit the Botanical Gardens WEBSITE for more details.
---
19 | BUSCH STADIUM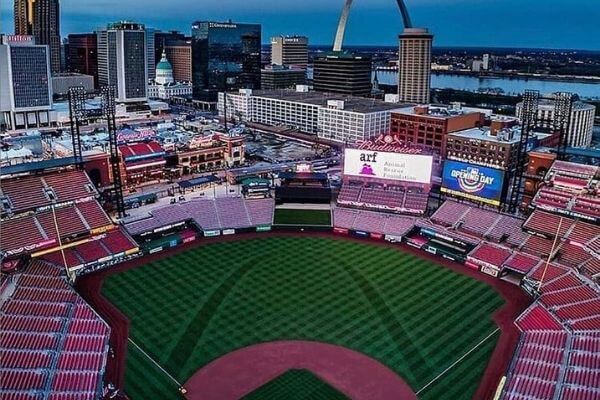 This list would not be complete without including baseball for all the sports fans. Busch Stadium is home to the St. Louis Cardinals. A visit to Busch Stadium will prove that the St Louis Cardinals are truly loved by their city.
Sports fan or not let us not overlook the amazing view of the St. Louis skyline and the Gateway Arch one gets from Busch Stadium.
Busch Stadium also offers an impressive Family Pavilion with a multilevel play structure, a suite for nursing mothers and so much more.
You can see Busch Stadium during any of the scheduled games or take a Stadium tour during non-game times.
Cost: Tickets to see a Cardinals game varies, Tour tickets cost $14 -$18
Hours of Operation: During baseball season tours are offered at 9:30 am, 11 am, 12:30 pm or 2 pm. Off-season tours are offered at 11 am and 12:30 pm.
Location: 700 Clark Ave. St. Louis
Visit the Busch Stadium WEBSITE for more information
---
20 | St Louis Cardinals Hall of Fame Museum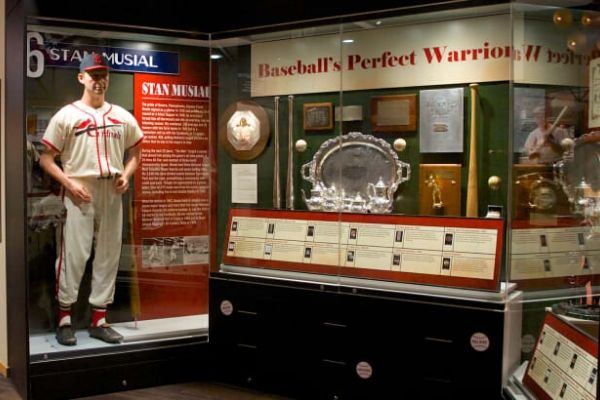 Housed with-in Ballpark Village and adjacent to Busch Stadium is The St. Louis Cardinals Hall of Fame Museum. It is the largest team held collection in Major League Baseball. To date, 46 members have been enshrined within the Cardinals Hall of Fame.
Cost: Adults $12.00 Child $8 Military or Senior $10
Hours of operation: Monday – Sunday 10 am-6 pm
Location: 700 Clark Ave, St. Louis
Visit the Hall of Fame Museum WEBSITE for more information.

---
21 | ST. LOUIS UNION STATION SODA FOUNTAIN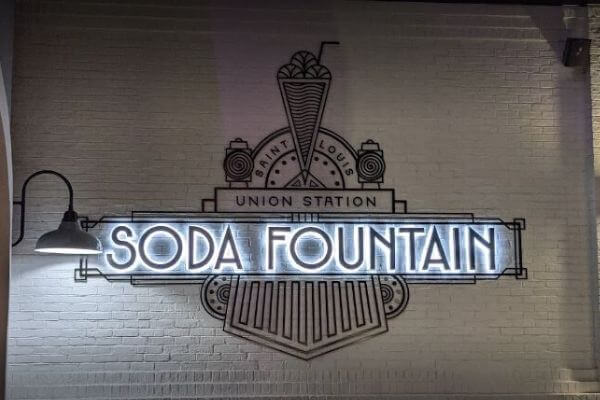 There are many other things to do in St. Louis Missouri and this is more of an experience than a place to visit but in our book, no visit to St. Louis would be complete without a stop at the St. Louis Union Station Soda Fountain. The Soda Fountain is a refreshing blast from the past with sweets, treats, and eats for everyone. You'll find something new to smile about every time you visit.
Whether you're a kid, a kid at heart, or with your sweetheart, there's no better place to satisfy a sweet tooth than The Soda Fountain.
On our recent visit to St. Louis we stopped at The Soda Fountain. Just walking through the door it made you happy. Seeing the colors, the lights, the atmosphere you wanted to smile. Then you look around and all you see are smiles. The Soda Fountain seems to bring out the kid in everyone.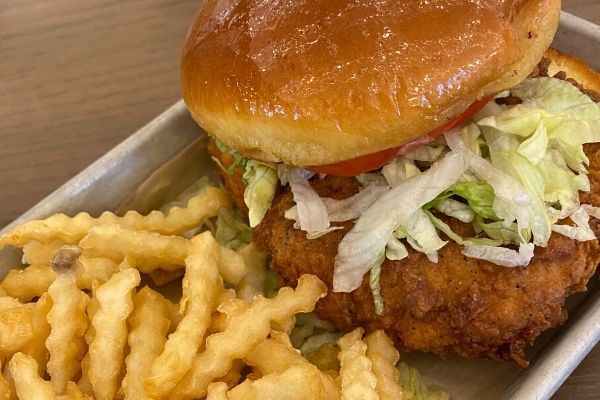 The soda fountain offers a limited menu, burger, fries, over the top grilled cheese, and a few other selections. But what they serve they serve with excellence! The look of the food made your mouth water and the taste did not disappoint. Gary loved the fact he could get a beer with his burger.
The show stopper takes place after your meal. Don't leave this place without dessert!!! The Soda Fountain serves one of a kind "Freak Shakes".
The menu definition ~ Freak Shake / fre ̄ k sha ̄ k / 1. noun. A very unusual and unexpected improvement to your everyday milkshake. 2. verb. The dance you'll do when this thing arrives at your table.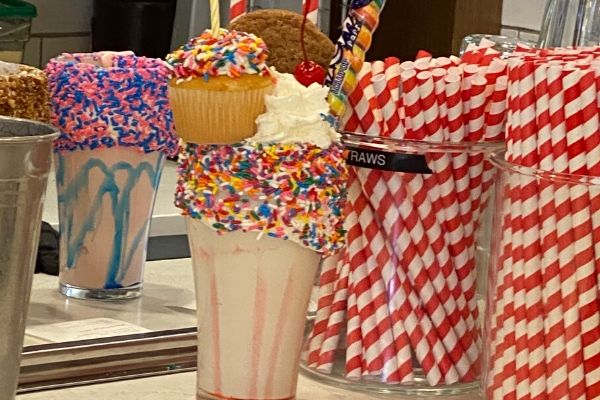 To watch the faces of both adults and kids as these "Freak Shakes" are served is priceless! They definitely live up to the definition.

Hours of operation: Daily 11 am – 10 pm
Location: 201 South 18th Street MO
Visit the Soda Fountain WEBSITE for more information.
---
There are many things about St. Louis that keeps us coming back again and again for visits. It doesn't matter if Gary and I are traveling together, with grand-kids or other couples, St. Louis is always on our list.

Make sure you consider it for your next vacation. You will thank us later.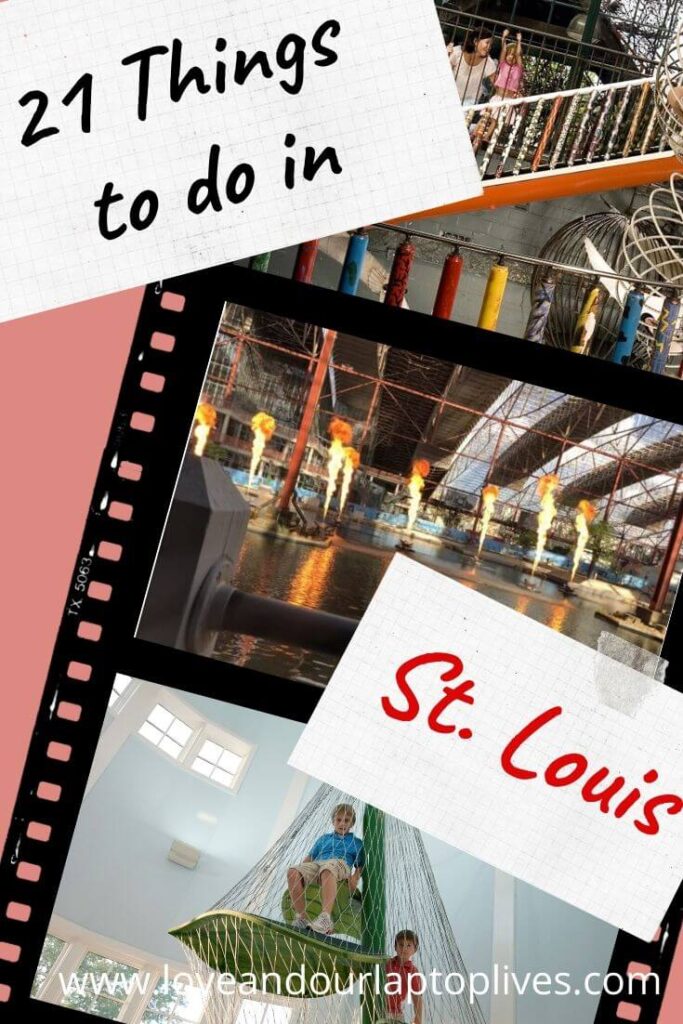 Gary & Michelle
X O X O
We would love for you to stay in touch!
Whether you have a question about our site, want to work with us,
or just want to say "Hi" please feel free to send us a message.

You can reach us at ourlaptoplives@gmail.com
Or follow us on Social Media
Facebook @ Love and our Laptop Lives
Pinterest @ Love, Travel and our Laptop Lives
Instagram @ Love our Laptop Lives
Twitter @ Love and our Laptop Lives
Youtube @ Love and our Laptop Lives
Amazon Store @ Love and our Laptop Lives


Some blog posts have been sponsored. This means we receive compensation for publishing the post. However, all thoughts and opinions remain our own.

Blogposts may contain affiliate links. This means if you click a link and make a purchase through that link, we may receive a small commission at no extra cost to you.