St. Louis Union Station, Hotel Feature
Arriving at St Louis Union Station Hotel was like pulling up to a romantic castle you might find in a classic fairy tale or novel. There was no mistaking we had arrived! We were so intrigued by the hotel that we had to drive around and get out and take pictures before even stopping and checking in.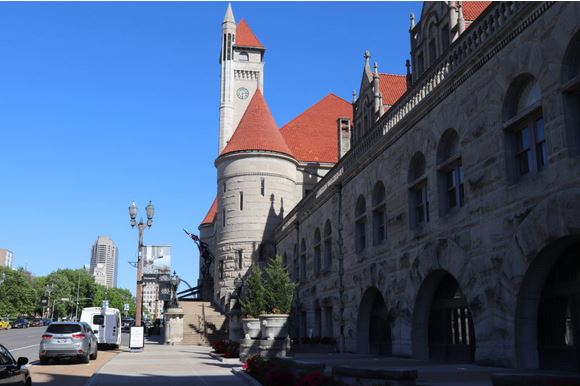 Simply driving around took us several blocks. The outside of St Louis Union Station was so breathtaking, we were so excited we couldn't wait to get in the door.
After taking many pictures, we drove back around to the front of Union Station and parked right at the door. The Bellmen outside were so friendly and directed us through the massive arched doors.
As they opened the doors for us, I'm sure our eyes grew about twice their normal size. We could not believe the beauty that was ahead of us.
We're not big on old or antique, but we were in constant awe every time we stepped into a new room. From the moment we walked into the Grand Hall and reception area we were blown away.
The gals at the reception area were very speedy and friendly. Check-in was quick and we were on our way. The gal Ester that checked us in remembered us all throughout our stay and went out of her way to always say "hi" anytime she saw us. The front staff was also very helpful with directions and suggestions all throughout our stay.
After checking in the bellmen were very attentive, helping us with our luggage and parking the car. Danny was absolutely amazing. He spent extra time and gave us a personal tour.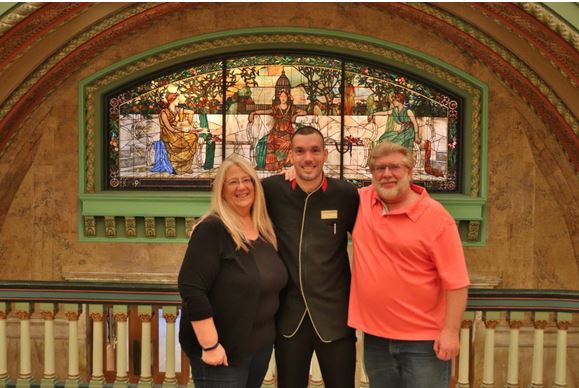 St Louis Union Stations Hotel Rooms
Our room was in the original hotel part of Union Station known as the Head House. Every room was named after a train car. The details were amazing. I loved the addition of the Keurig, misc. Keurig coffee and tea pods and bottles of water. Gary was very partial to the "warm oak" shampoo and body wash. We had nice hot water and plenty of water pressure the entire time of our stay. The pictures and reminders of this being an old train station lend to the intrigue.
The hotel has an outdoor pool. This being St. Louis the pool is closed certain times of the year. That didn't stop Gary from checking it out.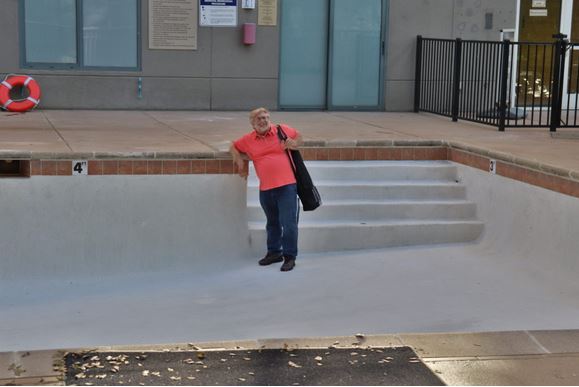 If you're the kind of person who needs to continue your workout while on vacation, there is a great fitness center! The Fitness center is open 24 hours and has a good variety of equipment, and many little extras; bottled water, earphones, and towels.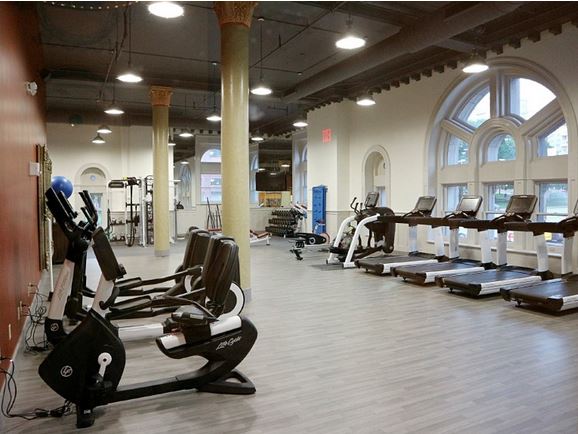 If you are looking for an evening meal The Station Grille located within Union Station offers sit-down options. The Grille has been around since the building was a train station. Passengers on the trains were able to place orders while still on the train, having their order ready when they got into the station. That's amazing!
If you are looking for something more casual or just need that afternoon pick me up, The Market serves Starbucks drinks and a light array of munchies. They also have a variety of souvenirs.
If you've had a long day, room service is an option.
An amazing breakfast is served each morning in the executive lounge. The executive lounge is available to all executive-level guests. But the same breakfast is served in the Station Grille each morning.
In the back of the hotel, right outside, is another great option, Landry's Seafood House. We had two great meals there, along with a poolside view of the fire and light show.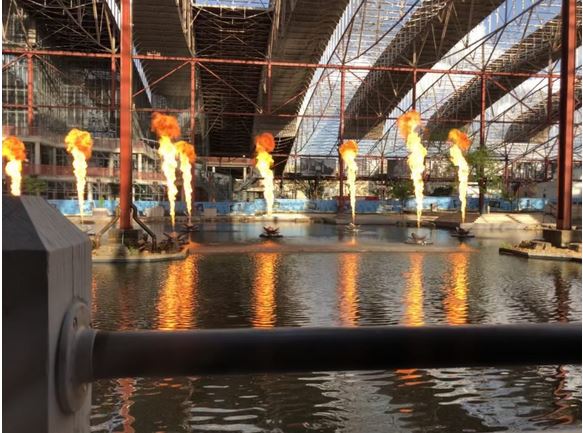 Two of our absolute favorite parts of our stay were the Fire & Light Show (click to see the video) that happens every hour, on the hour starting at 5 pm, outside in the area by the Koi pond and restaurant. This is also located under the massive historic train shed that was built in 1894.
Another favorite is the 3D Laser Light Show that takes place in the Grand Hall. The laser light show is set to music. There are 20 different shows. One of them makes you feel like you're watching a movie as fish swim around and lights dance. The show was put together specifically for the hotel by a company that collaborates with Cirque du Soleil. It was a hit with us and sure to be enjoyable for everyone! Shows run daily, on the hour from 5 to 10. We recorded our favorite Under The Sea Light Show. You can see it here.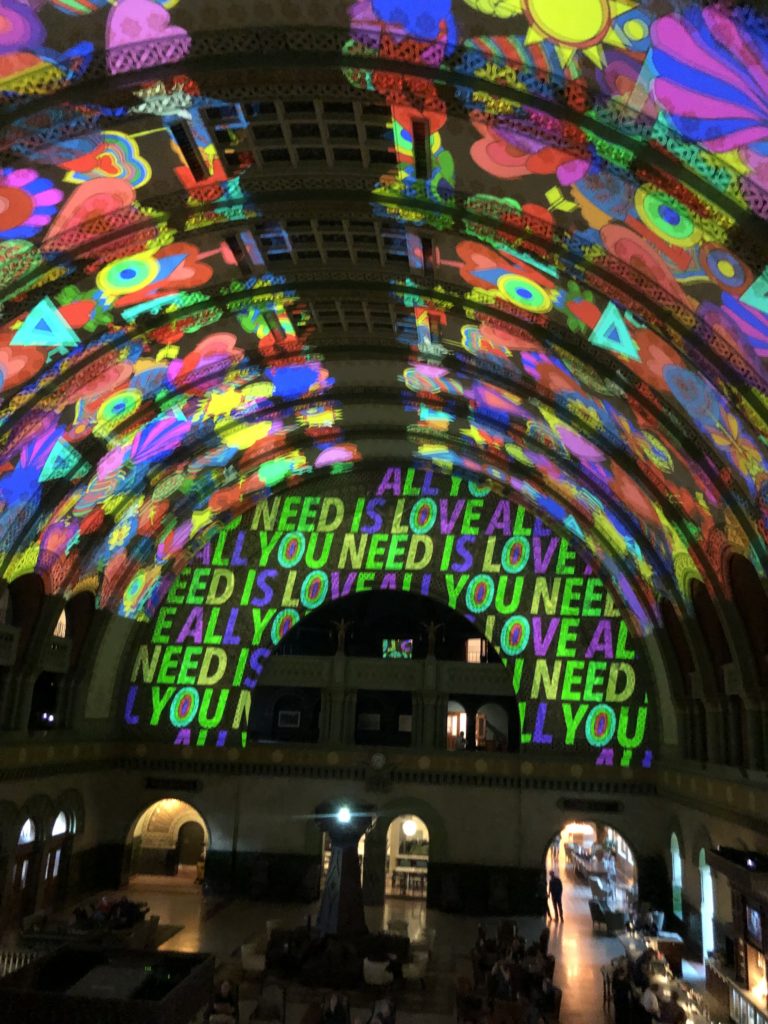 One of Union Stations' newest additions are the Clock Tower guest rooms. These guest room used to serve as offices for the men who served the train station for many years. These rooms sat empty for years before being transformed into guest rooms. There are even rumors of them being haunted. After touring these rooms, our next visit will include spending a night in one of them. The door of each room has a name on it, that honors the person who sat in that office for several decades (40-50 years) faithfully performing their daily responsibilities when Union Station was a thriving train depot.
Union Station is going through more renovations. The vacant mall adjacent to Union Station is being transformed into a family experience, featuring an Aquarium. See our blog about that exciting venture here. When completed, it looks to be AMAZING!
Start planning your visit now. We are!
For more on the St. Louis Union Station Aquarium, check out our blog with the details about our exciting visit. We can't wait to return when construction is complete!