9 Road Trip Essentials Tips | With Packing Lists

Who doesn't love a good road trip? Going on a road trip is more than just a way to get from point A to point B. A road trip is fun, adventurous, and a chance to get away put some miles behind you, and enjoy the sights.
We wish road trips were as easy as just getting in the car and going. We have done that, which has resulted in us taking several very successful road trips. We have been lucky. Things could have turned out different.
Your road trip should be one of the most memorable trips you take. So let's not mess it up. Please stick with us. We've got some essential tips to make your road trip a success.
Road trips come with their own unique challenges and can be when a variety of things go wrong. It's not possible to be prepared for all of them. With a little forethought, some planning, and preparation, most of them can be minimized so that they don't ruin your vacation.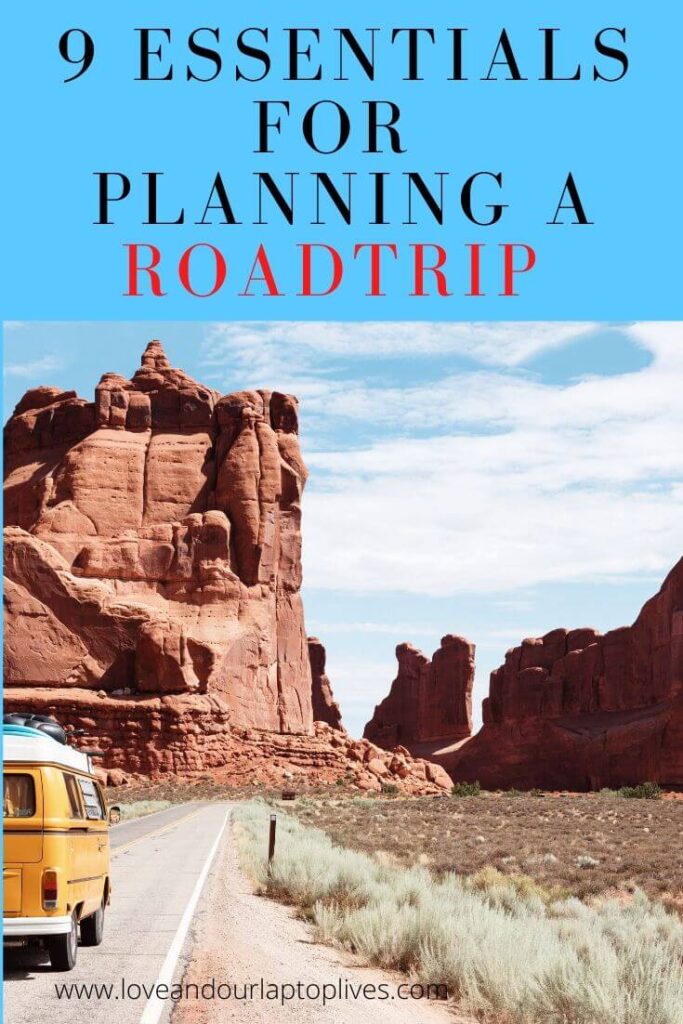 Road Trip Essentials List
1 | Have your vehicle trip checked
When deciding to take a road trip, many people choose to rent a car to avoid putting the extra miles on their vehicle. If you decide to rent a car, we recommend using Expedia. We have been able to get some great deals through them.
If you choose not to rent a car, almost any vehicle can work for a road trip as long as it meets your space needs. If you plan on using your vehicle, you need to have the car checked by a mechanic. Having your vehicle checked out before a road trip is one of the most important things, yet the most overlooked.
On one of our recent road trips, I called the mechanic for a quick check, only to have him inform me that there was a major recall that just happened. I was able to get the car in and have it taken care of before our trip. When we got home, there was a letter informing me of the recall from the car manufacturer.
Make the appointment to have your car checked over a few days or a week before your scheduled road trip. When making the appointment, let your mechanic know you are going on a road trip, and they will know what to look for. In addition to the things your mechanic will check over, you should double-check these road trip essentials for your car:
Spare tire ~ many of us don't even think about this until we need it. You will want to make sure your mechanic checks the air pressure.
Car Jack ~ Make sure it's in its place. I didn't even know where mine was
Emergency kit ~ You can create your own or purchase one. see below
License, registration, and insurance ~ Ensure all these are current and you have a copy with you. (I'll keep a copy in my glove compartment, and I like to take a photo as a backup in case the car is stolen)
Owners Manual ~ This will come in so handy for minor things.
Roadside assistance ~ This is a lifesaver if something goes wrong.
First Aid Kit ~ Ensure this is well stocked, including Benedryl for itching from bug bites or an allergy you didn't know about.
Extra set of keys ~ When on a road trip, make sure you have at least one extra set of car keys
2 | Do your planning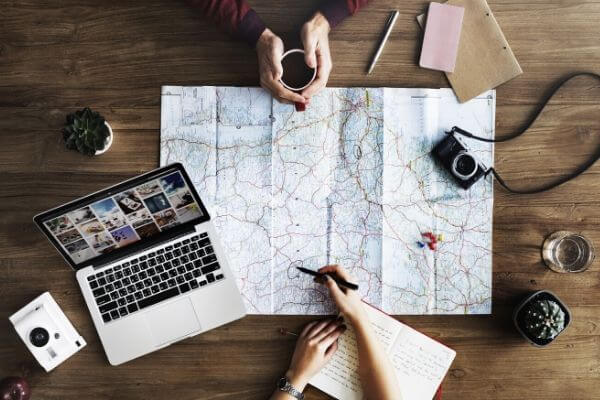 To have a successful road trip, you need to have a solid plan. Once you have your plan, this will help you set the budget for the trip. You'll want to follow your schedule as best you can. Any significant change will affect your budget. Give yourself a little fudge room for minor adjustments. The main things to consider are:
Your starting and final destination
An approximate schedule
Sites along the way that you'll want to stop at
An approximate budget for gas, food, tolls, hotels, and other essentials while on the road.
A map of your proposed travels
Use a paper map or download Maps.me. There may be times when you are without cell service, and Google Maps won't work.
Maps.me is a free app that allows you to download detailed maps that can be used offline and without cell service and acts as GPS.
3 | Start with a clean car
Clean out and organize your car. While on a road trip, your car is sure to get a little dirty. You don't want to be looking at dust from weeks ago, so always start with a clean car, inside and out.
Make sure things in the car are organized. You'll feel so much better about the time you are spending there. Keep essential things within reach. We use two soft side coolers that fit perfectly behind each seat.
4 | Don't over plan
Road trips need a plan with flexibility. You need room for spontaneous adventures. Road trips give you the freedom to take detours. Some of our most memorable experiences haven't been planned but have just been stumbled on. Slow down, enjoy the trip, allow time to stop and take pictures or whatever else you want.
Not planning your schedule tight gives you breathing room for adventure, relaxing, or even emergencies.
Even though being prepared is the secret to making a road trip go smoothly. Not over-preparing is the secret of having a better time.
5 | Plan for extra costs
Road trips can include many unexpected costs. If you are not careful, these costs can add up. Always give yourself a cushion for these added costs. We also like to keep a container of coins in our car console for tolls.
Tolls and parking are just a couple that can add up. Tollguru is a great free tool that will help you calculate tolls and gas prices.
Gasbuddy is another one of our favorite sites to help us find gas and check gas prices. It might be tempting when checking gas prices to decide to go out of your way to save a few pennies. When traveling, those few pennies can add up. Keep in mind that you will be traveling off the beaten path most times, and depending on how far out of your way you are traveling, those pennies may not add up to very much.
6 | Double-checking your insurance
I always double-check with my car insurance before any long road trip. It helps me make sure I'm covered and know what my coverage is when out of state. Sometimes when using your car insurance out of your home state, the insurance company may have a different way of contacting them.
Depending on what my car insurance covers, this is when I decide on travel insurance. Purchasing travel insurance is a wise choice before any trip. It gives you added coverage in the event of delays, accidents, medical issues, and some even cover your pet when traveling.
7 | Your cars emergency kit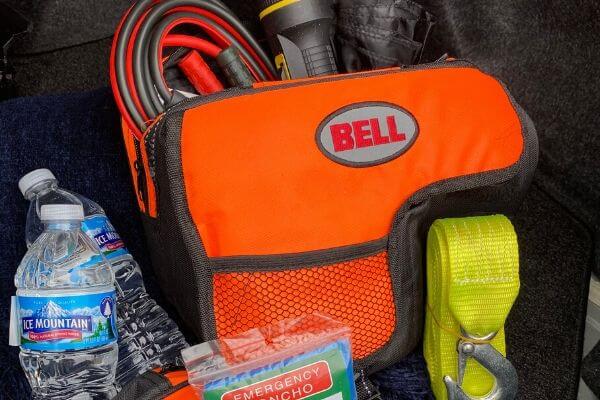 Having a roadside emergency kit is a good idea. There are several on the market that you can purchase. You know your car and what might be useful for where you are normally traveling. In the trunk of my car I always keep the following:
First aid kit: band-aids, adhesive tape, antiseptic wipes, gauze pads, antiseptic cream, medical wrap
Blanket
flashlight and extra batteries
basic tools
jumper cables
bungee cords
rain poncho
tire sealant and inflater
A few bottles of water
Antiseptic wipes
Old rag
In the winter, I add:
A few granola bars
Mittens, socks, hat
Small bag of sand
Ice scraper and snow brush

8 | Keep your car from looking like you are traveling
If your car looks like you are traveling, it puts a target on you. Now, if you are going out of state, you can do nothing about your license plates. This already puts a potential target on you, so be very careful to make sure your car is locked and your valuables are out of sight. When possible, make sure your luggage and valuables are locked in the trunk.
Keep a black or a dark-colored blanket in the car. When we leave the car, I toss the blanket over the coolers. It becomes almost impossible to see when using a black blanket.
At night when you are in your hotel, make sure your valuables are not in the car. Take them in the hotel with you. Make sure your car is in a secure and well-lit area during the night. We like to make sure we can see our car from our window.
9 | Don't become fatigued
We all do it. We want to get to the next exit or the next hotel. We think that the extra 50 miles will make all the difference in our schedule, and we push ourselves. Sooner or later, you have to sleep. Your eyes need a break. You don't want that sleep happening behind the wheel. Unfortunately, drowsy driving causes thousands of crashes a year.
If you are not traveling alone, make sure you are taking turns driving. This allows your partner to rest, close their eyes, and even sleep if needed. It's best to limit your travels to 8 -10 hours of driving each day.
Don't rely on energy drinks and coffee to get you through. The crash from these can be worse than feeling sleepy.
Road Trip Essentials Packing List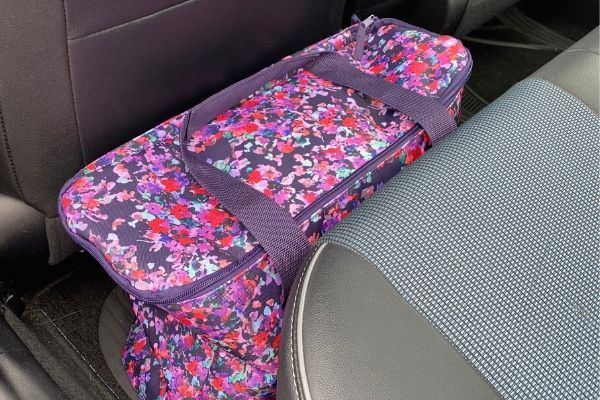 Going on a road trip is different than taking a regular vacation. It would be best if you packed differently also. This means what you carry in your car with you is different. Being prepared is what will keep you on schedule and keep you from having to make extra stops.
When packing our car for a road trip, we start with two small collapsible foam coolers. One cooler is great for drinks, water, soda, ice tea. Before we leave for our trip, we freeze water bottles. They slowly melt throughout our trip and keep things cold in the cooler. We use the other cooler for granola bars, crackers, chips, or whatever else we want to have in the car.
1 | Camera ~ Our camera is one of the most important things we travel with. When we are in the car, it is always within reach.
2 | Sunshades ~ Most of the time, we see these used for kids, but it's beneficial to have them up on your back windows to keep too much heat from coming into the car. And when driving or as the passenger, these are a lifesaver for the afternoon sun
3 | I love packing cubes! We use them in our luggage, but I also like to use them in the car when we are taking a road trip. They keep everything organized.
In my first packing cube, we carry:
4 |Gum or Mints
5 | Hair Ties
6 | Baby Wipes
7 | Hand Sanitizer
8 | Tissues
9 | Pain Killers
10 | Sun Screen
11 | Bug Spray
12 | Any other medications
13 | Hand Cream

In a second packing cube, we carry:
14 | Phone charges
15 | Power banks
16 | Head Phones
17 | Phone Mount
18 | Spare Cash
19 | Extra small trash bags
20 | Foldable/reusable shopping bag
21 | Notebook and pen, to keep track of miles
We also make sure to bring with us:
22 | Flip flops (great for slipping on for those quick stops)
23 | Blanket (we bring a black one to throw over our coolers when we leave the car).
24 | Pillow
25 | Quick-dry travel towel
26 | Insulated coffee mugs
27 | Umbrella (better to be prepared)
28 | A day pack/backpack, For those spontaneous walk/hike when you need a bag to store your water bottle/sunscreen/ etc
Road Trip Clothing and Personal Items
Comfort is key on a road trip. I like leggings, tee shirts, and sweatshirts – dress in layers so you can add or remove clothing as necessary to keep comfy.
For the specifics, pack clothes to match your destination, activities, and the weather. Even in the summer, layers are great.
Clothes should be comfortable, have dual purposes, and be able to be worn more than once. Pack wisely.
In addition to what to wear, don't forget your list of personal items.
Toiletries
Toothbrushes
Toothpaste
Prescriptions
Glasses
Laundry Bag
Tide To-Go Pen
Hairbrush
Emergency roll of TP
Road trips can open up so many possibilities when it comes to travel. With a little extra preparation, a road trip can be a wonderful adventure.
We have taken several day trips to The House on the Rocks. It was sunny when we entered The House on the Rock and a blizzard when we walked out on this trip. Three other day trips in Wisconsin were to Milwaukee, The Cave of the Mounds, and The Wisconsin Dells. One of our more lengthy car trips took us to St. Louis, the first time to the Gateway Arch and the second time to Union Station and the New Aquarium at Union Station.
Our summer will be filled with many road trips in the state and where we can find an adventure.
Where will this summer find you? Is there a road trip in your future? We would love to hear where you will be road-tripping to. Leave us a comment. It may be someplace we need to check out.
We would love for you to stay in touch!
Whether you have a question about our site, want to work with us,
or just want to say "Hi" please feel free to send us a message.

You can reach us at [email protected]
Or follow us on Social Media
Facebook @ Love and our Laptop Lives
Pinterest @ Love, Travel and our Laptop Lives
Instagram @ Love our Laptop Lives
Twitter @ Love and our Laptop Lives
Youtube @ Love and our Laptop Lives
Amazon Store @ Love and our Laptop Lives