Romantic Things To Do In Milwaukee For Couples

"Are you planning a romantic couples getaway? Milwaukee is a port city in Wisconsin. It's filled with history, charm, and romance. We found numerous romantic things to do in Milwaukee. Making Milwaukee a perfect romantic getaway for couples".
Can A big city like Milwaukee, Wisconsin, be filled with romance? Is this possible among all of the concrete and huge buildings? At first glance, I'm not sure this big city is someplace most of us would think of as being filled with romantic opportunities. Come along with us as we discover romantic adventures in Milwaukee.
Milwaukee is home to Wisconsin's largest airport, the Milwaukee Bucks, Milwaukee Brewers, several museums, Harley Davidson Motor Company, shopping, and the big beer companies. However, during a recent weekend in Milwaukee, we found opportunities for romance around almost every corner.
Milwaukee is the nearest city to us that has a large airport. It's usually where Gary and I drive to catch our flights. We have not been giving Milwaukee a fair chance at being a romantic destination.
With VISIT Milwaukee's help, we experienced a few of the many romantic opportunities that await all of us in Milwaukee. It's a city that has a lot going for it.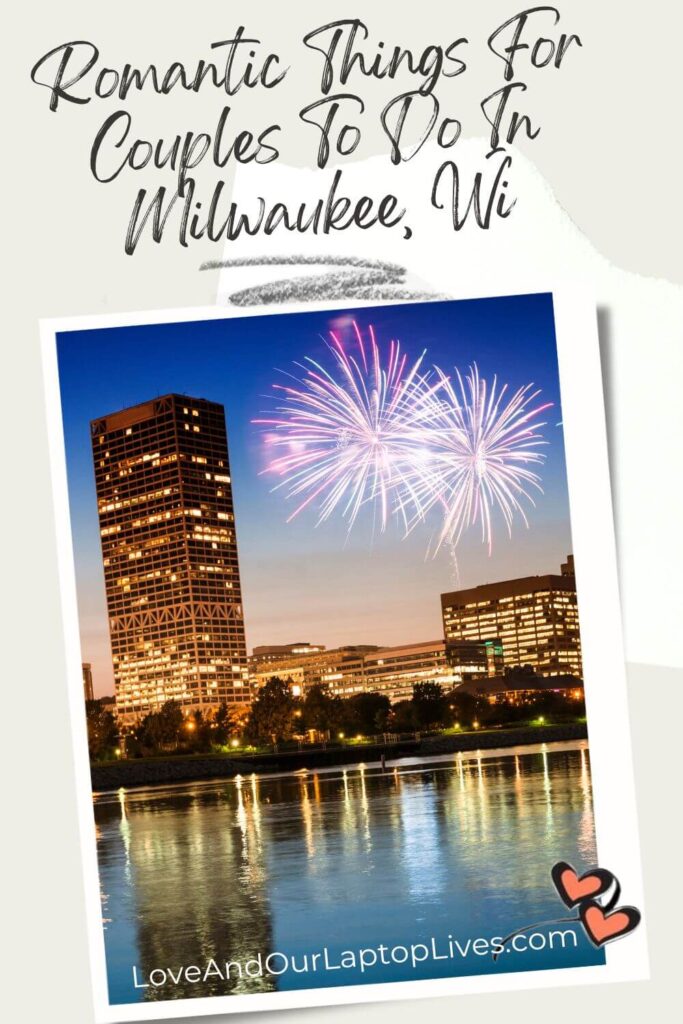 This post may contain affiliate or sponsored links. If you click on a link and make a purchase, I may receive a small commission (at no additional cost to you). Please see my full disclosure policy for details.
History of Milwaukee, Wisconsin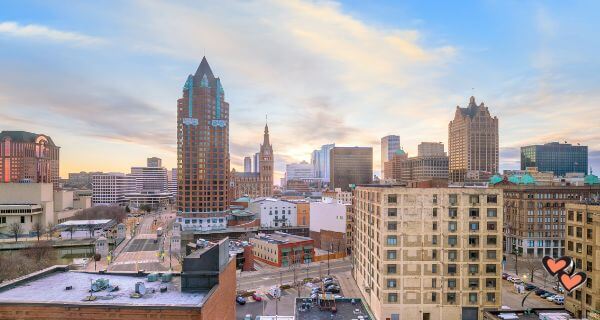 Milwaukee is a major port city on Lake Michigan filled with a diverse variety of things; art, culture, history, food, romance, and, thanks to the German influence, breweries.
Milwaukee was a struggling manufacturing city that has revitalized itself into a robust and passionate community, making it a perfect place for a romantic getaway.
Milwaukee's location along the Lake Michigan shoreline has added to the romance and colorful history of the city's past.
Let's explore the romantic side of Milwaukee and discover why those close-to-home trips might be the perfect addition to your romantic journey together.
For best rates, book your stay in Milwaukee using Booking.com
Romantic things to do in Milwaukee
The first stop in Milwaukee involves the story of adventure, love, and the unexpected fate of a young man chasing his dream.
You'll get a look at a youthful romance and a very giving couple that significantly impacted the city of Milwaukee.
Pabst Mansion, Milwaukee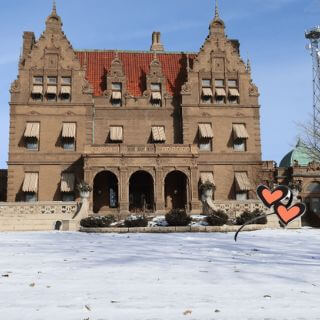 Our first stop on our weekend adventure was the Pabst Mansion. A gorgeous home built and owned by Captain Frederick Pabst, founder of Pabst Brewing Co.
Tours of the Pabst Mansion are guided by docents that have a true passion for the history of the Pabst Mansion and the family that once resided at the home. On our tour, the docent brought to life the history of the 20,000-square-foot mansion and the Pabst family.
The Pabst story is a story of adventure, love, and the unexpected fate of a young man chasing his dream. Visiting the Pabst Mansion, we were introduced to the historic culmination of integrity, passion, sorrow, and stellar success of a man called: Captain Frederick Pabst!
Who wouldn't want to start a romantic weekend at a mansion? The Pabst Mansion once stood as a pillar in a prominent area of Milwaukee. It is now nestled between two much taller and more modern structures, yet it still stands as proudly today as when it was built in 1892.
The Pabst Mansion came close to being the victim of a wrecking ball. After the passing of Captain and Mrs. Pabst in the early 1900s, the Pabst Mansion was purchased by the Archdiocese of Milwaukee. For over 60 years, 5 Archbishops called the mansion home. It was their ownership that helped preserve much of the beautiful structure.
In 1975 the Archdioces put the Mansion up for sale. The purchase caused it to become doomed for demolition to make way for a parking lot. A group called the Wisconsin Heritages, Inc. stepped in and saved this magnificent piece of Milwaukee's history. In 1978, the Pabst Mansion was opened to the public. Although the Pabst Mansion and its exquisite details were preserved, restoration was needed to bring the Mansion back to its original glory.
A good portion of the restoration has been completed, yet much more still needs to be completed. While touring the mansion, it is easy to see where the renovation is still underway. The restoration group that initially saved the estate, Wisconsin Heritages, Inc., is now officially known as Captain Fredrick Pabst Mansion Inc.
After taking the tour, it was such a joy to find out this beautiful piece of Milwaukee history was not only saved from the wrecking ball but is being beautifully preserved for all of us to enjoy.
Who were Captain and Maria Pabst?
Let's get to know Captain and Maria Pabst. Have you asked yourself why Mr. Pabst is referred to as Captain Pabst? Let's connect a few of the missing and intriguing pieces.
Once inside the Mansion, it is easy to get lost in history and the romance that once filled those halls. A romance that starts with a young boy falling in love with the sea.
At the age of 12, Frederick and his parents emigrated to America. This journey caused Frederick to fall in love with the sea. As a young man of 14, Frederick signed on as a cabin boy on a great lakes steamer.
For eight years, Pabst sailed the Great Lakes and studied navigation, and by 1857 he had become captain of the Goodrich steamer Huron. (here comes the first twist of fate)
As captain of the Huron, Pabst met brewer Phillip Best. Frederick Pabst was known to have a very likable personality. Best and Pabst became friends. On some of Best's trips, his daughter Maria Best accompanied him. Was there a little matchmaking going on? This woman would come to change Frederick's future. Captain Frederick Pabst and Maria Best, daughter of Milwaukee brewer Phillip Best fell in love and were married in 1862.
The marriage is the beginning of a fusion of two destinies: the successful, likable, and renowned Captain Pabst and the owner of Best Beer Brewery, Phillip Best. From the wedding day, Best asked Captain Pabst to leave the sea and join the brewery. But Captain Pabst's love for the sea kept him on his ship.
All was well with Captain Pabst until December 1863, when a storm beached his ship at Whitefish Bay, just north of Milwaukee. Shaken by the incident, Pabst decided to leave the sea and finally join his father-in-law in the brewing business, despite having no brewing background.
Captain Pabst threw his heart into learning all he could about brewing. He studied every detail of the business. Due to Pabst's mastery of the brewing process, Best began to grow. At the same time, the Best family was growing.
Captain and Mrs. Pabst went on to have ten children, and only 5 made it to adulthood. Sadly was a common occurrence during this era.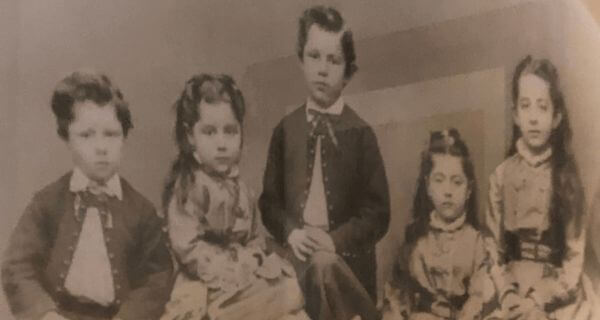 Captain Frederick Pabst, a world-famous beer baron, began constructing their new family mansion in June 1890. In 1892 the family moved into what was considered the jewel of Milwaukee's famous avenue of mansions called Grand Avenue.
When the construction of the home was complete, Captain and Maria's youngest daughter Emma, at the age of 19, was their only child to move into the Mansion.
Years later, another child was to call the Pabst Mansion her home. While the construction of the Mansion was underway, Captian and Maria's oldest daughter, Elizabeth, died of complications from appendicitis. She left behind a daughter, Elsbeth, who Captain and Maria raised as their own.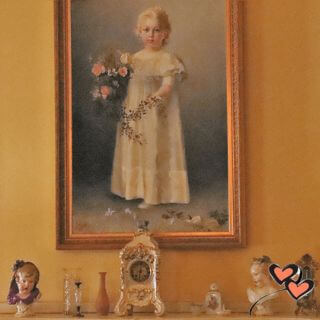 In touring the mansion, we were shown many features that would have been considered ahead of its time at the time of construction.
A high-tech communication device, an intercom system made without wires, filled the Mansion. Simply pipes in the walls connecting rooms with the waitstaff or offices. If somebody is there to hear you, speak into one end, and it is received at the other end.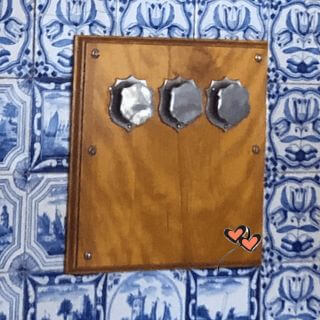 Built into the house was a special entrance where Captain Pabst and his family could board their horse-drawn coach and step from the house directly into the coach. There was also a porte-cochere attached to the home that protected their guests from the weather when entering the home.
Outside each bedroom door was a hook. We questioned the purpose of these hooks. Our Docent Barb explained that at the end of each day, the Pabst family would hang their clothes from the day on the hooks, and in the morning, freshly pressed clothes would be waiting for the family. Bedrooms in those days did not have closets.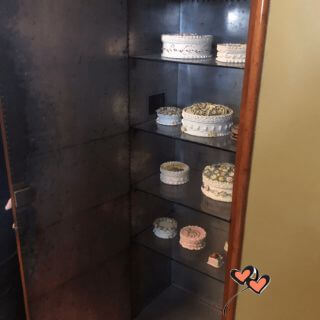 Barb joked that this built-in safe protected Captain Pabst's most valuable possessions.
During our visit, we found ourselves captivated by the ornate details of the home. Its beauty is something that words and pictures can't fully capture. You will find yourself putting away your camera and enjoying the beauty of the home.
The home was built by true craftsmen and is filled with intricate woodwork. The mansion was filled with indescribable detail, such as carved hops on the railings, hidden locks that opened secret compartments in the walls, beautiful wallpaper, and detailed paintings.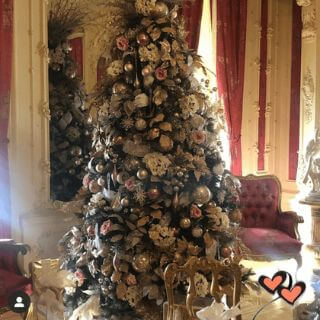 While we were touring the Mansion, Christmas decorating was going on. You could feel the joy that would have filled those rooms back in the early 1900s and even today.
When Captain Frederick and Maria Pabst began constructing their new family mansion in June 1890, they could not have anticipated that it would survive and thrive into the twenty-first century.
During the years of the Pabst family's ownership, the house was the scene of many fine parties and receptions, a wedding, and, in the end, Captain and Mrs. Pabst's funeral. As the years have come and gone, The Pabst Mansion has remained a constant on Milwaukee's landscape.
The Pabst Mansion is filled with a romantic story, and someplace you need to see to appreciate it. It is the ideal place to start your romantic adventure.
Best Place Brewery Tour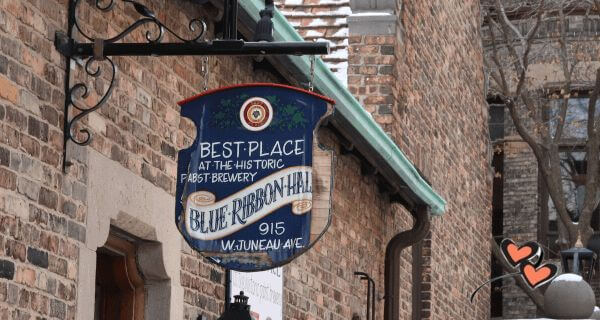 Continuing with Milwaukee's brewery history, stop at Best Place for a brewery tour. One ice-cold beer is included with each adult tour ticket.
There is an exciting part of Pabst's history here. Best Place is located in a historic Pabst Brewery building dating back to 1880. The beer history tour includes the history of the Pabst Brewery. Instead of learning how beer was made, you become immersed in the history of a man with a vision, about the company itself and the people behind the vision.
This Historic Pabst Brewery building was once a school, yes, I said school; Jefferson Elementary School. The Best Brewery kept growing and expanding throughout Milwaukee, and it wasn't long before it surrounded Jefferson school.
Best Brewery bought the school and a local church two blocks away in 1890. The school was converted into offices and a guest center. Captain Pabst had his office in this very building right in the middle of the Pabst empire.
At the time of the school purchase, the brewery was not known as Pabst; it was known as Best Beer, after captain Pabst's father-in-law.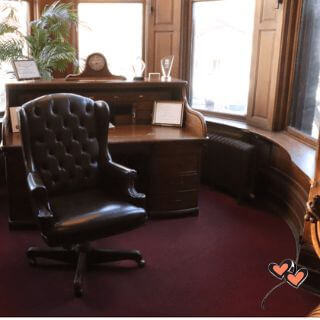 Best Brewery had been making beer since 1844 (founded by Jacob Best, Phillip's father), but financial troubles and Phillip Best's failing health threatened to close the brewery by the 1860s. Pabst agreed to become a partner in the brewery, and two years later, Pabst bought out Phillip Best with his brother-in-law Emil Schandein.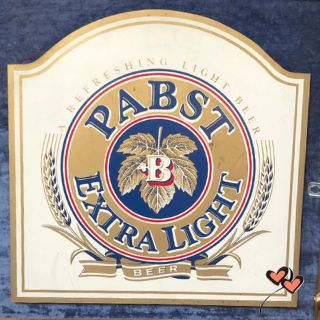 In 1872 Captain Pabst became president of Best and Company, the second-largest brewery in the U.S. Yet it did not become known as Pabst until 1889. To honor Philip Best, there is still the blue seal on every bottle and can of Pabst Blue Ribbon Beer. If you are like me, I assumed the "B" stood for beer. Now you know it is in honor of the Best family as the company's founders.
Interesting factoid: Pabst Blue Ribbon Beer never won a blue ribbon. Known initially as Best select beer and then Pabst Select beer, the current name of Pabst Blue Ribbon come from the fact that a blue ribbon was tied around the bottles from 1882 to 1916 to make them stand out from the competition.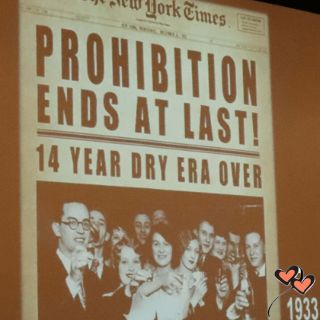 Pabst faced struggles along the way. Despite being the second-largest brewery in the U.S., 13 years of prohibition will hit any beer company hard, whose main product is now prohibited. Pabst was creative, switching to a cheese-like product and selling hops with a warning that stated it was against the law to use the hops to produce alcohol.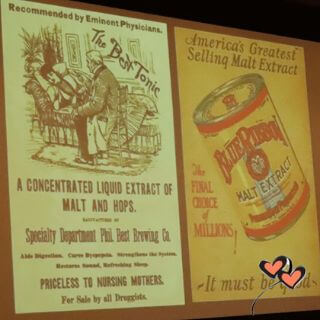 In December of 1933, prohibition ended! Pabst constructed a statue, and a party was held in the courtyard at the Pabst Brewery. They were one of the few breweries that survived prohibition.
For those unfamiliar with prohibition, from Jan 1920 until Dec 1933, it was illegal for any alcohol to be stored, manufactured, transported, sold, or consumed.
Remember that colorful Milwaukee history I mentioned? The bay side of Milwaukee is filled with secret tunnels and rooms used to store and transport alcohol during the prohibition era.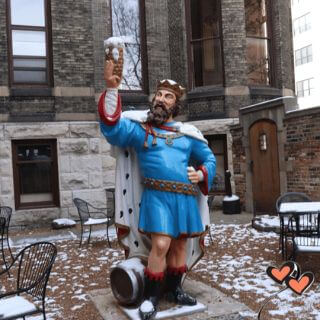 Pabst reached its pinnacle in 1978 and produced 15.6 million barrels of beer. At that time, Pabst cooperation occupied seven city blocks in downtown Milwaukee with 28 buildings and 5000 employees. Every morning 70 rail cars full of beer shipped from the brewery.
Pabst knew how to treat his employees. Except for the delivery men, every employee was allowed three beers per shift. According to past Pabst employees, there was no limitation on the number of beers as long as you could do your job. I think that was a happy workplace environment. LOL!!
Unfortunately, the brewery closed its headquarters in Milwaukee abruptly. The Pabst offices sat empty for a while from 1996, after the closing of Pabst, until September 11, 2001, when purchased by Jim Haertel and began its new life as Best Place.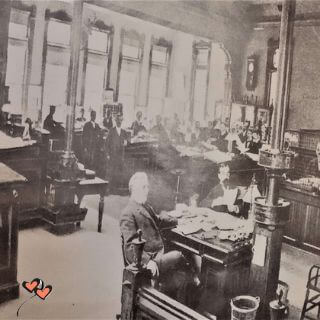 Among hidden treasures found in the building were photographs of Groucho Marx, Danny Kaye, Jimmy Durante, Donald O'Conner, and a guest registry containing signatures from people around the world.
The Best brewery tour was exciting. It was romantic to walk the halls holding hands and picturing the colorful past of the building. Some of the Best Place areas have been restored. Many areas are still in the process of restoration, and other portions have not been touched in many years.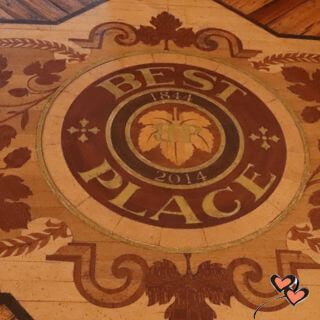 A portion of Best Place is now a pub that is open daily and also a venue for weddings, meetings, business conferences, concerts, rallies, and the like.
The history of Phillip Best, Best Brewery, Frederick Pabst, and Pabst Brewery is immense and full of twists and exciting events that make it quite incredible.
Here are some additional questions to consider:
What role did the great Chicago Fire play in Milwaukee's beer growth?
If Pabst Brewery closed in 1996, how is Pabst still brewing beer?
How many beers did Pabst Brewery have? (it was much more than 50 brands)
Afternoon Tea at the Pfister
Afternoon Tea at The Pfister Hotel is an experience unlike anything you will ever enjoy. An elegant experience that is perfect for lovers, mothers and daughters, friends, and even family, something everyone should enjoy at least once.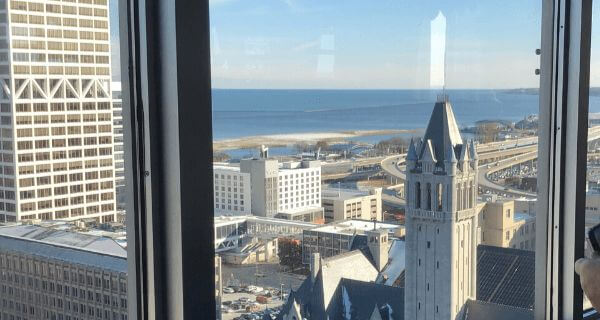 Walking into the lounge on the 23rd floor, you are instantly surrounded by an elegance that quietly shouts romance and an unbelievable panoramic view of Milwaukee's Skyline. Although elegant when entering the lounge, you are immediately relaxed, piano music playing gently in the background, and a cozy crackling fireplace sets the stage for romance.
Our Tea Butler seated us overlooking the fantastic city of Milwaukee.
Once seated and have had an opportunity to absorb the fantastic view, a Tea Butler will visit your table with a service trolley filled with the many blends of teas being offered.
A relaxing tableside tea blending includes a variety of Rishi Teas, which are headquartered right in Milwaukee. Your tea butler will teach you about each variety, the amazing smells, flavors, origins, and the effects each different tea has on your mood and health.
While our Butler shared the origins of each tea, we were given a sampling to smell and envision the flavors before choosing our own. We were also taught the many options one has for pairing in their tea. Adding fruit or cinnamon sticks when brewing your tea adds to the enjoyment.
I enjoy tea, but this experience opened my eyes to the many options one has when enjoying it. Gary chose an orange tea with fruit added, while I chose a vanilla tea with apple slices added.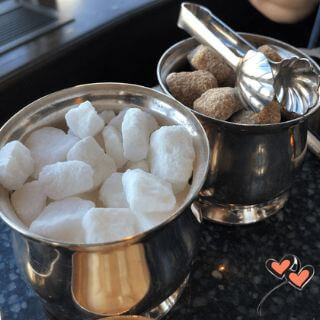 Tea is served in grand style, presented in silver, including a replica of an 18th-century self-tipping teapot with a tea light to keep it warm. The experience is completed with fresh pastries being served alongside the tea.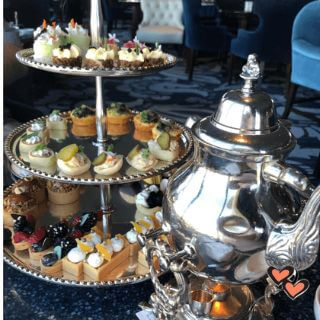 To complete our experience, we were served a variety of English finger foods, again served in a grand style. Among these finger foods were miniature cucumber sandwiches, crepes, quiche, caviar, miniature scones, and numerous delicious finger desserts.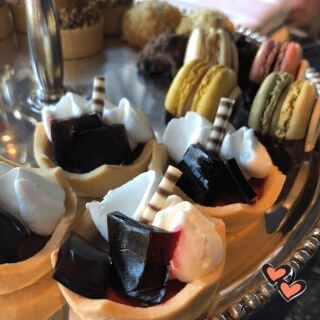 Afternoon tea will indeed become a treasured memory for both of us. We enjoyed our afternoon tea so much that when the opportunity presented itself for us to enjoy tea at the Peabody Hotel in Memphis, we couldn't turn it down,
It may be hard to leave the comforts of the tea room. It's so relaxing and romantic. Turn your chairs and sip the last of your tea, enjoying each other's company overlooking the city of Milwaukee.
Stay At A Historic Hotel ~ The Pfister Hotel
For the perfect addition to your romantic visit to Milwaukee, plan to stay at one of Milwaukee's historic hotels. The Pfister Hotel is an ideal choice. The Pfister has a lot of history and has not lost sight of the romance that once filled the halls. The Pfister is the ideal place to start your own romantic story.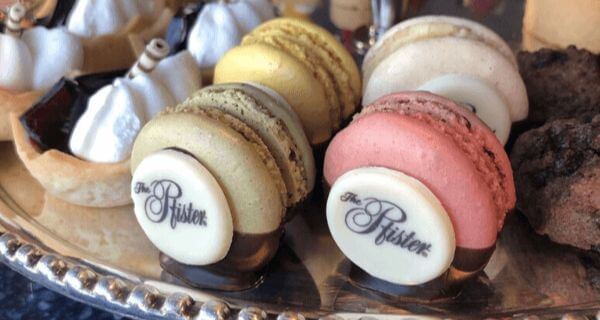 The Pfister Hotel is a 125-year-old city icon. Stepping foot in the door, you feel like you have been magically transported to Paris. You can feel and see the history, prestige, and excellence that went into building the magnificent structure.
Romance is in the air, and you can not help but be captivated by the feel.
Our stay at the Pfister Hotel was so magical we did an entire blog post featuring our stay at The Pfister Hotel.
Don't wait to book your stay at The Pfister hotel.
Take In The Views Of Lake Michigan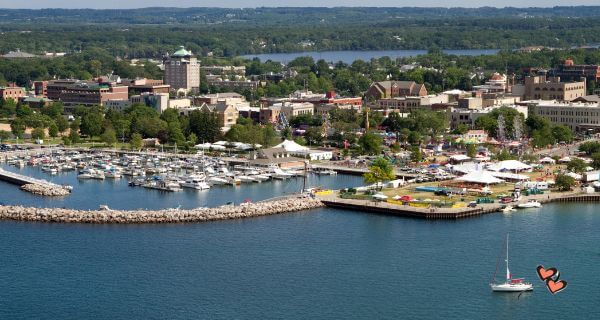 When it comes to romantic things to do in Milwaukee for couples, you need to add enjoying the views of Lake Michigan to that list.
Lake Shore State Park, Wisconsin's only urban state park, is the heart of downtown Milwaukee.
The park offers a small beach and access to paved trails. Why not take an urban nature walk with views of Lake Michigan on one side and views of downtown Milwaukee on the other side?
Enjoy Unique Dining ~ Stackner Cabaret
To top off a wonderful day in Milwaukee, head to the Milwaukee Rep in the Milwaukee Center for dinner and a live show.
Start your evening with dinner at the Stackner Cabaret restaurant.
The Stackner Cabaret Restaurant and bar is open to the public before and after all evening performances at The Rep. They offer a full bar and a menu featuring comfort food in a unique theater surrounding. It's the perfect place for a romantic meal before your evening entertainment.
The Stackner Cabaret is not a dinner theater; service stops just before the opening curtain. Before the start of the performance, you can place a drink/dessert order that will be served to you during intermission.
Enjoy Milwaukee's Theatrical Side ~ The Milwaukee REP
Milwaukee has a huge theatrical presence in Milwaukee, along with a lot of talent. Live entertainment for an evening performance is available at the Milwaukee REP.
The night we were in Milwaukee, we enjoyed a live musical comedy called Nunsense, put on by The Milwaukee Rep. This comedy had us laughing the entire evening.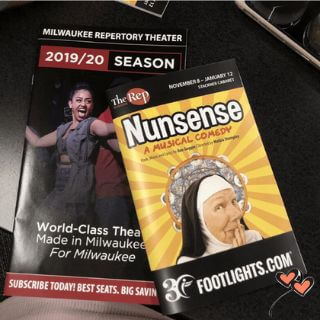 The Little Sisters of Hoboken were in dire need of emergency funds after a culinary disaster nearly wiped out all the Sisters in the convent. Funds were needed to get their Sisters out of the freezer. Now, doesn't that leave you with a questioning picture?
The actresses and the storyline made us laugh as they attempted to create a variety show to raise the needed funds. (no, they didn't pass the collection plate in the audience. LOL ) The variety show included singing, tap dancing, habit humor, an audience quiz, and a special appearance by the convent cook, Sister Julia, Child of God.
With a storyline that kept us laughing, the songs, and comic interludes, this was a musical adventure we were so happy to have been a part of!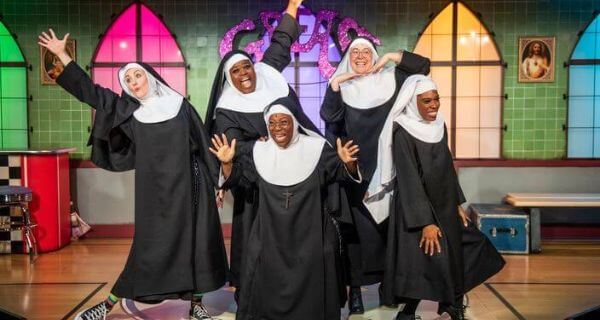 With this sampling of The Rep's work, we could see a lot of talent in this group. Their performances are something we will be experiencing again. For a list of their current performances, check out The Milwaukee Rep.
Enjoy a Nightcap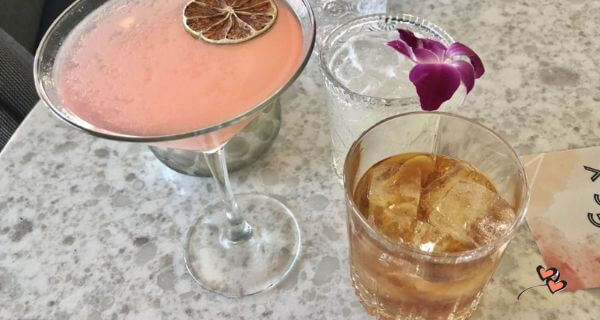 To end a perfectly romantic day in Milwaukee, after the show, grab a quick nightcap at Giggly Champagne & Wine Bar. It's located right outside the Milwaukee Center.
A masquerade party was going on the evening we visited. Dressing up in costumes had a romantic feel about it. Giggly's seemed like a favorite romantic place for many.
Milwaukee is showing us to be a place with way too much to do and not enough time to do it. Day 2 had us exploring Milwaukee's Historic Third Ward District. What an exciting day that proved to be.
For additional Milwaukee fun and romance, check out our visit to the
Harley Davidson Museum.


Thank you, VISIT Milwaukee, for making part of our weekend possible and for all your help, in sharing with us the romantic possibilities in Milwaukee.