What to Expect When Visiting The Harley Davidson Museum Milwaukee Wisconsin

Harley-Davidson An American Story – An International Story
Harley Davidson is truly an American story that starts right in the heart of Milwaukee, Wisconsin, with two young men that had a dream. To say we were intrigued by the thought of visiting the Harley-Davidson Museum in Milwaukee, Wisconsin, and being able to share it with you is an understatement. Gary and I both like a good motorcycle ride.
A few years ago, Gary and I went on a date to a Harley Davidson showroom in Milwaukee to test drive a Harley-Davidson CVO. Sitting on the back of that motorcycle with my arms around Gary's waist was perfect. There is a free feeling just having the wind in your hair and holding on to the one you love.
Yes, you guessed it, there is a sexy CVO sitting in our garage. There is so much more to the Harley Davidson Story than just that free feeling one gets riding a motorcycle.
Harley-Davidson Museum Tickets: Admission Price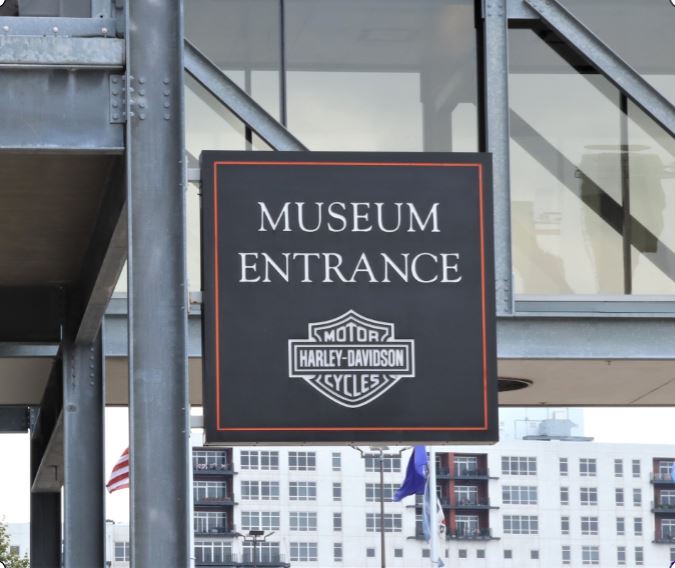 The Harley-Davidson Museum is 130,000 square feet filled with 450 motorcycles and countless artifacts. It's located just outside Milwaukee WI. The museum opened its door in 2008, in what was once Milwaukee's industrial area.
At the time of our visit, the museum was open seven days a week, and the admission for Harley-Davidson Museum tickets were $22 for adults.
An extra $4 is charged if you would like audio throughout your self guided tour. The audio is a headset and transmitter that allows you to hear about each display. Please call for current rates.
Harley-Davidson Museum Hours
At the time of our visit, the Harley Davidson Museum was open seven days a week.
Tuesday – Thursday 10:00 AM – 8:00 PM
Friday – Monday 10:00 AM – 5:00 PM

Please call to confirm the Harley-Davidson Museum Hours before visiting.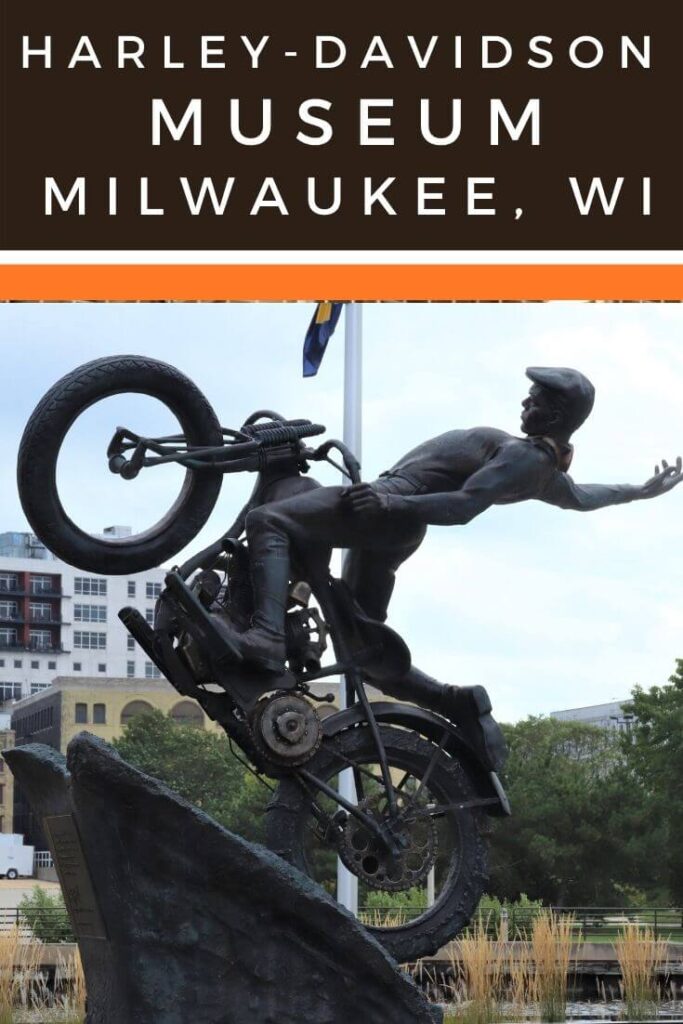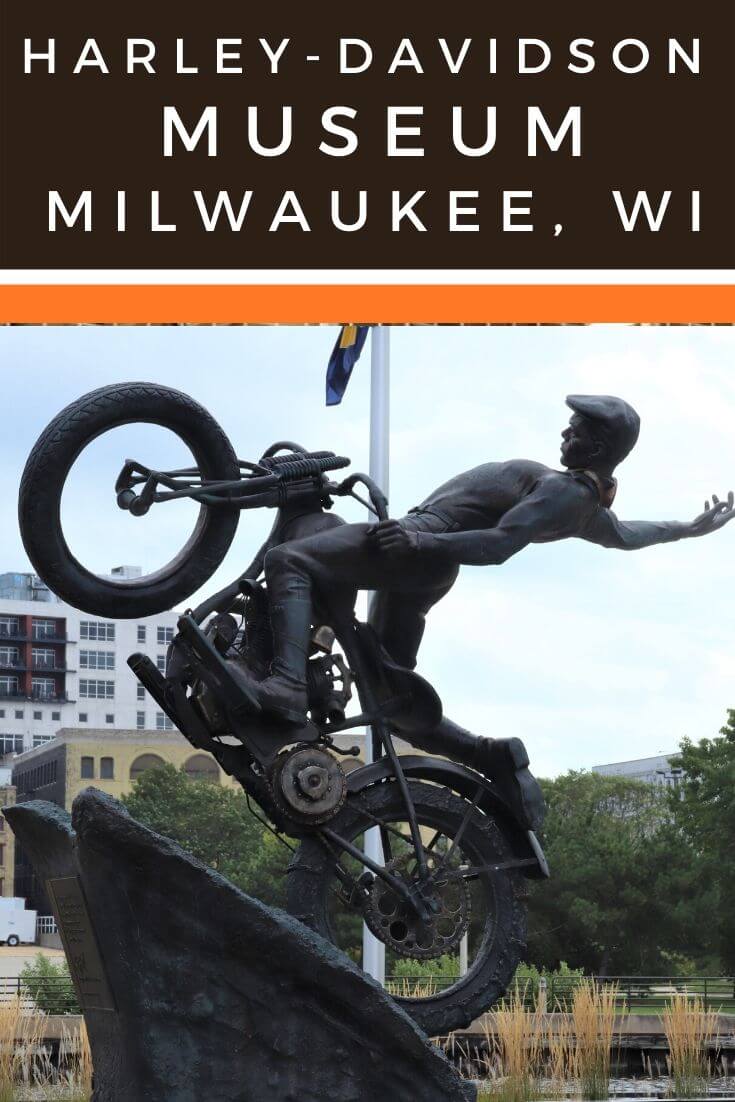 This post may contain affiliate or sponsored links. If you click on a link and make a purchase, I may receive a small commission (at no additional cost to you). Please see my full disclosure policy for details.
The Brief History of Harley-Davidson's Beginnings
In the late 1800s, a 15-year-old boy named William Harley was so intrigued by a new form of transportation called the bicycle that he took a job at a Milwaukee-based bicycle factory. It was this intrigue that may very well have been the start of Harley-Davidson.
In 1901 William Harley made a drawing of an engine designed to fit the bicycle. Harley had a simple dream to build him and his childhood friend Arthur Davidson motorized bikes.
Harley and Davidson spent many hours trying to complete a prototype of Harley's drawing. This prototype never materialized. At the same time, Harley was designing a second engine. William and Arthur knew the one thing that was missing to make their dream of a motorcycle a reality was a competent machinist.
They knew just the person, Arthur's brother Walter, who was living and working in Kansas at the time. To get Walter on board, they had to trick him into coming home. The two friends sent Walter a letter claiming they had already built the motorized bike and saved the first ride for him.
Surprise! When Walter arrived home, all he found was a pile of parts. Walter must have been intrigued enough with the possibility of a motorized bike because he chose to stay in Milwaukee and help make the first motorcycle a reality.
It wasn't long, and a third Davidson Brother, William, decided he would not be left out. He, too, joined what is later referred to as the "Dream Team" This team worked together to start what becomes known as Harley Davidson, in that small wooden shed only 11×15, located in the Davidson brother's backyard.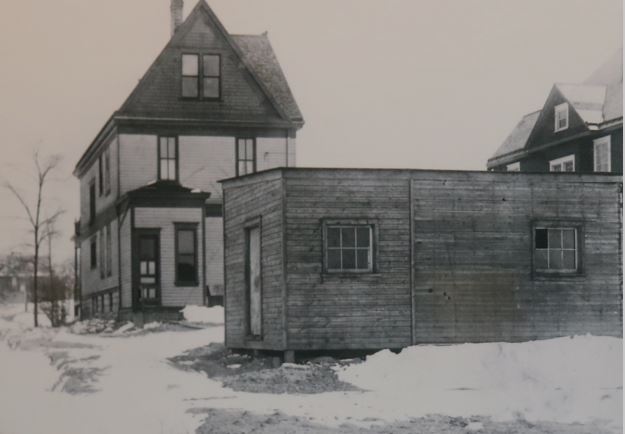 1907 was a huge year for Harley Davidson. They incorporated and became known as the "Harley-Davidson Motor Company." They then attended a car show and tried to get dealers for their motorcycles. Even offering incentives of 1 free bike for every 5 ordered. They were able to manufacture over 100 motorcycles that year.
Even though there were three Davidson brothers, the decision was made to put Harley's name first because it was his original design and dream that started it all.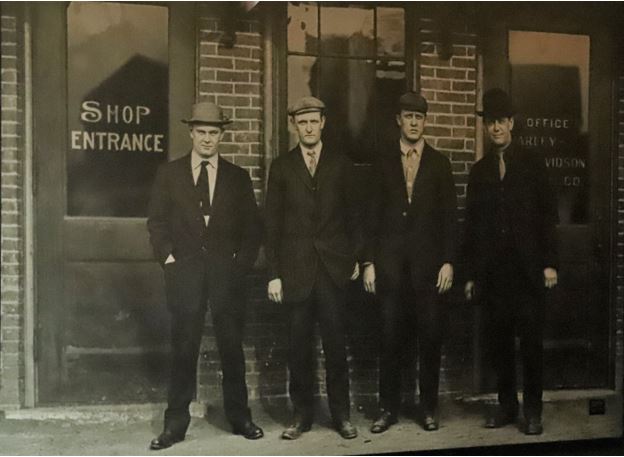 All 4 founders had such a love for motorcycles they all worked for Harley-Davidson until they passed away.
Harley-Davidson Museum Experience
Visiting the Harley Davidson Museum Milwaukee, WI, is a generational experience. You don't need to be a Harley Davidson fan or even a motorcycle fan to appreciate all that the museum has to offer.
Harley Davidson is a story of three men chasing a vision and not letting anything get in their way.
Visiting the Harley Davidson Museum Milwaukee is on our Place to add to your Wisconsin Bucket List, which consists of things that are a must-do and see in Wisconsin.
Harley-Davidson Series #1
The museum is a collection of Harley-Davidson's original bikes, history, and memorabilia throughout the years. The first Harley-Davidson Bike is on display, along with marks on the floor showing the shed's size where the first bike was constructed. Seeing the history of Harley-Davidson throughout the years was fascinating.
In 1903 the second engine prototype became a reality. The motorcycle became known as serial #1 and is proudly on display at the Harley-Davidson Museum in Milwaukee, WI. The first design was simple and is not much more than a bicycle with a motor. From there, they decided to produce motorcycles for sale.
Motorcycles were built for racing, which was a trendy pastime. Serial #1 was the first Harley-Davidson motorcycle to participate in a motorcycle race. Unfortunately, it lost to another motorcycle.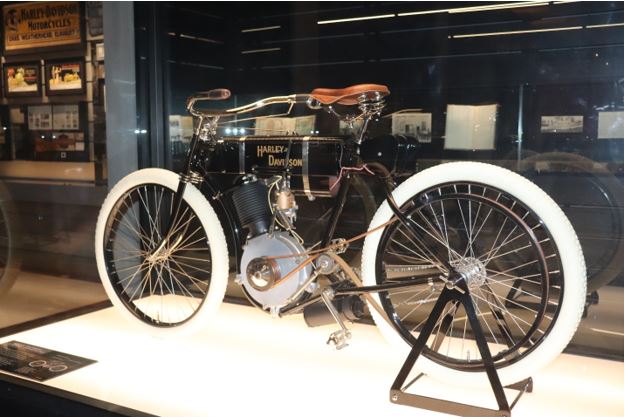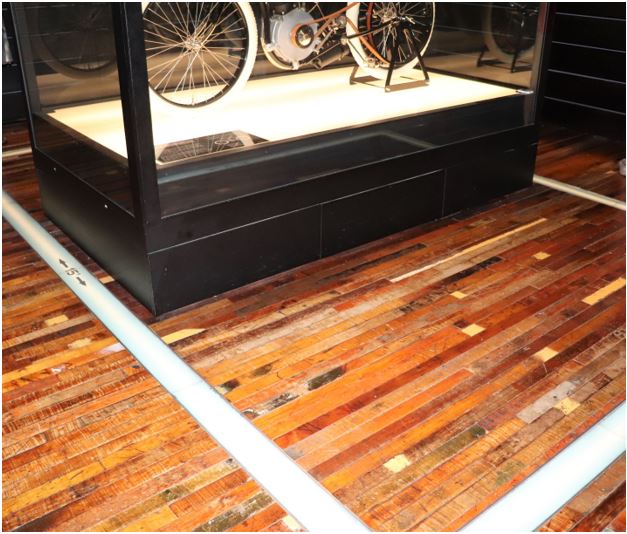 Harley-Davidson Over the Years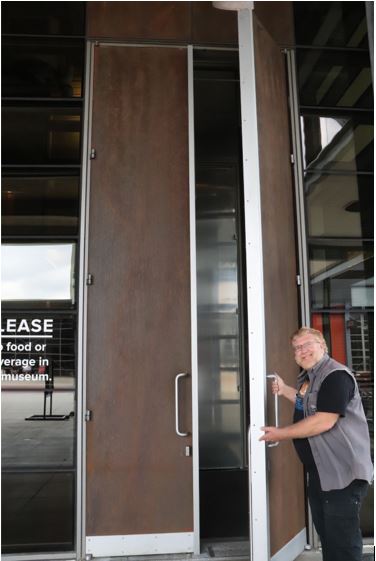 Come along with us as we explore and discover the exciting history of Harley-Davidson, the changes to the motorcycle, and the impact Harley Davidson had on the world over the years.
Harley-Davidson continues to change and improve all the time. Even to this day! Thanks to the Harley-Davidson Museum's efforts, we can see first hand those changes throughout the years.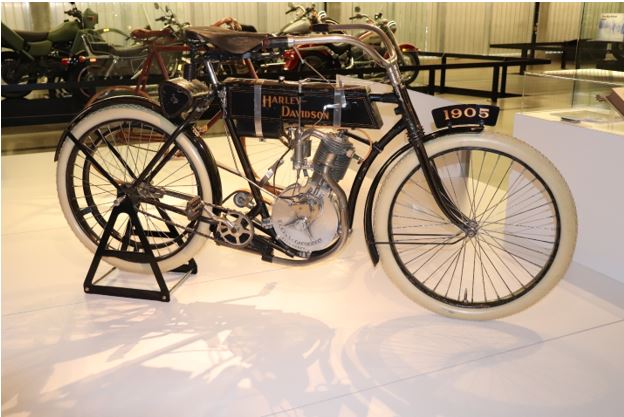 Over the years, Harley Davidson did a lot of experimenting and designing. 1909 is the first year of the V-Twin. Only 27 were built, and the Harley Davidson Museum has the only sole surviving 1909 V-Twin on display.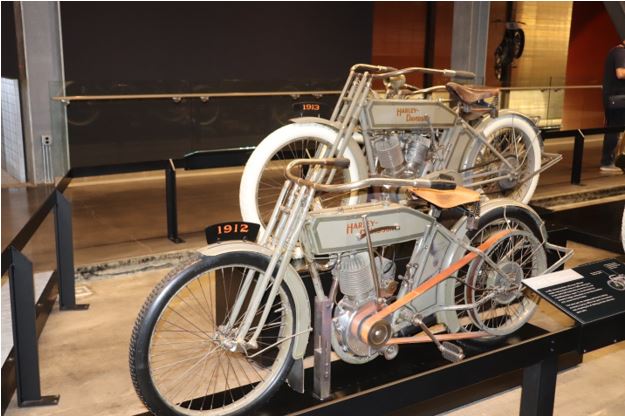 In 1917 more than one-third of all Harley-Davidson Motorcycles manufactured were bought by the US government for our military. That number increased to one half throughout the war. This was the first time a Harley-Davidson was used for military use. By the end of the war, some 20,000 Harley-Davidson's had been used through World War 1.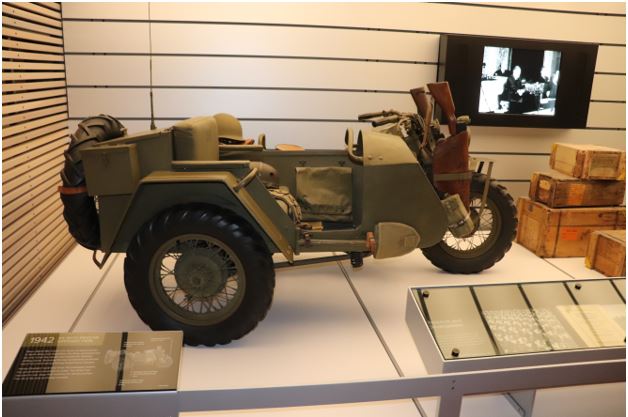 After the war, there was newfound popularity for Harley-Davidson machines. Servicemen were returning home with a desire to own their own Motorcycle. By 1920 Harley-Davidson was the largest motorcycle manufacturer globally, with 28,189 motorcycles being produced that year. You'll find several army motorcycles on display in the museum.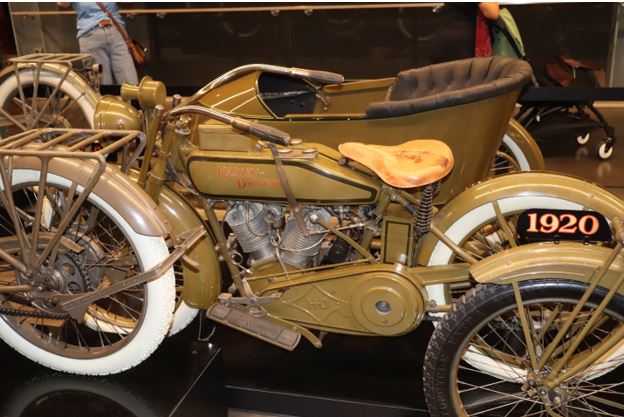 As the Harley-Davidson motorcycle continued to change throughout the years, each year it started to look more and more like the motorcycle we know today. I love the ones with sidecars. I can't help picturing someone on a date with his girl in the sidecar. As modern as we are I like the romance of the old days.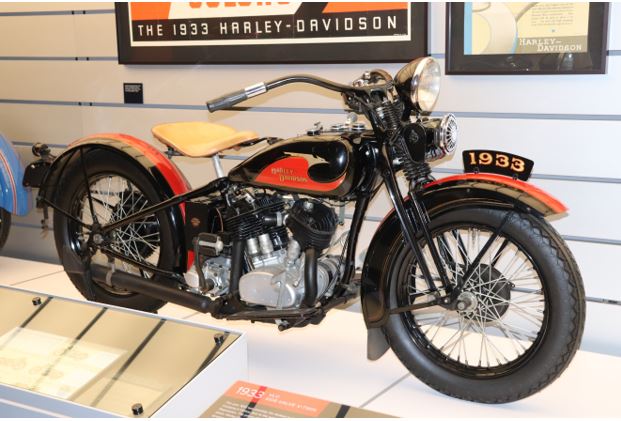 Up until 1933, Harley-Davidson was pretty much the drab green. With a minimal additional cost, they could change the entire look and feel of the motorcycle. Its two-toned color schemes and pinstriping and this motorcycle take on the Harley-Davidson look as we know it today. Notice the gas tank and the Harley-Davidson colors.
As popular as Harley-Davidson was, it could not escape the wrath of the Great Depression. Sales fell drastically! Harley-Davidson hung on to the end, being only one of two motorcycle manufacturers to survive the Great Depression.
To help Harley-Davidson survive the depression, they manufactured vehicles for other purposes.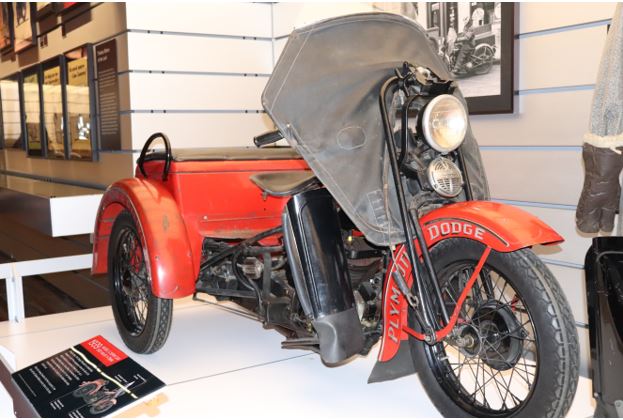 This Servi-Car was manufactured during the depression when Harley-Davidson's sales slumped. This was their attempt to improve sales.
Targeted in the automotive service industry, the Servi-Car was designed to be towed behind a car delivered to a customer. When the car was delivered, the driver would unhitch the Servi-Car and ride back to the garage. Now that is service.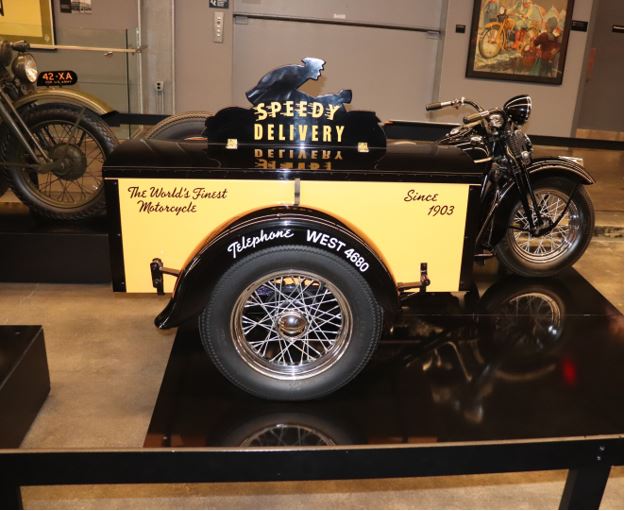 The Servi-Car was also popular as a utility vehicle for small businesses and mobile vendors. They proved to be particularly popular with the police departments, some of which still used Servi-Cars into the 1990s.
Servi-cars continued to be manufactured by Harley-Davidson until 1973.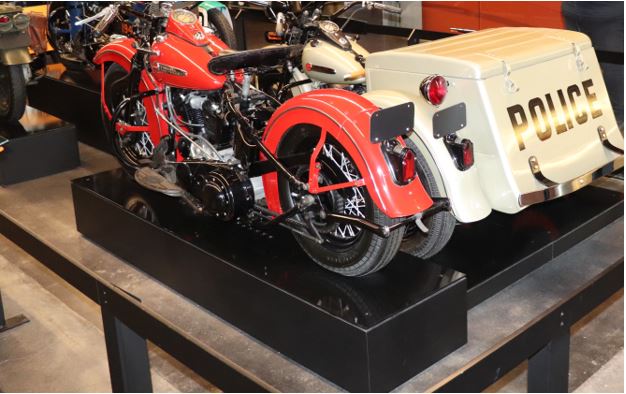 In 1942 Harley-Davidson played an important role in WWII. Designing motorcycles that were very specific to the needs of our military men. Some 90,000 motorcycles were used in WWII.
After the war, there were many military bikes left. Yet because people did not want to remember the war. Customizing the motorcycles became popular.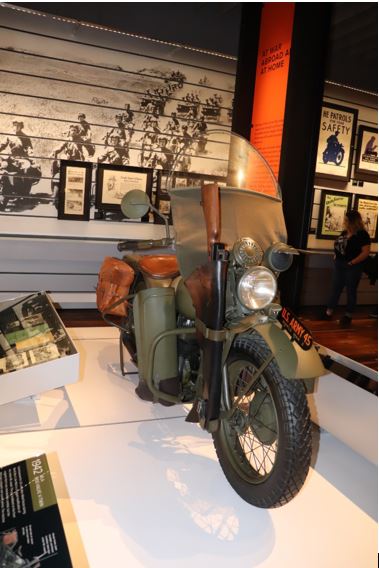 The motorcycles on display are un-restored. These are bikes that the founding members of Harley-Davidson set aside to someday be on display.
Harley-Davidson Motorcycles have continued to change throughout the years. Many more original motorcycles are on display in the museum. You will have to visit to see the rest of the Harley Davidson history.
Harley-Davidson Gas tanks, Engines & Memorabilia
Harley-Davidson Museum in Milwaukee is filled with so many fun and exciting things in addition to just the motorcycles themselves. I love shiny bright colors, and I couldn't wait to take a picture of this wall of Harley-Davidson gas tanks.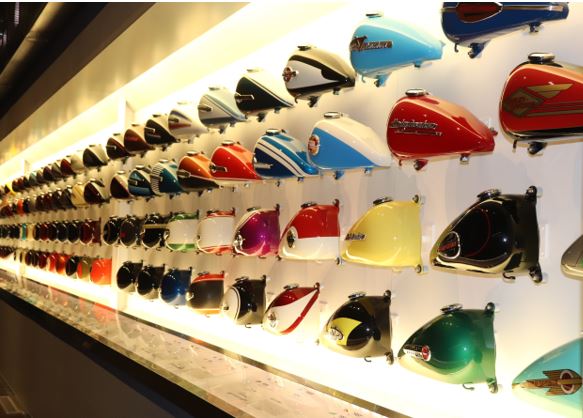 In another room, there was a wall of engines from throughout the years. This room also had an area with interactive touchscreens where you can pick any Harley-Davidson engine from over the years and hear how it sounds when it starts. Both kids and adults were having fun in this area. Gary loved the potato, potato, potato sounds that are unique to Harley-Davidson engines. He's a big lovable kid at heart.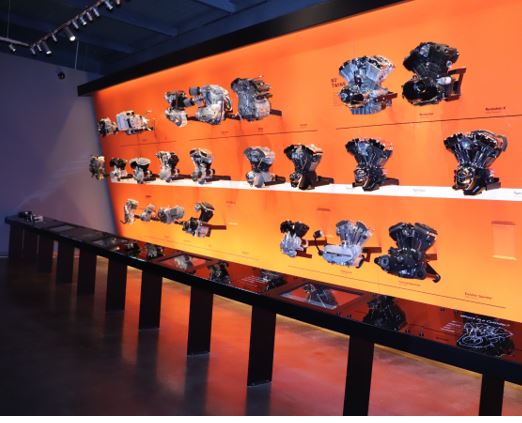 Harley-Davidson is more than Motorcycles
At different times throughout the years, the Harley-Davidson Motor Company manufactured several various transportations, including boats, golf carts, and a snowmobile. None of which became as popular as their motorcycles.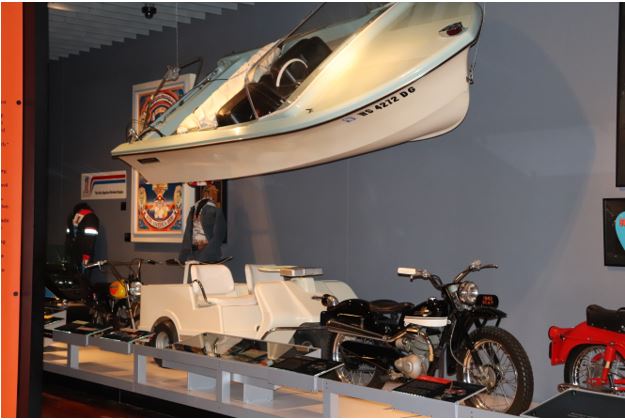 I was confused when I first saw these in the Harley-Davidson Museum. What do boats and snowmobiles have to do with Harley-Davidson? Interesting fact, look at Harley-Davidson Motor Company's official name, purposely done, to not limit themselves to just motorcycles.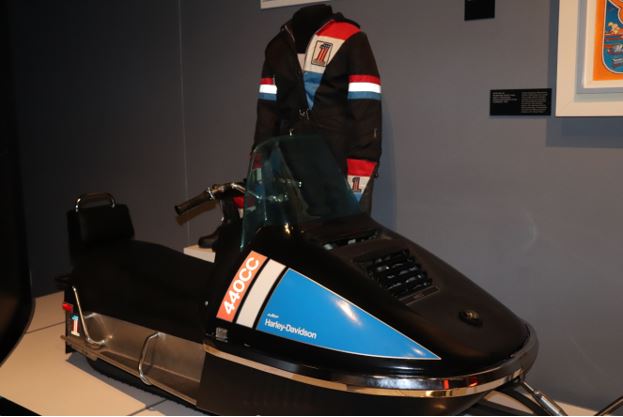 Harley-Davidson for Kids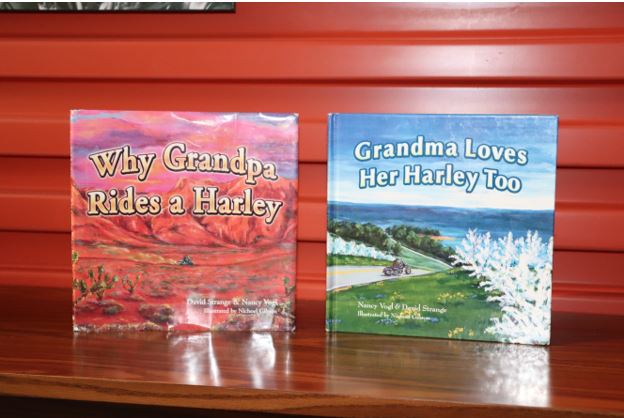 The Harley-Davidson Museum didn't forget the kids. There is a particular area for the little ones to enjoy that I found to be delightful, not just for the kids but also for the adults. It gave parents a chance to sit and talk with each other while the kids found their interest in Harley-Davidson. I am sure there were some future Harley-Davidson riders in the making.
Harley-Davidson Legos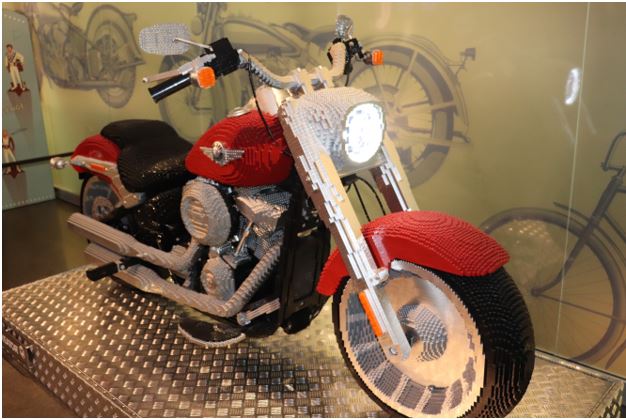 This amazing full-size motorcycle made of Legos is not for playing with. But it sure does draw the attention of those visiting the museum. Yes! The light really works. And check out the Harley-Davidson logo.
Lego makes a smaller version of this bike for you to build and enjoy at home. You can purchase the set HERE.
Harley-Davidson's Journey by Sea
This motorcycle on display caught everyone's eye. It wasn't the pristine display model like all the others, but the story behind it is just as amazing.
On April 18th, 2012, Canadian beachcomber Peter Marky happened upon a remarkable discovery on the isolated shoreline of Graham Island, part of a group of sparsely populated Islands off the coast of British Columbia. A large trailer box had washed ashore.
To Mark's surprise, a battered yet recognizable Harley Davidson motorcycle lay inside. The bike's license plate revealed a Japanese origin. Having no way to remove the bike from the beach, Mark took a video and a few photos with his phone and set out on his ATV to return home.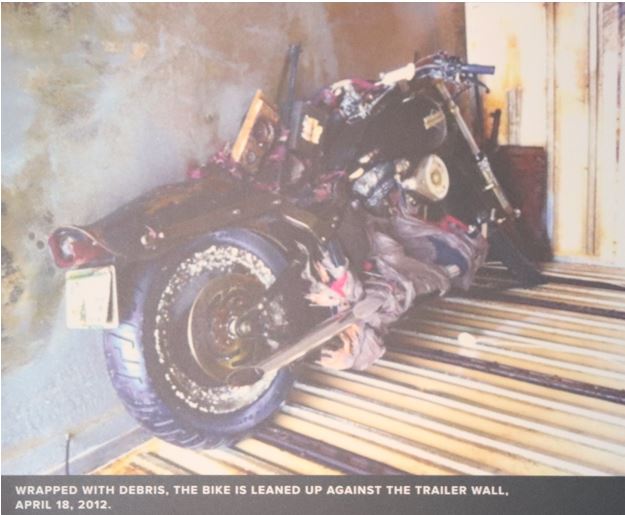 Over a year earlier, a devastating earthquake and tsunami struck northeastern Japan on March 11, 2011, taking nearly 20,000 lives and leaving hundreds homeless. An estimated 20 million tons of debris was swept out to sea, and it's likely 1-2 million tons remain at the surface of the ocean. Currents are slowly pushing this toward the North American shores.
Kept afloat by foam-insulated walls, the trailer safeguarded its rusted contents for over 4000 miles. As the story of the find spread, so did the interest in recovering the bike and finding out the owner's fate. The license plate was traced, and miraculously, the owner was located with help from Steve Drane, the Harley-Davidson dealer in Victoria.
When Peter Mark returned to the beach to retrieve the bike in early May. However, in the weeks that had passed, the open trailer was taken by the tide, leaving the bike behind and partially buried in the sand.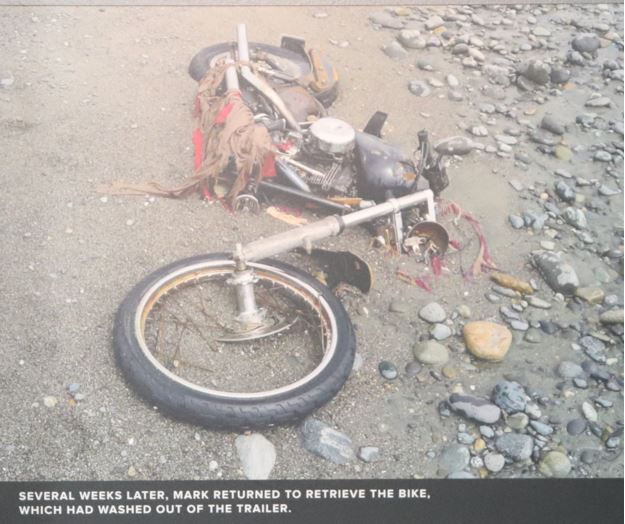 "A wall of water nearly 25 feet high swamped Yamamoto's town, where the resident Ikuo Yokoyama was storing his 2004 Night Train model in a trailer from a small moving company. Mr. Yokoyama lost his home, belongings, and several members of his family in the disaster. His wish was that the bike is displayed at the Museum in Milwaukee and be displayed as a memorial to those who lost their motorcycles and those that lost their lives. The motorcycle was left untouched to serve as a reminder of the tragedy, and the chance occurrences connected two individuals across a vast ocean." ~Harley Davidson Museum~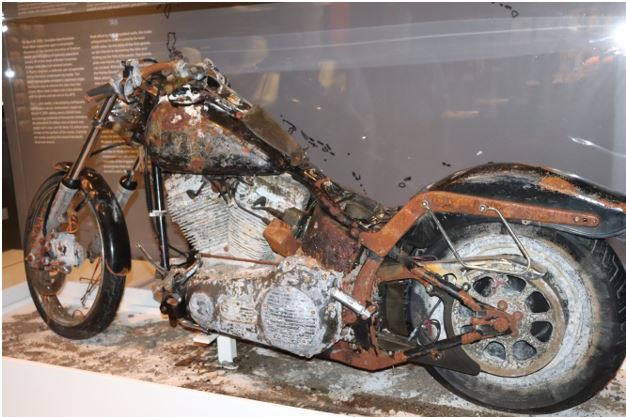 Even while being displayed in the museum, the bike continues to deteriorate from the exposure to the saltwater.
Harley-Davidson's Old Bike Room
It's no surprise that the Harley-Davidson Museum takes the word "Original seriously." I love the way Harley-Davidson preservation specialists state it. "A motorcycle can be restored a hundred times, and an original is only an original once."
Don't miss the chance when at the museum o take the elevator down and check out 'The Old Bike Room," where Harley-Davidson Bikes are pampered and preserved.
Harley-Davidson Museum Store
In addition to the Museum, there is also a Harley-Davidson Museum Store filled with Harley Davidson clothing and unique H-D originals from the classic age of motorcycling. Many of the clothing designs are replicas of vintage Harley Davidson clothing. The Harley-Davidson Museum store is the only place to get these items.
And if time permits, grab a bite to eat and have a drink at the Rumble. The food was good, and there was live music for entertainment.
At different times you are also able to take a Harley-Davidson Motorcycle for a test drive. Be careful; you are sure to fall in love!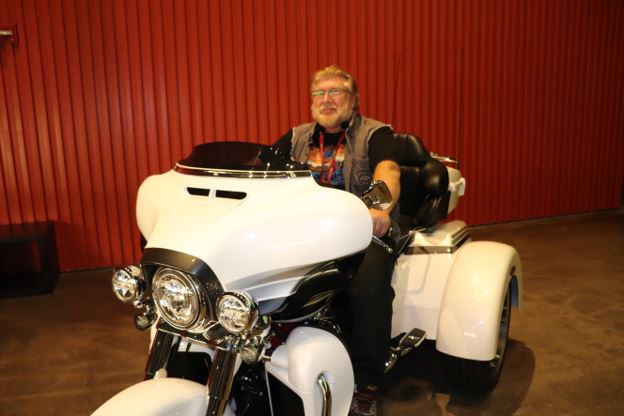 The final room allows you to sit on several different bikes bolted to the floor for that perfect Harley photo. Doesn't Gary look sexy on this bike!?!
The Harley-Davidson Museum is a great comprehensive collection of Harley Davidson's achievements throughout the years. We can only give you a brief look at Harley Davidson's history. There is so much more contained within the walls of the museum. This is only a small tease of what you'll find through the Harley-Davidson Museum doors.
The Harley-Davidson Museum in Milwaukee, Wisconsin, is filled with amazing things and so much more than what we can share. You really need to experience it yourself. There is an entire floor of the museum filled with famous motorcycles that we have not touched on.
If you find yourself in Milwaukee, WI, don't hesitate to check out the Harley-Davidson Museum. This is someplace I would recommend making a special trip to visit. While we were there, we had an opportunity to talk with several people from other countries that had flown into Chicago and had made a special trip to visit the museum. You don't have to be a Harley-Davidson enthusiast to be amazed by this museum.
Milwaukee, a city built on history and beer, has so much more to offer! Check out more of our Milwaukee adventures. And don't forget to check out our post about the historic Pfister Hotel in Milwaukee. This is a city filled with so much for young and old.
If you are looking to plan your own Milwaukee visit, stop by VISIT Milwaukee for suggestions, and then head over to our Resource Page to book all your vacation needs.
We would love for you to stay in touch!
Whether you have a question about our site, want to work with us,
or want to say "hi," please feel free to send us a message.

You can reach us at [email protected]
Or follow us on Social Media
Facebook @ Love and our Laptop Lives
Pinterest @ Love, Travel and our Laptop Lives
Instagram @ Love our Laptop Lives
Twitter @ Love and our Laptop Lives
Youtube @ Love and our Laptop Lives
Amazon Store @ Love and our Laptop Lives
** A special thanks to the Harley-Davidson Museum for hosting us for the day. All of the thoughts and comments are our own. To get info on the Harley-Davidson Museum's times and plan your visit go HERE. Be sure to tell them we sent you.