Traveling can be as simple as taking a road trip and going as far as a tank of gas will take you. Even on just a tank of gas, summers can be filled with hidden Wisconsin waterfalls, day hikes, and road trips. Stop by and check out Road Trip Essentials for tips to make your road trip a success.
As soon as you decide to take an adventure the excitement begins. We decided to do some sightseeing and set out to discover some Wisconsin waterfalls. Along the way, we got the bonus of a day hike, getting lost, traveling on gravel and dirt roads, and attempting to read an atlas when I forget to download Google maps.
Wisconsin Waterfalls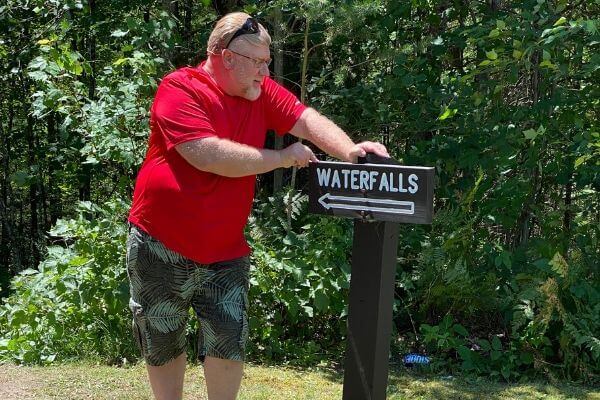 Wisconsin is filled with hidden waterfalls. Much of Northern Wisconsin's landscape is lush woods and beautiful hills. Yet when you think of Wisconsin you don't think of waterfalls.
Although there are many waterfalls in Wisconsin, a large number of them are hidden and not easily accessible. If you are going on a road trip with the plan of chasing waterfalls, prepare yourself for the possibilities of short day hikes.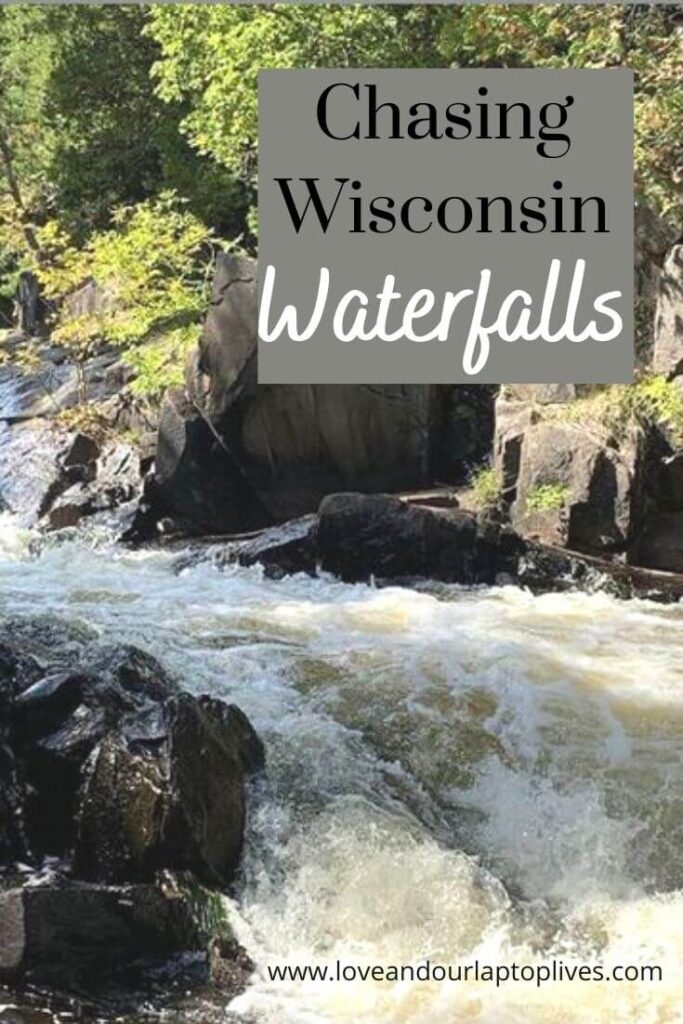 Road Trip to Chase Waterfalls
Chasing waterfalls is, in fact, a great way to enjoy some Wisconsin summer fun. As the Waterfall Capital of Wisconsin, Marinette County is the perfect place to start. The falls are in such close proximity to each other, you can easily visit several in just one day. As an added bonus, some require only a short hike to reach.
Plan your road trip and prepare for a day hike, by grabbing your camera, hiking shoes, and backpack. Then get ready for some wet Wisconsin summer fun.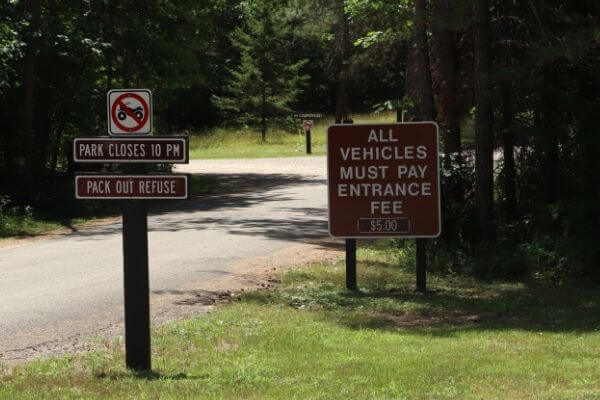 All of the waterfalls we were chasing were located in the Chequamegon-Nicolet National Forest, which is located in the North-Eastern part of Wisconsin.
At our first stop, we picked up a day pass for $5 that would allow us in all the Marinette County parks. If you are looking at doing a staycation this year, a day trip to a National Forest would make a great activity. Be sure to check out our Romantic Staycation Ideas for Couples.
1 | Veterans Memorial Park | Crivitz
Address: W12170 Parkway Rd, Crivitz, WI 54114, USA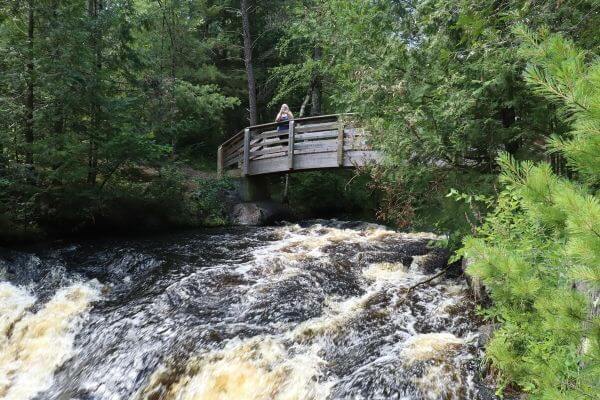 The first stop on our road trip was in Crivitz, WI, The Veteran's Memorial Park, where we found three waterfalls. There are a bunch of stairs that lead to the falls. Some of the stairs were stone and could be slippery when wet. Remember what goes down must come up.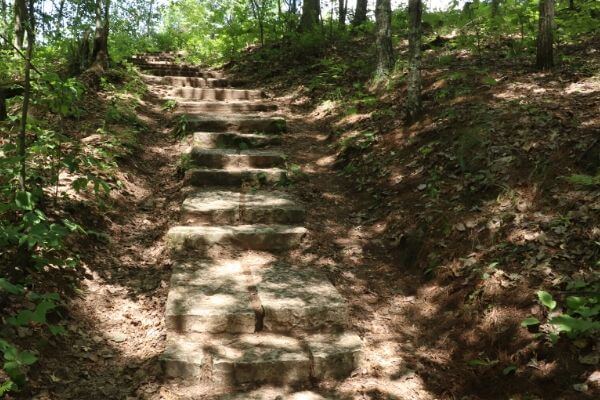 A bridge offered a great view of the first waterfall. The other two smaller falls could be reached by a well-marked path.
2 | Strong Falls | Athelstane
Address: 15201 Goodman Park Rd, Athelstane, WI 54104, USA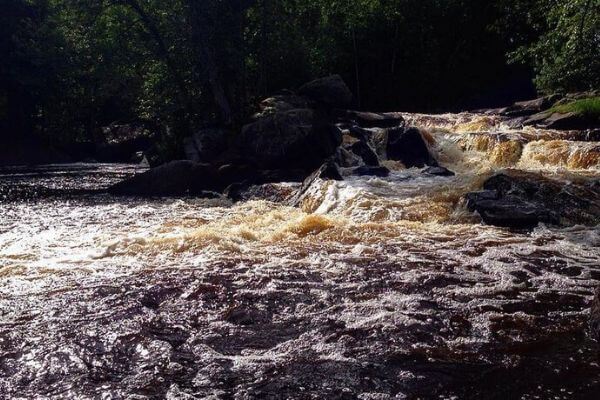 Strong Falls is located in Goodman Park, just a short distance from Veteran's Park. The waterfall is just a short hike from where you park. This one also has a bridge over the waterfall, giving you a unique look at the water.
Our next stop was to be Eighteen Foot Falls. It was at this point in our adventure that we realized I had forgotten to download google maps and being out in the middle of a forest we were not getting any cell service. The choice had to be made. Turn back and skip the rest or continue on.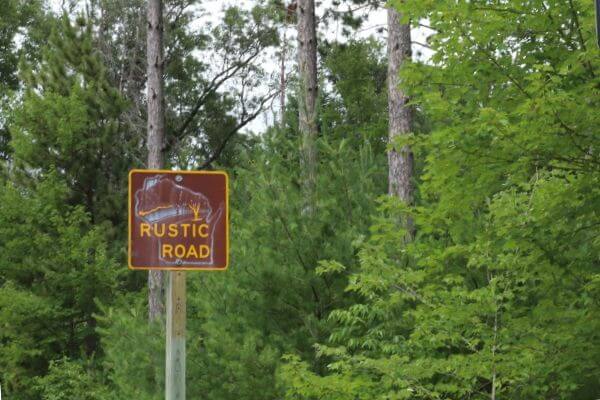 Luckily one of the things I put into the car when packing for this road trip was the new Rand McNally Atlas Gary suggested I buy. I have never used a map so this would be a great time to learn. Let's all agree we rely on our phones for everything. I like Siri telling me which roads to take.
We stopped and got out the atlas, and could figure out the general area where we were at, unfortunately, the National Forest roads were not included in the atlas. This was turning out to really be an adventure.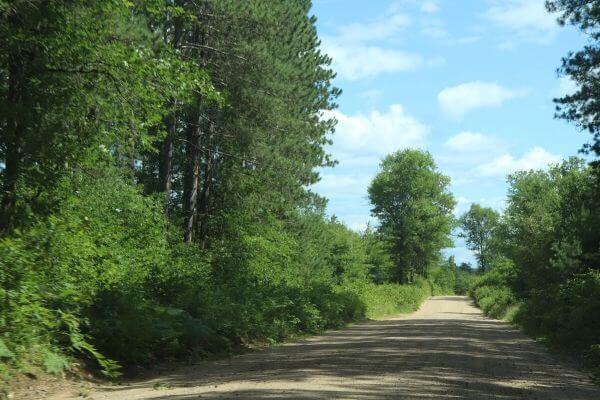 Since our trip, I have discovered the Chequamegon-Nicolet National Forest consists of some 1.5 million acres of Wisconsin's north-woods and if you are planning ahead of time you can request paper maps of the area you are visiting. Just one more good reason to plan ahead and do some research.
Seeing we are always up for an adventure, and we knew about where we were and where we needed to get to, we chose a direction and committed to not giving up. Even when we found ourselves all the way "Up Nort".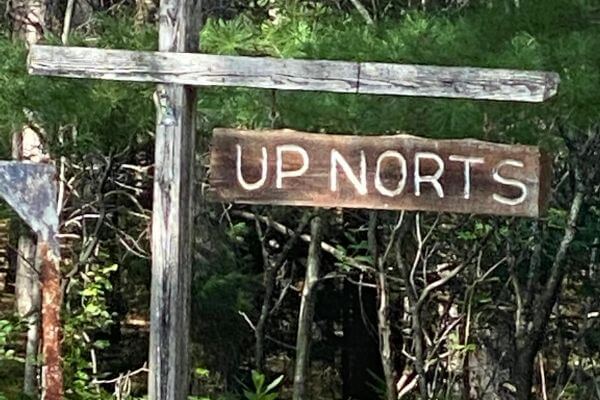 We knew we needed to head North-East. Gary was able to use the compass on his phone and keep us headed in the right direction. The interesting part was that the compass does not tell you if the road ahead will continue to be blacktopped. We traveled on blacktop roads, gravel roads, and even dirt roads.
McClintock Park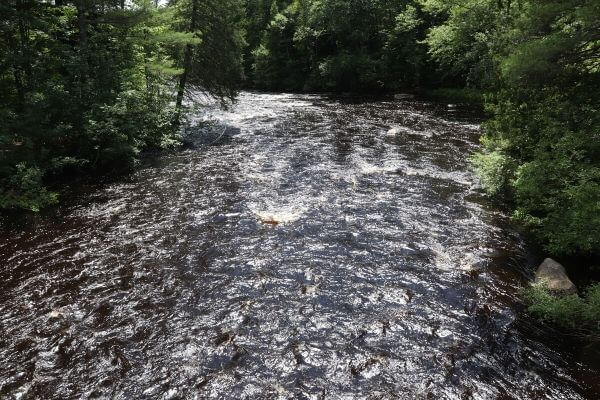 While on our search for the Eighteen Foot Falls we came across McClintock Park and stopped. This was a beautiful area for kayaking. Complete with a kayak launching area. A very peaceful serene place. There are bridges and paths for exploring, and unlike the waterfall parks, this area was not crowded.
3, 4, 5 | Twelve Foot Falls, Eight Foot Falls, and Eighteen Foot Falls | Dunbar, WI
Address: 12 Foot Falls Rd, Wisconsin, USA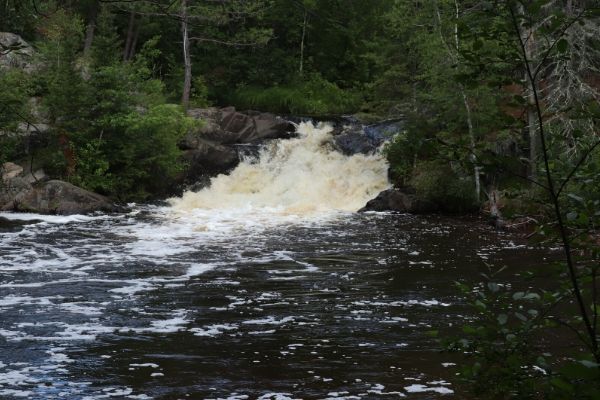 Dunbar is home to at least three waterfalls, all within close proximity to each other. The Eighteen Foot Falls, Twelve Foot Falls, and The Eight Foot Falls. From what we could tell the name of the falls is the number of feet the water descends.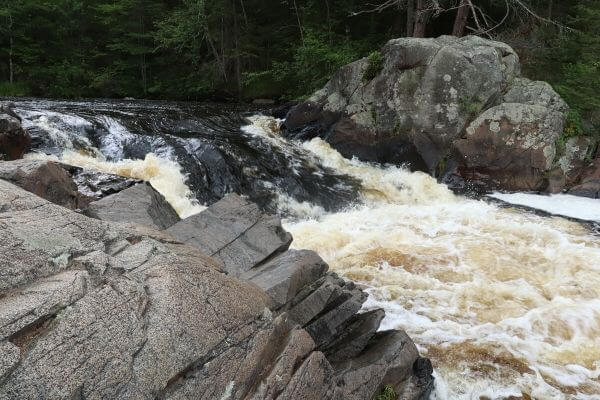 The Twelve Foot Falls is easily accessible, and as Gary found out a great place to cool off in its refreshing water. You can access The Twelve Foot Falls and The Eight Foot Falls from the same parking area. This area is also filled with benches and picnic tables. A great place for afternoon relaxing.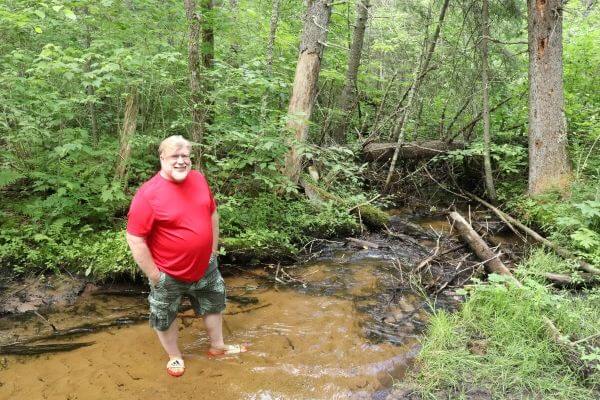 Not far from The Twelve Foot Falls is The Eighteen Foot Falls. Each one is filled with it's own natural beauty.
6 | Long Slide Falls (Niagara)
Address: Morgan Park Rd, Niagara, WI, USA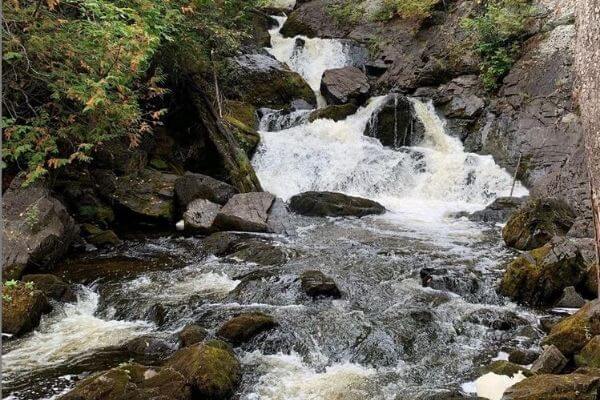 Long Slide Falls is thought to be one of the most impressive waterfalls in the area. This waterfall cascades 50′ through large rock formations. Although every angle gives you a breathtaking view, you may want to do a little rock climbing to get an even more breathtaking look.
Keep your eyes open when visiting Long Slide Falls as there are several smaller falls within the same area that you may want to stop at. For us, finally, getting our cell service back, we programmed our phones and headed to our last stop for the day.
7 | Dave's Falls (Amberg)
Address: Old 141 Rd, Amberg, WI 54102, USA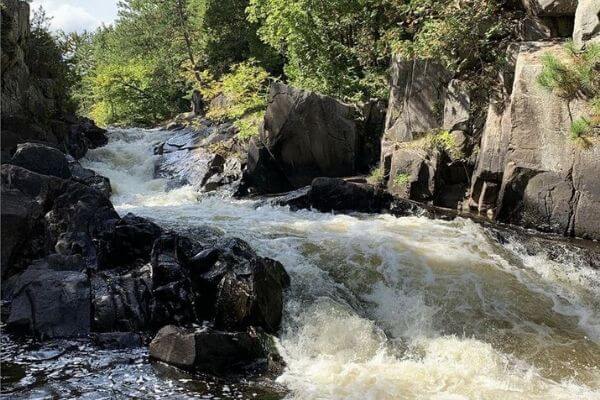 Dave's Falls is not the largest of the waterfalls we have seen on our road trip, but it is still impressive. The surrounding rocks also allowed us to easily get close to the falls to get great photos and play a little in the water. Keep in mind rocks are slippery when wet. Sandles should not be your first choice. Right, Gary?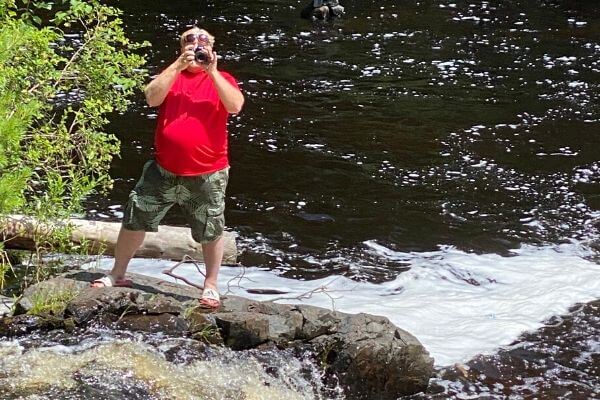 This is just a small sampling of Wisconsin's must-see hidden waterfalls. Northern Wisconsin has some larger waterfalls and we hope to visit them also.
To create your own waterfall Google road trip map, click on our map above. You can print it as is or personalize it by adding or subtracting your own destinations.
Whether you are taking a day trip or venturing out during a Staycation, your national parks have a lot to offer. Make sure you are prepared and stay hydrated. We did get lost but could have avoided that with just a little more preparation. At the end of it all, we had a great time being together and discovering hidden gems right here in our own state.
Have you visited any of these waterfalls? We would love to hear about your road trip. Are there any waterfalls we should add to our must see list?

---
Thanks for stopping by! We would love for you to stay in touch!
Whether you have a question about our site, want to work with us,
or just want to say "Hi" please feel free to send us a message.

You can reach us at [email protected]
Or follow us on Social Media
Facebook @ Love and our Laptop Lives
Pinterest @ Love, Travel and our Laptop Lives
Instagram @ Love our Laptop Lives
Twitter @ Love and our Laptop Lives
Youtube @ Love and our Laptop Lives
Amazon Store @ Love and our Laptop Lives