Exploring Wisconsin's Tallest Waterfall on this Amazing Waterfall Road Trip
Wisconsin is home to almost 40 waterfalls. Wisconsin's tallest waterfall is 165 feet and is located in northern Wisconsin.
Having just recently discovered Wisconsin has waterfalls, Gary and I took a road trip in the early summer that had us enjoying several hidden waterfalls in the Chequamegon-Nicolet Nation Forest in Marinette Wisconsin. We had an amazing time and were ready for more waterfall adventures.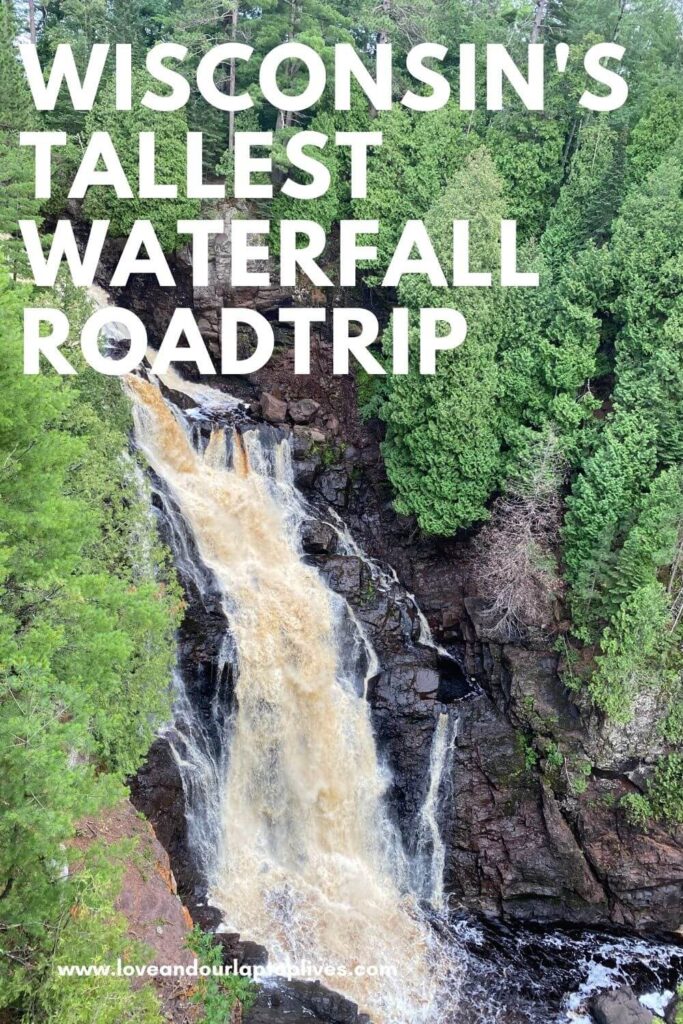 This post may contain affiliate or sponsored links. If you click on a link and make a purchase, I may receive a small commission (at no additional cost to you). Please see my full disclosure policy for details.
Looking at the location of many of the waterfalls it seems like most of them are located in a cluster and within a driving distance of each other. Using Google Maps I was able to map out a new cluster for us to visit that would include 8+ waterfalls, allow us to catch a glimpse of The Apostle Islands, and cross a few new quirky photo-ops off our list.
This road trip would be a two-day adventure, taking us to Wisconsin's tallest waterfall and several others. It includes 157 miles of just waterfall adventure.
We have saved this map for you on Google Maps. If you click on our map it will take you directly to the saved map where you can customize it for your own trip.
Upson Falls | Upson, WI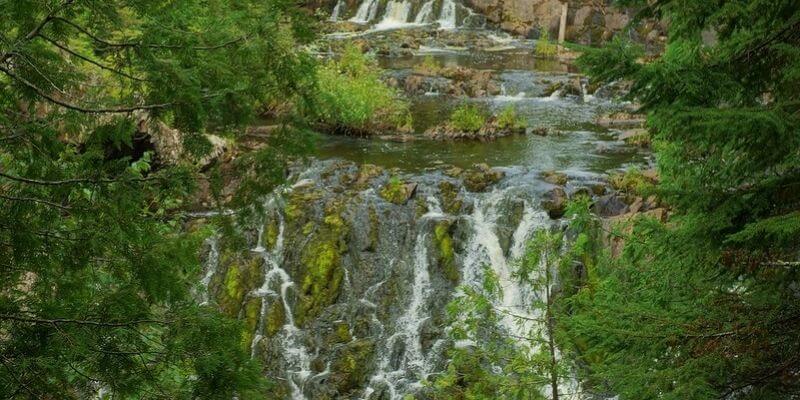 Upson Falls is a small 18-foot waterfall located on the Potato River. You can access it by going through Upson Falls Campgrounds. This small waterfall is a great place for us to start and work our way up. It consists of a couple of drops with the largest being about 6 feet.
The campgrounds made me smile, it to was small, only a half dozen campsites. The perfect place to camp if you love the sound of rushing water.
This area has the most waterfalls of anywhere in Wisconsin, including five of ten tallest waterfalls. You could make a whole day of waterfall chasing right in this area of Wisconsin.
Saxon Falls | Saxon, WI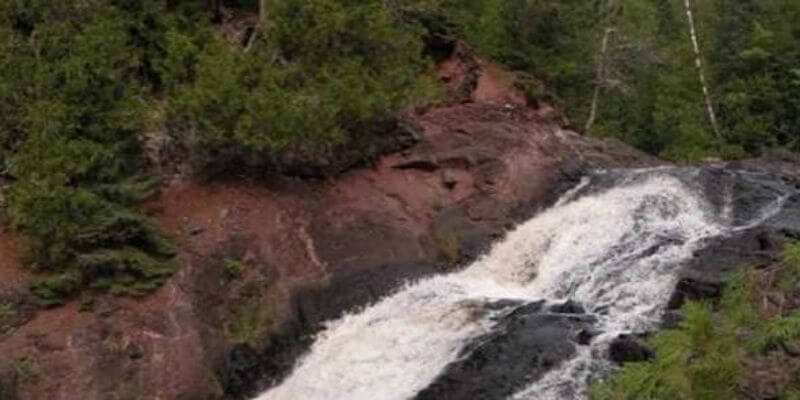 Saxon Falls is located on the Michigan/Wisconsin border. Saxon Falls is technically in both states, but can only be accessed safely in Wisconsin. We thought this was a very impressive waterfall, but it was hard to get a good view of it. Wisconsin has been having a lot of rain, some of the visitors mentioned that they had visited in years where they were not impressed with the falls due to the lack of water.
Address ~ Highway 122, Saxon, WI
Superior Falls | Saxon, WI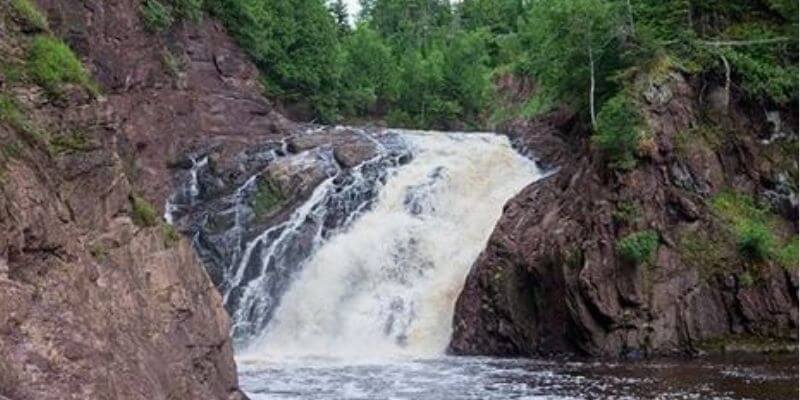 This park is free, no state or county sticker is required. Superior Falls is a beautiful 90-foot waterfall. You have various options for viewing the falls, each with different degrees of challenges. There is a trail leading off the parking lot which will take you to the main viewing area. This is easy to maneuver and gets you an easy view of the falls.
The walk to the bottom of the falls can be more of a challenge. You go down a pretty steep path, but they do provide a rope for you to hang on to. Once at the bottom it is only a short distance to the falls. For an added adventure you can climb around on the rocks to get different views of the falls.
There is also a well-marked trail that will take you to a dam where you can see a few smaller falls and the layered rocks of the area. Make sure you are prepared for this short day hike, it is a natural path with rocks and tree roots along the way.
Check out our Day Hike Tips and checklist to make sure you are prepared.
Potato Falls | Gurney, WI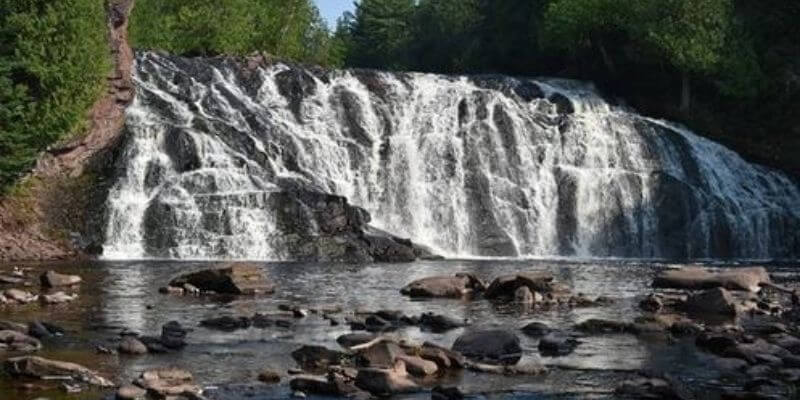 Potato Falls is located in a county park but there are no entrance fees. The park is easy to find and has a picnic area.
The falls drops 90 feet into the Potato River and although not the tallest waterfall it is the most impressive. Have fun at this park, there are no signs like in state parks keeping you from dipping your toes in the water. We saw people climbing on the rocks and getting a unique view of the falls.
This is a complex waterfall consisting of several drops which all going in different directions. It is amazing to just sit and enjoy this waterfall.
Address ~ Potato River Falls Rd. Gurney, WI

Copper Falls | Mellen, WI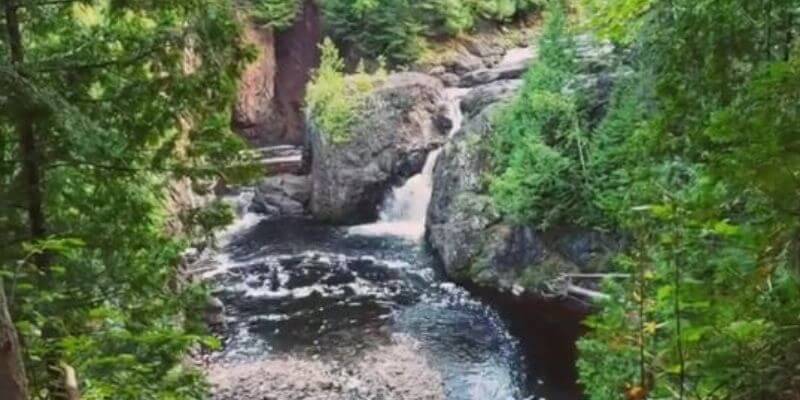 Copper Falls State Park requires a state park sticker to enter. If you are looking for an impressive waterfall, you have found it. This 40-foot waterfall is breathtaking and peaceful.
Just of the parking lot, you will find picnic tables and a small playground for your little ones that have been buckled up in the car. Once you have let them get out a little of their wiggles, walk down the sidewalk to the Doughboy Nature Trail.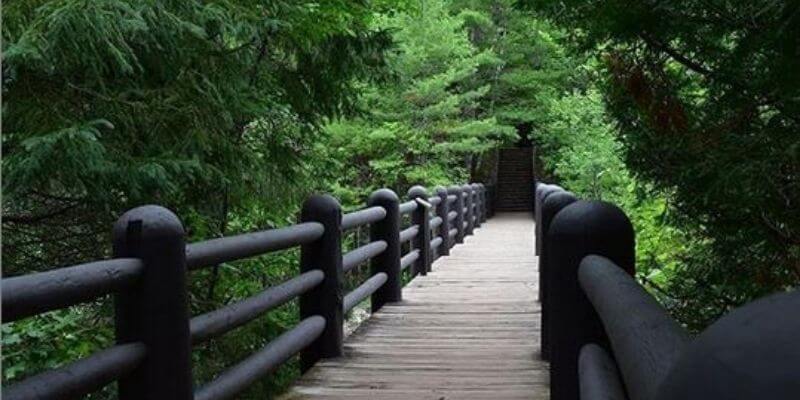 The trail is less than a 2-mile loop. Going at a slow enjoyable pace it took us about 2 hours to complete the loop. The trail is well maintained, included stairs, bridges, and some boardwalk areas. It took us to two different waterfalls, Copper Falls and Brownstone Falls.
Address ~ 36764 Copper Falls Rd. Mellen, WI
Morgan Falls | Marengo, WI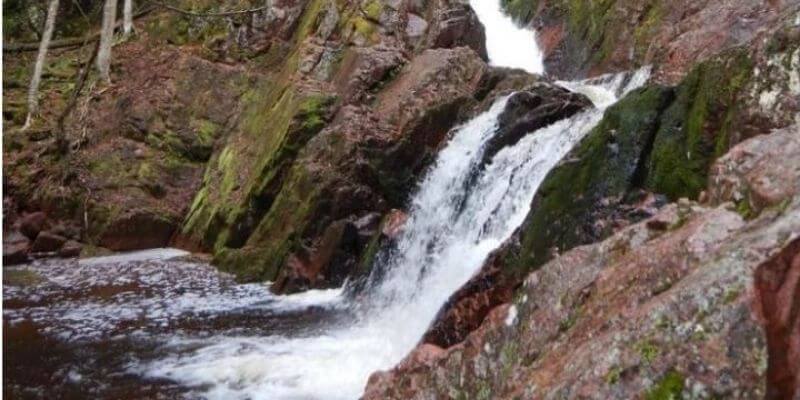 Morgan Falls are narrow falls that weave through granite ledges cascading 70 feet to the bottom of a small pool. There is a trail that takes you to Morgan Falls and it is only 1.2 miles round trip. The hike is beautiful and scenic.
Morgan Falls is hidden away in Chequamegon-Nicolet National Forest. The trailhead for Morgan Falls is also the trailhead for St Peter's Dome, a large granite outcrop from which you can see Lake Superior on a clear day.
Address ~ Ashland Bayfield Rd. Marengo, WI
Ashland, WI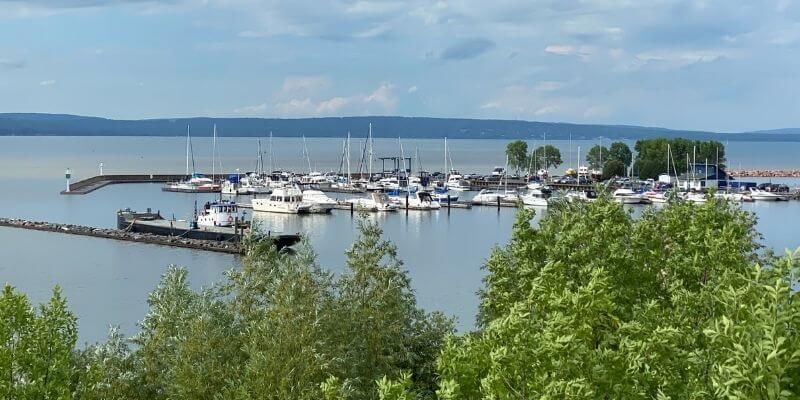 Ashland is a port city on Lake Superior shores. It offers visitors a great view of Lake Superior and a glimpse of the Apostle Islands. The first half of our waterfall adventure took longer than we anticipated. Seems like we enjoy taking our time and enjoy everything that northern Wisconsin waterfalls and nature have to offer us.
After a fun stop at the local Kwik Trip for gas and replenishing our munchies, we headed to a local hotel for the evening.
All-day the weather was in our favor, we would get light rain while we were in the car but as soon as we stopped so did the rain. Our stop at Kwik Trip was no different. We stopped to fuel and as soon as we were under the overhang it started to pour. We didn't mind at all. Kwik Trip had a nice view of Lake Superior.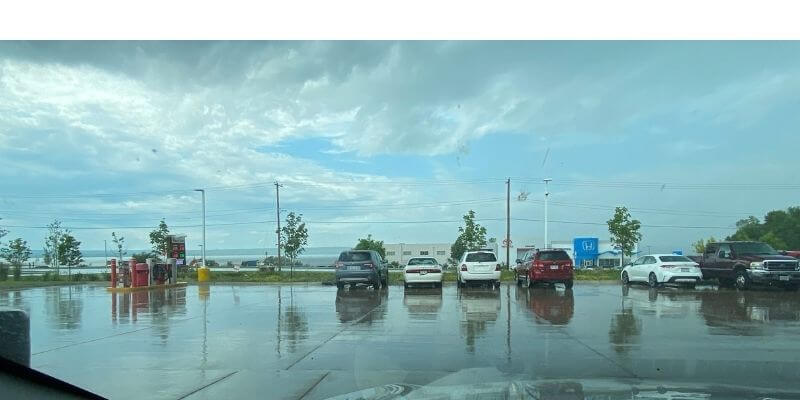 Just moments after we had filled the cooler with healthy munchies and were ready to head out, the rain stopped, giving us a chance to explore the town a bit before relaxing for the evening.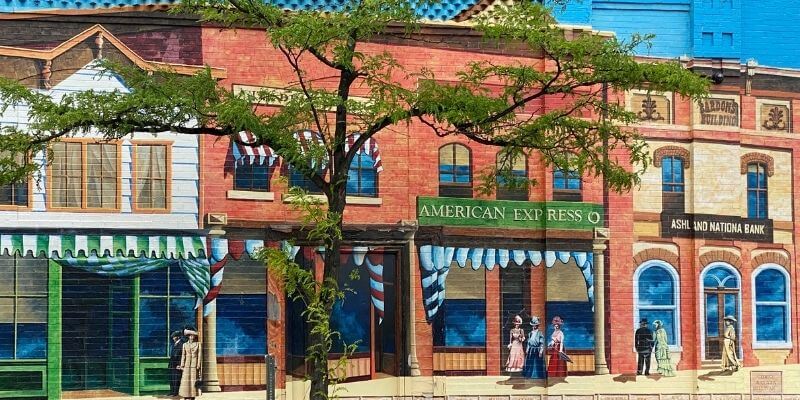 Ashland has several wonderful hotels to chose from ~ Hotels in Ashland Wisconsin
Our waterfall trip earlier in the summer took us into the eastern part of the Chequamegon-Nicolet Nation Forest in Marinette, WI It was interesting to see the difference in the waterfalls.
Amnicon Falls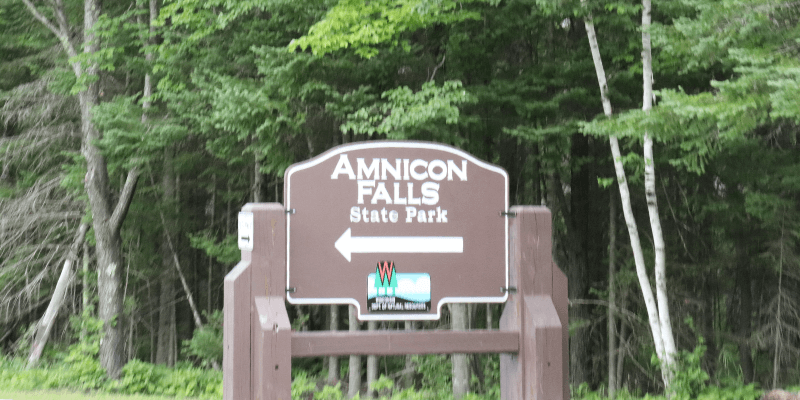 What a fun park Amnicon State Park is! Entering the park you have the choice of going straight over a bridge which leads to a camping area or taking a right jog which takes you alongside the river through some very charming park-like areas.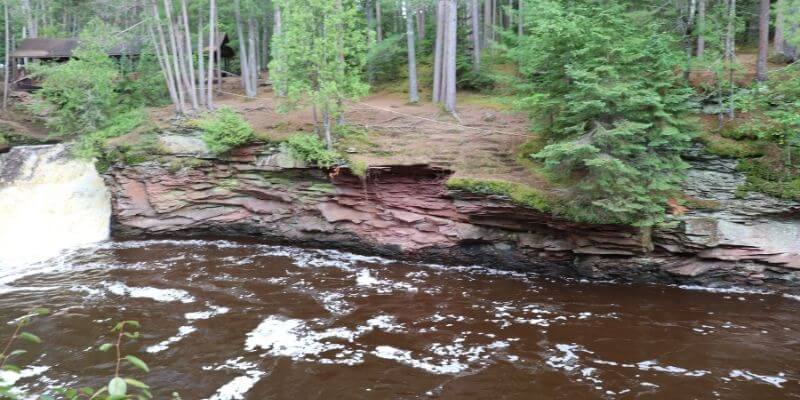 At the end of a beautiful short drive through the park, you'll reach a parking lot with waterfalls on both sides of you.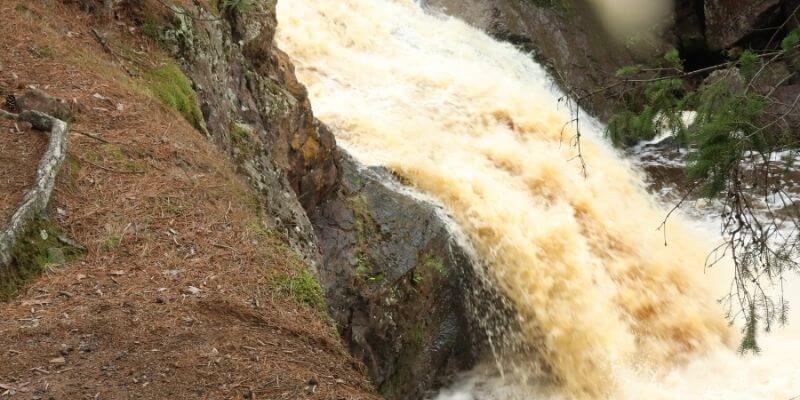 The Amnicon River split around an island and created a number of waterfalls.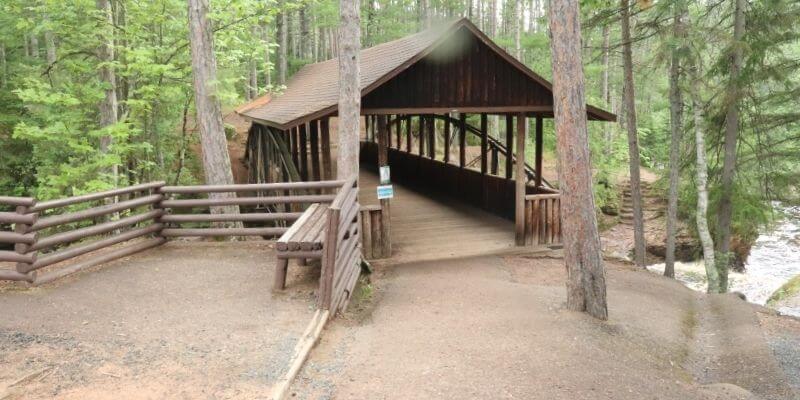 A covered bridge divides the Upper Falls and the Lower Falls. The park is also home to the Now and Then Falls.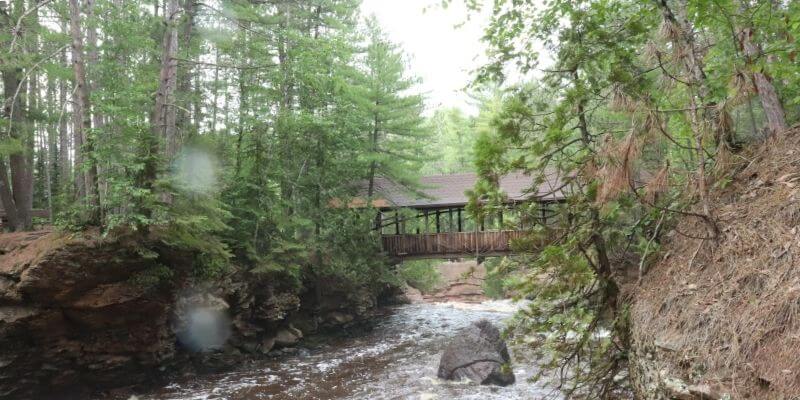 The view of the bridge from Lower Falls is as beautiful as the Upper Falls.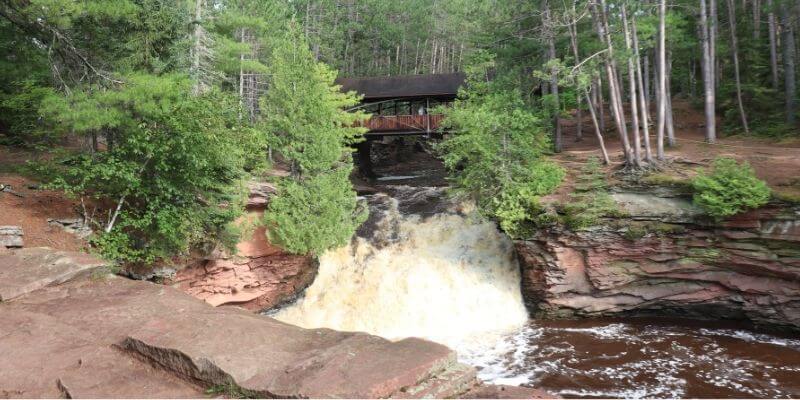 Now and Then Falls is on the opposite side of the parking lot from the other waterfalls. Every which way we turned there was beauty all around us.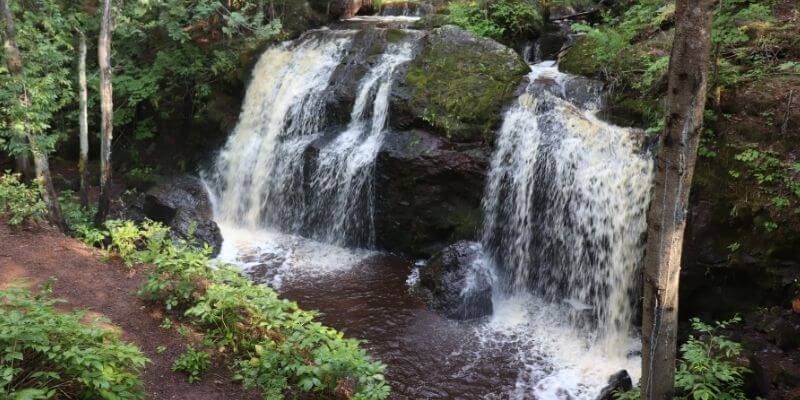 You could take half a day and just explore this park. There are paths, nooks, and crannies hidden everywhere.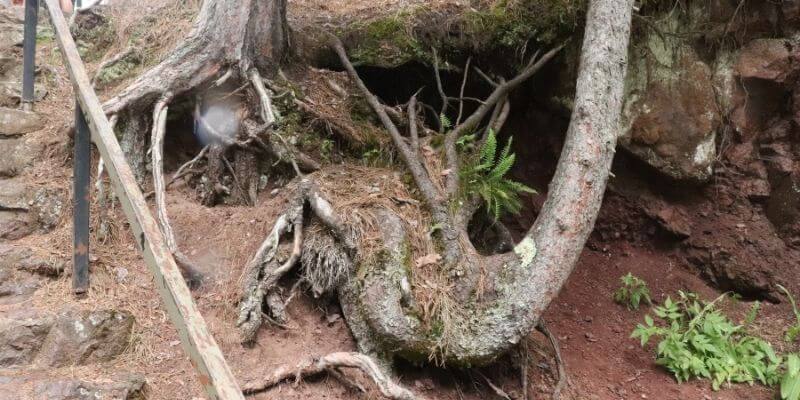 Bring a picnic lunch and enjoy your day or stay awhile and enjoy the sunset.
Address ~ 4279 County Road U, South Range, WI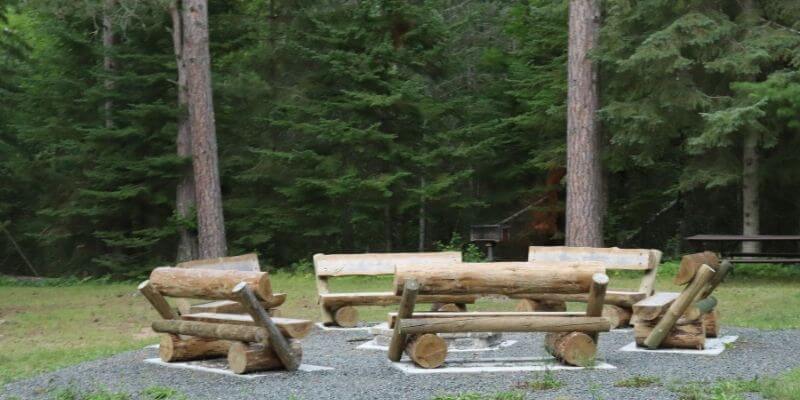 Big Manitou Falls ~ Wisconsin's Tallest Waterfall | Superior WI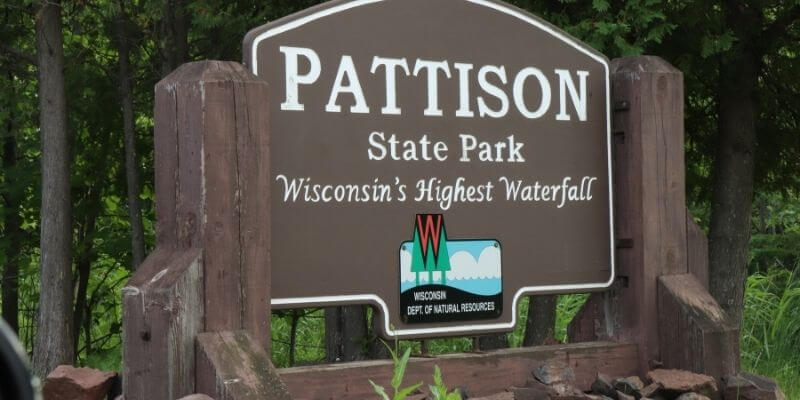 There is no better way to end our two-day road trip than by going big! Big Manitou Falls is located just south of Superior, Wisconsin in Pattison State Park. You will need a state park pass to enter. Big Manitou Falls is Wisconsin's highest waterfall at 165 feet. It is also the fourth highest waterfall east of the Rockies.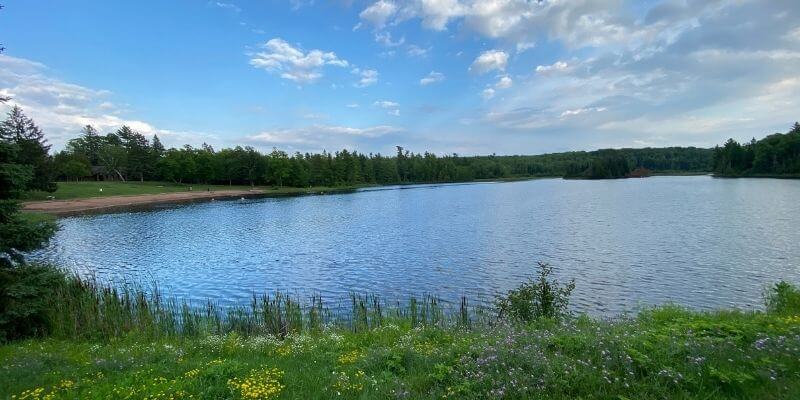 Pattison State Park has a large camping area and an inviting swimming area.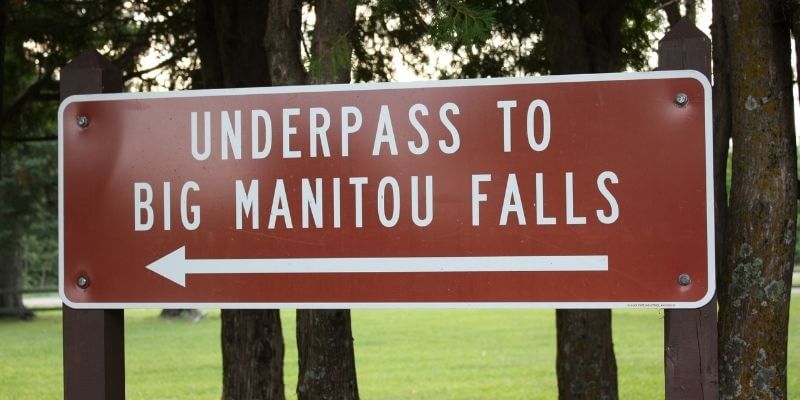 It was a bit of a hike from the parking area to the falls, but it was also a fun hike to get to the first part of the falls.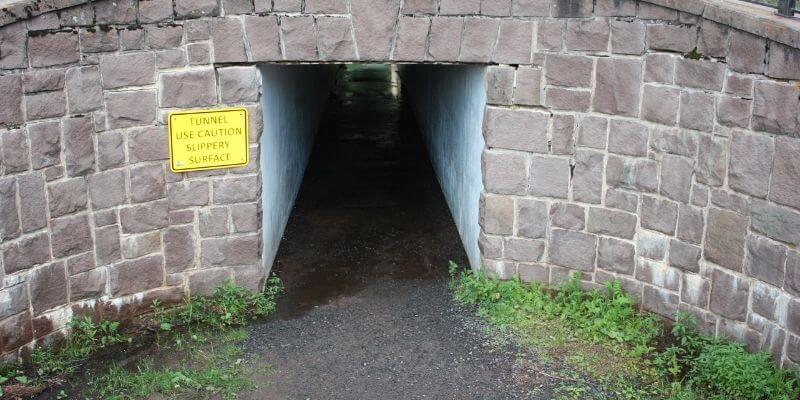 Our hike took us through a tunnel that went under the highway and then along a path and up a slight hill and then down some stairs.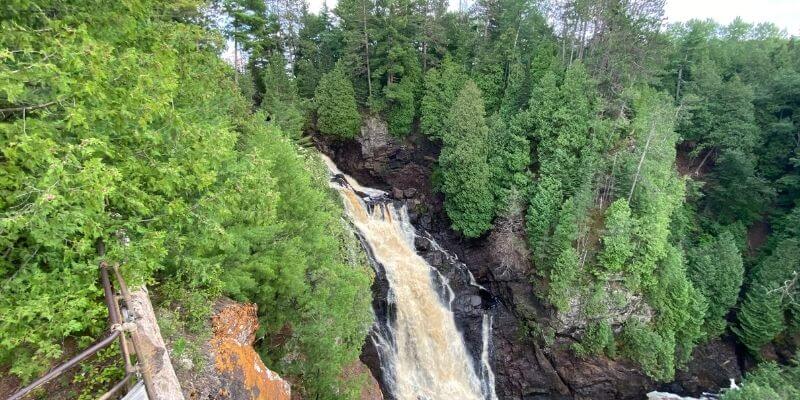 At the bottom of the stairs was the perfect viewing spot, where you get a good view of the falls over the treetops. The falls beautifully drops into a narrow, heavily wooded gorge.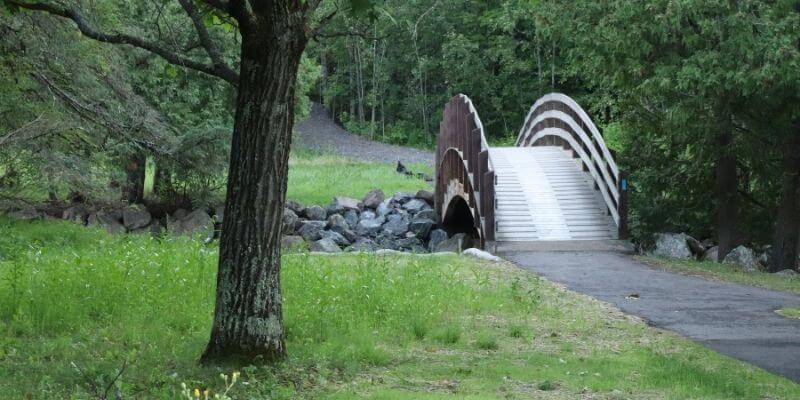 Venturing past the first waterfall, farther down the path and over a bridge was another small waterfall. Both falls are worth the extra effort it takes to get there. I would not have wanted to miss seeing this waterfall.
Address ~ 6294 WI-35, Superior, WI
Hotels in Superior Wisconsin
While we are caught in Wisconsin we are continuing to find amazing things to experience and places to visit in. What Wisconsin destinations have we not visited that should be on our list? Please let us know in the comments below.
Thanks for stopping by! We would love for you to stay in touch!
Whether you have a question about our site, want to work with us,
or just want to say "Hi" please feel free to send us a message.
Don't forget to sign up for our newsletter so you know when we post new content.
You can reach us at [email protected]

Or follow us on Social Media
Facebook @ Love and our Laptop Lives
Pinterest @ Love, Travel and our Laptop Lives
Instagram @ Love our Laptop Lives
Twitter @ Love and our Laptop Lives
Youtube @ Love and our Laptop Lives
Amazon Store @ Love and our Laptop Lives