Wisconsin Dells Road Trip | 9 Must-Do Activities
The Wisconsin Dells is a huge tourist city filled with fun and adventure right in the heart of Wisconsin. It's known as the water park capital of the world. Featuring Noah's Ark and The Kalahari, just to name two. A place where kids race go-karts, play laser tag and have wet, wild fun. But if you are not looking for water-park fun, what does a weekend in the Wisconsin Dells look like?
If you think the Wisconsin Dells is only about water-parks you are greatly missing out. It also holds a sometimes very overlooked side and a more refined side.
Couples will find beautiful and unique scenery, creative cuisine, romantic B&B's, wineries, and unusual boutiques. The beautiful scenery is what Wis. Dells were originally known for.
Our trip to the Dells will not include a water-park. As much as we would love to just spend a weekend enjoying the Kalahari, this trip has a different mission and purpose. We are headed to the Wisconsin Dells to Discover the incredible hidden treasures that the Wisconsin Dells was once known for.
Summer and travel are two things that go together, the kids are out of school and the weather is nice. Families pile in the car and head out on a road trip. In the mid-west, Wis. Dells is where they head.
This post may contain affiliate or sponsored links. If you click on a link and make a purchase, I may receive a small commission (at no additional cost to you). Please see my full disclosure policy for details.
Wisconsin Dells Road Trip
Gary and I set out on a road trip to the Wisconsin Dells. The goal – to find romance and adventure while trying to avoid the family attractions. A very obtainable goal, but can it be done in a town filled with families?
We left the house with no plans or reservations, looking for fun adult things to occupy our weekend. Having no plan is difficult for me, I like to plan ahead and do my research. In the short time it took Gary to be ready to go out the door, I headed to one of the go-to resources that I have been using this summer for some of our fun Wisconsin adventurous finds, The Travel Wisconsin website.
I learned a lot from this spontaneous road trip. So much that we put together the post 9 Road Trip Essentials, With Packing Lists. It has made every road trip since then more enjoyable knowing we were prepared.
Wisconsin Dells History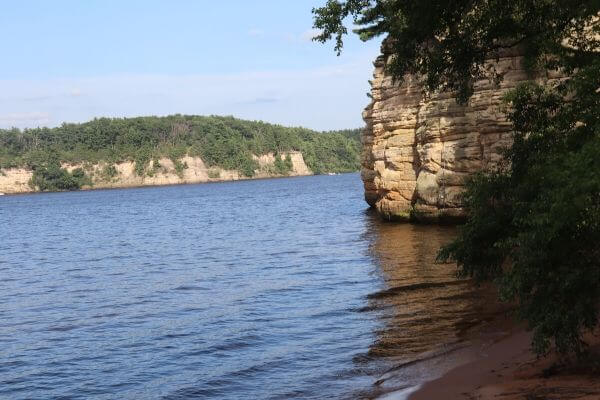 French explorers in the 1700s described the Wisconsin Dells as having winding canyons, sparkling waters, and lush woods. Explorers named the area "Dalles", meaning "layers of flat rock" to describe the bluff rock formations. This name stuck even after the French moved on. In 1857 the railroad made its way to the Dalles area.
After the arrival of the railroad, the Dalles area was originally named Kilbourn City in honor of the railroad's president. But, the locals and visitors never stopped referring to the area as The Dalles but over time was pronounced Dells and it prompted a city name change in 1931, giving birth to the Wisconsin Dells as we know it today.
According to Native American legend, it was a great serpent, wriggling down from the north and his home near the Big Lake, that formed the bed of the Wisconsin River. Crawling over the forests and the fields, his huge body wore an immense groove in the land and the water rushed in behind him.
When the serpent came to the sandstone ridge where the Dells begins he thrust his great head into a crevice between the rocks and pushed them aside to form a narrow, winding passage. As he approached, lesser serpents fled forming the canyons which lead off from the main channel. It was these timid, lesser serpents that formed Coldwater Canyon and Witches' Gulch, so the legend goes.
In 1866 H.H. Bennet created a camera that took a stop-action picture of his son Ashley leaping to Standing Rock. A picture at the time no one believed was possible. This jump is reenacted today with a dog doing the jump. The story and jump is something worth witnessing,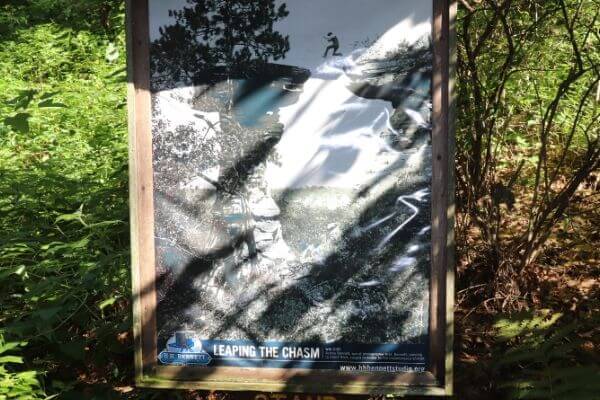 No history of Wisconsin Dells would be complete if it did not include H.H. Bennett's stop-action photo of his son Ashley leaping to Stand Rock in 1886. The studio that H.H. Bennett founded in 1865 has been continuously owned and operated by successive generations of his family. It is the oldest family-owned photographic studio in the United States.
It wasn't until the 1970s that the Wisconsin Dells became more commercialized filled with many of the same attractions we see today.
Wisconsin Dells Attraction Tickets
When arriving in the Wisconsin Dells, the first thing we did was stop at an information booth and get some of our questions answered. This served to be a great first place to start. They were very knowledgeable, extremely friendly, willing to help, and give suggestions. Normally we have avoided these types of booths because they sell tickets, and some can be very pushy. That was not the case here. (Tip: They do also have package deals that can save you some money.)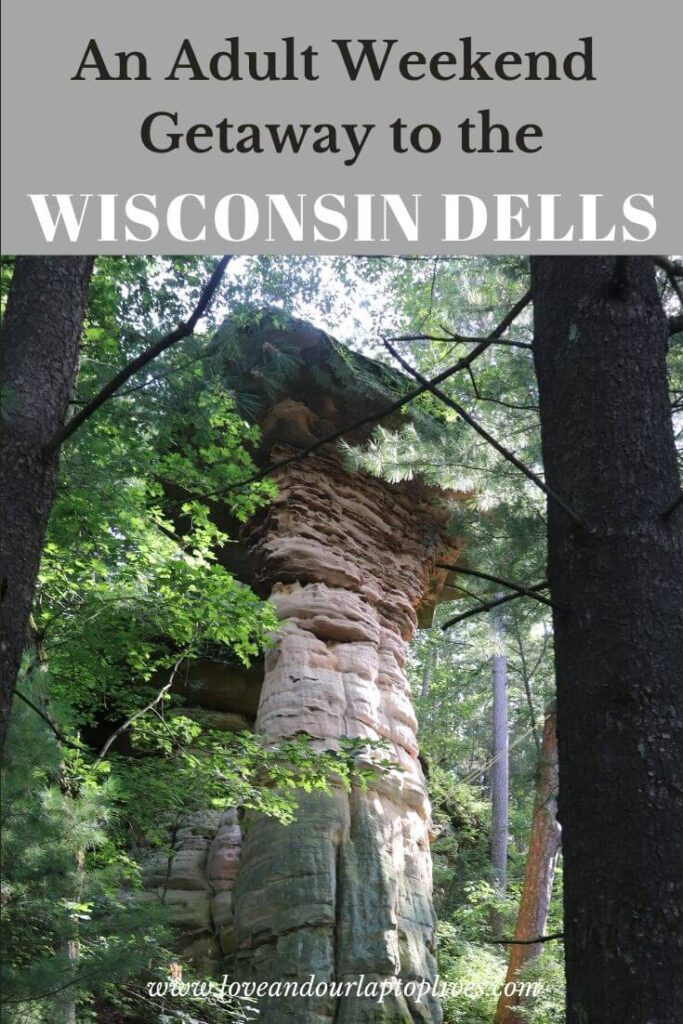 Wisconsin Dells Attractions
The Wisconsin Dells has so much more to offer than water-parks. There are plenty of activities for couples that you can add a romantic twist to.
Exploring the outdoors: Parks, hikes, unbelievable scenery
Casino
Spas
Street music
Wineries Tour ~ Check out our blog about Door County Wineries.
Drive-In Movie Theater
Boat tours
Trolley Tours
Boat Tours
The Upper Dells Boat Tour seemed like the best place for us to start. We were picturing a boat trip filled with cuddling, holding hands. Which the ride did include, but we were surprised at how much more it offered us.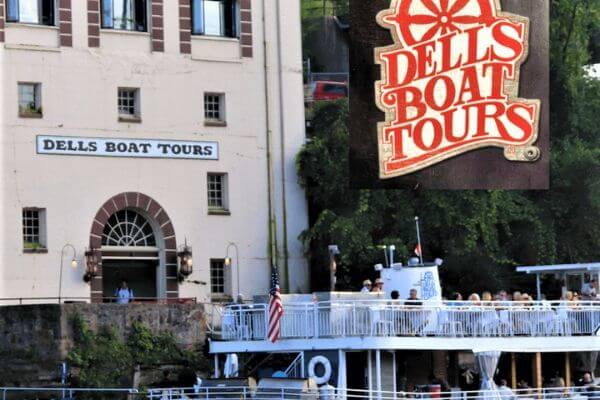 The Upper Dells Boat Tour is a 2-hour scenic trip that takes place on one of the most beautiful stretches of the Wisconsin River. This 2 hour, 10-mile excursion winds through towering rock formations, canyons, and past some of the most amazing sandstone cliffs. It is a trip filled with adventure, hidden passages, and awesome beauty. The Wisconsin River where it flows through the Dells area is quite deep…between 150ft to 200ft deep in these narrow passages.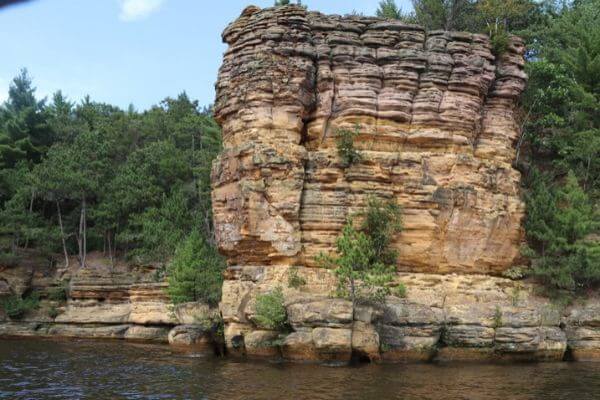 During our 2-hour Upper Dells Boat Tour, the Captain and First Mate shared tales of the earlier adventures that took place in the same waters we were traveling. They kept a watchful eye to point out those special things we shouldn't miss. Our tour guide spotted a bald eagle up in a tree and the captain made a circle so everyone on the ship could get a good look.
In Wisconsin, seeing a bald eagle is a big thing. Now, we are seeing them more often. They are such a beautiful, powerful and majestic bird. You can see that white head and white tail easily when they are gracefully flying through the sky.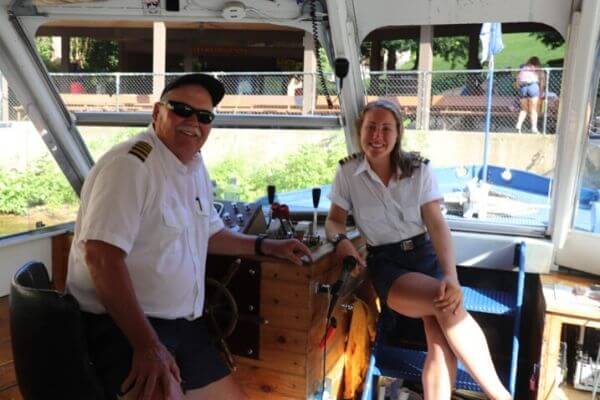 Our tour made two shore landings along the way. The first stop was at Witches Gulch. Getting out and walking through all of the deep caverns, passing Witches Falls, Witches Bathtub, Witches Window, and Spooky Lane were amazing. Being able to share this with Gary and his antics is fun and indescribable. He has such a unique interpretation of things at times.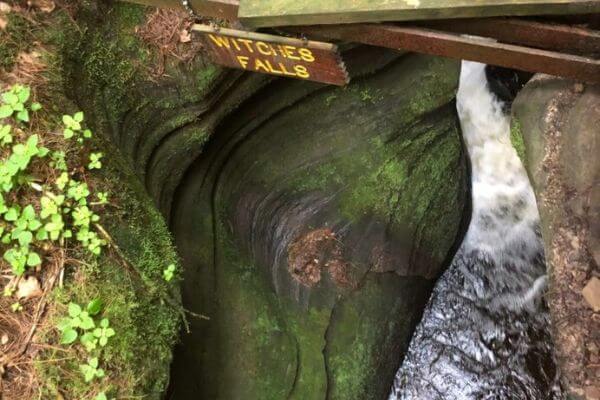 Our Boat trip made a second stop at Standing Rock. Again we were able to get out and walk and explore. When we first left the boat our tour guide shared with us the history of H.H. Bennet and we saw a dog jump from one rock cropping to another. Check out the more details of H.H.Bennett HERE at the Wisconsin Historical Society.

The Dells Boat tours also offer a sunset cruise and also a haunted cruise. There are many more wonderful things to discover about the Dells Upper Boat Tours. For more info on their tours check out their website HERE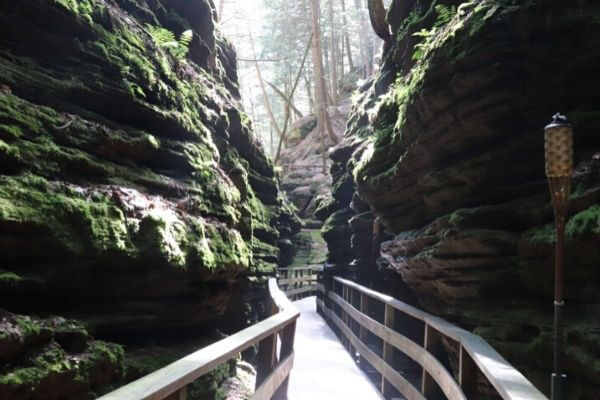 Escape Room
Gary and I decided to see just how good of a team, we are? We took on the Challenge of an Escape room. There are several options in the Wisconsin Dells. What could be more exciting than you and your partner being locked in a room for 60 minutes having to work together to solve the puzzles which lead you to clues that help you complete your mission?

This is a live-action game that requires teamwork and critical thinking. This would make a great adventure for any couples.
There are several Escape Rooms in The Wisconsin Dells to choose from.
Miniature Golf
Sometimes you just want to slow down a bit and have a little fun. The Dells is filled with numerous miniature golf courses.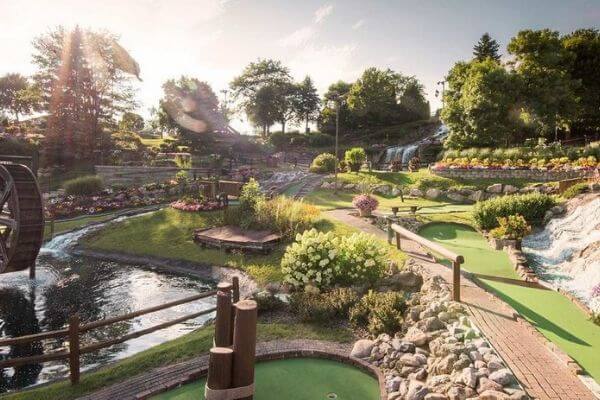 We chose to try out Pirates Cove. It is filled with several courses to choose from and 91 holes in total. You chose your course based on one of three skill levels. The course is beautiful and it's filled with waterfalls, flowers, and challenges. We even did a LIVE Video on Instagram on the 11th hole. Please check out our Instagram Page @loveourlaptoplives. FOLLOW us and be interactive with LIKES and Comments. You never know when we'll go live and bring you something incredible.
I've noticed a funny thing…. when Gary is ahead of me score-wise he records our strokes, but when he starts falling behind the scorecard gets 'behind' or 'lost'. LOL. Can you girls relate?
The Kilbourn Cork Winery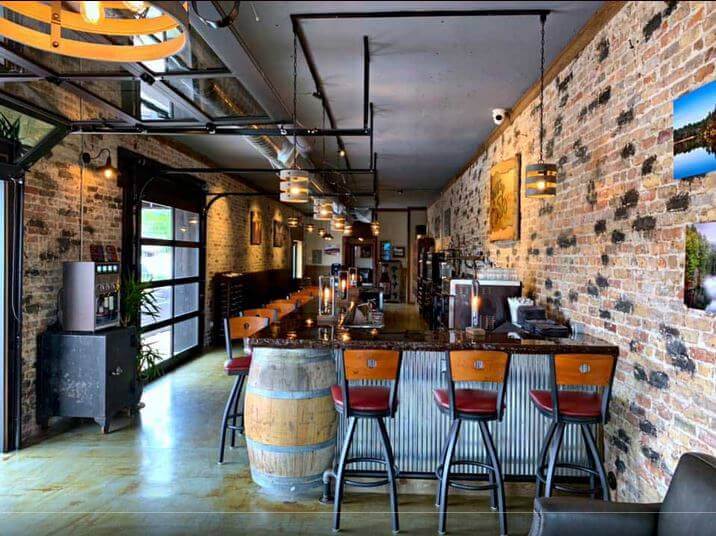 The Kilbourn Cork is a great afternoon stop. It's a wine bar/ tasting bar located just blocks from the activities. It will quickly become a new "must-stop" when visiting downtown Wisconsin Dells. It features fine wines, whiskey, and craft brews that visitors can sample while enjoying small plate selections off a limited menu. The outdoor seating with fire pit is a popular sipping spot.
Lost Canyon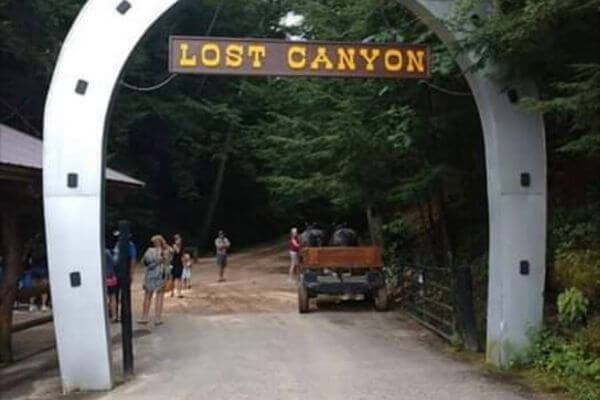 Lost Canyon is another great activity to do together. This was a very enjoyable horse-drawn carriage tour. The tour is about a half-hour and goes through very beautiful scenic canyons. The tour guide makes the tour both informative and entertaining. This is something we noticed among all of the tour guides. You can see that they like their job and interacting with people. The ride was very comfortable and intimate even though there were about 14 people on our ride. This is just how we like it.
The scenery on Lost Canyon Trail Rides in Lake Delton, WI is spectacular.
Riding through Lost Canyon I could help but be reminded of a trip to Cave of the Mounds in Wisconsin. The rock cropping above ground resembled so much of what we saw in the Caves. You can check out that romantic trip HERE
The Original Duck Tour
The Dells is divided into what is referred to as the Upper Dells and the Lower Dells. They are divided by way of a dam. Each has its own boat tour. Also besides, the boat tours, the lower Dells offers the option of The Original Duck Tour.
The Ducks are a very unique amphibian type vehicle. These are the same as ducks used in WWII but have been modified with a newer diesel engine for the tours. What makes it so unique is that it can travel both on land and in water. These things are so cool and very impressive. They are slower than you think they should go and noisy but. Again our tour driver made the trip. He was filled with information but in a very entertaining way.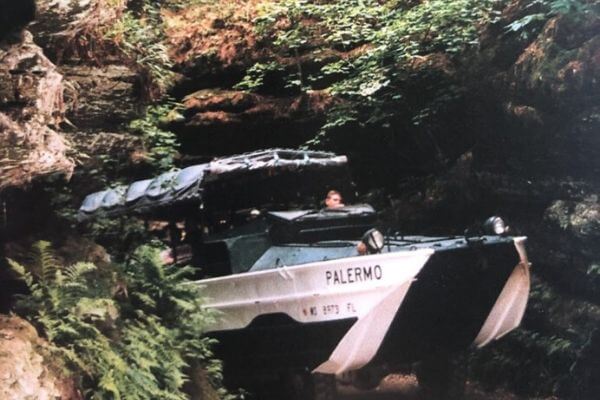 The Original Duck vehicle could go pretty fast on land yet in the water, it was lucky if it reached 5 MPH. Speed or no speed this was so enjoyable and allowed us to see many different things.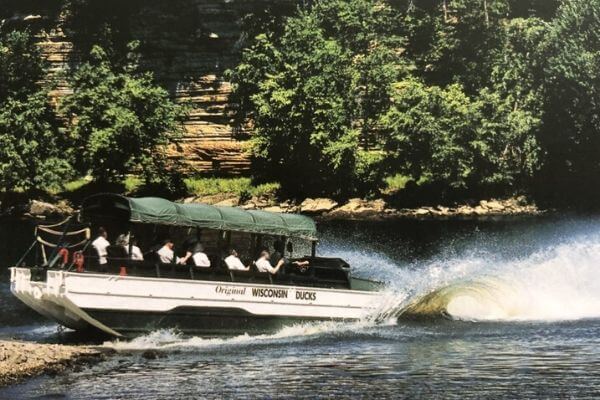 Wisconsin Dells Shopping
Shopping is plentiful and seems to be a leisurely past time in the Wisconsin Dells. Who wouldn't want to wander the downtown holding hand, stepping into stores every now and then?
The Outlet at the Dells is filled with hundreds of shoppers. This indoor/outdoor mall features all of the mall stores you would expect to find, offering some of the great prices you would expect at an outlet mall.
Downtown Dells offers some unique shopping mixed in with the tourist sights.
Your sweet tooth is going to love you for wandering the downtown, several fudge shops offer opportunities for you to watch fudge being made from start to finish, sample the freshly made fudge and take some home. ~ Oh yes we did all of that!
Drive-In Theater
Just before dusk, we headed to The Big Sky Twin Drive-In-Theater. How nostalgic is this? An under the star movie experience, snuggling together in the car watching a movie on the big screen. This took us back to our high-school days. There are two screens with two shows each. Four different movies each night. In between the movies we wandered to the snack area, holding hands as if we were back in high school. We managed to grab a couple of burgers and some other temptations. Which we took back to the car. The burgers were very good!
FYI ~ when visiting bring cash, they don't take cards.
Hot Rocks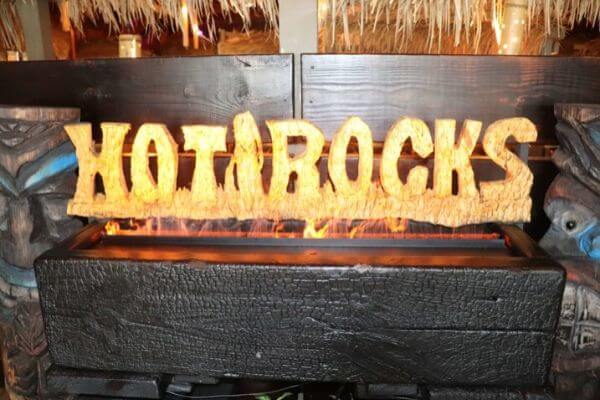 A new Wisconsin Dells restaurant and somewhat new concept, Hot Rocks proved to be a great choice for supper. It turned out to be more of an experience than just a place to eat. Walking in the ambiance gave you sort of a Tiki feel. We were seated immediately. It was one of the few times we wished it had taken longer for them to seat us, allowing us time to just soak in the feel of the place.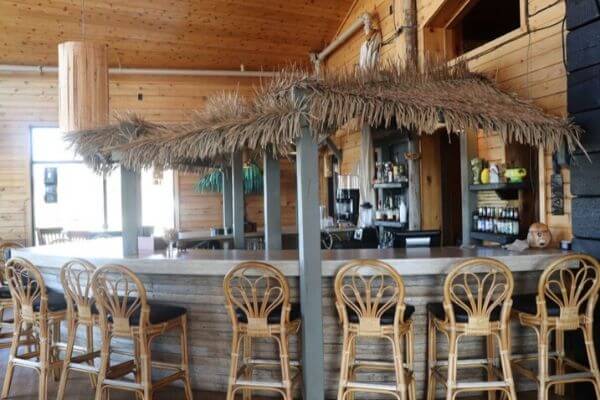 Gary and I are always looking for the different, unique, and out of the ordinary. My first thought when I came across this was the same principle as the fondue restaurants. Something I still, have not gotten Gary to try. I guess cooking on hot lava rocks is more manly than, little forks and a boiling pot. Still, I would love to get Gary into the Melting Pot and get his honest first-time reaction.
Cooking on Hot Rocks seems like a very primitive style of cooking. Your meal is served on stones that are heated to 750 degrees. Your meal is presented to you in a very appealing way.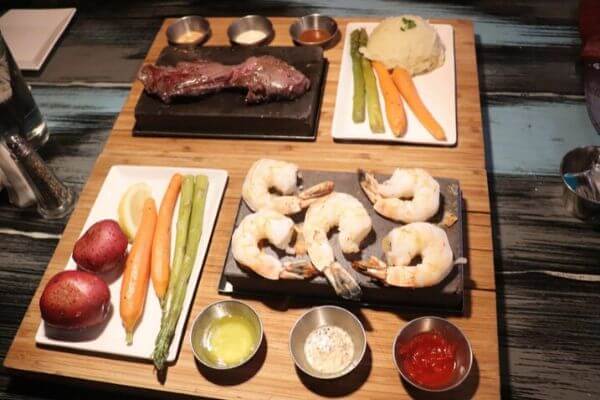 You cook your meal to your liking right at the table on the Hot Rock. This turned out to be a very intimate dining experience, which we will not forget. Gary chose the steak and I chose the seafood, allowing us to experience two different meals and to share with each other.
Our meal was so good! A little on the pricey side, but we saw it as a night out, not just a meal. We are hoping Hot Rocks is something that catches on. It needs to be offered in more locations.
Hot Rocks is someplace we will definitely return to. That is if they will let us come back!
We enjoyed this way of cooking so much I went looking for a Hot Rocks type cooking set to use at home. We found this awesome set and love it!! You can check it out HERE and get your own set. You can also find it and many more fun kitchen items in our Amazon store.
Wisconsin Dells Dining
The Wisconsin Dells offers a wide variety of dining options. Fast food, family-style, buffet, sit down meals, hot dogs poolside, and many to-go options. Whatever your liking the Wisconsin dells is sure to offer it. On the adult side, the Wisconsin Dells has many supper club choices.
Just what is a supper club? This is a question that is asked by many from out of state. What makes up a Wisconsin Supper Club? An expansive bar where you can get many Wisconsin classics, such as the Brandy Old Fashioned, which is practically the Wisconsin state drink. A supper Club has well trained and very friendly staff. Great steaks and Friday Fish Fry, another Wisconsin tradition. A killer wine cellar and of course the bread basket and relish tray to kick off any meal.
The Wisconsin Dells is home to many Supper Clubs.
House of Embers: A place that is the go-to place for couples to get engaged. It is said that more couples have gotten engaged here than any other place in The Dells.
Ishnala Supper Club: Named one of the top supper clubs in Wisconsin year after year. This amazing supper club overlooks Mirror Lake. It is in the woods surrounding Ishnala that scenes from the Johnny Deep film "Enemies" were filmed.
Del-Bar and Field's at the Wilderness, Both supper clubs are known for their Spectator-worthy wine cellars.
Wisconsin Dells Accommodations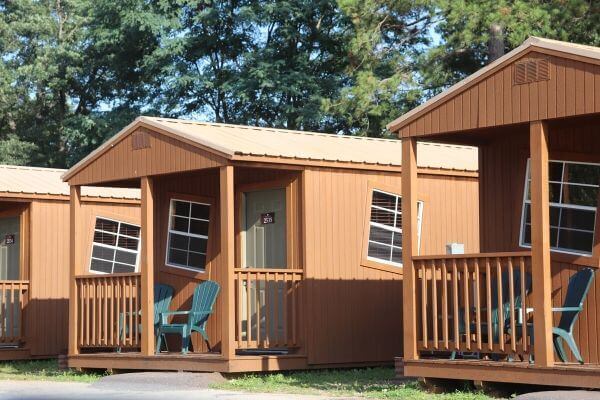 There are literally thousands of choices for accommodations in The Wis. Dells, cottages, tree-houses, condominiums, bed and breakfasts, hotels, and resorts are some of the many options. Some of these are tailor-made for a grown-up getaway.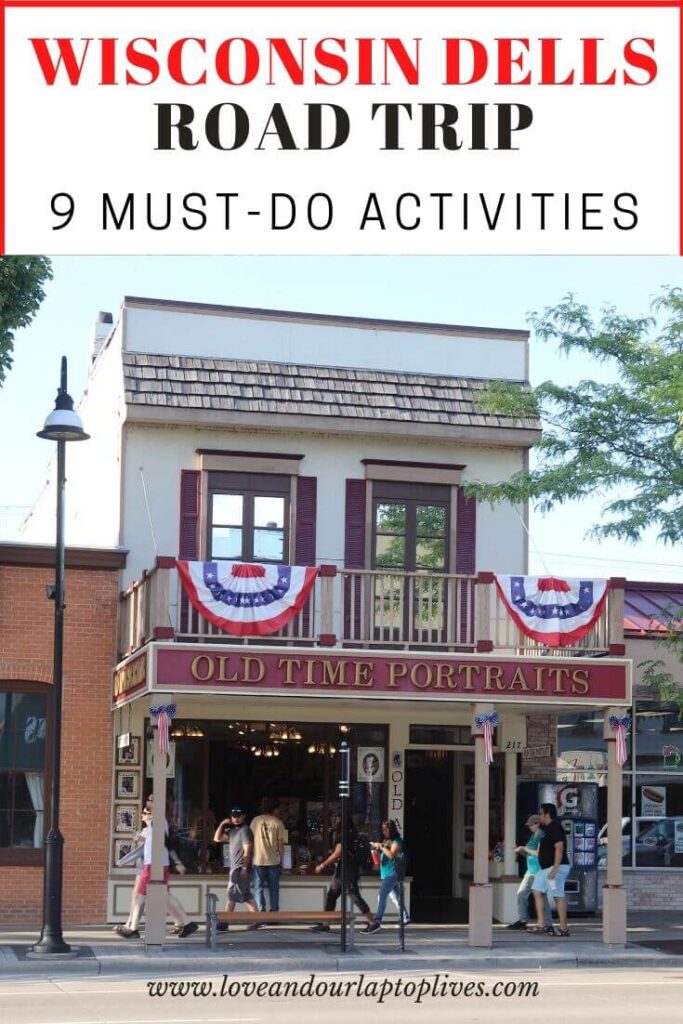 Yes, there is an adult side to The Wisconsin Dells! It offers so much more. Championship golf courses, adult spas services, winery tours, nightlife, fishing, zipline, canyon tours, kayaking boating, and amazing nightlife options,
You need to get a little creative when it comes to vacations. All of the romantic destinations and couples resorts are fantastic but you can take any vacation destination and put that romantic twist on it. After all the trip is about the connection the two of you are making with each other. Instead of avoiding all those family-focused destinations, go…enjoy…and put your romantic spin on things. We simply love being together and enjoy our time just holding hands and stealing kisses as often as we can.

We would love for you to stay in touch!
Whether you have a question about our site, want to work with us,
or just want to say "Hi" please feel free to send us a message.

You can reach us at [email protected]
Or follow us on Social Media
Facebook @ Love and our Laptop Lives
Pinterest @ Love, Travel and our Laptop Lives
Instagram @ Love our Laptop Lives
Twitter @ Love and our Laptop Lives
Youtube @ Love and our Laptop Lives
Amazon Store @ Love and our Laptop Lives

Some blog posts have been sponsored. This means we receive compensation for publishing the post. However, all thoughts and opinions remain our own.

Blog posts may contain affiliate links. This means if you click a link and make a purchase through that link, we may receive a small commission at no extra cost to you.