FAST Fiberglass Mold Graveyard | Strange Wisconsin Road Trip Find

FAST Fiberglass welcomed us warmly on our most recent summer staycation. Road Trips are becoming our escape for the summer. Every weekend finds us discovering something different in Wisconsin. Be sure to use our Road Trip Essentials and Checklist to be prepared for when a road trip opportunity presents itself.
On this venture, we chose to check out the western part of Wisconsin to see what unusual photo opportunities we could find. Our first stop was Sparta, Wisconsin.
If you have traveled through Wisconsin on some of the many two-lane roads and visited any of the quaint out of the way towns, played miniature golf or enjoyed ice cream by one of those huge ice cream cone sculptures, I'm sure you have seen at least one of the many creations of FAST Fiberglass.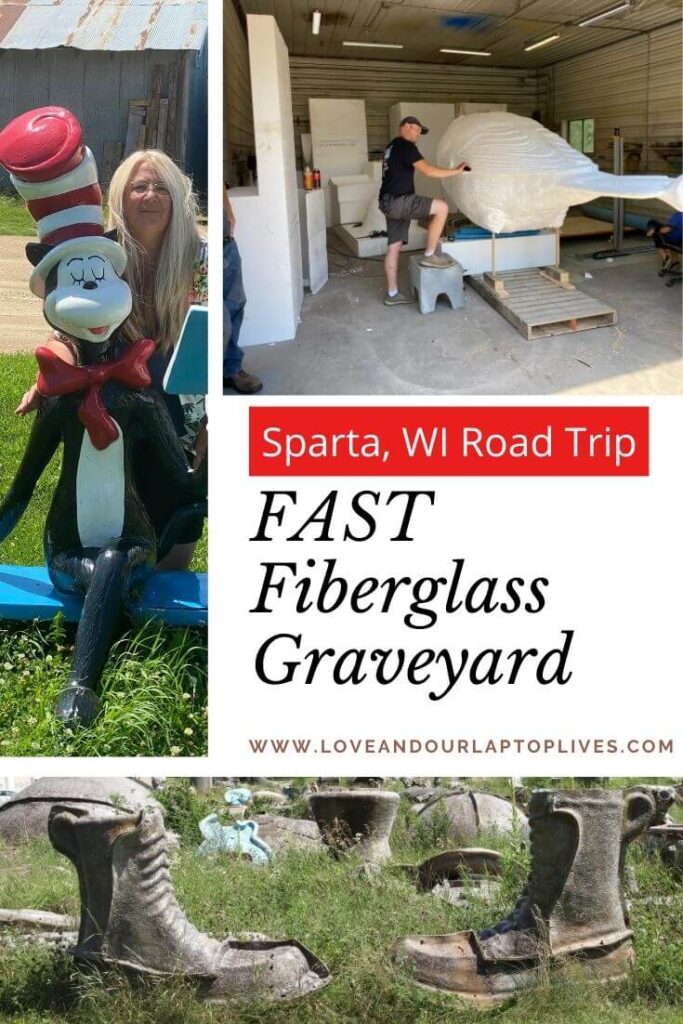 The creations I'm talking about are "not" the flimsy blow-up ones we sometimes see. I'm referring to the larger than life characters, that look real, and are outside or on top of some businesses. The ones that when you drive past grab your attention and make your head quickly turn back around to see if you really saw what you think you saw.
Those creations always amaze me and yes I'm one that needs to stop and take a picture. It's even more fun when I can get Gary to pose with them. I use to create sets for children's plays and activities so these creations grab my attention.
I discovered that many of them came from FAST Fiberglass, which is located right here in Wisconsin. I instantly saw a road trip in our future. I wasn't expecting all that we discovered that day.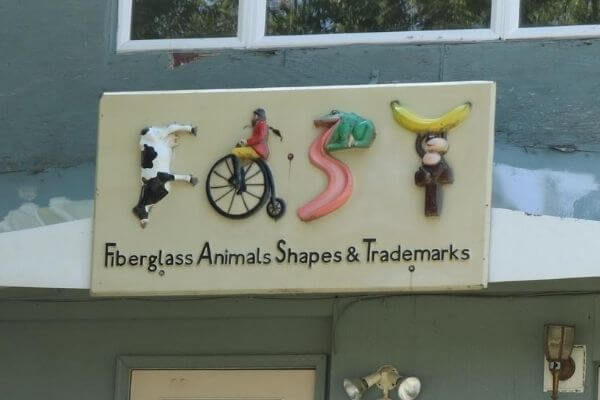 What is FAST Fiberglass
FAST could be considered the birthplace of roadside attractions. It is the largest producer of outdoor sculptures. FAST started in the late 1950s and was known as Sculptured Advertising. It later became known as Creative Display Inc. and in 1983 changed its name to FAST Corp., which it is known by today. FAST stands for Fiberglass, Animals, Shapes, and Trademarks Corp.
If I had just seen the name I would have been a bit confused, Animals…Shapes? When I think of fiberglass I think of canoes, boats, surfboards, bathtubs, showers, truck toppers, or car fenders. I wouldn't have thought of animals and characters as being made of fiberglass.
FAST Fiberglass is responsible for many of the water-park slides, water-park characters, movie props, statues, landmarks, and restaurant mascots. FAST creations can be found throughout all 50 states.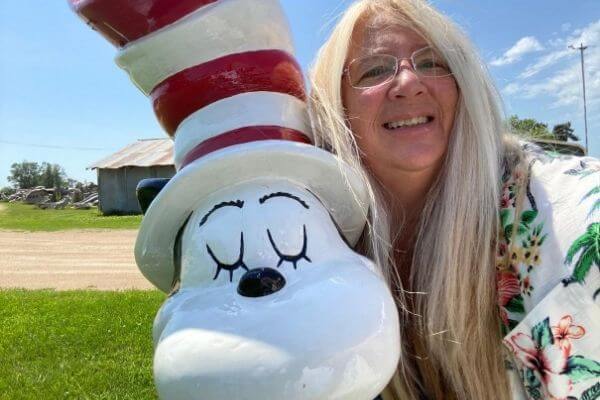 What does FAST Fiberglass do?
FAST Fiberglass specializes in creating over the top attention-grabbing, even world record, figures, and items. Ones like you might see outside restaurants and gas stations, drive-in mascots, and water-park slides. We discovered we have visited a couple of their very impressive creations and hadn't even known it.
Marcs Big Boy
A & W Rooty Bear
The Bobbleheads at the L.A. Stadium
The 30-foot tall Eyeball that was on display in Pritzker Park in downtown Chicago and is now on display in Dallas, Texas
The world record 143-foot Musky at the Freshwater Fishing Hall of Fame in Hayward, Wisconsin
The Chick-Fil-A cow
The Jolly Green Giant
The giant sea creature that is displayed in the House on the Rock ~ There is some question with the House on the Rock Sea Creature.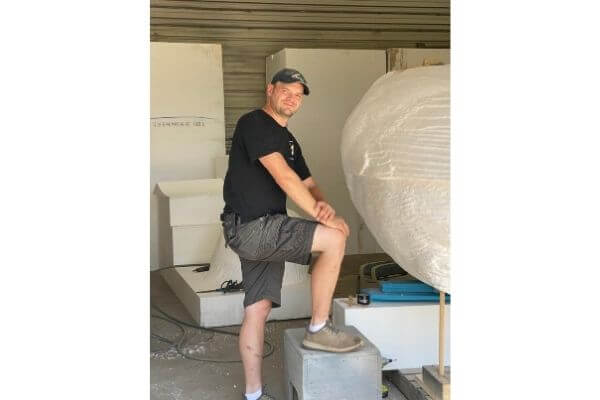 In talking with Ryan, the owner of FAST, it seems fiberglass creation skills run throughout the small town of Sparta, and has for many years. FAST is not the only fiberglass company around. Farm Fiberglass and others are also in the area. FAST is the largest and most well known.
It also sounds as if they all have a good working relationship. Ryan was uncertain if the rumor of the giant sea creature at the House on the Rock was built by FAST, another company in Sparta, or a collaborative project by more than one business.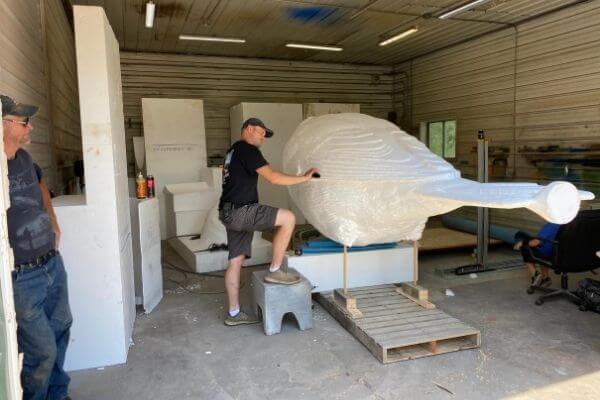 What is the fiberglass process at FAST?
When we first arrived at FAST, it was a Saturday afternoon on one of the hottest Wisconsin days of the year and there was a gentleman working. I went over to get a picture and in talking with the gentleman found out it was Ryan, the newest owner of FAST.
Ryan may be the "new" owner of FAST but was not new to the fiberglass business. It sounds like it runs in their family. Ryan's dad had once worked for FAST.
I asked Ryan the process for creating the amazing creations we all come to know and love. I don't think I was prepared for the complexity of the process.
An artist creates a sketch of the desired design.
An artist creates a clay sculpture of the sketch
A 3D scan is done of the sculpture
A digital file and model are created from the scan
The design is blown up to its true size
The full-size design is sliced into pieces
Those pieces then run through a 3D printer and are printed out of blocks of Styrofoam
All of the pieces of the Styrofoam puzzle now need to be assembled
Once the puzzle is assembled fine sanding needs to take place, making sure all of the seams are gone and the fine details are present.
Once the foam model is perfected the foam is coated and sprayed with fiberglass.
Once the fiberglass is hardened it is cut into pieces (those pieces are what caught our eye when driving past FAST).
Those fiberglass pieces are what make up the mold for the creations.
The molds are assembled back together and the inside is sprayed with a coating and then fiberglass.
Once hardened the mold pieces are removed and a fiberglass creation is waiting to be finished.
The piece now needs to be fine sanded to remove any seams.
The piece is primed, painted, and sealed.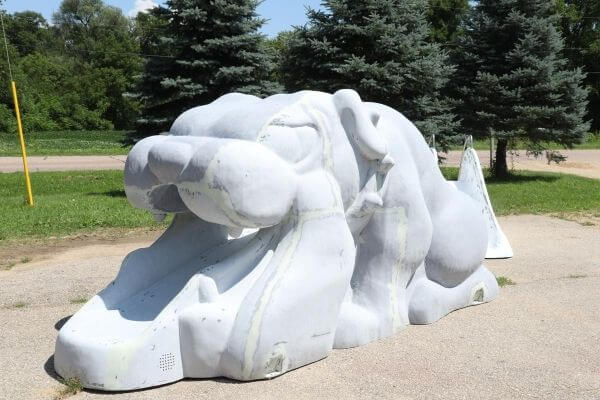 This process leaves you with a creation that will last a long time and can withstand almost anything. Most of the repairs needed if any, are due to vandalism. Such as the sad case of the Giant Eyeball Sculpture that is currently on display in Dallas, which was crafted by FAST and was on display in Chicago prior to going on to Dallas.
It must be a sight to see some of the many masterpieces done by FAST being transported to their permanent home. Anybody see a fun creature on the back of a semi truck lately?
What a creative team it must take from start to finish, and what fun it must be to see a project of this size go from someone's vision to full-size and sometimes larger than life reality.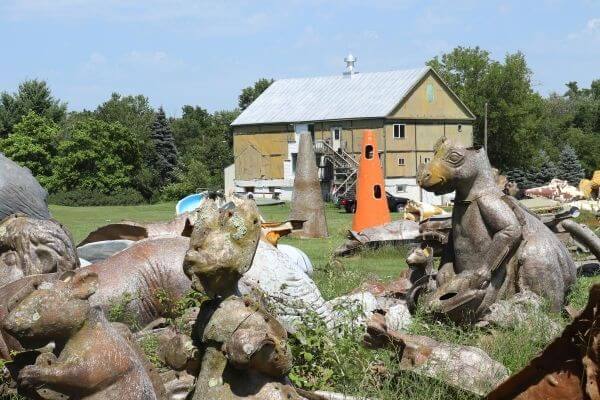 The FAST Fiberglass Mold Graveyard
FAST Fiberglass welcomes visitors on a daily basis. Anyone who wants to stroll among their bizarre collection of molds in the field is welcome to do so. It would be very hard to drive past Fast Fiberglass and not want to stop and take a look around. It is a common occurrence to have cars and tour busses stop for photo opportunities.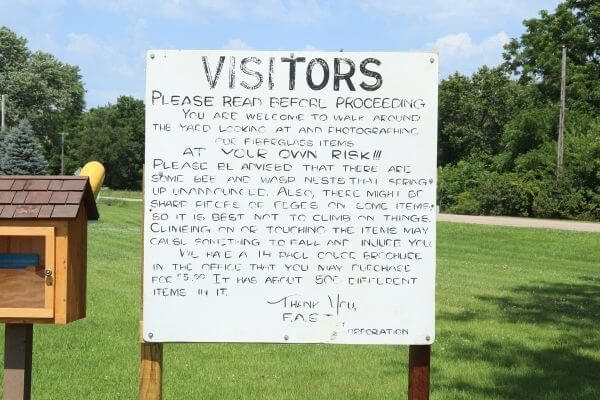 Signs are posted at the entrance of the molds' final resting grounds. Welcoming guests to walk around and enjoy but it also warns you to look and wander at your own risk and to watch out for hornets and bees nests.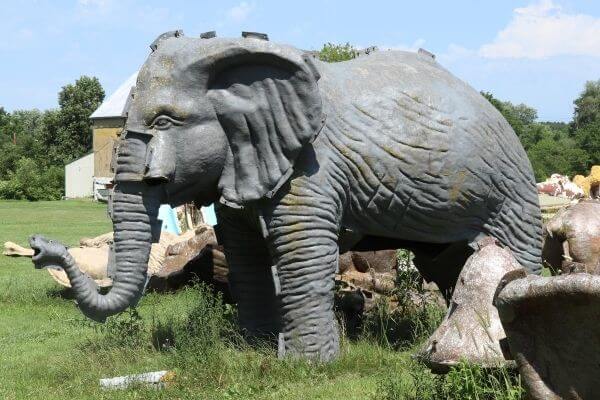 Scattered in the field behind their barn (turned into a workshop), is this amazing, almost eerie collection of molds leftover from nearly every job they have ever done. There is a very good reason for all of those molds to still be hanging around.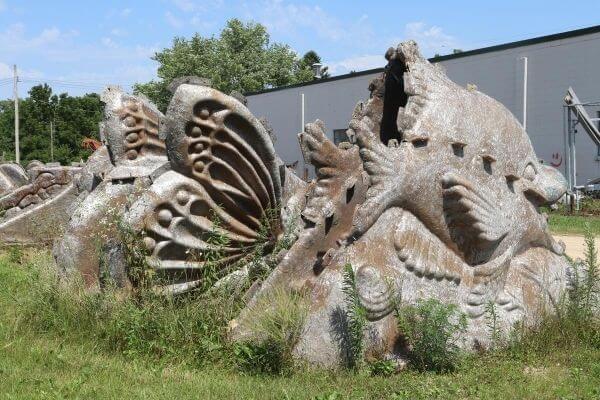 When a job is completed the company keeps the molds, which are bigger than the finished piece itself. Molds can be used, changed, and repurposed.
When we stopped at a small-town drive-in that had a bear mascot on display we noticed a similarity to the A & W Rooty Bear. This would be a great example of repurposing.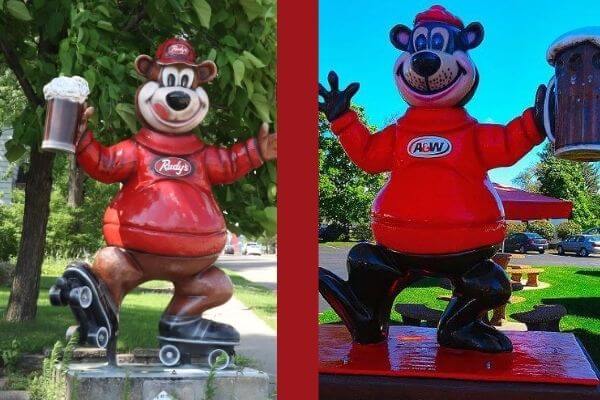 A lot of work goes into making the molds and it makes sense to repurpose when you can. One L.A. Dodger Bobblehead mold could be used to make other L.A. Dodgers just by changing the features and personalizing the painting. A baseball, basketball, or football mold can be personalized for any team by being painted with team name and colors.
I can't help but wonder if they created the giant bobblehead we saw at Milwaukee's Bobblehead Museum.
FAST stores all of these molds in the field behind their shop. Over the years hundreds of these giant molds have accumulated.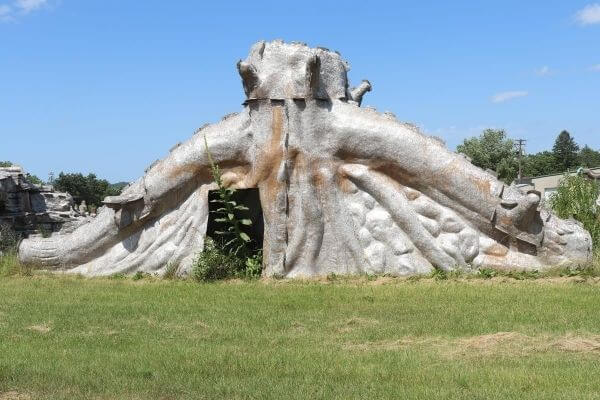 Driving past, at first glance it looks as if the field was leftover from some ancient time. The molds over the years have weathered and taken on the look of old stone.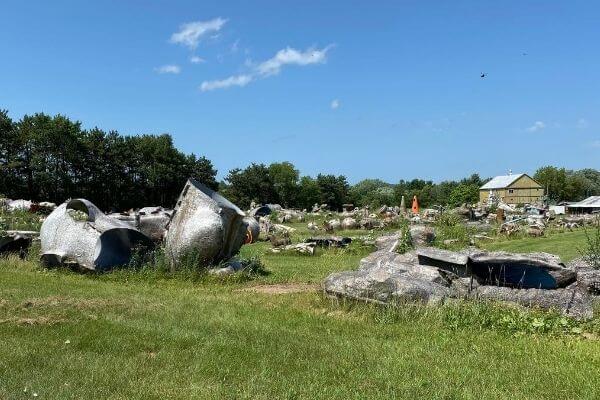 Today there are hundreds of giant fiberglass molds scattered all across the area in a variety of shapes. It was fun to wander through the field and pick out molds from figures that we recognized.
If you find yourself on Highway 21 just south of Sparta, Wisconsin, this site is something you won't miss and will definitely want to stop and check out.
FAST Corporation ~ 14177 Co Hwy Q, Sparta, WI 54656
Phone ~ (608) 269-7110
Website ~ FAST Corp.

We would love for you to stay in touch!
Whether you have a question about our site, want to work with us, have a feature idea, or just want to say "Hi" please feel free to send us a message.
You can reach us at [email protected]
Or follow us on Social Media

Facebook @ Love and our Laptop Lives
Pinterest @ Love, Travel and our Laptop Lives
Instagram @ Love our Laptop Lives
Twitter @ Love and our Laptop Lives
YouTube @ Love and our Laptop Lives
Amazon Store @ Love and our Laptop Lives