Door Peninsula Winery is located about 8 miles north of Sturgeon Bay Wisconsin. Right in what seems to be the doorway to upper Door County. We have visited Door Peninsula Winery a few times and have made some friends in the area. This visit ends up being just a little different. As we discover that the only thing better than wine and old friends is wine and a new friend.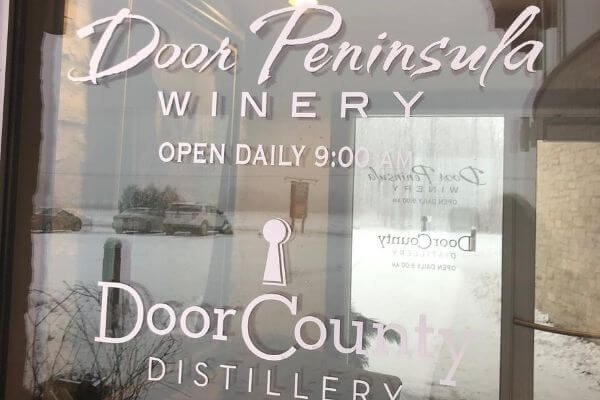 One of the things we enjoy most about our adventures in love, traveling, and blogging, is the people we meet along the way. Everyone we meet has a different story. A story about who they are, where they have been, and what their dreams and goals are. Our blogging journey is allowing us to take the time to slow down, listen, and really make lasting connections. We not only get to hear their story, but we also get to be part of their journey.
Door Peninsula Winery
On this trip to Door County, we stopped in at Door Peninsula Winery to warm up. This is a must-stop whenever you are in Door County. It was New Year's Day and we had just received the first major snowstorm of the year. So the winery wasn't very busy.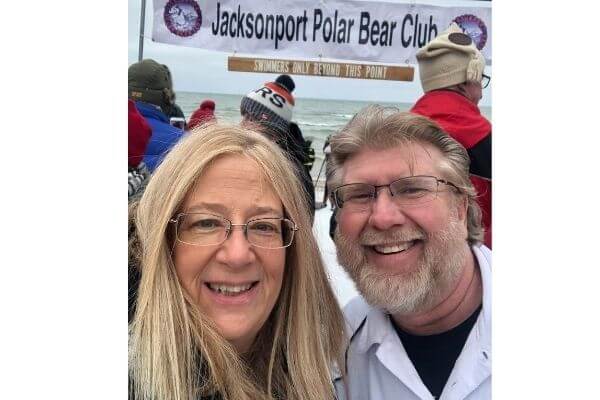 We were on our way back from the Jacksonport Polar Plunge. Hard to believe we were there to check one of the things off Gary's bucket list. Really who puts running into icy cold water on their bucket list? Gary did. On this New Years Day, he ran into the 32° icy cold water of Lake Michigan. He was lucky although it was the first real snowstorm of the year, the water wasn't as cold as most years.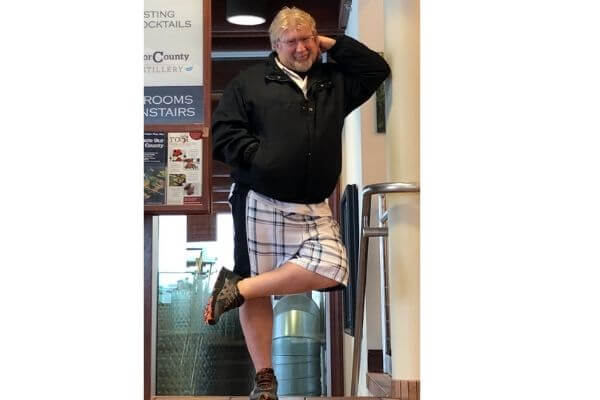 When we stopped at the winery Gary was still sporting his slightly damp polar plunge shorts. I was hoping to discover a new wine favorite and he was there to "warm-up". One of the enjoyable features of Door Peninsula Winery is that you are allowed to sample up to 6 of their current blends. At any given time they have more than 50 fruit blends and premium grape wines.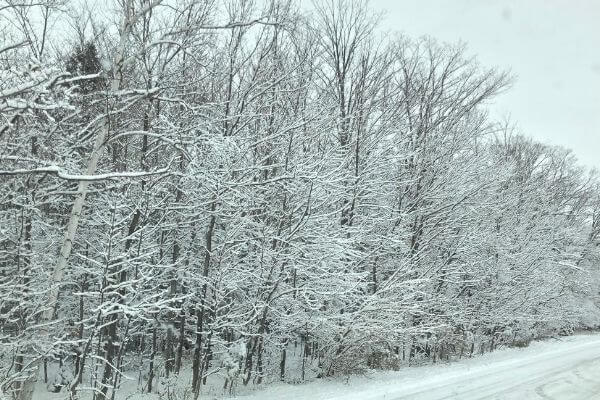 With the snowstorm brewing outside this was a day we were in no hurry at all to be on the road. A day where we could just slow down, enjoy, and get to meet the people along the way. There were a couple of other people in the winery that had been to the polar-plunge and it was fun talking about the venture and hearing about past years and the history of the plunge.
The winery wasn't very busy, we decided to stop looking through the many wines and taste a few of the new blends. Trying to decide which wine's would be our first sample is not easy. Gary and I try different ones so we can share. It's always fun to find new blends to take home and enjoy. Desiring to chase the cold from his bones, Gary wanted to try a wine that is served warm, this was something new.
Wine Tasting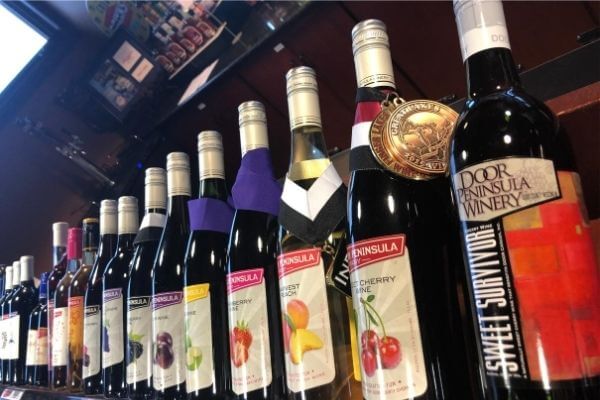 After choosing our first wines, we were enjoying each other's company, romantically sipping our wine and munching on wine crackers. With the busy morning, we realized we had skipped lunch and the crackers would be doing more than just cleansing our pallet between wines.
Wine and a New Friend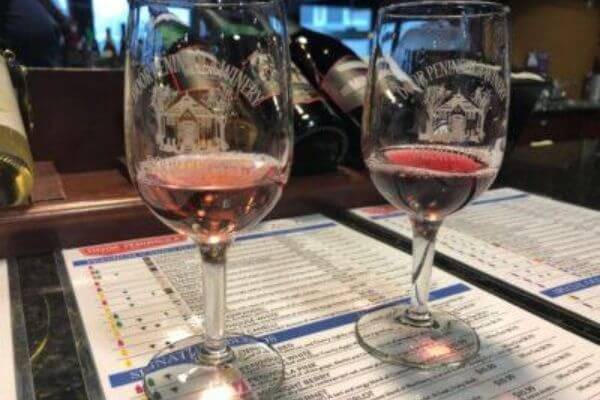 At the same time, we were listening to Christine (the young lady serving the wine) answer patrons questions about the many other wines the winery offers. It was just us and a few others tasting the wine, so it was cozy and easy to join the conversation.
Christine shared with all of us that serving at the wine tasting bar wasn't her normal position in the winery. Her husband works as one of the winemakers. He must be very knowledgeable about wine as Christine had an instant answer for every question we asked.
We listened intently as she passionately shared about grapes, the many blends of wine, and even the processes of wine-making. What a wealth of knowledge this young lady turned out to be. I learned more about wine at that stop than all my previous wine knowledge combined.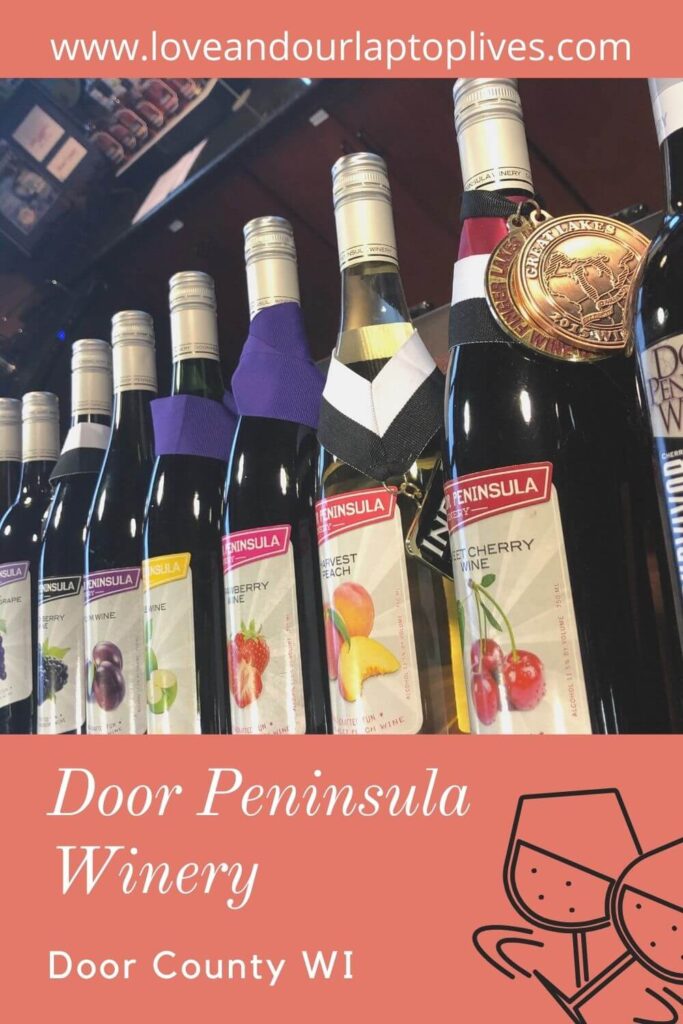 We greatly enjoyed listening to her passion for wine, wine-making, and some of her and her husband's goals and dreams. It was a great pleasure to have met Christine. We walked away having made a new friend and look forward to someday enjoying more of her husband's wines.
Since this New Year's Day visit, we have had many Door County Adventures. Each adventure was different and more exciting.
Door County Cherry Picking with my Daughters
A Door County Tradition ~ A Fish Boil
Fragrant Isle Lavender Field Washington Island
The Best Door County Adventure for Adults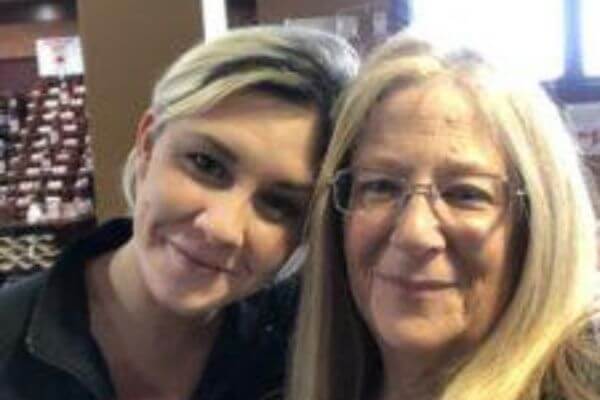 It was a pleasure to have met Christina and learned about wine from her.