10 Romantic Places To Stay In Wisconsin For A Couples Getaway

Are you looking for Romantic places to stay in Wisconsin for a couples getaway? You are in luck because Wisconsin offers you so many choices when it comes to options.
Wisconsin has numerous hotels and vacation rentals, from tiny and quaint to luxury accommodations perfect for couples or entire families.
If you are traveling as a couple and romance is on your mind, many of Wisconsin's small towns and secluded cabins are perfect for two.
Wisconsin offers an array of getaways that are perfect for romance. You will find a wide selection to meet your wants. Whether you are looking for a small-town atmosphere, the bustling city, the secluded north woods, or the peaceful lakeside, look no further than Wisconsin.
Romantic couples getaways
Every couple has their idea of what a romantic couple's getaway looks like. Wisconsin's natural setting is perfect for a romantic couple's getaway. It is filled with many places that shout romance.
Milwaukee ~ is a city filled with romance and history.
Door County ~ is known for its shoreline and romantic weekend getaways.
Madison ~ is home to the State Capitol and Lake Mendota.
Cedarburg ~ is described as if it stepped right out of a Hallmark movie.
Apostle Island ~ 21 islands filled with lighthouses, hiking trails, and charm.
Lake Geneva ~ is a resort city filled with mansions and many local beaches.
Wisconsin Dells ~ is the waterpark capital of the world, home to fun and sun.
Superior ~ is the site of Wisconsin's tallest waterfall.
One thing is certain, no matter what your idea of a romantic couple's getaway is, where you stay and spend those quiet moments together in private plays a significant role in the romance.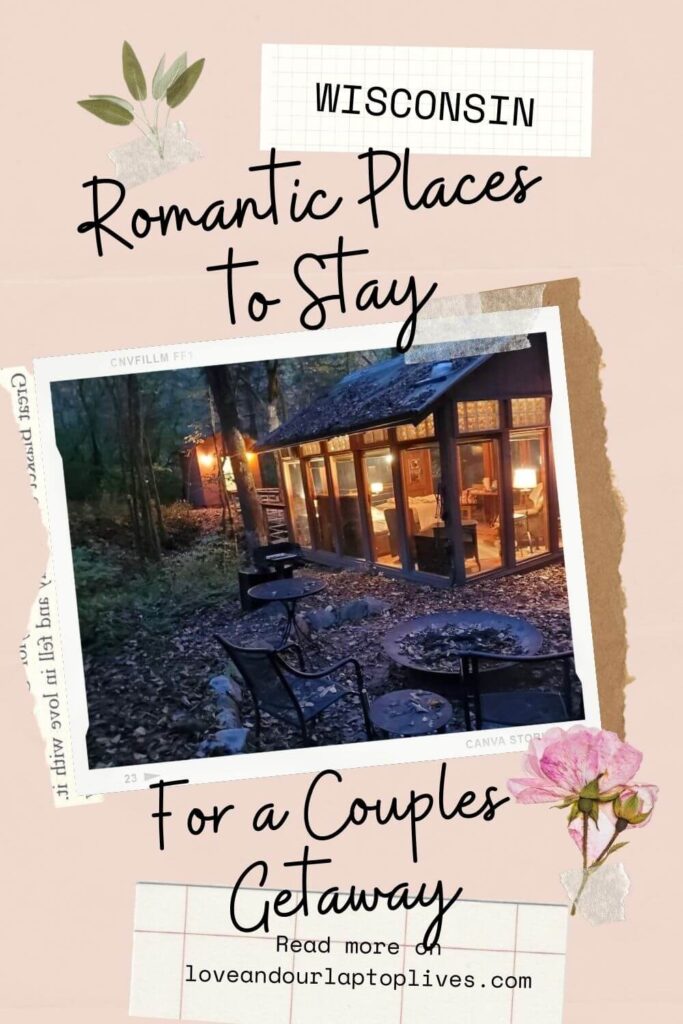 This post may contain affiliate or sponsored links. If you click on a link and make a purchase, I may receive a small commission (at no additional cost to you). Please see my full disclosure policy for details.
Romantic places to stay in Wisconsin
These are some of Wisconsin's favorites and sometimes overlooked gems that are not your standard hotel. Many of these accommodations offer some very unique and exciting options for a vacation rental.
SOO Caboose 34 – Sparta, Wisconsin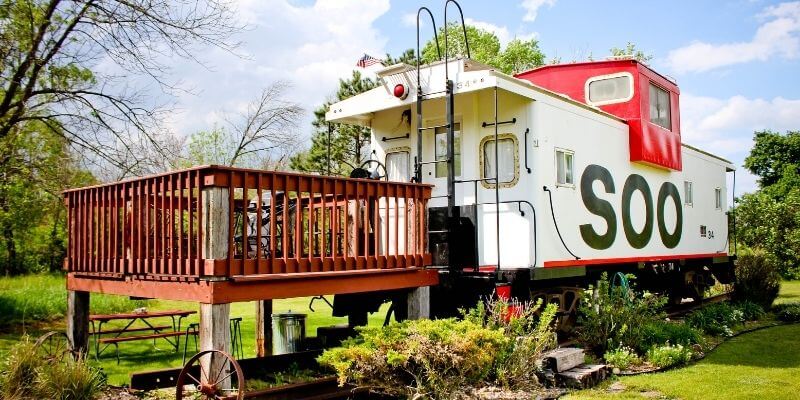 The Caboose Cabin is not just a place to stay. It's an experience. How romantic is this, getting to spend the night in a real caboose?
Caboose Cabin is located just off the Sparta Bike Trails, and while sitting on the deck, you can enjoy an occasional train or Amtrak as it passes by.
The Caboose Cabin is not just a caboose gutted and turned into a standard hotel room. Much of the caboose feel has been preserved, making this a unique and educational experience.
While you are in Sparta, Wisconsin, be sure to check out the FAST Fiberglass Mold Graveyard and Sparta's other exciting attractions.
One of a Kind Treehouses – Wisconsin Dells
Isn't the thought of staying in a treehouse romantic? How about one right in the heart of the Wisconsin Dells activities?
Wisconsin Dells is known as the Waterpark Capital of the World and is home to numerous hotels and vacation rentals. One of the most recent and most unique additions is Natura- a Treescape Resort One-of-a-kind Treehouses.
These unique Treehouse accommodations are right next to Wisconsin Dells' first Natural Lagoon. (A luxury swimming pool with the natural beauty of a chemical-free lagoon)
Spend the night with your feet dipped in the lagoon, then turn in for the night in a private treehouse.
Wisconsin Dells in the Fall is Amazing ~ This is our Fall road trip to the Wisconsin Dells.
Candlewood Cabins in the Woods ~ Richland Center, Wisconsin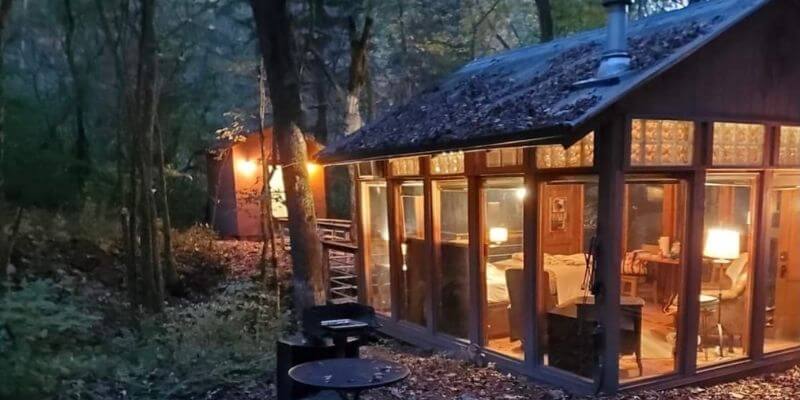 Candlewood Cabins in the Woods offers many unique lodging opportunities. Each one is more distinct than the next.
Norbert Calnin, along with his wife, Susan, became the accidental innkeepers of Candlewood Cabins in 1995. They have created a peaceful escape for their guests. What started with a single cabin has grown into much more. They offer every guest the space to relax, enjoy the quiet surroundings and unplug.
Candlewood Cabins has just the right accommodations for almost everyone.
Meadow House ~ Panoramic views of the outside woods make the Meadow House the perfect setting for lovers. This prairie-style design has a full range of amenities, such as the Scandinavian wood-burning stove, barn wood floor, and queen-size platform bed. Experience all four seasons in this truly remarkable space.
Woodland House ~ Woodland House features a spiral stair tower and a multi-level deck that invites you to enjoy each other as you enjoy the surrounding trees from a lofty vantage. Inside, secluded on the second story, you'll enjoy the warmth of the wood stove and a romantic walk-in rain shower.
Glass House ~ This Glass House is an unforgettable glamping experience just right for two. If you are looking to reconnect with nature and each other, this is the get-a-way experience for you. Just a short walk from parking, the Glass House provides a panoramic view of the surrounding woods. Across the footbridge, you will find the amenities of a full bath and kitchenette. Wake up in the morning with nature right outside your floor-to-ceiling windows.
Log Cabin ~ This Log Cabin accommodation, with its wood-burning stove, is perfect for that romantic evening for two. Cuddle up, close your eyes and rewind your mind to a time when life was filled with simple pleasures. Enjoy a soothing bath, cozy up to the fire, or stargaze from the patio with that special someone.
Campo di Bella ~ Mount Horeb, Wisconsin
Campo di Bella is a small family-run winery and organic farm located in Southern Wisconsin. A stay at Campo di Bella can be compared to staying at a private retreat on a local farm. The room is located above the winery.
You will be staying at a working farm and are welcome to enjoy self-guided tours of the farm. While staying at Campo di Bella, you are welcome to enjoy the patios surrounding the winery and enjoy dinner and a wine tasting on the weekends. The cost of dinner or wine tasting is not included in your reservation.
The fact you are staying above a working winery adds to the excitement and romance. Just be prepared to enjoy the sounds of merriment from below.
The Mount Horeb area is filled with some very romantic and interesting places to see. Check out our visit to the Cave of the Mounds and Mount Horeb.
Canoe Bay ~ Chetek, Wisconsin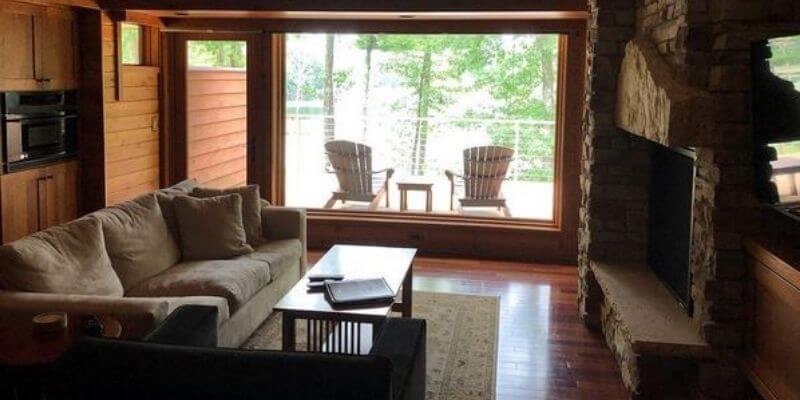 Canoe Bay is an adult-only retreat, self-described as "a refuge for the most romantic soul." Its quiet atmosphere on 300 forested acres and the secluded cabins are reasons enough to stay here.
Canoe Bay offers guests the option of a room located in the lodge or a private cottage or villa that comes equipped with fireplaces, private decks, and whirlpool tubs for those looking to take the romance up a notch,
If you are looking for something even more intimate, you can stay in one of their tiny houses. They may be tiny, but they are filled with ambiance.
While at Canoe Bay, you will find various ways to enjoy the beautiful nature that surrounds you. Choose from enjoying the miles of hiking and snowshoeing trails or have fun on the water with one of the kayaks, canoes, or paddle-boats. You can even surprise that special someone with an in-room massage followed by dinner on your private deck.
Off Grid Tiny House – Fall Creek Wisconsin
This tiny house is the perfect retreat for the couple that loves nature and is looking for a place to escape, be alone and relax.
The cabin is designed to immerse you in the beauty that Wisconsin is known for. Enjoy the forest and all it offers without sacrificing any of the comforts of home.
This tiny home is equipped with all the comforts needed for a relaxing stay. And some surprises like your own fire pit and firewood.
Although there is spotty cell reception, I'm sure it won't be missed when you are enjoying a stay in this Off-Grid Tiny House.
Brenner Tower ~ Ellison Bay, Wisconsin
Brenner Tower is a three-story round tower located to overlook Lake Michigan. This unique and architecturally interesting gem is a one-of-a-kind find. It sits high above the Door County countryside with views of the bay and Washington Island.
When staying at Brenner Tower, you have the entire tower to yourself. All three unique floors. If you are looking for quiet and privacy, you have found it.
The first floor of the tower has a living room and half bath with several doors directly outside. On the second floor, you will find a bedroom and a half bath. The third floor is where you may just be spending most of your time. With floor-to-ceiling windows and a 365-degree view, you get views of Washington Island, the Bay of Green Bay, and rolling fields. The third floor is also home to the kitchen and a beautiful fireplace.
Door County is one of our favorite destinations for romance. Check out Door County's Lavender Fields.
Pirate Ship Adventure Cabin ~ Lyndon Station, Wisconsin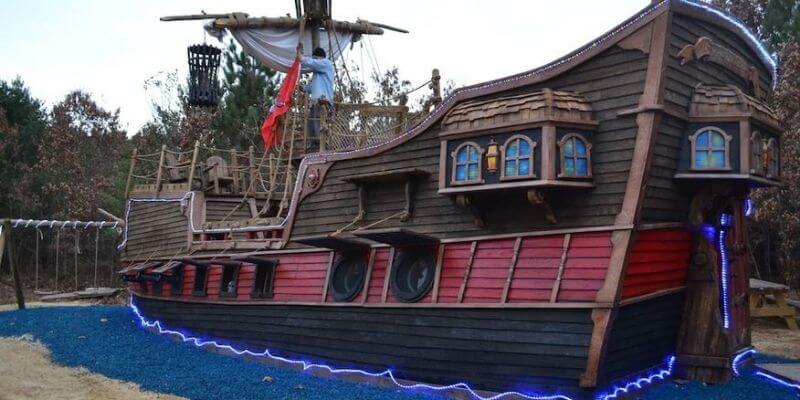 Ladies, have you ever wanted to make your man walk the plank? Well, here is your chance. This unique find will have you enjoying a romantic stay on a "real" pirate ship fully decorated in a Caribbean theme.
Most of this awesome ship's space is outdoors. The upper decks make for great seating on a starry night. The captain's quarters, complete with a queen-size bed, is located below deck.
If romance and fun are what you want…Arrggh, why not grab your eye patch and give a pirate ship a chance?
We have enjoyed several Road Trips to the Wisconsin Dells. This is your chance to check them out.
Still Bend ~ Frank Lloyd Wright's Schwartz House ~ Two Rivers, Wisconsin
Still Bend is a home designed by Frank Lloyd Wright, the famous American architect originally from Wisconsin. Many of Wright's creations are scattered throughout Wisconsin.
Still Bend is located in East Twin River, about a mile from Lake Michigan. It is Frank Lloyd Wright's version of his Life Magazine "dream home" design which he did in 1938.
Staying at Still Bend gives you an in-depth look at the thinking behind Wright's designs. Be prepared to find new details around every corner that confirms Wright's genius.
Spend a romantic evening curled up in front of the fireplace designed by Frank Lloyd Wright and marvel at the thought you are living in a masterpiece.
Mineral Point Hotel ~ Mineral Point, Wisconsin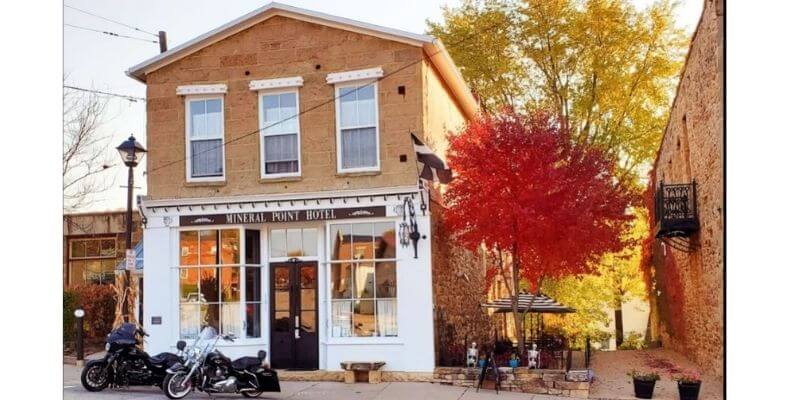 Mineral Point is a charming old mining town with the architecture and feel of Cornwell, England. Walking through the town of Mineral Point, you feel as if time has stopped.
The charm of the town carries right through the doors of many of the local boutique hotels. Mineral Point Hotel overflows with charm and warmth.
Mineral Point Hotel is a 19th-century building ideally located in the heart of Mineral Point's historic downtown. It has five beautiful guest rooms with private bathrooms. Each room has its unique detail, such as a clawfoot bathtub, a balcony, and many of the same amenities as a fine hotel.
This boutique hotel is located in downtown Mineral Point's steps away at the bottom of the hill, from award-winning restaurants, art galleries, antiques, shopping, and historic sites.
Wisconsin has so much to offer. Whether you are looking for fun, romance, adventure, or peace and quiet, you can find it in Wisconsin. The romantic adventure will always be on top of our list. As we continue to discover more about our home state, it is so much fun to share it with you.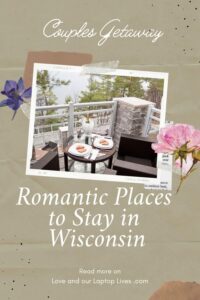 Let us know if there is something specific you are looking for, and we will help you find it in Wisconsin. In the meantime, grab your honey and spend a few romantic moments together, whether at home or on an adventure.