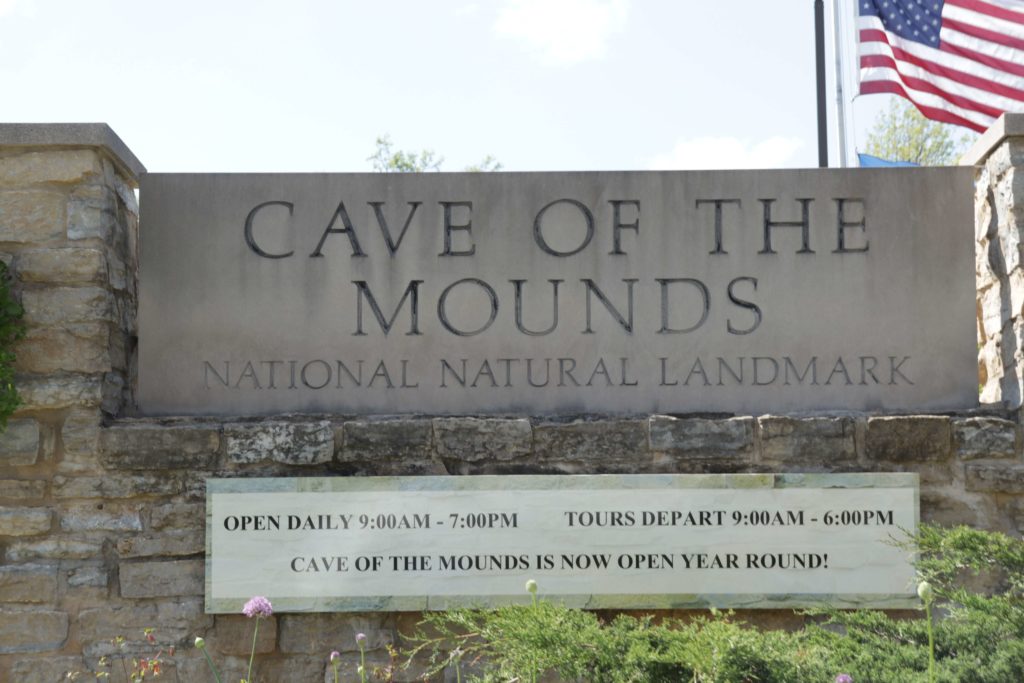 We are always on the look out for romantic things to do. We live in the beautiful State of Wisconsin and look for extra trips we can do on a weekend. We found, less than 3 hours from us, Cave of the Mounds in Blue Mounds, Wisconsin. It's listed #1 on the list of romantic trips in Wisconsin. This did not take a second thought, Michelle had never been to a cave so we decided that was going to be our adventure for the day.
Getting to our destinations is always half the adventure. The drive from home to Cave of the Mounds was beautiful. It helped being the first nice spring day this year and being together.
Cave of the Mounds History
Cave of the Mounds takes its name from the Blue Mounds, two large hills which have long been Wisconsin landmark features. The West Mound, at 1716 feet, is the highest point in Southern Wisconsin; the East Mound reaches 1489 feet. Cave of the Mounds lies under the southern slope of the East Mound.
This area was settled by Ebenezer Brigham, a successful lead miner who became Dane County's first permanent white settler in 1828. The West Mound is now a Wisconsin state park; part of the East Mound still belongs to the Brigham family. Brigham County Park lies along the wooded northern edge of this East Mound. Both parks afford magnificent vistas of southern Wisconsin.
Ebenezer Brigham traveled from Massachusetts down the Ohio River and up the Mississippi to join the Wisconsin lead rush in the late 1820's. He established his "diggings" and built a smelting furnace and a house just north of the Cave. His house became a trading post, an inn, a stagecoach stop, and Dane County's first post office. Colonel Brigham helped build and later commanded Fort Blue Mounds during the Blackhawk War in 1832. Ebenezer lived a long life on his Bringham Farm never realizing that a greater discovery than lead lay deep beneath its surface. Fun Fact: Over 59,000 people came to visit the Cave in the first 8 weeks of operation.
Cave of the Mounds was accidentally discovered on August 4, 1939. Workers, who were removing high quality limestone from a quarry on the Brigham Farm, blasted into the Cave. The blast tore the face off the quarry and revealed a great underground cavern. All quarrying stopped and never resumed. The dynamite blast revealed a limestone cave more than twenty feet high opening into other rooms and galleries, all containing numerous mineral formations.
The excitement of the discovery brought so many curiosity seekers that the Cave had to be closed in order to preserve it. Soon, lights and wooden walkways were installed. In May 1940, Cave of the Mounds was opened to visitors. Millions of visitors later, the Cave's wooden walkways were replaced with concrete; a large stone building replaced the original entry building; and theatrical lighting has been installed to dramatize the colors and shapes within the Cave. Picnic areas, walking trails, rock gardens, gift shops and a visitor center have all since been developed.
Millions of visitors later, the Cave's wooden walkways were replaced with concrete; a large stone building replaced the original entry building; and theatrical lighting has been installed to dramatize the colors and shapes within the Cave. Picnic areas, walking trails, rock gardens, gift shops and a visitor center have all since been developed.
(exerts from Cave of The Mounds History)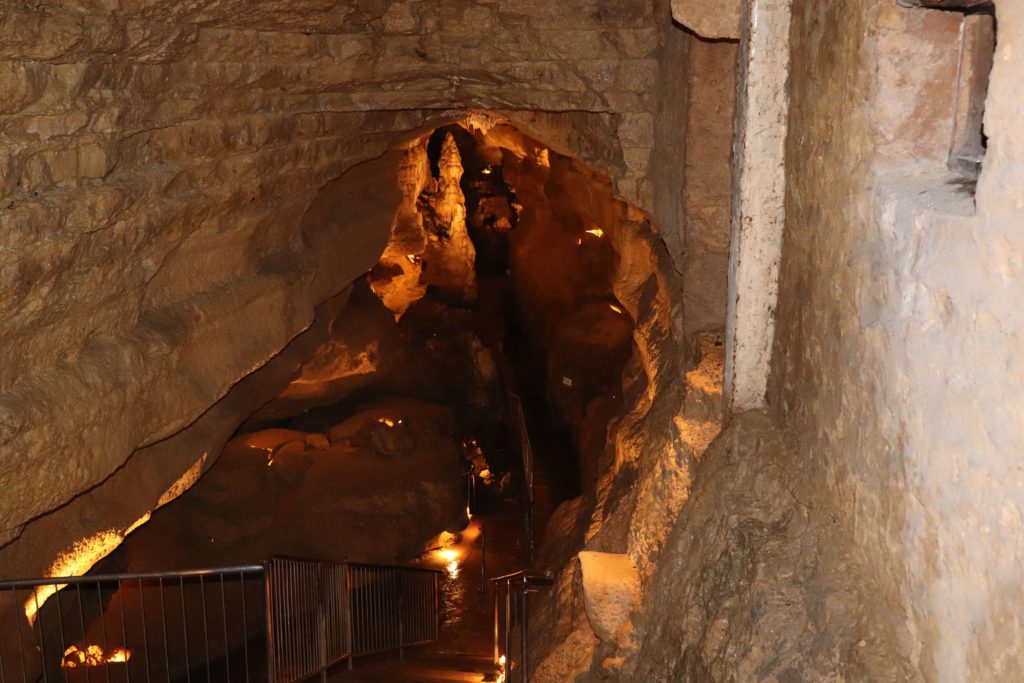 After getting our tickets for a self guided tour, Michelle went on ahead while I was lagging behind taking pictures. Michelle came back and hollered forget that and get over here. She was wide-eyed, jaw-dropped and sounded like an excited, giddy little girl. "Hurry Up. This is so awesome" I thought she was going to rip my arm off as she pulled me along toward the entrance of the cave. LOL. Alright, alright. I'm coming.
The cave was humid and water dripped from the ceiling and landed on us. The water also dripped on the walls which then splashed on us.
A tour guide explained that it had rained the day before and that the rain water starts seeping through the ground and into the cave about 20 hours after the rain. It was fun trying to dodge the drips.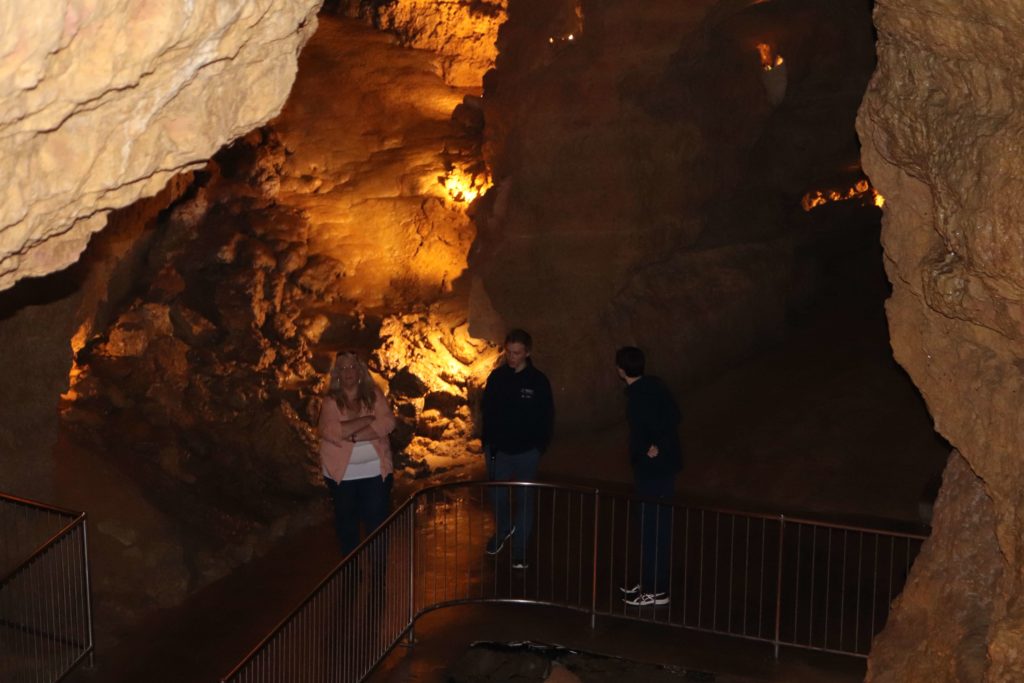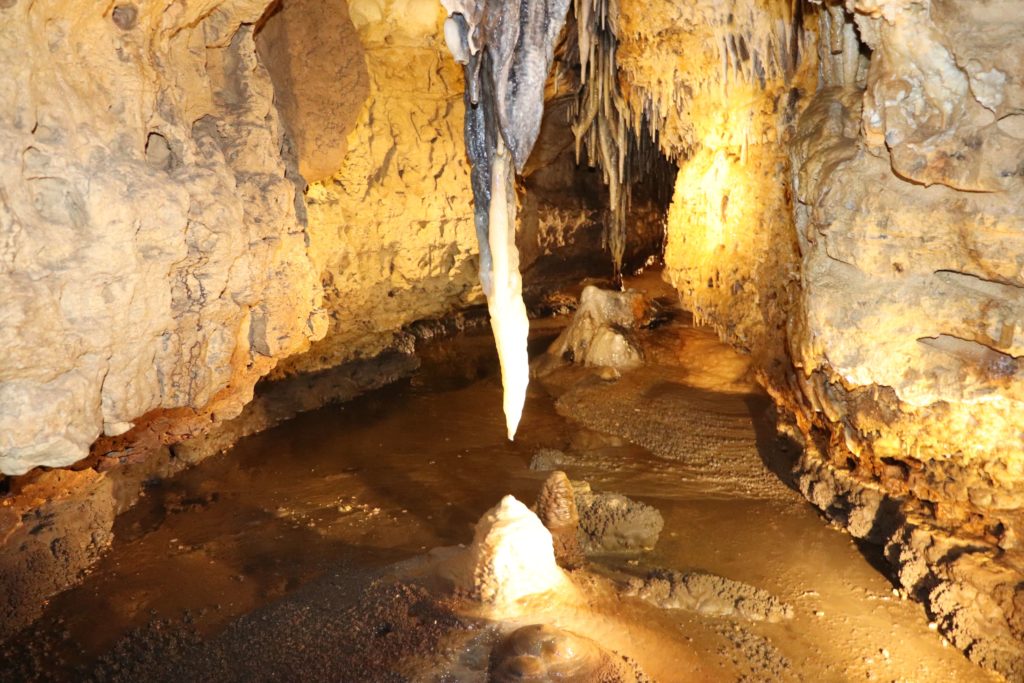 We learned so much, Cave of the Mounds has some very knowledgeable cave tour guides. We now know the progression of the formation of a column in a cave. It starts with the limestone and water dripping from the ceiling begins the formation of a small tube structure called a soda straw.
The soda straw is the beginning of the stalactite. The limestone water falls to the ground and begins forming a stalagmite. You can easily remember that a 'stalactite' hangs 'tight' to the ceiling and a 'stalagmite' 'might' one day reach the stalactite.
Another type of formation is called flow stone and there are several in The Cave of the Mounds. A large flow stone has been named 'The Painted Waterfall' and is awesome with it's smooth, flowing and falling appearance and the different colors.
We saw 'cave coral' above a small pond and the waterline from where the water level once was. There were white specks on the water that look like dust but are actually a tiny insect called 'spring-tails'. Spring-tails are the only living creature living in the cave.
There is a magnificent large open area with groupings of larger stalactites that has been named the 'Cathedral Room'. If you use a bit of imagination the stalactites look like the pipes from a pipe organ. Another reason they call this the 'Cathedral Room' is they have had several weddings done in this large area.
They also have a "pet parrot" but please do not touch it. It won't bite you but you might 'kill' it if you touch it. I am calling it Polly the Parrot (how original huh? lol). This is the most unique formation in the cave. Polly is a 'stalagmite' that is growing on top of a fallen chunk of 'stalactites'. If you look close you will see the 'soda straws' in the fallen mass.
How can you 'kill' Polly Parrot you ask? If you touch the parrot-like formation, or any of the formations in the cave, the oils from your hands will transfer and repel the falling water, thus stopping it's growth and 'killing' it.
A trip wouldn't be right without a little fun.
Check out this little video on YouTube. You won't want to miss Gary's shenanigans!!
Near the end of the cave, or at least the end as far as we could go, is an area where you can see the reflection of the ceiling in the still water. Isn't that so cool?
The cave past this point is getting too small for people to travel through so know one knows for sure how far the cave goes.
Maybe you want to take the kids or grandchildren on a nature outing. There are several hands-on things to do that kids and adults enjoy doing.
Things like sluicing for gemstones, cracking open 'geodes', digging for fossils and gems. A Butterfly Gardens, A Gift Shops, Hiking or Biking Trails, Snack Bar and Picnic Area.
We were lucky enough to get one of the last self guided tours of the day. This meant we were able to go through the cave at our own pace, stopping to take as many pictures as we wanted. Throughout the cave were several cave guides. They were all so helpful and informative. They made sure we didn't miss a thing. Thank you Jessi, Tate, Jarrod and all the others for making sure these cave newbies didn't miss a thing.
There is so much more than can be shown in pictures and videos. The colors, the textures, the size and even the wonderful staff. This was an incredible experience for us. Start planning your visit to The Cave of the Mounds now and experience for yourself. If you visit The Cave of the Mounds, please let them know you read our blog.
Check out the Cave of the Mounds website for monthly special events like 'Cave After Dark: Summer Trollstice'. Cave of the Mounds is open year round. A constant 50 degrees Fahrenheit year round means cool in the summer and warm in the winter.
Quick Stop At Mt. Horeb, WI
On the way back home we decided to take a different route and went through Mount Horeb. It's just a few miles from the Cave of The Mounds. For those of you who don't know (we didn't know either), Mount Horeb is the Troll Capital of the world.
We didn't have much time but did manage to get a peak at Grumpy's, which is a local pub and brewery, we searched out a couple of the town's trolls and managed a quick stop at Driftless Historium, the town's museum. This is a town that deserves more exploring and maybe a follow-up blog.
Gary & Michelle
X O X O
Let's Connect
See more of our travel and lifestyle pictures on Instagram.
Join our travel-loving community on Facebook
Join us on Twitter for more of our shenanigans.
See many of our travel videos on Youtube
Pin this post for later and check out all of our boards on Pinterest
Visit our Amazon Store for our personal recommendations.
Subscribe to Love and Our Laptop Lives to see our extra travels and exclusive travel tips.
Thanks for stopping by! If you would like to reach us with a
feature idea, you can email us at ~ [email protected]
We would love to partner with you to feature your travel destination.

Follow us on Social Media
Facebook @ Love and our Laptop Lives
Pinterest @ Love, Travel and our Laptop Lives
Instagram @ Love our Laptop Lives
Twitter @ Love and our Laptop Lives
Youtube @ Love and our Laptop Lives
Amazon Store @ Love and our Laptop Lives
AMAZON ASSOCIATES DISCLOSURE
Love and our Laptop Lives is a participant in the Amazon Services LLC Associates Program, an affiliate advertising program designed to provide a means for sites to earn advertising fees by advertising and linking to amazon.com
Flights
*Search for flights using Skyscanner
*Also try Tripadvisor
Accommodations
*Book hotels on Tripadvisor, Hotel.com or
Booking.com
*For all-inclusive resorts use Apple Vacation and
BookVIP, We love also Sandals Resorts.
Rental Cars
*For rental cars use Car Rental 8 or
Skyscanner Car Rental.
Cruise
*Find the best deals on Cruise Direct.
Travel Insurance
*Purchase Travel Insurance through Travel Guard.