Things To See When Traveling The Wisconsin Great River Road
Wisconsin is filled with many amazing places to enjoy spectacular fall colors, and Wisconsin's Great River Road is just one of them. I don't think any of the places we have visited compares to what Wisconsin's Great River Road has to offer.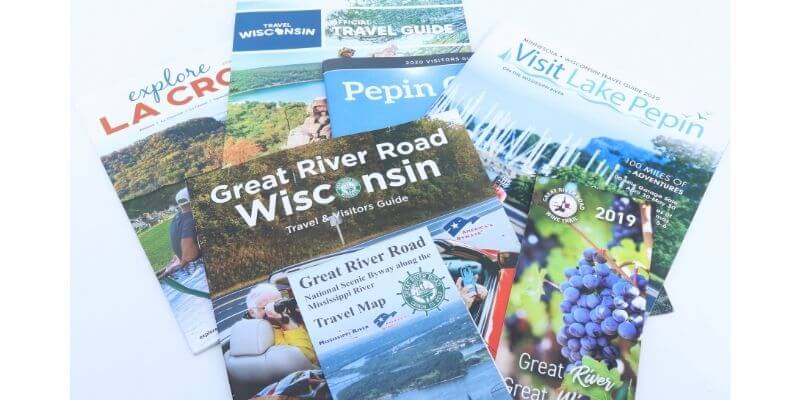 Great River Road National Scenic Byway
The Great River Road through Wisconsin is only a small part of the entire Great River Road National Scenic Byway. It follows the Mississippi River over local and state roads for 3000 miles through 10 states.
The most northern state of the Great River Road in Minnesota. It is home to the Mississippi headwaters, known as Lake Itaska, which is a small glacial lake. The Great River Road travels all the way down to the Gulf of Mexico in Louisiana.
The Wisconsin Great River Road is considered to be one of the prettiest drives in the nation and is the only designated National Scenic Byway in Wisconsin.
When traveling the Great River Road through Wisconsin, portions of it hug the Mississippi winding right alongside the river, while other portions run through small towns and through beautiful countryside. It stretches for 250 miles from Prescott, Wisconsin to Dickeyville, Wisconsin. This drive gives you a glimpse of life in 33 historic small river towns along the way.
---
Recommended Reading
Preparing for Your Road Trip
Wisconsin Dells in the Fall
---
History of the Great River Road
The Great River Road was established in 1938 by President Franklin D. Roosevelt to show the importance of the commercial waterway and to promote tourism. The Great River Road is considered America's oldest and most distinguished byway.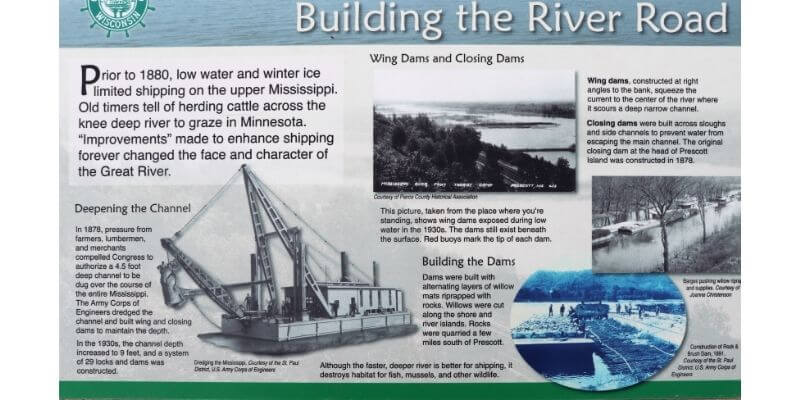 The communities along the Mississippi River owe much of their tourism to the Great River Road. The Great River Road brings in travelers and vacationers year-round to see the spectacular sights surrounding the Mississippi River and to attend some of the many festivals that take place in these river communities.
Many of the communities along the Mississippi are among the oldest in the state. Several of the Wisconsin communities along the river were established as early as the 1600s. Prairie du Chien is one city we visited on our trip, and it is Wisconsin's second oldest incorporated city, with Green Bay being the oldest.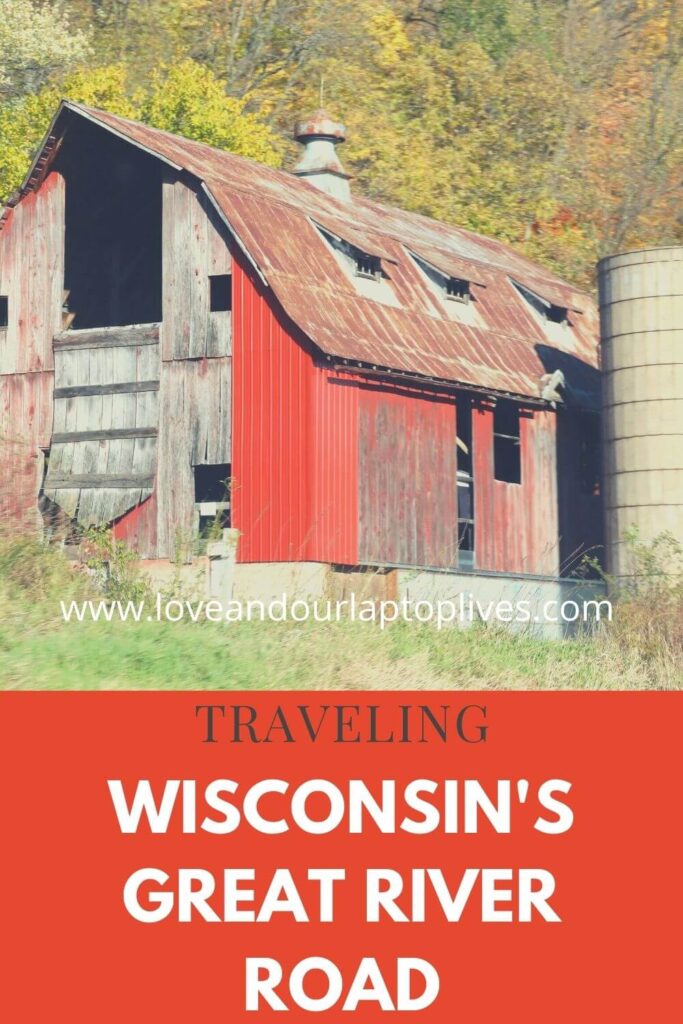 Wisconsin Great River Road Trip
Our Great River Road Trip started in Prescott, Wisconsin, with the sighting of our first road marker. Wanting to experience the full 250+ miles that the Mississippi River travels through Wisconsin, we headed to Minnesota a day earlier and stayed at the Hastings Country Inn. This allowed us to relax in the hot tub, do a little swimming and get a good night's sleep before crossing the bridge over into Wisconsin at Prescott, where Wisconsin Great River Road starts.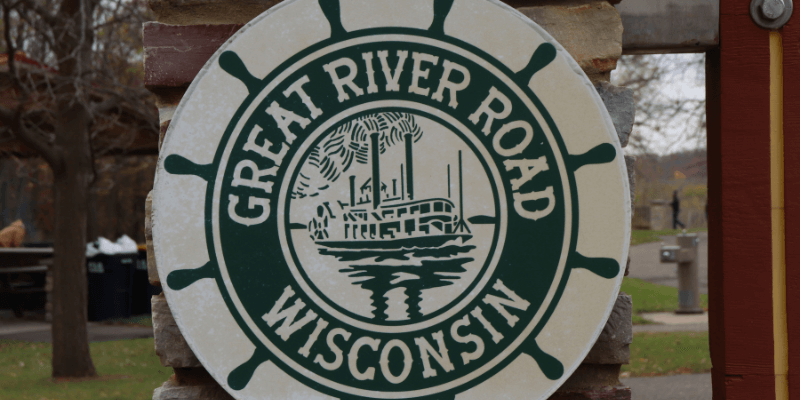 Throughout the 250-mile trip, the Great River Road travels through all 33 small towns along the Mississippi River. By watching for the unmissable Wisconsin Great River byway markers along Hwy 10 and 35, it is easy to stay on course and not get lost.
We did not need to use our GPS or maps. This allowed us to just soak in all of the beauty this trip offered.
Prescott, Wisconsin ~ Great River Road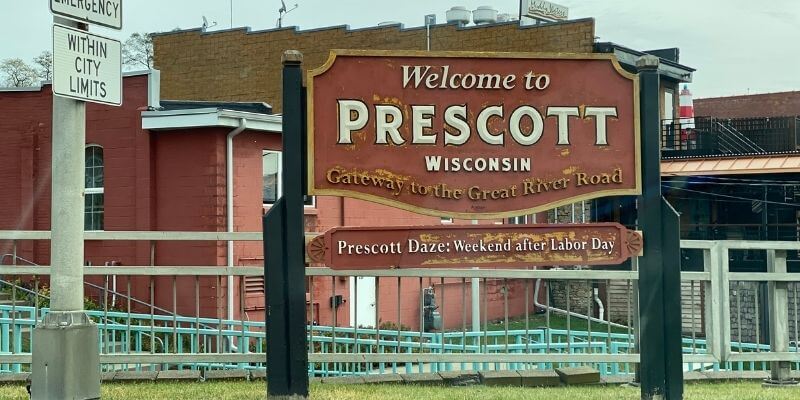 When heading north to south on Wisconsin's Great Road, Prescott is the first city you will visit on your trip. Prescott is the Northern gateway to this National Scenic Byway. It is home to our first stop, the Wisconsin Great River Road Visitor and Learning Center in Freedom Park.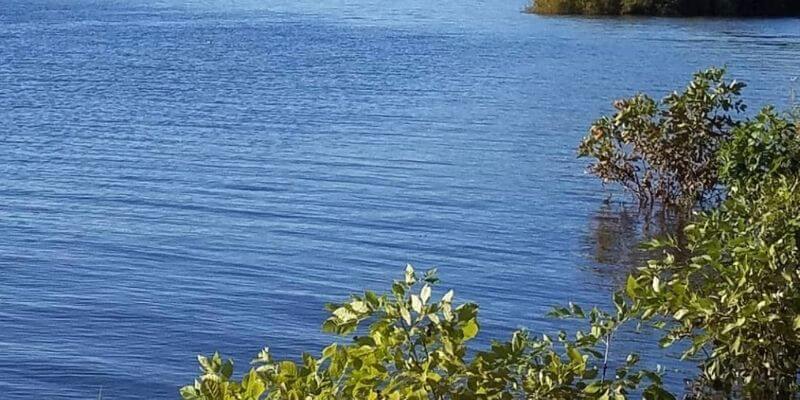 At the Visitor and Learning Center, you are greeted by dozens of fun goats, a scenic overlook and are able to get all of your Great River Road questions answered. While at the center, we were able to spot a couple of beautiful adult bald eagles in the trees on the river bank. Rumor has it there are two adolescent eaglets that were born nearby the riverway. They will soon officially be getting names.
Throughout our drive, we were amazed at the presence of bald eagles. At one point in the trip, we just pulled over by the river and sat and watched about a dozen eagles soaring over the river and trees. It was amazing to see them.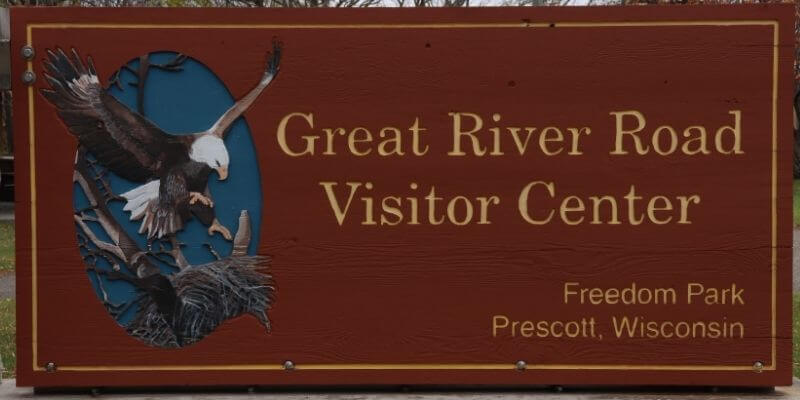 Prescott is also home to Nesbitts Orchard, a family-run business since 1998. This is a fun place where you can enjoy picking your own apples. They offer more than 15 varieties of apples to choose from.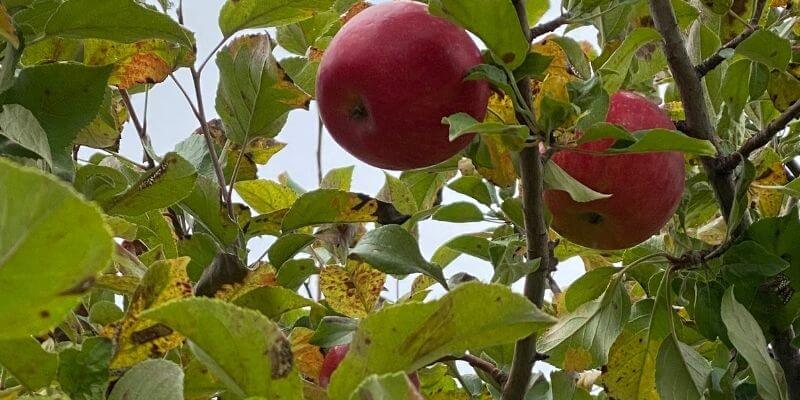 Visiting the Nesbitts Orchard store you will find ~
Pre-picked apples
Apple Cider
Caramel Apples
Honey
Maple Syrup
Fresh Apple Pies and other sweet treats!
Diamond Bluff, Wisconsin ~ Great River Road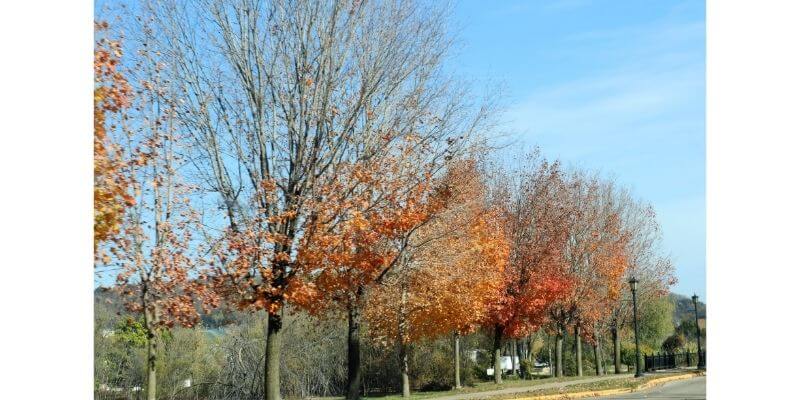 Just 15 minutes from Prescott is the small town of Diamond Bluff, home of Sea Wing Park, a great place to relax and have a picnic on the sandy beach as you enjoy the Mississippi River.
It is here a historic marker commemorates one of the worst tragedies recorded in US waterways. On July 13th, 1890, the Sea Wing, a 100-ton barge carrying 215-day cruise passengers, crashed.
For the passengers on the Sea Wing, their day started as a festive affair. A string orchestra played on board to entertain the passengers as they cruised the river on their way to a military demonstration. Unknowing to the captain and passengers, a summer storm headed towards them. While the barge was on its way back to Diamond Bluff, high winds capsized the Sea Wing, and 98 of the 215 passengers perished.
Maiden Rock, Wisconsin ~ Great River Road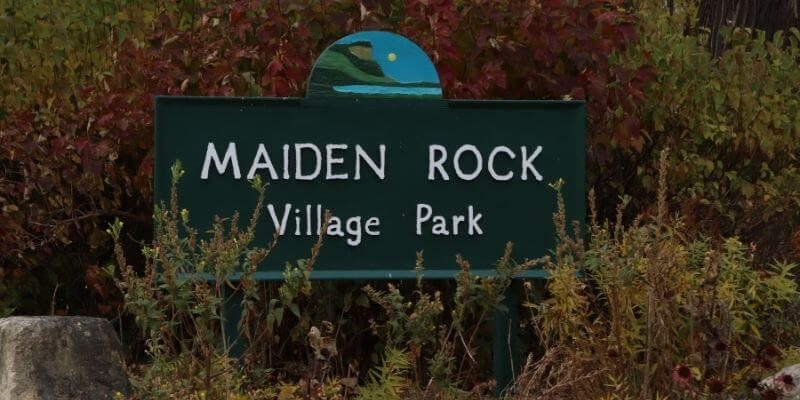 Maiden Rock is a small community of 120, but a town rich in history and folklore. When you drive into town, you are greeted first by quaint little shops.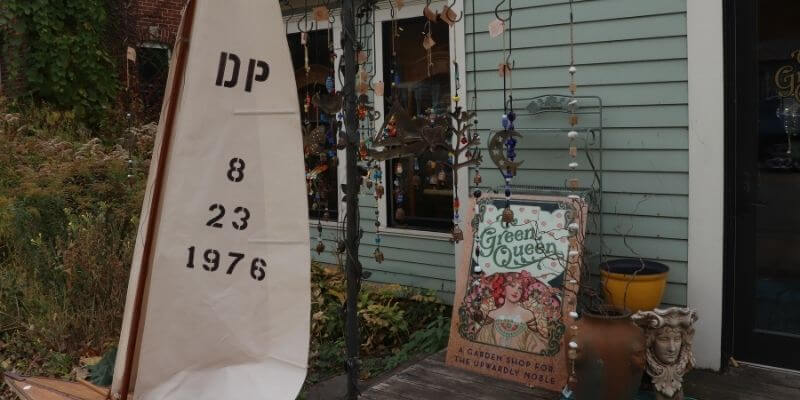 The Green Queen ~ A destination for native plants, outdoor mats, garden decor such as statuettes, as well as other finds that inspire outdoor living and gardening.
Smiling Pelican Bake Shop ~ A house turned bakery, they only make so much bakery per day, and when they run out of baked goods, they close. By the time we arrived, there was a sign on the porch saying "Sold Out." A very popular place.
Cultural Cloth ~ Cultural Cloth sells beautifully crafted home, and personal accessories made primarily by women throughout the developing world.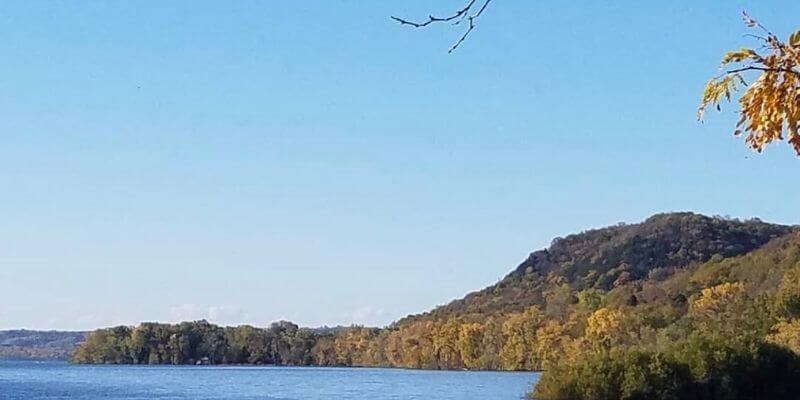 Maiden Rock takes its name from a single-standing bluff overlooking the river. This single-standing sandstone bluff has been a river traffic landmark for centuries. Legend has it that the Indian princess and daughter of Chief Red Wing jumped off the single-standing bluff to her death after her father insisted she marry a man of his choosing rather than the man she loved.
Stockholm, Wisconsin ~ Great River Road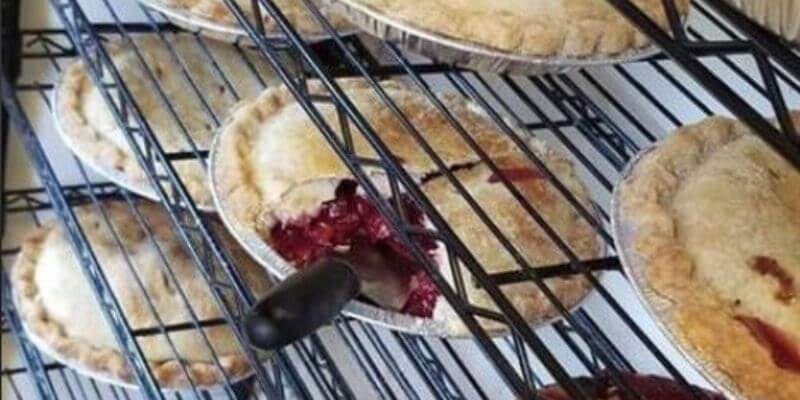 With Stockholm's downtown being only one block long, it would be easy to just drive through. Stockholm is an artist community, and in July, its art fair draws more than 10,000 visitors to this little community. It is this quietness that makes Stockholm the perfect place for a weekend getaway! The only rumble one might hear at night in Stockholm is the train as it passes by.
While in Stockholm, don't miss stopping at Stockholm Pie and General Store! Walking through the doors, the heavenly smell of baking pies fills the store. All the pies are made from scratch and in their own kitchen with the highest quality ingredients. Your mouth waters just thinking about the pies. Their pies were so good trying to decide which pie(s) to take home might be your most difficult choice of the day.
Pepin, Wisconsin ~ Great River Road
Pepin is a charming town, a small community of about 900 on Lake Pepin filled with shops, an amazing vineyard, and home to Laura Ingalls Wilder, author of Little House on the Prairie Books.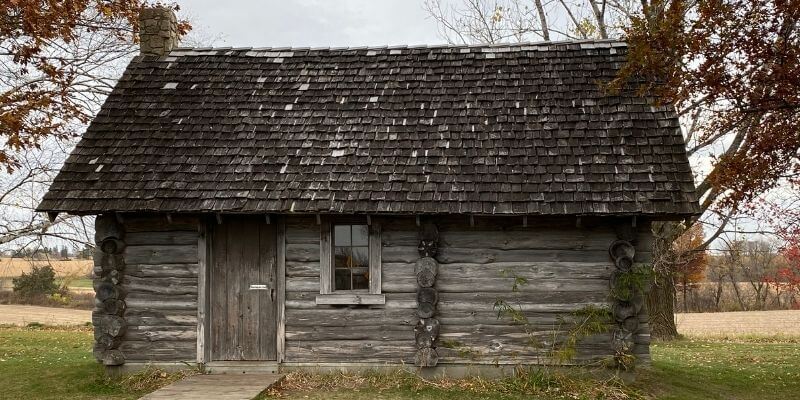 Laura Ingall Wilder Museum was our first stop, named for Laura Ingalls Wilder, the town's most famous past resident.
Seven miles off Hwy 35 (The Great River Road) is a state historical marker and replica of the cabin in which Laura spent the first six years of her life. The original cabin was built by Laura's father, Charles, in the 1860s.
The Villa Bellezza Vinyard and Winery more than welcomed us. What a beautiful Vinyard! Villa Bellezza's name is inspired by the Italian word for beauty – Bellezza – and the area's stunning river bluffs and sparkling Lake Pepin views. The buildings of Villa Bellezza surround a charming central square and fountain.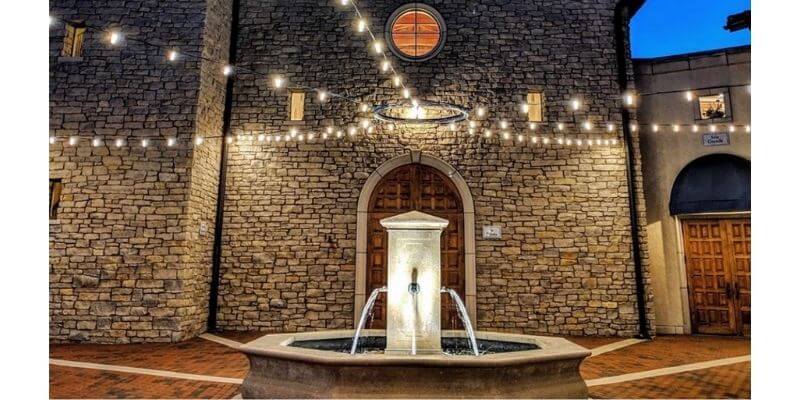 Villa Bellezza produces over a dozen wines, including several winners of international wine competitions. The estate manages three vineyards located around Lake Pepin, sourcing additional grapes locally from our friends and neighbors in Wisconsin, Minnesota, and Iowa. Whatever your taste, there's a Villa Bellezza wine that you will love!
Nelson, Wisconsin ~ Great River Road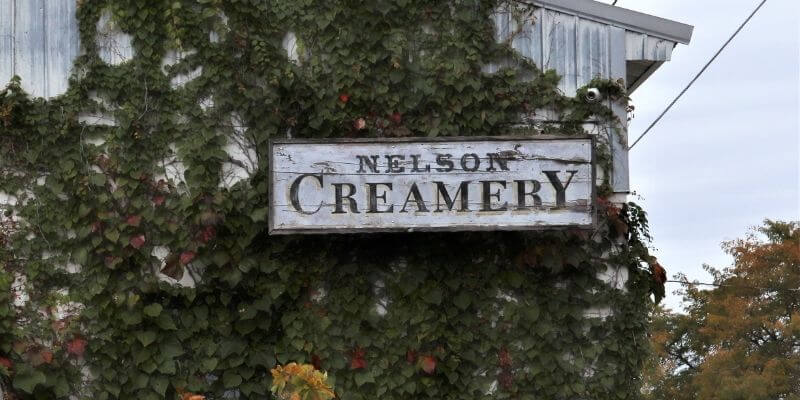 Nelson is home to the historic Nelson Cheese Factory. The original founders of Nelson Cheese Factory started making cheese more than 100 years ago. While Nelson Cheese no longer makes cheese, it has not stopped this from being the place to go.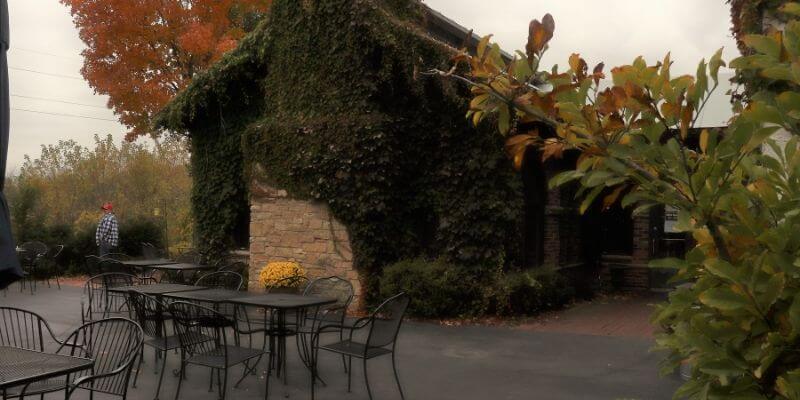 Nelson Cheese features a very welcoming restaurant that offers a wonderful selection of sandwiches, soups, and salads. While they no longer make cheese on-site, their store includes cheese from all over Wisconsin and around the world. They also have an extensive wine selection and serve ice cream by the cone. The picturesque outdoor seating area is the perfect place to enjoy a beer or glass of wine.
Alma, Wisconsin ~ Great River Road
Alma is a quaint town nestled between the Mississippi River and limestone bluffs. It was originally settled by Swiss woodcutters. Alma's heritage can be seen by the many Swiss flags that are flown on the main street.
This small town is home to numerous artists. You will find the blocks of eclectic shops and galleries filled with original artwork and unique gifts, thanks to the resident artists.
Castlerock Museum, an arms and armor museum, is located in Alma. Hundreds of rare and authentic examples of arms and armor are on display along with reproductions of famous paintings that illustrate how arms and armors were used.
Alma is just one town on the Great River Road Trip where you can watch large barges pass through Locks and Dams or enjoy the eagles soaring above.
Whether you are looking to fill your visit with biking, hiking, boating, shopping, or sightseeing, Alma and the Mississippi Valley is a memorable experience.
Trempealeau, Wisconsin ~ Great River Road
Trempealeau has a main street that runs right down to the Mississippi River. The Trempealeau Hotel listed on the National Historic Registry features an amazing restaurant.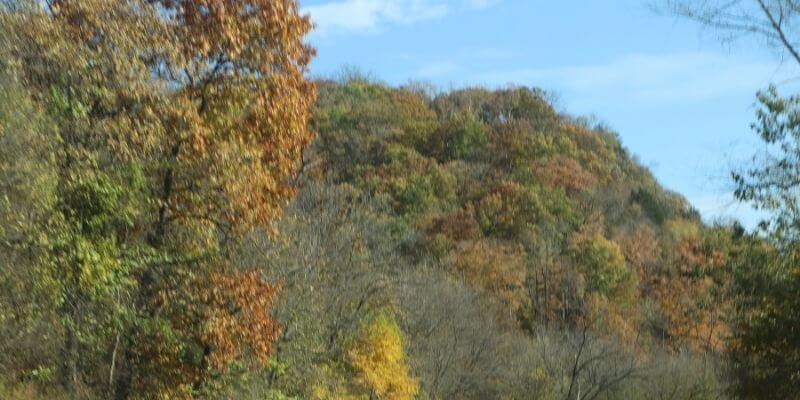 Perrot State Park is 1,400 acres of wetlands and towering bluffs. The park's most scenic feature is Trempealeau Mountain. It is located entirely on an island surrounded by the Mississippi River. An incredible place for canoeing, biking, and hiking. Perrot State Park is also home to several ancient burial mounds.
Trempealeau is home to one of the many locks and dams located on Wisconsin's Mississippi River. Although there are several locks and dams along the Great River Road, I enjoy stopping and watching each and every one of them. There is something magical about watching that huge barge gracefully fit in the lock with very little room to spare.
La Crosse, Wisconsin ~ Great River Road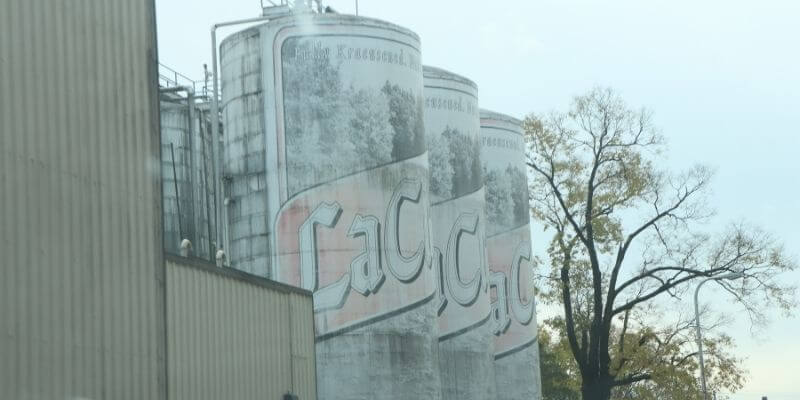 La Crosse is the largest city on the Great River Road Trip. This driftless area is home to many historic buildings that date back to the 1800s. La Crosse was one of Wisconsin's most important areas for trade and commerce.
La Crosse today is a town for everyone. It is the place to live, stay, or play. It's filled with family fun, year-round festivals, shopping, great food, and a vast variety of outdoor activities.
Your night can be filled with a number of activities, live music, theater, performances, or a river cruise on an authentic paddle-wheeler.
La Crosse is home to the Historic Hixon House. It was built in 1858 by pioneer Gideon Hixon, who went on to become a wealthy lumber baron in La Crosse. He and his wife Ellen raised their five sons in this home and expanded it to the size it is today. In 1965, their descendants gifted the house to the La Crosse Historical Society complete with its original Victorian and Arts and Crafts furnishings.
The areas most noticeable land feature is Grandad Bluff. A drive to the top provides stunning views of Wisconsin, Minnesota and Iowa.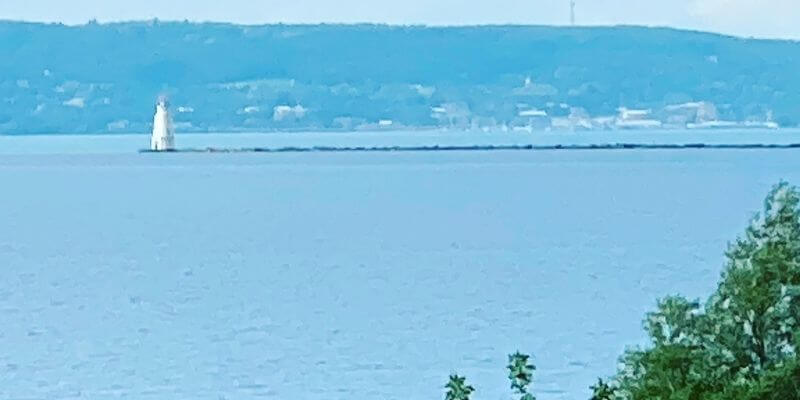 Whether you are looking for a weekend road trip, day getaway, or a vacation, La Crosse has something to offer.
La Crosse was about the halfway point of our Wisconsin Great River Road Trip and we decided to spend the night. We had our choice of quiet bed and breakfasts, national chain hotels, or camping. Plan on making your reservation ahead of time, hotels along the Great River Road fill up quickly.
Genoa, Wisconsin ~ Great River Road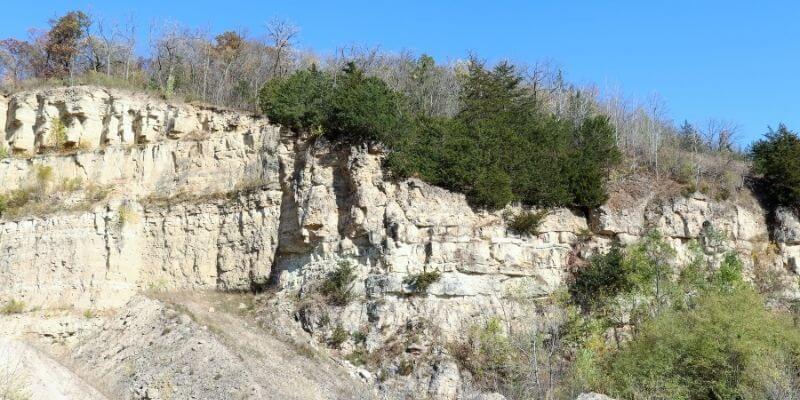 Genoa is where are Great River Road Trip gets breathtaking. With the Mississippi River directly on one side of the car and limestone bluffs on the other, it's hard to take in all of the beauty surrounding us.
The majority of the first settlers to the area were of Italian descent and Genoa, Wisconsin was named after Genoa, Italy. Prior to Italian settlers, the area was home to native Americans known as the Winnebago, here they found hunting and fishing plentiful.
The first house in Genoa was erected in 1853 by the areas' first white settler, David Hastings. Genoa was the location of a steamboat landing, which was referred to as Hastings Landing.
Stories have it that near Genoa over 30 steamboats sank throughout the years, and there they still lie in the murky deep of the mighty Mississippi River, buried in silt and sand.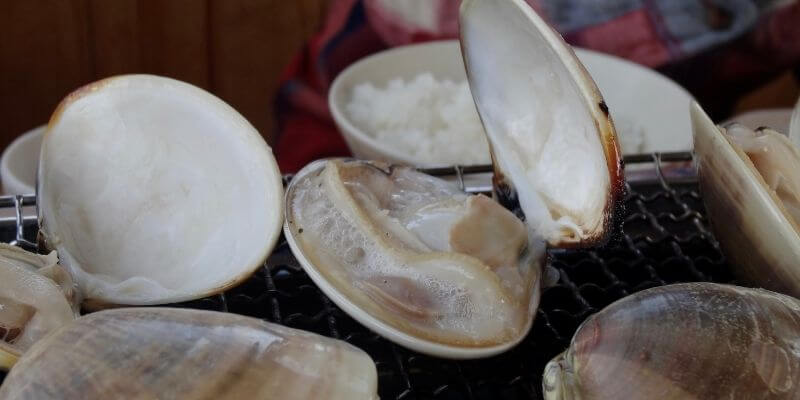 Early industry in Genoa included clamshell button factories. Shells were collected from the Mississippi River bed, boiled, and sold to the factories to be turned into buttons.
De Sota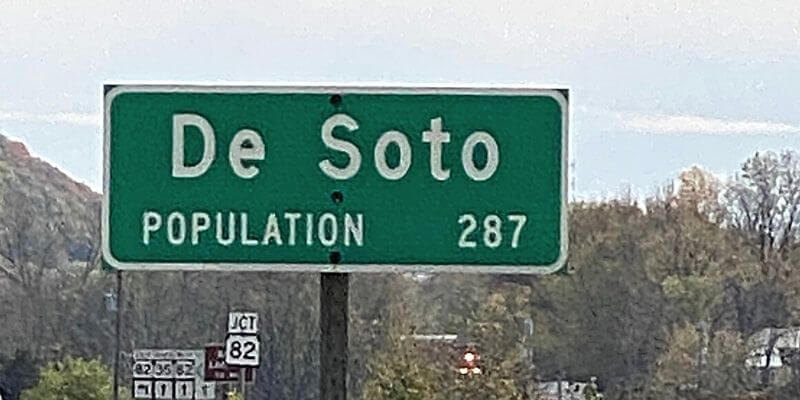 De Sota is one of those quaint little towns that offer unique places to stay and relax for a weekend or even a vacation. This is a great place to stay and take short day trips to other small towns along the Great River Road.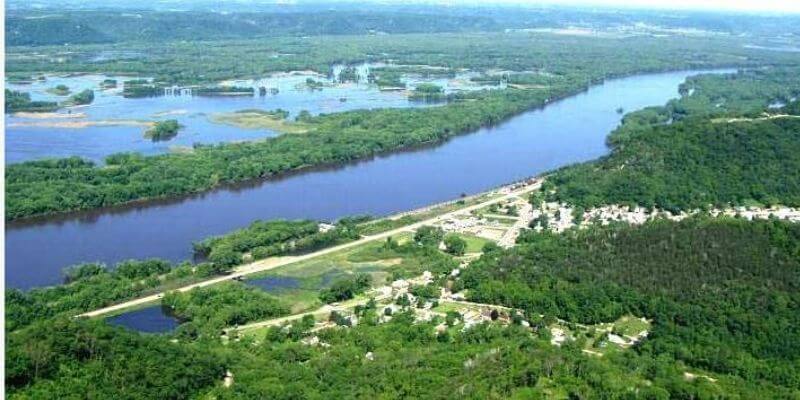 De Sota is a wonderful place to enjoy the beauty of the Mississippi River with everything it has to offer.
De Soto is home to Black Hawk Park, where during the Black Hawk War of 1832, heavy fighting took place and many lives were lost. Today in Black Hawk Park visitors can enjoy the swimming beach, go fishing, and even camp overnight.
The Black Hawk War was a brief conflict between the United States and the Native Americans led by Black Hawk, a Sauk leader. A year after the Black Hawk War, Black Hawk was arrested and imprisoned, a window from his sell is on display downriver at Fort Crawford Museum in Prairie du Chien.
Ferryville, Wisconsin ~ Great River Road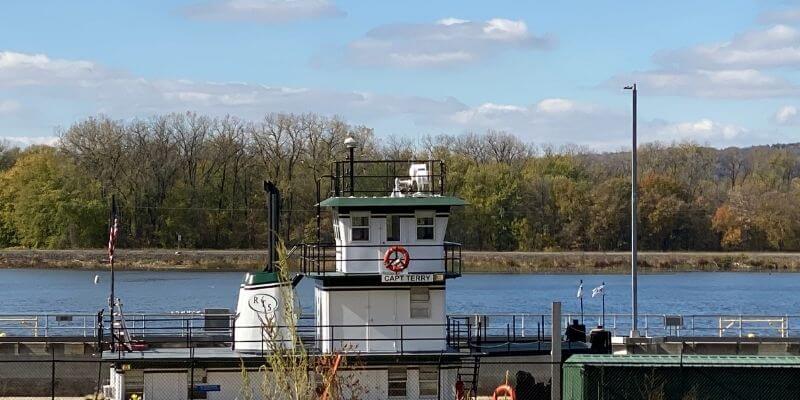 Ferryville is a cute town that got its name because of the ferry service that was active in the town during the 1800s. No ferry exists today in this area, but it is now home to an excellent boat launch and a beautiful view of the Mississippi River. This area is perfect for bird watching. We saw several eagles, canvas ducks, and swans during our visit.
Prairie du Chien, Wisconsin ~ Great River Road
Prairie du Chien is the second oldest city in Wisconsin. Today it is home to an official Wisconsin Welcome Center. A number of unique shops and restaurants can be found in Prairie du Chien.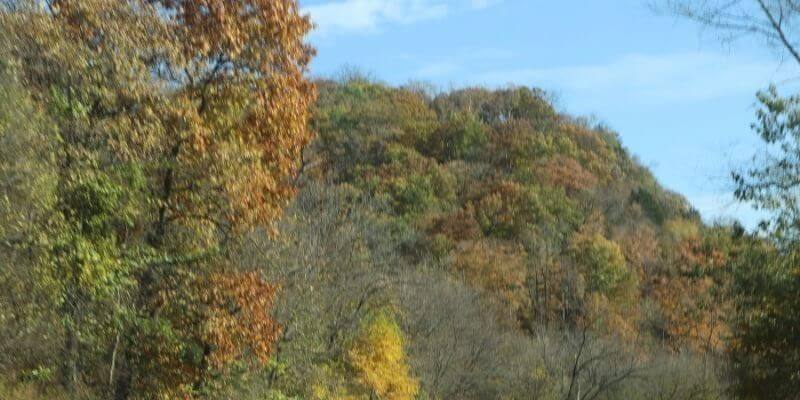 In the early 1800s there was a heavy presence of Native Americans in the Prairie du Chien area, in 1816 Fort Crawford was built to stand guard and protect white settlers from the Native Americans and to serve as an area for trading between the settlers and Native Americans.
Fort Crawford stood from 1816 until 1856 protecting settlers. Two former presidents, Jefferson Davis, and Zachary Taylor served at Fort Crawford.
Today, the fort is gone, in its place is the Fort Crawford Museum. The museum displays the history of Fort Crawford, the city of Prairie du Chien, and the Great River Road.
Indian Chief Black Hawk played a major role in the early days of the Great River Road. He lead the Black Hawk War in 1832. A year after the war, Black Hawk was captured and imprisoned for refusing to give up his land. A window from the cell where Black Hawk was said to have been confined is on display in the museum.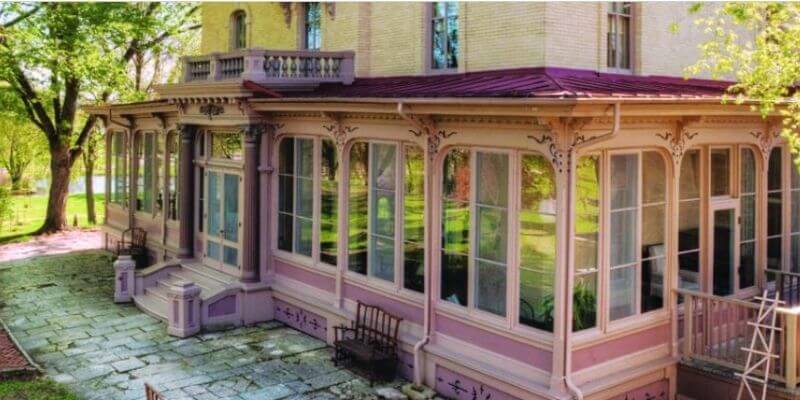 Prairie du Chien is home to the stunning Villa Louis. This home is an exquisite example of Victorian construction and was once owned by Hercules Dousman. Villa Louis sits on land that Hercules purchased from Fort Crawford. Hercules became Wisconsin's first millionaire by buying and trading furs with settlers and Native Americans.
Villa Louis is now a state-operated historical site and it draws many visitors every year to Prairie du Chien. If you have not had the opportunity to visit Villa Louis, you may want to add it to your bucket list, it is well worth the trip in itself.
Cassville
Cassville is well known for its many historic buildings, including the Denniston House, which was built in the early 1800s. This brick building stands as a reminder of when Cassville was competing to become the capital of the Wisconsin territory.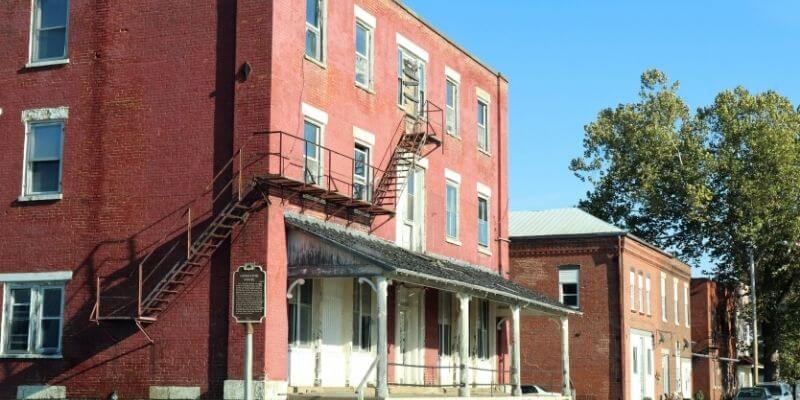 The sign in front of the building reads ~ When Wisconsin territory was established by Congress in 1836 more than a dozen communities eagerly sought to become the capital. Daniels Denniston and Company of New York offered this building free if Cassville were chosen. When the legislature selected Madison, Denniston's dream ended in bankruptcy.
Nelson Dewey arrived in Cassville in 1836 and worked for the Denniston firm. Later, Dewey acquired vast properties, including this building, which he opened as Denniston House in 1854. It has been in continuous operation as a hotel ever since.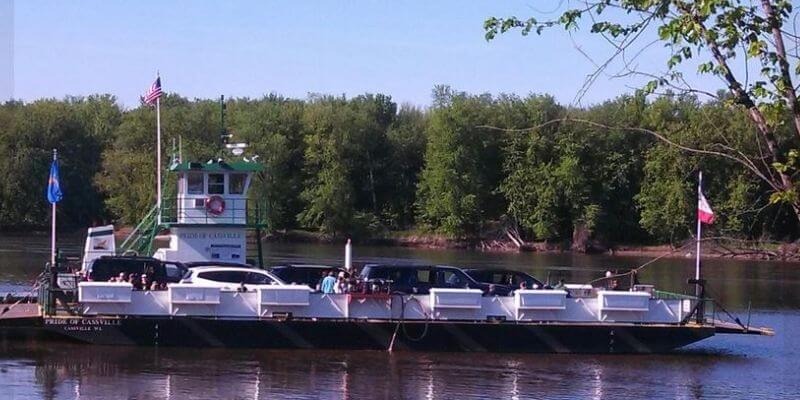 Cassville Car Ferry is the pride of Cassville. It connects two scenic byways, Wisconsin Great River Road and the Iowa Great River Road. The ferry has been transporting passengers and cargo across the mighty Mississippi since 1833. It is the oldest ferry service in the state of Wisconsin and today transports passengers, cars, and other cargo too. How much fun would it be to get out on the Mississippi River?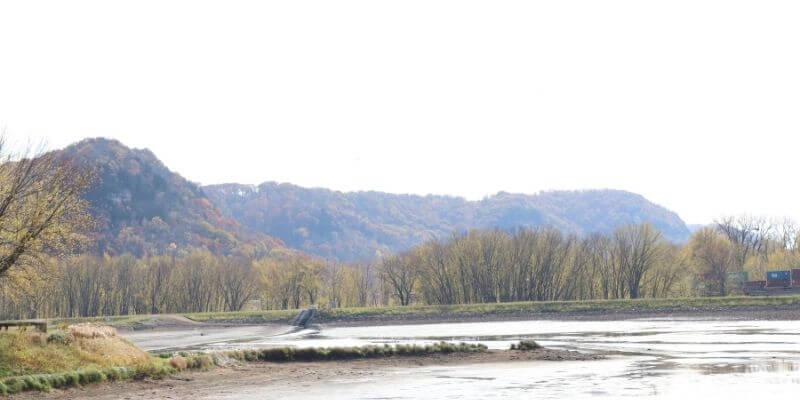 Nelson Dewey State Park is located in Cassville and is a perfect place to get a panoramic view of the river. Indian mounds can be found in areas of the park, as well as a prairie area that has been left wild and untamed much like it would have been in the early years. Camping is also available in the park. We were amazed at the number of eagles that we saw in this area.
Potosi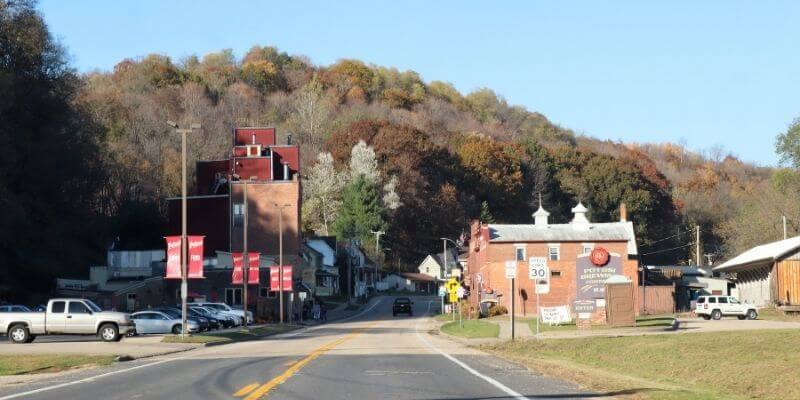 Potosi is home to the state's longest main street without any stop signs or stoplights. Like many of the communities along the river it is one of the oldest in the state, and is home to one of the earliest lead mines. Visitors can still experience a real lead mine.
At one time Potosi's population was greater than Milwaukee, but the population has been on the decline since the civil war, due to the lack of demand for lead.
Potosi is also home to the Potosi Brewery which dates back to the 1800s. In the early days, most communities had its own brewery. Community breweries were necessary because without today's modern pasteurization beer was highly perishable. Potosi brewery was one of the largest and most successful in the area, due to the fact it was willing to ship its products. Today the Potosi Brewery houses the brewery, a pub, the Potosi Brewery Museum, and a restaurant.
Our Final Thoughts on the Great River Road
When we first set out on our Great River Road Trip, our expectations were that the road would run alongside the Mississippi River the entire time, and it does, just not in the way we pictured it in our minds.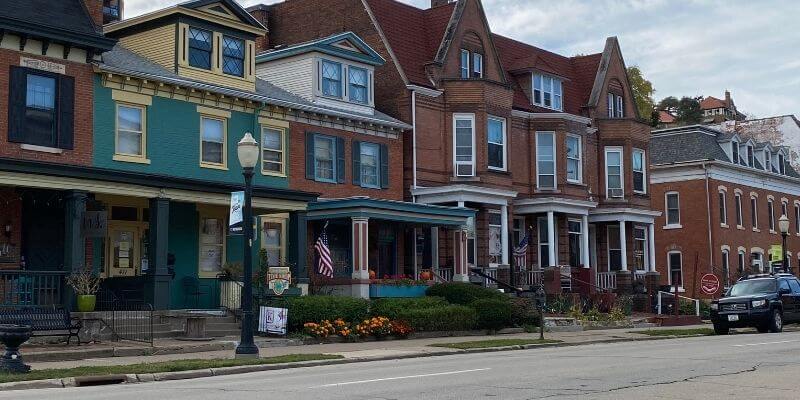 The first half of the Great River Road Trip ~ from Prescott to
La Crosse takes you through the small quaint towns that only exist today because of the Mississippi River. Many of these towns have the same feel from days long ago. These towns were filled with historical quaintness, friendliness, and charm.
Next, the Great River Road takes you through the vibrant city of La Crosse, Wisconsin. A large and thriving city, with a bustling downtown with shopping and nightlife. You can see the influence the Mississippi River had on the town throughout history and, you can even ride an old paddle-wheel boat to fully experience the Mississippi River. Again this is a city that would not be what it is today without the Mississippi River.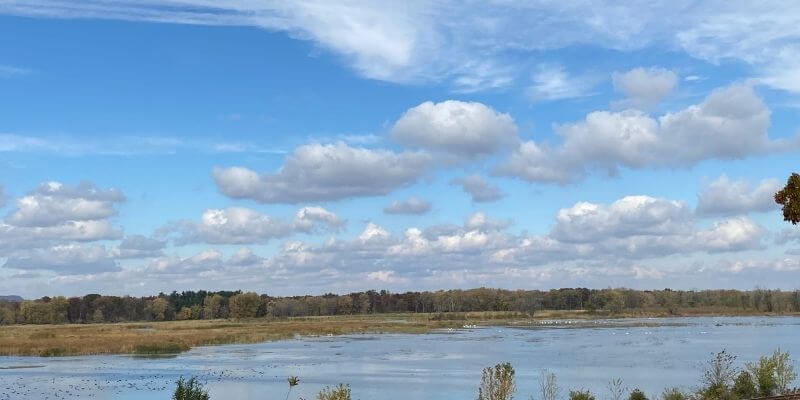 The final leg of the Wisconsin Great River Road trip is from La Crosse, Wisconsin to the Wisconsin-Iowa border. It takes you down winding and hilly highways that run alongside the Mississippi allowing you to enjoy the river, the limestone bluffs, and all of the wonderful waterfowl, birds, and animals that call the Mississippi River and riverbank home. This gives you a glimpse of what the unspoiled Mississippi River area would have been like.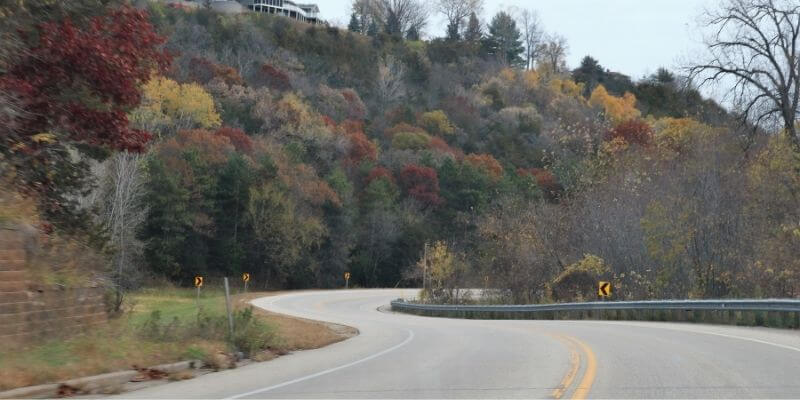 The final stretch takes you on winding roads through miles and miles of vast open fields. Even in the fall you just want to roll down your car windows and enjoy the fresh air.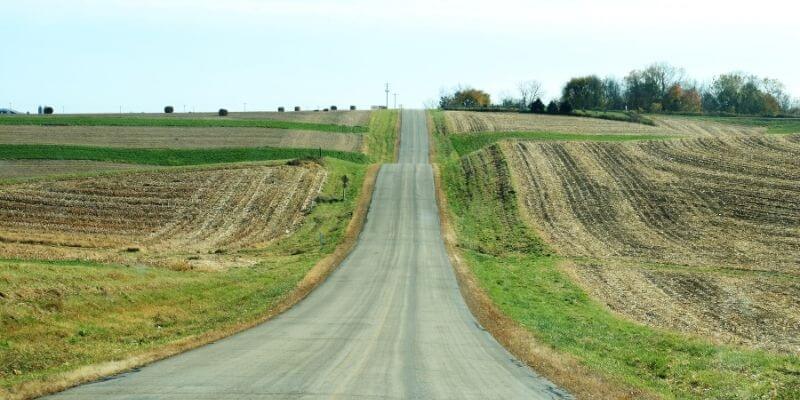 Our Wisconsin Great River Road Trip was filled with beautiful fall colors, romance, and amazement at all of the wonderful things we discovered in Wisconsin.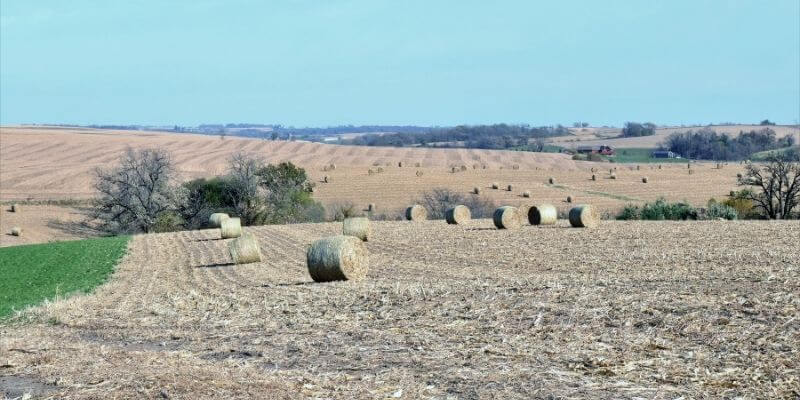 Things that made the trip more enjoyable and made sure we were knowledgeable and didn't miss a thing along the way were:
Stopping in Prescott at the Great River Visitor Center and picking up maps and information about the town we were going to be visiting.
Using the Great River Road audio tours along the way, it was fun to listen to the stories about each town as we were traveling from one town to the next.
Take the time to stop at the Historical Markers along the way. They offer a wealth of information.
There has been a lot of thought and special touches that have gone into making sure those taking Wisconsin's Great River Road tour, understands how every town plays into the full experience.
We have highlighted only a few of the towns we traveled through. There are so many additional things to enjoy and learn along Wisconsin's Great River Road Tour.
We are looking forward to someday soon taking a road trip that will take us through more states along the Great River Road.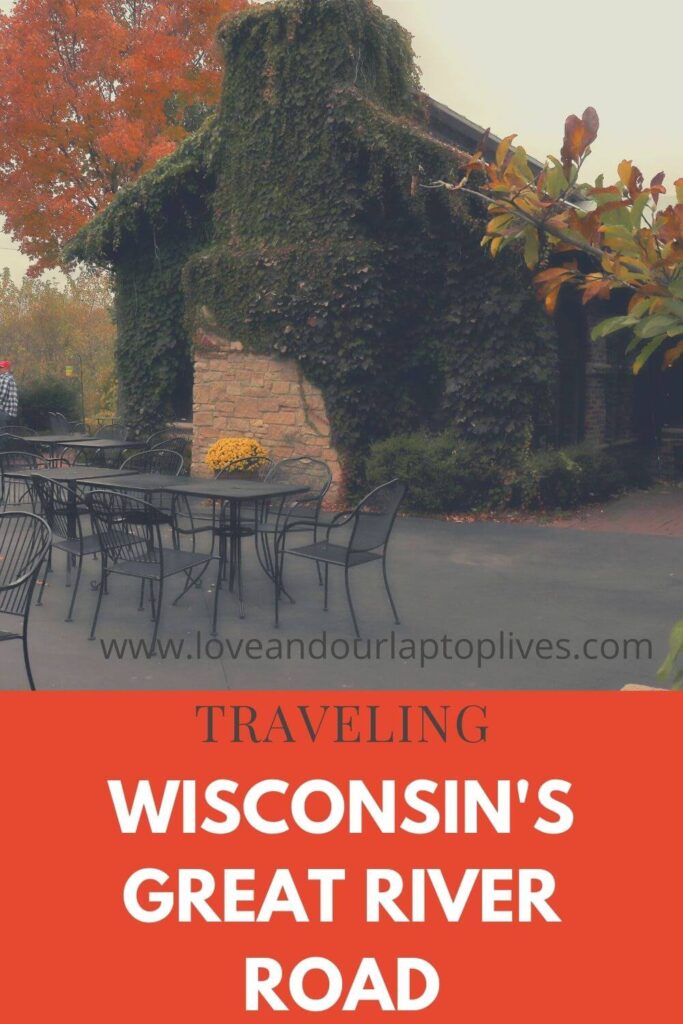 Thanks for stopping by! If you would like to reach us with a
feature idea, or just to say "hi" you can email us at ~ [email protected]
We would love to partner with you to feature your
travel destination.
Don't leave without signing up for our monthly email, it
will keep you up to date on awesome travel ideas.
Follow us on Social Media
Facebook @ Love and our Laptop Lives
Pinterest @ Love, Travel and our Laptop Lives
Instagram @ Love our Laptop Lives
Twitter @ Love and our Laptop Lives
Youtube @ Love and our Laptop Lives
Amazon Store @ Love and our Laptop Lives