Romance at the 45 x 90 Geographical Marker: Center of the Northwest Hemisphere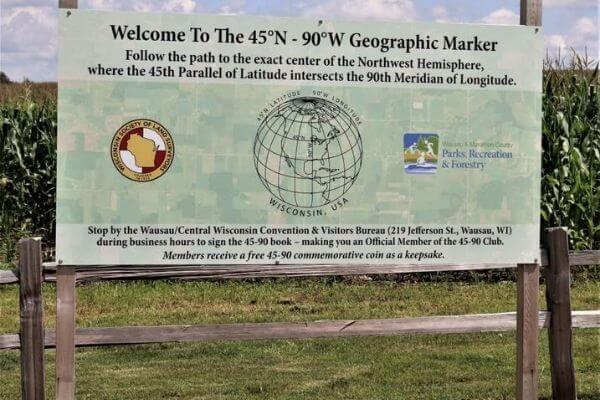 What? How? Until a couple of weeks ago, we had not heard of the 45 x 90. The romance between Gary and I is amazing, he is always doing those little things that sweep me off my feet. Flowers, trinkets, notes, messages on the bathroom mirror, random hugs, and passionate kisses out of nowhere. Which after 6 years still amazes me.
I'm always on the lookout for something unusual that I can turn romantic. During the week I was online looking for something unique, fun, and within driving distance from us. This was a very intriguing find. The 45×90 is proclaimed to the be Center of the Northwestern World. And it is located right in the middle of a cornfield in Central Wisconsin. How can a visit there not be romantic? Romance and a cornfield………that could be another blog from a different time. 😍
First the details on what the 45×90 is. The earth has four points that are halfway between the geographical poles (90° latitude), the equator (0° latitude), the prime meridian (0° longitude), and the 180th meridian (180° longitude)

These 4 points are called the 45 x 90. Two of these points are on land and two are in the ocean.

Of the two points that are on land, one of them is in a mountainous region of China and is very difficult to visit. The second is located in central Wisconsin in the middle of a cornfield.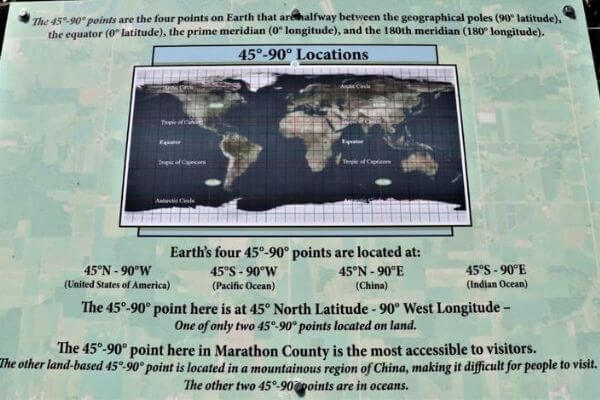 45°N – 90°W United States
45°S – 90°W Pacific Ocean
45°N – 90°E China
45°S – 90°W Indian Ocean
In 1963, the owner of Gesicki General Store and Tavern, John Gesicki started researching the invisible point. This was no easy task. GPS hadn't been invented yet. It took him five years to pinpoint the exact center of the Northwest Hemisphere. He then petitioned the U.S. Geological Survey to mark the spot. After the surveying was complete, the exact spot was in the middle of a field, away from the road on private property.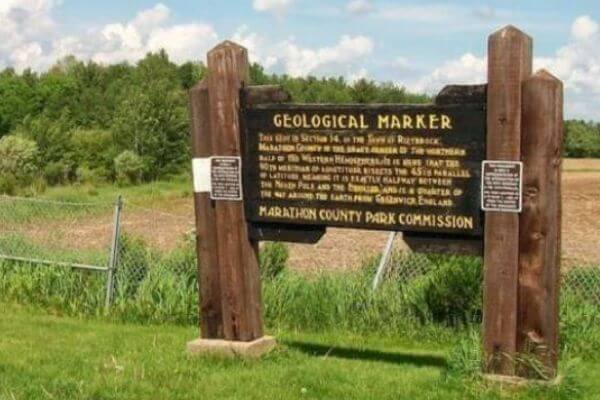 In 1969 Marathon County erected a sign at the edge of the road, and a symbolic marker put in place. We heard that Gesicki had this already to go before the official surveyor got there. The area surrounding the symbolic marker became the smallest park in the state of Wisconsin. Those stopping were able to look into the field about a quarter-mile in from the sign and hopefully see the exact spot where the United States Survey team had pounded a stake in the ground marking the exact center of the Northwestern World.
In 2017, a task-force was created in hopes of creating something more prominent and easily accessible. This turned into a real joint effort of the community. Through contributions the once smallest park in Wisconsin was reborn. A new pathway was created that leads to the marker and that exact center of the Northwestern World.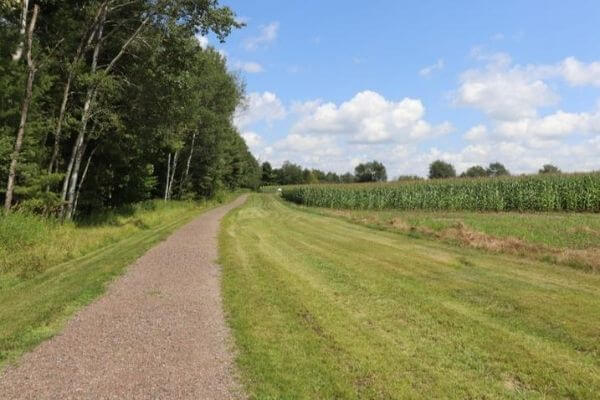 The walking path is solid, made of small gravel and level. Even if somebody were on crutches or in a wheelchair the path is navigable. There are a couple of benches on the way to the marker. Also along the path, you can read the educational signs that share the history and significance of the marker to its visitors.
In 2018 the final piece was put in place helping bring to life this spot known as 45 x 90.
Gary and I held hands and walked from the road down the path to the center marker. We did stop for a bit and sit and cuddle on the bench, goofing around, talking, and watching the wind blow the corn stalks around. It was warm so the slight breeze felt good.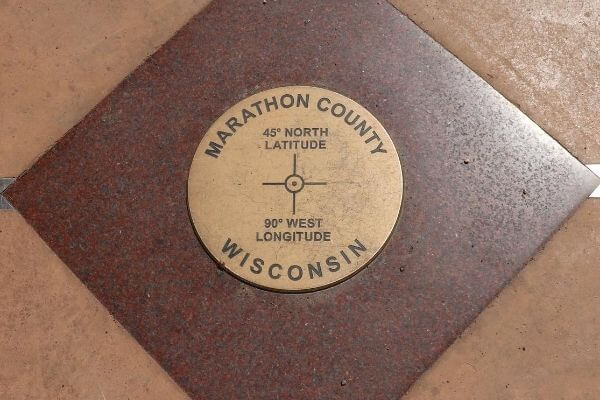 Once we got the center marker we had to take a moment and have a kiss right on the famous spot. Come on, I know there are many romantics out there! I am sure many special kisses have taken place right there. And if not, wake up guys! Any adventures with the one that captures your heart should involve romance entangled among your activities.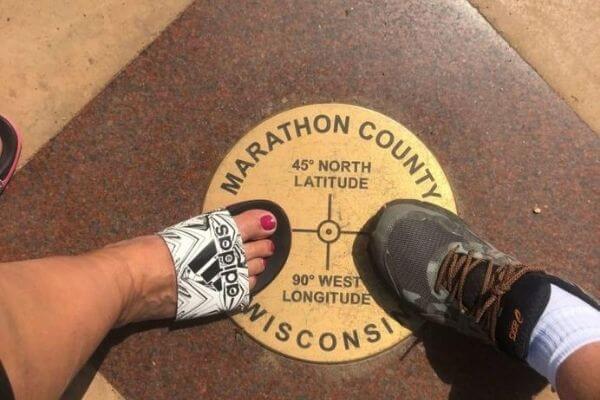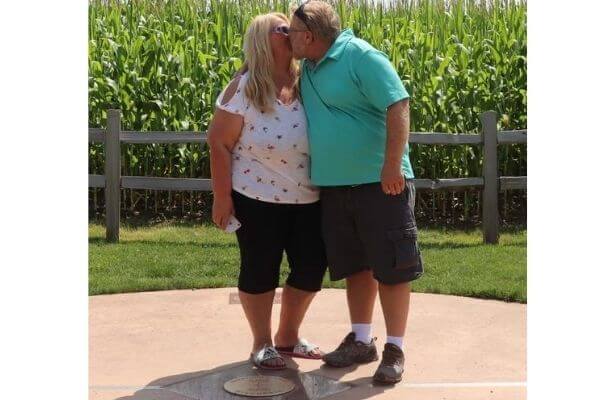 A special thanks to a very nice father and daughter that we met while visiting the 45 X 90 Marker. They managed to catch on the camera, one of Gary's shenanigans in progress. He just had to kiss me again right on the 45 X 90 spot. I will continue to say we are so lucky traveling and blogging because we continue to meet some of the nicest people!!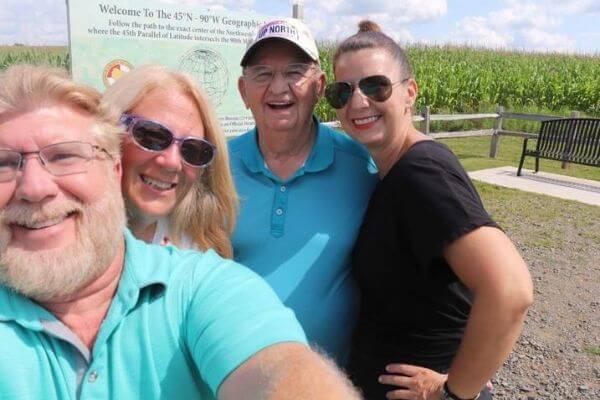 Dating back to 1969, visitors of the marker were able to head to Gesicki's pub and sign a visitor's logbook. This original book is still intact to this day. It is now being kept at the Wausau/Central Wisconsin Convention and Visitor's Bureau. About 20 miles from the marker. The county drive is so beautiful and worth it.
Those visiting the marker can still stop in and sign the book. After signing, you are presented with a commemorative medallion and become a member of the "Official 45 x 90 club". The "medallion" has some heft to it and is nicely made. It reminds me of a half-dollar coin in its size and weight. An awesome keepsake!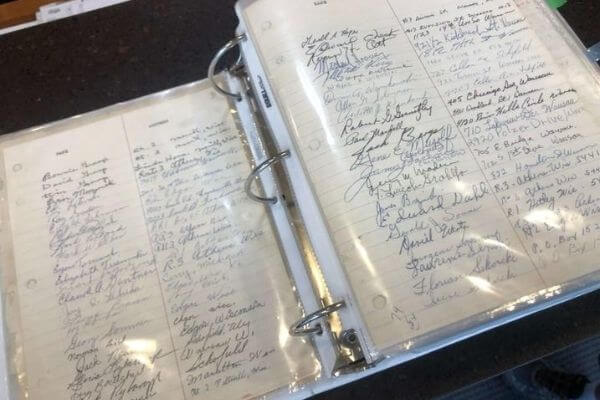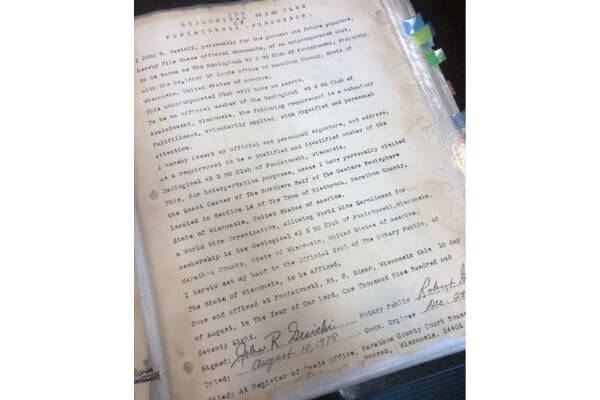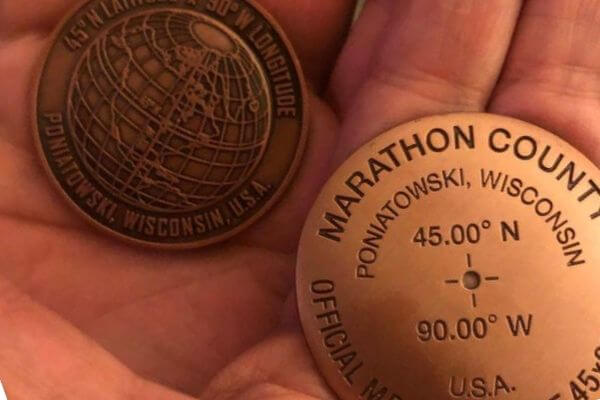 This wasn't a long drive for us, only about two and a half hours. The real fun of the trip was being together, the conversations that take place, and those spontaneous kisses that happen at red lights. In addition to discovering something unique and new right here in Wisconsin.
It is such a good thing that Gary and I enjoy each other so much. This trip found us lost in the middle of nowhere. Siri let me down and took me in the wrong direction. I am so thankful that after a few extra miles Gary was on top of things and noticed that the house numbers didn't seem right. He had me turn around and go in the opposite direction of where Siri was telling us to go. He was right on!! Who knows where we would have ended up.
There are so many times Gary has kept me from getting lost or doing something stupid. Yet then there are more times I have kept him from getting into trouble. I guess we are made for each other.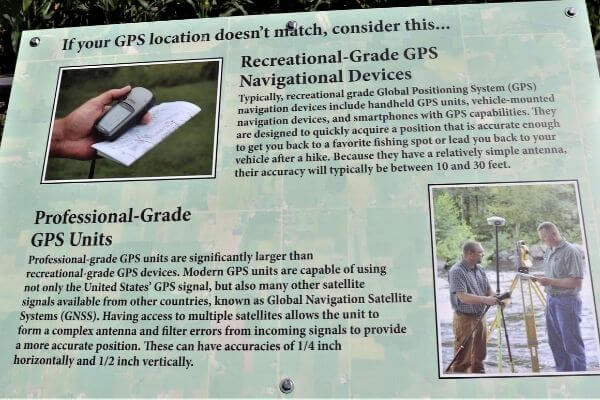 NOTE! Google Maps & Apple Maps may send you several miles North of the actual site. Instead of typing the address, type in "45×90 Geographical Marker".
What's close to where you live, that you haven't discovered? We challenge you to take a little time online, you might be surprised by what you discover also!

If you do take an adventure let us know we'd love to hear about what you find.
Addresses you'll need for this adventure:

45×90 Geographical Marker – 5651 Meridian Rd, Athens, WI 54411
Wausau Visitor/Convention Center -219 Jefferson St, Wausau, WI 54403
Gary & Michelle
X O X O
We would love for you to stay in touch!
Whether you have a question about our site, want to work with us, have a feature idea, or just want to say "Hi" please feel free to send us a message.
You can reach us at [email protected]
Or follow us on Social Media

Facebook @ Love and our Laptop Lives
Pinterest @ Love, Travel and our Laptop Lives
Instagram @ Love our Laptop Lives
Twitter @ Love and our Laptop Lives
YouTube @ Love and our Laptop Lives
Amazon Store @ Love and our Laptop Lives