12 Essentials for a Perfectly Cozy Night in the Fall
A cozy night at home should be high on your priority list. Many of us work all week and wait for the weekend to unwind. For us personally, we transition from working all week to road trips and traveling on the weekends. This makes it important for us to use our time at home wisely. These essentials for a perfectly cozy night in the fall assures us we are always prepared to unwind.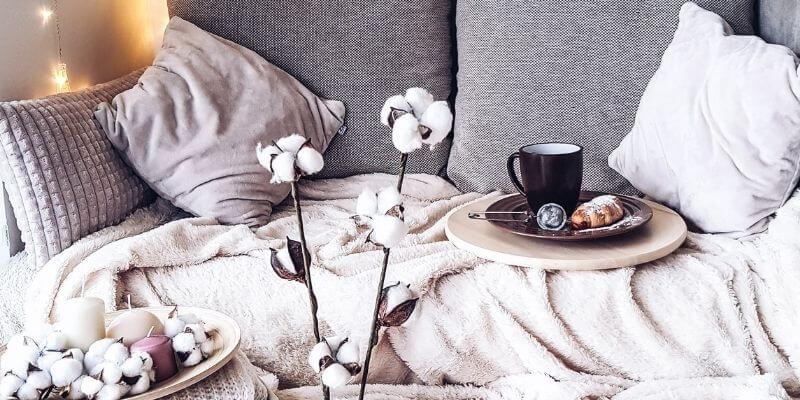 There are also a great number of people finding themselves working at home and needing to find that fine line between working hours and non-working hours. I am guilty of that. There are times if I am in the middle of writing a blog post, I will be working from the time I make my tea in the morning until Gary comes home. Many times I also pick up my computer and keep working even after Gary and I curl up on the couch.
Whatever your reason, I know that with fall arriving, the days are shorter and the air is cooler. At the end of a long fall day we want nothing more than to have a perfectly cozy night in. We like to slip into our cozy pj's or comfy sweats, grab a blanket, light the fire, and curl up on the couch with a cup of tea and a good book or movie.
Slipping into those cozy pj's and out of our work clothes signals to our body it's time to transition from work mode to relax mode. After the end of a long or stressful day, I like to look forward to anything that will help us unwind, relax, and relieve stress.
Cozy nights in help us sleep better and in the morning we wake up feeling refreshed and ready to tackle whatever our day holds.
This post may contain affiliate links. That means if you click and buy, I may receive a small commission (at no cost to you). Please see my full disclosure policy for details.
These are a few of our favorite things for a perfectly cozy night at home.
One ~~ Choose Cozy Pj's
I use to have work clothes, stay at home clothes, and old clothes. The stay at home clothes and the old clothes were clothes that were not good enough to wear out into public. What I realized is that these were not necessarily my most comfortable clothes, and after a long hard day at work, I deserve comfort. Now I purposely choose lounging clothes that make me feel good. The ones that make me smile to put them on. I also make it a point to give my daughters new pj's each Christmas so they never forget the importance of cozy nights at home.
Two ~~ Splurge on a Cozy Robe
As the nights get longer and days get shorter, I love the comfort of wrapping myself in a cozy bathrobe after a long hot shower. It's like getting a hug after a long hard day. There are so many different styles to choose from. Find the one that gives you that perfect hug.
Three ~~ Choose Cozy Slippers
I love slippers! They have to be ultimately comfortable. There is nothing better than cozy and comfortable slippers to make a night at home perfect. I have several different pairs to chose from depending on my mood. We all have our favorites.
The Japanese have a custom of immediately slipping off their shoes and slipping on slippers to wear in the house. This is a perfect tradition. I may need a basket of slippers at my door for guests.
Four ~~ Find your Favorite Cozy Blanket
We always have extra pillows and blankets in the living room. I love snuggling on the couch. It's perfect to cuddle together with Gary and even perfect to just cuddle alone. We each have our favorite blankets with a few extras draped over the chairs or in the ottoman. My daughters seem to have inherited my fondness of cuddling and love of blankets. Many times my blankets have a way of traveling from my house to theirs.
Five ~~ Comfy Pillows
Make your living room or special nook feel cozy by filling it with lots of comfortable pillows. By mixing and matching your textures and colors for the seasons, you give your room the look of cozy. Aim for both, the look and feel of cozy.
Check out our blog post with Awesome fall activities and download our Fall Bucket List. It will have you enjoying every minute of fall.
Six ~~ Comfy Sweats
There is no reason that cozy times at home have to be reserved for the evening. Weekends can also be filled with cozy times at home. At those times we don't always want a day in our pj's. It is on those days that cozy sweats become our best friend. Those days you want to feel your best while being cozy. Let's find the softest and most comfortable sweats possible.
Seven ~~ Wrap in a Sweater
Cozy sweaters are like our daytime robes. They are cozy and comfortable as if someone is wrapping their arms around us with a big hug. My daughter would wear sweaters year-round. I now know why I love them too!
Eight ~~ Enjoy Popcorn and a Movie
For a truly cozy night, you need popcorn and a good movie! The aroma of the freshly popped popcorn and butter is heavenly and just instantly relaxes us. Add that to a good movie and you are all set for a cozy night in,
Nine ~~ Add Twinkle Lights
I love twinkle lights, fairy lights, glimmer strings whatever you personally call them, those battery-powered strings of light that look like little fireflies when turned on. Nights at home need these to set the stage for relaxing. They can also set the stage for a Romantic Date Night at Home.
Be sure to check out our Fall Self Care Activities for more ideas to relax and pamper yourself right into fall.
Ten ~~ Light Scented Candles
I love scented candles, especially Bath and Body Works fall scents are my favorite, but I am finding so many wonderful fall candles. I have candles in the kitchen, living room, bathroom and bedroom, There are nights you will find them lit in every room. The glow and the scent from the candle provides a feeling of coziness.
Eleven ~~ Brew Tea
Making a cup of steaming hot tea at the end of an evening stems back to my grandmother. It was her way to unwind. Camomile tea is known to be calming and helps you relax. Cozy up and sip a cup of tea just before bed.
Fun Fact ~ Japanese teacups do not have a handle, you wrap your hands around the cup when you drink because tea is to warm you on the inside and the outside.
Twelve ~~ Invest in a little Pampering
A cozy evening in calls for a little home pampering. Whether it be a candlelit bubble bath, a face mask, or a foot massage. You deserve a little pampering during your cozy nights in.
Let me know your favorite way to spend your cozy nights at home in the comments below!
Gary and Michelle
XOXO
Thanks for stopping by! If you would like to reach us with a
feature idea, you can email us at ~ [email protected]
We would love to partner with you to feature your travel destination.

Follow us on Social Media
Facebook @ Love and our Laptop Lives
Pinterest @ Love, Travel and our Laptop Lives
Instagram @ Love our Laptop Lives
Twitter @ Love and our Laptop Lives
Youtube @ Love and our Laptop Lives
Amazon Store @ Love and our Laptop Lives