It's that time of year again! The days are getting shorter, the temperature is getting cooler, the leaves are turning colors, and romance is in the air. This could only mean one thing. Fall has arrived!
We have a Romantic Fall Bucket List that we use every year. We love to see how many of the things on the list we can enjoy together before the snow flies.
With our Fall Bucket List, you can enjoy all the fun fall activities as a couple.
Into the closet go the sandals and outcome, shoes and sweaters. The days of enjoying the boat and the view from the water are behind us. It's time to switch gears. Think corn maze, pumpkin patch, hot apple cider, warm sweaters, and romantic walks.
It's time to soak up everything fall offers and not waste a moment. To make this fun and to help you not miss a thing, here are 50 fun fall ideas that are guaranteed to have you in the fall spirit in no time. Check out our Romantic Fall Bucket List!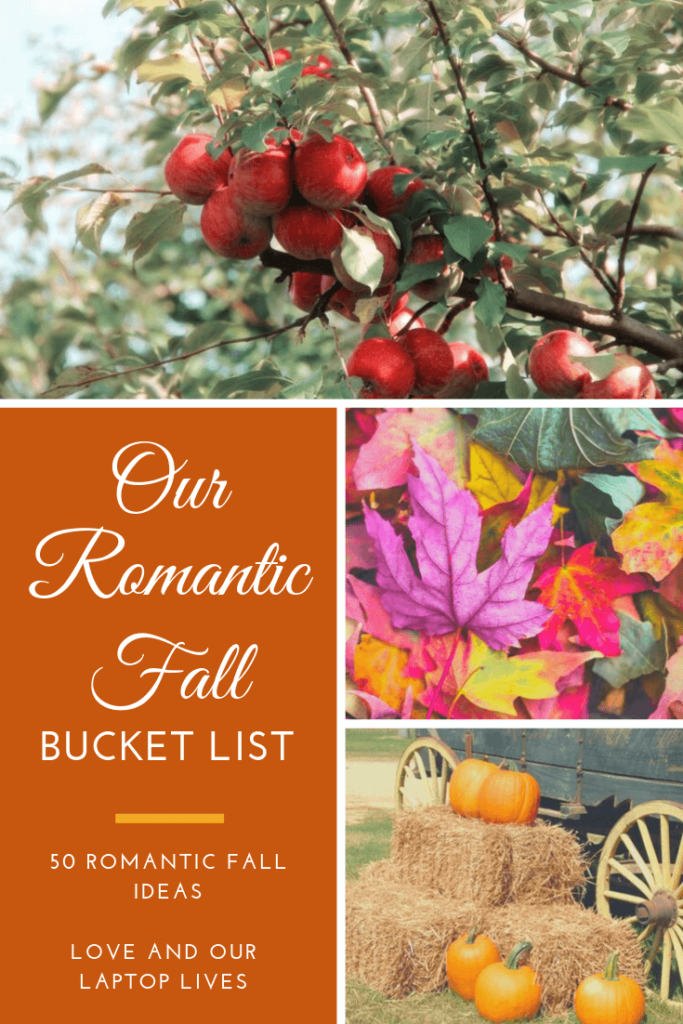 If you want to be sure you have these suggestions at your fingertips, download the FREE "Romantic Fall Bucket List" that includes the list below. Add local events and personalize the list! (access to download The Romantic Fall Bucket List printable at the end of the post)
This post may contain affiliate links. If you click and buy, I may receive a small commission (at no cost to you). Please see my full disclosure policy for details.
50 Fall Bucket List Ideas
Pumpkin Patch – Visit a local farm, find and purchase your perfect pumpkin.
Carve a Pumpkin – Have a friendly competition and see who can make the funniest jack-o-lantern. Then work together to make another one.
Sweater – Wear a fall-colored sweater. Nothing makes it feel more like fall than a thick comfortable sweater. Sweater season is my daughter's favorite.
Jump in a pile of leaves– There is that romantic and childlike feeling one gets jumping in freshly raked leaves!
Candles – With the windows shut, light fall candles and bring the smell of fall indoors. I love an apple cider candle.
A corn maze – Get lost in a corn maze together and work to find your way through the maze. This venture could take hours and will give you a lot of laughs.
Apple picking – Head to your local orchard and pick some tree fresh apples.
Bake a pie – Apple or Pumpkin; bake a pie and fill your home with the wonderful smells.
Haunted House – It's sure to get you in the Halloween spirit.
Trick-or-Treating – How can you say "no" to this one?!
Paint a pumpkin – Dig out your paints. This is an excellent safe way to get the Halloween look that won't be headed to the trash in a few days.
Make caramel apples – These can be so much fun! Stock up on some of your favorite toppings:  Nuts, sprinkles, or sea salt; it's all yummy!
Fall walk – what could be more romantic than walking hand in hand, enjoying the fall colors together.
Football – Whether it's your local team or the NFL, get out and cheer your team on.
Tailgate Party – Attending that NFL game, don't just attend the game, host a tailgate party.       
Chili – As soon as the temperature drops, I immediately think of chili and love the smell when I walk in the house.
Raid your husband's closet and create a scarecrow for your front walkway.
Movie Night – Cozy up with your loved one and have a movie night. Scary or romantic? Either way, enjoy it together.
Local Fall Festival – Attend a local fall festival. I'm sure a simple search online will bring up a whole list. Here we have everything from Cran-Fest to Giant Pumpkin Fest.
PJs – Spend the day together in your favorite PJs or sweats
Hayride – Perhaps when visiting the pumpkin patch, you will have a chance to grab a hayride.
Bike Ride – Don't let the fall weather keep you from one last bike ride. One more great way to enjoy the fall colors.
Outdoor Fire – After all those hot summer nights, fall is a great time to grab a blanket and cuddle near that outdoor fire pit.
Scenic Fall Road Trip – With good company in the car, open your windows and enjoy the ride.
Farmers Market – Don't let fall stop you from enjoying the last of the farmers' markets.
Pumpkin Spice – Visit your local coffee shop and try the new fall drinks and flavors.
Play board games – The perfect indoor fall activity, dig out Scrabble, and challenge each other.
Fall candy – With all the Halloween candy in the stores, stock up on the bite-size candies to quench your sweet tooth.
Soup – Make a big pot of your favorite homemade soup and a batch of cornbread to go with it.
Fireplace – With the temps dropping, cuddle up indoors and enjoy that fireplace.
Pumpkin recipe – Try a new pumpkin recipe: bread, pancakes, muffins, or pie; it's all yummy.
Craft show – Attend a craft show, see all of the fun fall decorations, or do some window shopping.
Apple Cider – Enjoy hot fresh apple cider.
Cozy Blankets – Dig out those cozy blankets. Nothing quite compares to cuddling under soft, warm blankets.
Foggy Walk – Get up early and go for a foggy walk. It can be kind of spooky.
Make a Thankful List – Take time and list many of the things you are thankful for.
Costumes – Shop for or create a Halloween costume.
Have a picnic – Under a beautiful tree with falling leaves. Does it get any more romantic?
Try a new Crock-pot recipe– So many recipes, so little time!
Random Act of Kindness – Fall is a great time to do a random act of kindness.
Assemble a puzzle – a perfect leisure activity for two.
Halloween Party – Get dressed up and have or attend a Halloween Party.
Make applesauce – Perhaps after going apple picking? Yum!
Wine Tour – Go on a wine tour.
Roast Pumpkin seeds– Experiment with some new seasons for your Roasted Pumpkin Seeds. 
Manicure – Enjoy a spa day and get a new fall manicure and pedicure.
Bake Cookies – Heat up that oven and make some fresh cookies.
Decorate – Get out those fall decorations and decorate the house.
Fall-themed photo shoot outdoors– No time of year makes for a more beautiful backdrop.
Go to a local family farm– If you want a way to enjoy many of the items above in one day and at just one location, visit a local family farm and jam-pack in a day filled with fall fun!
In addition, don't forget to…………………..
51. Have a fantastic Black Friday
52. Turn your clocks back and get an extra hour with your sweetie.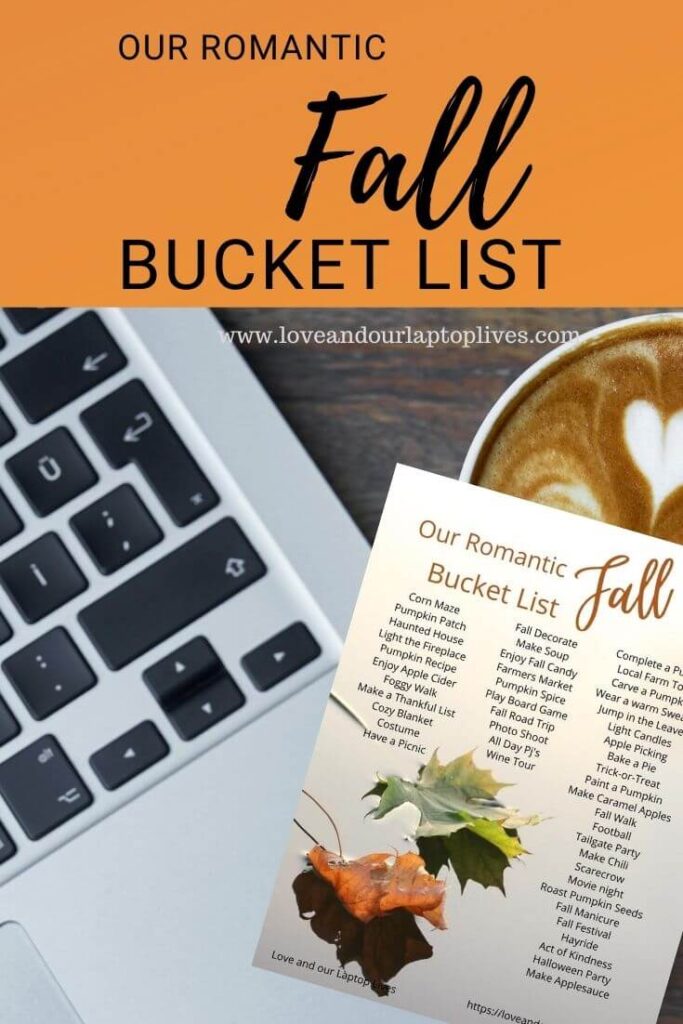 Note: If you happen to find yourself in Wisconsin, stop and check out Treinen Farm Corn Maze and Pumpkin Patch, it is one of our favorites. Be sure to join them and start a new fall tradition: visit their award-winning corn maze, take a horse-drawn wagon ride, pick a pumpkin, and enjoy acres of adventure play for all ages. The Treinen Farm Corn Maze and Pumpkin Patch have been the area's favorite destinations for corn-mazing, pumpkin picking, horse-drawn hayrides, and exploring the Wisconsin countryside for over 25 years.
They are open on weekends from Labor Day weekend through the second weekend in November and by reservation at other times.
For more Fall Adventures, check out our list of 12 Things to do in the Wisconsin Dells in the Fall. The Water Capital of the World does not shut down in the Fall.