What is a Renaissance Faire? That was our question. Yet it seemed like everyone we asked had their own ideas. But no one was positive.
This chain of events took me to the internet doing research.
According to the "World Wide Web", a Renaissance Faire or Festival is an outdoor weekend gathering, usually held in the United States, open to the public and typically commercial in nature, which purportedly recreates a historical setting for the amusement of its guests.
This gave me a general glimpse but not enough to satisfy my curiosity. Yes, my curiosity does get us in some situations and takes us on some adventures. We wouldn't have it any other way!
Having discovered that there is a Renaissance Faire that takes place on weekends, during the summer months, held a few hours from us, you guessed it, I started planning! This is about when Gary starts wondering what I'm going to get him into next. He did not know it but Bristol Renaissance Faire we would be taking by storm very soon.
Bristol Renaissance Faire was voted "Best Renaissance Faire" for the eighth consecutive year in 2018, the Bristol Renaissance Faire is open on weekends starting in July and goes till Labor Day.
Two weeks later we were in the car, going live on Instagram, sharing our anticipation with our followers as we traveled to Bristol Renaissance Faire. We were so excited and yet still not sure what we would find. We were looking forward to music, food, and games and we're anticipating many unexpected twists along the way.
I'm going to let some of our pictures of that day speak for themselves.
Just walking through the gate, we were instantly transformed into a make-believe place filled with awe and wonder.
Every step we took, every time we turned around, there was something new, each more exciting than the last. Our day was filled with nonstop music, feats of daring stunts and an eclectic assortment of comedic performers who invite their audiences to become part of the act. Artists were showing off their skills, and actors were fully dressed in costume performing non-stop in the streets. Without even noticing, you suddenly find yourself part of the story.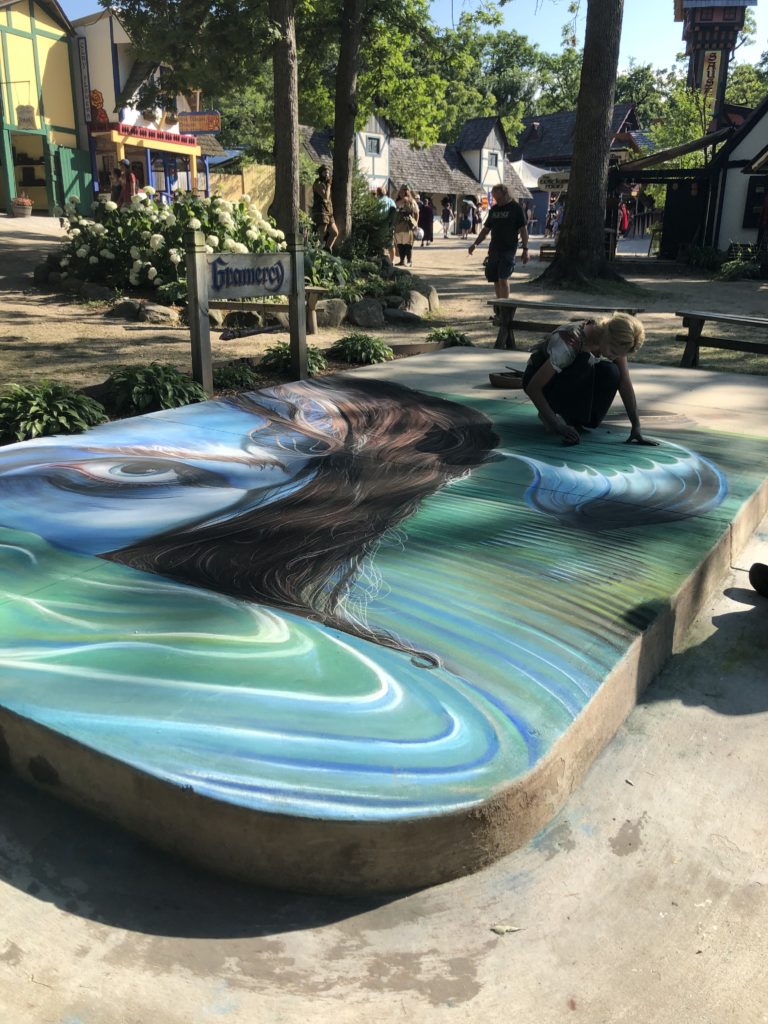 In the magic of the day, it's hard to tell the faire attendees from the faire workers. Attendees come dressed in everything from normal street clothes to full costumes. Everyone was welcome, and everyone fit in.
We get to meet and talk with some of the best people during our travels. Here are just a few that we talked with at the Faire.
A Renaissance Festival is something everyone needs to be part of. From the minute you walk through the gate you become part of the Faires story. You get to live out your little piece right alongside everyone else. The entire day was "magical!"
If you are anywhere near the Bristol Renaissance Faire in Wisconsin you have to experience it, If not find one near you and enjoy a day filled with wonder, excitement, and magic.
******Part of the trip to the Bristol Renaissance Faire was covered by the Faire, but the opinions, information, and comments are our own.
Gary & Michelle
X O X O
Let's Connect
See more of our travel and lifestyle pictures on Instagram.
Join our travel-loving community on Facebook
Join us on Twitter for more of our shenanigans.
See many of our travel videos on Youtube
Pin this post for later and check out all of our boards on Pinterest
Visit our Amazon Store for our personal recommendations.
Subscribe to Love and Our Laptop Lives to see our extra travels and exclusive travel tips.
Thanks for stopping by! If you would like to reach us with a
feature idea, you can email us at ~ [email protected]
We would love to partner with you to feature your travel destination.

Follow us on Social Media
Facebook @ Love and our Laptop Lives
Pinterest @ Love, Travel and our Laptop Lives
Instagram @ Love our Laptop Lives
Twitter @ Love and our Laptop Lives
Youtube @ Love and our Laptop Lives
Amazon Store @ Love and our Laptop Lives
AMAZON ASSOCIATES DISCLOSURE
Love and our Laptop Lives is a participant in the Amazon Services LLC Associates Program, an affiliate advertising program designed to provide a means for sites to earn advertising fees by advertising and linking to amazon.com
Flights
*Search for flights using Skyscanner
*Also try Tripadvisor
Accommodations
*Book hotels on Tripadvisor, Hotel.com or
Booking.com
*For all-inclusive resorts use Apple Vacation and
BookVIP, We love also Sandals Resorts.
Rental Cars
*For rental cars use Car Rental 8 or
Skyscanner Car Rental.
Cruise
*Find the best deals on Cruise Direct.
Travel Insurance
*Purchase Travel Insurance through Travel Guard.