This Wisconsin Bucket List is filled with many of the fantastic places we have discovered in Wisconsin over the last year, with several adventures added to the list that are still on "our bucket list" for the coming year.
Wisconsin is a state that is filled with many treasures! Over 15,000 lakes, islands, and state parks. Wisconsin is known as the world's waterpark capital and is home to the fourth-largest waterfall east of the Rockies.
Gary and I have lived in Wisconsin all of our lives. We use to think we had to "go" away for vacation. We have discovered there isn't a shortage of things to do in Wisconsin, especially if you enjoy being outside.
If you have visited Wisconsin or live in the mid-west surely, you have been to one of the many indoor/outdoor water parks in the Wisconsin Dells. When my kids were gowning up, the Wisconsin Dells was our winter retreat from the cold. Unfortunately, there is so much more to not only the Wis. Dells but all of Wisconsin that we have been missing.
This Wisconsin bucket list includes many Wisconsin adventures. It is not a complete list of all that Wisconsin has to offer. Yet, it should give you an excellent kick-start to exploring this excellent mid-west state and help you make your own Wisconsin bucket list.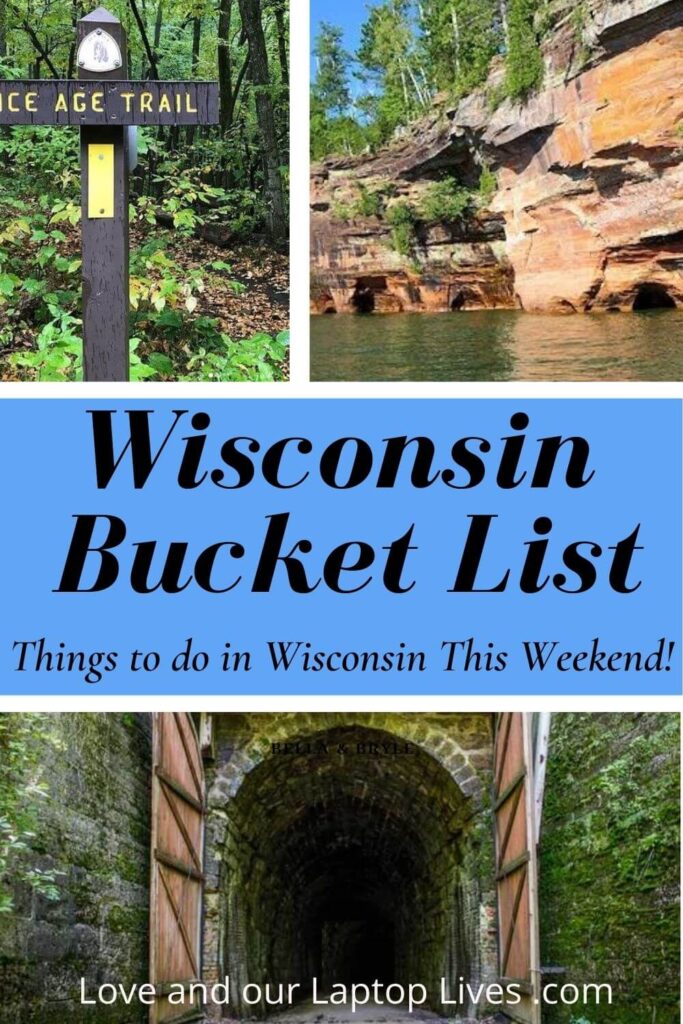 This post may contain affiliate or sponsored links. If you click on a link and make a purchase, I may receive a small commission (at no additional cost to you). Please see my full disclosure policy for details.
Things to do in Wisconsin this weekend
Road trips and weekend getaways are the perfect way to experience Wisconsin. We have taken several, and each one is more fun than the last. If you have not checked out Wisconsin, I am so excited for you to build your bucket list and find amazing fun things to do in Wisconsin this weekend.
A Wisconsin Waterfall Tour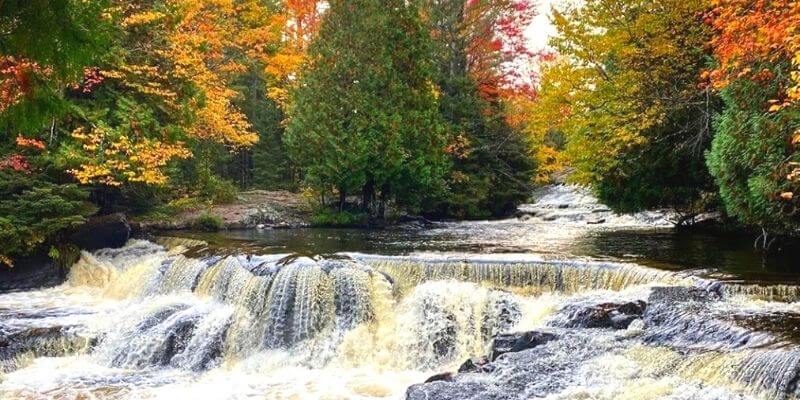 Wisconsin is home to almost 40 waterfalls. There are two distinct waterfall areas. Each of them makes for the perfect road trip. Seven waterfalls are located in the Chequamegon-Nicolet National Forest.
The Chequamegon- Nicolet National Forest consists of 1.5 million acres of Wisconsin's north woods. If you are planning ahead of time, you can request paper maps of the area you are visiting. The national forest is an adventure itself. The waterfalls are a beautiful bonus.
Our road trip to see these Hidden Wisconsin Waterfalls was so much fun we have included a map of the hidden waterfalls that we visited.
A trip back to the Chequamegon Forest's waterfalls to do some more exploring is on our Wisconsin bucket list.
Big Manitou Falls ~ Pattison Park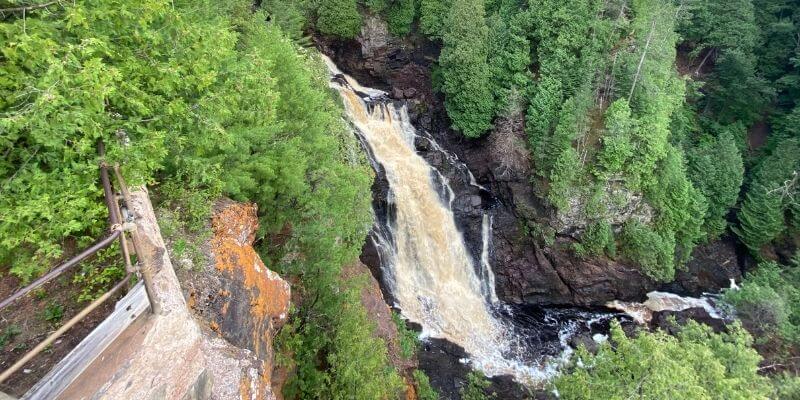 Big Manitou Falls is located just south of Superior in Pattison State Park. Big Manitou is Wisconsin's tallest waterfall. It is located in northern Wisconsin, with an additional seven waterfalls all within a day's drive.
There is a bit of a hike involved in visiting Big Manitou Falls, but it is worth every step to experience the power of this 165-foot waterfall.
If you are road tripping with an RV, Pattison State Park is a great place to spend the night and enjoy more of what the area has to offer.
Here is a map of the upper waterfalls near Superior, Wisconsin, along with our Adventures to see Wisconsin's Tallest Waterfall.
Wisconsin Dells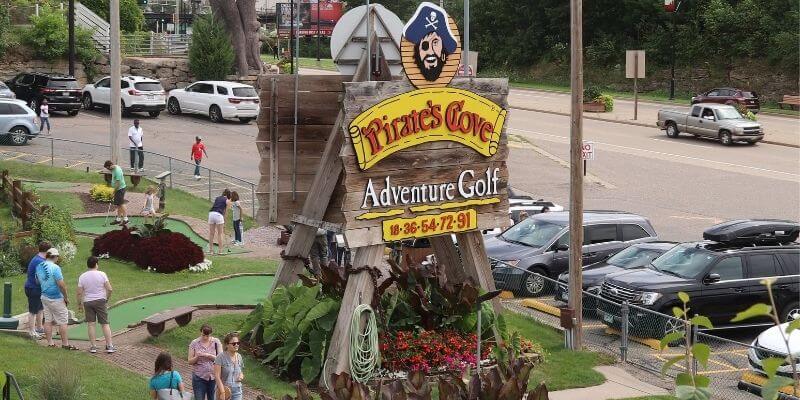 The Wisconsin Dells has to be on everyone's bucket list. Not only is this area filled with indoor and outdoor water-parks but so many great outdoor activities. With so many indoor and outdoor water parks, the Wisconsin Dells is someplace you can go back to several times and still not visit all of them.
Wisconsin Dells is jam-packed with so many other things besides water-parks to keep you busy. Activities such as ~ The Escape Room, Wizard Quest, Ripley's Believe it or Not, Pirates Cove Miniature Golf, The Ducks, Riverboat Cruises and so much more.
Here are our adult adventures at Wisconsin Dells Road Trip ~ Must do Activities.
House on the Rock ~ Spring Green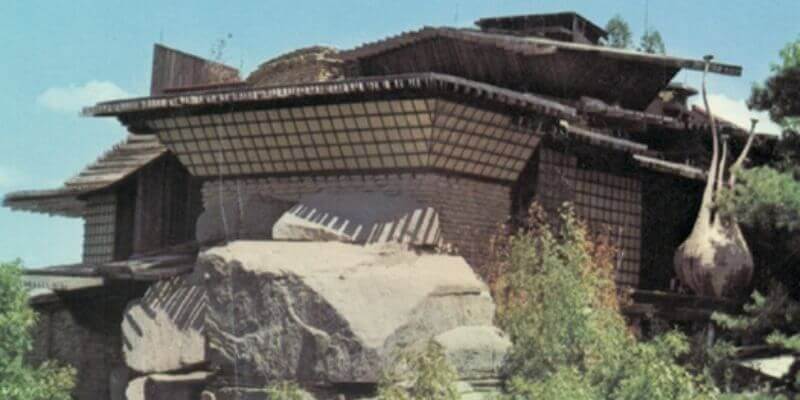 House on the Rock is a home like no other. It was built in the 1940s by Alex Jordan, a man who seemed to have collected everything. Much speculation behind the motive in which the house was built—what may have started as something small turned into a fantastic adventure for everyone that steps foot inside its doors.
House on the Rock is someplace that you need to see to comprehend what it consists of. Pictures do not do The House on the Rock justice. We had seen pictures, yet still, our jaws dropped around every corner.
The man behind The House on the Rock is quite a mystery despite the few books that have been written about him. Alex Jordan has been described as a recluse, who did not like to be in the spotlight, a shadowy figure, and an architectural genius.
House on the Rock has the world's largest carousel, an infinity room, collections of dollhouses, an outdoor Japanese Garden and so much more than I can list here! You need to see this!!
Our Trip to The House on the Rock caught us off guard. Even after hours of exploring, we knew this was someplace we would need to return to one day.
Harley Davidson Museum -~Milwaukee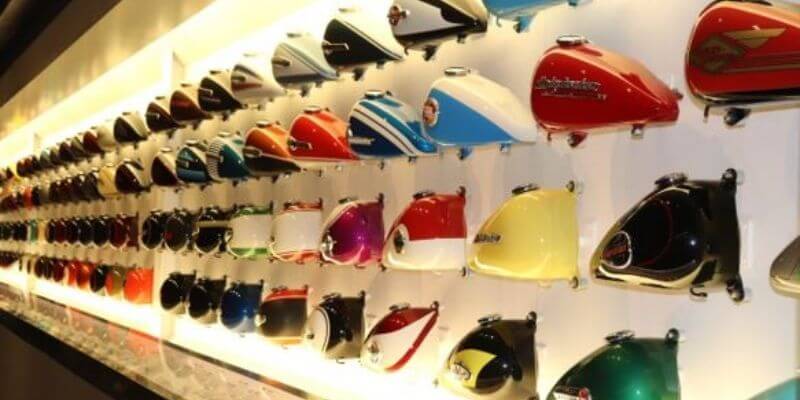 The Harley Davidson Museum showcases the company's history from its humble beginnings in a small shed in Milwaukee, right up to the icon the company is today.
The museum is filled with one of every bike ever produced. Even the very first bike that was built in that humble shed. Harley Davidson Museum is a museum for the bike enthusiast and a museum that showcases three men who had a dream and against all odds set out to achieve that dream.
The museum showcases Harley Davidson's history, a life-size Lego motorcycle, a bike discovered in a shipping container that had washed up after a tsunami, Harley Davidson's presence in the military and the movies, along with many more exhibits.
A Visit to The Harley Davidson Museum in Milwaukee will show you a glimpse of three young men that started a company as a dream.
The Center of the Northwest Hemisphere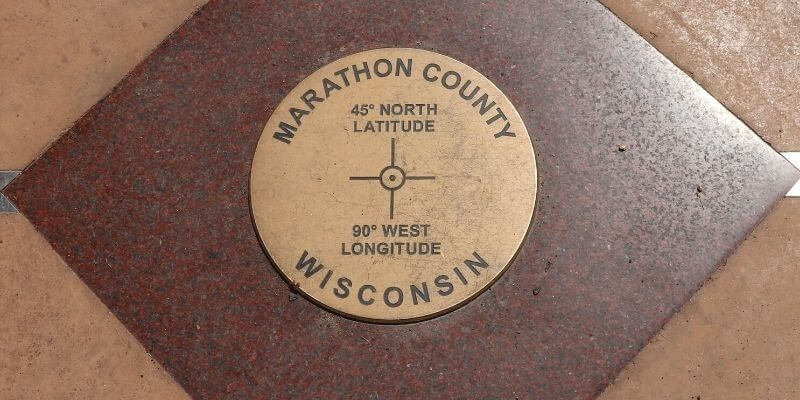 Only four places exist in the world that can claim to be the center of a hemisphere. The earth has four points that are halfway between the geographical poles. These 4 points are called the 45 x 90.
Two of these geographical points are on land, and two are in the ocean. Of the two points that are on land, one of them is in a mountainous region of China and is very difficult to visit. The second is located in central Wisconsin in the middle of a cornfield.
The Wisconsin 45 x 90 marker can be and is visited by thousands annually. After a visit to this central Wisconsin marker, take the short drive to the visitor center in nearby Wausau to learn more of the marker's history, some of its visitors, and receive a commemorative coin for visiting.
Fun and Romance can be found while visiting the Center of the Northwest Hemisphere Geographical Marker.
Door County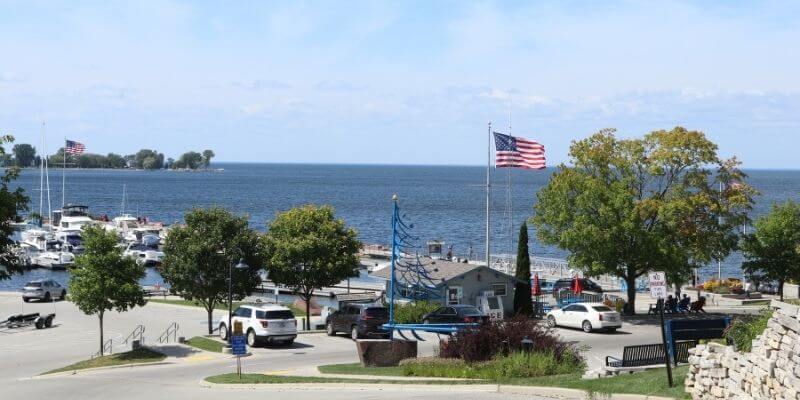 Door County is located on a peninsula between Green Bay and Lake Michigan. It is known for its amazing 300 miles of shoreline and its many parks. It is also the perfect environment for growing grapes and cherries.
Door County's small landmass, filled with amazing water views, lighthouses, vineyards, cherry groves, and wineries, is Wisconsin's number one vacation destination.
We have several posts that include romantic trips to Door County. Be sure to check out Couples Weekend in Door County for just a few of the highlights.
Rock Island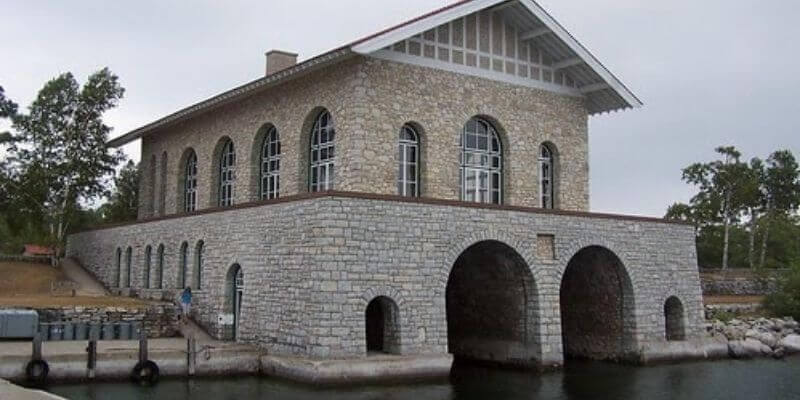 Rock Island is an uninhabited island just off the tip of Door County. It is only accessible by private boat or by taking two ferries from the tip of Door County. There are no roads or motor vehicles allowed on the island.
A wealthy investor owned Rock Island from 1910 until 1964. He left behind numerous stone buildings and the Pottawatomie Lighthouse. Currently, the island is owned by the Department of Natural Resources.
Don't let the fact the island is uninhabited stop you from visiting. This small island has lots to offer ~ miles of shoreline and beaches for swimming, beautiful hiking trails, and rustic walk-in campsites.
For a guide to Rock Island and other Wisconsin Beaches, visit our post, Beaches of Wisconsin.
Milwaukee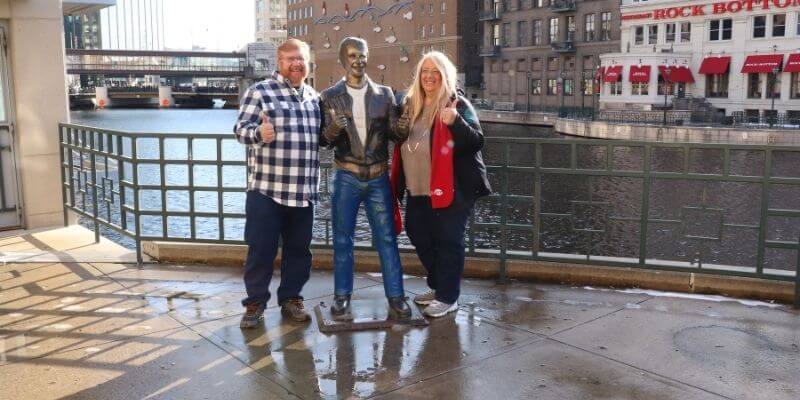 Milwaukee is a major port city in Southern Wisconsin. Milwaukee is known for the beautiful zoo and the number of museums that are located within the city.
We have discovered so many of Milwaukee's secrets that you need to enjoy also. A week in Milwaukee needs to be on your Wisconsin Bucket List.
Milwaukee is a city filled with romance and adventure.
Historic Third Ward ~ Milwaukee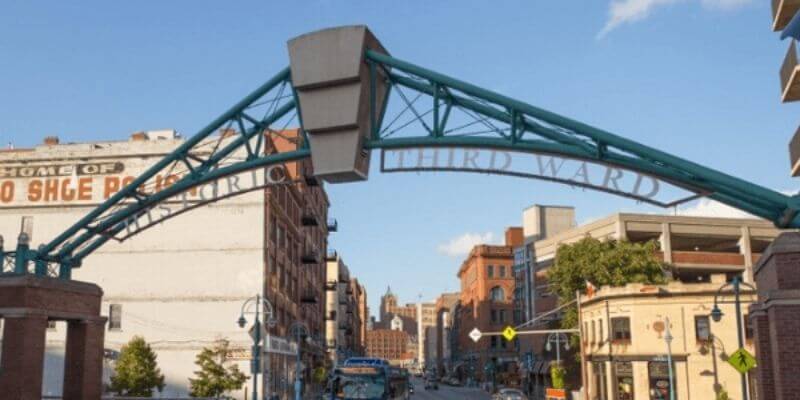 Milwaukee's Historic Third Ward is a charming and inviting mixed-use neighborhood. What used to be warehouses and factories are restaurants, specialty stores, trendy shops, art galleries, artists' residences, theaters, condominiums, and office spaces. The historic ambiance and architecture of the buildings bring charm to each of them.
The Historic Third Ward is the location of the 1892 "Great Third Ward Fire," where 16 square blocks of Milwaukee's riverfront were destroyed. Reconstruction began immediately, and within 30 years, the area was restored to the bustling district it once was.
See our list of a few of the many exciting places waiting for you in Milwaukee's Historic Third Ward.
Pabst Mansion and Brewery ~ Milwaukee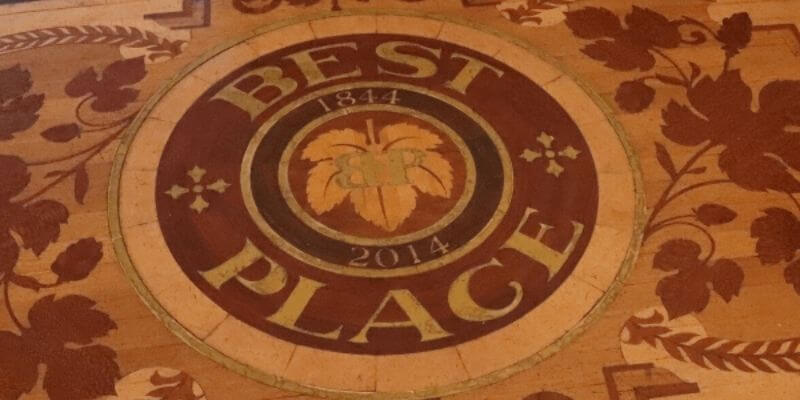 There is no doubt that the German influence helped mold Milwaukee. Pabst Beer and Brewery has played a significant role in making Milwaukee what it is today.
Pabst beer ~ known initially as Best beer has been a well-recognized name in Wisconsin since 1844 when Phillip Best founded it. In 1860 Captain Pabst, Phillip Bests' son in law joined the family business. In 1889 the beer changed its name to Pabst.
Captian Pabst took Pabst Beer to new heights. He was thought of fondly by almost everyone that worked for him. Pabst was one of the few beer companies that survived prohibition.
The Pabst Mansion and Brewery should be on your Wisconsin bucket list. Both places are filled with history and intrigue, giving you a small glimpse of Wisconsin's colorful side.
Here is a small peak at the Pabst Mansion and Brewery.
Wisconsin State Capitol ~ Madison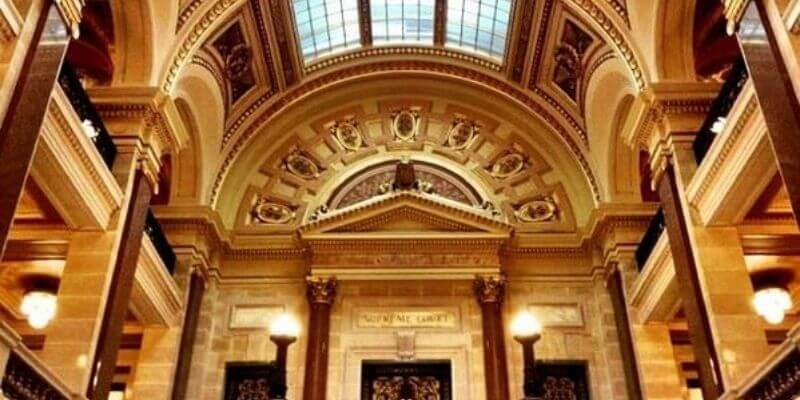 George B. Post & Sons designed the current Wisconsin State Capitol, which was built between 1906 and 1917 at $7.25 million. The Madison Capital is distinguished as being the only State Capitol ever built on an isthmus.
The Capitol dome reaches a height of over 200 feet and is topped by Daniel Chester French's elegant gilded bronze statue, "Wisconsin." Edwin Blashfield's mural "Resources of Wisconsin" lavishly decorates the rotunda ceiling, which is the only granite dome in the United States. Inside, visitors will see 43 varieties of stone from around the world, hand-carved furniture, and exquisite glass mosaics.
A weekend trip to Wisconsin's State Capital is a great way to check out the diverse ethnic heritage reflected in the architecture, art, and furnishings throughout the Capitol.
EAA Museum ~ Oshkosh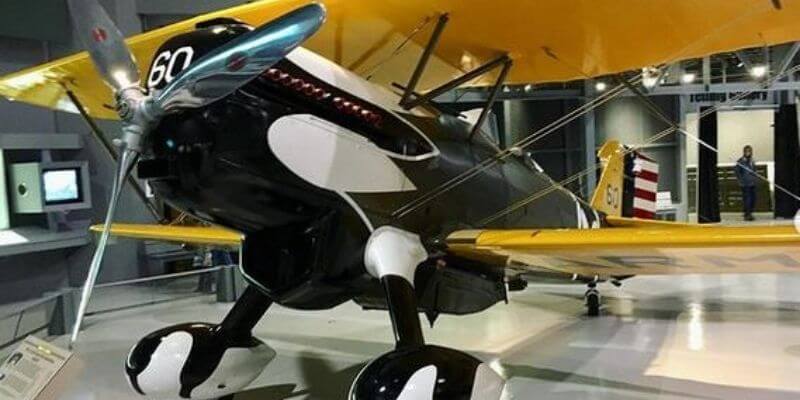 The word "airplane" brings an element of excitement and adventure. This excitement is seen on the faces of 800,000 people that visit the EAA Museum and air show each year.
The EAA was founded in 1953 and has grown from a handful of aviation enthusiasts to an international organization.
The EAA Aviation Museum is one of the most extensive aviation attractions in the world. The museum is open year-round. It features aviation history, hands-on exhibits, and airplanes of all kinds. Airplane rides are available in open-cockpit biplanes.
One week each summer, the EAA grounds becomes jam-packed with aviation enthusiasts and more than 10,000 planes that have flown into Oshkosh. All there for amazing air shows, education, and exhibits.
More information on the EAA Museum and Yearly Fly-In can be found HERE.
Cave of the Mounds ~ Blue Mounds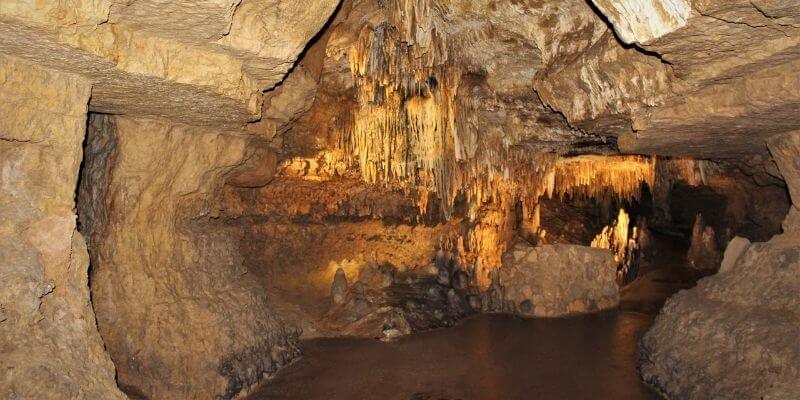 Cave of the Mounds is listed as the number one romantic destination in Wisconsin. Perfect for couples.
Cave of the Mounds is a National Natural Landmark. This natural limestone cave offers tours daily on paved and lighted walkways. Tours pass a stunning array of colorful crystal formations, including stalactites, stalagmites, and columns. Enjoy the constant 50-degree year-round temperature.
Even in the winter, the cave is 50 degrees making this one of the best things to do in Wisconsin this weekend.
Our Wisconsin adventure to Cave of the Mounds was filled with Romance. I can't explain the excitement I felt when I first stepped foot into the Cave of the Mounds.
Apostle Islands ~ Lake Superior
In the far north of the state on Lake Superior's shores are the Apostle Islands. The Apostle Islands are a group of 22 islands just off Wisconsin's coast on Lake Superior. Apostle islands are various rock formations and sea caves that can be reached by hiking trails, kayaks, boats, or foot in the winter.
There is endless beauty when exploring the Apostle Islands. For more adventure, a variety of camping is available on the islands.
More information about The Apostle Islands can be found here.
Jurustic Park ~ Marshfield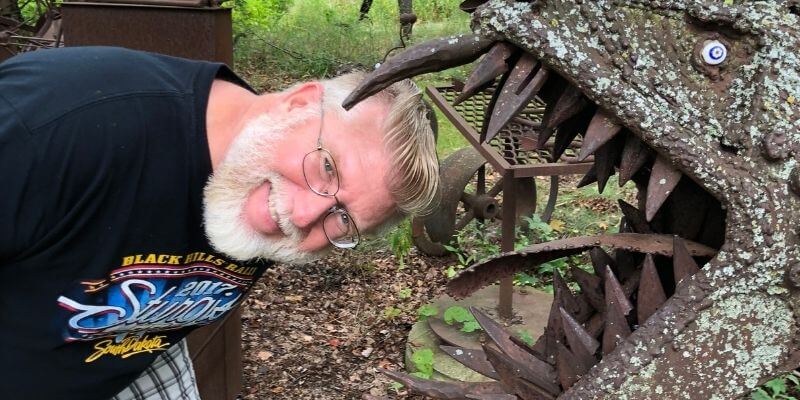 Jurustic is a whimsical working ironworks, sculpture, and glass studio that needs to be on your Wisconsin bucket list. Jurustic is a little hard to find, hiding in the McMillian Marsh near Marshfield. But it is more than worth the effort.
Jurustic Parks proprietor Clyde Wynia works to recreate as best he can the now extinct creatures that once inhabited McMillian Marsh during the iron age.
This fun and quirky Wisconsin adventure needs to be on your Wisconsin bucket list. Visit HERE to learn more about the ancient creatures at Jurustic Park and see some of Clyde's creations.
Taliesin ~ Spring Green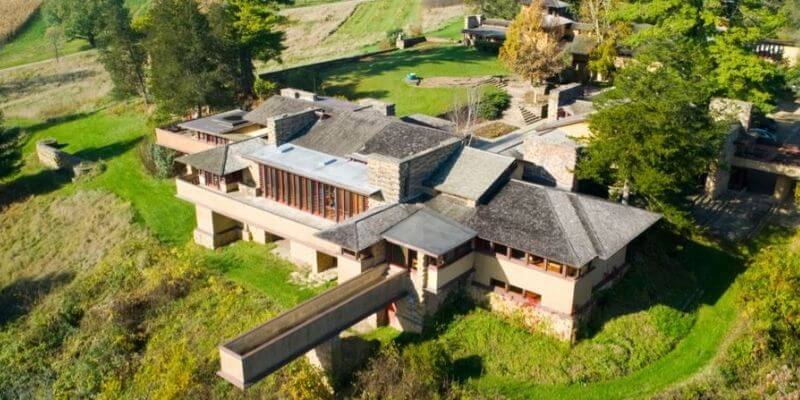 Taliesin is the home and estate of the late Frank Lloyd Wright. A famous American architect, designer, writer, and educator. He designed more than 1,000 structures over a period of 70 years.
Wright believed in designing in harmony with humanity and the environment. Each of his designs is unique and needs to be seen to be appreciated.
Taliesin is a National Historic Landmark. Taliesin was Frank Lloyd Wright's home in the hills of Wisconsin. Wright built the home on his favorite boyhood hill in the Wisconsin River valley.
Travelers can visit and tour this historic landmark. You can get information and tickets to visit Taliesin HERE.
Hike the Ice Age Trail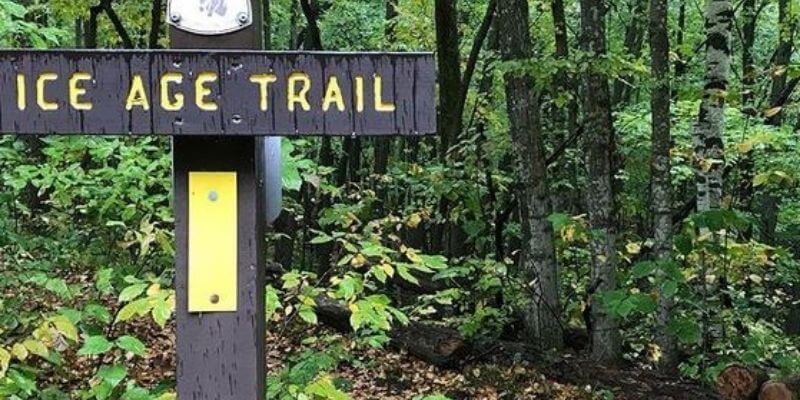 This Ice Age Trail is a "National Scenic Trail" that runs through Wisconsin. A perfect adventure for hiking or backpacking, This 1200 mile trail would be perfect for the die-hard hiker. And should only take 7 – 12 weeks to hike.
For most of us, hiking small chunks of the trail is more doable.
This National Scenic Ice Age Trail requires no permits and has a section for anyone.
Devils Lake State Park ~ Baraboo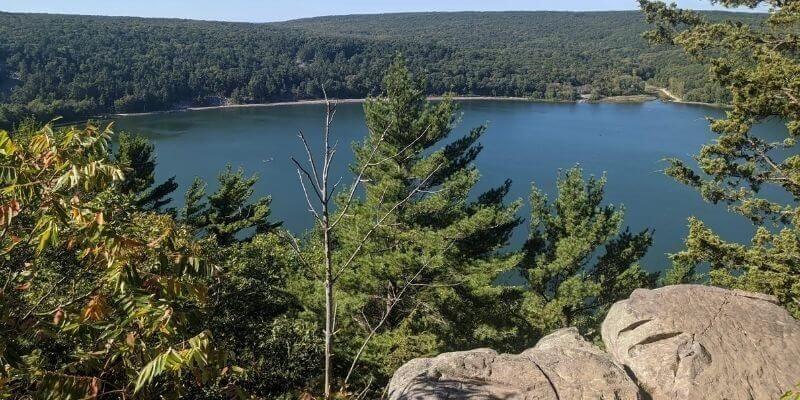 Devils Lake State Park sits along part of the National Ice Age Trail. About 11 miles of the Ice Age Trail travels through Devils Lake State Park. The most popular section of the Ice Age Trail runs through Devils Lake State Park.
Devils Lake State Park gets thousands of visitors daily. Summer activities at Devils Lake include rock climbing, hiking, swimming, boating, paddle-boarding, camping, and fishing.
Devils Lake State Park has many adventures waiting for you.
Great River Road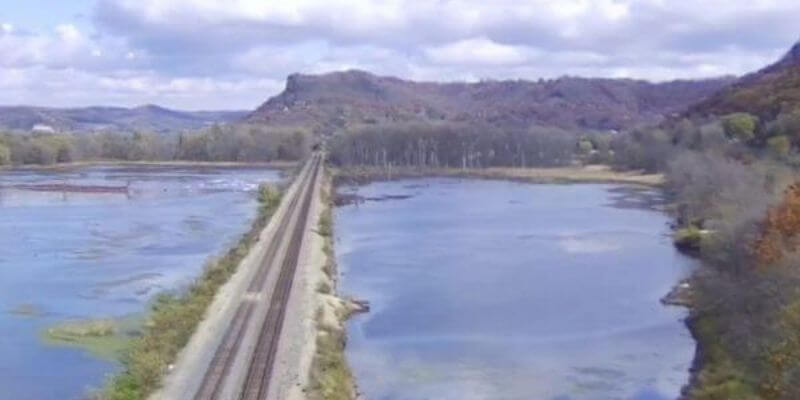 The Great River Road is not just one place, but more of a Wisconsin adventure.
The Wisconsin Great River Road is one of the nation's prettiest drives and is the only designated National Scenic Byway in Wisconsin.
When traveling the Great River Road through Wisconsin, portions of it hug the Mississippi winding right alongside the river, while other portions run through small towns and beautiful countryside. It stretches for 250 miles from Prescott, Wisconsin, to Dickeyville, Wisconsin. This drive gives you a glimpse of life in 33 historic small river towns along the way.
Our Adventure on the Great River Road was filled with romance, adventure, and amazing time spent outdoors. Be sure to check out the many things to see and do on the Great River Road.
Laura Ingalls Wilder Homestead ~ Pepin
Pepin is a small community of about 900 located along the Great River Road. This charming town is home to quaint shops, amazing vineyards and home to author Laura Ingalls Wilder, who wrote the Little House in the Big Woods series.
Once a year, Laura Ingalls Wilders Days are held in September. The festival includes traditional activities from the days when Laura wrote her books ~ Blacksmiths, hand-spinning, woodworking, arts, crafts, and so much more.
Pepin is home to The Laura Ingalls Wilder Museum and a replica of the cabin in which Laura spent the first six years of her life.
Sparta Trails ~ Sparta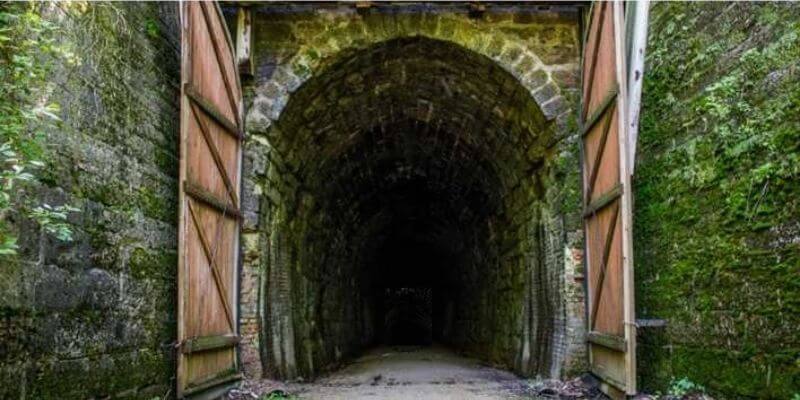 The Elroy-Sparta State Trail is a 32 mile Wisconsin State rail-trail between Elroy and Sparta, Wisconsin. When it opened in 1967 it was the first rail-trail designed for foot, bicycle, equestrian, and light motorized traffic.
From 1873 to 1964, rail cars traveled this route carrying cattle, grain and passengers. In 1967 these rail trails become one of the most popular recreational trails in the country. Thousands of outdoor enthusiasts now travel these 32 miles of trails each year by bike, hiking or snowmobiling.
Tunnels and beautiful countryside along the route add to the enjoyment. Lodging, food and bike rentals are available along the trails.
To start planning this Wisconsin bucket list adventure, be sure to check out the Elroy-Sparta State Trail.
Cranberry Marsh Tours & Cran-Fest ~ Warrens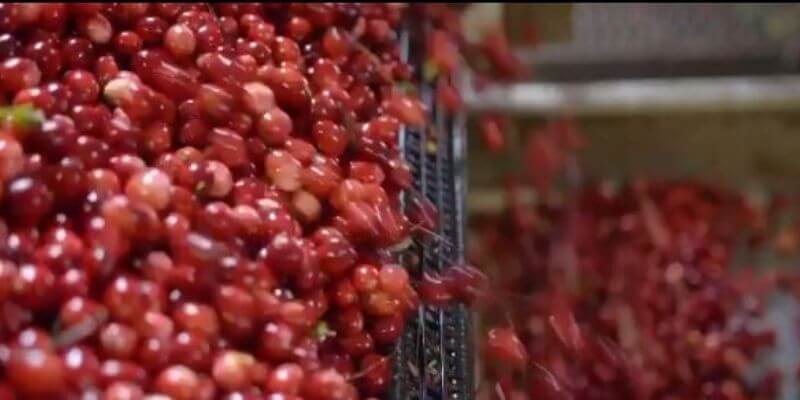 If you are visiting Wisconsin in the fall be sure to look for a cranberry marsh tour. Marsh tours are the perfect way to experience Wisconsin's Cranberry Side. Several Marshes in central Wisconsin offer public tours.
Cranberries are big business in Wisconsin, and this gives Wisconsinites reason to celebrate. Each year towns with cranberry marshes celebrate the cranberry harvest with festivals small and large.
Warrens Cranberry Festival is Wisconsin's largest cranberry festival. A three day celebration centers around Wisconsin's tiny red fruit.
Festival events throughout the three days include a giant parade, crowning of the cranberry princess, marsh tours, a biggest berry contest, photography contest, three days of flea market, an arts and crafts fair, and food!
Bus loads of people come from near and far just to enjoy these fall activities in the tiny town of Warrens.
Check here for dates, times, and locations of this year's Cranberry Festival.
Nekoosa Giant Pumpkin Fest ~ Nekoosa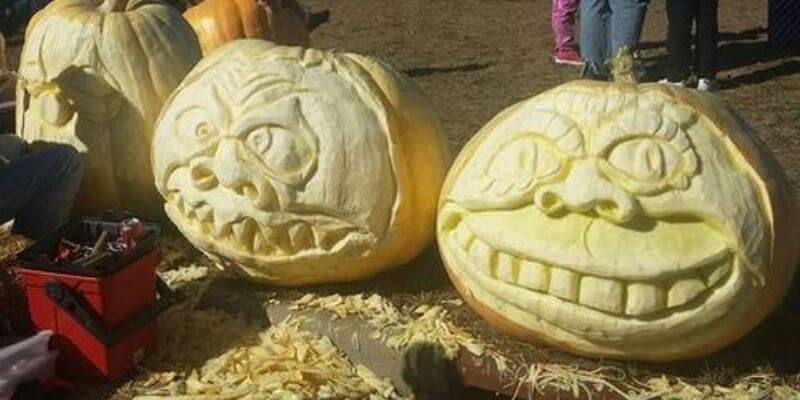 Each year The Nekoosa Giant Pumpkin Fest draws people from all over Wisconsin.
Nekoosa Giant Pumpkin Fest is a fall family festival with lots of fun for the entire family. Bring the family and enjoy lots of activities for kids, pumpkin pie eating contest, pumpkin rolling contest, giant pumpkin drop, great pumpkin bake-off, and more!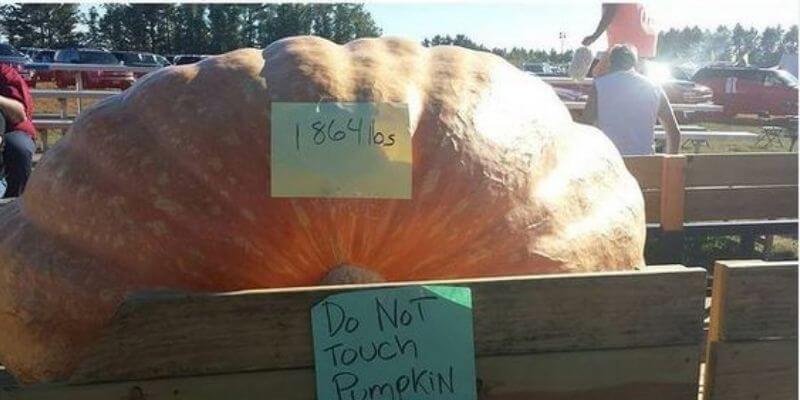 The Nekoosa Giant Pumpkin Fest highlight and what draws people from all over is the giant pumpkin weigh-in. World Record pumpkins weighing over 1800 pounds have been grown in Nekoosa and weighed in at the Nekoosa Giant Pumpkin Fest.
Start making your plans for this Wisconsin adventure to the Nekoosa Giant Pumpkin Fest and enjoy all of the festivities.
Canopy Walk – Lake Geneva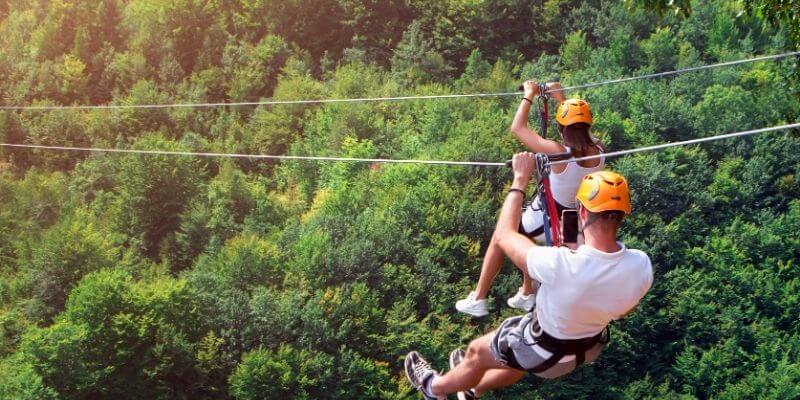 If adventure is on your bucket list, Canopy Walk in Lake Geneva might be what you need. Walk on top of the trees, zip line through the woods, and wander through an adventure course.
This canopy tour is a whopping 2.5 hours. Tours are safely guided and take place between 18 and 32 feet above the ground. Talk about an adrenaline rush! What a great way to see Lake Geneva.
After enjoying the Canopy Walk, be sure to check out everything else Lake Geneva has to offer.

In the winter Lake Geneva is home to Ice Castles, a magical winter wonderland.
Mineral Point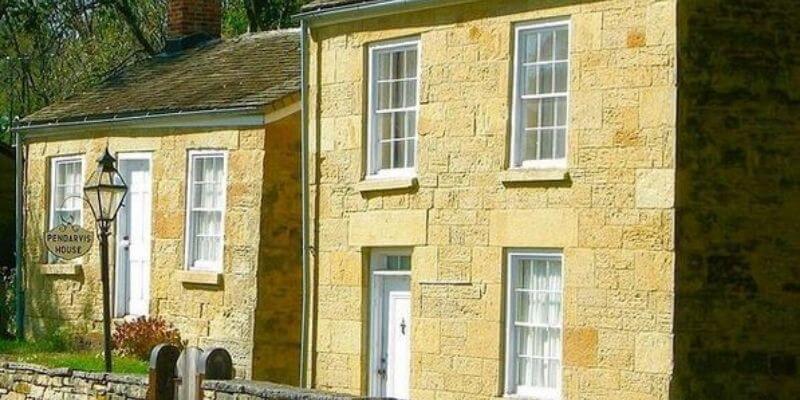 Mineral Point was settled in the 1800s by immigrants from Cornwall. The immigrants had come to the area to mine lead and zinc. After settling in the area, they built their homes in the same style they were in Cornwall.
Quite a few of these stone homes they built are still standing today. Strolling through the area gives you the feel of strolling through a European village.
Cornish Fest is held once a year to celebrate Mineral Points' heritage. Guests can experience Cornish traditions and sample authentic Cornish food.
A guided tour through many of the homes is available by Pendarvis, Wisconsin Historical Site. The tour will give you a look at the life of the miners and you will get a look at the stone masonry work of the 1800s.
Cedarburg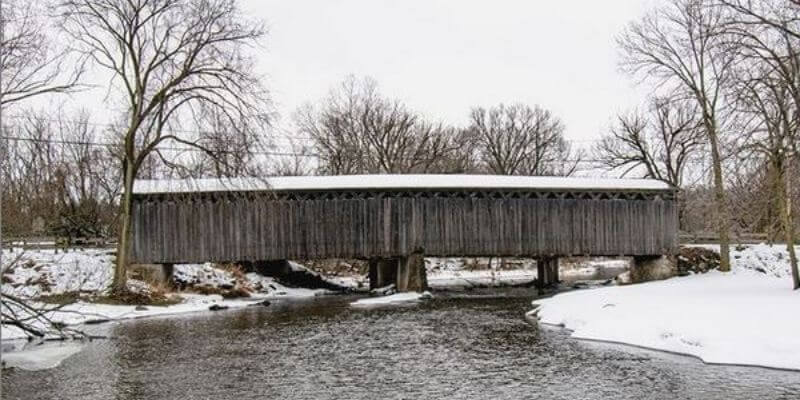 Visiting Cedarburg is like walking into a Hallmark movie. I would not be surprised if one day a Hallmark movie is filmed there. With its old-world charm and limestone buildings, much of Cedarburg's downtown is listed on the National Register of Historic Places.
Many of the limestone buildings are now quaint boutiques filled with everything from artwork to food.
A woolen mill has been restored and is filled with shops, galleries, a winery, and a working forge.
Cedarburg is home to one of Wisconsin's remaining authentic covered bridges. Wisconsin once had about 40 covered bridges.
A visit to Cedarburg is romantic and nostalgic. The perfect thing to do in Wisconsin this weekend.
Bristol Renaissance Faire ~ Bristol
Bristol Wisconsin is home to The Bristol Renaissance Faire. This once-in-a-lifetime experience is something that you really might want to add to your bucket list. Attending a Renaissance Faire is like stepping back into time and also stepping into a make-believe world. It is an enjoyable day for kids and adults.
To get a closer look at the Bristol Renaissance Faire head over to Fun and Romance at the Bristol Renaissance Faire.
You can't go wrong when it comes to vacationing in Wisconsin. After living here all of our lives we are now discovering what a beautiful state Wisconsin is. A state that may be taken for granted. Make your own Wisconsin Bucket List and enjoy some of the amazing places we have discovered. Please share your ideas for additional Wisconsin adventures we have not discovered yet.