21 Beaches in Wisconsin You'll Fall in Love With

Wisconsin is a midwestern state with 2 different Great Lake coastlines. It is also home to 15,000 beautiful lakes. It's hard to believe that these beautiful beaches, each so different, exist in Wisconsin. Any of these beaches in Wisconsin will help you forget those tropical beach vacations.
While the beaches in Wisconsin are not on the Atlantic or Pacific coastlines, Wisconsin is proof that there are other places to enjoy a beach vacation. With their huge bodies of cool and refreshing water, the large Great Lakes offer some lovely beaches with surfing potential. Yes, I said surfing.
Wisconsin is not on the coast, it is often overlooked for its beaches, yet Wisconsin offers some of the best beaches in the country. If you are looking for a romantic weekend away on the water without a trip to the coast, check out any of these unique beaches in Wisconsin.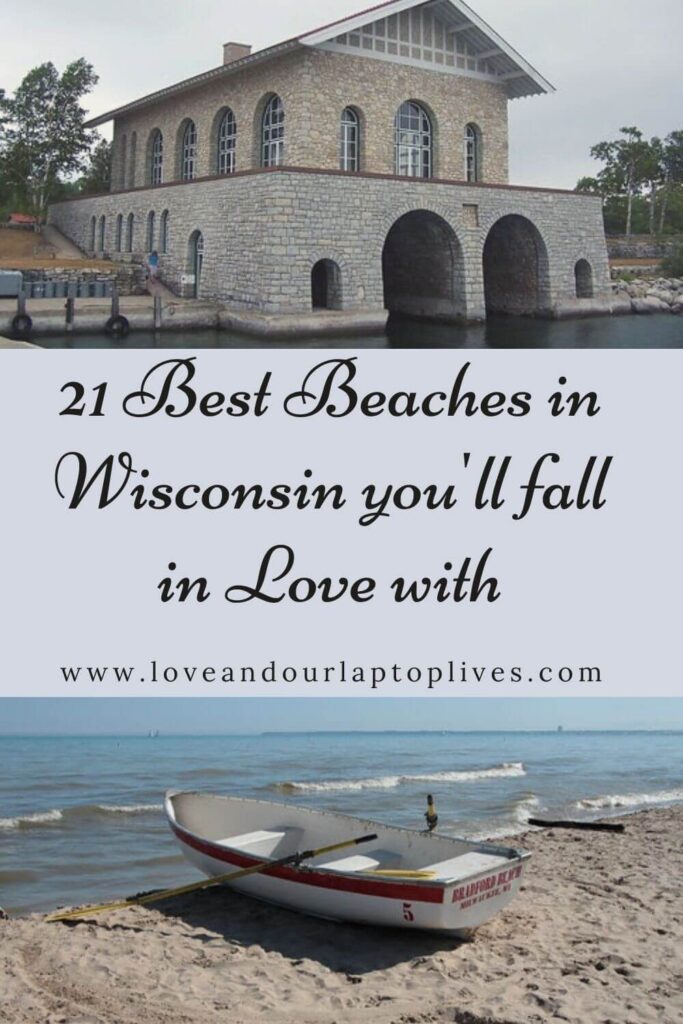 This post may contain affiliate or sponsored links. If you click on a link and make a purchase, I may receive a small commission (at no additional cost to you). Please see my full disclosure policy for details.
Lake Superior Beaches in Wisconsin
Lake Superior is the largest of the Great Lakes of North America, the world's largest freshwater lake by surface area, and the third-largest freshwater lake by volume. A portion of Northern Wisconsin borders Lake Superior.
Lake Superior is considered one of the most dangerous lakes due to its rip currents that can take swimmers unexpectedly out to deep water, similar to the ocean riptides. If you're brave enough to put a toe in the icy water of Lake Superior, use caution around the shoreline, which can be dangerous if swimming near piers.
Many shipwrecks lay on the bottom of Lake Superior. The American Great Lakes freighter SS Edmond Fitzgerald went missing on Lake Superior in 1975. She remains the largest ship to have sunk in Lake Superior.
Pattison State Park Beach ~ Lake Superior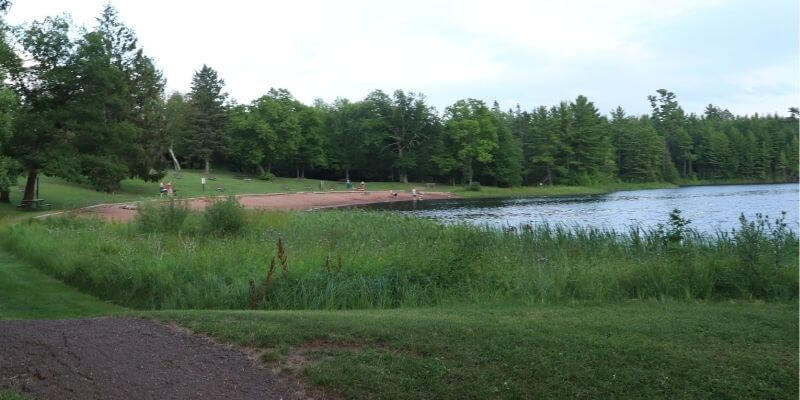 Pattison State Park is home to Wisconsin's highest waterfall. It is also the fourth highest waterfall east of the Rocky Mountains. In addition to the Big Manitou Falls, this 1,400-acre park offers camping, hiking, a beach house, a pavilion, and a lake with a beach.
Let's not forget all of the beautiful nature that goes along with it.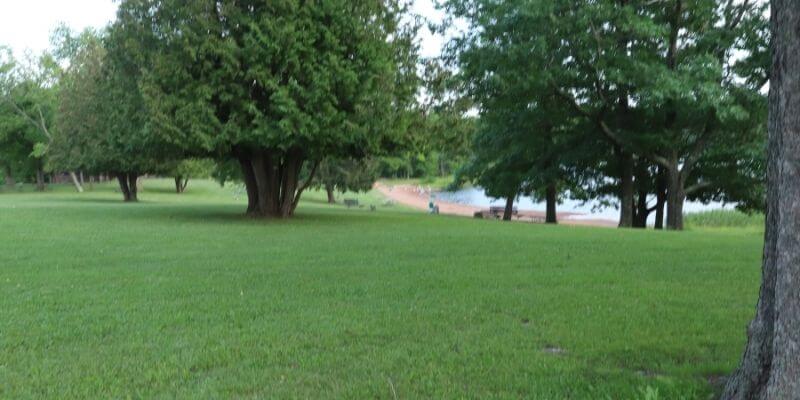 A Wisconsin State Park sticker is required to enter the park, but the hiking, waterfall, and beach are worth the cost. This is a great place to make a day trip adventure or even spend the weekend.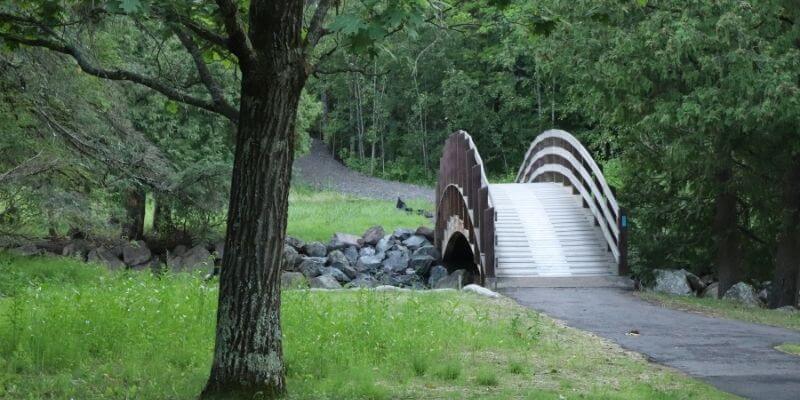 This really is one of the prettiest parks around. We could have stayed all day. Pack your swimsuits, a camera, and a picnic. This is a great place to spend the day.
Address ~ 6294 S State Road 35, Superior, WI
Recommended Reading
**Wisconsin's Highest Waterfall Tour
**Hidden Waterfalls in Wisconsin
Big Bay Beach at Town Lake ~ Madeline Island ~ Lake Superior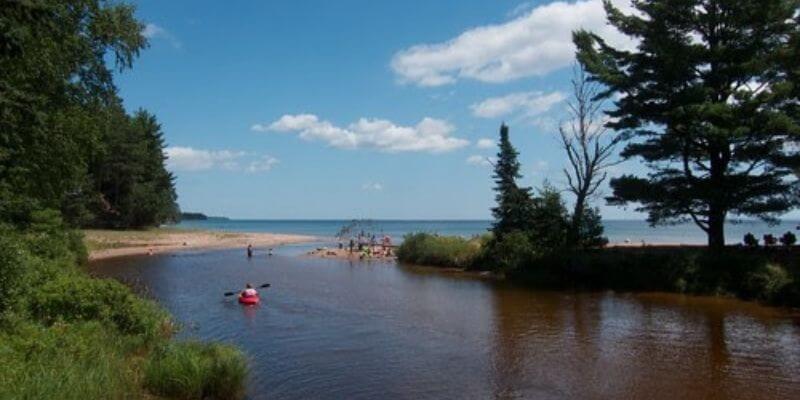 Big Bay Beach at Big Bay Town Park, has been referred to as the "best beach in northern Wisconsin". It can only be experienced by taking the ferry to Madeline Island. The beach is about one and a half miles long and offers good conditions for surfing and paddle-boarding. And an island boardwalk allows you to stroll and enjoy the amazing view and sounds of the Lake Superior waves.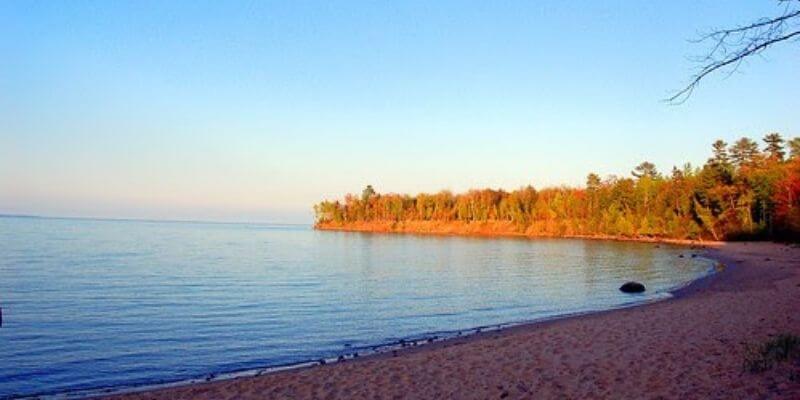 This island beach is not only free but secluded, the perfect combination for any beach vacation. In addition to this amazing one-and-a-half-mile Lake Superior beach, Big Bay Town Park is home to an award-winning campground and family park. It won't take long to discover why Big Bay Town Park is the best choice for swimming, beach-combing, kayaking, hiking, and camping.
If you are looking to relax this park has about everything you could ask for.
Address ~ 2402 Hagen Rd, La Pointe, WI
Meyers Beach ~ Cornucopia ~ Lake Superior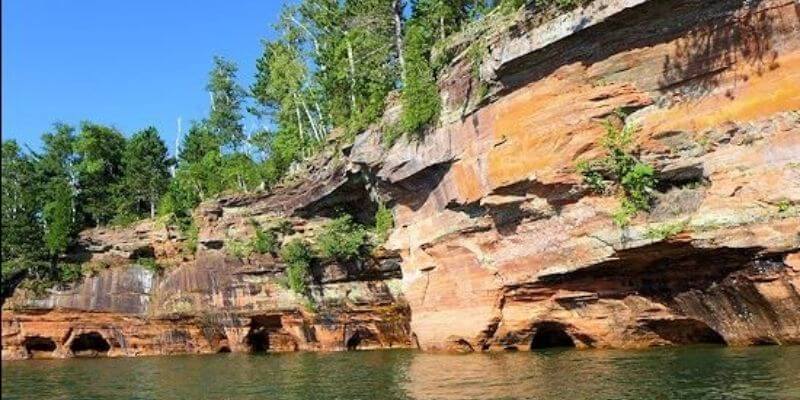 Meyers Beach is a beautiful Lake Superior beach. It's a great place for swimming or beach-combing. This is a free beach with no cost to enter.
Meyers Beach is also a very popular place for kayakers. The Sea Caves of the Bayfield Peninsula are just two miles from Meyers Beach. Making this the perfect spot for launching kayaks for those visitors wanting to explore the caves. For those not wanting to kayak, beautiful lake-shore trails take you on a two-mile hike to view the sea caves.
Address ~ Park Road – Cornucopia, WI
Wisconsin is filled with many unique and romantic places for couples to stay. This is a List of The Top Places to Stay in Wisconsin.
Wisconsin Point Beach ~ Lake Superior
Wisconsin Point Beach is one of the largest freshwater sandbars in the world, consisting of 229 acres and almost 3 miles of beach.
Wisconsin Point was named the Best Strolling or Swimming beach by Lake Superior Magazine in 2019.
Wisconsin Point is a stopover for migrating birds and home to a new Wisconsin Point Bird Sanctuary and Wildlife Habitat. Clean dredged material from the Superior Harbor was used at the sanctuary to build a sand and cobble beach for rare Piping Plover shorebirds nesting.
When visiting, Wisconsin Point is also home to the Superior Light entry lighthouse, with its light and attached fog horn building sits within a 10-mile long sand bar and the sacred Chippewa burial grounds.
Allouez Beach ~ Lake Superior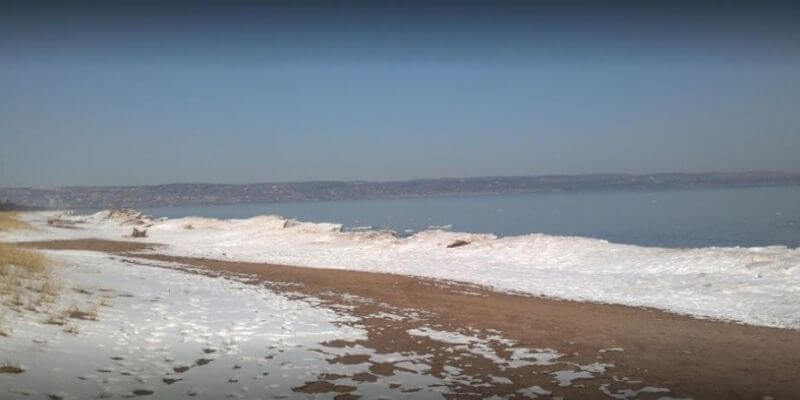 Allouez Beach and Park are in a cute suburb of Superior, Wisconsin. Allouez Beach offers plenty of Lake Superior beachfront and hideaways, with lots of trails to go hiking. If you love the outdoors, this is a great place to spend the day.
The park is open from 5:30 am – 10:30 pm. Responsible drinking is permitted in the parks. Pavilions are available to rent for special occasions.
Address ~ 3631 E 2nd St, Superior, WI
Interesting Fact ~ There are five Great Lakes ~ Together they spell HOMES
Huron
Ontario
Michigan
Erie
Superior
Lake Michigan Beaches in Wisconsin
Lake Michigan is one of the five Great Lakes of North America. It is the second-largest of the Great Lakes by volume and the third-largest by surface area, after Lake Superior and Lake Huron.
Lake Michigan spans the entire west coast of Michigan's Lower Peninsula, and it is the only one of the five Great Lakes that is located entirely within the United States. It is enclosed by the states of Wisconsin, Illinois, Indiana, and Michigan.
North Beach ~ Racine ~ Lake Michigan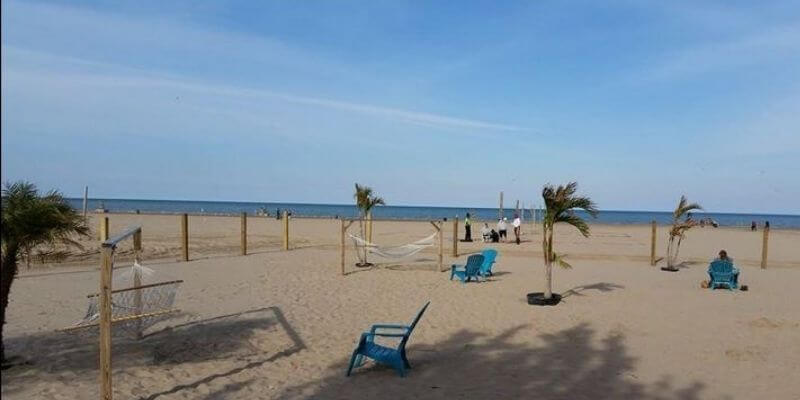 North Point Beach is 2,500 feet of gorgeous Lake Michigan beach located in Racine WI.
Located on Lake Michigan, this beach is the perfect spot to relax, go for a swim, try your hand at kayaking, paddle-boarding or throw out the rod and catch a few fish.
Nice area for walking, running, biking, etc. Paved pathways are adjacent to the Lake Michigan shoreline. The area is also very well kept, maintenance-wise.
North Point was listed on USA Today's list of 51 Great American Beaches.
Pack a picnic lunch. With the children's playground's added presence, this is a great place to make a day of it.
Address ~ 100 Kewaunee St, Racine, WI
Simmons Island Beach ~ Kenosha ~ Lake Michigan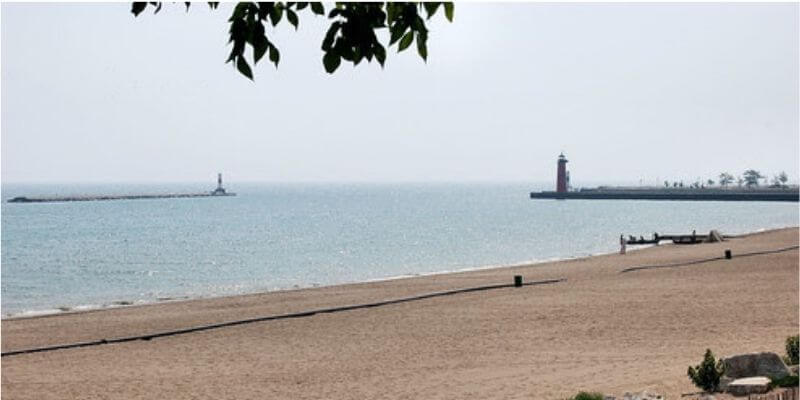 Simmons Island Beach is Kenosha's only beach. The beach is open to the public, and although beautiful, it is generally not very crowded and a great place to take the entire family.
There is a boardwalk near a paved bike trail that connects you to one of two lighthouses, with the second lighthouse located along the harbor.
There is a playground and a pavilion in the park adjacent to the beach.
Kenosha's city has added portable mobility mats designed to accommodate wheelchairs and walkers, making Simmons Island Beach more accessible to people with handicaps. The beach is groomed daily, and the park department staff installs the mats each day after the beach is groomed, and they roll them up in the evening for storage.
Address ~ 5001 Simmons Island Rd, Kenosha, WI
Schoolhouse Beach ~ Washington Island ~ Lake Michigan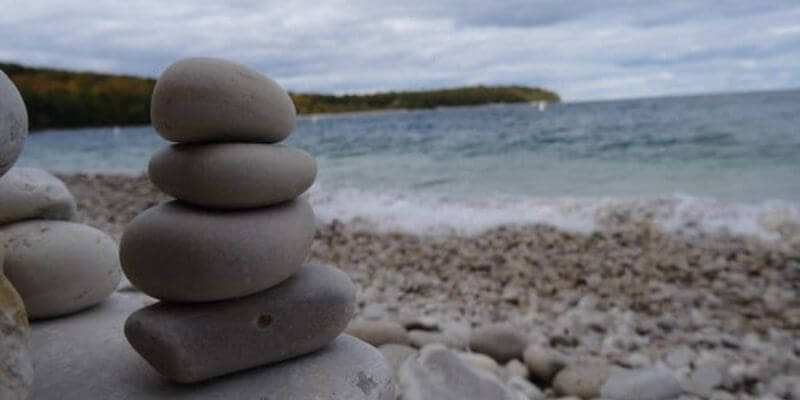 Schoolhouse Beach is unmistakably one of Wisconsin's most unique beaches. This completely stony beach is located on Washington Island, just off the Door County Peninsula's tip. Visitors need to take a ferry to visit Washington Island.
The waves of Lake Michigan have smoothed the beautiful stones that cover Schoolhouse Beach. The stones do not stop visitors from enjoying this beautiful beach. So many visitors over the years have taken home souvenirs of the perfectly smooth rocks that, according to the posted sign, there is a hefty fine for removing any rocks.
Use caution to only swim in the designated areas. There are steep drop-offs that increase fairly rapidly. This is a great place for rafting, paddle-boarding, snorkeling, and diving.
Address ~ 1824 Washington Harbor Rd, Washington, WI
Kohler-Andrea State Park ~ Sheboygan ~ Lake Michigan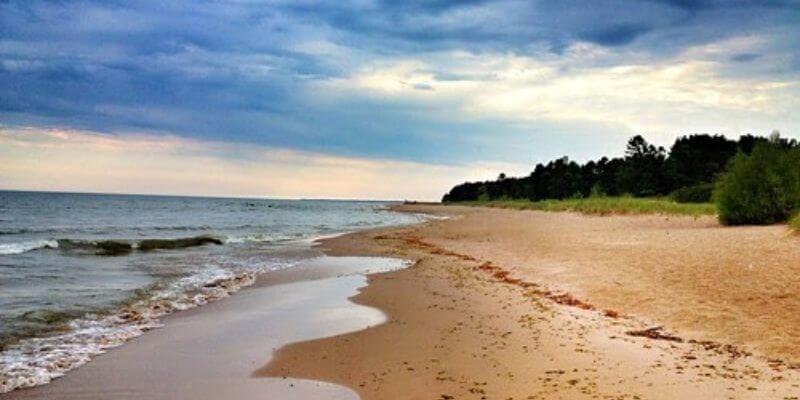 Kohler-Andrea State Park in Sheboygan is a combination of two adjacent state parks. It is located about 2 miles south of Sheboygan in the town of Wilson. The park covers 980 acres and over two miles of beach along Lake Michigan's shores.
A Wisconsin state park sticker is required to use the park. The park is open from 6 am to 11 pm.
Swimming is available. Please use caution. No lifeguards are on duty. There are strong wind currents on Lake Michigan. If you are using small watercraft or flotation devices, the wind can blow you away from the shoreline.
Kohler-Andrea's landscape is an interesting mix of river marsh, pine and hardwood forests, long beaches, and beautiful sand dunes overlooking one of the largest freshwater bodies on earth — Lake Michigan.
In addition to the beach, visitors can enjoy swimming, boating, hiking, biking, and camping. Among the 135 campsites is an authentic Native American teepee that is available for rent.
Address ~ 1020 Beach Park Ln, Sheboygan, WI
Bradford Beach ~ Milwaukee ~ Lake Michigan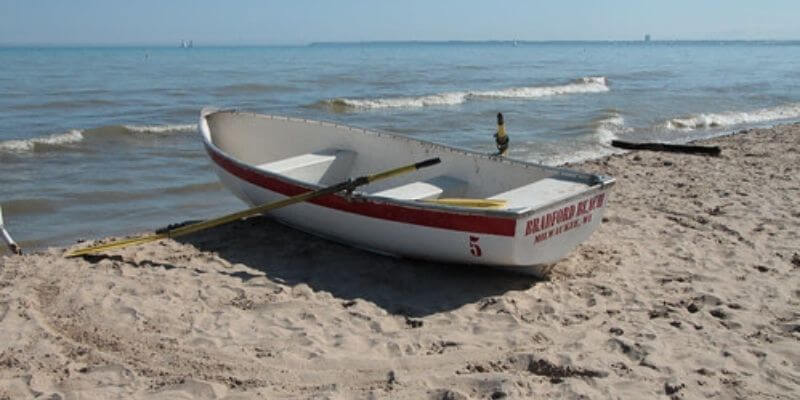 Bradford Beach in Milwaukee is a beach that can get pretty busy. In addition to the beautiful Lake Michigan beach, Bradford Beach has a volleyball area, cabana rentals, tiki hut bars, and concession stands.
Bradford Beach is also an area where numerous events and concerts are scheduled. This would be a great place to visit, kick back, and attend a concert.
Bradford Beach features a permanent concrete ramp to make access to the beach easier. There is also a Mobi-mat portable walkway making Bradford Beach America's most accessible beach.
Bradford Beach was the first beach in the nation to be completely accessible thanks to Mobi-mats.
Free beach wheelchairs can be checked out, which features wide tires allowing you to maneuver in the sand and water easily.
A nice change from your busy city schedule but maybe not the quiet beach experience you might be looking for.
Address ~ 2400 N Lincoln Memorial Dr, Milwaukee, WI
Point Beach State Park ~ Two Rivers ~ Lake Michigan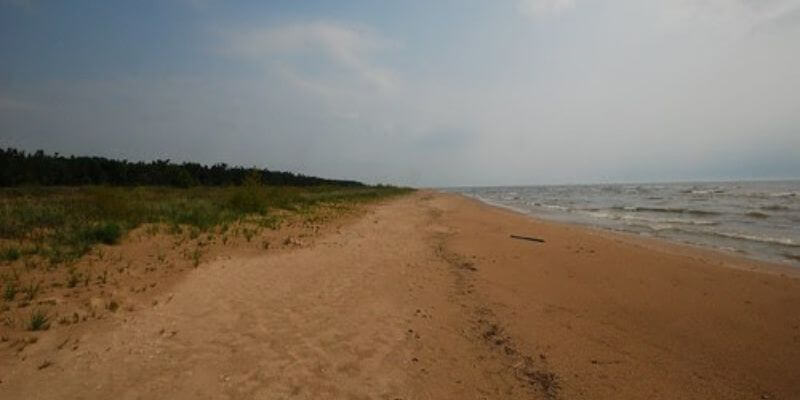 Point Beach State Park/Forest offers more than 6 miles of sandy Lake Michigan shoreline. Rawley Point Lighthouse is a popular feature of the property. The U.S. Coast Guard has operated the lighthouse since 1853.
The white sand beach of Point Beach State Park and the quaint little local towns really gives you the beach vacation feel.
The additional 3000 acres of Point Beach State Park offers 127 family camping sites. During the summer, concessions are available on the North end of the campgrounds. You can find bike rentals, refreshments, and camping supplies on the south end of the camping area. On Friday night, join them for a Wisconsin tradition, a Friday Fish Fry.
Address ~ 9400 County Rd O, Two Rivers, WI
Peninsula State Park ~ Green Bay ~ Lake Michigan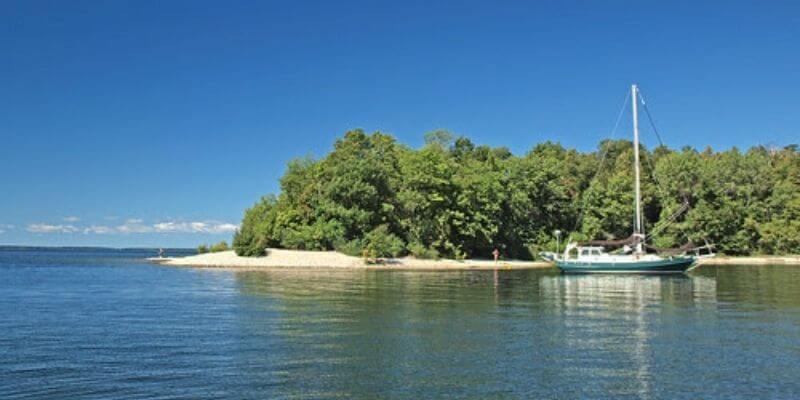 Peninsula State Park is a 3,776-acre Wisconsin treasure on Door County's peninsula with seven miles of Lake Michigan shoreline. Peninsula State Park is truly a destination you will not be disappointed by.
The natural sand beach provides scenic swimming and sunbathing between 6 am and 11 pm daily. Swim with caution. No lifeguard is on duty. A bath-house complete with showers is available.
Peninsula State Park is also a popular destination for camping and the many other recreational opportunities it offers such as ~ hiking, biking, boating, and swimming.
Don't forget about Peninsula State Park in the winter, it's a great place for snowshoeing, sledding, cross country skiing, and snowmobiling, making this a great year-round park.
Address ~ 9462 Shore Road, Fish Creek, WI
Lions Den Gorge Nature Preserve ~ Grafton ~ Lake Michigan
Lion's Den Gorge Nature Preserve is 73 acres of public land that run adjacent to Lake Michigan.
This hidden gem consists of beautiful nature trails that take you through natural wooded areas, marshes, and bluffs. When you reach the end of the trail, you drop down into a gorge to the rocky beach. A hilltop trail will take you to a lookout where you will get a gorgeous view of Lake Michigan.
Although the beach is less than a mile long it offers a quiet area to escape when looking for some privacy.
Address ~ 511 High Bluff Dr, Grafton, WI
Newport State Park ~ Ellison Bay ~ Lake Michigan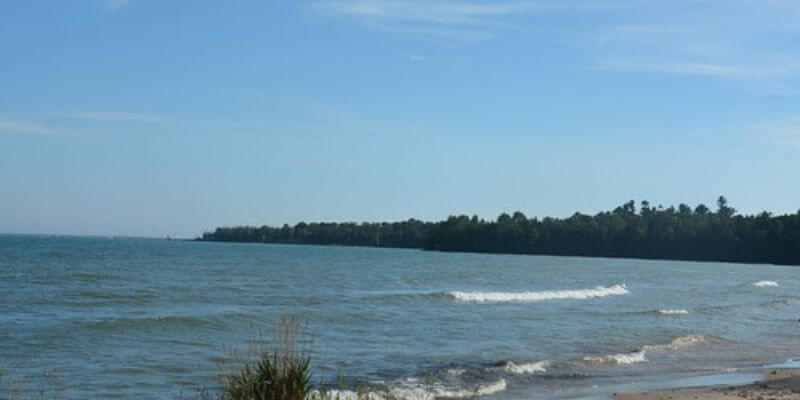 Newport State Park offers eleven beautiful miles of Lake Michigan beach shoreline. This Wisconsin state park is at the tip of the Door County Peninsula near Ellison Bay, Wisconsin. The eleven miles of Lake Michigan shoreline is Wisconsin's only wilderness state park that the International Dark-Sky Association has named a Dark-sky preserve.
What is a Dark Sky Preserve?

A Dark Sky Preserve is a land possessing an exceptional or distinguished quality of starry nights and a nocturnal environment that is specifically protected for its scientific, natural, educational, cultural heritage, and/or public enjoyment.
In addition to the eleven miles of Lake Michigan Shoreline, Newport State Park offers 2400 acres of wilderness with swimming, fishing, day hiking, and camping. All of Newport State parks camping is hike-in. All of your supplies must be carried in and carried out. In other wards, Gary can't drive-in.
This is a park that not only can you enjoy the magnificent Lake Michigan Beach but, hiking and camping while enjoying a fairytale view of starry nights.
Address ~ 475 County Rd NP Ellison Bay, WI
Whitefish Sand Dunes State Park ~ Sturgeon Bay ~ Lake Michigan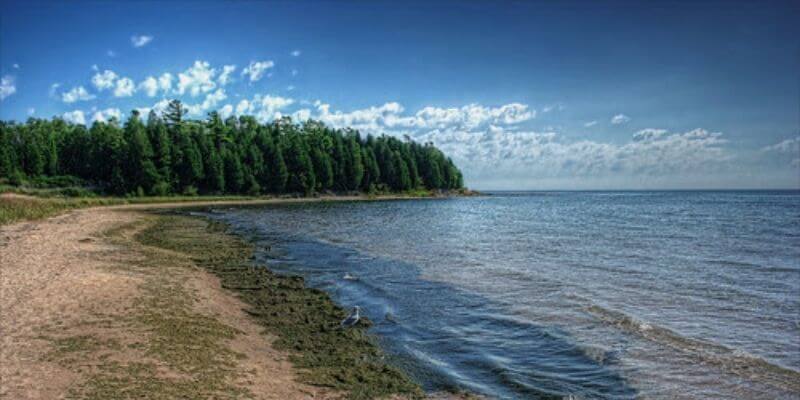 Whitefish Dunes State Park is a state park made up of 860 acres of forest and dunes on the shore of the Door County Peninsula. This rugged yet beautiful Lake Michigan shore offers a mile of sand beach, two miles of rocky shore, and the highest sand dunes in Wisconsin.
The beautiful beach is not the only thing calling us to Whitefish Dunes State Park. Visitors can swim, fish, or hike the 14 miles of hiking trails while hiking on one of the many trails visitors can preserve the fragile dune environment in Door County.
A state park pass is required in this state park. Wisconsin state park passes can be purchased online or at the entrance of parks.
Address ~ 3275 Clarks Lake Rd, Sturgeon Bay, WI
Rock Island ~ Lake Michigan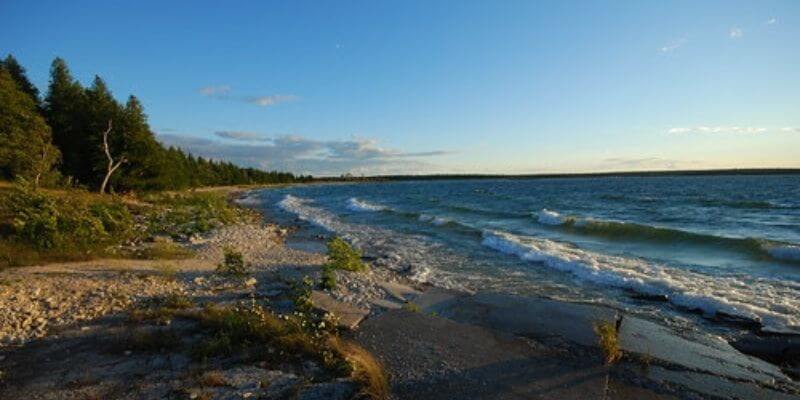 Rock Island State Park Beach is only reachable after taking two ferries. The first ferry takes you from Door County's tip to Washington Island, home of Schoolhouse Beach. From Washington Island, passengers must take the ferry Karfi to Rock Island. The ferry to this primitive island only runs from Memorial Day through Columbus Day.
No cars are allowed on this Lake Michigan Island. The Wisconsin Department of Natural Resources currently owns this 900-acre island. A wealthy investor owned the island from 1910 until 1964 and left behind stone buildings and the Pottawatomie Lighthouse. The island has no permanent inhabitants.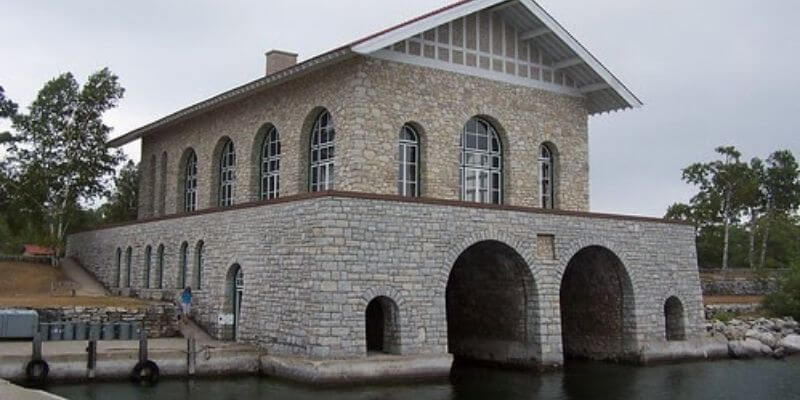 Don't let the fact the island is uninhabited stop you from visiting. This small island has lots to offer ~ miles of shoreline and beaches for swimming, beautiful hiking trails, and rustic walk-in campsites.
Address ~ 1924 Indian Point Rd, Washington, WI
River Beaches in Wisconsin
Wisconsin is home to several interstate river beaches that we have found worth a visit. Each has its own unique features.
Willow River State Park ~ Hudson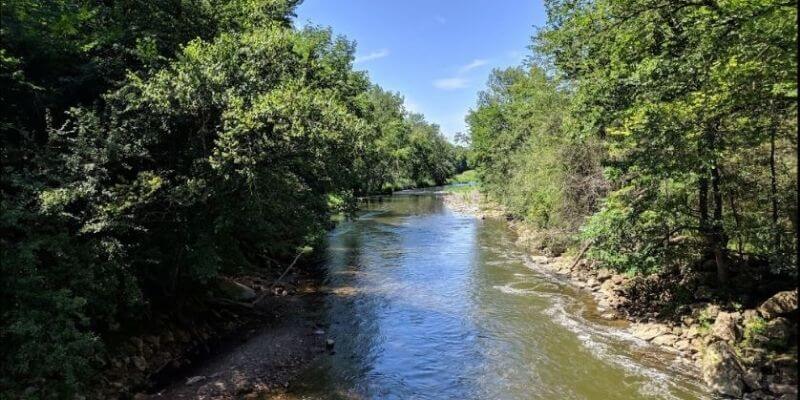 Willow River State Park is 2,800 acres of beautiful countryside. This state park is located five miles north of Hudson, Wisconsin. The centerpiece of Willow River State Park is its 400-feet of public beach and shallow reservoir along with the amazing views of Willow Falls and the Willow River Gorge with its powerful cascade of water into a 200 foot gorge.
This amazing park is located five miles northeast of Hudson Wisconsin on a country road and includes a picnic area, campgrounds, and a boat launch.
Address ~ 1034 Co Hwy A, Hudson, WI
Interested Reading
**Wisconsin's Great River Road Trip
**Door County Adventure for Adults

Interstate State Park ~ St. Croix Falls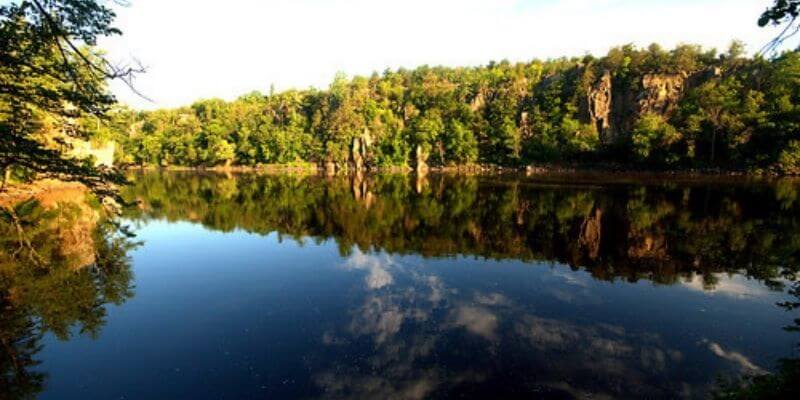 Interstate State Park is Wisconsin's oldest state park, established in 1900. Located along the picturesque St. Croix National Scenic Riverway. The park provides scenic views of the river and the steep-sided gorge known as the Dalles of the St. Croix.
Interstate Park is comprised of two state parks on the Minnesota and Wisconsin border. Both parks are named Interstate State Park. Your Wisconsin State Park pass is required to use this state park.
Both parks straddle the Dalles of The St. Croix River, which is a deep gorge with glacial potholes and other rock formations.
Address ~ WI-35, St. Croix Falls, WI
Devil's Lake State Park Beach ~ Baraboo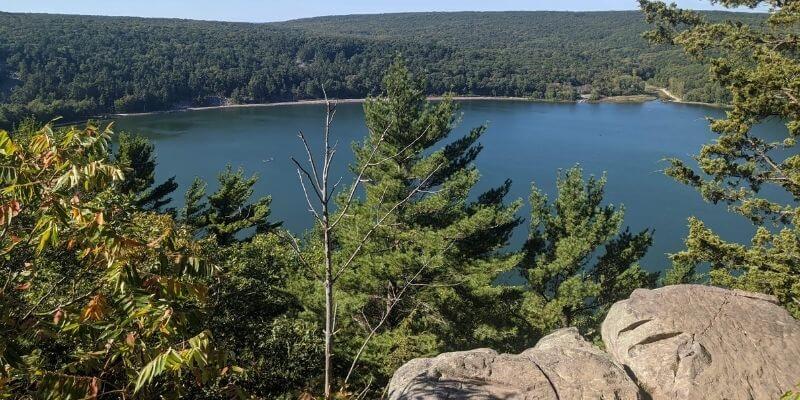 Devil's Lake State Park is located in Baraboo, Wisconsin, a distance from Lake Michigan and Lake Superior, but that does not stop it from having everything ~ a beautiful beach, pleasant water, hiking trails for those with the desire to explore, and amazing bluffs to climb. This is one of Wisconsin's most popular state parks, with almost 3 million visitors a year. This is not the place to come to be alone.
A state park pass is required. The $28 for the parking sticker is worth it to get the view from the top of the bluffs. Climbing the Bluffs allows you to take in the breathtaking view of the 360-acre Devil's Lake.
Swimming is pure heaven, and Devil's Lake is ideal for kayaking, canoeing, paddle-boarding, and even scuba diving.
Whatever appeals to you, Devil's Lake has something for everyone. But if you desire to sit, relax and soak up the sights and sounds from your surroundings ~ feel free. It's perfect for that also!
Address ~ S5975 Park Rd, Baraboo, WI
Crystal Lake ~ Sayner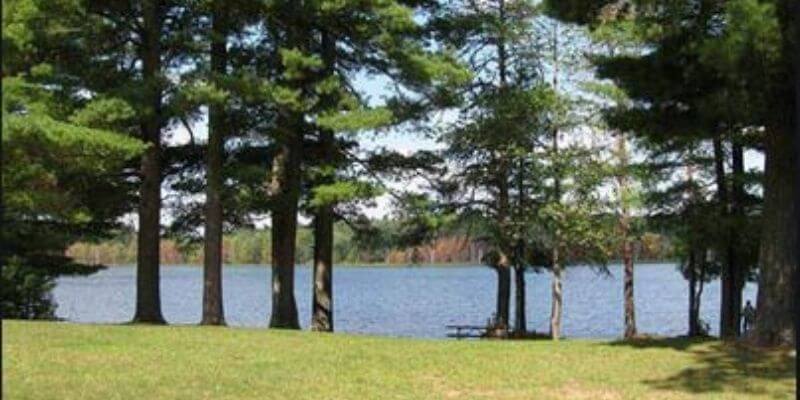 Crystal Lake, five miles west of Sayner, Wisconsin, is known for its amazing crystal clear water. It has been compared to Crater Lake in Oregon. This fantastic lake has two wide, soft beaches perfect for a relaxing day on the beach.
This 93-acre lake is one of 22 lakes in Wisconsin with the name Crystal Lake. It is nestled in the heart of the American Legion State Forest.
This is the kind of lake the Wisconsin Northwoods visitors dream about. In addition to the swimming beaches, there is a picnic area and a public boat landing. This is a great lake for fishing one of the many Wisconsin's native fish ~ Largemouth Bass, Walleye, Panfish, Trout, or Northern Pik.
Address ~ 4125 County Rd N, Sayner, WI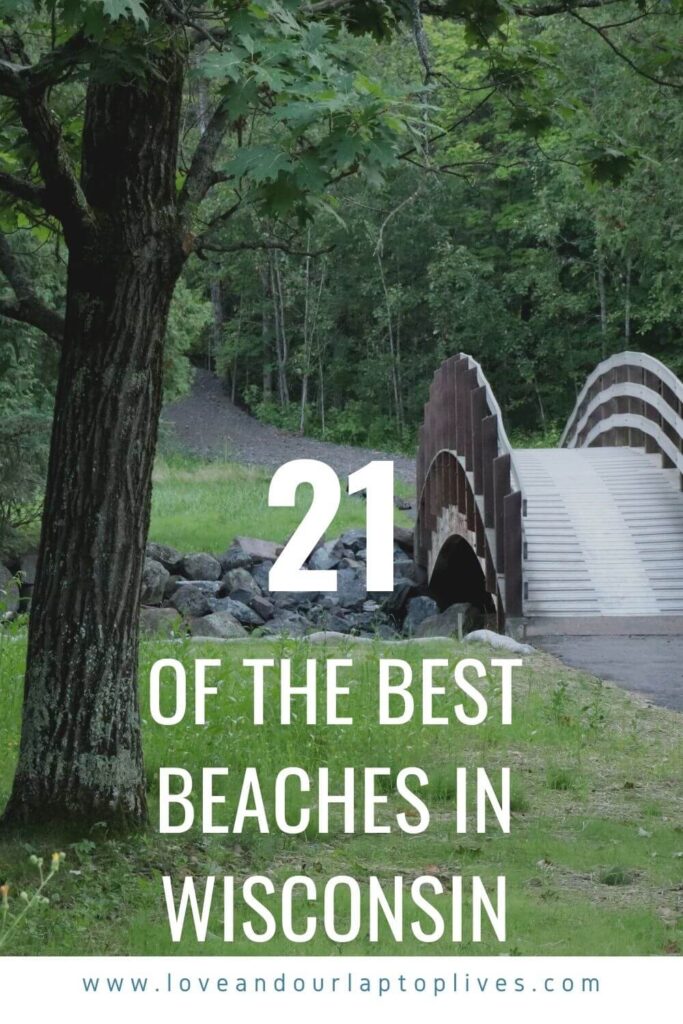 Wisconsin is home to numerous beaches, each offering visitors their own uniqueness. You don't need to head to one of the many ocean coastal regions to get your fill of a tropical beach vacation.
Thanks for stopping by! If you would like to reach us with a
feature idea, or just to say "hi" you can email us at ~ [email protected]
We would love to partner with you to feature your
travel destination.
Don't leave without signing up for our monthly email, it
will keep you up to date on awesome travel ideas.
Follow us on Social Media
Facebook @ Love and our Laptop Lives
Pinterest @ Love, Travel and our Laptop Lives
Instagram @ Love our Laptop Lives
Twitter @ Love and our Laptop Lives
Youtube @ Love and our Laptop Lives
Amazon Store @ Love and our Laptop Lives