What To Expect When You Visit Wisconsin Ice Castle, a Magical Winter Wonderland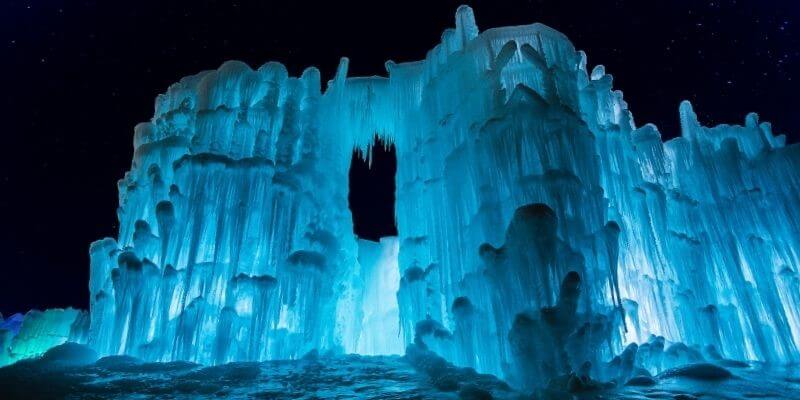 "Ice Castles is an awe-inspiring, must-see winter phenomenon that brings fairy tales to life".
Each year, Lake Geneva, Wisconsin Ice Castle brings fairy tales to life for hundreds of thousands of families across North America by creating an experience that will live on long after the ice melts. The primary goal of Ice Castle is to just make people smile.
Their winter wonderland made of ice is doing that in 4 cities in North America each winter. In 2021 Ice Castles can be found in Midway, Utah ~ Dillon, Colorado ~ North Woodstock, New Hampshire ~ and Lake Geneva, Wisconsin.
A visit to the Ice Castles is a popular winter adventure so you'll want to plan your trip in advance. Enjoy some of the pictures of one of our visits and through this guide we put together with everything you need to know before visiting the Wisconsin Ice Castles in Lake Geneva.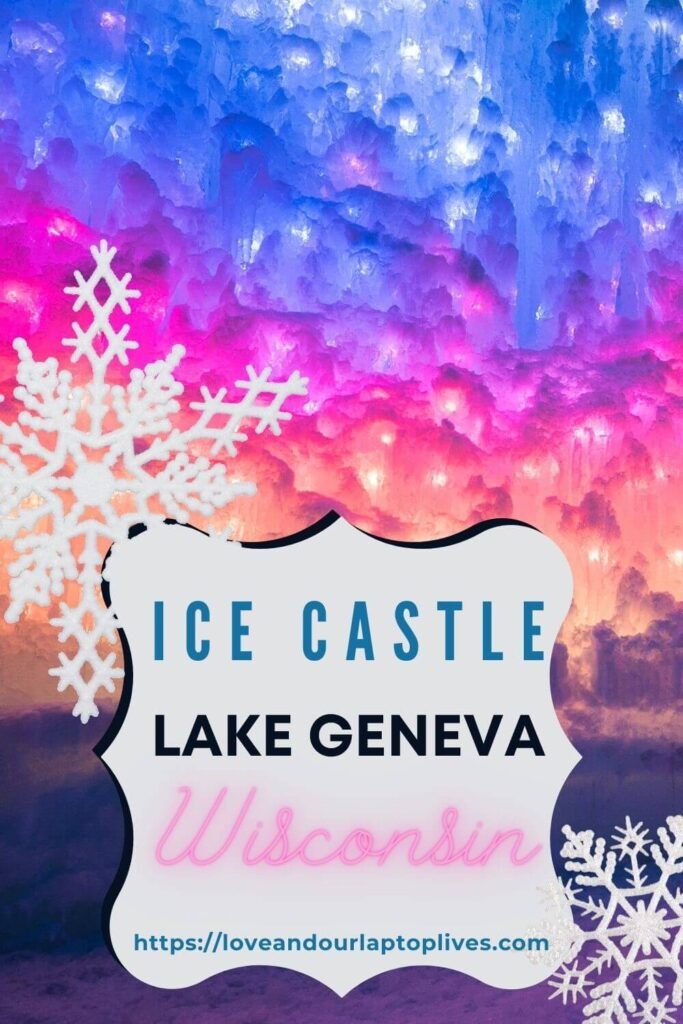 This post may contain affiliate or sponsored links. If you click on a link and make a purchase, I may receive a small commission (at no additional cost to you). Please see my full disclosure policy for details.
The story behind Ice Castles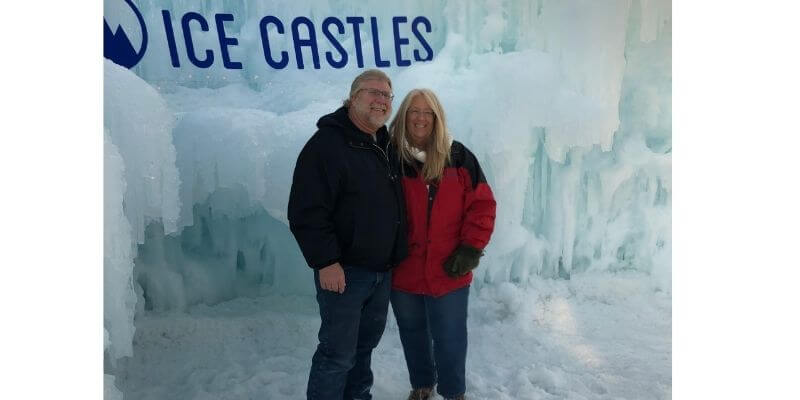 Since 2011 a company known as Ice Castles has been creating winter wonderlands. Each experience is unique and no two ice castles are alike.
It all started when Brent Christensen crafted his first mini ice castle in his own front yard for his children. Christensen had moved from sunny California to the cold and snowy winters of Utah. With six kids experiencing cabin fever and going crazy being stuck inside, Christensen did what any father would. He built an ice cave in his front yard just to get keep the kids busy and out of the house.
His idea worked so well that not only were his kids occupied but so were the neighborhood children. It wasn't long and kids from all over town were bundling up and heading to Christensen's to play in what had become known as the ice castle. The same name this winter wonderland is affectionately still known by today.
Currently each year the ice castles are constructed in 4 cities in North America. Experienced professional ice artists along with local craftsmen build each wonderland by using hundreds of thousands of hand placed icicles.
Each castle include a variety of breathtaking LED-lit sculptures, frozen thrones, ice-carved tunnels, slides, and fountains.
A Day Trip to The Wisconsin Ice Castles in Lake Geneva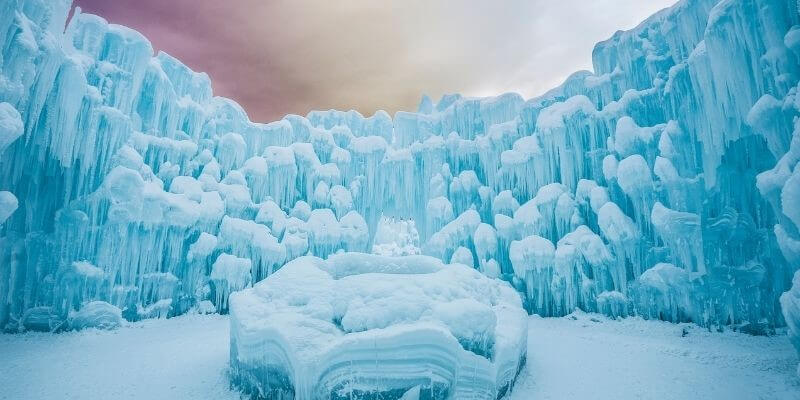 The Wisconsin Ice Castle is located in Lake Geneva, Wisconsin, a southern town know for it's summer lake activities and warm getaways. Lake Geneva is only a short drive from many of the larger towns in both Wisconsin and Illinois making it an easy day trip for anyone needing the winter magic of an ice castle. The Ice Castle is less then a 3 hour drive for us, so we decided to make a day adventure out of it.
"The thought of spending hours outside in the cold does not instantly thrill Michelle, she likes her warm beaches. Yet when I want to do something romantic, even if it means being outside for a couple of hours in Wisconsin's winter, we make it happen! Michelle says she loves that I am such a romantic at heart. I'm just being me….. when you love someone you are always finding little things that say "I Love You" …….. Whoops, I got sidetracked. That is a whole other blog". (Gary)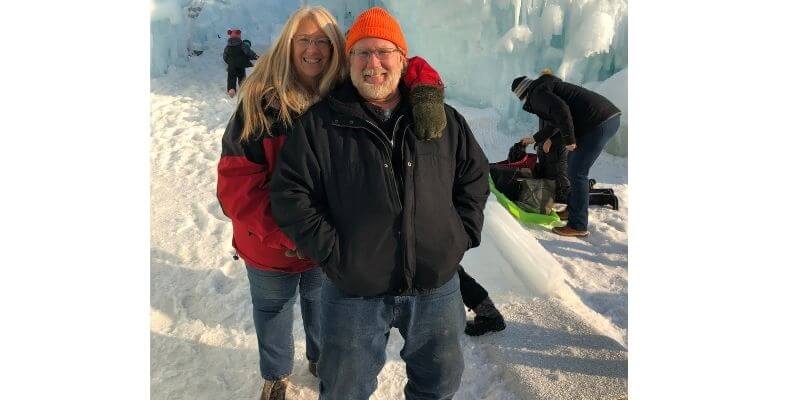 Cold or no cold we had an amazing time at Wisconsin Ice Castle in Lake Geneva. We learned the hard way the importance of layers and boots. Although we thought we were prepared, remember you are walking around on ice and snow the entire time. Foot warmers in your boots is a great idea.
Additional Reading ~
The Romantic and Historic Pfister Hotel
How to be a more Romantic Guy
LED lights are frozen inside the ice, and the ice light up and twinkles to music, adding a magical ambiance to the breathtaking interactive sculptures. A wishing well with a frozen top and a bubbling water fountain underneath the ice was really beautiful and creative.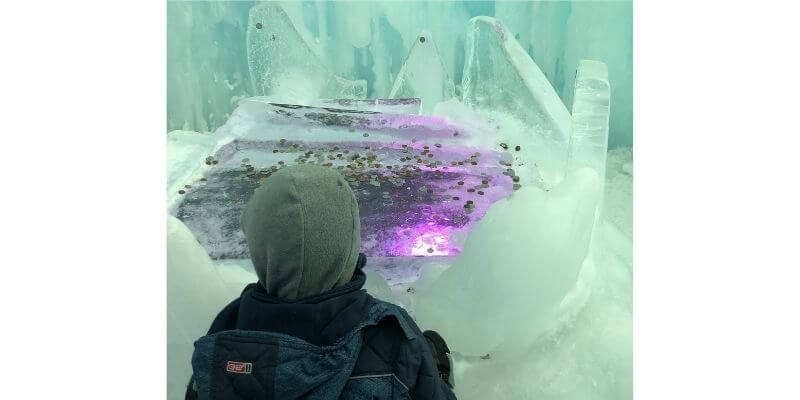 I wish I could have captured the look of amazement on this little guy's face. You can see the coins on top and the lights but what you can not see is the amazing under the ice water fountain.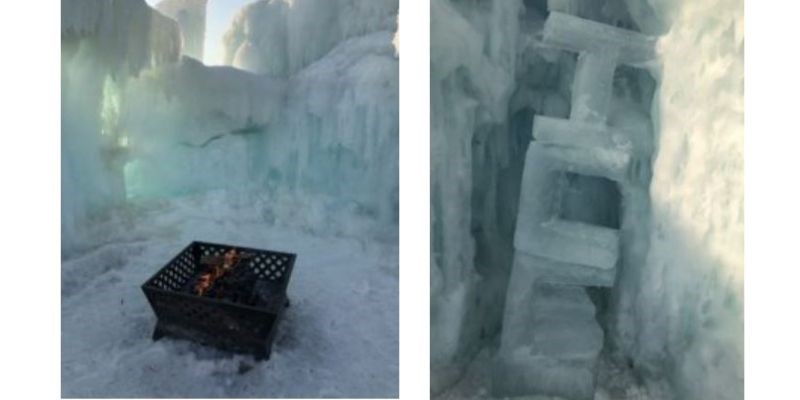 Fire and Ice? In most things, fire and ice don't mix. That is unless you happen to be in the ice castle. By all means, enjoy the ice to the fullest and, if needed, warm up by the fire.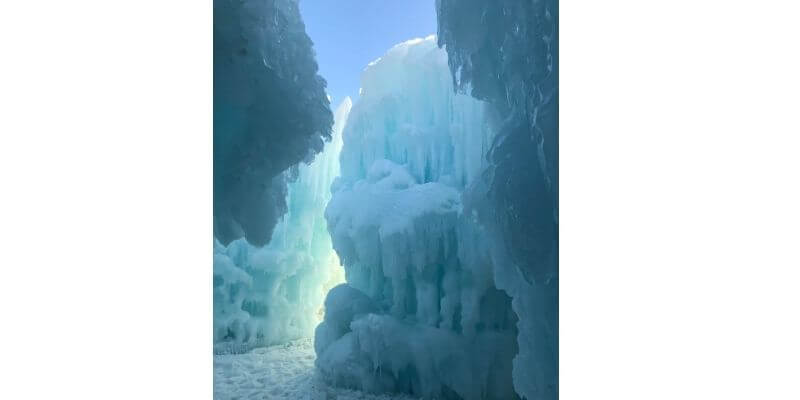 The walk-through structures are made entirely of ice. Each castle is approximately one acre in size and takes approximately two months to construct.
Each castle weighs more than 25 million pounds. This one weighed 50 million pounds (25,000 tons). It had three slides, tall, cavernous rooms, three levels, and intricate ice sculptures.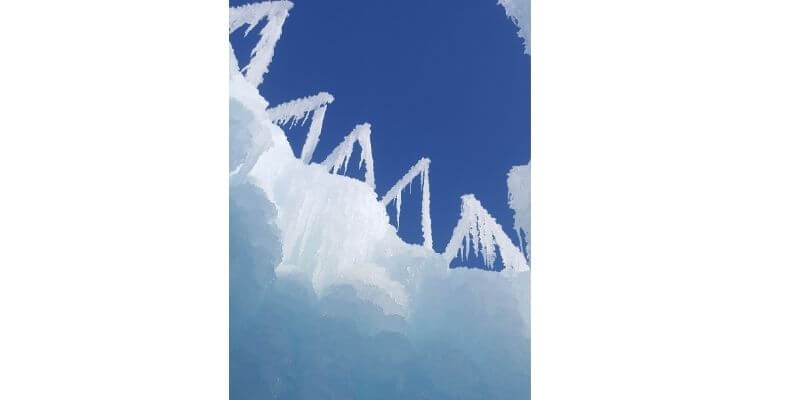 The Wisconsin Ice Castle in Lake Geneva is filled with delicate ice features where ever you look. The ones above are the most overlooked and the most amazing.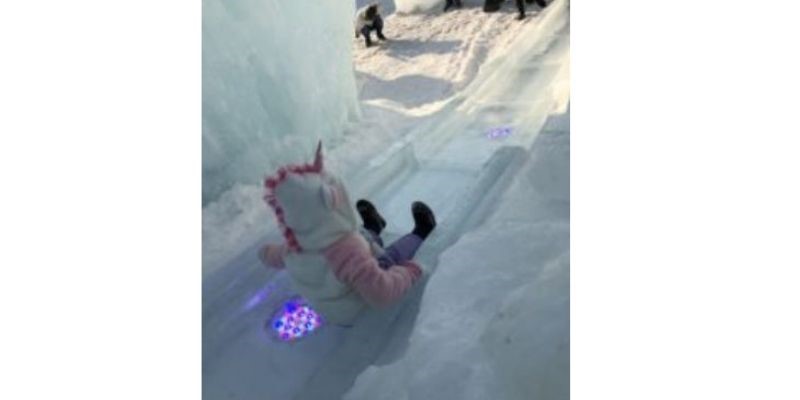 It was so much fun watching the kids run and play at The Wisconsin Ice Castle. The joy on their faces was priceless. I couldn't help but wonder how many had the Frozen theme song playing in their head. This little unicorn was giggling the whole way down.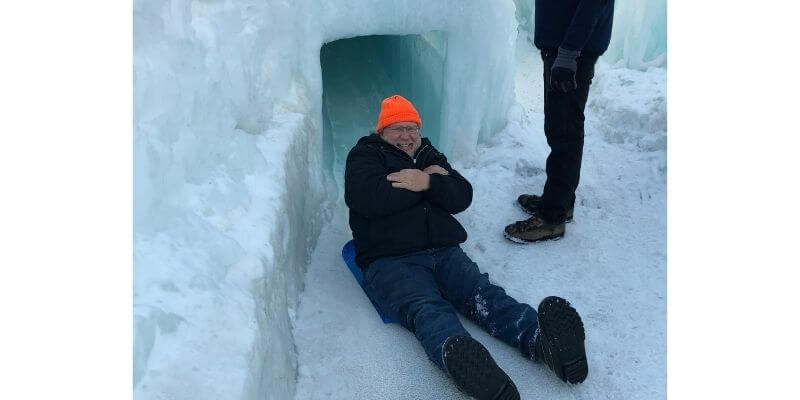 It wasn't just the kids that had fun running and playing. We couldn't help having a little fun ourselves.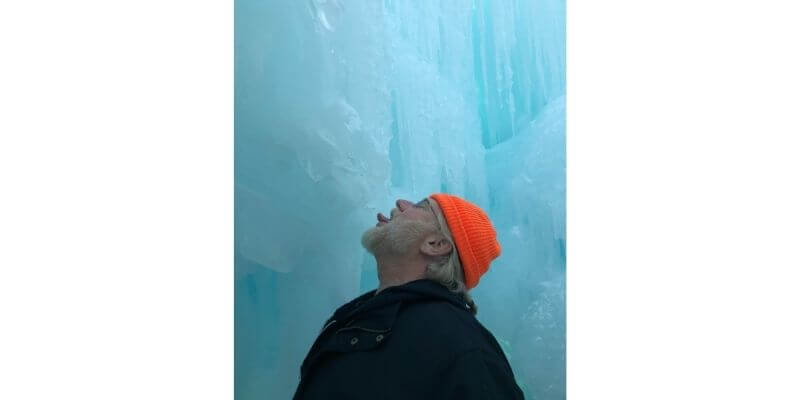 Although Gary did not really lick the ice, it was fun to capture this picture. Always having fun! It feels great to feel alive and enjoying life together.
There are so many very interesting and amazing features that make up the ice castles. This water feature is just one of them.
How are the Ice Castles built?
According to Ice Castle CEO Ryan Davis, Mother Nature is their primary architect, and through all the hard work, they are amazed each year at what she allows them to create. The Ice Castles are built entirely by hand, using hundreds of thousands of man-made, hand-placed icicles.
The construction of the castles is a six-month project, it starts in the summer with the drawing up of blueprints. Every year it's all-new. They start from scratch and are always trying new things, making every winter wonderland new and exciting.
In October, they arrive with blueprints in hand and recruit craftsmen and seasonal workers for this magical winter project. A crew of about 40 ice artisans are recruited for ice growing and castle construction.
The building of the walls starts with installing LED lights and a sprinkler system. The sprinkler heads are linked to the fire hydrant and positioned just so. A temporary metal structure is sprayed with water, and the water freezes into icicles with a little help from mother nature.
All of the icicles are harvested by hand and are used to sculpt the castles. The artisans grow and harvest between 8,000 and 12,000 icicles each day. They then attach the harvested icicles to a base that was created by the sprinkler.
Newly placed icicles are then drenched with water. The blend of icicle placement, temperatures, water volume, and wind results in an astonishing and ever-changing variety of ice formations. By carefully arranging the icicles, they grow into LED-filled sculptures, tunnels, one-of-a-kind mazes, and ice arches, which become the Ice Castle that thousands will enjoy.
Each location is unique and is controlled by the weather, local climate, and mother nature. Each castle features ice caves, tunnels, slides, frozen thrones, water features, hundreds of led lights, and even fire features.
Where is the Wisconsin Ice Castle located?
Wisconsin Ice Castle has been in Lake Geneva for three winters and is located at the Geneva National Resort & Club.
Address ~ 1221 Geneva National Ave South, Lake Geneva, WI
When will the Wisconsin Ice Castle in Lake Geneva open in 2021?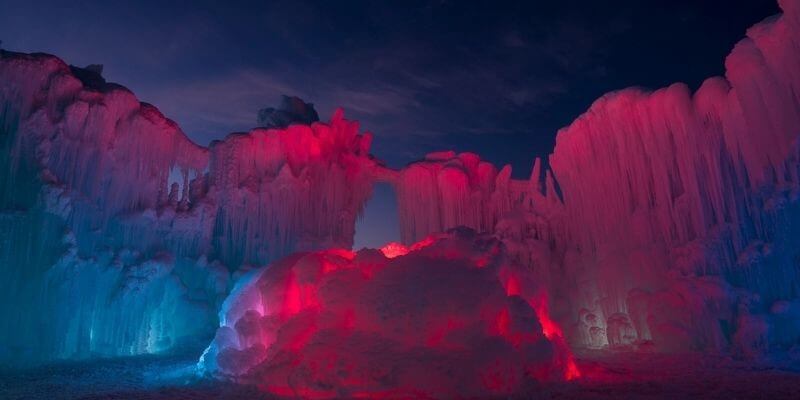 Actual construction of the Wisconsin Ice Castle starts in November. When each year's official opening date will depend on the weather. The target is an opening date in January. In 2020 they opened on January 31.
Where can I purchase Wisconsin Ice Castle tickets?
The only way to guarantee a visit to Lake Geneva Ice Castle is to purchase tickets in advance. Visiting the Ice Castle is a very popular winter activity in Lake Geneva, and tickets sell out way in advance. Tickets purchased online are for a set date and time.
Ticket sales are final, yet you may change the date and time with at least 24 hours' notice. Watch the weather if you have little ones attending with you. Below zero temps may make you want to reschedule.
Ice Castles are not available until the dates for the current year are confirmed. When they become available, you may purchase them ONLINE.
What does the Ice Castle cost?
When tickets become available, this is the expected cost based on last year.
Tickets
Weekdays
Mon – Thurs
Weekends
Fri – Sun
General Admission
(ages 12 and up)
$21
$27
Child Admission
Ages 4-11
$16
$22
Holiday Pricing is the same as weekend pricing
Dates and Times to visit the Ice Castle
The dates and hours of the Wisconsin Ice Castle are weather dependent. Dates and Times will be posted HERE on the Ice Castle website.
Is a visit to Wisconsin Ice Castle worth the price?
Absolutely!! This is something everyone needs to experience at least once. But I can guarantee you that after one visit you will want to return each year. There is something magical when you first step foot inside the ice castle!
Tips for visiting Ice Castles in Lake Geneva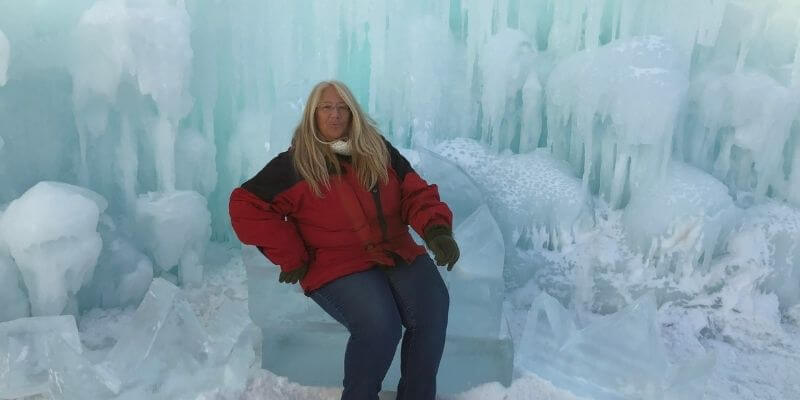 1 | Buy your Ice Castle tickets online in advance
Ice Castle tickets are available for purchase online with specific dates and times of entry. Without the advanced purchase of tickets, you will not be allowed admission. Purchase your tickets as soon as possible after they go on sale.
2 | Know the weather
Keep an eye on the predicted weather. If it is below zero, you will definitely want to dress in a few extra layers or check into changing your tickets to a different date and time.
3 | Dress appropriately
Keep in mind this is winter. Dress in layers and wear boots. It's easier to take off layers than it is to wish you had dressed warmer. No matter the temperature, remember you are walking around on the ice. You will need the boots to keep your feet warm. It would even be a good idea to add foot warmers inside your boots.
This is also such an amazing experience the last thing you want to do is leave because you are cold.
4 | Use hand and foot warmers
I was introduced to hand warmers at work when I did double duty and helped with a truck delivery on one of the coldest winter days of the year. I really wish it had been before we visited the ice castle. They make a huge difference in keeping things warm.
5 | Enjoy the magic
Slow down, and enjoy your day filled with wonder. Walk through and play in the various areas of the ice castle. You are free to stay in the ice castle as long as you want. There are areas within the ice castle to warm by the fire.
How long does it take to go through the Ice Castle?
The average time spent in the Wisconsin Ice Castle is 45 minutes to one hour. Allow extra time to play.
Is the Ice Castle better at night?
You will have an amazing time at the Ice Castle whether you are visiting during the day or the night. During the day, you are able to appreciate the deep blues that only the natural sun brings out in the ice, as well as appreciate every little detail of the castle. At night the LED lights give the castle an entirely different look. Both are amazing!
Where to stay in Lake Geneva?
Cottages & Suites at Geneva National Resort ~ Home of this year's Wisconsin Ice Castle ~ Geneva National Resort is offering exclusive Ice Castle Overnight Packages, the Cottage, and Suites at Geneva National.
Prepare for a truly royal winter when you pair a visit to Ice Castle with an overnight in a boutique vacation villa and suite, just steps from Ice Castle.
The Ridge ~ Is offering exclusive overnight packages. The Ridge Hotel is sleek and edgy with a twist of Wisco tradition. In addition to the contemporary design, the Ridge includes a tech-savvy lobby, Crafted Pizza & Tap Restaurant, bean + vine grab-n-go coffee & sandwich spot, and an outdoor veranda with a fire feature.
Stay tuned for packages bundling overnight stays with Ice Castles tickets.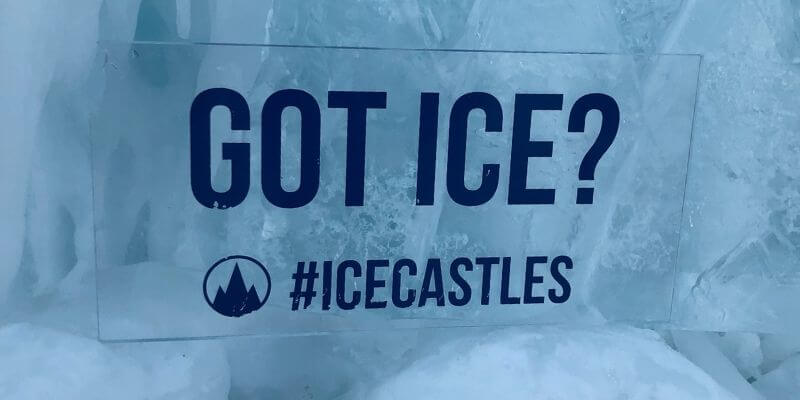 Even though the exact opening date has yet to be determined, you can get a glimpse of last year's fun by checking out Ice Castle's stunning Instagram account. Anyone visiting the Ice Castle is welcome to hashtag icecastles and share their fun.
What happens when the Ice Castle closes?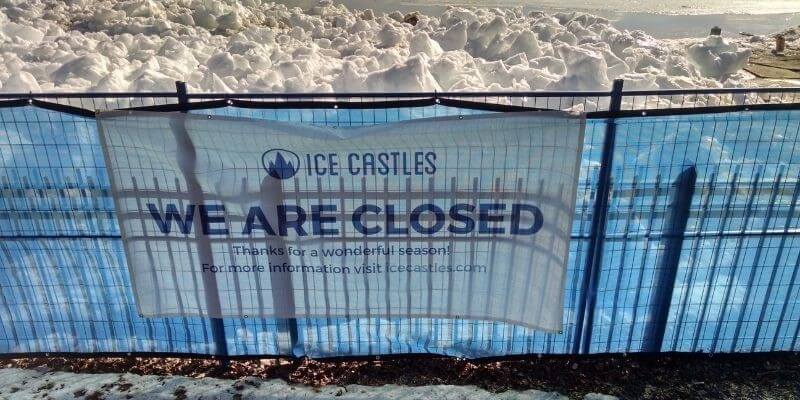 Usually, in March, when the weather gets warm, and the ice artists can no longer keep up with safely repairing the melting ice, it is time to close the Ice Castle.
What happens to all that ice when the weather warms, and Wisconsin Ice Castle closes? The ice can't be just left to melt. Everything has to be dismantled, and all of the metal and LED lighting within the ice has to be removed.
For safety reasons, all of the ice needs to be crushed before the ice can be left to melt.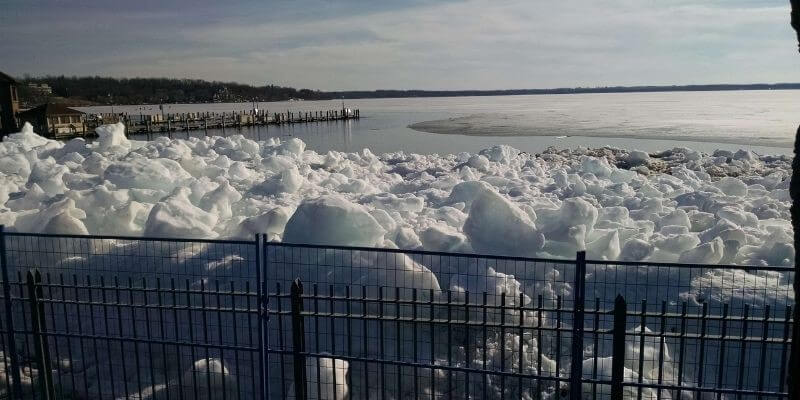 Ice Castles are built near water sources so that the water naturally returns to nature.
You can sign up for the Ice Castle newsletter to be notified when Wisconsin Ice Castle in Lake Geneva will open. Sign up Online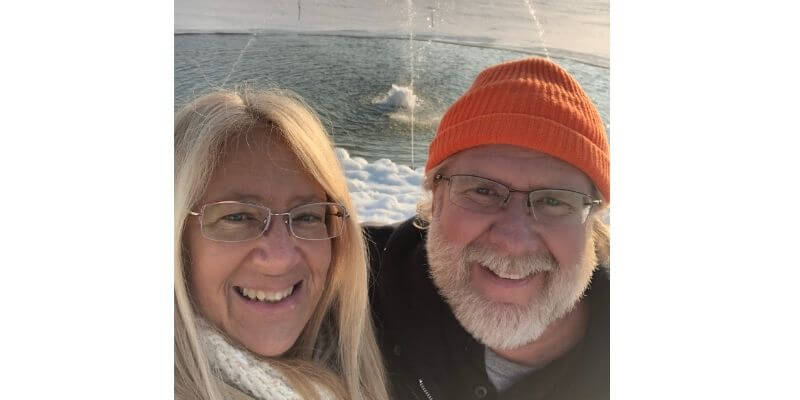 We loved being together, walking through this magnificent and giant work of ice-art holding hands, sharing thoughts, kissing, giggling, taking pictures, and meeting new friends.