15 Unique Places in Wisconsin to Visit | Quirky Photo Opps
Have you ever wondered what unique places there are in your state? We make a lot of random road trips, and along the way, we have come across some very unusual places in Wisconsin to visit for excitement and quirky photo opportunities.
Some of these places have the most interesting story behind them, and others lend themselves to be the perfect photo opportunity.
Wisconsin has many unique places, from the World's Largest Carousel, Troll-town USA, and even the Sputnik IV crash site. Keep reading below for a roundup of those on top of our most interesting list.
This list will be ever-changing as we travel and see new and exciting things. We are often traveling, seeing something, and before you know it, we have turned the car around.
Unique places in Wisconsin to visit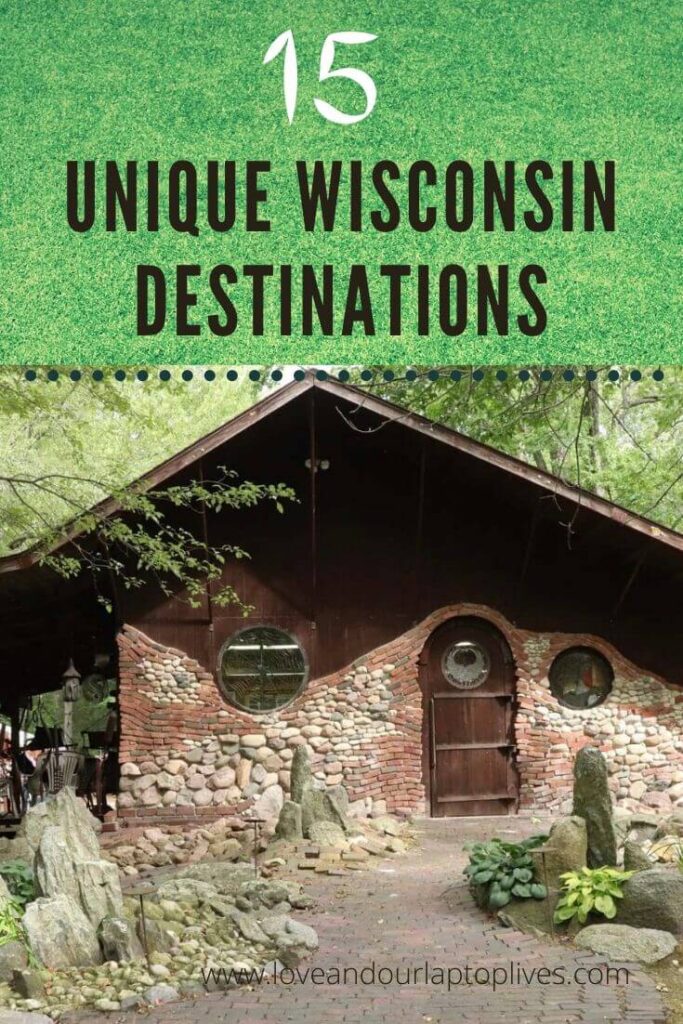 This post may contain affiliate or sponsored links. If you click on a link and make a purchase, I may receive a small commission (at no additional cost to you). Please see my full disclosure policy for details.
1 ~ Sputnik IV crash site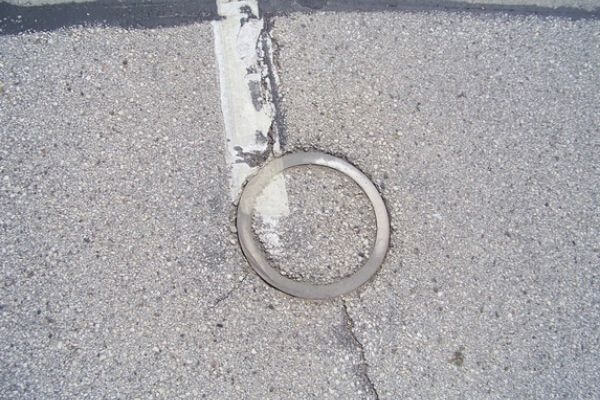 Manitowoc, Wisconsin ~ On September 5, 1962, a 20-pound piece of space junk that broke from the 5-ton Sputnik IV crashed in the middle of the street on the corner of N. 8th and Park, in Manitowoc, Wisconsin.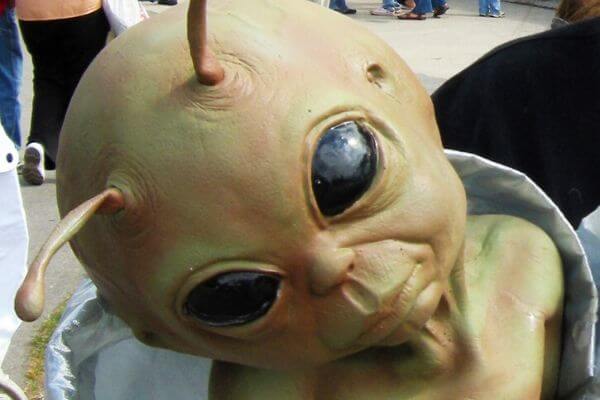 This unique metal ring is now embedded in the middle of the 8th street to mark the crash location. A space-themed festival, Sputnikfest, is held annually to celebrate Manitowoc's claim to fame. It's named one of the "Top Five Funkiest Festivals" in the country by Readers Digest.
2 ~ Center of the Northwest Hemisphere | 45×90 Marker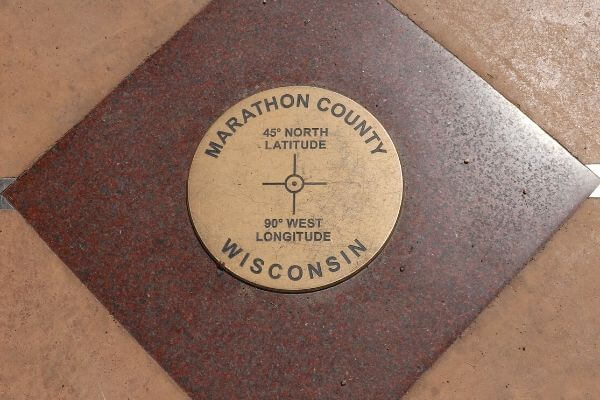 Athens, Wisconsin ~ In the cornfield in the middle of nowhere is the Northwest Hemisphere's Center. There are 4 – of these spots in the world. One is in the middle of the Pacific Ocean, One is in the middle of the Indian Ocean, the third is in China in a remote unreachable location, and the last one is in the middle of a cornfield in central Wisconsin.
45°N – 90°W United States
45°S – 90°W Pacific Ocean
45°N – 90°E China – remote and unreachable
45°S – 90°W Indian Ocean
After a trek on a path through the cornfield, you come to a brass marker in the ground, marking the spot.
3 ~ The National Bobble-Head Museum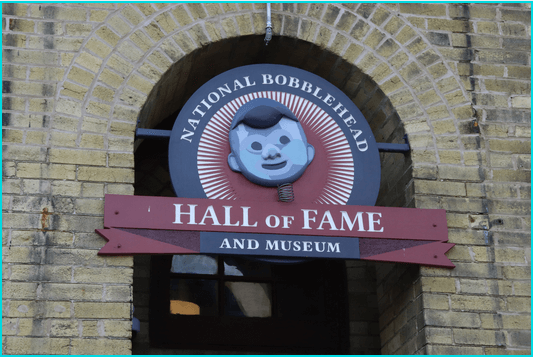 Milwaukee, Wisconsin ~ The National Bobblehead Hall of Fame and Museum houses the world's most extensive bobblehead collection. It features dozens of exhibits related to the bobblehead history, the making of bobbleheads, and more.
The National Bobblehead Museum is home to thousands of bobbleheads: vintage, miniature, life-size, character, and even political bobbleheads. A few of the bobbleheads I remembered from my childhood. While visiting, make sure to have a conversation with the gentlemen that run the museum and find out how they got started—a unique place.
More about Milwaukee WI
Milwaukee's Historic Third Ward
Milwaukee's Harley Davidson Museum
Milwaukee's Historic Pfister Hotel
Milwaukee, a city filled with Romance
4 ~ Troll-Town USA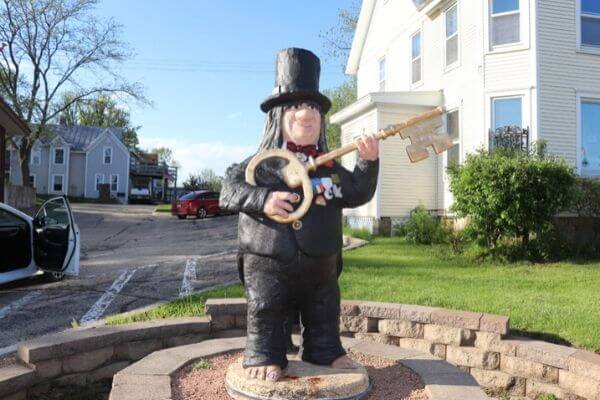 Mount Horeb, Wisconsin ~ The small town of Mount Horeb is known as Troll Town USA. Their website says, "Escape from the hustle and bustle of the city and come to Mount Horeb, Wisconsin, where the trolls play!" And play they do! This town has fun and quirkiness around every turn.
Rich Norwegian heritage is present throughout this tiny town. You'll be delighted with its uniqueness and quickly fall in love with the charm and hospitality of the town.
5 ~ National Mustard Museum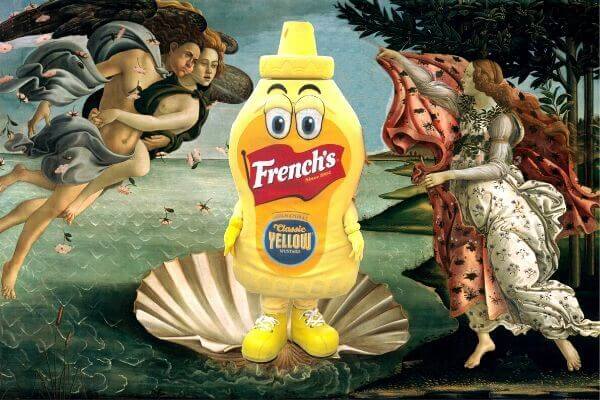 Middleton, Wisconsin ~ The National Mustard Museum began as the "Mount Horeb Mustard Museum" when its founder & curator, Barry Levenson, started collecting mustards on October 27, 1986.
The story of the Mustard Museum traced its roots to a late-night visit to an all-night grocery when Barry heard a deep, resonant voice as he passed the mustard: "If you collect us, they will come."
Barry bought about a dozen jars of mustard and, at that moment, resolved to amass the world's most extensive collection of prepared mustards. In 2009, the Museum moved to its current facility in downtown Middleton, Wisconsin.
6 ~ The House on the Rock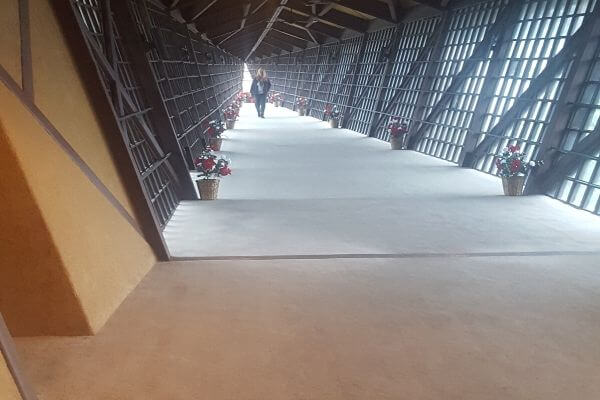 Spring Green, Wisconsin ~ In the early 1940's Alex Jordan fell in love with a chimney of rocks. After picnicking and camping on those rocks, Alex purchased the land and built a very unusual house. A house that, over the years, took on a life of its own.
Today The House on the Rock is open to the public and filled with more twists and turns than one can imagine. It's home to the world's largest carousel, life-size sea creatures battling, and some of the strangest collections.
7 ~ Jurustic Park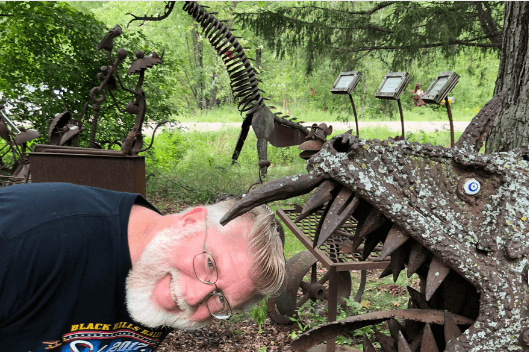 Marshfield, Wisconsin ~ Jurustic Park is a quirky park where paleontologist Clyde Wynia excavates and recreates now extinct creatures that once inhabited McMillian Marsh near Marshfield Iron Age.
The bones of these marsh creatures were metal, and many of the species died out when farming and industry moved into the area. The creatures were said to have been harvested for parts that were to be used on the machinery. The creatures became extinct between that and rust—all except those that have now found residence at Jurustic Park. A visit here is an experience!
8 ~ Worlds Largest Round Barn
Marshfield, Wisconsin ~ The World's Largest Round Barn is the red fairground barn in Marshfield, Wisconsin. In the fall of 2015, groups joined forces to construct a landmark building that would meet multiple city organizations' yearly needs.
In 1916, the barn was listed on the National Register of Historic Places in 1997 as the Central Wisconsin State Fair Round Barn.
The enormous structure was built without the help of scaffolding. The barn's size is approximately 150 feet in diameter and is 70 feet high at the top of the cupola. The round construction was sturdy, wind-resistant, and more efficient with a central feeding area.
9 ~ Cave of the Mounds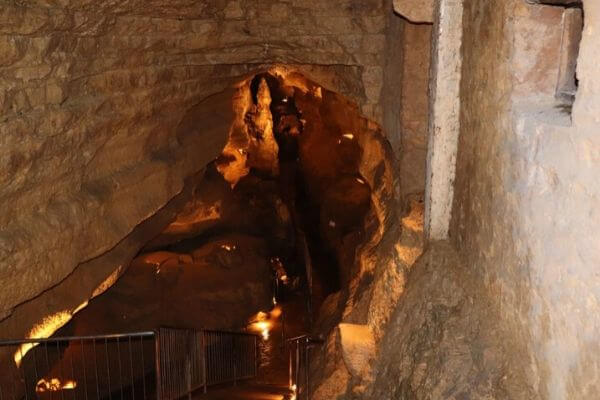 Blue Mounds, Wisconsin ~ Cave of the Mounds was accidentally discovered on August 4, 1939. Workers, who were removing high-quality limestone from a quarry on the Brigham Farm, blasted right into the Cave. The blast tore the face off the quarry. It revealed a great underground cavern, a limestone cave with more than twenty feet high openings into other rooms, and galleries containing numerous mineral formations.
All quarrying stopped on that day in 1939 and never resumed. The discovery's excitement brought so many curiosity seekers that the Cave had to be closed to preserve it. At the same time, wooden pathways and bridges were installed throughout the caves.
Today millions of visitors have been amazed while touring the caves.
10 ~ Worlds Largest 6-Pack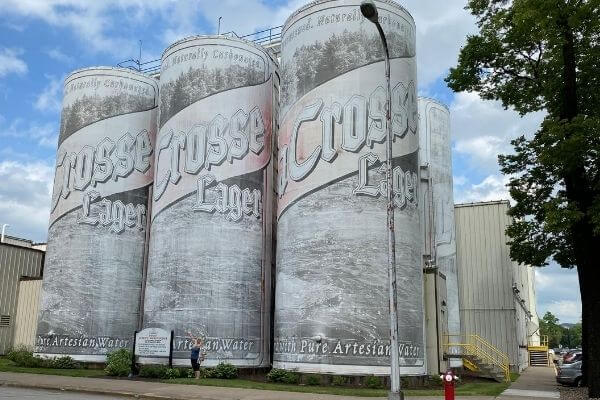 LaCrosse, Wisconsin ~ In 1969, the G. Heileman Brewery built six 54-foot-tall storage tanks at its La Crosse, Wisconsin plant. The tanks were painted a year later to resemble beer cans, and the sextet was proclaimed the "World's Largest Six Pack."
The cans would fill over 7 million twelve-ounce cans, which "would provide one person a six-pack a day for 3,351 years."
11 ~ Life-Size Bronz Fonz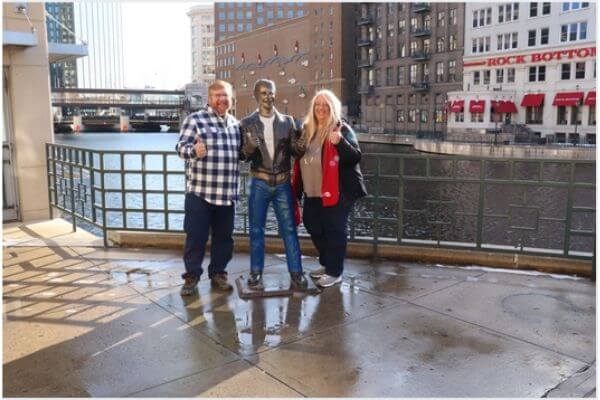 Milwaukee, Wisconsin ~ "AYYY" Who doesn't remember the TV series Happy Days and the beloved character Arthur Fonzarelli, better known as the Fonzie? From 1974 to 1984, Milwaukee was the setting for this entertaining sitcom for ten years. The happy Days storyline takes place in Milwaukee. Unfortunately, no filming ever took place in Milwaukee.
Over the years, Happy Days and this king of cool ~ Fonzie, became a household name. Many first heard of the city of Milwaukee thanks to Happy Days. It only fits that Visit Milwaukee set out to have a life-size bronze statue of the Fonz constructed for all to see and stop to get their selfie with.
12 ~ Hamburger Charlie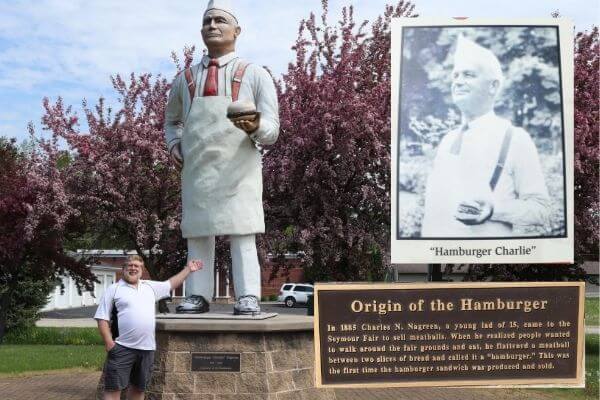 Seymour, Wisconsin ~ This little town may disagree with Google regarding who invented the hamburger. And to show that a giant statue of Hamburger Charlie stands tall and proud in their downtown.
If you are driving through Seymour, Wisconsin, you may want to be prepared to declare Hamburger Charlie as King of the hamburger to avoid getting hit in the face with a beef patty.
13 ~ Al Johnson's Goats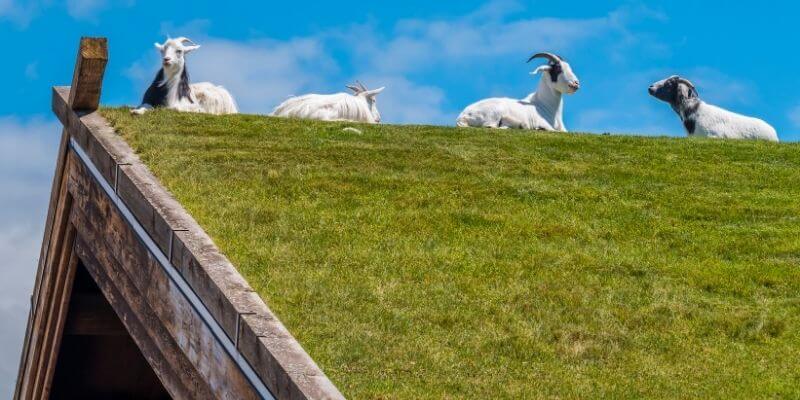 Sister Bay, Wisconsin ~ So what is so special about Al Johnson's goats? These goats spend their entire day grazing on Al Johnson's Swedish Restaurant's grass-covered roof in Door County, Wisconsin. This grassy roof and those goats have drawn tourists and locals for years.
In 1973, Al Johnson ordered a traditional sod-roofed building from Norway and assembled it on site along with the sod roof. This sod roof later became the home of Al Johnson's goats.
The goats go onto the restaurant's sod roof at the start of each tourism season, in late May, and are a daily occurrence until mid-October. Every summer day, the goats have led up a wooden ramp into the back of a pickup truck, and when they arrive at the restaurant minutes later, they eagerly scamper onto the roof.
14 ~ Schoolhouse Beach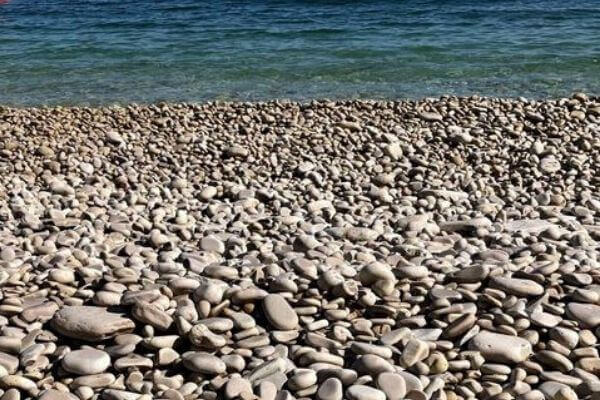 Washington Island, Wisconsin ~ Schoolhouse Beach is one of 5 unusual places in the world that is not covered in sand. Instead, its beach is covered with perfectly smooth stones.
This natural wonder offers its visitors a unique experience, a beautiful coastline, swimming, diving, and rafting. And plenty of sunshine for a picnic.
The smooth limestone rock was glacier-polished over thousands of years and are small geological treasures. Souvenir hunters have carried off so many stones that there is now a steep fine for removing one.
Although the stones are round and massaging on your feet, be sure to bring your flip-flops or aqua-socks. Walking on the rock can take its toll on your feet.
15 ~ Doc's Harley Davidson
Bonduel, Wisconsin ~ Doc's Harley-Davidson Bonduel, Wisconsin, is one very unusual place. It is not your everyday Harley Davidson Showroom. Owner Steve "Doc" Hopkins is responsible for the uniqueness one finds when visiting Doc's Harley-Davidson.
We loved our trip to the Harley Davidson Museum in Milwaukee. Having visited the Museum in Milwaukee, we can see why Doc's love for Harley-Davidson grew.
You know this will be an adventure driving into the parking lot of Doc's. The first clue was General Lee and the sheriff's car from The Dukes of Hazzard hovering mid-air above the Harley-Davidson dealership.
At Doc's, you can shop for a new bike, look at used Harley Davidson, shop for Harley Davidson gear, get your bike repaired, and even get a bite to eat.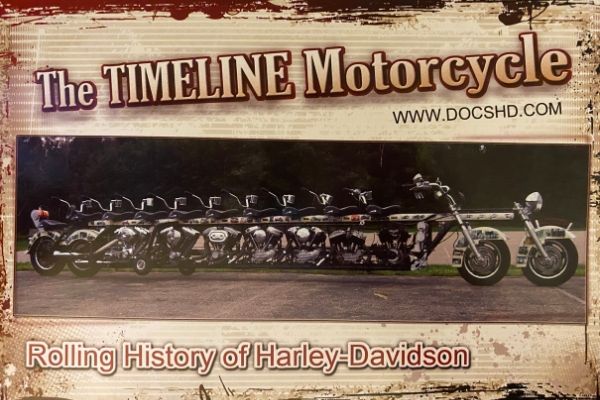 In addition to that, these unique things can be seen at Doc:
Doc's Classic Car and Cycle Museum
Doc's 28-acre zoo
A full-size Ferris wheel that Doc built from scratch
A Pirates ship
Bikers mezzanine built by Doc from extra parts
Docs Harley fan made from Harley parts
Doc's personal ten-seaters TimeLine Harley-Davidson motorcycle, made by Doc himself.
---
Our Top Quirky Photo Opps
While traveling in Wisconsin, we have some of the quirkiest photo opportunities. There have also been times we have gone out of our way because someone has told us we had to check out a specific place. More often than not, we have been pleasantly surprised.
World's Largest Penny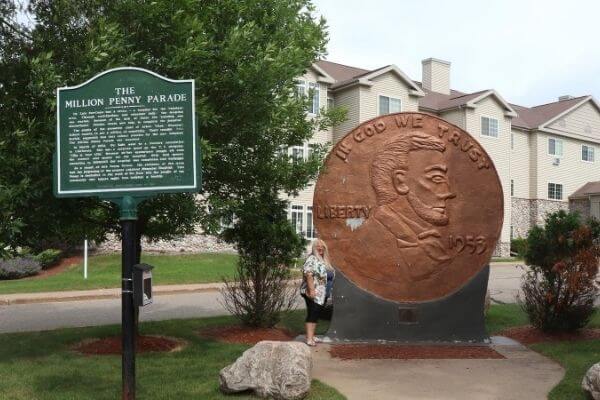 This is the cutest story. The penny is referred to as the World's Largest Penny. It commemorates a 1953 fund-raising done by children in Woodruff, Wisconsin.
Dr. Kate Pelham Newcomb (known locally as "The Angel On Snowshoes") appealed to local school children to save their pennies so that Woodruff could build a hospital. TV picked up on the story, and pennies were soon pouring in from all over the country — 1.7 million in all.
It looks as if pennies are still pouring in. On the ground and at the penny base are piles of pennies that people have left while visiting the penny.
Address: 820 3rd Ave, Woodruff, WI
Bonnie and Clyde Gangster Park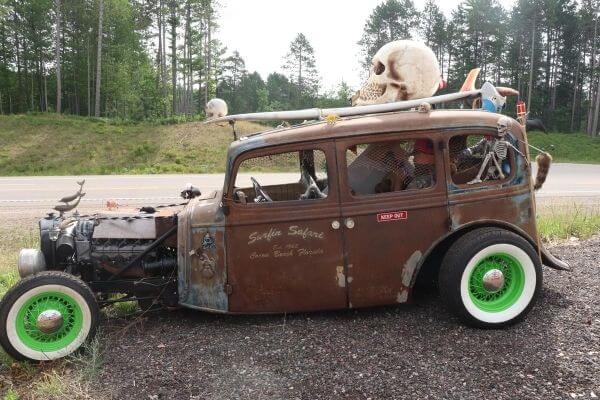 Bonnie and Clyde Gangster Park is one of those places we discovered by just driving past, looking at each other, and saying, "Turn Around."
Address: 5261 US Hwy 51 Harshaw, WI
Claire d'Loon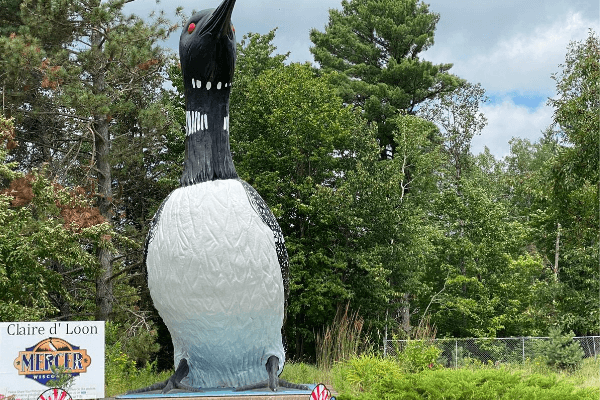 Claire d'Loon weighs 2,000 pounds and stands 16 feet tall. She has stood outside the Mercer Chamber of Commerce since May 1981.
Claire is the "World's Largest Talking Loon," talking only in loon sounds.
Address: 5150 N Hwy 51, Mercer, WI
Sparta Bike Museum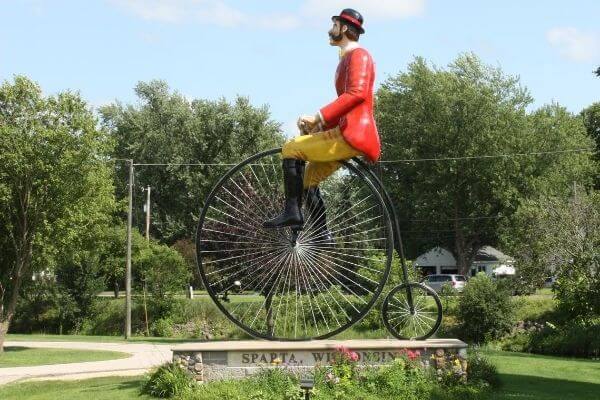 This Bicycle Man of Sparta is known as "Ben Bikin" or Big Ben," the world's largest bicyclist." He stands in a park at thirty-two feet tall. The fiberglass sculpture is of a man riding an old-fashioned bicycle.
Pierre of d'Nort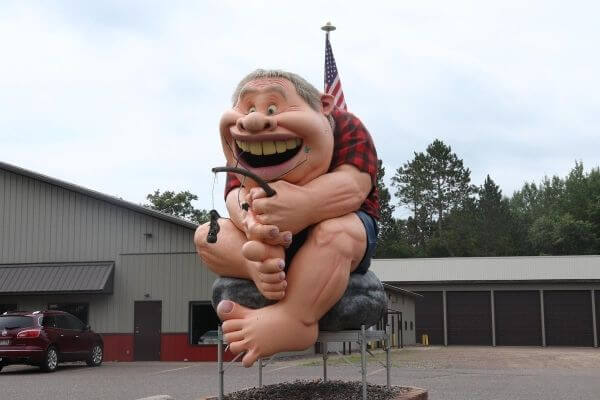 We drove out of our way to find this 12-foot cartoon sculpture of a north-woods fisherman. This character is sitting on a rock on a pier, grinning because he just made his first catch ~ a boot. Rumor is the boot on his pole is a donated flight deck boot from a sailor.
Pierre of d'Nort has been greeting passersby for over five years. He was custom-made by the owner of Pier of d'Nort Corp. during the slow winter months. Wisconsin winters can be brutal. What a great project to stay inside and tackle. Some men would remodel the kitchen, but this seems like more fun.
Projects of this kind are not new to the owner of Pier of d'Nort, Carl Surges. Carl has made characters for Disney, Warner-Brothers, and Universal Studios.
Address: 6035 Hwy 70 E. Street, St Germain, Wisconsin
Fun Facts about Wisconsin
Nearly 21 million gallons of ice cream are consumed by Wisconsinites each year.
Green Bay is known as the "Toilet Paper Capital" of the world.
Wisconsin consumes more than half of all brandy produced.
The first ice cream sundae was concocted in Two Rivers in 1881.
According to Wisconsin stories, Wisconsin contains more ghosts per square mile than any other state in the nation.
Wisconsin is so much more than cheese, beer, and brats. These unique places in Wisconsin will only cause you to fall in love with this fun state.
What fun and unusual places have you found to visit? Please share them with us. We are always on the lookout for something new.