What To Expect At Doc's Harley-Davidson, Bonduel, Wisconsin

Doc's Home of the Timeline Motorcycle
Doc's Harley-Davidson in Bonduel, Wisconsin, is someplace everyone will want to check out. Doc's is not your average Harley-Davidson dealership. A little something for everyone can be found when you step foot through the doors of this unique place.
Customers who visit Doc regularly think of Steve "Doc" Hopkins, like the Willy Wonka of Harley-Davidson. Doc's eccentric personality and his mechanical genius are nothing short of original and innovative. While visiting Doc's, if you wander his 28 acres, you will find a museum, a zoo filled with many unusual animals, Doc's world-famous Timeline Motorcycle, and more around every corner.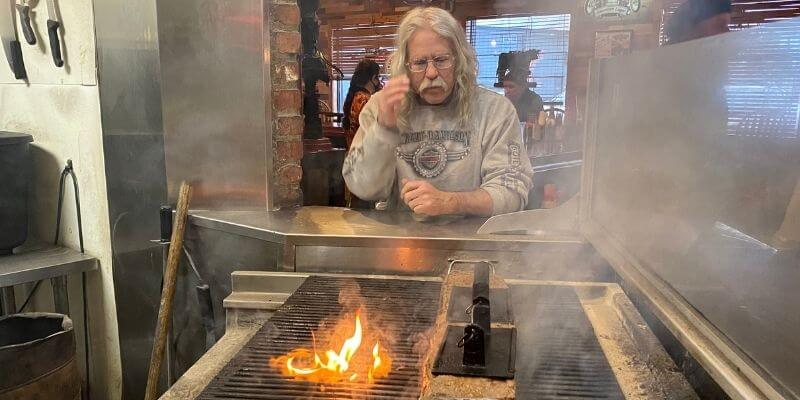 Like many locals, Gary and I have driven past Docs several times without stopping. We didn't realize the wide assortment of things there are to see and do at Doc's. It wasn't until we bought a Harley-Davidson that we decided to stop. We had missed so much over the years.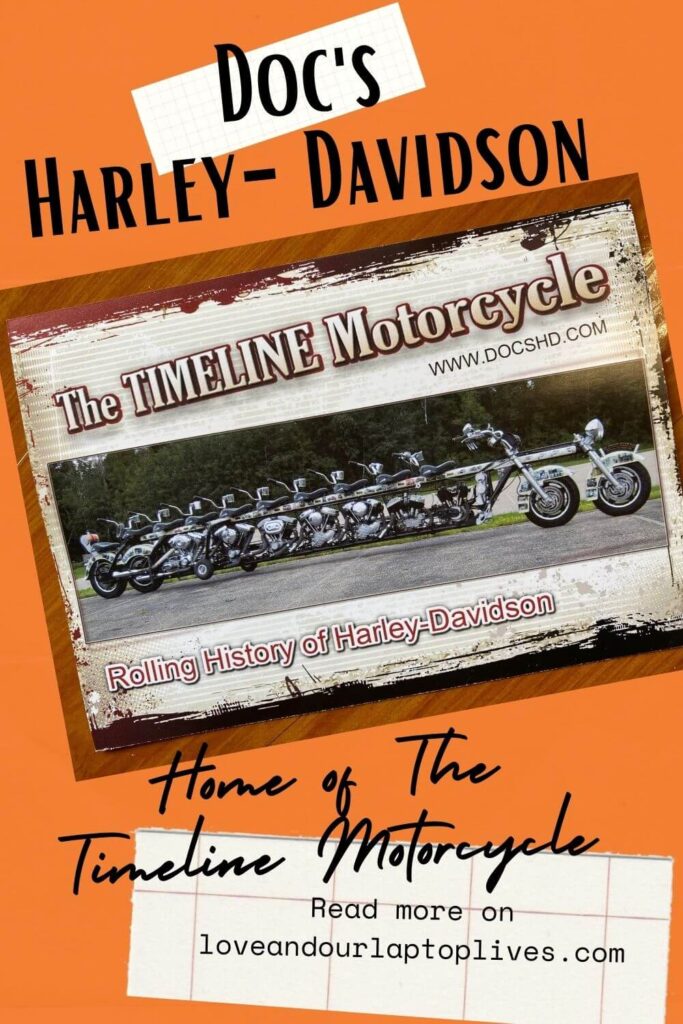 This post may contain affiliate or sponsored links. If you click on a link and make a purchase, I may receive a small commission (at no additional cost to you). Please see my full disclosure policy for details.
Doc's Classic Car and Cycle Museum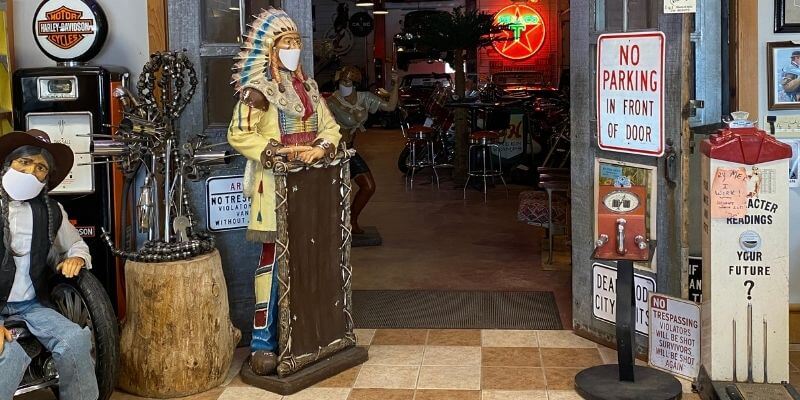 The first hint that Doc's is no ordinary Harley-Davidson dealership is the eye-catching cars mid-air above Doc's. This site is hard to miss for all that drive Highway 29 near Bonduel.
Hovering above Doc's roof is a classic Dukes of Hazard car chase, featuring Sherrif Rosco P. Coltrane's police cruiser in hot pursuit of Beau and Luke Duke's General Lee. This "frozen in time" car chase is a classic scene from the movie.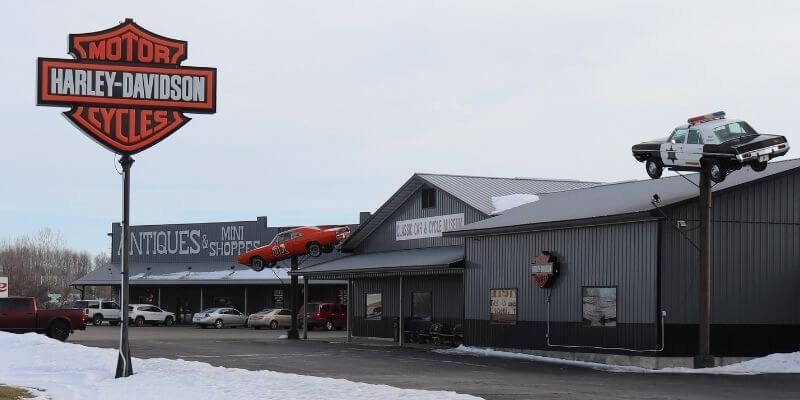 When I asked Doc why the Dukes of Hazard were outside, his reply was, "why not?" Inside the car museum is an original General Lee from The Dukes of Hazard.
The Classic Car and Cycle Museum is free for all visitors to enjoy. The entrance to the museum is original bi-fold doors from a local gas station.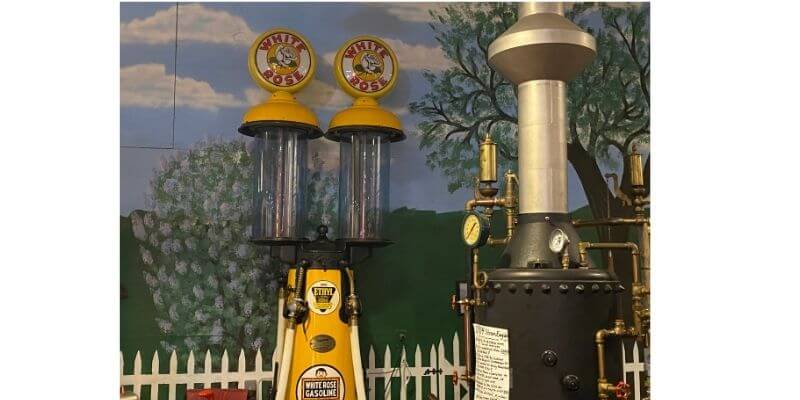 Once through the museum doors, you are first greeted by a pirate giving fair warning to all who enter. On display are antique gas pumps, service station signs and memorabilia, dozens of one-of-a-kind cars, and restored motorcycles, with some unique oddities mixed in among them, including an 88-pound Wooly Mammoth Tusk that Doc picked up in Alaska.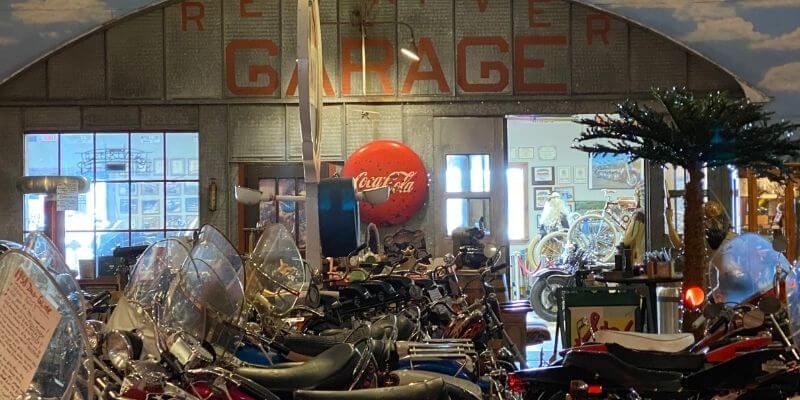 Keep your eyes open. You will still find something you missed after several circles through the museum. Plus, you never know what Doc will add to this collection.
Doc's Creations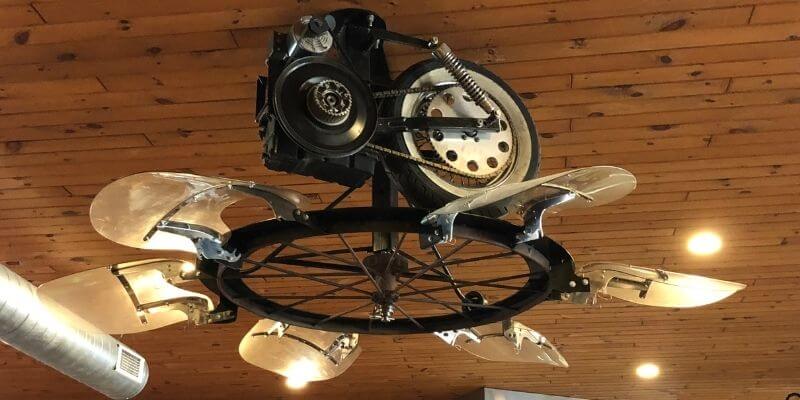 You will see evidence of his limitless imagination at every turn after one visit to Doc's. Throughout each section of Doc's Harley Davidson's vast layout, Doc has displayed unexpected metal creations that make you stop and take a second look. Many of Doc's creations are too large to be housed within the building. Venture outback and see what Doc's creative juices have assembled on a large scale.
Doc saves everything and finds a way to turn it into something new. Not one tiny Harley-Davidson part gets tossed. Doc will find a way to use it in one of his many creations.
Stepping outside, a huge Ferris Wheel was the first thing that caught my eye, and then a people-size birdcage called a whirligig, complete with a Sassy Viking that paid his dues and Doc's "Biker Mezzanine" that is topped with a "chopper" motorcycle.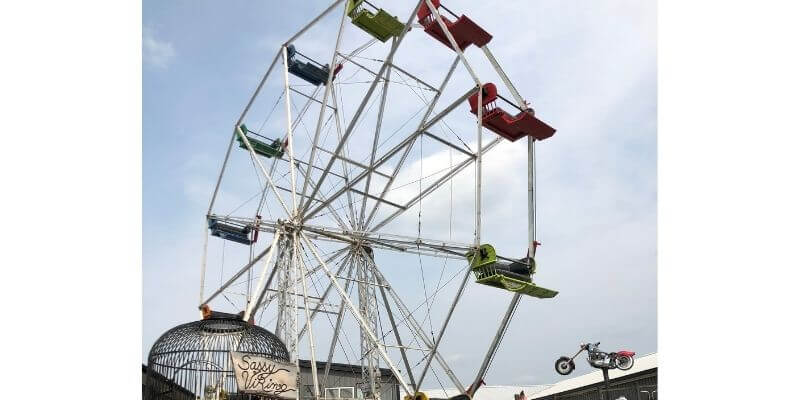 One of the most significant projects at Doc's took over five months to build. It's a 50-foot long, 50-foot tall pirate's ship, complete with an authentic wooden ship's wheel, three crows nests, and six cannons.
This is just a tease of the unusual and unexpected creations done by Doc that you will find at this Harley-Davidson dealership. We recommend you give yourself enough time to explore to see what else he has imagined.
You can pop in any time of day if you are driving past, but we recommend you plan on making a day of it. Once inside, you won't want to miss anything. And don't forget a meal at the Timeline Saloon and ice cream for dessert at Custards Last Stand is a must.
Doc's Zoo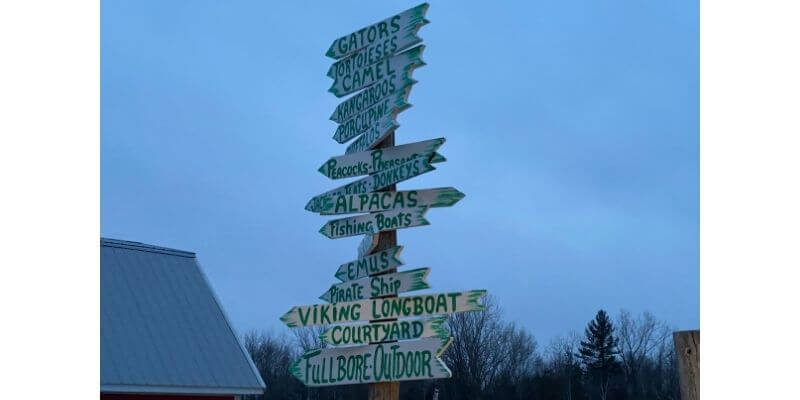 A visit to Doc's is not complete without experiencing the fun of visiting his diverse family of resident animals. Like the museum, the zoo is free to tour during regular hours.
All of the animals, most of which were surrendered by those who could no longer take care of them, are well cared for and live happily on 28 acres at Doc's.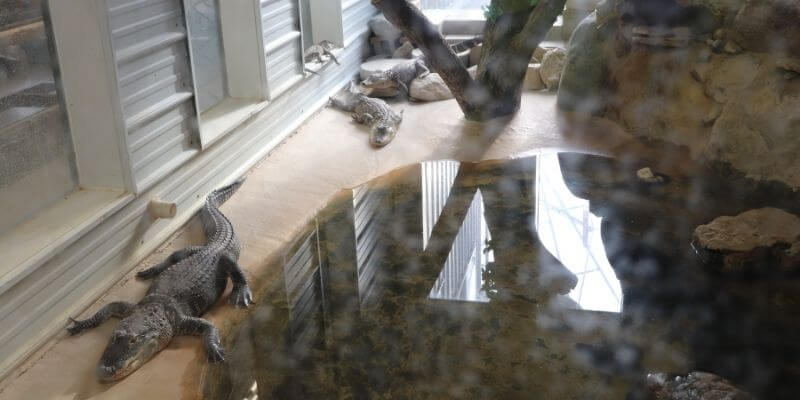 Doc himself feeds the alligators every Saturday morning at 11:00 sharp. All are invited, and this is a great time to stop in and see Doc himself interact with these lovable creatures.
It is very unusual to see a kangaroo in Wisconsin unless you are visiting Docs. You will find porcupines, alligators, zephyrs, alpacas, tortoises, bison, goats, and many more creatures in addition to the kangaroo.
Doc's Harley-Davidson Timeline Motorcycle

Harley-Davidson is one of the most recognized names among motorcycles. Harley-Davidson started in Milwaukee, Wisconsin, when a young man dreamed of adding an engine to a bicycle.
Harley-Davidson has had its ups and downs but remains the number one desired motorcycle.
Although other bikes have been customized for dealerships' advertising, none have come close to Doc's uniqueness. The Timeline Motorcycle could very well be called one-of-a-kind. It was hand-built and envisioned by Doc in 2009.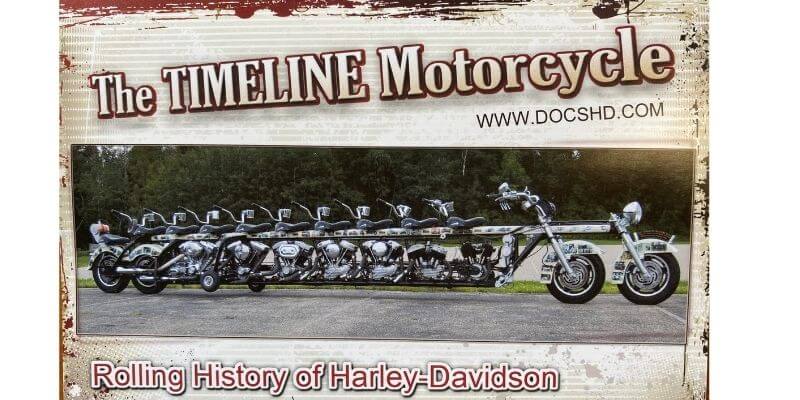 Doc's Harley-Davidson Timeline Motorcycle is a multi-engine motorcycle that shows Harley-Davidson's engine advancements throughout the years. The Timeline Motorcycle has seven air-cooled Harley-Davidson engines that work simultaneously and supplies the bike with its needed power.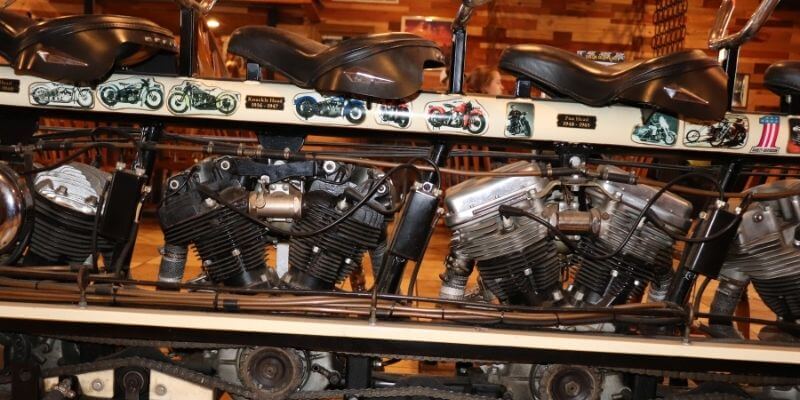 Each engine on The Timeline represents a period in Harley-Davidson's history.
1909 – 1929 ~ F-Head
1928 -1948 ~ Flathead
1936 – 1947 ~ Knucklehead
1948 – 1965 ~ Panhead
1966 – 1984 ~ Shovelhead
1984 – 1999 ~ Blockhead
1999 – present ~ Fathead
The Timeline is 24 feet long, and up to 10 people can ride the bike simultaneously. To show the bike's ride-ability, Doc and nine others made the trip from Doc's dealership in Wisconsin to Sturgis, SD, in 2009 for the Sturgis Motorcycle Rally.
In 2021 the 81st Sturgis Motorcycle Rally will be held in Sturgis's small town in the Black Hills of South Dakota.
Click HERE for a video of the 2009 World Famous ride to Sturgis, SD.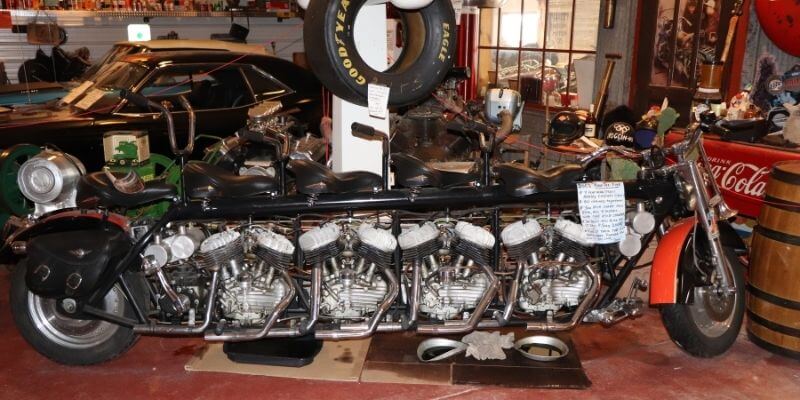 The Timeline Motorcycle is not the first unusual motorcycle Doc has built. In 2008 he built a four-engine motorcycle called the Four-Tee-Five and road it to Milwaukee, Wisconsin, for the 105th Anniversary of Harley-Davidson.
The Four-Tee-Five Motorcycle was built in 17 days by Doc and was part of the 105th Harley Anniversary Parade in Milwaukee in August 2008.
If you are sitting at home dreaming of a ride on the Timeline Motorcycle, stop in the Timeline Saloon and take on their Timeline Burger challenge.
The Harley-Davidson Museum, located in Milwaukee, Wisconsin, is home to almost every style of Harley-Davidson Bike ever made and the incredible history of Harley-Davidson. We had a fantastic time visiting the Harley-Davidson Museum, and you can read about our visit at What to Expect When Visiting the Harley-Davidson Museum in Milwaukee, Wisconsin.
Timeline Saloon & BBQ
The Timeline Saloon and BBQ was another of Doc's dreams. Doc created the timeline Saloon around the Timeline Motorcycle.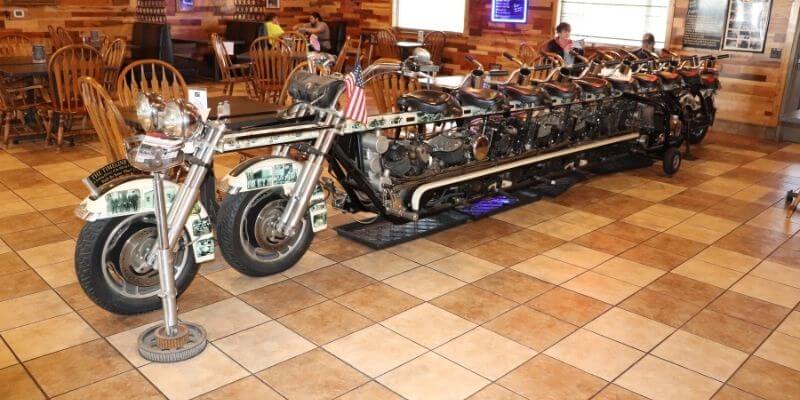 The Timeline Motorcycle takes center stage in the saloon, where it is on display.
The steel tables and bar in the saloon are hand-built by Doc. The decor in the pub features many of Doc's one-of-a-kind creations.
The BBQ menu features a family-friendly breakfast, appetizers, burgers, pizza, sandwiches, and Doc's special smoked BBQs.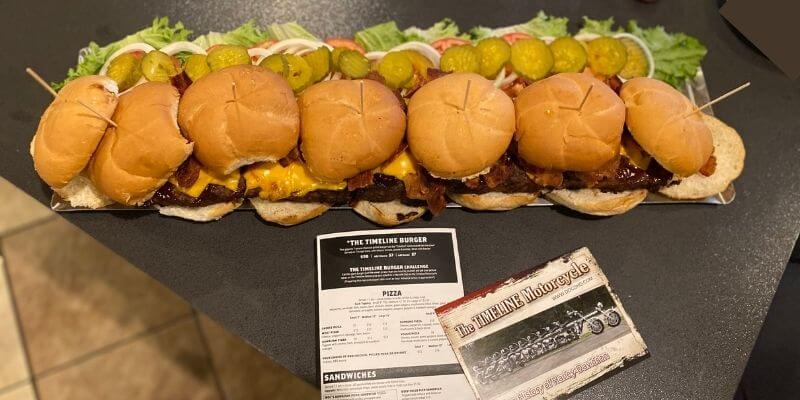 In addition to the world-famous Timeline Motorcycle, Doc's is also known for its seven-pound Timeline Burger, occasionally appearing at The Timeline Saloon for anyone up for a challenge.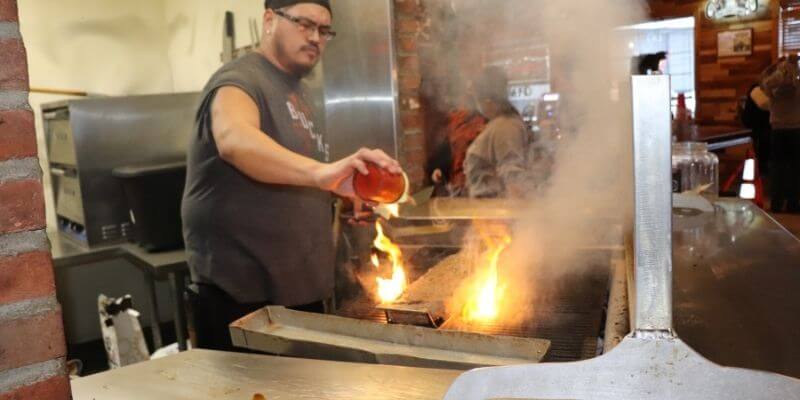 It is impressive to watch the Timeline Burger being prepared. The Timeline Burger has the name Timeline seared into it. This burger would be great for a group, but why not take on the Timeline Burger Challenge if you are up for a challenge?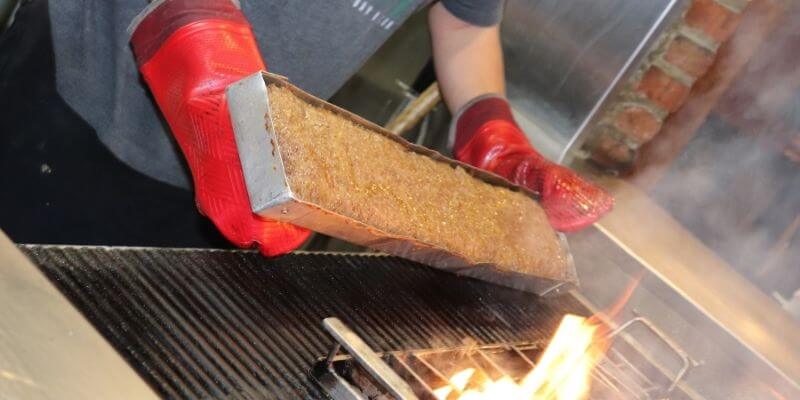 The Timeline Challenge ~ Eat this giant (just the 7 pounds of perfectly seared meat) in less than one hour by yourself, get your picture taken on the Timeline Motorcycle, and schedule a ride with Doc on the Timeline Motorcycle.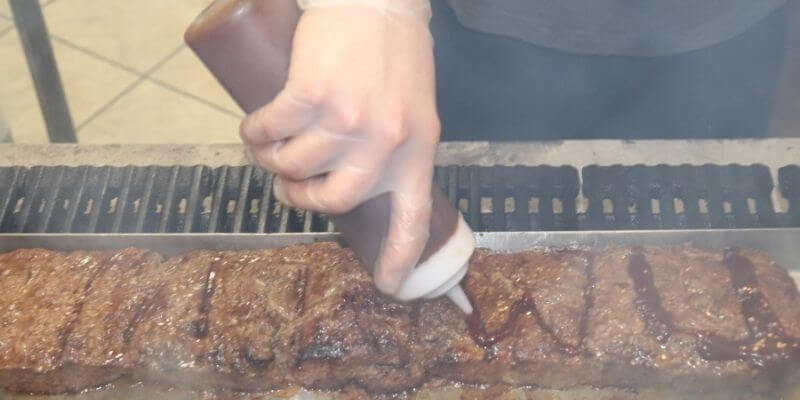 Doc is quite the character, and this ride would be awesome! I can't help but wonder if anyone has taken on the challenge and had the privilege of riding with Doc.
---
Before leaving, be sure to check out our recommended
Travel Resources
to find exclusive travel discounts and to
book your hotel, rental car, and guided tours.
---
Doc's Gift Store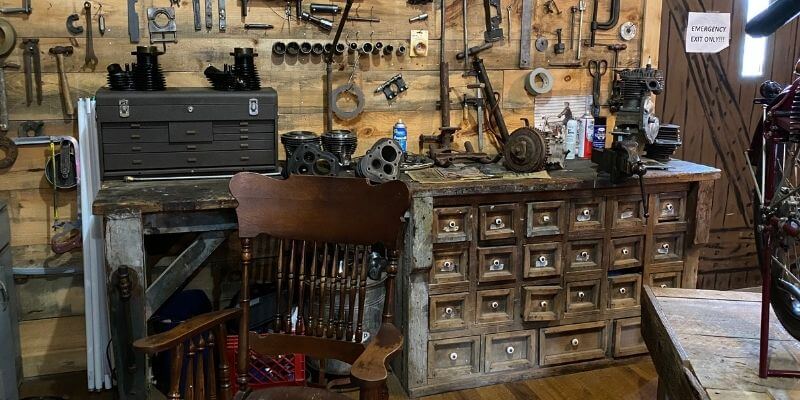 Even Doc's Harley-Davidson store adjacent to the bike shop is no ordinary gift store. It is fashioned to resemble a 1920s motorcycle shop from ceiling to floor. The gift store offers gifts and a selection of motorcycle parts and items.
When you enter the gift shop, you are greeted by Doc's own one-of-a-kind door closure. Doc constructed the door closure out what else – motorcycle parts. When the door is opened, a flywheel rises. Gravity pulls the flywheel down when the door closes and rings an antique brass doorbell from the 1860s.
The gift shop ceiling is covered with a beautiful 100-year-old antique steel ceiling from a Wisconsin building.
At the entrance of the gift, store are cast iron beams from a bank in Michigan.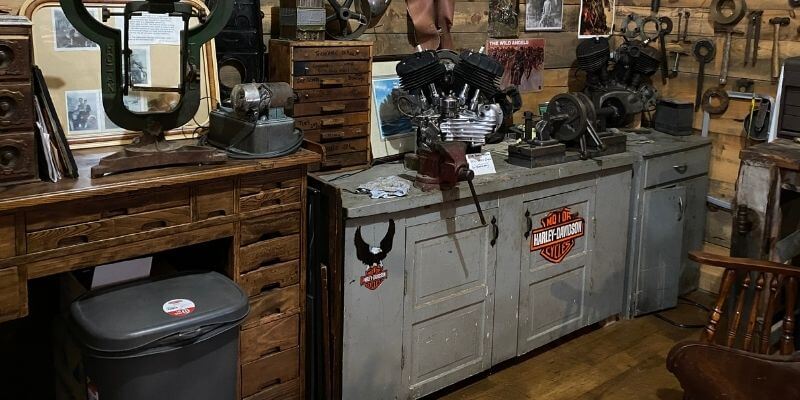 Located in the back of the gift shop is a particular area that features workbenches that once belonged to both of Doc's grandfathers. And displayed on the walls are many of Doc's original tools from when he opened his shop in 1979.
Doc's Harley Davidson Dealership and Bike Shop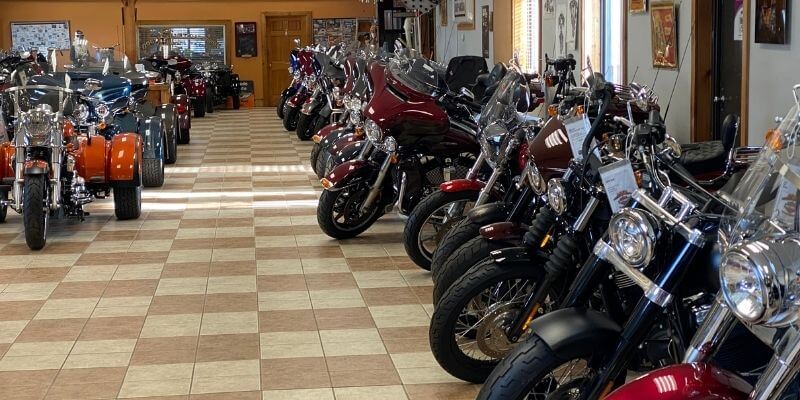 With everything that Doc's Harley Davidson offers, visiting here becomes a family adventure where everyone feels welcome.
Let's not forget that Doc's is a Harley-Davidson dealership where you can stop in and take a look at both new and used Harley-Davidson Motorcycles and take one for a test drive.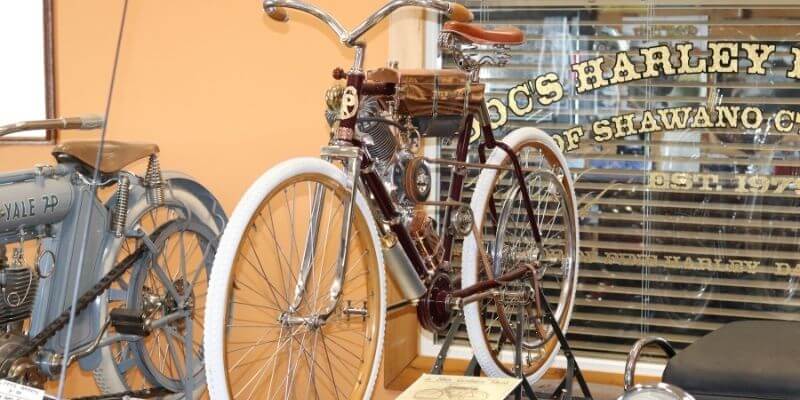 One of the most interesting features of Doc's Harley Davidson is its service area. Since Doc's Harley-Davidson dealership opened in 1979, Doc has prided himself on the service area's open-door policy. You can stop at the double glass door and watch the service technicians work on bikes, or you can push those doors open, wander in and watch as bikes are being serviced or repaired.
Are you a Harley Davidson enthusiast? Check out our Harley-Davidson finds for those special items.
More about Doc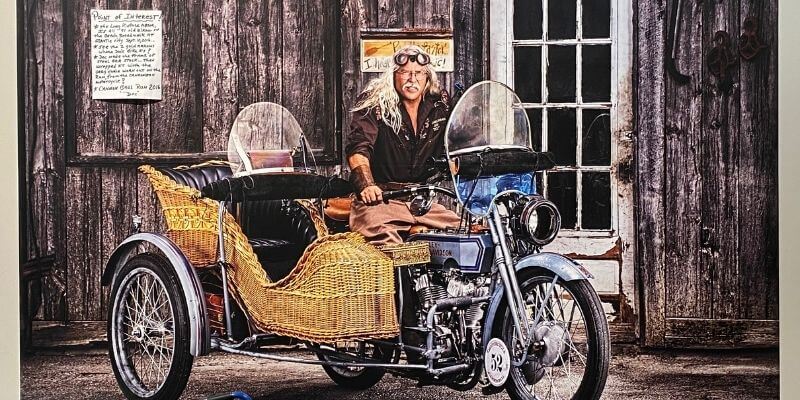 Doc says his love for motorcycles started at birth, and he has been tinkering since he was as young as 5 or 6. When he was 15, he couldn't afford to buy a bike, so he built a chopper mini-bike from the ground up by himself. Doc bent the frame & fork out of tubing and added an old 5hp Briggs and Stratton lawnmower engine and wheels.
He took the mini-bike to his local police department to have the bike inspected and licensed. He put 3700 miles on that mini-bike, driving around his tiny hometown of Algoma, Wisconsin.
Later that same year, Steve "Doc" Hopkins sold that mini-bike and purchased his first Harley-Davidson Motorcycle from a local farmer for $2, a 1939 Flathead. That purchase might be what started it all.
Although Doc is known for his creativity and unusual flare for things, he loves to race! Doc always had an insatiable need for speed. He began building & drag racing Harley drag bikes in the '70s. He couldn't get enough! He held the World's Fastest Panhead record when he set the world record at Bowling Green, Kentucky, in 1994 at the finals. It won the race that day, the National Championship, and the World record was set.
Doc's creativity and personality make a visit to Doc's Harley-Davidson Bonduel, Wisconsin, a one-of-a-kind experience. An ever-changing adventure depends on what Doc can come up with next.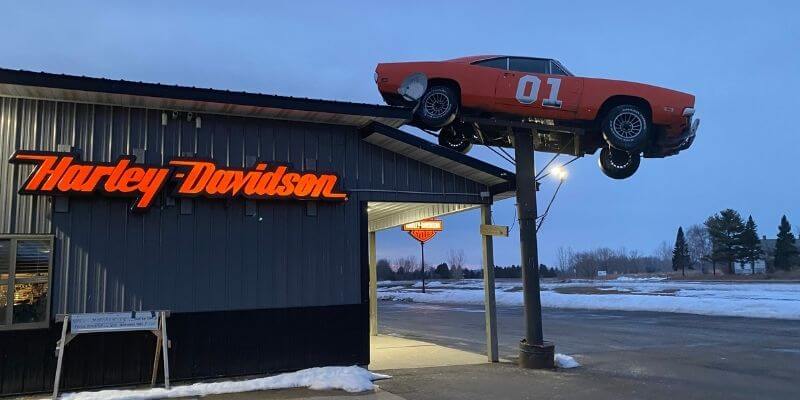 If you are ever near Bonduel, Wisconsin, stop in Doc's Harley-Davidson and check out the Timeline Motorcycle on display in the Saloon and take a look and see what else Doc has created.
Address: W2707 State Highway 29
Bonduel, WI
PIN IT FOR LATER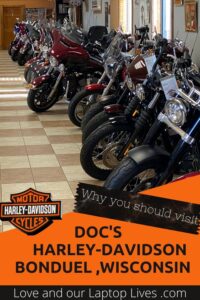 It is easy to see why Doc's Harley-Davidson, Bonduel, Wisconsin made our list of Unique Places in Wisconsin to Visit.
I'm curious how many of my Wisconsinites have discovered Doc's Harley-Davidson in Bonduel and what your thoughts are on Doc's creative genius.