15 Of The Best Beaches In Texas For Couples Looking To Get Away

"Looking to find the Best Beaches in Texas for your getaway? Look no further.
These 15 beaches will give you a taste of what Texas' gulf coastline offers."
Texas is known as the lone star state. A state where you can see the stars so bright they light up the night. When you think of Texas, do you picture romance, beautiful beaches, warm sand between your toes, and walking hand and hand with your sweetie? You should!
The state of Texas has over 350 miles of sandy Texas coastline. Each beach is vastly different and offers various views and activities.
The Texas coastline starts as far north as Galveston and goes to the southernmost beach of Boca Chica near the Mexican border.
We recently traveled up and down the entire Gulf Coast of Texas, visiting as many beaches as possible. We discovered that they do beaches in a big way, just like anything Texas does.
Texas does not just have a few sandy beach strips. They have an entire coastline of wide sandy beaches that offer opportunities for various activities.
Nothing says romance like a beach vacation. This is a chance to walk hand and hand along the beach, search for seashells together, and take long walks while watching the sunrise or sunset together in each other's arms.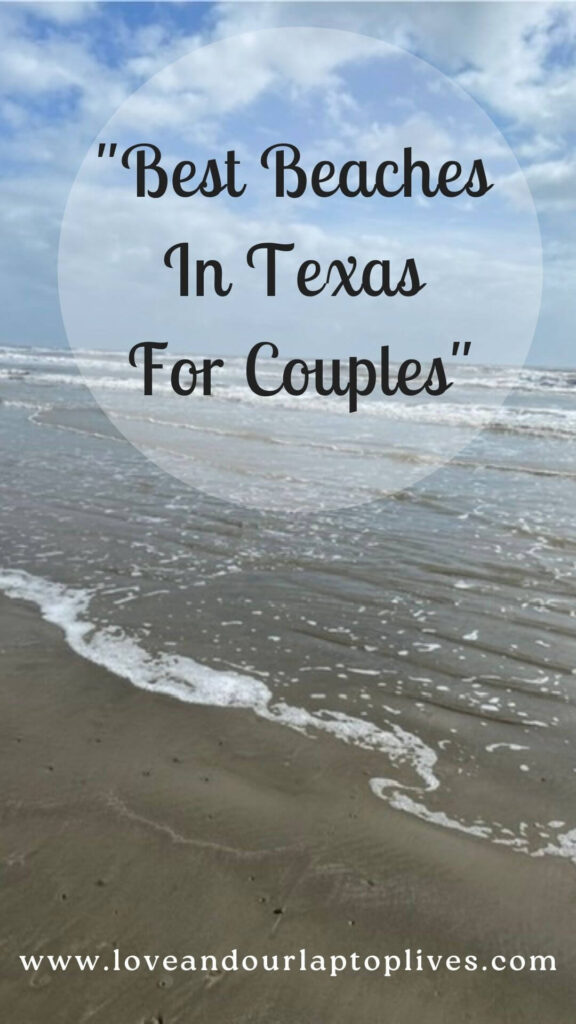 This post contains affiliate or sponsored links. If you click and buy, I may receive a small commission (at no additional cost to you). Please see my full disclosure policy for details.
When is the Best Time to Visit a Texas Beach?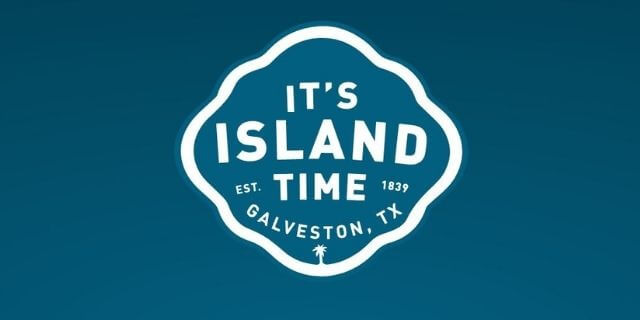 If you ask us, there is no wrong time to visit the beach. It's not uncommon for Texas' summer temperatures to reach three digits. Those days, you go to the beach to cool off in the water while enjoying the beach.
Wintertime seems to be the ideal time to enjoy the Texas beaches. It is almost always very comfortable. Texas' beach temperatures average 60 or above.
Avoid spring break. Some of the Texas beaches get crowded, making romance take a backseat.
Best Beaches in Texas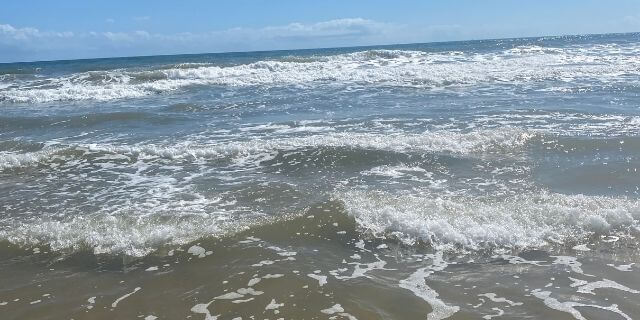 With over 350 miles of Texas coastline beaches, each so different, how do you pick the best? We'll share our visits, and then you will have to decide for yourself.
Look at what each beach offers, where it's located, and decide are you looking for the romantic beach cottages you'll find in Port Aransas, the peace and quiet of Mustang Beach, the many activities and nightlife found in Galveston, or the pampering services located near South Padre Island.
Each beach area will offer you something different and exciting. Don't forget to let us know which beach becomes your favorite.
Let's take a look at some of the best beaches in Texas.
Romantic Travel as a Couple takes extra thought and preparation,
and were here to help with that.
Tips for Traveling as a Couple
Staying Healthy and Traveling Stress-Free
Fun Gifts for Travelers
Galveston Island
Galveston Island is where the Texas beaches start. With 32 miles of beach, it seems to go on forever, and you are almost guaranteed to find the perfect spot for you.
This barrier Island on Texas' Gulf Coast is only 50 miles southwest of Houston. Perfect for a day trip.
In 1900, Galveston Island was almost completely wiped out by a hurricane. This was an island that did not let devastation stop it. Massive efforts were taken to rebuild and come back better and more prepared than ever.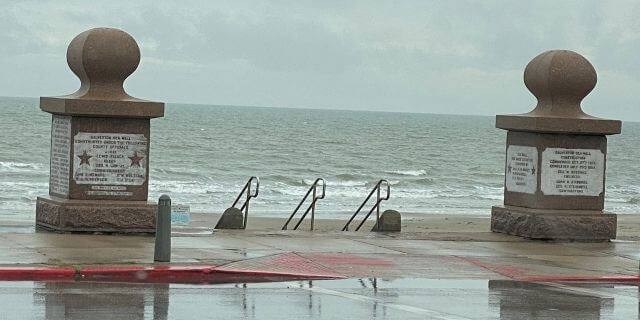 Galveston raised its elevation by more than 17 feet and built a huge sea wall to protect the city. The beach slopes one foot from the seawall for every 1500 feet, creating large welcoming beaches.
Some of the beaches on Galveston Island are more easily reachable than others, but you really can't go wrong by visiting any of them.
We found so many Fun Things to do in Galveston in addition to beach time. Galveston Island is a great place for a romantic getaway for two.
Additional Texas Fun
Fun and Romantic Things for Couples to do in Kemah, Texas
Finding Fun and Excitement in Waco, Texas
Seawall Beach – Urban Park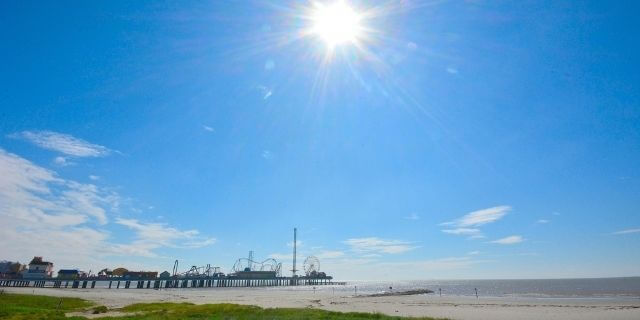 Seawall Beach is the center of all the beach fun and nightlife on Galveston Island.
It is home to 10 continuous miles of shoreline and one of the longest sidewalks.
Visitors can enjoy a wide variety of activities; swimming, surfing, sandcastle building, fishing, beachcombing, and in the distance, you can catch a glimpse of ships coming into the harbor.
In addition, to the usual beach activities, seawall beach welcomes bicycles.
Seawall Beach is right on the edge of Galveston's fun, and you are within close proximity of restaurants and Galveston entertainment.
Address ~ 801 Seawall Blvd, Galveston, TX
Where to stay ~ For a romantic getaway the best place to stay is the only historic beachfront hotel on the Gulf Coast The Grand Galvez Resort & Spa. They offer elegantly restored rooms, a tranquil spa, a saline outdoor spa, and a swim-up bar.
Babe's Beach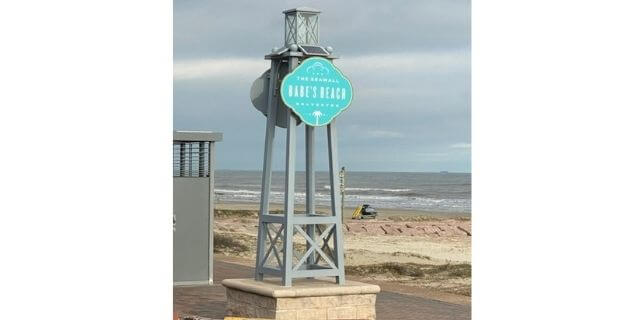 Babe's Beach is another one of Galveston Island's beaches. This beach was not on our original list to visit. Yet it was one of the first beaches we stopped at after crossing the bridge onto the island when coming from Houston. We couldn't be happier with this unexpected stop and glad we didn't pass it up. This area was very well kept and seemed well-liked by visitors and locals.
Great beach for swimming, walking, beachcombing, and just enjoying the view. Babe's Beach also had a lifeguard on duty.
There is a cost for parking, but it was all done through our phone and was only a few dollars for the day.
In 2015, Babe's Beach was named one of the top restored beaches by the ASBPA. (The American Shore and Beach Preservation Association)
We enjoyed spending Christmas Day at Babe's Beach with lunch at the nearby Landry's Seafood House.
We visited Landry's Seafood House for the first time while touring
The Gateway National Arch and loved its food and atmosphere.
Where to stay ~ If you are wanting a true resort experience with lavish accommodations and amazing island views with a prime location on Galveston Island there is non-other than The San Luis Resort Spa and Conference Center.
Seawolf Park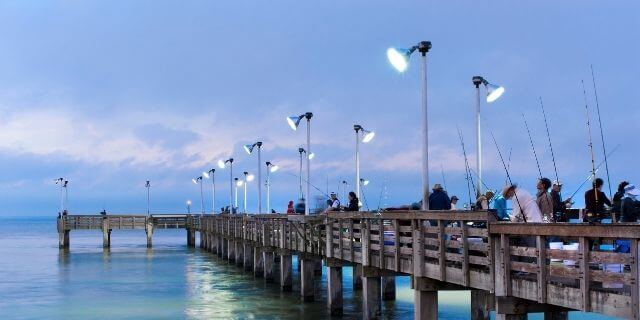 Seawolf Park is not so much a beach that you visit for swimming but is home to one of Galveston Island's most popular fishing piers. We first spotted this out-of-the-way beach while on the ferry from Galveston Island to Bolivar.
Seawolf Park is located on what was referred to as Pelican Island, a former immigration station. In addition to the fabulous fishing pier, Seawolf Park is a memorial to USS Seawolf, a United States Navy submarine mistakenly sunk by U.S. Navy forces in 1944 during World War II.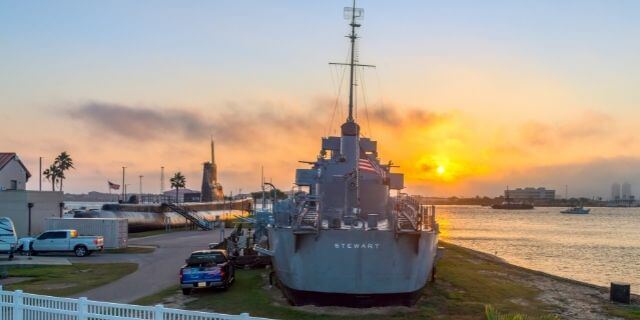 You will also see a WWII submarine, the USS Cavalla, one of only three destroyer escorts in the world, the USS Stewart, and the remains of the WWI tanker S.S. Selma, the largest concrete ship constructed.
Although not a "Beach," This is one coastal beach area worth the visit.
Address ~ 100 Seawolf Park Blvd, Galveston, TX
Where to stay ~ Hilton Galveston Island Resort is a premier Galveston beach hotel. Its oceanfront location is within close proximity to shopping, the beach, and dining.
Additional Reading
What to Pack for a Beach Vacation
A Step By Step Guide to Planning a Vacation
High Island Beach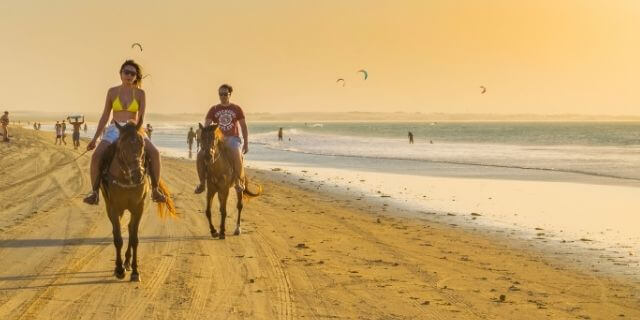 High Island Beach is located farthest north. If you are looking for real-time away with your sweetie, this might be just the place you are looking for. From Galveston Island, you take a free car ferry to find this forgotten gem.
High Island Beach sits all by itself and is amazingly remote, with no houses or buildings nearby.
It's not uncommon to see horses on the beach. Like most of Texas' coastal beaches, you can drive and camp overnight on the beach and enjoy all the sites and sounds of the neighboring birds and animals.
Address ~ Old SH 87, High Island, TX
Where to stay ~ Hilton Galveston Island Resort is a premier Galveston beach hotel. Its oceanfront location is within close proximity to shopping, the beach and dinning.
Lighthouse Beach
Lighthouse Beach is located adjacent to a city-run RV park. The natural setting of Lighthouse Beach invites you to stroll on the boardwalk, sit and rest your toes in the sand or have a picnic in one of their cabanas.
While visiting Lighthouse Beach strolling the boardwalk, be sure to enjoy the numerous birds that are native to Texas. Over 300 different species of birds can be found in Texas.
Address ~ 700 Lighthouse Beach Rd, Port Lavaca, TX
Where to stay ~ To fully enjoy Lighthouse Beach try staying at the adjacent RV park.
Crystal Beach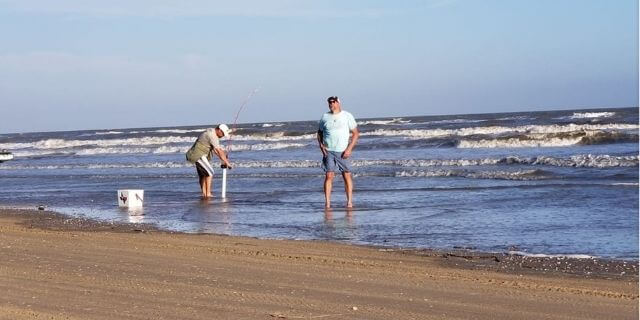 Crystal Beach is located on Bolivar Peninsula. A free car ferry from Galveston Island is available to get you there. The ferry is part of the adventure.
This seven-mile-long beach allows camping, fires, and some great fishing.
Driving through the area is charming, with the local houses all on stilts and painted pastel beach colors. This is a great area to rent a beach house and enjoy the sound of the surf.
Address ~ 2275 Highway 87, Suite 10, Crystal Beach, TX
Port Aransas Beach
Port Aransas Beach is located at the northern tip of Mustang Island, an 18-mile-long barrier island.
No husstle or busstle of the big city here. A timeless beach community where time stood still yet is modernized. If you are looking for an actual lazy beach day, Port Aransas would be our first choice.
This beach invites you to linger and enjoy all it offers. The mode of transportation seen most is golf carts and bikes. Don't worry if you don't have your own; there are plenty of places to rent them on the island.
This area becomes active during spring break, but once spring break is over, the peacefulness of Port Aransas Beach is back for couples to enjoy.
Address ~ Port Aransas Beach Rd. Port Aransas, TX
Where to stay ~ The Best Western Port Aransas is located only two block from the beach. A golf cart rental is across the street. Once you arrive at the hotel and rent the golf cart you won't even need your car. Now that is a beach vacation.
Rockport Beach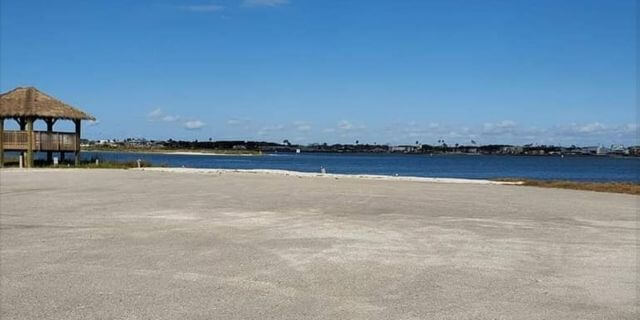 Rockport Beach is located towards the south end of Texas. It overlooks Aransas Bay. This man-made beach is not located on the coast, but this pristine beach needs to be included on the list of top beaches in Texas.
One of the highlights of this beach is the promenade, where couples can take long romantic walks at sunset.
Visitors can enjoy swimming, fishing, picnicking, or bird-watching on the pier. If you are looking for a little more activity, how about a game of sand volleyball on the volleyball courts?
Rockport Beach is so pristine and clean that it has been recognized as the first Blue Wave Beach in Texas by the Clean Beaches Coalition.
Address ~ 210 Seabreeze Dr. Rockport, TX
Mustang Island Beach
This beach is spectacular! It offers over five miles of beautiful beach. Located just south of Corpus Christi, Mustang Beach has to be one of the best beaches in Texas.
There are so many things to do here. This is the perfect location for almost any beach activity: surfing, swimming, fishing, kite surfing, paddle boarding, beachcombing, sunbathing, picnicking, bird-bird watching, and maybe even a glimpse of some sea turtles.
This area is one of the last breeding grounds for the Kemp's Ridley Sea Turtle. Be sure to watch and keep your distance.
Beachfront campfires are allowed as well as primitive beach camping. If camping at sites that offer facilities is more your style, they also have reservable campsites with water and electricity.
Camping and beachgoers can also enjoy shaded picnic areas, restrooms, and showers.
If you enjoy average winter temperatures of 60 degrees or above and numerous activities, this might be the right beach for you and your sweetie.
There are so many things to discover on this unspoiled barrier island. Whether it's a day trip, overnight, or a week's vacation, you won't be disappointed with a visit to Mustang Island.
Surfside Beach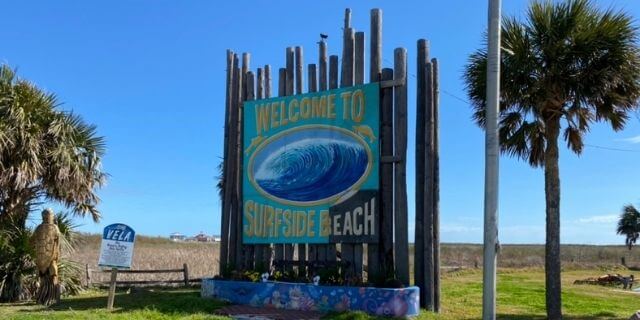 Surfside Beach is only 37 miles south of Galveston and within driving distance of Houston, perfect for a day trip.
Driving here, you get this amazing small beach-town feel. This is where you enjoy easy-going island life. It's just the right place to dip feet in the sand or go for a swim in the gulf.
Watch those waves; surfside is known for having constant waves made for surfing. You will find some of the best Texas surfing right here in Surfside.
Surfing is not all you'll find here. Fishing, hiking, and biking are at their peak in this area.
If you work up an appetite, you'll have your choice of several local eateries offering anything from burgers to seafood.
As a bonus, if you are looking for a bit of break from the beach, Surfside has history mixed into it. We have all heard of the Battle of the Alamo. Some of the first shots fired were near Surfside Beach.
Check out our visit to the Texas Ranger Hall of Fame, where we learned more about the Battle of the Alamo and the part the Texas Rangers played in the battle.
You can stroll around a replica of the fort that the Texans and Mexicans fought over. Then visiting the Surfside Historical Museum, you will see artifacts and exhibits that tell the story of this area's part in Texas' history.
San Jose Island
San Jose Island is also known as St. Jo Island. This island is privately owned and is located across from Port Aransas, and is managed mainly for the wildlife. This private undeveloped island is perfect for solitude.
The only way to get to St. Jos is by way of a jetty boat from Fisherman's Warf in Port Aransas. The ferry makes several stops and pick-ups daily. Plan accordingly.
Visitors must stay on the beach below the high tide line. No need to worry; this is also where the best beachcombing and shelling happens.
San Jose Island is where you go to get away from it all. There are no cars, houses, or amenities to get in your way. This is where you can be with nature, breathe, and relax. Go for a swim, do a little fishing, beachcombing or soak up the sun.
Address ~ The warm waters of the Gulf of Mexico
South Packery Jetty Beach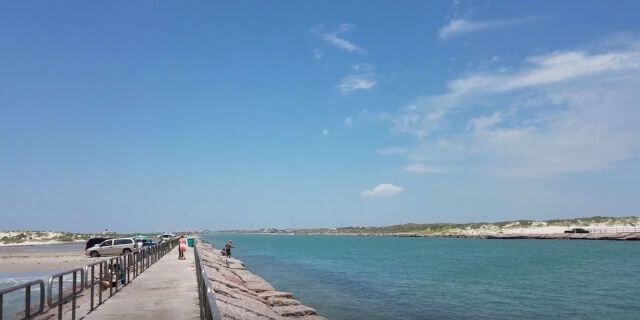 South Packery was less crowded than some of the other beaches. It was located only twenty-five minutes from Corpus Christi.
This beach is known for serenity, a peaceful place to spend some quality beach or swimming time as a couple. The beach and water here lend themselves to being ideal for swimming and playing in the water.
Jetty Beach is also said to have some of the best jetty fishing in South Texas. Fishers have reeled in kingfish, trout, tarpon, and grouper.
South Padre Island National Seashore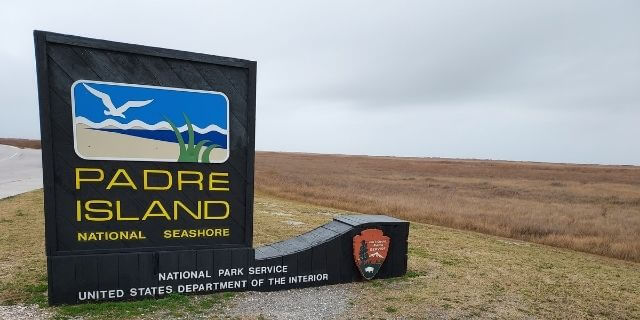 South Padre Island National Seashore is the longest underdeveloped barrier island globally. It is 70 miles long, with 65 miles being gulf coast. There is a lot to take in.
There is an admission fee to South Padre Island National Seashore. Our America, The Beautiful Pass, got us through the gate.
Once through the gate, there is nothing but nature. Untouched dunes, an abundance of beaches, grasslands, and wildlife all along the way form what is known as the world's largest undeveloped barrier island.
A stop at the visitor center is a must to learn about all the wildlife that calls South Padre Island National Seashore home.
Several areas are available for camping within the park, directly on the beach with no amenities or your choice of two additional areas beachside or off the beach with some amenities.
Within the park, there are opportunities for beach relaxation, bird-watching, or for the adrenaline-rush seeker; you can enjoy numerous water sports or off-roading on the beach.
Whether you plan to visit morning, mid-day, evening, or stay a few days, I don't think there is a wrong time to enjoy South Padre Island National Seashores' beauty.
Address ~ 20301 Park Rd 22, Corpus Christi, TX
South Padre Island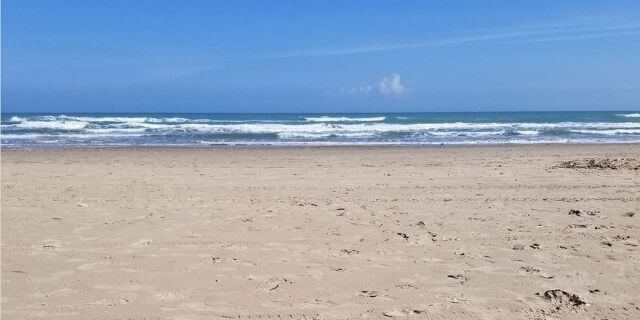 South Padre Island is another wintertime favorite. With water that seems calming and a view that goes on forever, it's no wonder so many flock to South Padre Island.
The beach is not the only thing people come to South Padre Island for. In addition to the pristine water and long wide sandy beaches, visitors are looking to enjoy the wildlife. Dolphins and turtles are among the favorites.
If a different kind of wildlife is what you are looking for, South Padre Island has you covered with numerous bars and restaurants within a short distance of the beach.
This beach becomes a favorite of students looking for fun and sun during spring break, so if a romantic getaway is what the two of you are looking for, you might be best to avoid that time of year.
Address ~ 3100 Padre Blvd, South Padre Island, TX
Where to stay ~ The Hilton Garden Inn is waiting for you, and it's only a 5-minute walk from the beach.
Boca Chica Beach
Boca Chica Beach Is Texas' southernmost beach, located just north of the border near Brownsville. This area is protected and is part of the Lower Rio Grande Valley National Wildlife Refuge.
Boca Chica Beach has an average wintertime temperature of 70 to 80 degrees.
This 8-mile beach offers wide beaches and is the perfect spot for those looking to disconnect from it all. With no services, bathrooms, or food available, you need to plan for the perfect day.
Pack a blanket, picnic, and your sweetie, then plan to spend the day together with no distractions. Enjoy the beach, snorkeling, or some of the best bird-watching around. The area is also a nesting ground for endangered sea turtles, so be respectful and don't touch them or interfere with them.
There are no overnight stays allowed on the beach.
Address ~ 54299 Boca Chica Blvd Brownsville, TX
Bonus ~
The Texas coast has so many places where vacationers can enjoy nature. These are two extra destinations you should be considering. The Texas coastline is a fun place to visit and can be filled with romance. Although both of these places have beaches, it would not be just the beaches that call us back.
Matagorda Bay Nature Park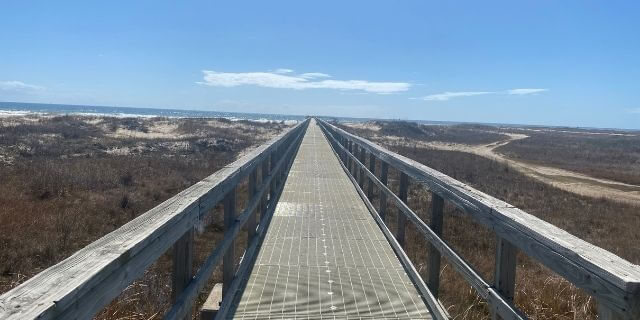 It didn't take long to see why Matagorda Bay Nature Park would call visitors back time and time again. It is a several-mile drive from the park entrance to the beach area. Seeing the wildlife in their natural setting was worth the drive. Slow down and keep your eyes open. You never know what you will spot in this natural setting.
In addition to spotting local wildlife, Matagorda Bay Nature Park offers a wide range of activities. Fishing, swimming, bird-watching, picnicking, kayaking the wetlands, rafting, miniature golf, guided adventure tours, or bring your RV and stay overnight.
You can also find boat ramps, watercraft rentals, beach chairs, and beach wagon rentals within the park. We found ourselves wanting to stay and enjoy many more of the activities.
Address ~ 6430 Farm to Market Road 2031, Matagorda, TX
Galveston Island State Park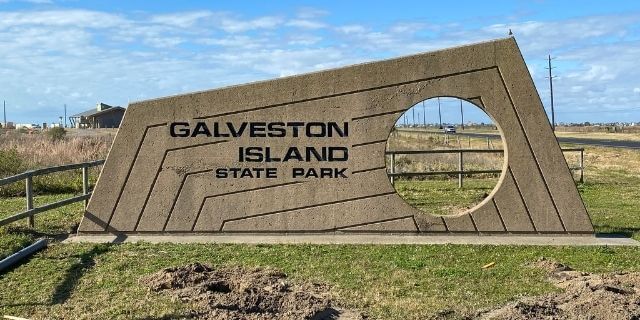 There is an activity for almost every nature lover in Galveston Island State Park. Swimming, boating, fishing, bird-watching, hiking, biking, and more.
This is such a fun place for exploring nature, having fun, and enjoying a little beach time. Galveston Island State Pack is an area meant for the vacationer to enjoy Texas' natural setting.
Always use caution when visiting. This is an area that wildlife calls home.
A $5 entry fee per person is charged for entrance into the park. Camping is available for an added charge.
The Best Beaches in Texas For Couples Conclusion
Years ago, I fell in love with Anna Maria Island Beach in Florida, and as soon as January rolls around, that's where my heart wanders. There is no way to compare these beaches to beaches in other states. They are all unique and beautiful in their own way.
Anna Maria Island Where Romantic Florida Charm Awaits You
We did discover a side of Texas that surprised us in a very good way. With each beach so different, you need to do your research before booking your vacation. We are still deciding which beach to spend more time at next winter.
PIN IT FOR LATER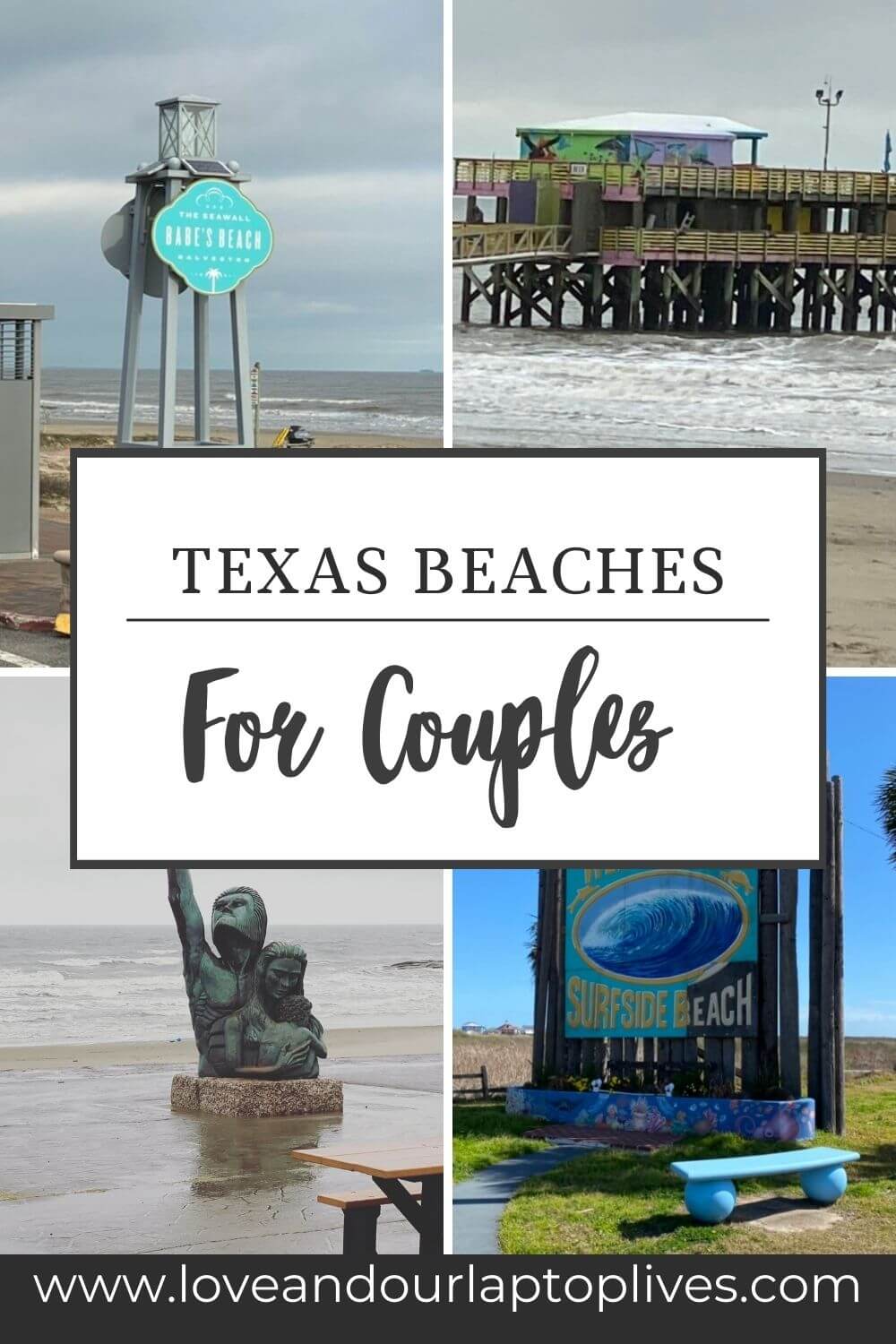 We would love for you to leave us a comment and tell us which of these beaches you have visited and which were your favorite.