12 Fun And Romantic Things To Do In Kemah For Couples

"Kemah, Texas, a once small fishing village,
has become a popular vacation destination.
It offers dozens of fun and romantic things to do in Kemah for Couples."
Kemah, Texas, is a small coastal town twenty miles from Houston's downtown. This coastal getaway was once a small fishing village. It may not have been on your radar as your next vacation destination, yet there are many reasons to move it to the top of the list.
With close proximity to Houston and Galveston, Kemah offers you the opportunity for big-city adventure and small-town charm.
Located on Galveston Bay, this small coastal town offers something for almost everyone.
Kemah has become a popular destination that offers visitors opportunities for adventure, romance, shopping, amusement, water time, and nightlife fun.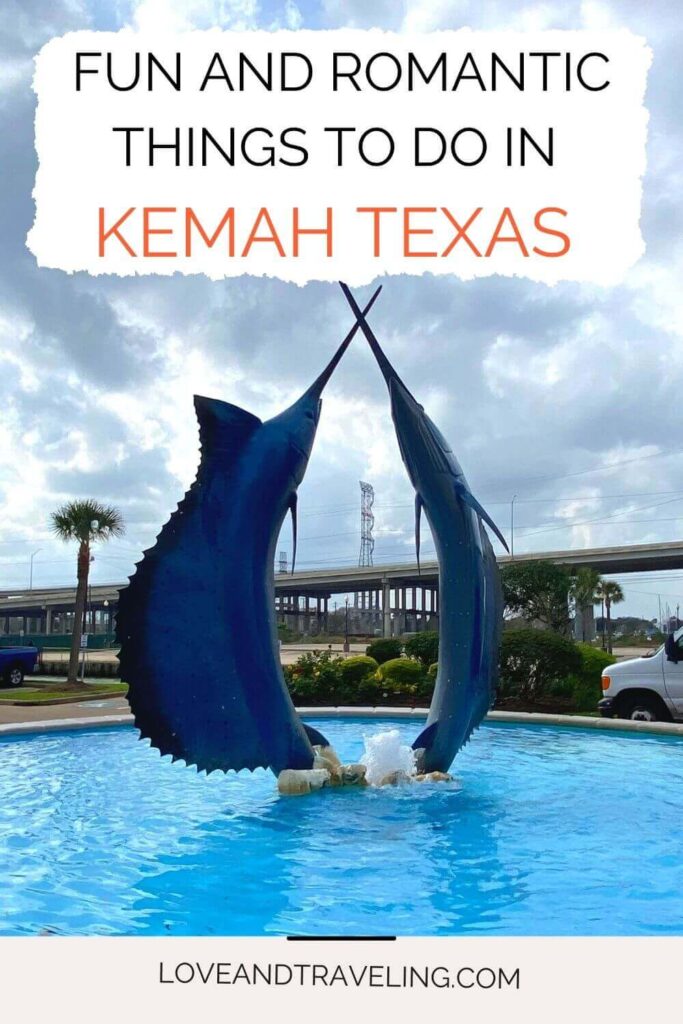 This post may contain affiliate or sponsored links. If you click on a link and make a purchase, I may receive a small commission (at no additional cost to you). Please see my full disclosure policy for details.
Below are twelve top things to do in Kemah for couples.
Things To Do In Kemah For Couples
Kemah Boardwalk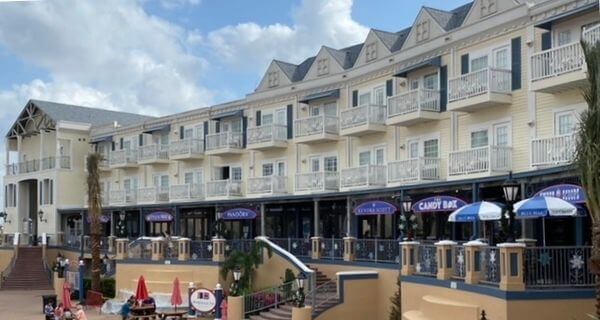 Kemah Boardwalk is definitely the center of some of the activities in Kemah.
Sixty acres of prime real estate on Kemah's coast make up what is known as Kemah Boardwalk.
Owned by Landry's Inc., Kemah Boardwalk is home to restaurants, boutique shopping, midway games, rides, and a luxury hotel.
Strolling Kemah Boardwalk is free and can be very romantic with the right person. It tops our list of fun and romantic things to do in Kemah for couples. Tickets are needed for rides and midway games.
Fun Things to do at Kemah Boardwalk
These three things topped our list of things to do when visiting Kemah Boardwalk.
Boardwalk Wonder Wheel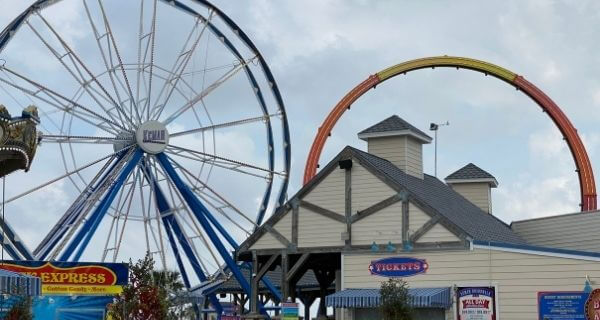 Are you looking for a romantic escape? Enjoy a ride on the Wonder Wheel at Kemah Boardwalk. Cuddle together and snuggle in your own personal gondola as the two of you venture 65 feet high above the crowds.
For years, Ferris Wheels have been known as the place to take that very special someone. Who wouldn't want to be kissed at the top of a Ferris Wheel by the one who captures your heart?
Enjoy every moment, and don't forget to take in the fantastic view from the top.
Boardwalk Bullet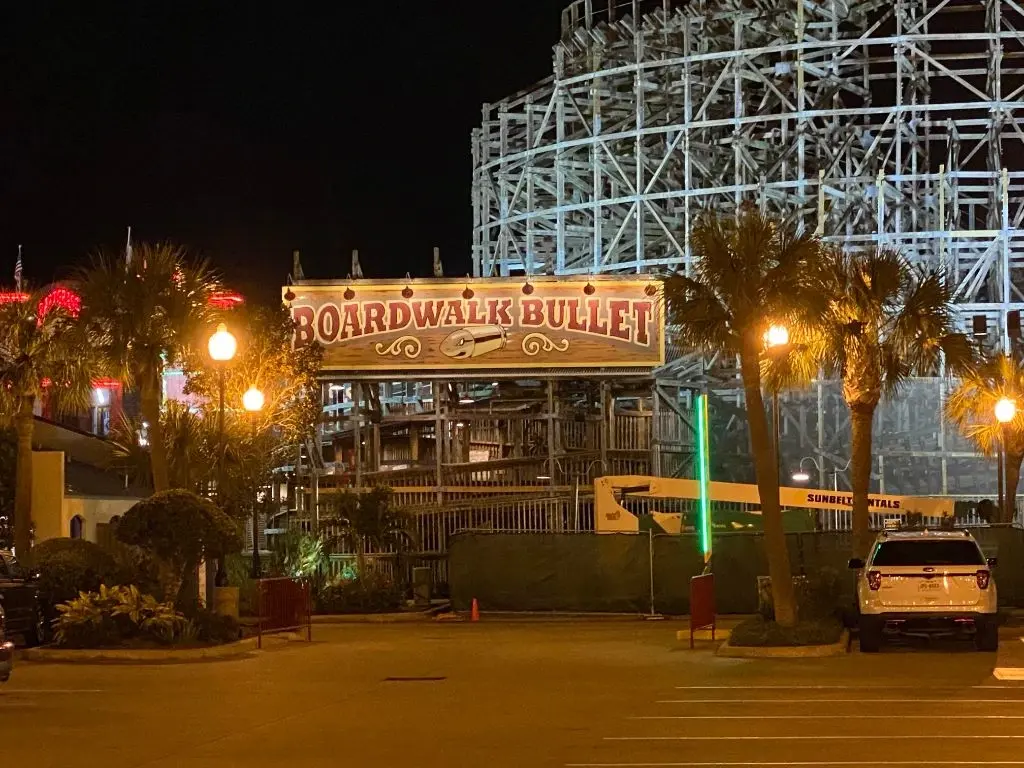 The Boardwalk Bullet is where you will find the thrill-seekers. This wooden roller coaster is the only wooden rollercoaster in the Houston area and one of only 4 in the state of Texas.
The Boardwalk Bullet is part of Kemah's history. It was built in 2007 and still stands strong today, waiting for those looking for an adrenaline rush.
At 95 feet tall with a drop of 92 feet, this ride is not for the faint of heart. For couples looking to take on this adventure, be prepared as your ride takes you within five feet of the water's edge and reaches speeds of 51 mph.
Don't just close your eyes on this adventure. Keep them open to catch a glimpse of the Texas skyline on top of your adrenaline rush.
Boardwalk Tower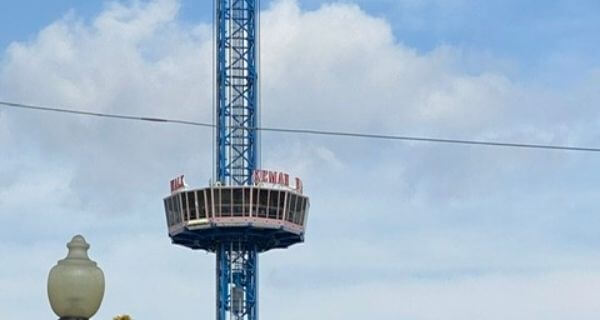 While at Kemah Boardwalk, be sure to take a ride to the top of Boardwalk Tower. You'll get a unique 360-degree view of the bay area and Kemah itself from the top.
This 140-foot tall observation tower spins slowly as you travel to the top, giving viewers a great view of the surrounding area, and then quickly drops riders as they plummet back down.
This ride is also not for the faint of heart. It is both fun and exciting. You must be 36″ to ride this ride.
Adventure Charter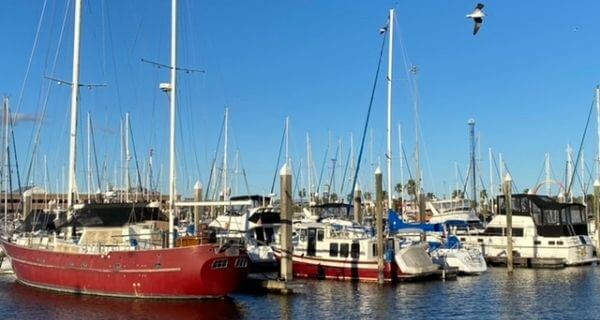 Several premier cruises depart from Kemah. Charters and cruises offer visitors an opportunity to enjoy the sights and sounds of the gulf coast.
A day out on the water is a favorite for visitors and locals of the Kemah area.
Leisure, sightseeing, dinner, and romantic cruises leave from the Kemah Boardwalk area and waiting for you to enjoy.
If you are still looking for additional Texas-size fun and romance, check out these Things to do in Galveston.
Vineyard Visit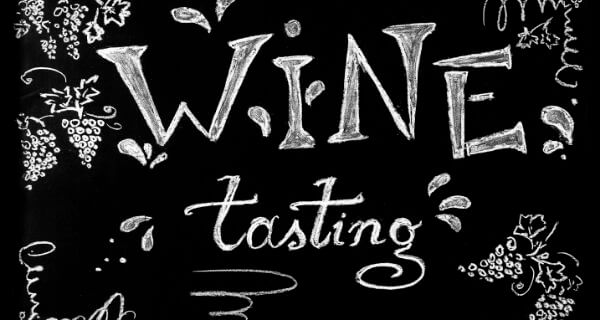 Visiting a Vineyard and enjoying a wine tasting can be an adventure. Kemah has several options, each offering something different.
An evening or afternoon shared together is a great way to learn about wine and a great chance to learn more about that special someone in your life.
Stop by a local Kemah winery and try some of the local favorites. Knowledgable servers are available to share with you what makes each wine special.
Gary and I have had the pleasure of visiting several during our travels. Our favorite to date is Door County Winery in Wisconsin. We are always willing to try something new.
Day Trip to Galveston Island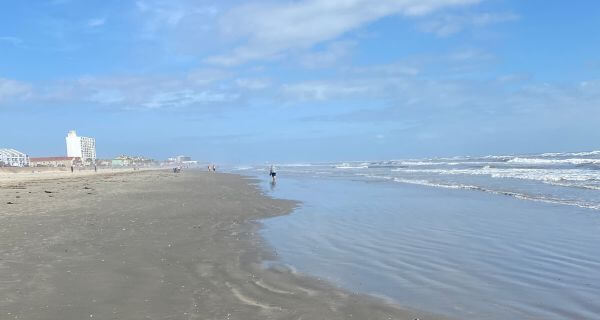 When visiting Kemah, a day trip to Galveston Island is a must.
Galveston Island is where time seems to have stood still. The charm of the beach and the history is enough to keep visitors entertained all day.
Spend the day visiting one of Galveston Island's many beaches and wrap up the day with some of the freshest seafood before taking that short drive back to Kemah.
Look No Further For More Romantic Couple's Travel Ideas
Fun Things For Couples to do in Memphis, Tennessee
Romantic Adventures for Couples in Lake Wales, Florida
Fun and Romance for Couples in Anna Maria Island, Florida
Fishing Charter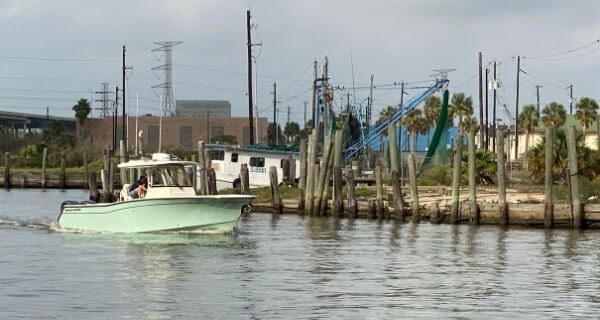 It's always fishing season in the water around Kemah.
Enjoy a day or half-day testing your fishing skills aboard one of the many charter fishing boats that depart from Kemah.
Captains offer a wealth of knowledge and can help even the seasoned fisherman perfect his skills.
If you are looking to catch trout, red snapper, wahoo, flounder, redfish, or even sea bass, your captain will know the places for the best chance of catching your limits.
Private charters are available as well as party fishing boats.
Art of Coffee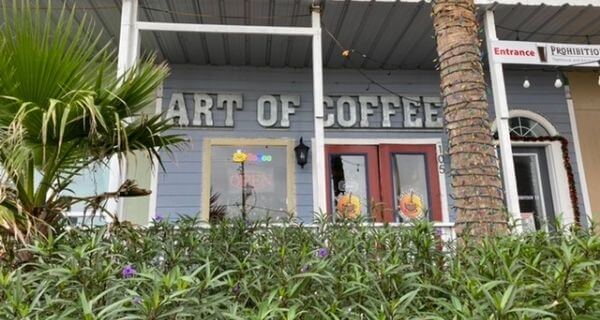 Art of Coffee offers visitors quaint interior seating and a cozy and very relaxing outdoor courtyard to enjoy your morning coffee or afternoon pick me up.
This is where locals hang out and relax over great conversation while sharing a good cup of coffee.
If you happen to be visiting on the weekends, stop in for breakfast. You won't be disappointed.
Shopping
Kemah has many different shopping opportunities. For unique and fun shopping, Kemah Boardwalk was our favorite.
Kemah Boardwalk is where many locals go to find those unique and one-of-a-kind gifts or decorating ideas.
Shopping does not stop at the boardwalk. Kemah is filled with fun and shopping around many corners.
Prohibition 52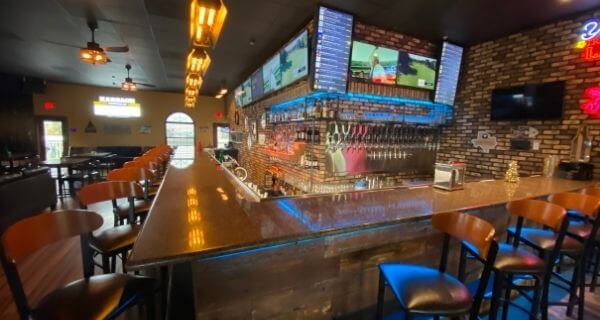 Kemah nightlife is exciting and offers something for almost everyone.
Prohibition 52 is one of Kemah's premier spots for fun, food, spirits, and some of the best live local talent.
Prohibition 52 has 52 constantly changing taps, some of the best spirits that can be found, and creative cocktail mixers that know how to make some of the best drinks in the area.
If that's not enough, their food menu is made from scratch favorites, served while patrons enjoy nightly live music both inside and outside on the upper deck.
If spirits and live music are not what you are looking for, we suggest you still add Prohibition 52 to your list of places to stop.
Make it a point to stop in very early in the evening for a bite to eat and talk with the owner about the history of Prohibition 52 and how prohibition affected Kemah. Check out some of the fascinating historic photos on the walls.
Aquarium Restaurant ~ Stingray Reef
The Aquarium Restaurant serves guests while they enjoy a great view of their 50,000-gallon aquarium filled with amazing marine life.
Located on the first level of the Aquarium Restaurant are Stingray Reef and Rainforest Exhibits.
At Stingray Reef, you can feed and touch live stingrays; this gives visitors an up-close and personal interaction with these deep water dwellers. This hands-on experience won't be soon forgotten by anyone enjoying the encounter.
In addition to the stingray encounter, be sure to journey through the rainforest, where you will encounter snakes, piranhas, scorpions, tarantulas, and more.
Check Out Our Other Texas Adventures
Best Beaches In Texas For Couples
Fun Things To Do In Waco, Texas
NASA Johnson Space Center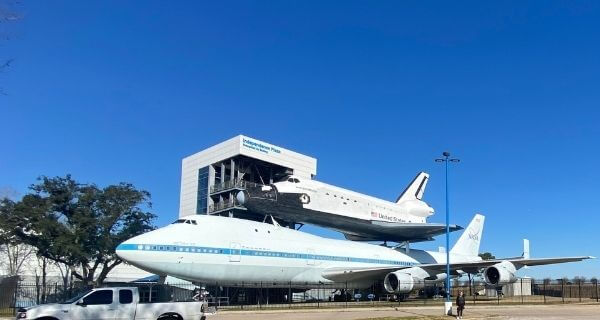 The NASA Johnson Space Center is where human spaceflight training, research, and flight control are conducted.
Visiting NASA Johnson Space Center in Kemah, TX, can be a mind-blowing experience for young and old.
It's almost every young boy's dream to be an astronaut, to fly to outer space, or even go to the moon.
At NASA Johnson Space Center, you can walk alongside the entire length of the actual Saturn V rocket.
Take a one-of-a-kind tour of a full-scale replica shuttle Independence mounted on top of an original NASA 905 shuttle carrier aircraft.
While visiting NASA, you can take a ride in a mock shuttle that feels very realistic.
You will see displays filled with generations of space suits, space ships, the International Space Station scale replica, and actual moon rocks.
For a day filled with wonder and awe, this is the place to visit while in Kemah, Texas.
Places To Eat In Kemah, Texas
Kemah offers many fun and exciting places to eat. Have fun discovering your favorites. Our favorites include the following three places.
T-Bone Tom's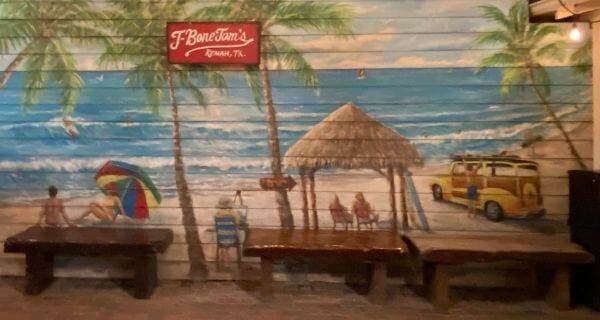 T-Bone Tom's has been serving steaks, seafood, and BBQ to Kemah locals since 1974.
Over the years, several hurricanes have attempted to destroy T-Bone Tom's, yet T-Bone Tom's continues to live on proudly.
A post in the middle of the restaurant shows a line marking the height of the water during the most destructive hurricane to take its shot at T-Bone Tom's.
T-Bone Tom's owner and restaurant manager were both happy to share the stories of rebuilding after the last hurricane. Locals were quick to jump in and add other accounts of the damage.
T-Bone Tom's first started as Kemah Meat Market in the '60s, then evolved to T-Bone Tom's Bar-B-Que in 1974.
T-Bone Tom's stands in its original location, still sporting a meat counter as a tribute to the original butcher shop. They still serve the same delicious food that made them famous on Guy Fieri's Diners, Drive-Ins and Dives.
Address ~ 707 Hwy 146 Kemah, Texas
Crazy Allen's Swamp Shack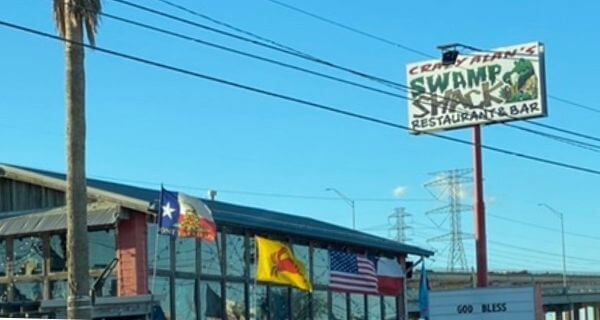 Crazy Allen's Swamp Shack is another local favorite that visitors need to experience.
Live music and some of the best cajun seafood and crawfish in the Houston area can be found when visiting the Swamp Shack.
The name says it all; Crazy Allen goes all out, and the proof is in the taste and the atmosphere if you are looking for serious food and fun. Why would you try anything other than Crazy Allen's Swamp Shack?
Address ~ 310 Texas Ave, Kemah, Texas
Tookie's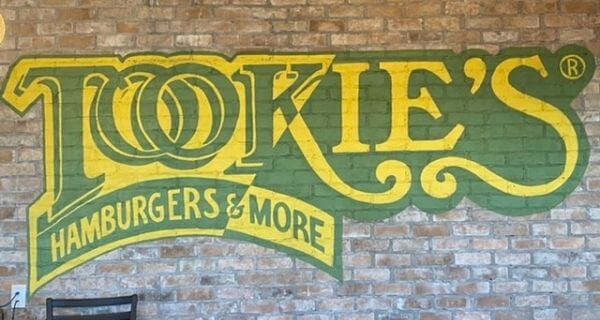 Don't you love these unusual names? Tookie's was another delightful surprise that we had to try just because of the name.
We found that atmosphere to be as fun as its name. Tookie's offers seating inside and out.
Tookie's over-the-top burgers and sides will have you drooling just reading the menu.
Leave room for dessert because their ice cream sundaes are the perfect way to end any meal.
Address ~ 406 Texas Ave, Kemah, Texas
Where to Stay in Kemah, Texas
Kemah Texas offers a wide array of accommodations for vacationers. Classic modern, budget, or luxury, the choice is yours.
Boardwalk Inn
The Boardwalk Hotel is the only hotel in the middle of it all. This waterfront hotel gives you the feel of staying at an elegant boutique getaway.
You will find some of Kemah's best accommodations at the Boardwalk Inn. Private balconies and water views are waiting for everyone. Check out their rooftop hot tub and hot breakfast as a bonus.
Holiday Inn
If you are looking for a lavish hotel in which to spoil your sweetie, look no further than the Holiday Inn.
This world-class service and lavish surroundings will have you feeling like a princess.
Captain Inn and Suites
Captain Inn and Suites is located only a few minutes from Kemah Boardwalk.
This hotel offers all of the basic amenities without the high cost of luxury.
Captain Inn and Suites is a good choice for an intimate stay with your sweetie.
Pin it for Later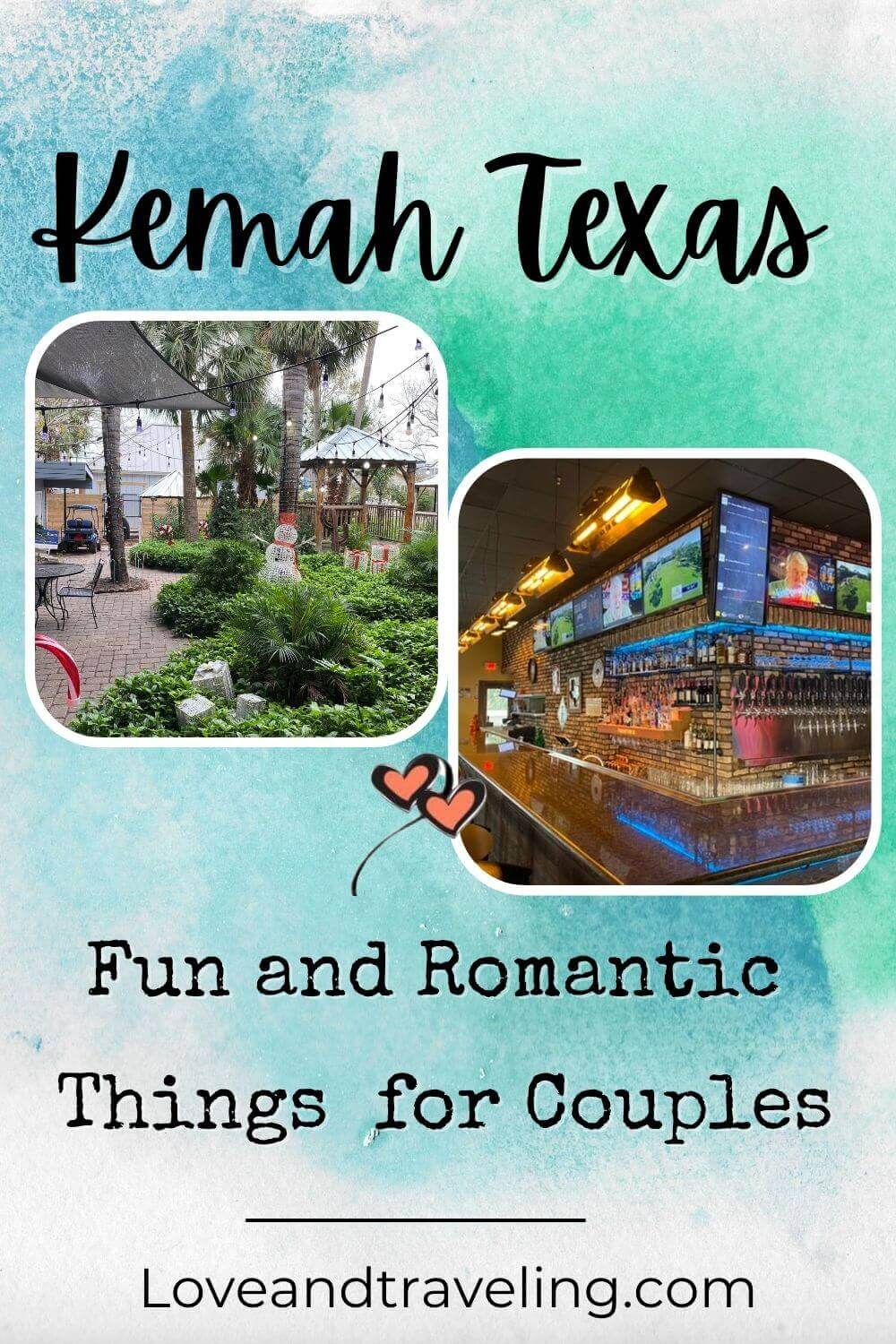 Finale Thoughts
The picturesque coastal city of Kemah has a lot to offer, whether for vacation or a romantic time with your sweetie. Great memories are waiting for you to make in Kemah, Texas.