HGTV "Fixer Upper" put Waco, Texas, on the map.
There is so much more to do in this Texas City.
These Fun Things To Do In Waco will make your visit to Waco, Texas, a memorable one.
Waco is a city in central Texas that lives in the shadows of its most prominent neighbor, Dallas. In recent years, Waco has become known for being the home of one of the top HGTV "Fixer-Upper" shows featuring Chip and Joanna Gaines, putting Waco on the list of places to visit. A visit to Magnolia Market Silos should be a stop on everyone's list when visiting Waco, Texas.
Magnolia Homes has put this quaint town on the map and draws many Chip and Joanna fans each year. In addition to Magnolia Market, we found some fun surprises to fill the rest of our time in Waco.
This post may contain affiliate or sponsored links. If you click on a link and make a purchase, I may receive a small commission (at no additional cost to you). Please see my full disclosure policy for details.
Fun things to do in Waco, Texas
Waco is also home to the Texas Ranger Hall of Fame and Museum, which traces the history of the law enforcement agency of Texas. The Dr. Pepper Museum pays tribute to the locally invented soft drink. The beautiful Cameron Park Zoo, and one of the more recent exciting discoveries, The Waco Mammoth National Monument, a dig site where bones of Columbian Mammoths have been discovered.
The Waco Mammoth National Monument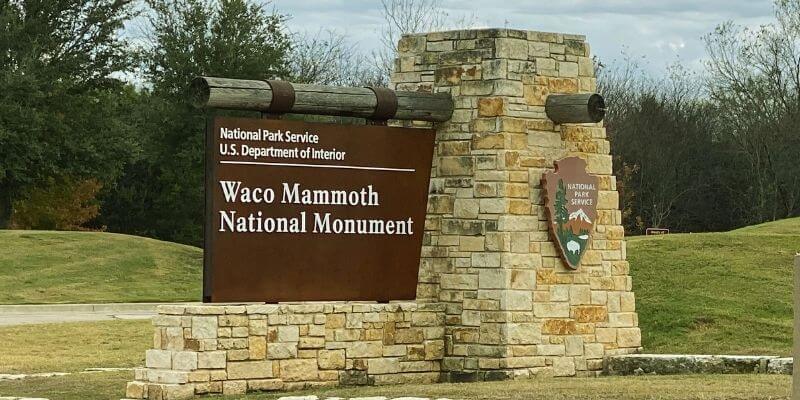 The Waco Mammoth National Monument is just one of the 129 National Monuments in the United States. We visited our first National Monument when I took Gary to the Gateway Arch in St. Louis, Missouri.
The Waco Mammoth National Monument was not on our radar. We stumbled upon it when we first drove through the city to our accommodations. We quickly got settled in and went back to check it out.
In 1978 two young fossil hunters found a large bone in a ravine near the Bosque River Waco, Texas. The bone was taken to Baylor University and identified as an upper leg bone from a Columbian Mammoth.
The Columbian Mammoth is the largest mammoth species. They stood between 12 and 14 feet high at the shoulder and weighed up to 10 tons.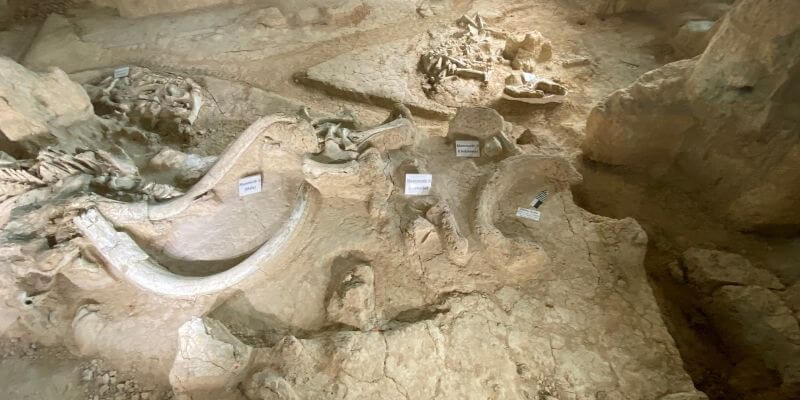 Baylor University began to oversee the excavation of the site. A total of twenty-Two Columbian Mammoths were uncovered at the dig site along with the remains of several other animals; a saber-tooth cat, a dwarf antelope, an American Alligator, and a giant tortoise.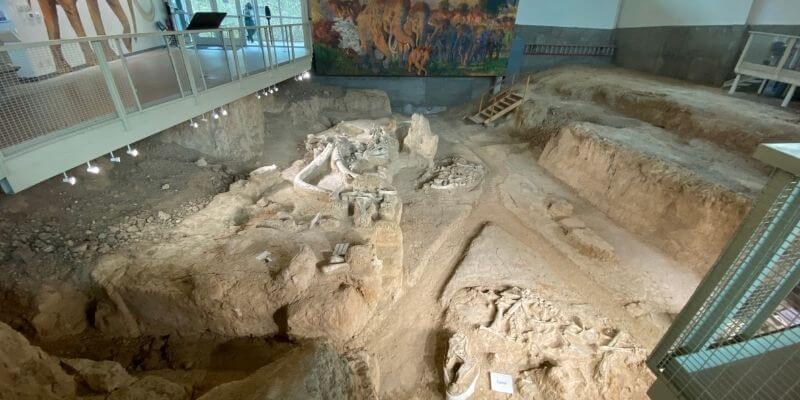 The twenty-two Columbian Mammoths that have been uncovered are female and young mammoths. This herd is known as a nursery herd. It is the only record of a nursery herd among Columbian Mammoths.
One of the most interesting facts is that eighteen of the twenty-two mammoths died in a single natural incident, thought to be a flood. The excavation shows that the adult females were circled around the young to protect them.
In 1980 excavating was halted due to a lack of funds. Money was then raised to protect the dig site from the Texas weather. This funding resulted in today's enclosed structure, allowing visitors to get an up-close look at an archaeological dig and rare find.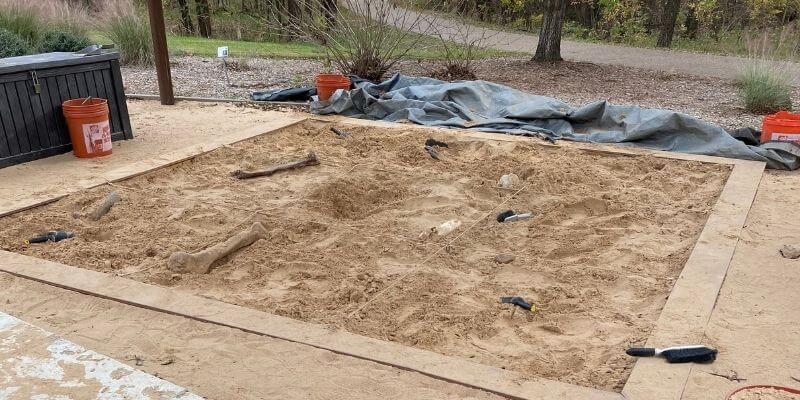 While at the Mammoth National Monument, kids can participate in their own dig for mammoth bone. Who knows, maybe this will spark a desire to become a fossil hunter when they grow up.
Address ~ 6220 Steinbeck Bend Road Waco, Texas
Hours ~ Sunday – Saturday ~ 9 a.m. to 5 p.m.
Cost ~ Adults $5, Seniors. Military, Educators, Students $4 Children $3
*note all prices and hours are at the time of our visit. You should call to verify before you visit.
Texas Ranger Hall of Fame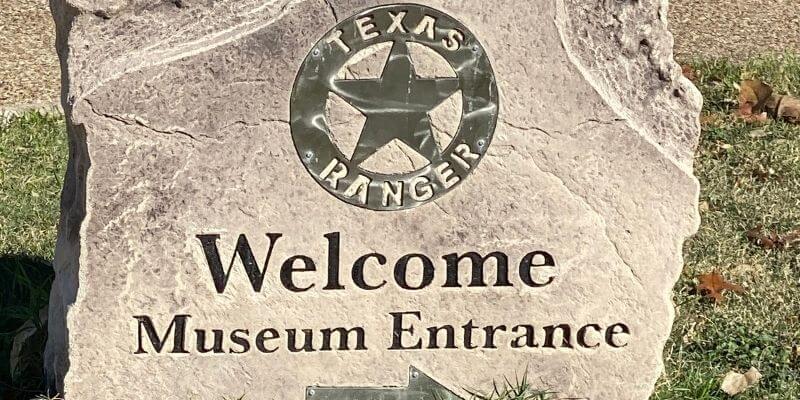 The Texas Ranger Hall of Fame and Museum is a complex dedicated to one of the nation's oldest state law enforcement agencies – the legendary Texas Rangers.
The Texas Ranger Hall of Fame is the official state-designated memorial of the Texas Rangers service. It commemorates the service and sacrifices of the Texas Rangers who gave their lives in the line of duty.
The Texas Rangers had a reputation of being fast on a horse and quick with a gun.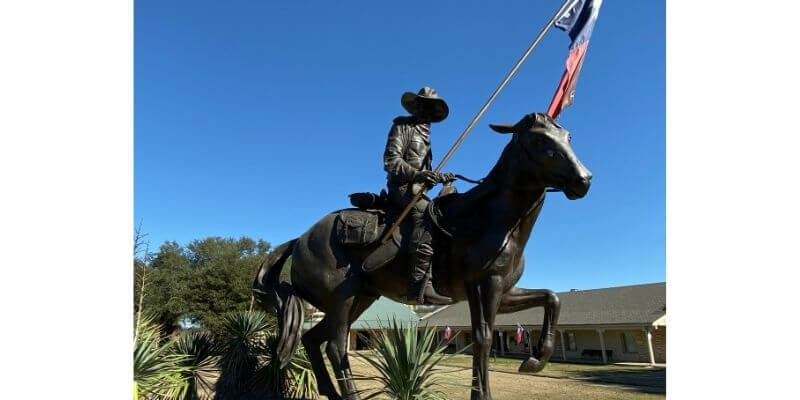 The Texas Ranger Museum houses the most extensive known Texas Ranger-related artifacts. Texas Ranger badges, firearms, and personal gear are among the treasures on display. Alongside that are the weapons and possessions of notorious outlaws Bonnie and Clyde. Texas Ranger Hammer brought their killing spree to an end.
When you stop at the Texas Ranger Museum, your tour should start with their 30-minute video. The video details the Texas Rangers throughout history. The good, bad, and the questionable. Although today the Texas Rangers are seen as the elite within law enforcement, that was not always the case. The video shown at the museum can be found on The History Channel as part of a series titled Enforcers.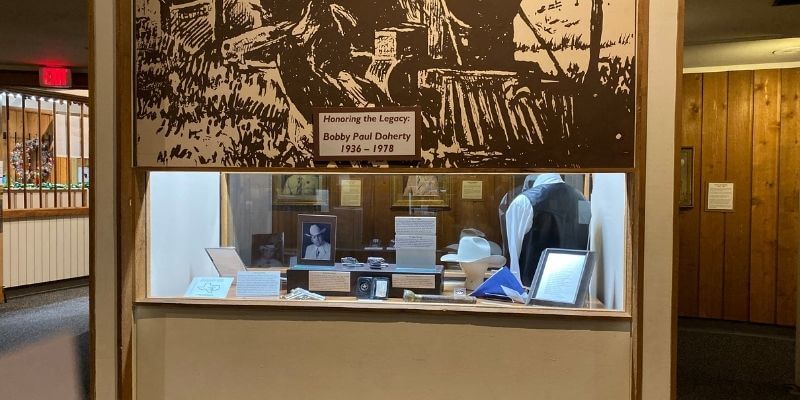 In the earlier days of Texas Ranger history, the Ranger became the frontier policemen with no special training. Texas Rangers had to learn to fight to survive. Being the law in a lawless land was brutal. The Texas Rangers gained a reputation of being feared and dangerous. Some Rangers were known to shoot first and ask questions later.
At the museum, past Texas Rangers are honored with displays, and present Texas Rangers are featured by their company with pictures on the Ranger wall just outside the theater.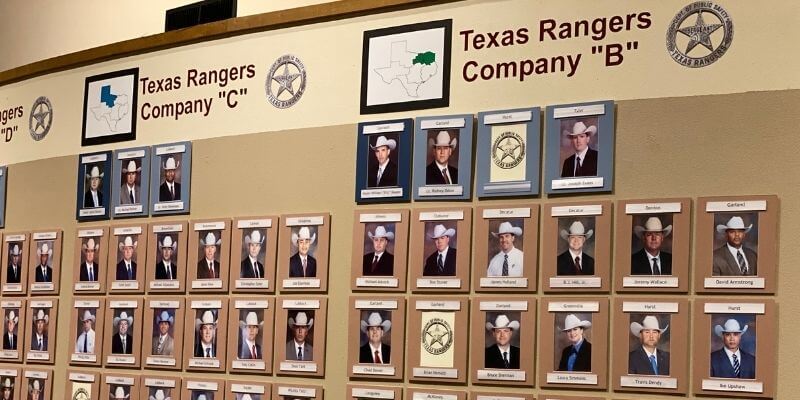 While we were visiting, we had the privilege of meeting a current Texas Ranger and his family. They were visiting the museum at the same time we were. It was fun talking with them and seeing the pride on the faces of their young ones when they spoke of dad being a Ranger.
All law enforcement men or women visiting, receive a discounted entrance fee. Many of the visiting law enforcement agents leave a badge to hang on the wall in the gift shop.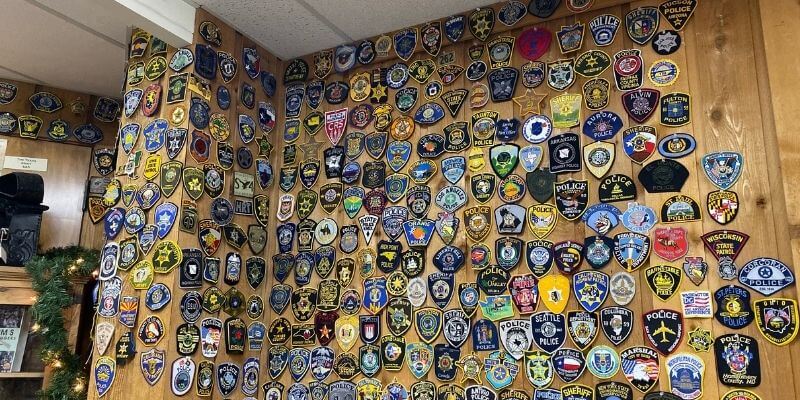 Texas Rangers have been portrayed in numerous movies and tv shows over the years. A separate area was set aside showcasing the many different films, movies, and tv shows over the years. My dad loved watching Walker Texas Ranger, and so did I.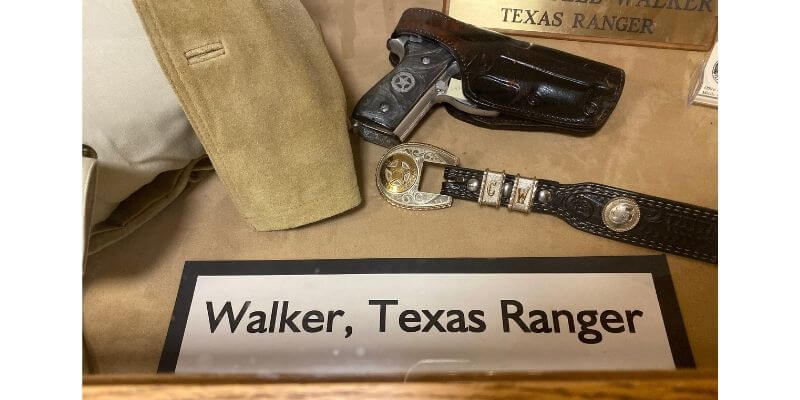 For all of our gun lovers out there, you will love seeing all of the old guns on display throughout the museum.
A stop at the Texas Ranger Museum is educational and fun in Waco. If we are ever back this way, we will add this to our list to stop again.
Address ~ 100 Texas Ranger Trail, Waco, Texas
Hours ~ 9 a.m. to 5 p.m. Daily (Closed Thanksgiving, Christmas & New Year)
Cost ~ Adults $8, Seniors and Military $7, Children $4
Book your flight to Waco with Skyscanner
Dr. Pepper Museum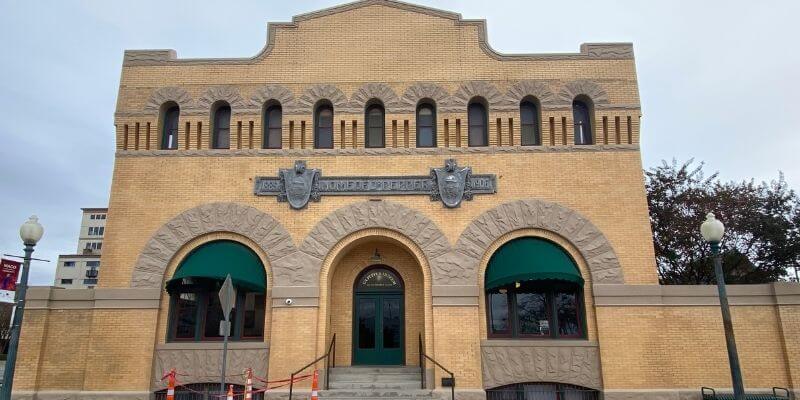 Just a couple blocks from Magnolia Silos is The Doctor Pepper Museum. If you love Dr. Pepper, this might be the stop for you. Dr. Pepper was created in Waco, and the three-story Dr. Pepper Museum stands where the first Dr. Pepper soft drink was served.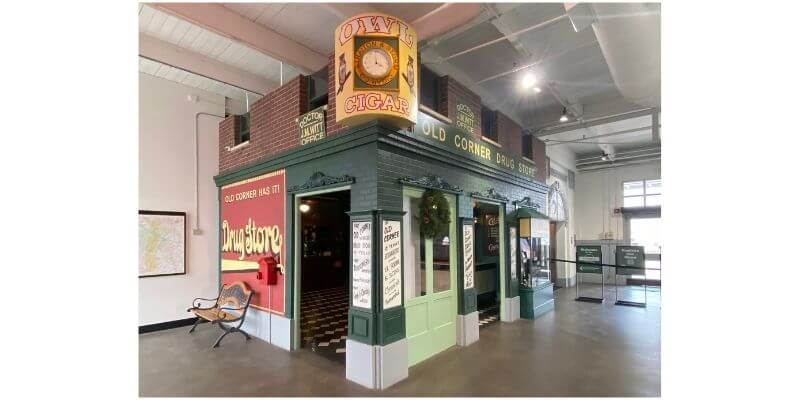 Inside the museum, you will find a replica of the original Old Corner Drugstore where that first Dr. Pepper was served. The three-story museum is filled with Dr. Pepper paraphernalia, 7UP paraphernalia, and fun facts about all of the other Dr. Pepper products and advertising.
Over the years, Dr. Pepper had some very creative advertising campaigns. One that stood out to us was "Drink A Bite To Eat At 10, 2, and 4". The advertising encouraged people to drink a Dr. Pepper for a quick burst of energy. The slogan referred to a study that showed your sugar levels naturally dropped at 10, 2, and 4.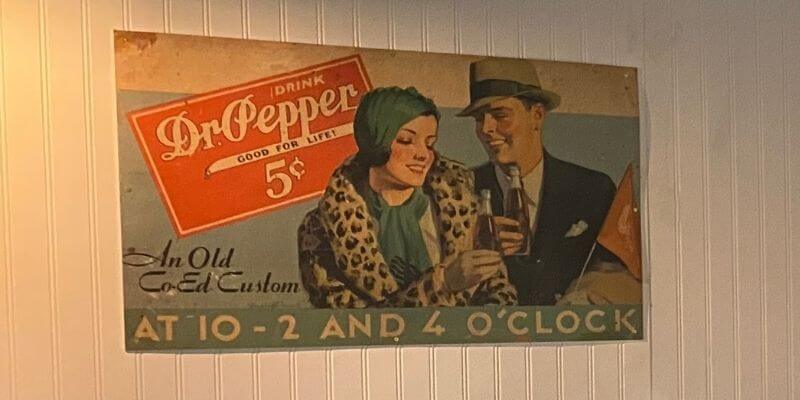 A portion of the self-guided tour focuses on "fizzy water" and the process of making soda, along with fun facts on how the soda is bottled. No soda plant can exist without a good supply of water.
A historical find inside the museum was the actual artesian well dug in the late 19th century to be used to produce soda syrup, make carbonated water, and wherever else, water was needed.
The well had to be filled in around 1928 when the city ordered that all downtown wells be closed. The employees filled the well with broken glass and covered it with concrete. Over time the well location became a mystery.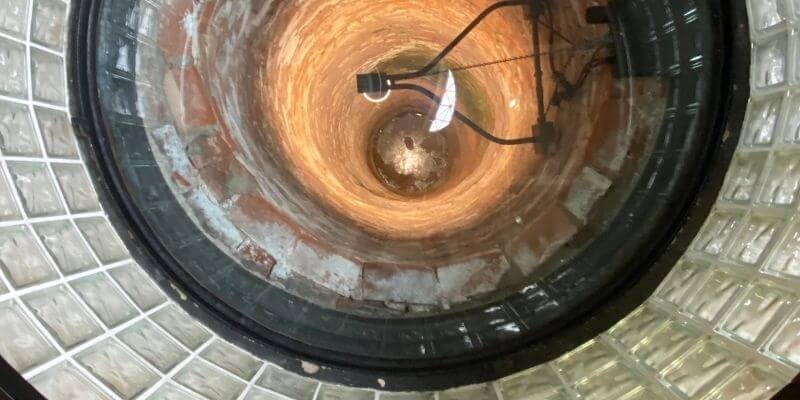 In 1992, the well was discovered during renovation, painstakingly emptied of the massive amount of broken glass and restored to its former glory. When visiting the Dr. Pepper Museum, visitors can see the restored well. This is a living well, meaning that it will still at times fill with water or condensation that seeps through the brick walls. The well is not used but is tightly covered, lit, and displayed within the museum.
Also on display in the Dr. Pepper Museum is a photo timeline of the discovery and renovation of the well.
The tour took us about two hours to wander through and enjoy what we saw. At the end of the tour, you have the choice of trying one of their sodas, creating one of your own, or for an extra charge adding ice cream to your soda.
Address ~ 300 South 5th Street Waco, Texas
Hours ~ Monday – Saturday 9 a.m. – 5:30 p.m.
Sunday 12 p.m. – 5:30 p.m.
Cost ~ Adults $10, Seniors $8, Children $6
Magnolia Silos & Market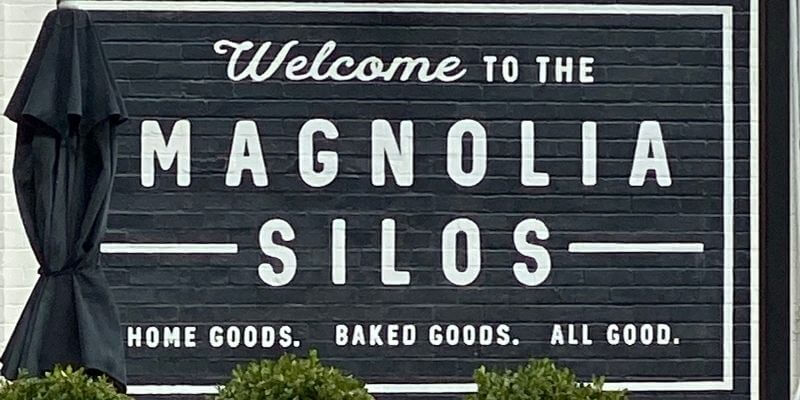 Magnolia Market at the Silos was our first stop on a Monday morning. It had been on our list to visit for Sunday, but the market was closed. With Magnolia Market closed the day before our visit and our visit being three weeks till Christmas, I expected it to be very crowded but was very surprised by how unintimidating the crowd size was thanks to the size and layout of Magnolia Market.
Magnolia Market at the Silos covers almost 5 acres in the middle of downtown Waco.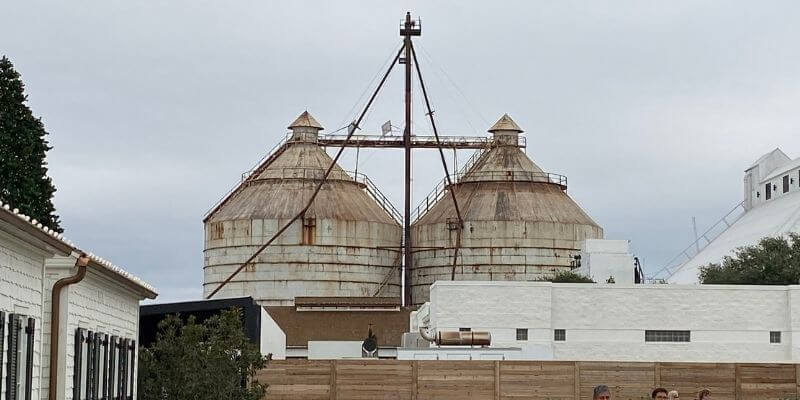 The focal point of Magnolia Market is two 120' high silos that were built in the 1950s as part of the Brazos Valley Cotton Oil Company. The oil company closed in 1958, and the silos sat vacant in the center of downtown. In 2014 when Chip and Joanna were outgrowing their retail space. They purchased the silos and the surrounding arces with the vision of it becoming something amazing. These two silos have also become the symbol of their brand.
You can see how much thought has gone into the layout of Magnolia Market, leaving plenty of green space. And green space is precisely what I am referring to. At several strategic placed areas around the market are green grass and places for adults and kids to relax, sit or even burn off some energy. This is also an excellent place for a date. We discovered Magnolia Market was not just a shopping area but a destination for fun and relaxation.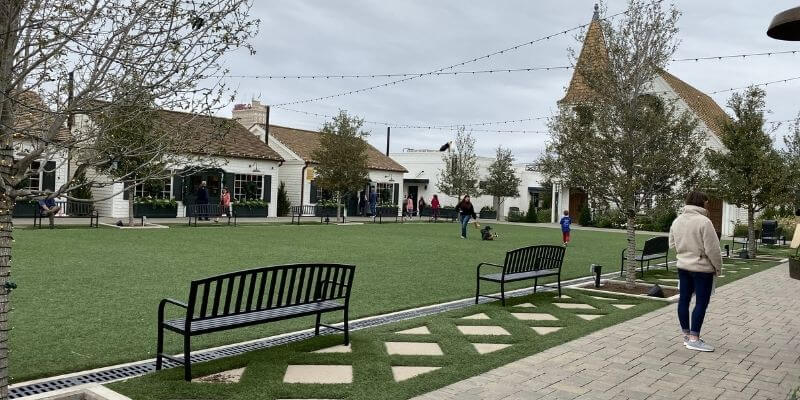 One of the green areas had benches all around. I had to take a moment, sit, relax and watch a magical family moment as a little guy was taking some of his first steps right there in the courtyard.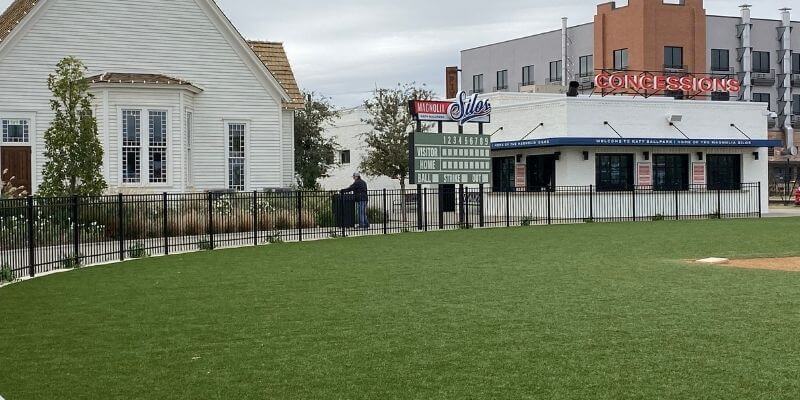 A second green area included a wiffleball field, complete with a scorekeeper and concession stands. The ball field was filled with dads and kids enjoying an afternoon while some of the women were busy shopping or watching the fun on the field.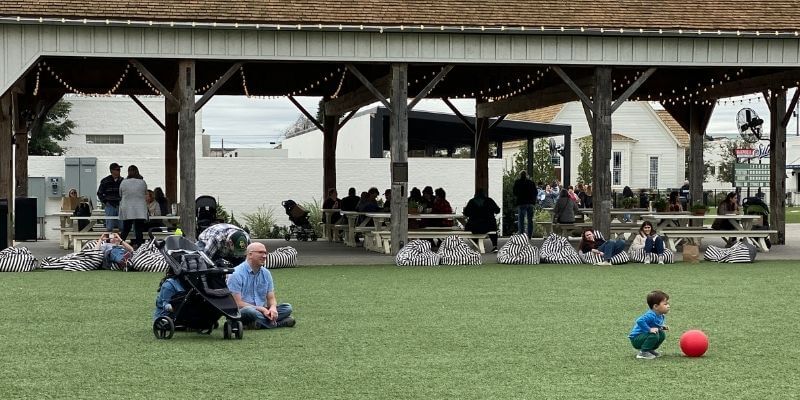 A third green space was a large grassy lawn with lawn games provided. Off to one side of this area were striped bean bag chairs. This area was so inviting. I wanted to grab a seat and watch families having fun, but the bakery called my name. Instead, Gary pulled up a bean bag chair and waited, forgetting that when I came back, he would need to get back up off the ground and out of the chair.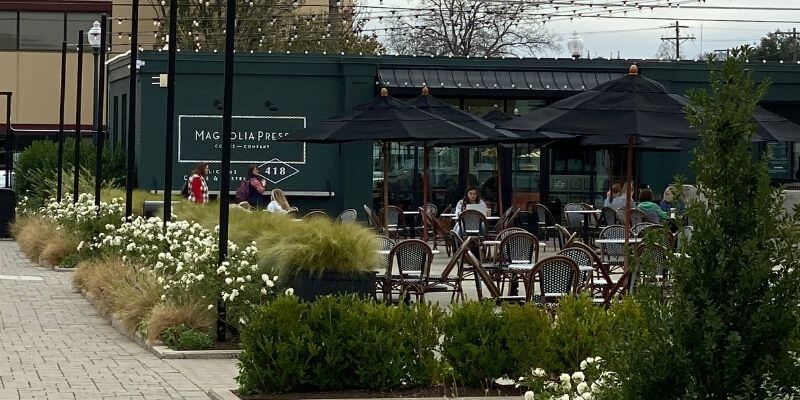 Our first stop was the Magnolia Press Coffee Company for coffee. They served a great cup of coffee and an excellent chai tea. To accompany our morning coffee, we headed over to Silos Baking Company. Although there was a bit of a line, we decided it would be worth the wait. The closer we got to the door, the more we knew it was a good choice. The smells coming from the bakery were terrific.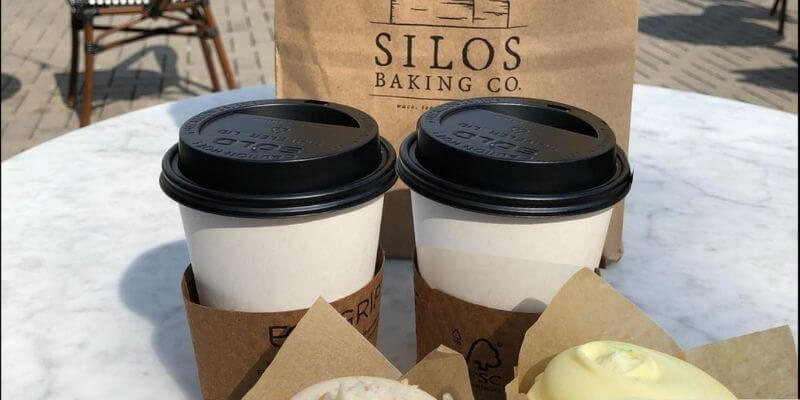 The bakery mainly consisted of cupcakes, muffins, and cookies. We purchased a couple of each to share. It was hard to tell which was the best, we enjoyed them all, and we're glad to have some left to take home with us.
Throughout the Magnolia Market Silo District are two large Magnolia shopping areas. These were more like dream areas. Everything was beautifully decorated without being over the top, and everyone working was very friendly and willing to help you envision things in your space at home.
For those shopping from out of town, Magnolia Market has made it easy for you to enjoy your treasures by offering to ship them home for you. Your husband does not need to know what you bought until you both get home after your vacation.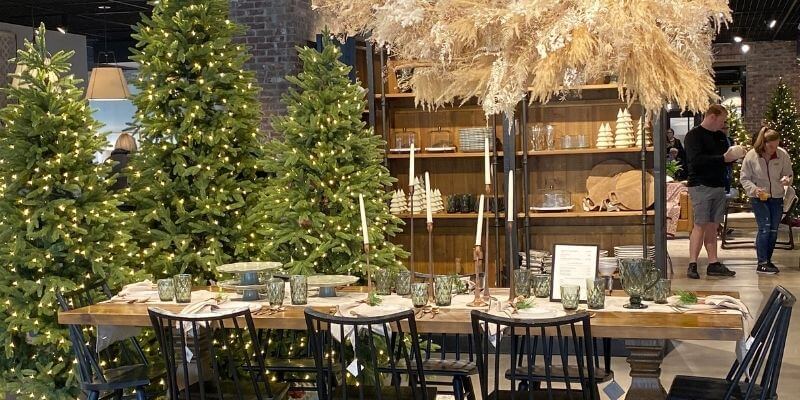 While wandering and shopping, we found various instagramable photo opportunities inside and outside the buildings.
One of the focal points of the Magnolia Market Silo area was a beautifully restored old church. The old church was built using elements preserved from an abandoned church in Waco. The original church was built in 1894. It was one of Waco's oldest buildings. The building had sat empty for 30 years until Chip and Joanna purchased it in 2017 with plans to do what they do best, restore it to its former glory.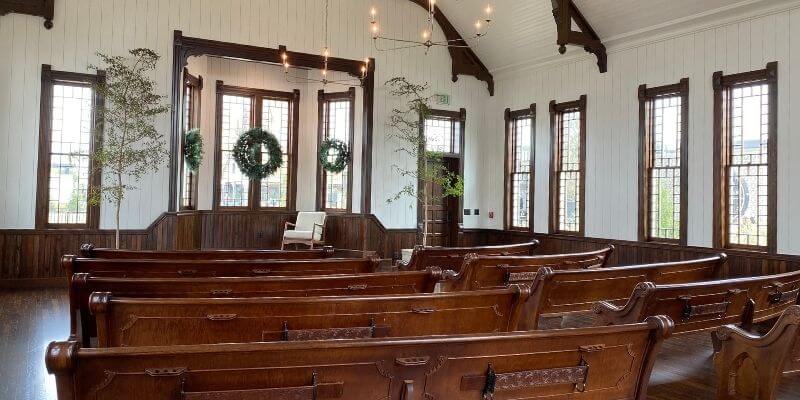 The food court was charming. Each food vendor is set up in a travel trailer. Each trailer has a unique look. The trailers surrounded a very quaint and inviting courtyard seating area. The food we had was good, and the entire experience made the day for us.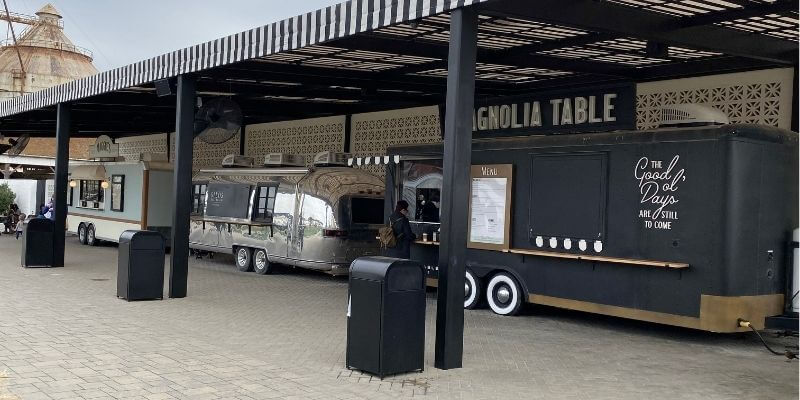 Visiting Magnolia Market Silos is an experience designed for the fan of "Fixer Upper" The shopping, photo opportunities, and food made it the perfect addition to a romantic honeymoon.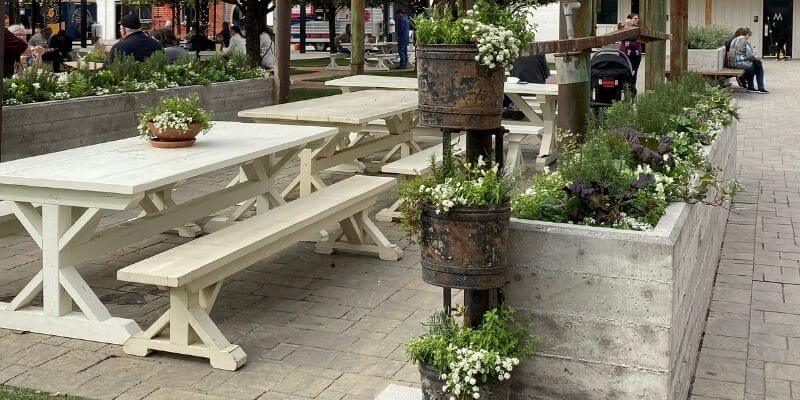 Many special events occur at Magnolia Market; Spring at the Market, Silobration, concerts, and we enjoyed Christmas at the Silos. In the middle of Texas, it lightly snowed the entire time we were there, and the lights were magical.
For us, Magnolia Silos was very peaceful and relaxing.
Address ~ 601 Webster Ave, Waco Texas
Hours ~ Monday thru Saturday 9 a.m. to 6 p.m.
Visiting Magnolia Market Silos was like visiting the Milwaukee Public Market Third Ward District in Wisconsin.
Cameron Park
Cameron Park is a beautiful urban green space located alongside the Brazos River. It features miles of trails, wildlife, and some of the most amazing views. Cameron Park, at 416 acres, is one of the largest municipal parks in Texas. Located next door to Waco's downtown, the park is where Waco celebrates life.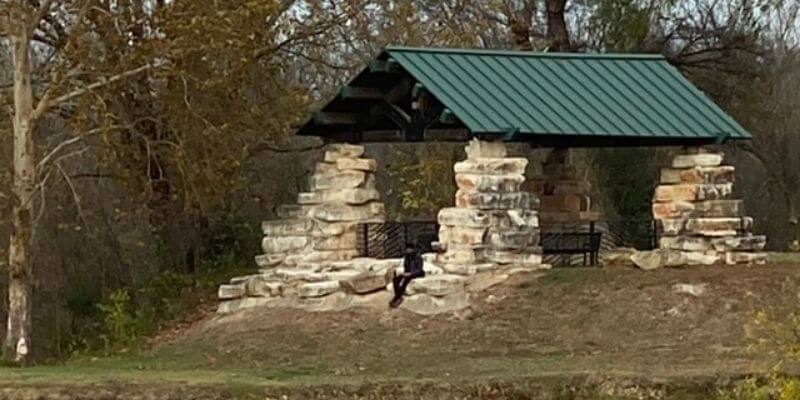 Cameron Park is a natural treasure set aside for all to enjoy. The park was dedicated in 1910 and named after lumber baron William Cameron, whose family gifted the land to the city. It is home to a National Recreation Trail system offering hiking trails of varying skill levels for all to experience, bike paths for the bike enthusiast, breathtaking cliffs, and overviews to enjoy.
Fishermen, disc-golfers, picnickers, school kids on field trips, and couples strolling hand-in-hand on the River Trail can all enjoy the park together.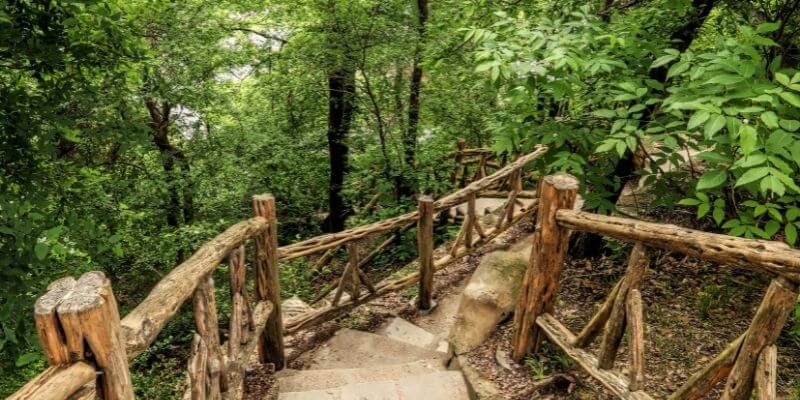 Since the Cameron family donated this parkland, the 400+ acre park has gone through many changes while keeping the natural beauty it has always held. There is a constant buzz that takes place with parties, festivals, and sporting events, in addition to the buzz of children enjoying one of the three playgrounds designed just for them.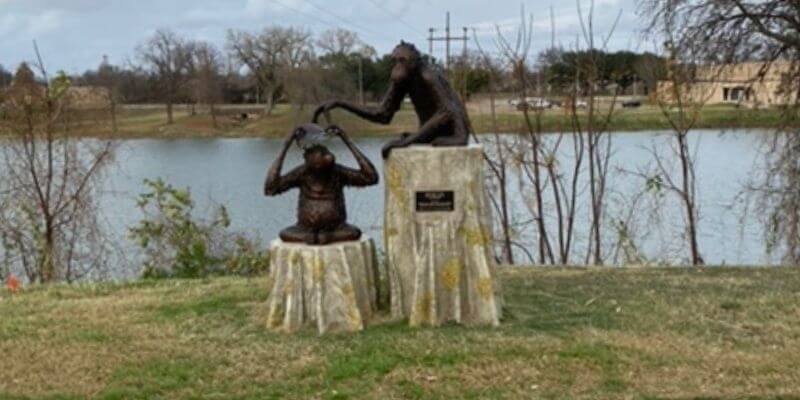 While in Cameron Park, listen closely. At times you can hear the roar of the lions echoing along the river. The road leading through Cameron Park on the way to Cameron Park Zoo is home to some magnificent and exciting sculptures. Many caught the quirkiness of the animals perfectly.
Address ~ 1701 North 4th Street, Waco, Texas
Price ~ Free
Hours ~ Daily from 7 a.m. to dusk
Cameron Park Zoo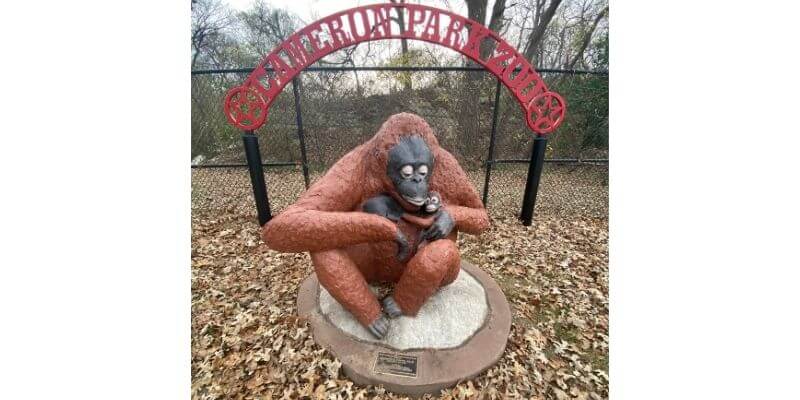 Adjacent to Cameron Park is 52 acres known as the Cameron Park Zoo. The zoo was one of the happiest surprises and made our list of fun things to do in Waco, Texas. While traveling through Cameron Park on the way to the zoo, visitors are greeted by quirky yet lifelike animal sculptures. Passersby seem to all be slowing down as if to watch the sculptures in the same way they would if they were driving through the zoo looking at the actual animals.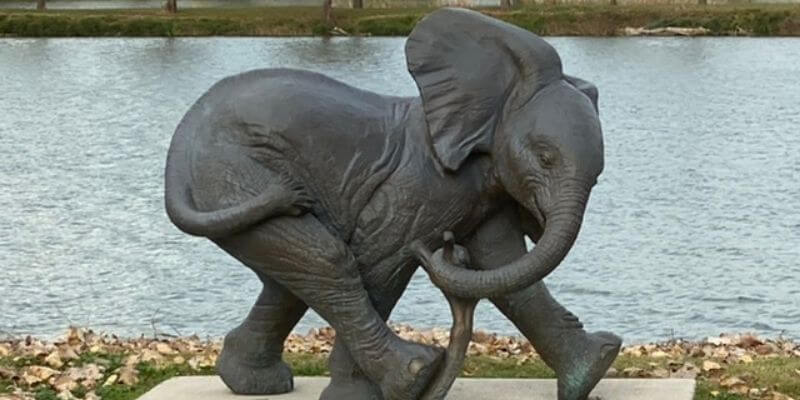 The Cameron Park zoo is home to over 300 species and almost 2000 animals. Whether you are looking for mammals, reptiles, birds, amphibians, or fish, you will find them all at the Cameron Park Zoo.
The zoo is beautifully laid out, with animals housed in natural habitats. There was a sense of excitement with our first step through the gate.
While visiting the zoo, you can explore the Asian Forest, experience the African Savannah or travel through the Brazo River Country and its 50,000-gallon saltwater aquarium.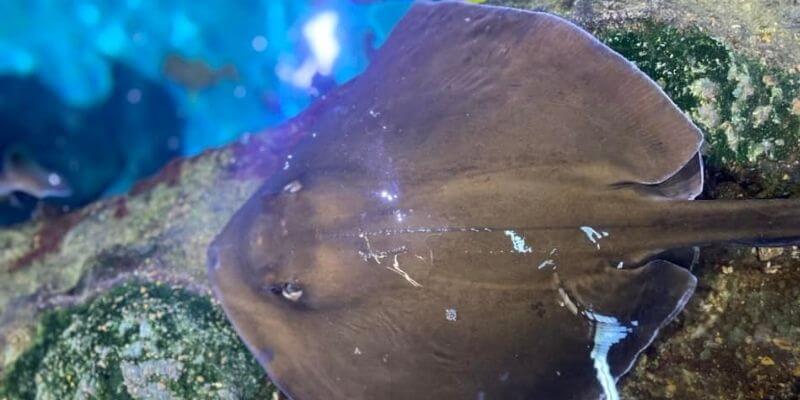 Plan on spending at least three hours enjoying the zoo fully.
Address ~ 1701 North 4th Street, Waco, Texas
Hours ~ Monday through Saturday ~ 9 a.m. to 5 p.m.
Sunday ~ 11 a.m. to 5 p.m.
Prices ~ Adults – $13.00
Seniors – $12.00
Children – $10.00
Children under 2 – Free
If you enjoy aquariums as much as we do, you will want to check out the newest addition to St. Louis, Missouri. Aquarium at Union Station opened its doors in 2019 when a vacant mall adjacent to Union Station Historical Train Shed was turned into a fantastic aquarium right in St. Louis' downtown.
Waco Suspension Bridge
This has to be one of the most romantic spots in Waco, especially during sunset as the sun sets, the lights on the bridge sparkle.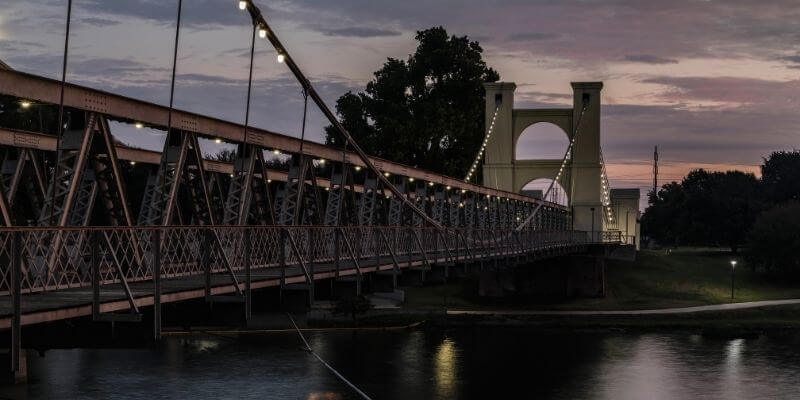 The Waco Suspension Bridge in Texas is the Oldest Suspension Bridge still standing. This historic pedestrian-only bridge opened in 1870 as a privately owned toll bridge. It was the first bridge across the Brazo River and, at the time, the longest single-span suspension bridge west of the Mississippi with a main span of 475 feet. The cables used to build the bridge were supplied by John Roebling Co, the same company that built the Brooklyn Bridge in New York City.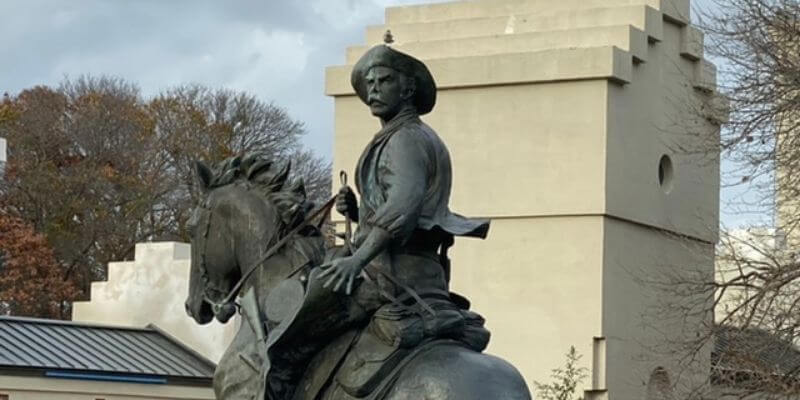 In 1866 the Waco Bridge Company was granted a 25-year charter to build a toll bridge. The charter guaranteed that no other bridge or ferry could be built within five miles. Construction of the suspension bridge began in 1868 and, due to financial difficulties, was not completed until 1870.
Traffic on the toll bridge included wagons, pedestrians, and herds of cattle. Special rates were given to those that used the bridge frequently. In 1889 the bridge was purchased and given to the city of Waco to be used as a free bridge.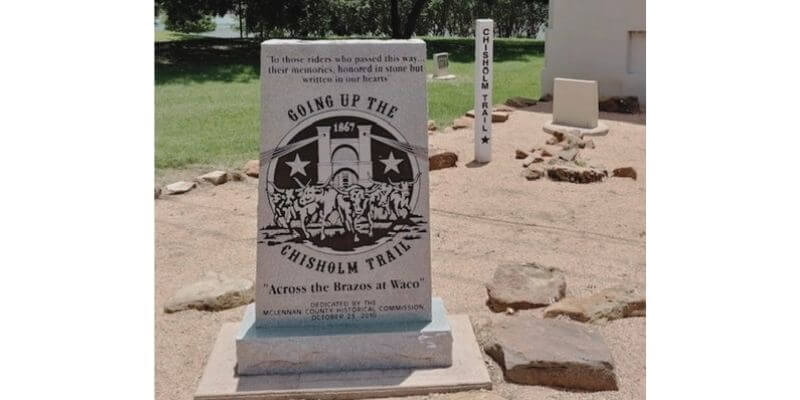 For years the Waco Suspension Bridge served as a Chisholm Trail crossing ~ an area where cattle could cross the river.
At the South entrance to the bridge, you will first see a collection of cattle sculptures called "Trails Boss and Longhorn." All of the sculptured cattle lead to the bridge to represent the cattle crossing at the Chisolm Trail.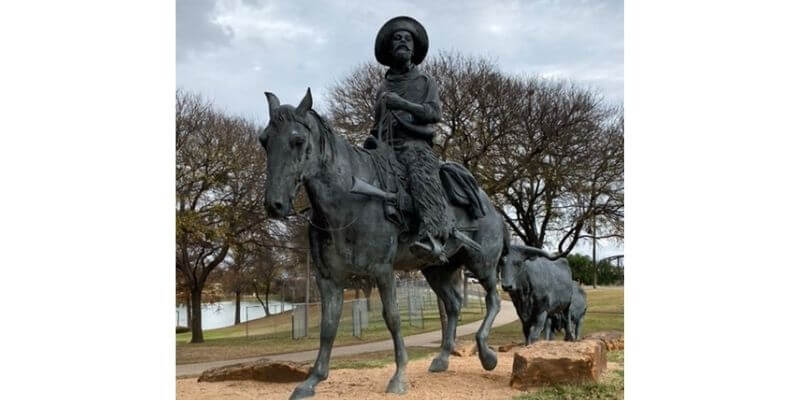 The Waco Suspension Bridge has large towers that welcome pedestrians at the bridge entrance. Still to this day, the suspension bridge is an icon of downtown Waco and the centerpiece of community events, an excellent venue for special occasions, or a romantic spot for couples to watch the river pass by.
If you are in Waco, take some time to experience a bit of history as you cross this suspension bridge on foot.
Address ~ 101 N University Park Dr, Waco Texas
Price ~ Free
You can learn more interesting information about the Chisholm Trail with this publication from the Texas Historical Commission. I found it very interesting to read.
Waco-Tours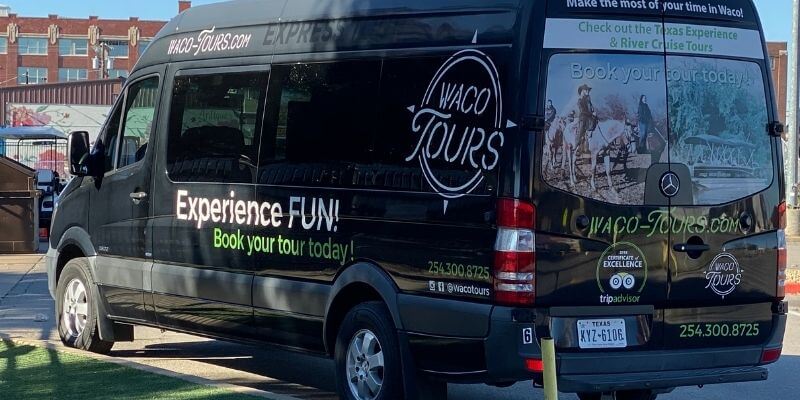 Waco-Tours is a local tour company owned by two couples featured on and had their homes renovated on HGTV's "Fixer Upper" tv show, based in Waco, Texas.
After the popularity of their homes on "Fixer Upper," they noticed a large number of people just driving by, hoping to get a glimpse of their homes from the outside.
Over lunch one afternoon, the couples discussed this occurrence and realized it was a need they could fill by providing a way for visitors to discover more of the hidden gems in Waco, Texas. This was the start of Waco-Tours.
Over the years, they have grown and have given tours to thousands of "Fixer Upper" fans and tourists. Fans that may be visiting Waco due to the popularity of "Fixer Upper" are discovering many other fun things to do in Waco.
If you are new to Waco and not sure where to start or are visiting Magnolia Market Silos, we recommend taking one of Waco-Tours tours.
Their Classic Waco tour takes 2.5-hours and gives you a little taste of Waco as a whole. This informative yet fun tour will take you downtown to Harp Design, share with you Wacos' rich history, show you the secrets of Cameron Park, explore beautiful neighborhoods, and so much more. There might even be a stop for coffee or ice cream.
This is an excellent tour at the beginning of your visit to Waco. It helps give you some direction for the rest of your stay.
If you want to take your love for "Fixer Upper" to a new level, Waco-Tours is the place to start. In addition to their Classic Waco tour, they provide many other tours that you may want to check out.
Address ~ 215 S University Parks Drive, Suite #104, Waco, Texas
Hours ~ 9 a.m. to 5 p.m.
Price ~ $79 and up per person
How to get to Waco
How do we get to Waco is a question people often ask. Waco does have an airport, but it's pretty small. The nearest airport to Waco is either Dallas/Fort Worth or Austin. Rent a car and it's only a couple of hours drive from either city on I-35. There is so much to see and do in Texas that you will want to enjoy as much of it as possible.
Pin Us For Later
Romantic and Fun Waco
These are just our top 8 Romantic and Fun Things to do in Waco, Texas. We visited because I wanted to experience Magnolia Market Silos. What started to be just a two-day stop-over for us ended up being a memorable week-long visit.
Waco is filled with natural beauty, amazing people, great shopping, fun, romance, and educational experiences.
Before leaving, be sure to check out our Travel Resources to find exclusive travel discounts. Links are provided to take you directly to book your hotel, car rental, or guided tours.
We hope this list of romantic and fun things to do in Waco helps you plan your trip. If you find something to do in Waco that we missed, we'd love for you to leave a comment so we can visit next time.