A Couples Guide To Fun And Romantic Things To Do In Lake Wales, Florida

"Being centrally located in the Sunshine State of Florida,
this small city offers visitors numerous fun things to do in Lake Wales.
It also offers relatively easy access to nearly every part of the state."
Lake Wales is a small city in central Florida. For vacationers wanting to visit the sunshine state and be close to almost everything, yet not right in the middle of it all, Lake Wales might be an excellent choice.
You are only a road trip distance from the theme parks or either of Florida's coasts. There are many things for couples to do in Lake Wales in addition to relaxing poolside.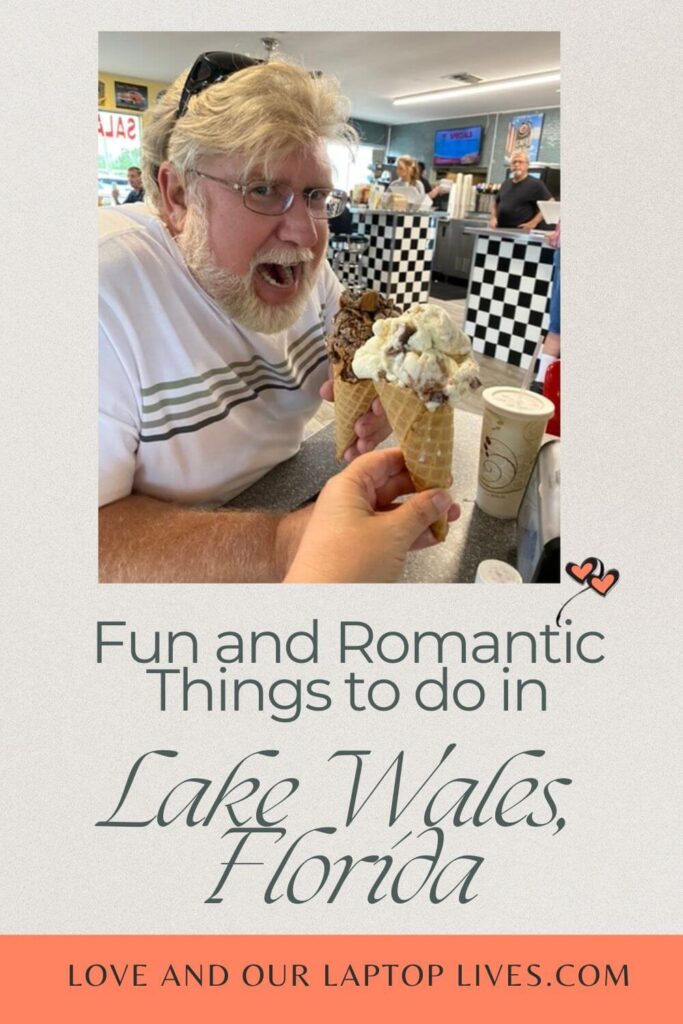 This post may contain affiliate or sponsored links. If you click on a link and make a purchase, I may receive a small commission (at no additional cost to you). Please see my full disclosure policy for details.
Fun things to do in Lake Wales, Florida
Lake Wales is filled with many fun things for couples to do. As you visit and experience Lake Wales, you can see traces of the city's past and a connection to its culture. Lake Wales today is a mature version of what it was when it was founded in 1912, a mix of old and new.
The area was home to one of the first Florida attractions ~ Cypress Gardens, and one of the most beautiful natural gardens around ~ Bok Tower Gardens.
Bok Tower Gardens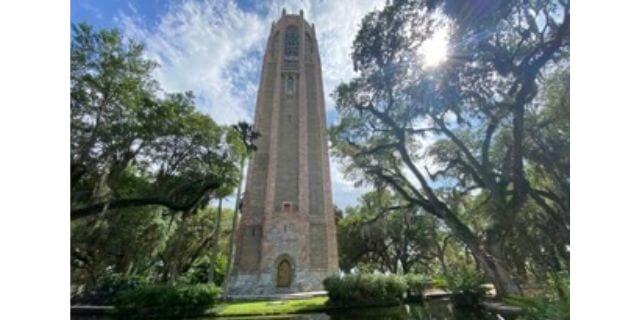 Bok Tower Gardens is not just another garden. The story, history, and the Singing Tower set this garden way above the rest.
Edward W. Bok, an immigrant from the Netherlands, was the mastermind behind Bok Towers and the surrounding gardens.
Edward Bok was determined, hard-working, and successful. He was a humanitarian and an advocate of world peace throughout his life and loved the environment.
Bok was a successful publisher and Pulitzer Prize-winning author. One of his best-known positions was as editor of Ladies Home Journal. He held the position for 30 years. Under Bok's leadership, Ladies Home Journal became one of the leading women's magazines.
Edward Bok would spend his winters at a winter retreat in Lake Wales, a small city in central Florida. This was during a time before Mickey Mouse or amusement parks. During his winter retreats, Bok would take long walks to nearby Iron Mountain ~ one of the highest points in Florida.
Bok would enjoy the plants on his walks, watching the numerous birds that made their home on Iron Mountain and lingering late enough to catch the breathtaking sunsets from the top of the mountain.
Bok was so in love with the mountain that in 1921 he purchased the mountain and the 700 acres that surrounded Iron Mountain.
Edward Bok immediately commissioned two highly sought-after designers, architect Milton B. Medary to design the Singing Tower and Frederick Law Olmstead, "The Father of Landscape Architecture," to preserve the land's beauty and provide a sanctuary for the native and rare birds and animals.
Olmstead was the famous architect who designed the New York City Central Park and the grounds at George Washington Vanderbilt Biltmore Estate in Ashville, North Carolina.
It became Olmsteads mission to transform and preserve the area into a place of beauty that was second to none. After a year of laying irrigation pipes and filling the area with rich topsoil, the fun began.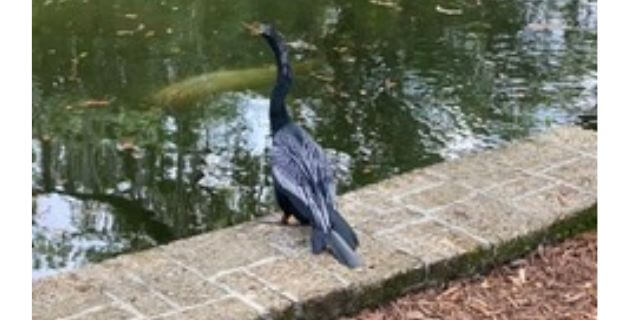 The area's design included rare tropical plants that would attract birds and wildlife to the area and create a wonderful backdrop and shade for visitors.
Bok's and Olmstead's vision was to design informal woodland gardens that offer opportunities for romantic escapes, peaceful resting spots, picturesque sights, and later on, breathtaking views of the Singing Tower. There is no doubt that is what they created.
Olmstead's gardens became the perfect backdrop for the masterpiece designed by Medary. As the gardens were created, a huge water tank would have sat where The Singing Tower now sits. Although the water tank was necessary for the gardens, it did not blend with the peacefulness Bok set out to create.
The water tank was relocated underground, and the Singing Tower was designed and now proudly stands in its place above ground.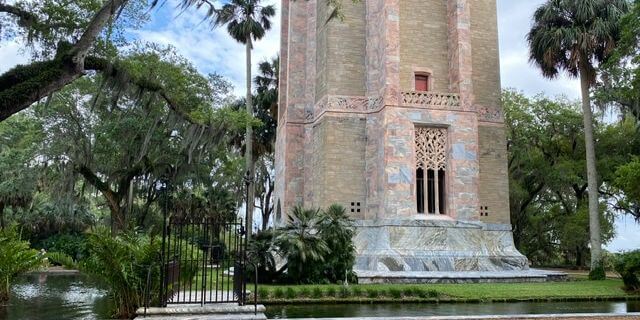 The Singing Tower became the perfect addition to the gardens. It is an excellent example of architecture mingling with nature. Many of the Singing Tower details were designed with the inspiration of nature and the local birds. Colors and designs seem to be in perfect balance with their surroundings and mimic many of the features found in the surrounding gardens.
The Singing Tower was created to house one of the world's finest carillons. The Bok Singing Tower 60-bell carillon concerts can be heard at 1 and 3 pm. The sounds fill the gardens beautifully and naturally.
The carillon features live concerts from mid-October through mid-May, Thursday to Sunday. Recordings can be heard throughout the gardens for the remainder of the week and during the summer months.
The 205-foot Singing Tower is reminiscent of the bell towers in Europe and Bok's homeland of the Netherlands.
In 1929, Edward Bok gave the American people Bok Tower Gardens as a gift. The American public had given Bok a chance at success, and this was a way for him to say thank you.
Bok's grandmother taught him to "make the world a better or more beautiful place because you have lived in it." I believe his efforts would have made his grandmother proud.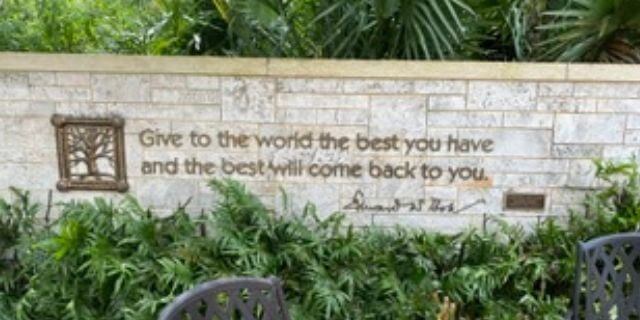 What started out as a sanctuary for birds and wildlife became a sanctuary for people also. It was Bok's expressed desire that Bok Tower Garden be a place for the human spirit to repose itself. It is not a place to be used for show or demonstration of any kind.
Bok's desire was for the public to come and stay as long as they pleased. To be inspired by the beauty, nature, and the great tower, finding peace and comfort along the way.
Today Bok Tower Garden includes The Pollinator Garden, Outdoor Kitchen, Endangered Plant Garden, Reflection Pool, Concert Viewing Area, Peace Lantern, Wild Garden, Wetlands Boardwalk, Window By The Pond, Singing Tower, and so much more.
Come for a day of peace, bring your camera and capture the beauty or bring the kids to enjoy gardens designed just for them.
Bok Tower Gardens has been voted "Florida's Best Gardens."
Address ~ 1151 Tower Boulevard Lake Wales, Florida
Hours ~ 8 am – 6 pm daily
Cost ~ adult admission $16 ~ Purchase Advance Tickets
Spook Hill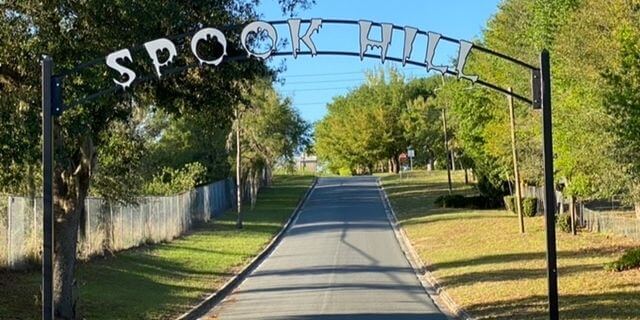 You can't stop in Lake Wales without checking out Spook Hill. Spook Hill is a mystery that defies gravity and fascinates locals and visitors daily.
Since 1950, Spook Hill has been a local attraction. According to the sign, a Great Warrior Chief and a huge gator were killed during a battle. The Indian Chief was buried near Spook Hill.
Pioneers later discovered that their horses labored or struggled as if something was pushing them back when they approached the area where the battle took place.
When you approach Spook Hill, a sign instructs you to drive to a white line under the Spook Hill Sign, put your foot on the break, and then put your car in neutral. When you take your foot off the brake, your car appears to roll uphill all by itself.
Some say the Indian Chief pushes the cars back to protect his land. While others believe it is the huge gator seeking revenge.
Is it the Indian Chief, the gator's gravity, or just an optical illusion? When you stop in Lake Wales, you must try it yourself and decide.
Address ~ 600 N Wales Drive, Lake Wales, Florida
Cost ~ Free
For additional Florida Fun take an hours drive to
Anna Maria Island on the Gulf Coast where Romantic Florida Charm Awaits You.
River Ranch Rodeo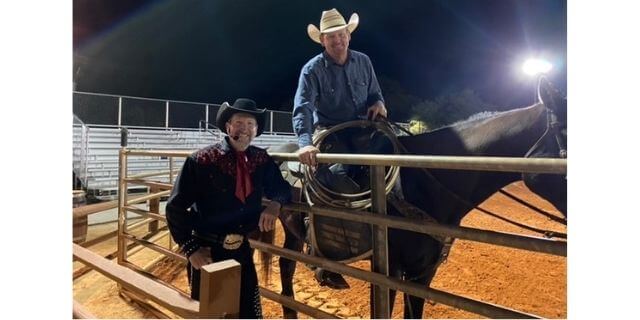 River Ranch Rodeo takes place every Saturday night in Lake Wales and features impressive talents such as those from World Champion Texas Trick Rider Trevor Dreher. Trevor is a professional third-generation rodeo cowboy and has you on the edge of your seat as he entertains you.
You might be surprised to find a rodeo in Lake Wales. We found it to be a delightful and the perfect addition to a romantic night out.
There seems to be some confusion about where the first rodeo was held. Colorado, Texas, and New Mexico all claim to be the first, with each offering different events. Florida had its part in some of the very first rodeos.
Ponce de Leon first brought a small herd of cattle and horses to Florida in 1521. Centuries later, impromptu contests were held among cowboys during roundups, sometimes used to show off their skills and others to pass the time.
As herds were corralled for branding, the cowboys (also known as Florida crackers) made use of the opportunity to show off their roping, bulldogging, and riding skills. Being men, competitions naturally took place.
Today the rodeo still has a strong presence in Florida. The best of the best showcase their skills throughout the state of Florida.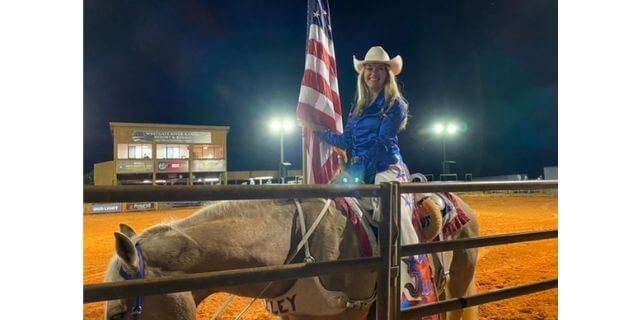 The Saturday night rodeo at River Ranch Resort and Rodeo near Lake Wales features horseback riding, bull riding, trick riding, and barrel racing with a patriotic tribute to our armed forces.
Address ~ 3200 River Ranch Boulevard, River Ranch, Florida
Cost ~ Adults $25
Time ~ Every Saturday at 7:30 pm
Lake Wales History Museum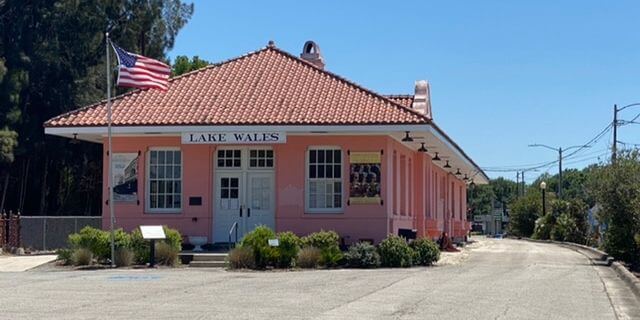 To get an authentic taste of Lake Wales, a stop at the Lake Wales History Museum is a must and turned out to be an enjoyable stop. Thanks to the railroad, the town of Lake Wales became a destination stop for travelers.
In 1976, Seaboard Coastline Railroad donated the old empty, run-down depot to the city of Lake Wales. The train depot was restored into the town's history museum and culture center.
Today the depot museum is home to town memorabilia, facts, photos, and relics of Lake Wales' rich past.
Address ~ 325 South Scenic Highway, Lake Wales, Florida
Cost ~ $5.00
Hours ~ Wed. – Sat. 9 – 5
Pinewood Estates
Pinewood Estates was the home of Austin Buck, a steel tycoon. The house is located on the National Historic Landmark grounds and gardens of Bok Towers.
Austin Buck was a horticulturist who insisted his 12,000 square foot 20-room Mediterian style mansion be built around the gardens. He purposely positioned his home in the gardens for a natural flow from the house to the already existing gardens for his enjoyment.
Latin America inspired the home. You will see Spanish influence throughout the house and on his large patio. The home is filled with beautifully carved doors, woodwork, wrought iron, and Spanish tiles, creating an amazing backdrop for the natural gardens that surround Bok Towers.
Address ~ 1151 Tower Blvd, Lake Wales, Florida
Hours ~ Monday – Saturday 11 am – 3 pm, Sunday noon – 3 pm
Cost ~ Adults $18 – Purchase Advanced Tickets
Air Boat Rides
Alligators Unlimited Airboat Nature Tour is one of Florida's premier airboat tours on Kissimmee River and Dead River through the headwaters of the Florida Everglades.
Alligators Unlimited offers a choice of a nature, dinner, or sunset cruise. It is one of the few airboat rides that center around Florida's nature, not houses, water skiers, or marinas.
Your airboat adventure will travel through swamps and marshes. Your captain will take you where only small airboats dare go.
Airboat nature tours are a great way to see natural raw Florida. During your tour, you might catch a glimpse of alligators, alligators, wild hogs, snakes, birds, bald eagles, and other wildlife in their natural habitat.
Hang on during this adventure, it may not be an amusement ride, but you are in for a wild ride.
Address ~ 14400 Reese Drive, Lake Wales, Florida
Cost ~ $55 and up
Hours ~ 8 am – 5 pm
Florida Natural Grove House Visitor Center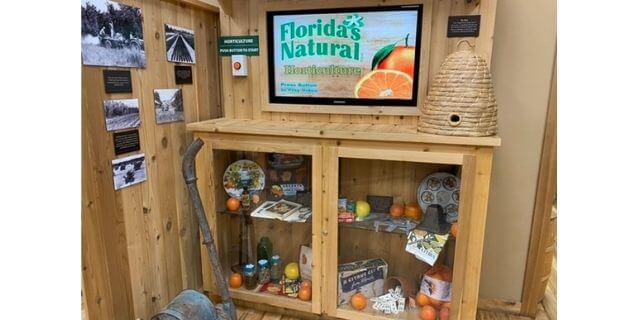 The Florida Natural Visitor Center is a free attraction located directly across from the Florida Natural Orange Juice Plant. This also was a stop that surprised us. We initially skipped it and are glad we decided to go back and check it out.
The Florida Natural Visitor Center is open from October to the end of May. This quaint shop is filled with numerous Florida and orange juice-themed gifts and souvenirs.
While looking around the shop, be sure to visit their juice bar and sample the featured Florida orange juices and lemonades. They have eight different flavors available for visitors to try. It was hard to pick our favorites. We had to try them all.
The highlight of stopping at the Florida Natural Visitor Center is the videos available for visitors to enjoy. A movie in the main theater shares Florida's Natural history, its presence in Lake Wales, and the process they use to make their product.
Several smaller videos are available throughout the museum and highlight the environmentally friendly practices that Florida's Natural put in place several decades ago.
It fascinated us to see the impact hurricanes and weather has played on the overall orange juice and citrus industry.
When leaving the Florida Natural Visitor Center, walk through the orange groves surrounding the visitor center and look at the many different orange trees. Different varieties ripen at different times, giving visitors an overall view of the orange growing season.
Address ~ 20160 US Hwy 27, Lake Wales, Florida
Cost ~ Free
Hours ~ Monday – Friday, 10 ~ 5
Lake Kissimmee State Park
Lake Kissimmee State Park is located 15 miles east of Lake Wales.
Lake Kissimmee is the perfect place for visitors wanting to canoe, fish, or enjoy a day on the lake fishing. Large pavilions are available for romantic shaded picnics.
Hiking trails throughout the park cover more than 13 miles of picturesque nature filled with white-tailed deer, bald eagles, sandhill cranes, turkeys, and maybe even a bobcat or bear.
Lake Kissimmee State Park offers opportunities for horseback riding and camping.
To enjoy the natural side of Florida, a day spent at Lake Kissimmee State Park might just be what you are looking for.
Address ~ 14248 Camp Mack Rd. Lake Wales, Florida
Cost ~ Free
Further Reading ~ What Essential To Bring On A Road Trip For Couples
Visit Lake Wales Main Street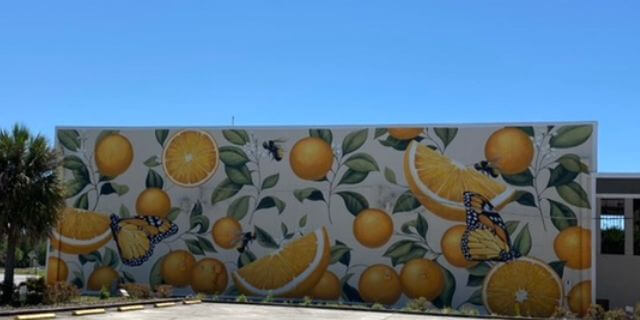 Lake Wales, like many old downtowns, has seen more lively days. Lake Wales's main street is still filled with charm and character, among other things.
Walking down the historic streets of Lake Wales, you can almost feel the history. Several small stores and restaurants await your visit.
Lake Wales is on a mission to create a more vibrant downtown while preserving its history. Over the next several years, Lake Wales is making a significant investment in revitalizing its downtown.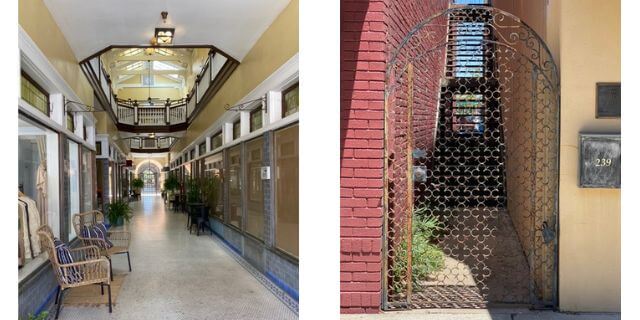 While walking Lake Wales downtown be sure to take in the beauty of the architecture, streetscape, and the many murals painted throughout the downtown.
If you time your visit right, many activities take place in Lake Wales downtown; car shows, farmers markets, Rockin Main Street, 3rd Thursday Market, or you can attend an arts festival.
Located on the edge of what I would call the historic downtown is a large several-story concrete building that is fenced off and somewhat boarded up. I was intrigued by the structure and its potential. It is the now-empty Grand Hotel that was built before the recession. Being located near the train station, the Grand Hotel was the
hub of many real estate land deals.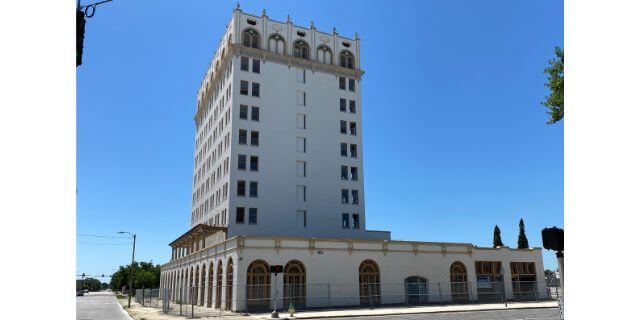 "Unfortunately, the Hotel has sat empty since at least 1990, leaving a real need within the city. Although an investor was to be refurbishing the hotel, he has not followed through. The city actively seeks to get this piece of Lake Wales' history back to its glory. I can not wait to see what this gem can become again."
St. Anne Shrine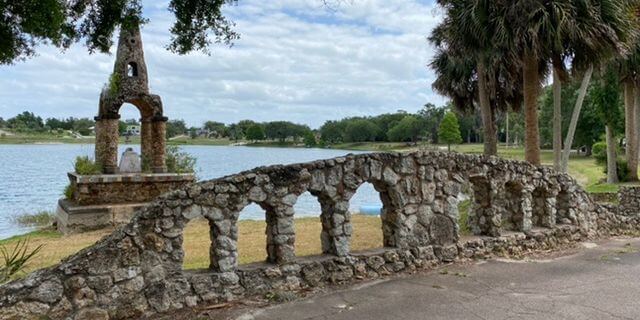 If getting off the beaten path just a bit is your style, this adventure might be fun. Finding the ruins of this shrine is a fun adventure and a breathtaking drive. It is located about 6 miles from Lake Wales.
St. Anne Shrine was built in 1920 to commemorate a local miracle. People visited daily, and it was a very popular stop for those passing through the area.
It is unknown why but around 1950, much of the shrine was demolished and abandoned. Today what is left of the structure can still be found. The shrine, a bridge, and the steps of a church are easy to spot. Other ruins are scattered here and there if you walk around and do some searching.
This area is peaceful and very beautiful during the right time of year. This is a great place to take a walk, spend some time together, and maybe walk around the nearby lake.
Address ~ St. Anne Shrine Rd. Lake Wales, Florida
Cost ~ Free
Struther's Honey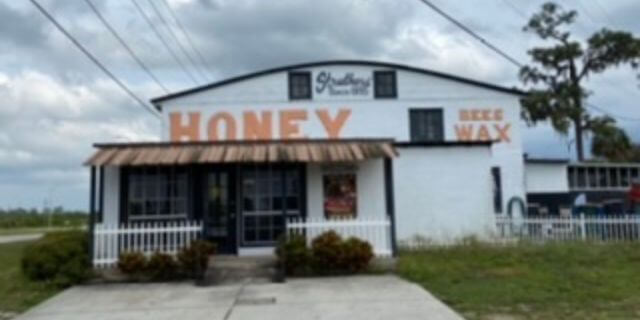 A quick stop at Struther's Honey is a must. Struthers has been in business since 1935. You will notice something different when visiting Struther's Honey. There is no attendant.
Once inside the building, there are photos and displays containing Struther's history and family memorabilia, along with photos that explain the process of honey-making and the importance of the bees. Very Interesting!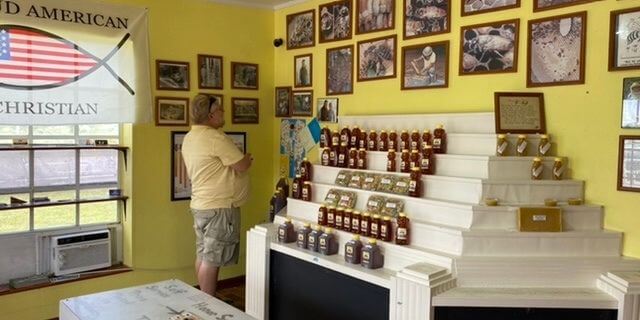 Local bees naturally make the honey with pollen taken from the surrounding citrus groves. Its flavor is unique and delicious.
Feel free to purchase your honey. You are on the honor system, sign the guest book, record which honey you are buying, and slip your money in the box.
If your timing is right, you may find the owners outside. They are very informative and love talking bees.
Address ~ 8024 Rose Ter Lake Wales, Florida
Hours ~ 8 am -8 pm
Lake Wailes Park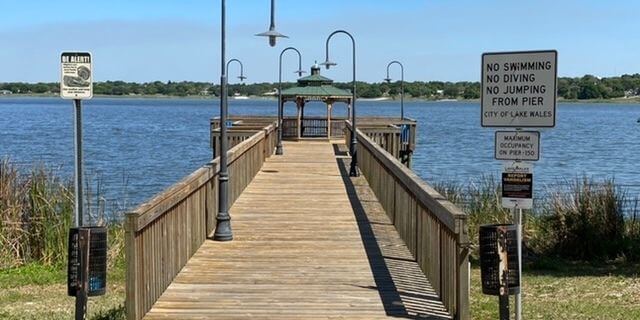 Lake Wailes Park is located in Lake Wales. The "I" comes from a surveyor's error which was never corrected.
Located in the city's heart, Lake Wailes Park is a peaceful place to picnic in the shade of any of the Live Oak trees scattered throughout the park.
A morning stroll through Lake Wailes Park to watch the sunrise from the large gazebo overlooking Lake Wailes is the perfect peaceful way to start any morning.
Paved paths surrounding Lake Wailes offer some great spots for fishing, as does the pier.
Address ~ 205 N 5th St, Lake Wales, Florida
Hours ~ Park closes nightly at 9 pm
Things to do in Lake Wales Surrounding Area
Visit Legoland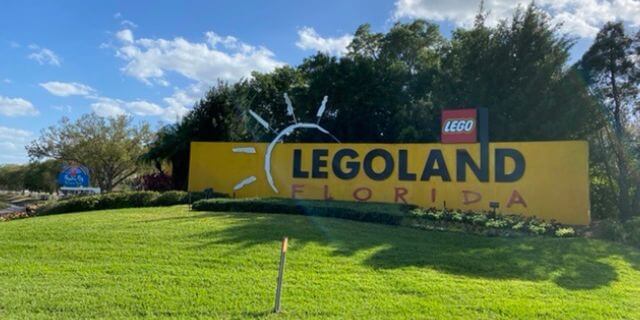 If you are feeling like having a little silly fun. Why not visit Legoland?
Yes, Legoland is designed for the young ones, but that does not mean that adults can't have fun too. See the many creative sets built strictly out of legos, enjoy the rides and wander through the old Cypress Gardens that are now part of Lego Land.
Cypress Gardens was Florida's first tourist attraction. In 1932 Dick and Julie Pope moved back to Florida with the dream of building gardens that they opened up to the public. They planned to rebuild canals on the chain of lakes in Winter Garden, adding lush and lavish hanging gardens. This later became known as Cypress Gardens.
To help entice visitors, Mr. Pope used countless images of beautiful women and lush gardens all set against the beautiful skies of Florida.
His efforts worked, and later, famous water ski shows were added. I remember my grandparents visiting this attraction and having photos of southern belles looking as if they were floating on top of the water.
After Pope's passing, Cypress Gardens were owned by several others and finally, in 2009, became part of Legoland.
Many of the things that Cypress Gardens was famous for can still be seen when visiting Lego Land. The giant cypress trees are still there and Legoland has added water ski shows to their lineup of events during the day.
Address ~ One Legoland Way, Winter Haven, Florida
Cost ~ 1-day ticket starting at $84.99
Hours ~ Monday – Thursday 10 – 5
Friday – Sunday 10 – 6
Florida Skydiving
Has skydiving been on your bucket list? Why not jump over one of the most beautiful spots for skydiving?
Located in Planet City, a short 45 miles from Lake Wales, Jump Florida Skydiving may just be the perfect place to take that first jump or if you are a seasoned jumper, the ideal place to enjoy the beauty of Florida.
With less than fifteen minutes of training, you can be on the plane and ready for your first Tandem Skydive.
Address ~ 9200 Paul Buchmann Highway, Planet City, Florida
Hours ~ 8 am to early afternoon
Cost ~ $149 and up
Where to Stay when visiting Lake Wales
We didn't find any charming or historic hotels in the Lake Wales area, but the hotels we did find were very nice. If camping or RVing is your style, you will find several opportunities in the area.
Hampton Inn & Suites – Lake Wales
Relax in the historic charm and beauty of the Hampton Inn & Suites, Lake Wales. Easy access to nearby Orlando and Winter Haven in addition to Lake Wales.
Holiday Inn Express
This 82-room hotel offers interior entrances. Holiday Inn Express – Lake Wales is like visiting home instead of being on the road.
Legoland Hotel – Winter Haven
Legoland Hotel in Winter Haven is only 100 steps from the main entrance of Legoland, Florida, and only 11 miles from Lake Wales. The hotel offers themed rooms to add to the adventure of your vacation.
Westgate River Ranch and Rodeo
Westgate River Ranch and Rodeo is an excellent option if you are looking for a place to go that offers a little something for everyone. You have your choice of many different accommodation options—everything from primitive camping, luxury teepees, hotel rooms, and over-the-top suites.
This is also the home to Saturday night rodeos.
---
Where to Eat
Lake Wales and the surrounding area are filled with various places to eat. These are just a couple of our favorites. Unfortunately, we tried several that were ok but did not make our list.
Crazy Fish Bar and Grill
Crazy Fish is the first restaurant that took us by surprise. Other than the fun colors and tropical feel, we weren't sure what to expect from the outside, and it was tucked in an out-of-the-way place. We found it by accident.
Once inside the door, everyone was overly friendly. The fun colors and unusual decorating couldn't do anything but make you smile.
First, we had to decide if we wanted to dine inside with the not-so-traditional decor of hand-painted fish and over-the-top decorating, at the bar with the locals, or outside on the patio with a fire pit and larger-than-life lawn ornaments.
Gary and I ordered different main courses and ate off each other's plates. Both meals were so good we couldn't decide which one we liked best.
Save room for dessert. They have some delightful options.
Address ~ 802 Henry Street, Lake Wales, Florida
Frost Bite
Frost Bite is a short drive from Lake Wales. With less than 15 miles between you and ice cream, what is stopping you?
The atmosphere of Frost Bite is a 50's diner. The red and white checkered wall filled with memorabilia and red booths are charming and inviting.
Come hungry, the burgers are delicious, and the fries are perfectly crispy. Just save room for ice cream.
Whether you are craving soft serve or one of their endless flavors of scooped ice cream, the girls behind the ice cream station will serve you with a smile.
Just YUM!
Address ~ 801 North Scenic Highway, Frostproof, Florida
Manny's Chophouse
It should not have surprised us that Manny's Chophouse would be on our must-stop list. Several weeks in a row, we would drive past this inviting restaurant and see the people waiting to get in the door.
Finally, we decided to try them and see what everyone is waiting for. We were greeted with a smile and immediately seated. Our waiter for the evening made our night. He took the time to explain the restaurant and the menu. Stephen, our waiter, was the perfect friendly host.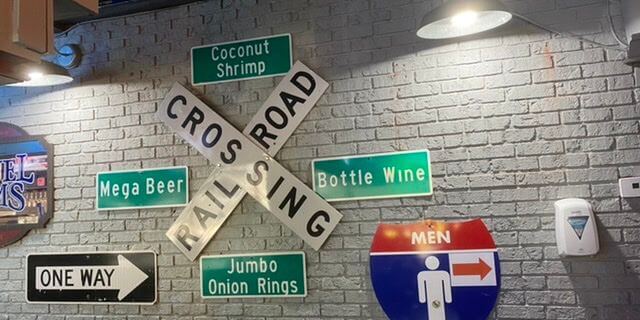 Our food was delicious and priced right. We happened to visit on a Wednesday night when it was buy-one-get-one fajitas, and because of happy hour, our drinks were two for the price of one.
We can't wait to go back and try many of their other specials.
Address ~ 201 E State Rd. 60, Lake Wales, Florida
Hours ~ Monday – Thursday 4 pm – 9 pm
Friday and Saturday 4 pm – 10 pm
Sunday 12 noon – 9 pm

Is a Florida vacation on your list? Are you considering a getaway that's filled with quiet romance? Lake Wales might be what you are looking for. Let us know if you have any questions about the area, and we will do our best to answer them.
LIKE WHAT YOU READ? SAVE IT FOR LATER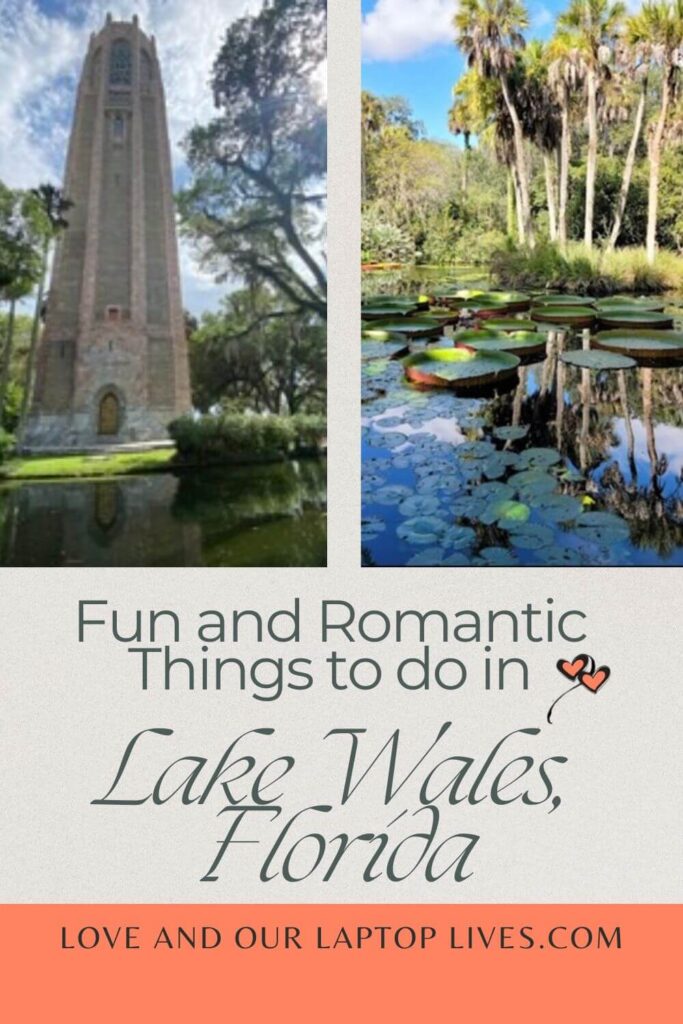 If you discover any gems in Lake Wales, please let us know. We would love to add them to the list for other travelers.