Wow! Were we excited when we first came across information about the George Washington Vanderbilt Biltmore Estate. Everything looks so impressive! How could it not? This French style mansion and museum is the largest privately owned home in the United States. It's located in Asheville, NC and was built by George Washington Vanderbilt II from 1889 to 1895. The home is still owned by the Vanderbilt family today. I wouldn't mind pulling up to this front door every night after a long day of work.
We were intrigued by of the history of the house. The more I searched the more impressed I was not only with the home but also the story and people behind it. In 1880 the railroad connected Asheville to the rest of the county. It became a place for the elite to escape extremely cold winters and hot summers. The city of Asheville became known as a healthcare destination. The climate was so invigorating and the air so pure that it was advertised that few months residence here would to rid the system of many diseases. It was known as "Nature's Trundlebed of Recuperation"
In the winter of 1887 George Washington Vanderbilt II along with his mother visited Asheville. He became inspired and fell in love with Asheville. He purchased 125,000 acres in the Blue Ridge Mountains and decided to build a summer house there. This would give his mother somewhere to retreat to during New York's extreme weather.
The Biltmore Estates came about because of the collaboration of Visionaries:
George Vanderbilt who had chosen the site for his new estate and two great artists who Vanderbilt would call upon to make his vision a reality. Frederick Law Olmstead, who had worked on several other Vanderbilt projects, who became know as "The Father of Landscape Architecture".
Richard Morris Hunt, who is widely recognized as "The Father of American Architecture", was also often referred to as "The Vanderbilt Architect". Much of Olmstead's architectural influence came from the French. The three dreamers and artists seemed like an unstoppable team.
When we tackle a building project, we dread the trip to the lumber yard or hardware store. Vanderbilt's vision was so massive that a woodworking factory and a brick kiln had to be built onsite to facilitate the construction. Three miles of train tracks were also installed to bring the construction material right onto the property. The construction of the home began in 1889 and continued thru 1895. More than 1000 workers were given jobs and taught trades during the construction.
During his travels abroad, Vanderbilt made many purchases for the interior of the home. Only a few items were American made. In 1895, on Christmas Eve, Vanderbilt opened Biltmore Estates by hosting a Christmas celebration for his friends and family. Can you picture the awe on the faces of his family and friends as they pull up the Biltmore Estates?
A few years after the house was built George met and married his wife Edith in Paris. Years later they welcomed a daughter, their only child, Cornelia, who was born at the estate.
Sadly in 1914 at the age of 51, Vanderbilt passed away from complications with an emergency appendectomy. After Vanderbilt's death his widow Edith was left to carry out many of Vanderbilt's visions. This could not have been an easy task for a widow during this time. She followed through with his wishes and sold portions of their land to the United States Forest Service for less than $5 an acre. I'm sure back then this was a good price, but all I can say is WOW! This carried out George's wishes and helped Edith with future estate maintenance. It was Vanderbilt's desires that the tract of land be kept intact in it's natural state. Today 87,000 acres of the property that was once owned by the Vanderbilt family now makes up part of the Pisgah National Forest.
During the Depression, Cornelia (Vanderbilt's daughter) and her husband, opened the grand estate up to tourists. This was at the request of Asheville's city leadership. Due to the curiosity so many had with the Grand Biltmore Estate, the local chamber hoped to increase tourism to the area. This also allowed Cornelia to bring in money to help with Biltmore finances. As massive as Biltmore Estates is can you imagine how much staff it takes to keep things running smoothly.
This piece of information I found so fascinating. During WW II, pieces from the National Gallery of Art in Washington, DC, including original Rembrandt's, were stored at Biltmore to keep the artwork safe in the event of an attack on Washington, DC.
In 1963, the Biltmore Estate was designated as a National Historic Landmark and in 1995 it celebrated it's 100th anniversary.
Dini Cecil Pickering and Bill Cecil inherited the estate after their parents' death, and today they welcome over 1 million visitors each year.
The interior of Biltmore Estate is amazing. The estate has 4 acres of floor space, 35 bedrooms, 43 bathrooms, 65 fireplaces, 3 kitchens, a banquet room, library, and music room (that was not finished until 1976). The two story library has over 10,000 books in 8 languages. I'm trying to wrap my head around some of these facts. 43 bathrooms? Biltmore Estates was constructed during a time when most families didn't even have one indoor bathroom. And 65 fireplaces? Gary and I could have a fire in a different fire place every night for 2 months. Now that's romantic.
The basement features an amazing indoor heated swimming pool, bowling alley, laundry rooms, and the servants' dining hall. I don't think we would have any need to ever leave the property. Gary and I could always be finding romantic spots.
Outside the house are gardens, gardens and more gardens. Which includes an Italian garden, a rose garden, fountains, a conservatory, an outdoor tea room, and a terrace.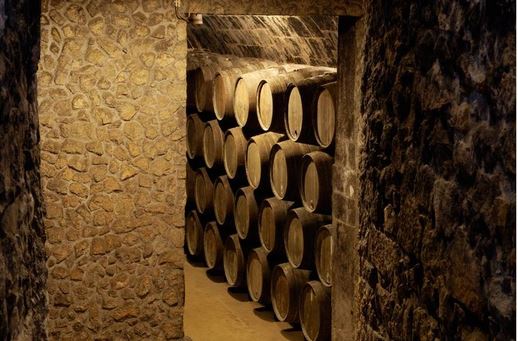 90 years after the opening of Biltmore Estates, the public got its first look at Biltmore Winery on May 15, 1985. Until that time, the now winery had been a dairy barn. I don't know about you but the thought of having my own winery sounds more fun than having a barn.
Other recent additions to the Biltmore Estate include "The Inn on Biltmore". George Vanderbilt always planned to build a lodge on the estate to accommodate additional guests. In 1900, George gathered estimates for his lodge at the cost of $18,000. George decided to put the idea on the side for a while. George and his guests would have to make do with Biltmore House and its 250 rooms, with 34 bedrooms and 43 bathrooms. I'm sure this was no hardship for George's guests.
In 2001 George's descendants fulfilled his plans in a style that compliments Biltmore Estates.
In addition, Antler Hill Village opened in 2010, connecting the estate's past and present with dining, shopping, exhibits, world-class food and wine.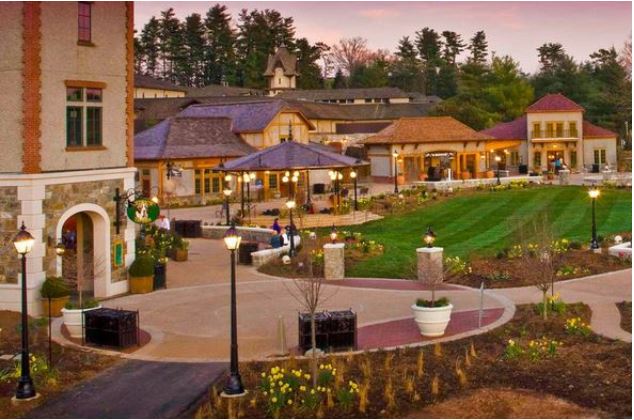 Another fun fact is that Forrest Gump, Patch Adams, and One Tree Hill were filmed at the Biltmore Estate.
~~~~~~Hey Gary, Michelle has never been kissed at Biltmore Estates.~~~~~~
Gary & Michelle
X O X O
Let's Connect
See more of our travel and lifestyle pictures on Instagram.
Join our travel-loving community on Facebook
Join us on Twitter for more of our shenanigans.
See many of our travel videos on Youtube
Pin this post for later and check out all of our boards on Pinterest
Visit our Amazon Store for our personal recommendations.
Subscribe to Love and Our Laptop Lives to see our extra travels and exclusive travel tips.
Thanks for stopping by! If you would like to reach us with a
feature idea, you can email us at ~ [email protected]
We would love to partner with you to feature your travel destination.

Follow us on Social Media
Facebook @ Love and our Laptop Lives
Pinterest @ Love, Travel and our Laptop Lives
Instagram @ Love our Laptop Lives
Twitter @ Love and our Laptop Lives
Youtube @ Love and our Laptop Lives
Amazon Store @ Love and our Laptop Lives
AMAZON ASSOCIATES DISCLOSURE
Love and our Laptop Lives is a participant in the Amazon Services LLC Associates Program, an affiliate advertising program designed to provide a means for sites to earn advertising fees by advertising and linking to amazon.com
Flights
*Search for flights using Skyscanner
*Also try Tripadvisor
Accommodations
*Book hotels on Tripadvisor, Hotel.com or
Booking.com
*For all-inclusive resorts use Apple Vacation and
BookVIP, We love also Sandals Resorts.
Rental Cars
*For rental cars use Car Rental 8 or
Skyscanner Car Rental.
Cruise
*Find the best deals on Cruise Direct.
Travel Insurance
*Purchase Travel Insurance through Travel Guard.