20 Fun And Romantic Things To Do In Galveston, Texas, For Couples

"Galveston has all the makings for a romantic getaway. Why wait? Plan your stay now. You will find numerous fun and romantic things to do in Galveston, Texas".
Welcome to Galveston, where the Texas coast begins. Local and visitors vacation in this gulf coast town year-round. There are so many things for couples to do in Galveston. We are confident you will fall in love with the coastal town as much as we did.
Galveston is an island on the coast of Texas, 30 miles long and up to 5 miles wide. It has all the makings for a romantic getaway; beautiful beaches, exciting history, five-star hotels, some of the best food in Texas, and opportunities for one-on-one time together.
If you are looking for a fun and romantic weekend on the coast, why not book a weekend at a resort on Galveston Island? Keep reading for all the fun and romantic things to do in Galveston for couples.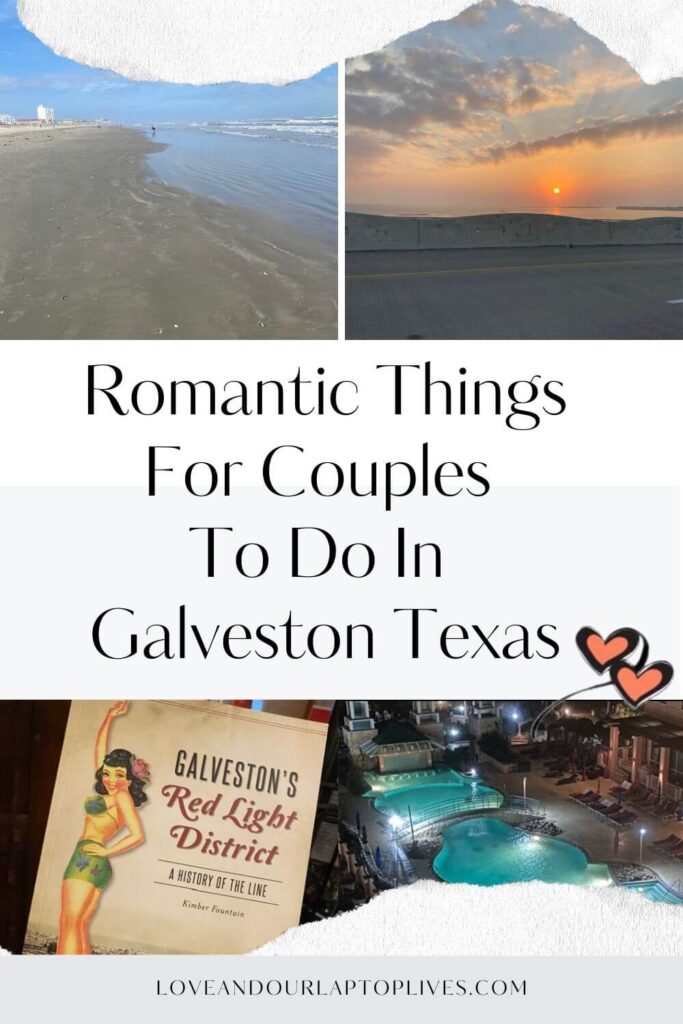 This post may contain affiliate or sponsored links. If you click on a link and make a purchase, I may receive a small commission (at no additional cost to you). Please see my full disclosure policy for details.
History Of Galveston Island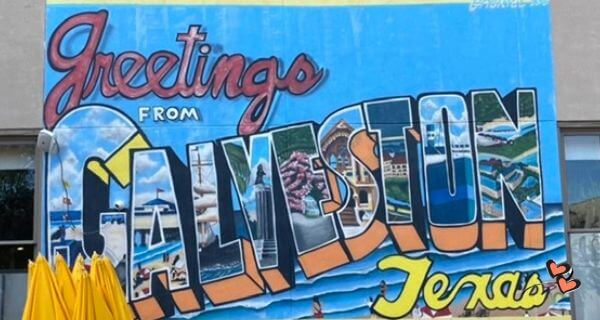 Prior to 1900, Galveston was referred to as "The Wall Street of the South" and home to Texas' first bank and post office.
On September 8, 1900, Galveston drastically changed when tragedy hit. Galveston was destroyed by one of the worst natural disastrous hurricanes in history.
Galveston was destroyed with no warning. Very few made it across the bridge before it was wiped out. An estimated 6000 plus lives were lost that day.
Galveston may have been destroyed, but Galveston's determination was not. It took Galveston 8 years to raise most of the island 17 feet to help protect the island from future hurricanes. Raising the island created Seawall Boulevard, a barrier from rising waters.
After the hurricane, Galveston became a major entertainment and gambling hub. Including illegal gambling and a notorious red-light district.
Big-name entertainers such as Frank Sinatra and The Rat Pack were known to have graced the stages in Galveston.
Throughout the years, Galveston has worked to preserve its local historic buildings and developed "The Strand Historic District."
Today Galveston is geared towards tourism, with over seven million visiting annually, and is known as the "Playground of the South."
Best Time To Visit Galveston Island
March and April or October and November are some of the best times to visit Galveston. The weather is warm but not scorching. Accommodations during these times are reasonably priced.
We also found winter to be an excellent time to visit, rates were very reasonable, and traffic was a little slower. The water was a bit chilly, but that did not stop beach lovers from enjoying it.
---
Things To Do In Galveston For Adults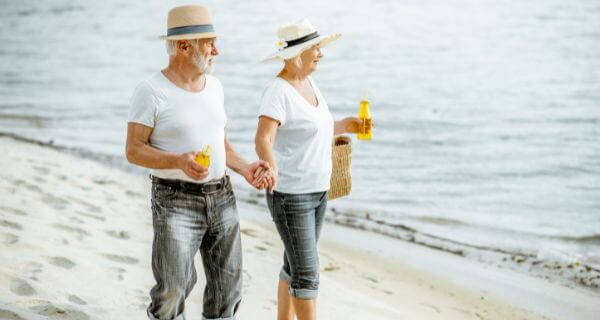 Known as the "Playground of the South," Galveston has a lot to offer couples. If you are looking for adventure, history, beach time, delectable food, or private time together, look no further than Galveston Island. Following are things we found to do.
Taste "The Strand" Food Tour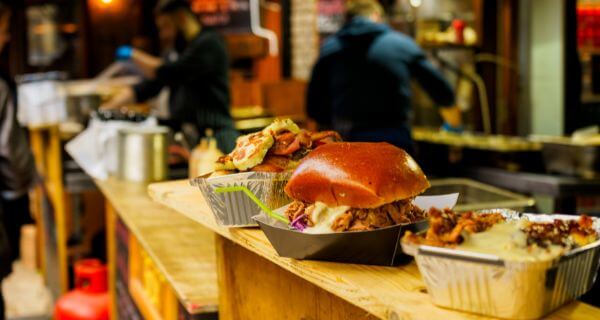 "The Strand" is Galveston's Historic District. It is the heart of the island and a great place to shop, dine and enjoy many delectable food options.
A "Taste of The Strand Food Tour" takes you on a tour of several eating establishments and stops at some of Galveston's unique shops along the way.
A "Taste of The Strand Food Tour" could include local restaurants, wine bars, or even historic candy shops.
The Food Tour is an excellent way to see the island, hear about its history, and taste various local favorites.
Your guide will lead you to specially picked restaurants and serve you only the freshest local foods prepared. Come hungry!
Why eat at only one restaurant when you can try several.
Twenty Four hours' notice is required, and several packages are available.
Visit Taste of the Strand to see their package options and book your tour.
Couples Massage
A couples massage is a great way to spend personal time together. A massage sets the stage for relaxation and starts your vacation on the right foot. Relax and leave the stress behind.
You can let the stress go, relax, and have intimate moments together as a couple.
There are several options for massages in Galveston. San Luis Resort offers several signature luxury beachfront spa treatments. This is the place to start if you are going all out for a romantic weekend.
Galveston Massage offers a 30-minute custom body massage with hot stones for $45 using our Groupon link.
(see Groupon fine print for expiration and details)(coupon and price are current at the time of publishing)
Historic Tour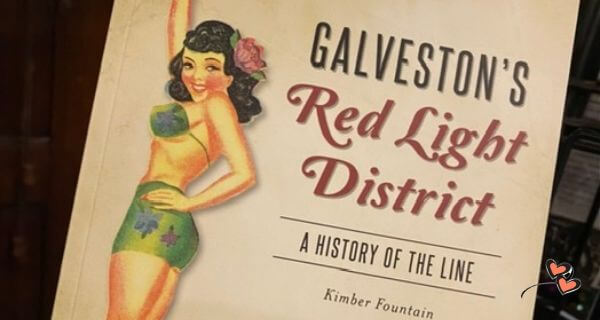 Galveston is full of history, and they proudly share all of it with you. Even the more questionable side. Galveston's history is what has shaped Galveston into what it is today.
Couples will find a variety of tours available. Take a "Storm on the Strand Tour" to learn about Galveston's history.
Do you want to see the spooky side of Galveston? Why not take an "Authentic Galveston Ghost Tour"?
Take a look at the seedy past of Galveston by touring what was once considered the red-light district.
Check out these tours and many more available in Galveston, Texas.
Purchase discount tickets to Galveston's Ghost Tours on Groupon.
Purchase discount tickets to tour Galveston's Red Light District on Groupon.
(see Groupon fine print for expiration and details)(coupon and price are current at the time of publishing)
Have Fun At Pleasure Pier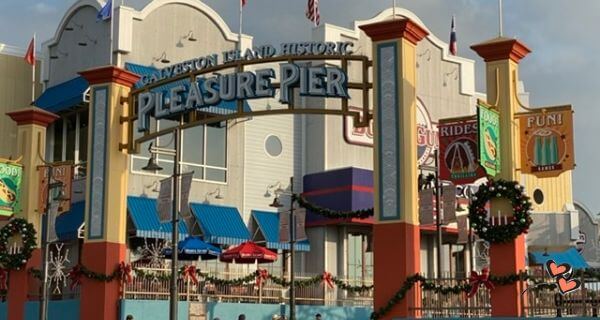 Pleasure Pier is the perfect place to go when you want to add some excitement to your date. Pleasure Pier is family-friendly and great for couples looking to have some fun.
It features waterfront fun like no other, with a possibility of dolphin sightings mixed in. The Galveston Island Historic Pleasure Pier features rides that take you high above the water, midway games, a wide variety of food options, and retail shops to round out your date.
This nostalgic place is the ideal location for some fun couples time.
Groupon ~ 2 All-Day Ride Pass + $50 Landry's eGift Card ~ $85
(see Groupon fine print for expiration and details) (coupon and price are current at the time of publishing)
We have enjoyed Landry's restaurants many times and have not been disappointed.
Address ~ 2501 Seawall Blvd., Galveston, TX
Galveston Island Date Ideas
Of all the things to do in Galveston, romantic things are on top of our list. Spending time in Galveston is special enough, but we found so many places that will add extra fun and romance.
Visit The Historic Strand For Breakfast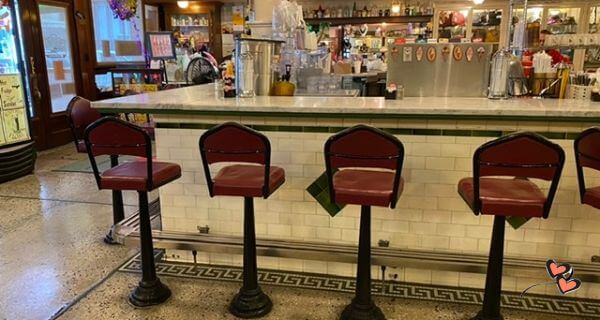 Why schedule dates for just in the evening. Start your Galveston Island date by watching the sunrise over the gulf. Then take a stroll down "The Historic Strand" and stop for breakfast at Star Drug Store, the oldest drug store in Texas.
Star Drug Store is open for breakfast and lunch. The original horseshoe counter is the center of Star Drug, with souvenirs and memorabilia scattered throughout the store.
This is the best spot on the island to get an excellent old-fashioned soda and some penny candy to take with you after your cozy breakfast date.
Address ~ 510 23rd St, Galveston Island, Texas
Take A Sunset Dinner Cruise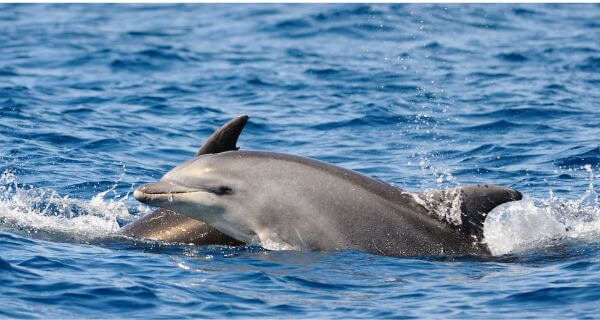 Enjoy one of Galveston's harbor cruises. Whether you are looking for an exciting dolphin cruise or a two-hour sunset cruise, romance is waiting for you on the water.
Most harbor cruises will allow you to bring your own snacks and drinks as long as they are not in glass containers.
Champagne and sunsets would be the perfect setting for a romantic date or even a great way to propose to that someone special.
If you are planning on visiting several Galveston Island activities, you can purchase a Galveston Island Pass and save 40% or more on your tickets. Tickets are sold exclusively at Galveston Island Pass.
Enjoy A Night In A Galveston Island Hotel
Staying the night in Galveston brings excitement and romance to a new level.
All levels of accommodations are available; budget-friendly to some of the best luxury hotels in Texas.
Galveston's top hotels are the ideal place for romance. They are filled with amazing architecture, rich in history with all of the top conveniences, welcoming guest rooms, and luxurious amenities. These hotels are so inviting that you may not want to leave.
See our top three Galveston hotels below.
Enjoy Fresh Seafood At One Of Galveston's Restaurants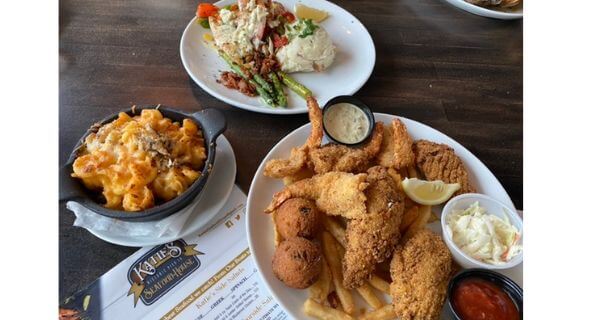 Galveston has a wide variety of dining options. One of the island's specialties is seafood. Some of the restaurants have daily fresh-caught specials. When visiting, be sure to ask what is fresh.
Katie's Seafood House is an island favorite. Katie's is committed to serving the freshest Gulf of Mexico fish. They are even more excited about offering their visitors some great new menu ideas.
If eating at Katie's Seafood House inspires you to be creative, stop in adjacent to the restaurant at Katie's Seafood Market and take home some fresh seafood just off the boat.
Address ~ 2000 Warf Road, Galveston, Texas
Unique Things To Do In Galveston
Galveston has a unique and exciting history. Today couples will find many of these exciting and unique things still available to do in Galveston. Find time to explore the island and experience Galveston's unique side.
Visit The Rainforest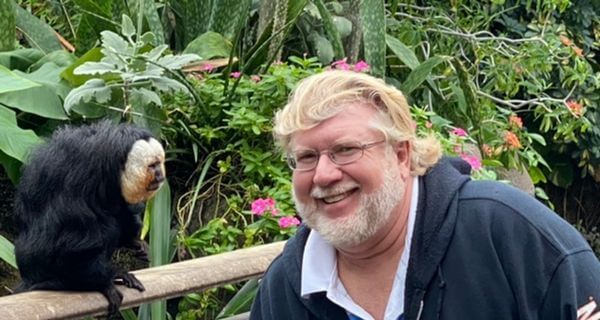 Has visiting a rainforest housed in a pyramid been on your bucket list? If not, it should be, and it can be found at Moody Gardens in Galveston.
While visiting the Rainforest Pyramid, you will walk through a jungle of more than 1500 exotic plants. Explore life in the rainforest treetops, encounter rare and endangered creatures who call the rainforest home, and uncover what lies below the surface of the rainforest floor.
Along the way, you will be greeted by a natural pond of arapaima, one of the world's largest freshwater, air-breathing fish, an array of free-roaming birds, Saki monkeys, free-roaming sloths, cages of huge fruit bats, and numerous other animals native to the rainforest.
As a couple, you can immerse yourself in the rainforest life without leaving Texas.
Check out the Moody Garden's website to Purchase tickets to Moody Gardens Rainforest before your visit.
Address ~ One Hope Boulevard, Galveston, Texas
Fish off 61st Street Fishing Pier, Galveston
61st Street Fishing Pier is the perfect place to try your hand at catching some fish.
Grab your fishing poles and head to the pier. If you didn't bring fishing gear, don't worry; you can rent some at the 61st Street Fishing Pier.
If you want to try something a little different, why not try some night fishing under the stars. This is a great way to do something different and enjoy your time together.
Ride the Galveston Ducks
The Galveston Ducks are the island's only land and water sightseeing tour. The Duck's tours start near Pleasure Pier.
The Ducks spend time in the protected waters of the Bayou around Galveston, and while on land, the Ducks take you on a tour of Galveston's historic district.
While enjoying your ride on the Galveston Ducks, your captain presents you with island facts, history, and stories passed down through the years.
Riding the Ducks is a fun, unique, and exciting way for couples to see the island.
Address ~ 2415 Seawall Blvd, Galveston, Texas
Galveston Island Sea Turtle Tour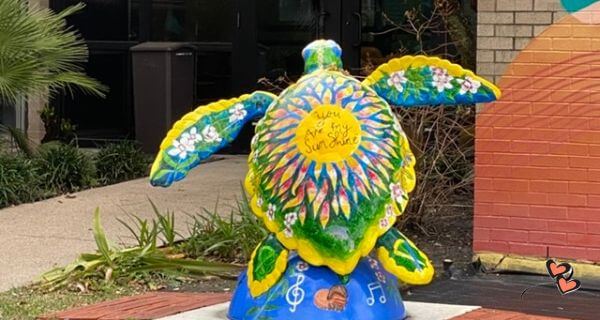 The Galveston Island Sea Turtle Tour is self-guided. Have fun seeing if you can locate all of the sculptured Turtles About Town. This is a great way to explore Galveston.
The Turtles About Town started as a community art project in 2018. The purpose of the turtle's project was to bring together the love of art and the awareness of the Kemps Sea Turtle and Texas' efforts to protect them.
Area businesses sponsored 50 turtles, and local artists were commissioned to give each turtle its own unique personality.
The sea turtles are displayed throughout Galveston and outside many local establishments. Visitors can download a Sea Turtle About Town Map to help with their search.
Enjoy The Schlitterbahn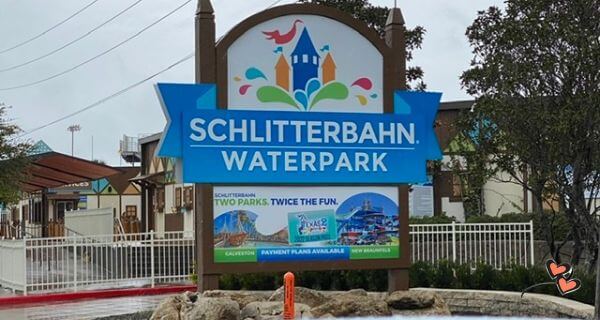 Galveston is home to a Texas-size waterpark, Schlitterbahn Galveston Island.
The Schlitterbahn Waterpark is 26 acres of thrilling waterpark adventures. The ideal place for couples to have some wet and wild waterpark fun.
With more than 33 attractions, the Schlitterbahn Waterpark Galveston is an amusement park ideal for couples. Choose between waterslide fun, hot tubs, ride, and various swimming areas.
Find your favorite activity and take your thrills and relationship to new heights on one of Texas's tallest and most thrilling waterslides.
If you want to take things just a bit slower, enjoy The Schlitterbahn's lazy river or wave pool.
Don't forget to pull up a lounge chair and get in a little sunbathing. Make sure your sweetie uses sunscreen. That Texas sun can be brutal.
Address ~ 2026 Lockheed Rd., Galveston, Texas
Moody Gardens Pyramid Aquarium
Journey to new depths as you travel the world's oceans at one of the largest aquariums in the Southwest.
The 1.5 million-gallon aquarium is home to penguins, seals, sharks, jellyfish, and thousands of tropical fish.
Interactive, hands-on opportunities allow visitors to touch and experience sea life using more than one of their senses.
Each underwater exhibit showcases different sea life and its importance to the natural balance of life in the ocean.
Venture under the sea and experience the romantic sights and sounds of the ocean while spending a wonderful day together.
Check out the Moody Gardens website to purchase tickets to Moody Gardens Aquarium before your visit.
Address ~ One Hope Boulevard, Galveston, Texas
Tour an 1877 Historic Tall Ship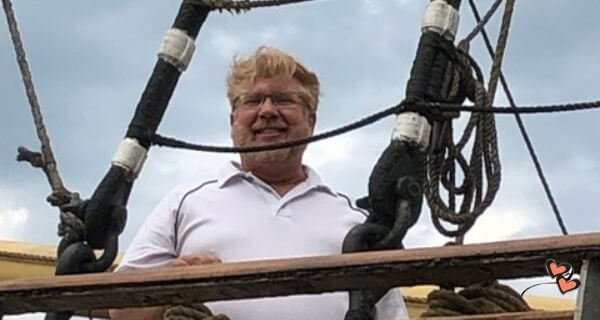 Enjoy a visit to the Texas Seaport Museum and see Elissa, one of the oldest sailing vessels still operational. While visiting the Texas Seaport Museum, you will be able to climb aboard Elissa and tour her historic decks.
Elissa is a unique artifact and is recognized as a National Historic Landmark.
Elissa is a sailing cargo ship that sailed under the British flag. During the 1880's Elissa called upon Galveston twice and was loaded with cotton for the mills in England.
Elissa is kept in seagoing condition by volunteers who work and train throughout the year to serve as her crew.
Elissa sails annually in a series of spring "Sea Trials" into the Gulf of Mexica. Sea Trials measure a vessel's performance and general seaworthiness.
Stepping aboard, Elissa is stepping onto a piece of Galveston's history.
Address ~ Pier 22 at Harborside and 22nd, Galveston, Texas
Visit Pier 21
Pier 21 is a district known for its entertainment and restaurants. It is located just a couple of blocks from Galveston's Historic District.
To get to the Historic Tall Ships, you need to make your way to Pier 21. Since you are already in the vicinity, it's a great time to stop and enjoy what Pier 21 offers.
Pier 21 is also where you can set sail on a sunset cruise or enjoy a daytime dolphin cruise.
In addition to the many fine dockside restaurants, this area is also home to the Ocean Start Offshore Museum and the Texas Seaport Museum.
A visit to Pier 21 area is an excellent addition to your Galveston's romantic couples weekend.
Take a Cruise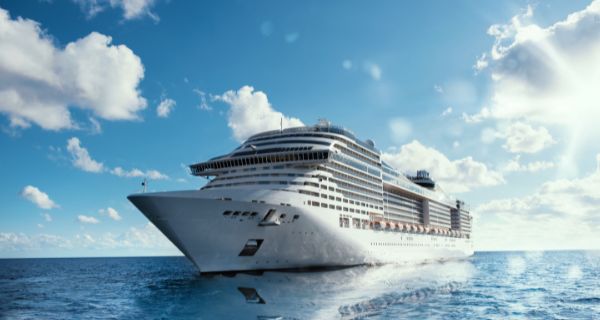 Galveston is the 4th busiest home port in the US. With cruise ships that depart on a regular schedule. Most cruise ships depart in the afternoon, and many area hotels offer parking and shuttles to the terminal with an overnight stay.
Cruise ships that leave Galveston's port include Carnival, Disney, Norwegian, and Royal. With the length of cruises being anywhere from 3 days to 8 days.
Cruise ships leaving Galveston's port travel to romantic cities such as Cozumel, Jamacia, St. Thomas, Beliz, and several others. Destinations like these set the stage for romantic adventures.
On the Gulf of Mexico, Gavelston, Texas is Warm and Welcoming with More Than 30 Miles of Beaches! Cruise Out of Gavelston Today, Only at CruiseDirect.com!
Things To Do In Galveston For Free
Galveston offers various things to do when visiting as a couple. Some free or low-cost options may be just what you are looking for.
Enjoy Galveston, Texas Beach Time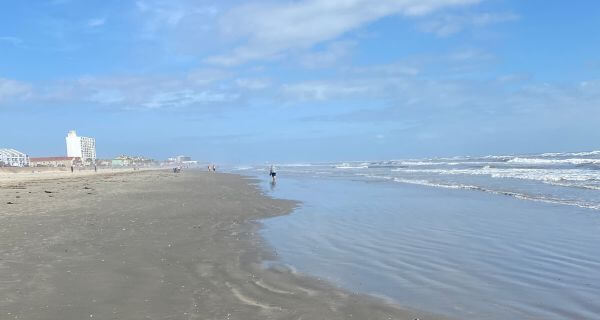 With 32 miles of shoreline, spending the day on one of Galveston's beaches is the perfect no-cost activity for couples visiting Galveston Island. Galveston Island offers something for every kind of beachgoer.
If you are looking for concerts and festivals, head to East Beach. This seems to be the most popular of Texas' beaches, but that might have something to do with the fact it is the only beach in Gaveston where alcohol is allowed.
Stewart Beach is an excellent place to start if something quieter is what you are looking for. There is an admission fee, but it is well worth it to enjoy the calmer waves and beach time.
Babes Beach on Galveston's Seawall is the ideal place for a long walk and enjoying the distant view of the incoming ships. It is also an excellent spot to try some paddleboarding or surfboarding.
With so many miles of beaches, you are sure to find the perfect beach for your chosen activity. Galveston beaches are the ideal setting for fun, sun worshiping, picnics, sandcastle building, or walking hand in hand, enjoying the sights and sounds of the waves and wildlife.
The gulf waters welcome swimmers, surfers, and paddle-boarders to enjoy a day on the water.
When the day ends, sitting on the beach is the perfect ending to a day spent together.
Visit galvestonbeachinfo.com for more beach information.
The state of Texas has over 350 miles of shoreline. During our visit to Texas, we discovered Some of the Best Beaches in Texas.
Stroll The Historic Downtown Strand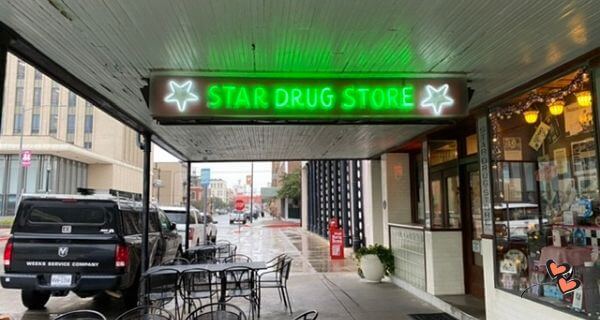 Galveston's Historic downtown is the heart of the island. It is known as The Strand. The Strand is a national landmark of century-old buildings with some of the finest craftsmanship and beautiful detail. This is the ideal place to wander and take in the sights.
Galveston was once one of the wealthiest cities in the world. This can be seen in the architecture of still-standing buildings in the Historic Strand District. Many of the buildings on The Strand survived the 1900 hurricane and have been beautifully preserved. The Strand is on the National Registry of Historic Places.
Strolling the Strand, window shopping, and enjoying the craftsmanship of the building is an ideal low-cost thing to do in Galveston.
Don't stop by just wandering. The Strand is the ideal place to shop, dine and even take in a show. Storefront includes everything from antiques to modern-day clothing and souvenirs.
Depending on the time of year you visit, The Strand is also the backdrop to Mardi Gras and Dickens Christmas on The Strand.
Time At The Pool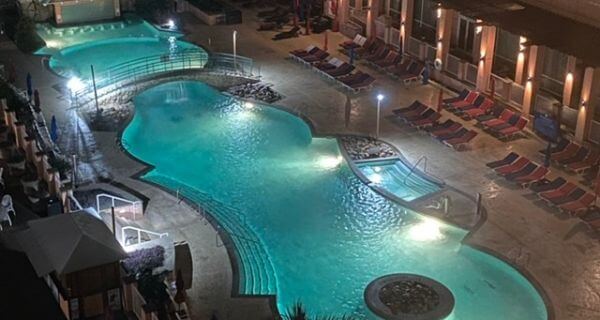 Whether it be morning, afternoon, or evening under the stars, it's always a good time to enjoy the water in Galveston. When you are looking for something more intimate than a walk on the beach, hit up your hotel pool. This is a great way to enjoy each other's company and Galveston's relaxing water and sunshine.
Romantic Restaurants In Galveston, Texas
When it's time to dine, whether you are looking to dine downtown or near the seawall, Galveston offers some of the best variety of dining in Texas.
Fresh seafood is at its finest and is served at many of the finest restaurants and charming independent eateries. Gaido's Seafood House has been serving only the freshest seafood on Galveston Island since 1911, and the Fishermans Wharf is serving fresh seafood dockside.
If you are looking for something less formal that still offers impressive seafood, try Beeno's on the Beach or the Black Pearl Oyster Bar and Grill.
Seafood is not the only amazing cuisine visitors can find in Galveston. In addition to seafood, visitors can enjoy The Steakhouse at San Louis. Or discover wonderful Italian and Mexican food.
Take a drive down The Strand, and you will see many wonderful options.
Galveston is also known to have some of the best coffee and sweet shops around. Don't limit yourself to just meal time. Sit a spell and relax at MOD Coffee or indulge in Marbleslab Creamery for homemade ice cream or La King Confectionery for some of the finest homemade chocolates or salt water taffy.
Where To Stay On Galveston Island
Numerous opportunities await you for lodging on Galveston Island. Everything from RV parks and budget hotels to lush hotel and spa combinations are waiting for you.
Grand Galvez Hotel and Spa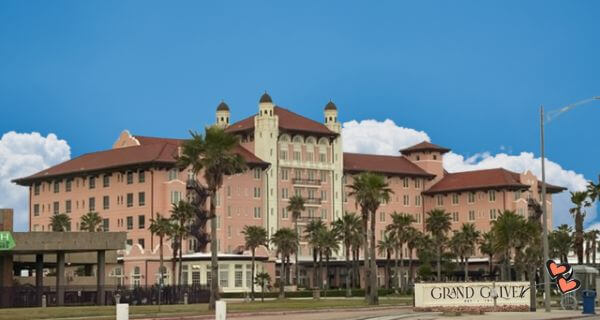 Grand Galvez is one of the finest hotels on the beaches of Galveston. It has been hosting guests for over 100 years. They are the only historic beachfront hotel on the Texas Gulf Coast.
Grand Galvez is located directly across from Galveston's seawall giving guests easy access to romantic walks on the beach.
The San Luis Resort
The San Luis Resort offers luxurious accommodations with a gulf beach view.
As a recipient of a AAA Four-Diamond Award, The San Louis Resort is warm and inviting, offering visitors a personalized touch and all of the state-of-the-art amenities you would expect.
Moody Garden Hotel and Spa
Moody Gardens is a vacation on its own. It is home to The Schlitterbahn and The Pyramids, home of the Rainforest, and the Aquarium. Look for the three pyramids, and you have found Moody Gardens.
The hotel accommodations at Moody Gardens are world-class and made for romance. The outdoor pool and hot tub are inviting. Afterward, you can curl up together with a glass of wine in lush robes provided by the hotel or have a little fun by strolling the property, enjoying the ropes course, or even visiting one of the pyramids.
Conclusion ~ Is Galveston a Good Place for Romance?
Galveston is the ideal place for a romantic couple's getaway. You will find so many opportunities for fun, playful activities, private moments for two, wet and wild water adventures, and a fantastic variety of food options.
Galveston is waiting for you, and after your visit, you will both be asking yourself what took you so long to discover the fun and adventure of Galveston Island.