What to Pack for a Beach Vacation / The Only Packing List You Will Need
"A beach vacation says relaxation and romance.
We have put together our best tips and
our own what to pack for a beach vacation packing list to
help make sure you have a stress-free romantic beach getaway."
Are you dreaming of your next vacation? Will it be someplace to just relax and enjoy being on vacation? With so many possibilities a beach vacation must be on that list. What if it's on top of that list?
What do you pack for a beach vacation? You want to pack what you need and not have to drag around all the extra stuff you don't really need. Most of us will over pack. Don't be one of them. I've done it enough for all of us.
We've got simple preplanning tips and a packing list, they will help you not be tempted to over-pack or under-pack.
What to pack for a beach vacation?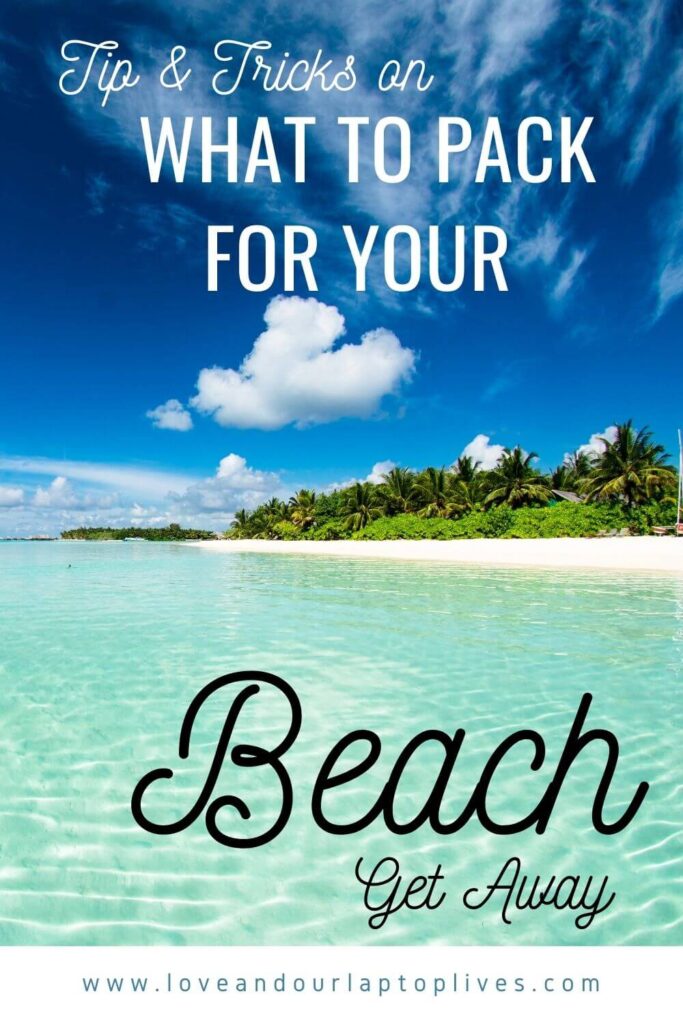 This post may contain affiliate or sponsored links. If you click on a link and make a purchase, I may receive a small commission (at no additional cost to you). Please see my full disclosure policy for details.
Where to start when you plan a beach vacation
You have decided that on your next vacation you are going to be heading to the beach. If only grabbing your suit and heading out the door was all it takes. With so many vacation destinations that can involve beaches, there is a lot to think about.
The first step is already decided, you are going to head someplace warm, lay on the beach, have some fun and soak up the sun. Sounds perfect, it'll be fun, relaxing and you won't have to worry about a thing! Let's ensure this vacation is a success.
The more you put into making sure the details are taken care of before your trip, the more you can relax while you are on vacation. Start by making a list of what's important to you on a vacation. Think about your past getaways, what did you like best about each vacation and what are some things you may want to change.
Start with talking to your partner, and plan your vacation together. It's best if you are both on the same page.
Choose you destination ~ there are hundreds of perfect beaches but which one is perfect for the things on your list? Are you staying in the US, going tropical, or even staying close to home?
research popular beaches, read the reviews from other travelers, talk to friends ~ where have they gone on vacation, read travel blogs ~ most bloggers tell it like it is. Their reputation is on the line. If you have questions don't hesitate to email a blogger and ask questions.
Now that you have chosen your beach, Chose the activities on your vacation. It's ok if everything you want to do is not exactly what your partner wants to do. 100% of vacation time does not have to be spent together ~ I can go treasure hunting while Gary goes scuba driving. Decide if you will be hanging out on the beach the whole trip? Do you plan on adding adventures to your activities? Will you be doing water activities or activities away from the beach?
Check the weather ~ Always check the weather for the destination you have decided on. You don't want to be traveling to a beach town during hurricane season. Even tropical destinations have a cold and rainy season.
Now that you have done your research and have chosen the beach thats going to be your next destination. Let's pack for a beach vacation!
Additional Reading
The Best Beaches in Wisconsin to Fall in Love With
Anna Maria Island ~Legendary Florida Charm Awaits Your Visit
The Best Beaches in Texas For Couples Looking To Get Away
Essentials to pack for a beach vacation
The next simple tip in planning your beach vacation is to make sure you pack the right essentials. You can use our beach getaway packing list when you pack for a beach vacation. This can save you money and will keep you from having to purchase items once you arrive. This will assure you have a relaxing beach getaway.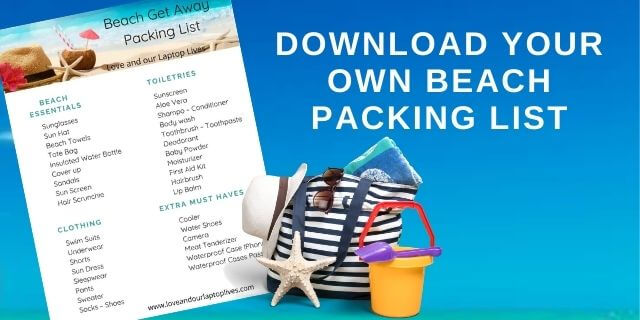 Light, not bulky items should be your wardrobe of choice. Think breezy, summery, and casual, yet polished items. Heading to the beach may scream comfortable, but leave the faded old t-shirts at home.
What's essential for the beach? No beach getaway is complete without a swimsuit. Make sure you have more than one, trying to put on that wet swimsuit is terrible. Plus if you are just taking it with you to change into at the beach you don't want a wet swimsuit in your bag.
Make sure to pack a swimsuit coverup for any beach wandering you may choose to do.
Proper footwear is also important. You want something that can hold up to the sand, depending on the beach think flip flops, sandals, or water shoes.
Play it safe when it comes to the sun. No matter what that perfect tan looks like that you are dreaming of, the sun can be your worst enemy on a beach getaway. Load up on reef-safe sun protection ~ Sunglasses, sun hat, strong sunscreen, and SPF lip balm.
There are several things that we have found that will make your beach getaway easier. These are a few of the top things on our list that you might not have thought about.
What to pack for a beach vacation to keep things dry
I know what you are thinking ~ you can just hang your swimsuits in your room to dry. The wet bag is for your last day when packing to leave. It will be inevitable that your suit will still be wet. You don't want the wet suit in your luggage to get everything else wet. These bags will help keep everything else dry.
What to pack for a beach vacation to protect your valuables
There are many different options for hiding your valuables. Depending on what you want to keep safe and where you will be when you need it kept safe. These are just a few of the ones we have used.
Speed stick safe – Amazon
Hairbrush Stash it Safe – Amazon
Secret Scrunch – Amazon
There are two items that if you are traveling to a beach location or any humid area needs to be protected, your phone, and your passport. With these two protectors, you can make sure the humidity where we travel does not ruin either of them.
Waterproof iPhone protector – Amazon
Waterproof passport protector – Amazon
Three things you may not have throught of
These three things are the most forgotten items on all beach packing lists. When it came to many of our first beach vacations and made a list of what to pack for a beach vacation these items were not on the list, but I can guarantee they are on the list now. Don't be caught off guard.
Aloe Vera Gel – Amazon, keep this in the refrigerator in your hotel, it is soothing on your skin when returning from the beach
Baby Powder – Nothing fancy is needed, a little powder on your feet, and the sand just wipes right off. This keeps your can and your hotel room sand-free.
Adolphs Meat Tenderizer – We always make sure we have a small container of this with us. Emergency rooms on the beach coast keep it on hand for jellyfish stings. The enzyme in meat tenderizer breaks down the protein of the jellyfish venom and decrease the itching and burning from a sting. I'd rather be prepared than in pain.
If you wear glasses, consider purchasing prescription sunglasses. Then you won't have your regular glasses on the beach and risk them getting damaged. If you are planning on doing a lot of snorkeling or scuba diving you may want to look into getting your own mask with a prescription lens in it.
Check with the hotel or resort where you will be staying to see if they provide beach towels, if they do not, make sure to pack your own. We stayed at one oceanfront resort that advertised they provided beach towels but the policy had changed before our trip. We ended up going shopping before hitting the beach.
Plan a beach vacation with activities
Laying on the beach and watching others play volleyball, use the jet skis, go deep-sea fishing, go snorkeling or parasailing may make you want to ad some extras to your beach getaway.
Do your research ahead of time and know what your possibilities are for extra activities. You may find something that has always been on your bucket list. If you do, don't wait, go ahead and make reservations for those appealing activities.
You will also want to have a list of alternative activities in the event of not so co-operative weather. Find a few indoor backup activities just in case it happens to rain on your vacation.
If just hanging out on the beach is the focus of your vacation, pack a collapsible cooler to take refreshments with you for the day. We also like to know what the nearest restaurants and pubs are on the beach.
Being on the beach is an excuse to relax and cut loose, you don't need those stuffy work clothes, leave them at home. Check with the resort you are staying at or the visitor center for the city you are visiting and see what beach amenities are available to you. Some vacation rentals have house items such as beach chairs, umbrellas, or a grill available for you to use.
Most of all try to leave your stress at home. A beach vacation is about relaxing and leaving the stress behind. There is something peaceful about just being on the beach and listening to the waves and seagulls. I'll take a beach vacation any day.
PIN IT FOR LATER