Shopping for the travelers on your list can seem almost impossible. What do you realistically get someone that is always on the go? Are you getting tired of always buying boring travel gifts? This is our gift guide filled with unique gifts for travelers that they actually want and will use time and time again.
There are different kinds of travelers ~
Seasoned travelers ~ the ones that always seem to be on the go whether it's for business or pleasure, the people who travel frequently and are passionate about travel
Weekend warriors ~ the ones that as soon as the weekend hits their bags are packed, in the car and off they go
Occasional traveler ~ the traveler that gets to take a trip once a year or even every other year, they save and plan to make it fit their budget and schedule
Spontaneous traveler ~ the traveler that takes off at a moments notice, no planning or pre-packing, the mood strikes and out the door they go
Which ever traveler you are shopping for I guarantee you there are traveling items they desire and wish they had. With this list of unique gifts for travelers you will find the perfect item for your traveler.
What kind of items are in our travel gift guide?
Our travel guide is not filled with the expensive camera, a drone or even a laptop that you can't realistically afford to buy, wrap and have under the tree on Christmas morning. In our gift guide are those practical gifts that any and all travelers would love to see under the tree. Even better yet these are gifts that the traveler on your list will want and use.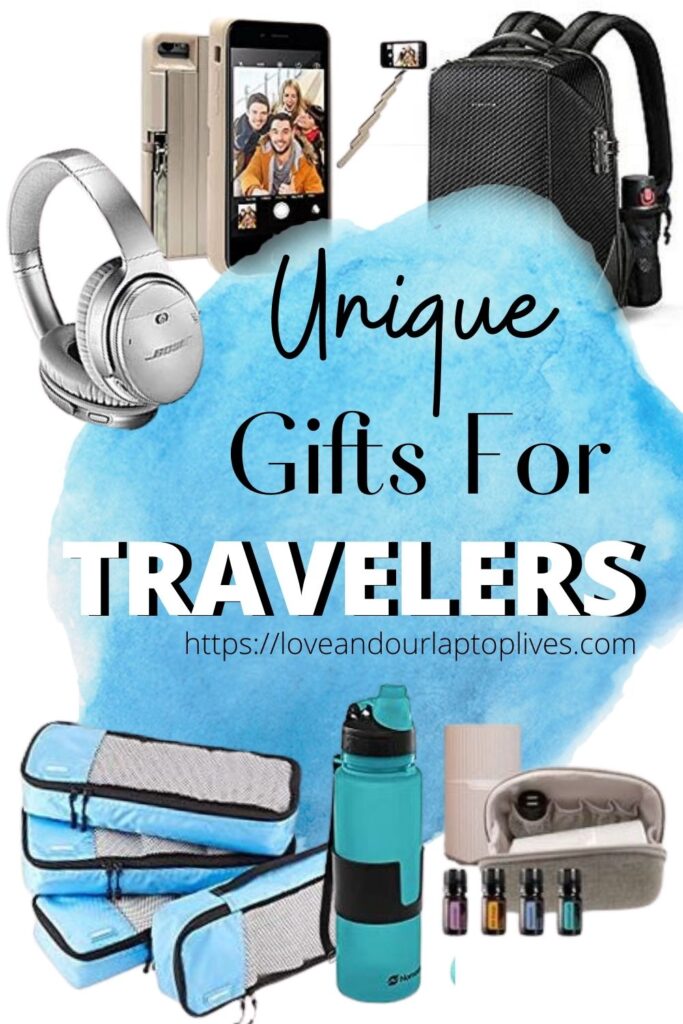 This post may contain affiliate or sponsored links. That means if you click and buy, I may receive a small commission (at no cost to you). Please see my full disclosure policy for details.
Gifts for your travelers techie side
Unique gifts for travelers who want to be organized
Unique gifts for travelers that add comfort
Additional Reading ~
Tips For Staying Healthy While Traveling
Tips and Tricks for Packing a Suitcase
Unique gifts for travelers that add security
Extra fun and unique gifts for travelers
Shopping for that traveler on your list can sometimes seem almost impossible. Any of these items your traveler would love to see under the tree with their name on it. So Start shopping, pleasing a traveler is easy.
Thanks for stopping by! If you would like to reach us with a
feature idea, or just to say "hi" you can email us at ~ [email protected]
We would love to partner with you to feature your
travel destination.
Don't leave without signing up for our monthly email, it
will keep you up to date on awesome travel ideas.
Follow us on Social Media
Facebook @ Love and our Laptop Lives
Pinterest @ Love, Travel and our Laptop Lives
Instagram @ Love our Laptop Lives
Twitter @ Love and our Laptop Lives
Youtube @ Love and our Laptop Lives
Amazon Store @ Love and our Laptop Lives