35 At Home Date Night Ideas | That Are Fun and Romantic

Are you on the search for fun and romantic date night ideas that you can do while staying home? Gary and I don't have kids left at home, yet it still seems like life gets in the way of us going out. We both work plus my writing for the blog and then some nights we are just too tired to go out. It can also be a challenge to get dressed up for date nights, so they end up with us staying home and having a Netflix or Hulu marathon night. And that usually means watching something Gary chooses, because until he falls asleep I can't get my hands on the remote.
Is it possible to have a stay at home date night while still being romantic and exciting? The answer is YES! Date nights should not be reserved only for those in a new relationship, it is a necessary element for every relationship. Dating is fun! It's something that allows us to see a different facet or side of each other. No matter how long you have been together there is always something new and exciting to learn about your partner. When was the last time you both just cut loose and had a good belly laugh together?
Date nights allow us to learn or relearn those exciting things, like why you fell in love in the first place. So why a romantic date night at home of all places? One reason is cost, it challenges us to find new ways to be romantic and stay within our budget. Number two, its 2020, and staying at home has become somewhat of a necessity.
There are also other times and circumstances that create a need for staying at home. Maybe you have kids and it's not easy to get childcare. After a long day at work, you have the energy for a date night but not the energy for getting dressed up for a night on the town, or if you live in Wisconsin could it possibly be the middle of winter, 25 below zero and no one wants to go outside in a blizzard?.
Whatever the reason, we always make it a priority to set aside a night or two each week for a date night. These are some of the ideas we have come up with. Here is a list of our favorite, creative, fun, and romantic date night ideas that you too can easily do at home. As a bonus, most of the cute date ideas are easy on the budget. So the next time you don't feel like going out, try one of these unique stay at home date night ideas.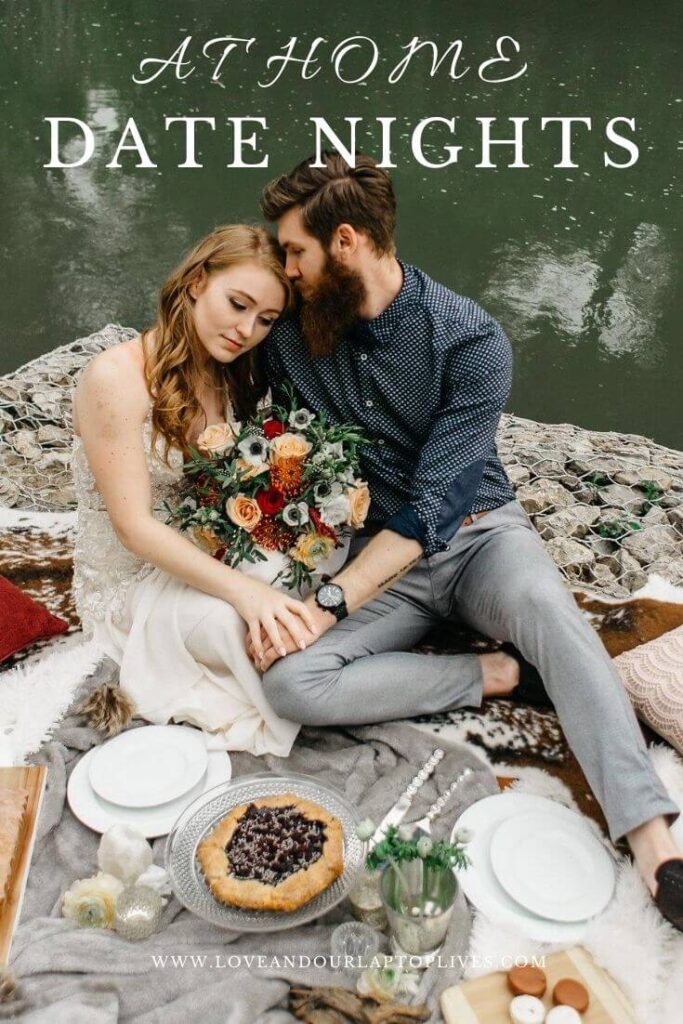 35 Stay at Home Date Night Ideas
Planning the date night can be as exciting as the date night itself. Therefore, the responsibility of planning the date night should not just fall on one person. Share the responsibilities and the excitement of the planning, but don't forget to leave room to be a little spontaneous.
It's okay to plan a surprise to go along with your date night. Planning a surprise date night might also be in the cards, as long as you know your partner and his/her schedule well enough to do this.
This post may contain affiliate links. That means if you click and buy, I may receive a small commission (at no cost to you). Please see my full disclosure policy for details.
1 | Take an Online Cooking Class Together
Gary is a better cook than I because he is willing to take chances in the kitchen. That being said he has also had more flops in the kitchen than I have. Learning something new is fun, doing a cooking class together, even online is sure to be a blast. I found several FREE cooking classes online just by Googling it. Plan a date night around a cooking class. The end result is, there will be one meal you both can cook well.
How about ordering matching aprons for both of you to use while you are attending the cooking class?
2 | Cocktail Hour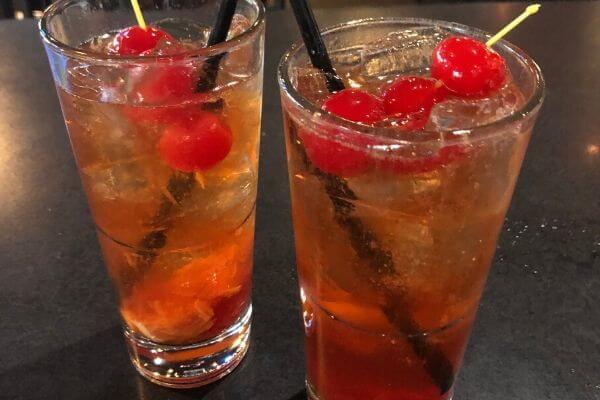 This one can be a lot of fun! Just make sure to do it in moderation. Having a cocktail night is not as costly as you may think. Head to your local liquor store and stock up on your favorite spirits. Make that special drink that you only buy when going out. Or try your hand at creating your own cocktail for the evening. Enjoy cocktails together without all of the interruptions that you get when going out.
3 | Fondue Night
If anyone has been to the Melting Pot you know that the meal is an experience. Dining out is nice but having that experience and romance at home is priceless! Gary and I have done several fondue date nights at home, each with a little different twist.
Doing a fondue date night at home has the added advantage of both of you being in the kitchen together prepping the ingredients. Once all the veggies, bread, meat, or fruit have been cut it's time for the two of you to enjoy. Remember the journey is a big part of the pleasure.
Having a fondue pot helps make this experience more magical but isn't a deal-breaker. To get inspiration for your fondue date, check out our How to ~ Fondue date night at home. We have included a few of our favorite fondue recipes as a bonus.
4 | Solve a Murder
Spend the night solving a murder mystery in the comfort of your own home. This game is so much fun. The game is good for anywhere between 1 and 4 players. Go ahead and invite another couple over for a double date and see if you can piece together the puzzle and figure out the guilty party.
5 | Massage Night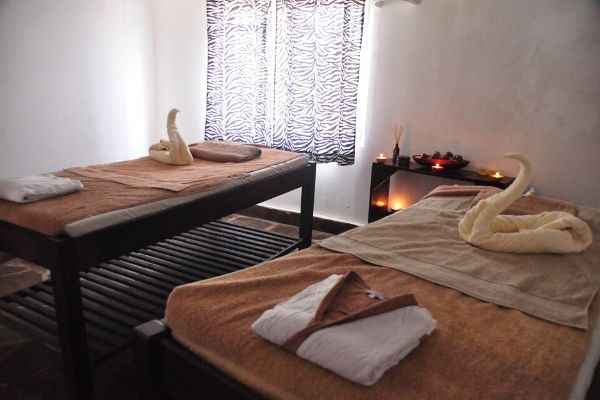 A couples massage date night is extremely romantic. Surprising your partner with the fact you have made reservations for a couple's massage is even more romantic. Yet there will be times when making reservations is not in the budget or for some other reason is not possible.
You can have a massage night at home. Don't set your expectations to be what you would get from a licensed masseuse. This is your massage and should be personalized to the two of you. Be in the mindset of giving and helping your partner relax.
Keep in mind you will be working with oil and chose a place with that in mind. Create a peaceful environment, candles, essential oils in the diffuser, and relaxing romantic music playing. If you have google home, just request it to play "romantic relaxing massage music" or "relaxing spa music" and he's got you covered.
If you have a massage table to work with fantastic! It is a great, low-cost way to invest in each other. If not, put down an old quilt, then a plastic shower curtain, and a sheet on top of that. We have a reserved sheet just for massage night, the oil smell never really seems to wash out. Use simple essentials found at home and gather your items so you are not having to interrupt the massage.
Remember the night is about the two of you. A massage should be slow, this is not about working out all the kinks (that is for the professionals) This is about relaxing and loving your partner. Pace yourself, giving your partner your full attention. Start slow and use loving, repetitive movements with constant pressure, moving to the music.
Always apply the oil into your hands and not on the body, this will help keep from having excess oil getting on the sheet. As you are massaging you will be able to tell when there are areas your partner has some stress, many times it's the neck and back. Give these area's a little extra attention.
Remember this night is about giving and receiving. Be prepared to reciprocate.
6 | Paint and Sip Night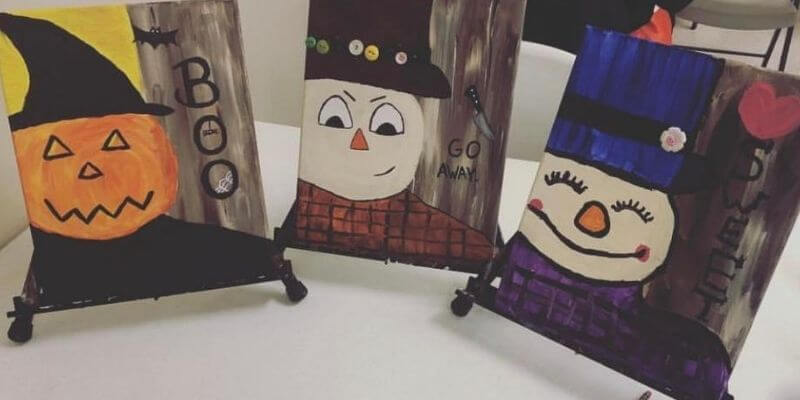 Have your very own paint and sip night at home. You'll need a couple of bottles of wine, two canvases, brushes, and paint.
You can find paint and sip books online that you can purchase to guide you through your design. Youtube is also a good resource for painting classes. Have fun with this one!
This is one of those activities that is also great for groups of family or friends. I am picturing the group of teens that we have at my mom's for the holidays. I can see them all set up outside painting (no wine) on the 4th of July. They would love it and so do we.
7 | Cook-Off
Together plan a menu for the evening. When it comes time to cook, you each cook your own version of the recipes putting your personal twists on it. Serve your versions of the meal to your partners. Tasting and comparing each version. This is a great way to see if you each know your partners taste in food.
8 | Game Night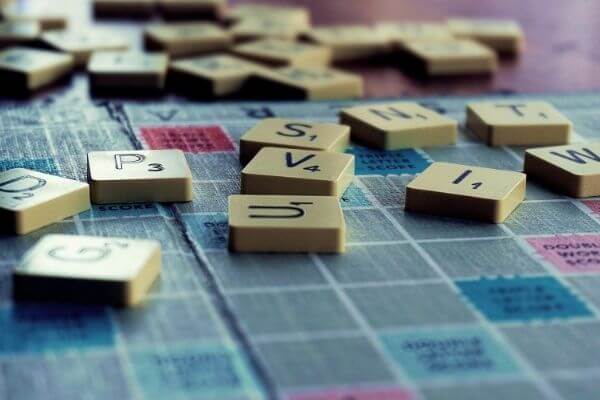 Dig out all of those old board games and have a fun night reminiscing about what it was like to be a kid. Our game nights have grown up a bit, we dig out one of our favorite games, mix a couple of drinks and put together a charcuterie board. Our favorite games go in streaks.
Card Games
*Speed
*Black Jack
*Sheep's Head (It's a Wisconsin Game)
*Never Have I Ever
*Rummy
*Uno
Board Games
*Scrabble
*Monopoly
*Game of Life (Quarter Life Crisis)
*Clue
*Checkers or Chess
9 | Star Gazing
This is one of my favorites. We love to blow up the air mattress and grab a few blankets and just head outside. If you live in the country this can be done right in your back yard. Or you can get creative and just drive out somewhere in the country and lay on the hood of your car.
See how creative you can be looking for constellations. I also found this App that we downloaded on our phones to help us find many unknown constellations. This makes for a fun night.
10 | No Electric Night
As a child, it was fun when the electricity went out. The fireplace was lit for light even if it was summer and candles were everywhere. As an adult, it's probably my worst nightmare. No cell phone, no wifi, no cable?
As scary as this is, let us turn that into an adult date night. Lite the fire and some candles, pull out a few games. If it's winter, turn down the furnace get out the quilts, cuddle together and tell ghost stories. Don't forget to put all of those electronics on silent and out of sight.
*Light the fireplace
*Get out the quilts and snuggle
*Tell ghost stories
*Tell tales of your childhood
*Create a meal out of whatever is in your frig.
*Use your grill or fireplace as the only source of cooking

11 | Indoor Mini Golf
This can be a lot of fun. Set up a miniature golf course at home. If the weather is nice it can go in the house and outside. Think about the obstacles you can come up with within your house and yard. Imagine trying to putt under your bed, go around it, or even carefully down the stairs.
Check out youtube for ideas on how to build your own mini-golf course. Make building the mini-golf course part of your date night.
12 | Indoor/Outdoor Movie Night
Movie nights are great and I think for most of us they are our go-to for at-home date nights. But how about taking it up a notch. Project your movie on an outdoor screen, bring your most comfortable cuddling area outside with you, and set out a snack smorgasbord.
Let your neighbors envy you watching on the big screen right in your backyard.
13 | Indoor/Outdoor Picnic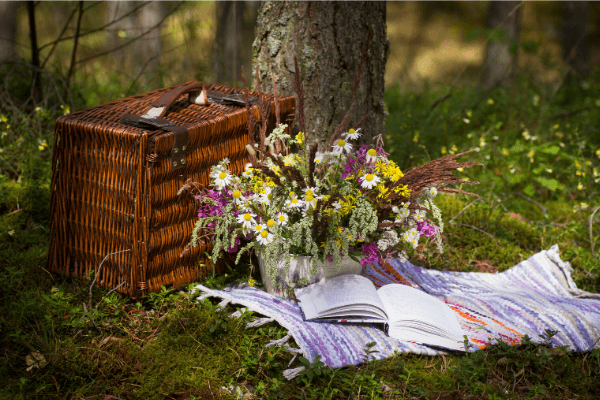 This is one of my favorite ideas, and one of the easiest to make happen. We love heading to a nearby park with a simple basket of cheese, sausage, french bread, fruit, and sparkling juice. If you don't have the needed picnic items at home, just make a quick stop at Kwik Trip and fill your basket.
Date nights don't have to be reserved for strictly night time. I've met Gary at work and he has met me at work, with a picnic lunch and we've eaten it in the car. A perfect romantic break from the workday.
Having a picnic at home is a great way to enjoy a date night. Easily lay a blanket outside or even in the living-room and enjoy time together over your picnic basket.
14 | Cook a Travel Meal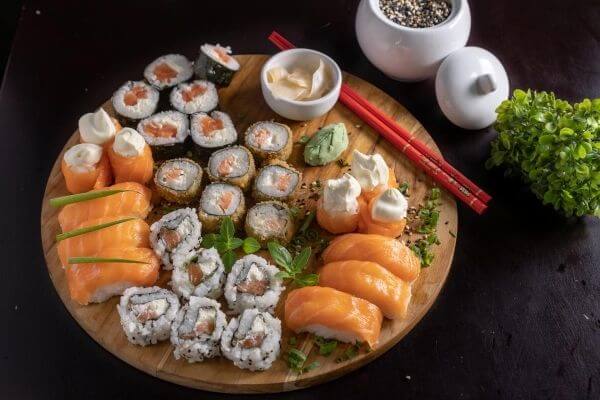 This can be a lot of fun and together you get to try something new. Choose a country that you would someday like to travel to, go online, and see what their delicacies are. Some countries will be easier than others.
Mexican ~ Fajitas or enchiladas and fried ice cream
Italian ~ Pasta or Italian pizza don't forget the gelato
Japanese – Try your hand at Sushi
African ~ Jollof rice, golden black-eyed pea fritters, and traditional fufu ~ a pleasing starchy vegetable mash that's so thick, you use it like bread in place of silverware. The ultimate finger food.
German ~ Wiener-schnitzel, sour kraut, and an icy beer
15 | Order Take Out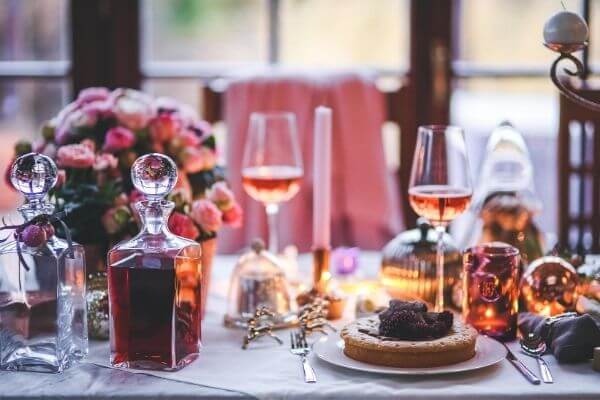 Order take out from a fancy restaurant, get out the good china and silverware, you know the ones that never see the light of day other than maybe once a year if it's your turn to host.
Set the table, print out tonight's menu, chill the wine, light the candles and dress for the evening.
16 | Become a Kid Night
Take some time to have some real fun. Get out the nerf gun, water gun, or a marshmallow gun. Leave a note for your date or spouse along with the supplies. Set it in the garage for them when they get home from work or outside your door when your date arrives. Give them 30 seconds to prepare and then come out from behind the bushes and let them have it. I can almost guarantee you will both be laughing before it's over.
17 | Mini Spirit Tasting Party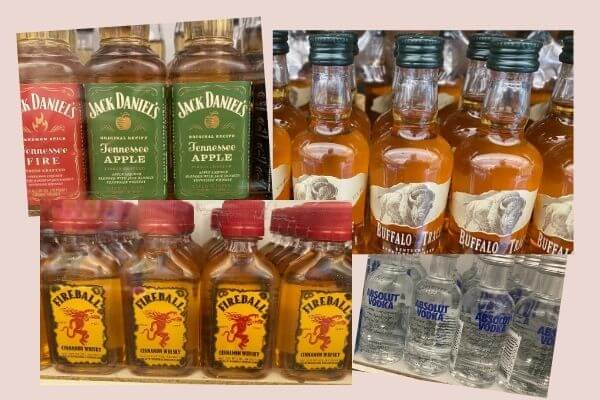 Do some looking online for drink recipes. This is our favorite drink recipe book, it shows you how to make 80 drinks from one spirit. Aim to try drinks that you maybe see when you are out but have never tried, or try making some frozen or blended drinks.
After you decide your selection, stop at your local liquor store and pick up mixers and get a variety of those tiny, one-shot bottles of liquor. Making sure to get ones that you don't normally drink.
The nice thing about picking these size bottles is that you are able to try different things and are not stuck with a lot left that you maybe didn't enjoy. You will be able to try a variety of drinks and not go overboard because you are limited to the small bottles.
As an added plus you may find a new favorite.
18 | Learn each others' Love Language
This is a date night you will want to plan ahead so that you can order the book 5 Love Languages by Gary Chapman. Did you know that everyone has their own love language?
Learning each other's love language is a great way to get your relationship going in the right direction or get it back on track. Knowing your partners love language really helps you understand each other. Do you know your love language?
Start your date by each of you taking the 5 Love Languages Quiz. After the quiz read the book together and discuss the things you have read.
19 | Plan a Dream Trip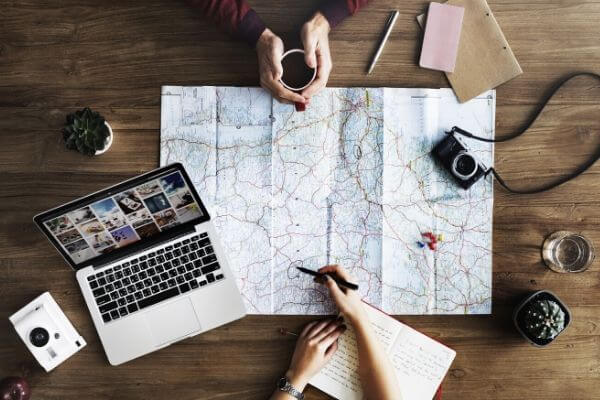 Instead of just talking about the next trip you want to take, start planning it together. This does not mean you have to book anything unless you are ready to do that. But search for flights, hotels and map out the things you want to do. Even look for restaurants you need to put on your visit list.
20 | Dance Lesson Date Night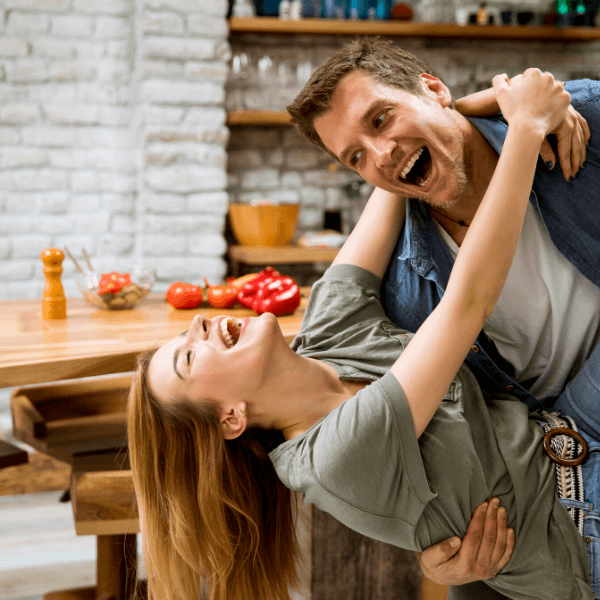 Have you always wanted to learn to dance, like John Travolta or Patrick Swayze? And for whatever reason, you never took the time to learn? No more excuses! This is a great time to learn as a couple, in your own home. Have fun and be silly together. Maybe you'll even learn a dance move and can hit the dance floor together the next time you go out.
Ever since our first dance lesson, Gary comes home from work and just randomly scoops me off my feet and twirls me around the kitchen. No music needed. Yet in a short time we are slow dancing and kissing.
21 | Learn How to Make Wine
Use your date night to learn something new together. If you both enjoy wine, use your date to learn how to make wine. With this reusable winemaking kit, your night will be a success. Guaranteed to give you a second date when your wine is ready to sample.
Once you have the wine making kit you are ready for more date nights.
22 | Ice Cream Sundae Night
Turn your kitchen into an ice cream parlor with different types of ice cream and toppings. Add a little extra twist by making your own ice cream. Don't forget the whipped cream, sprinkles, and cherries. Time to see what type of concoction you can come up with.
23 | Video Game Night
Dig out that Xbox or Wii, whatever game system you may have but haven't touched in a while. Gary and I like to dig out those arcade type games, Burgertime, Pac-man, mini-golf, or tennis. It is so much fun to challenge each other. Gary has yet to beat me at mini-golf, but then who is keeping score.
24 | Wine Tasting
This date night idea has become easier than it use to be. Many types of wine can now be purchased in small 6 oz size bottles for sampling. We love Door Peninsula Winery, they have a small half bottle size which works nicely for date nights. This winery is one of our favorite wineries, read about our New Years Day Trip to Door Peninsula Winery.
Pick up a few bottles of wine, small wine glasses, and some crackers or pretzels. These are my favorite wine tasting crackers, almost addicting. Sample each wine slowly, being able to really savor the flavor in each wine. Use the crackers or pretzels to cleanse your pallet between wines. These wine tasting kits can help make the night more enjoyable.
25 | Karaoke Night
Karaoke can be one of the most fun date night while at home. It's a great endorphin booster which is good for your relationship. You can look up your favorite song plus lyrics on youtube and sing along. Or you can look up the karaoke version of your songs on youtube and use a karaoke microphone. This night is sure to get the laughter going.
26 | Turn your Bedroom into a Fancy Hotel Room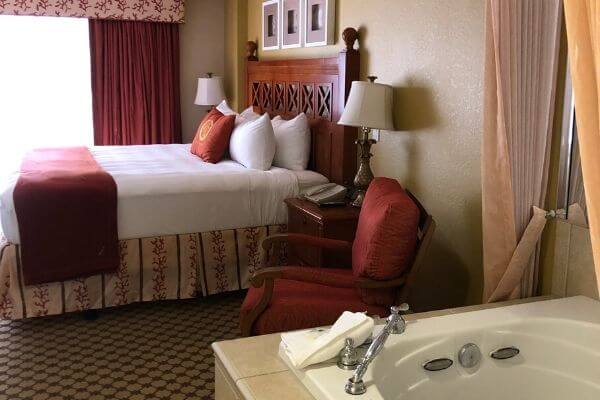 There is something so magical about staying in a fancy hotel. For most of us this is not something in our travel budget. You can turn your home and bedroom into a romantic stay at a luxury hotel.
Buy some new luxury sheets for your bed. Take note of how hotels make their beds and duplicate that.
Buy a bottle of wine or champagne and place it in a bucket in the bedroom along with two glasses.
Layout two robes, better yet use this time to purchase new ones.
Roll up towels and put them in a basket along with sample-size bottles of lotion and shampoo.
Fill your bedroom with candles, glimmer string lights, and rose peddles.
Have your favorite dessert ready or better yet melted chocolate in the crockpot and strawberries for dipping.
Pre-order your dinner and have it set to arrive at a set time.
Fill a basket with new movies you have both been wanting to watch.
27 | Spa Night
Make your own revitalizing mask and lotions (or buy your favorites). Mix up your own flavored waters. Slip into spa-style robes and slippers. Then take time to pamper each other. Yes, guys can benefit from face masks too. Enjoy!
28 | Wine and Chocolate pairing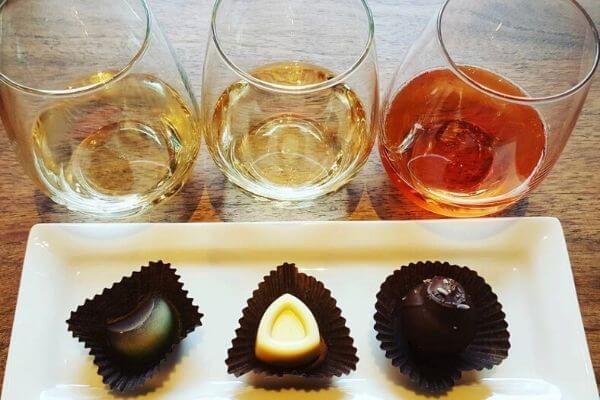 There is an entire business that specializes in showing you how to pair the right wine with the right chocolate or cheese. These chocolates are perfect for a wine and chocolate pairing night.
We visited one such place in Historic Third Ward Milwaukee WI and had a blast. We now find it makes for a fun evening to buy Chocolate and a couple of different types of wine and see which pairs best together. It's also interesting to see when Gary's and my taste matches.
29 | Finger food Only Night
Have a night where the only things on the menu are finger foods. Bruschette, Mini Quiches, coconut shrimp, sliders, egg rolls, Quesadillas, or bbq ribs. Or make a charcuterie board and have it as your meal. This is your chance to get creative, and maybe a little messy while eating.
Check out our blog on How to Create your own Charcuterie Board.
30 | Yoga Date Night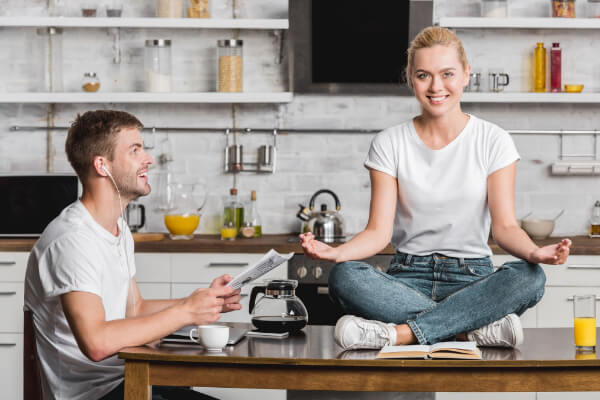 Roll out your yoga mats and get stretching together. This can be a peaceful and relaxing night. If the weather is nice take your mats outside to do yoga. There are many online yoga videos you can try. It is so much fun to see each other's coordination or lack thereof.
31 | A Bubble Bath for Two
Is there anything more I need to say about this date night idea other than to make sure you grab two glasses of wine and light some candles first?
32 | Breakfast in Bed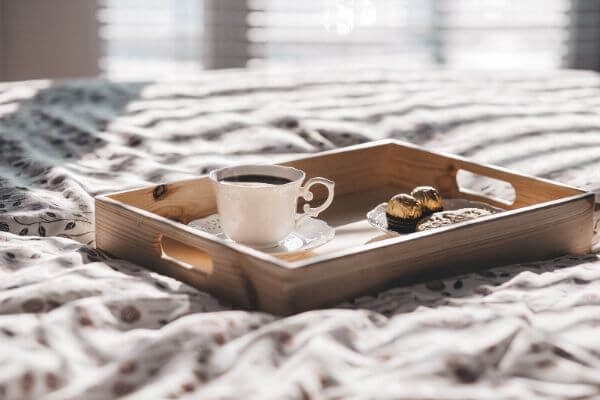 It doesn't have to be breakfast time to serve breakfast in bed. After a long hard day at work take a shower, slip into your robe, and grab those trays to enjoy breakfast in bed together.
Dates don't always have to take place in the evening. If there is a day when you don't go into work until later, how about a breakfast date.
Omelets or Quiche, muffins, bagels, and fruit make a great late-night meal. Not to mention the romance of enjoying the meal together in bed without the living-room distractions.
33 | Play Minute to Win it
There are some hilarious "minute to win it" games that are great to play at home together. They can really take you out of your comfort zone. Supplies for the games are as simple as what you have on hand or as elaborate as you want to go. In addition, you will need a timer that most of us have on our phone.
You can find lots of game ideas online. Some of the easier and crazier games are:
Face the cookie ~ place an Oreo on your forehead and get the cookie to your mouth without touching it with your hands.
Stack Attack ~ stack 36 plastic cups in a pyramid, it has to stay for three seconds and then dismantle it down to one stack of cups in one minute. Try to break the world record.
Junk in Trunk ~ This one is so funny to watch! Strap an empty kleenex box onto your waist with 8 ping pong balls in it. With just moving your body you need to shake out the ping pong balls within 60 seconds. No hands.
Ping Pong Bounce ~ Set up 10 plastic cups for each of you and see who can bounce a ping pong ball into each cup first.
These activities are budget friendly and can make for an amazing night of getting to know each other.
34 | Make Candy
Anytime you are in the kitchen together can be romantic. It's one of the things that Gary and I love doing together. Be alert for spontaneous dancing. Right down to doing the dishes. Making dessert or candy is the best. Our favorite is to make turtles together. They are so easy and one of our favorites.
I even have a chocolate mold that looks like a turtle. We use it to make tiny chocolate turtles to put on top of the candy.
35 | Play Trivia
Whether you have been together for years or just months, it's fun to find your partner's strengths and to test their trivia knowledge. Want a third partner for the night ask Google to play Trivia. He makes a great MC. Just say "Hey Google let's play Trivia"
There are also several trivia games available that are designed for couples. One of them could be your next favorite couples trivia game.
These date night ideas are just a start. Your at-home date nights are only limited to your imagination. Please share with us some of your favorite date night ideas, we would love to add your ideas to our list.
For more romance you need to check out the following blog posts:
Staycation Ideas for Couples
Romantic Fall Bucket List
Simple Ways to be a More Romantic Guy
Romantic Text Ideas
Gary and Michelle
XOXO
Thanks for stopping by! We would love for you to stay in touch!
Whether you have a question about our site, want to work with us,
or just want to say "Hi" please feel free to send us a message.
You can reach us at [email protected]

Or follow us on Social Media
Facebook @ Love and our Laptop Lives
Pinterest @ Love, Travel and our Laptop Lives
Instagram @ Love our Laptop Lives
Twitter @ Love and our Laptop Lives
Youtube @ Love and our Laptop Lives
Amazon Store @ Love and our Laptop Lives