How to: Fondue Date Night at Home | Romantic and Fun

Has the thought of a fondue date night at The Melting Pot been on your must-do list? The Melting Pot can be a very romantic and intimate experience.
I told Gary all about my experience at The Melting Pot with my daughters. He was intrigued. We love trying new and different things. A fondue date night has been on our to-do list ever since we went to Hot Rocks in Wisconsin Dells.
We have made reservations several times and still have not made it there as a couple. After having to cancel our reservation at The Melting Pot last night, we decided to do a fondue date night at home. Dining out is nice, but the satisfaction you get nailing the romance and meal at home is priceless.
What is fondue? Fondue comes from the French term "to melt. " Cheese fondue seems to be the most popular, but there are many different kinds of fondue, cheese, meat, and even chocolate dessert.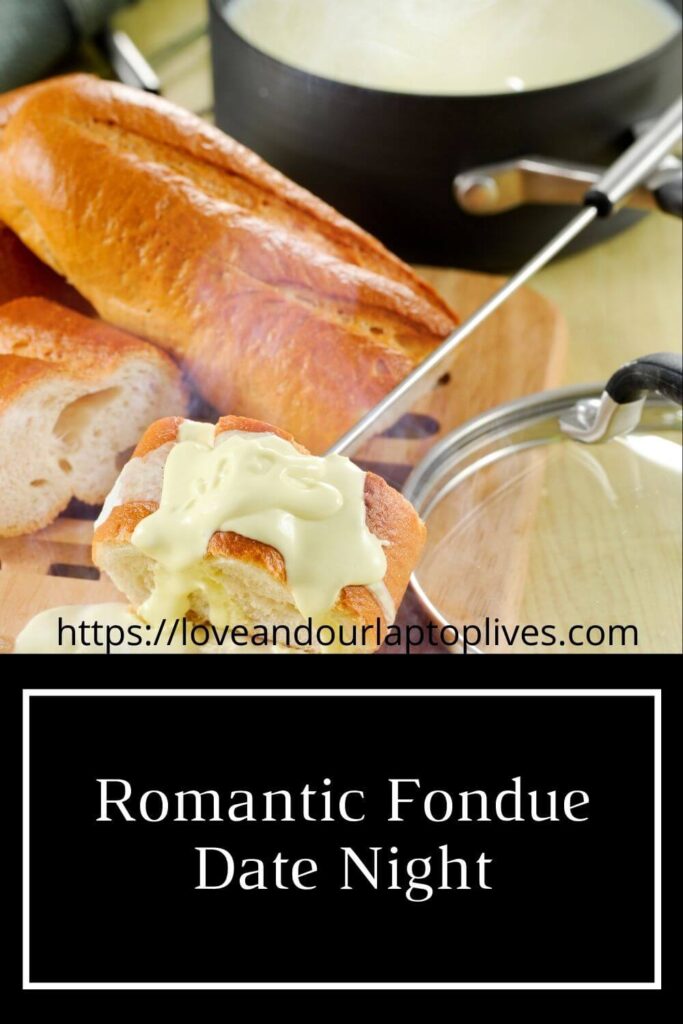 This post may contain affiliate or sponsored links. If you click on a link and make a purchase, I may receive a small commission (at no additional cost to you). Please see my full disclosure policy for details.
Creating a romantic fondue date
1 | Do your Planning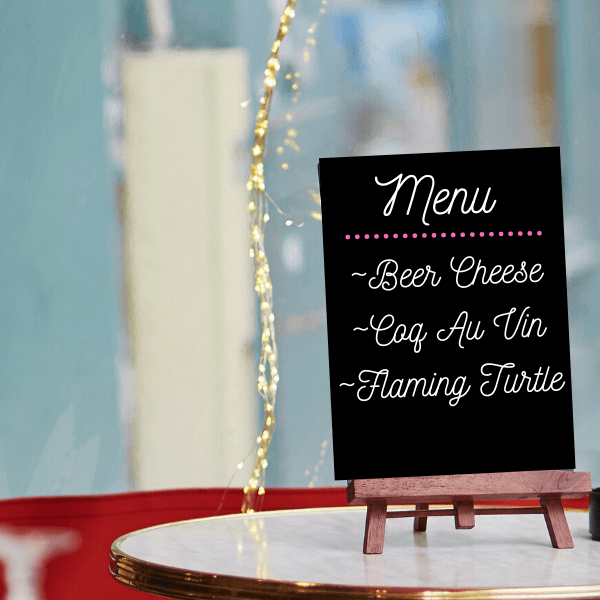 Together we planned our menu. Pinterest has many options. We were able to find what we wanted and change it to our personal tastes.
We will be doing fondue for all three courses. Beer cheese for starters, Coq Au Vin for the main course, and a Flaming Chocolate Turtle with Rum to end the night.
We put together a shopping list, grabbed the keys, each other and, out the door we went. This really was the start of our date night. Whatever Gary and I do together is fun. We have a blast at the grocery store.
2 | Do all the Prep work
Together we unpacked our supplies and got started on prepping for the evening. It is so much fun being in the kitchen together, cubing up the bread, veggies, and meat. Not to mention having to test the chocolate by feeding it to each other.
3 | Set the mood for the evening
We opened the wine, set the table, and dressed for the date. Gary turned on the fire while I lit the candles and turned on some romantic music. I noticed Gary piled the couch with pillows, a blanket and picked out a movie. How can it get any more perfect?
Cheddar Cheese Fondue ~ Like Melting Pot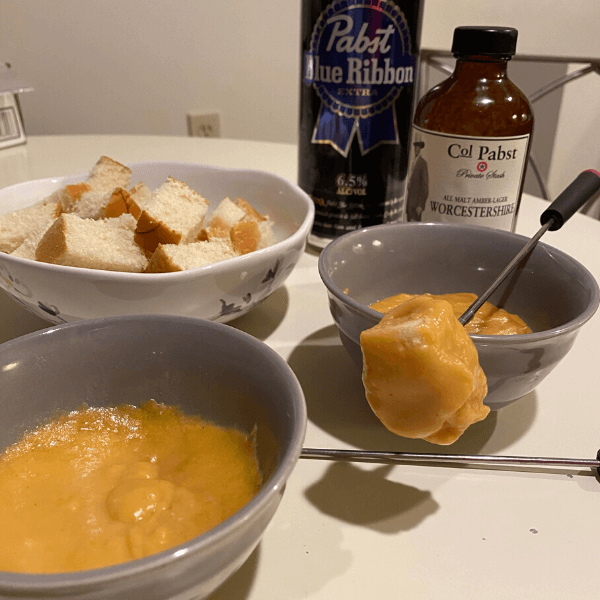 Our first course is starting out with Melting Pot Cheddar Cheese Fondue, with a few little personal tweaks.
Cheddar Cheese Fondue ~ Like Melting Pot
Ingredients
8 ounces of grated Sharp Cheddar Cheese
4 ounces of grated Swiss Cheese
1/2 cup Pabst Blue Ribbon Beer
2 Tablespoons chopped garlic
1 Tablespoon Pabst Worcestershire Sauce
3 Tablespoons Flour
1 1/2 teaspoons dry powder Mustard
Black Pepper to taste
Dash of cayenne pepper
What to dip in cheese fondue
Bread with a nice firm crust
Soft Pretzels
Raw baby carrots
Apples
Prepare the cheese by grating the cheese. Then coat the cheese with flour. The flour keeps the cheese from sinking right to the bottom and also helps thicken the fondue.
Place the beer, garlic, dry mustard, and Worcestershire in the pan and combine well. (We only have one fondue pot and are doing three courses, so I used our small crockpot for the cheese portion)
When the beer mixture is warm, add 1/3 of the cheese and stir well. After the mixture is well mixed and melted, add the remaining cheese and stir until combined.
(We let the crockpot keep this warm while we set up the main course. That way, the potatoes, and mushrooms can cook while we eat our cheese fondue)
We enjoyed our Cheese fondue served in individual bowls with crusty french bread cubes and apple slices.
Coq Au Vin Broth Fondue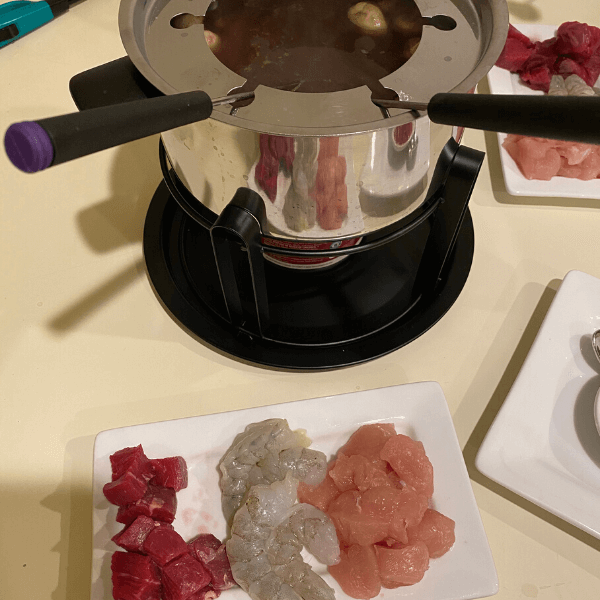 For your main course, we used a melting pot recipe, again tweaking it a little for our taste.
Coq Au Vin Broth Fondue
Ingredients
4 cups vegetable broth
3/4 cup Red Merlot from Door Peninsula Wine
check out our visit to Door County Winery
1/2 cup diced mushrooms
1/8 cup minced onion
1 Tablespoon minced garlic
Things to fondue in oil
Cubed chicken
beef
shrimp
baby potatoes
white mushrooms
ravioli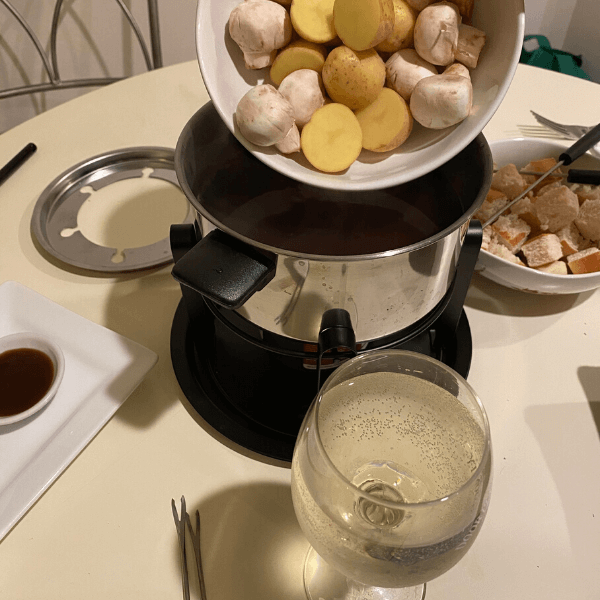 Heat the vegetable stock, wine, onion, mushrooms, and garlic in a saucepan over medium heat, simmer for 10 minutes. We added 6 tiny baby red potatoes to the simmering stock and let it simmer while preparing the meat.
Once the meats are prepared, we lite the Sterno fuel on our fondue pot. Transfer the stock from the saucepan to the fondue pot and added our white mushrooms. We let these cook while we enjoyed our cheese fondue.
Place your meat on your fondue fork, one piece at a time. The shrimp cooks quite quickly, the chicken and beef take a little longer to cook. If using ravioli, float them in the fondue pot. The potatoes, mushrooms, and ravioli can just be fished out when tender.
Serve with a variety of dipping sauces.
Chocolate turtle fondue recipe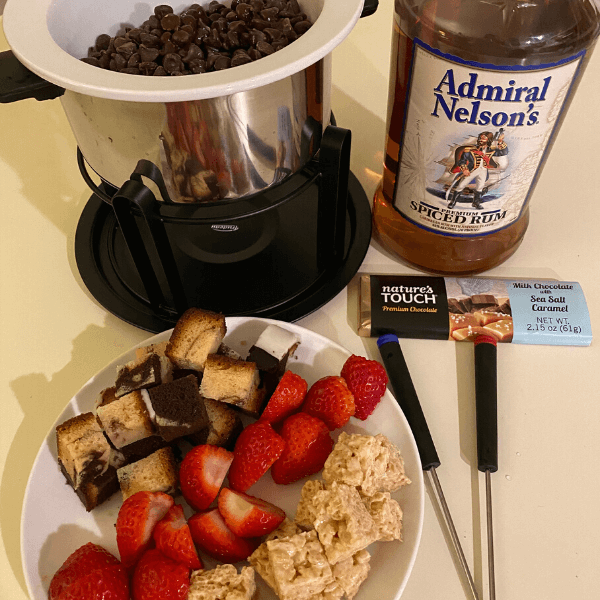 For dessert, we did a chocolate turtle fondue. All I can say is OMG!
Chocolate Turtle Fondue
Ingredients
A 12-ounce bag of semi-sweet chocolate chips
1/2 cup caramel syrup (The kind used on ice cream)
1 Kwik Trip salted caramel candy bar
2 Tablespoons Rum
4 Tablespoons Heavy cream
2 Tablespoons chopped pecans
What to dip in chocolate fondue
Strawberries (whole or halved)
Pound Cake (cubed)
Rice Krispie Treats (cubed)
Cherries
Brownies (cubed)
Frozen cheesecake (cubed)
Bananas

Mix the chocolate chips, candy bar, and heavy cream—microwave 20 seconds at a time, stirring every 20 seconds. When the chocolate is melted and smooth, transfer to the fondue pot double boiler part on low. (The flame should not be directly on the bottom of the pot. The chocolate will burn)
When ready for dessert, stir, creating a well in the center. Add caramel and then the rum to the well (do not stir). Ignite using a long lighter.
Allow the flame to burn out, sprinkle in the pecans and stir.
Enjoy!
This may not have been the romantic night out that we had planned. It may have been even better than we thought possible! Following dinner, we retreated to the living room with wine and cuddled in each other's arms as we watched a sappy movie. Romance can be anywhere, and any time, it's being with that special person that makes it right.
Whether you plan your first date night or have been doing it for years, we promise you will love Fondue Date Night as much as we did.
One of these days we will get to The Melting Pot for a romantic dinner and can't wait to share that date with you.