Top 10 All-inclusive Resorts In The USA | To Add To Your Bucket List

Mexico and the Caribbean have been made famous for their all-inclusive luxury resorts. Many people don't realize that some fantastic all-inclusive resorts are in the USA. Many of these all-inclusive resorts in the USA offer as much as the out of states resorts provide.
If you want to simplify your vacations in the USA, there are a few all-inclusive possibilities to add to your bucket list. These all-inclusive resorts in the USA have packages available that include, meals. Some of these options offer activities in their packages. Most all-inclusive packages in the USA rarely include alcohol.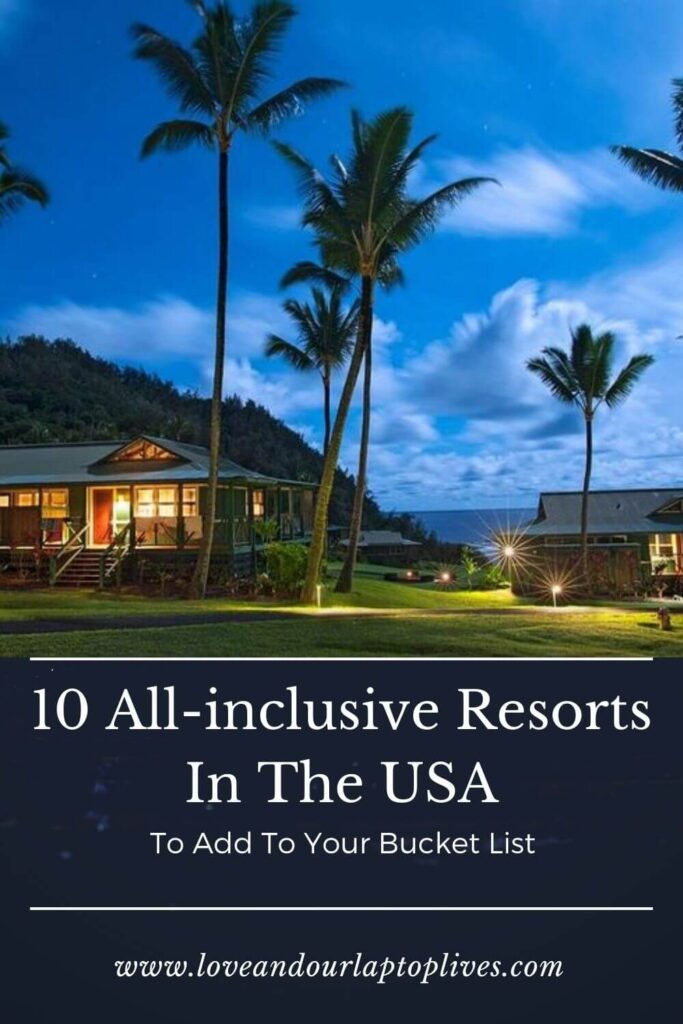 This post may contain affiliate or sponsored links. If you click on a link and make a purchase, I may receive a small commission (at no additional cost to you). Please see my full disclosure policy for details.
All-inclusive resorts in the USA for adults
You don't need to dig out your passport for any of these all-inclusive resorts in the USA. Each one of these resorts offers different amenities and experiences. You are sure to find one to meet the desires of your next vacation. These are our top 10 that we would love to visit, in no specific order.
1 | Chula Vista Resort ~ Wisconsin Dells, WI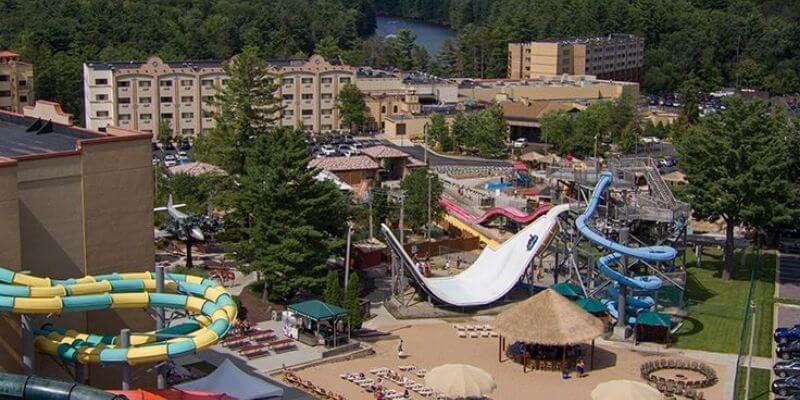 If water parks call your name, the Chula Vista's Resort in the Wisconsin Dells might be for you. They offer an all-inclusive resort package that starts at $181 per person and includes stay, food, beverages, and more. This inclusive package features meals at Kilbourn City Grill and Luigi's Pizza (dine-in only). Unlimited non-alcoholic and alcoholic beverages throughout your stay. Full use of the family-friendly 200,000 sq. ft. indoor and outdoor water-parks.
Chula Vista Resort
Address: 1000 Chula Vista Parkway, Wisconsin Dells, WI
Read more about the exciting things available in the Wis. Dells
Must-Do Activities in the Wisconsin Dells
2 | The Grand Hotel ~ Mackinac Island, Michigan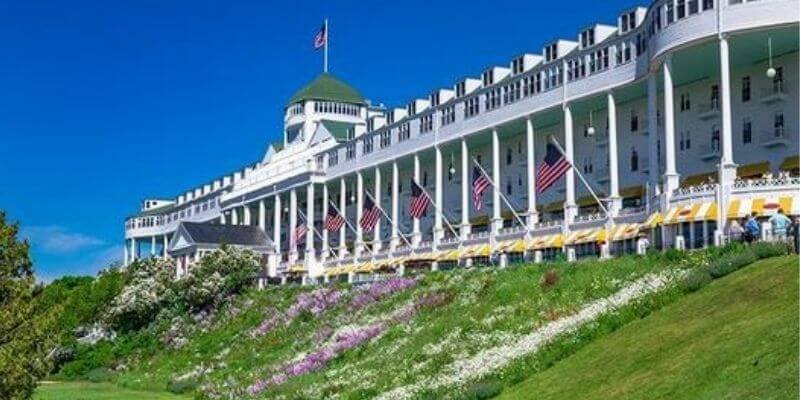 Mackinac Island's best-known property, Grand Hotel 1887. This big stately building has a grand porch and 390 guest rooms. This tourist destination is truly an American Gem.
Mackinac Island has a no cars policy. The main forms of transportation are horse-drawn carriage or bicycles.
The Grand Hotel's all-inclusive package includes its famous five-course dinner in the hotel's main dining room, breakfast, and a lunch buffet.
The Grand Hotel
286 Grand Ave. Mackinac Island, MI
3 | Blackberry Farm ~ Walland, Tennessee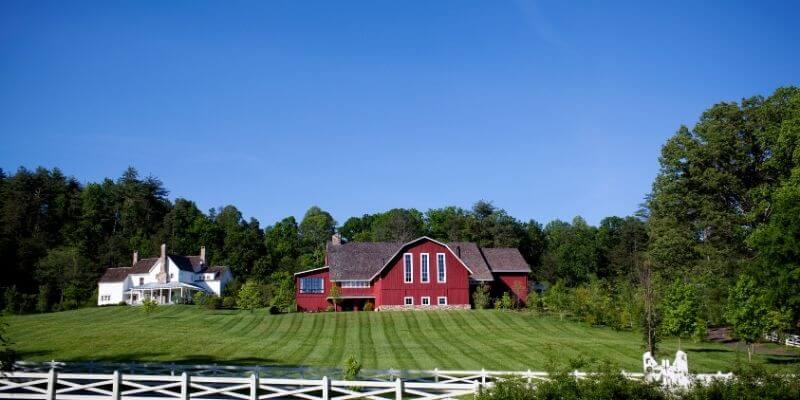 Blackberry Farm is the perfect place to cozy up with the one you love. This gorgeous farm hotel is a secluded haven for lovers and nature lovers.
Blackberry Farms 4,200 acres have been a tranquil escape for more than 80 years. This mountain haven has evolved into a luxurious resort that offers you the Appalachian Mountains' beauty, romantic pastimes, and decadent cuisine.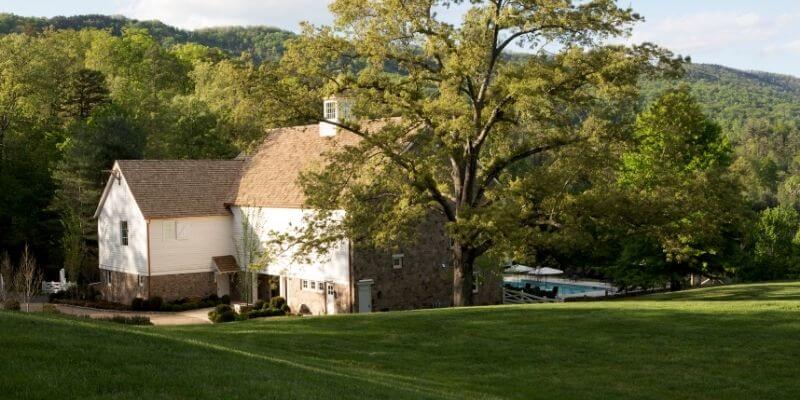 The regular rate includes nightly accommodations and dinner on the day of arrival through lunch at their restaurant on the day of departure, during regular meal hours.
Additional food and beverage offerings and experiences are available for an additional charge. An all-day dining menu offered as room service or in their restaurants during non-traditional dining times (2:30-6:00 pm) Monday-Saturday and 12:30 pm-6:00 pm on Sunday as well as 10:00-12:00 pm all days for an additional charge.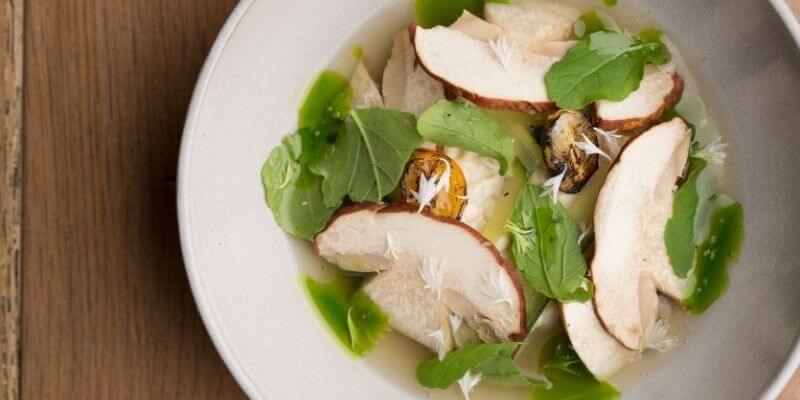 There is an additional charge for activities that require a guide. Many accommodations, but not all, include the complimentary use of a golf cart.
This intimate luxury hotel beckons discerning guests who aspire to escape modern-day frenzy.
Blackberry Farm
Address: 1471 West Millers Cove Road Walland, Tennessee
4 | Miraval Austin ~ Austin, Texas
Miraval Austin is an upscale spa resort set on the hilltop of a gorgeous nature preserve, only a half hours drive from downtown Austin.
Miraval Austin has 72 rooms with private balconies with beautiful views. Hiking trails, an infinity-edge pool enclosed by a wooden deck, and a luxurious spa are just some of the amenities. The restaurant serves organic, local fare, with many of the ingredients picked fresh at the hotel's farm.
In addition to the spa-inspired accommodations all-inclusive package comes with all of your healthy and flavorful meals, snacks, smoothies, and non-alcoholic beverages. Included activities include unlimited hiking, group fitness classes, yoga, meditation, challenge activities, climbing wall, and more.
Each guest receives full access to Miraval's extensive resort amenities and a daily resort credit towards spa treatments and private classes.
Miraval Austin
Address: 13500 FM2769 Austin, Texas
Looking for more…Check out a few of our other posts…
Essential Tips for Traveling as a Couple
Tips and Tricks to use when Packing
Buying the Right Luggage
How to Stay Healthy While Traveling
The Travassa Hana ~ Maui, HI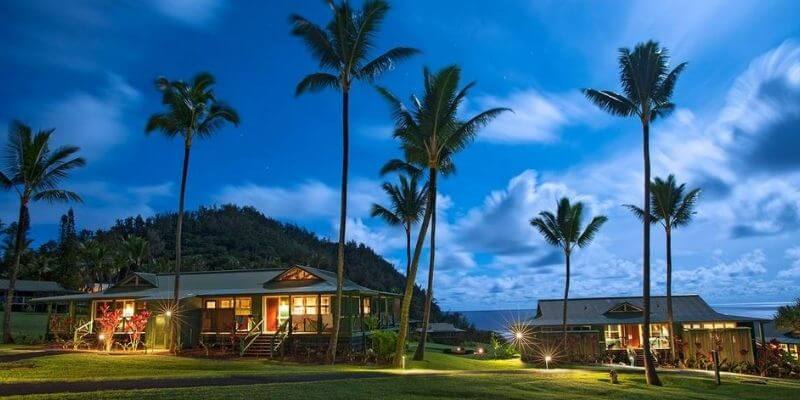 Spacious resort cottages and private suites set a peaceful mood for your stay at Travassa Hana. You can enjoy the waves rolling across the Pacific Ocean from the private lanai of your Ocean Bungalow or relax in the spacious rooms of their Garden Suite.
This enchanted Hawaiian destination is an environment free of radios, clocks, and televisions. Nothing will distract you from the natural beauty and relaxation of heavenly Hana.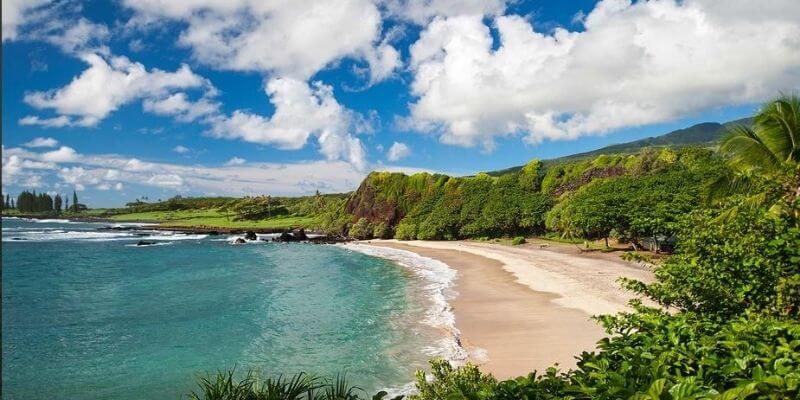 Travassa Hana's all-inclusive offers spacious accommodations, unlimited access to a robust schedule of your choice featuring yoga, meditation, spear throwing, fishing net throwing, and culinary adventures, to name a few. Complete access to resort facilities, chef-prepared breakfast, lunch, and dinner daily. A daily resort credit to use toward spa treatments and private classes.
If you want a getaway centered around romance and together time, this is the place for creating memories while having fun.
Travassa Hana
Address: 5031 Hana Hwy. Hana, Hi
6 | Vista Verde Guest Ranch ~ Clark, Colorado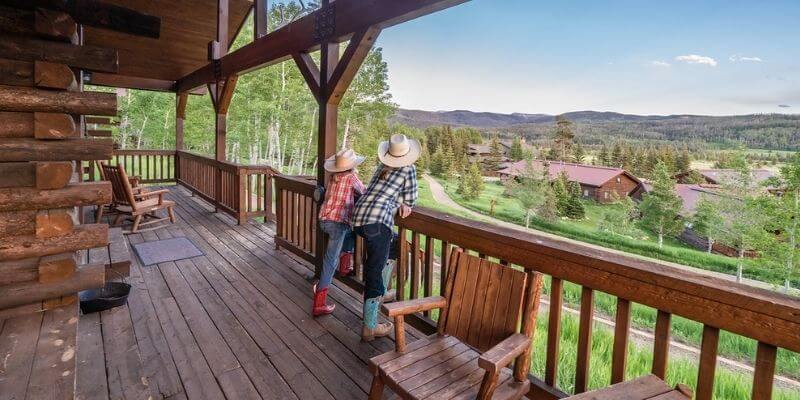 Enjoy the splendor of the Rocky Mountains at this Colorado luxury dude ranch. You'll find a diverse offering of activities, amazing views, fabulous food, and friendly staff.
Vista Verde Guest Ranch is for travelers seeking a rustic vacation without giving up luxuries. Be prepared to unplug. This authentic ranch does not have TVs, phones, or the internet in the guest rooms. Instead, spend time at the swimming pool, fitness center, indoor riding arena, or enjoy the panoramic view.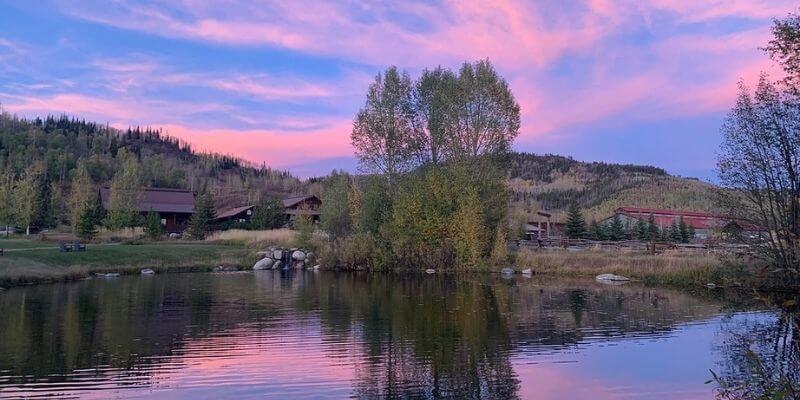 For added romance check out their autumn adult only options.
Vista Verde Guest Ranch
Address: PO Box 770465 Steamboat Springs, CO
7 | The Lodge ~ Little Saint Simons Island, Georgia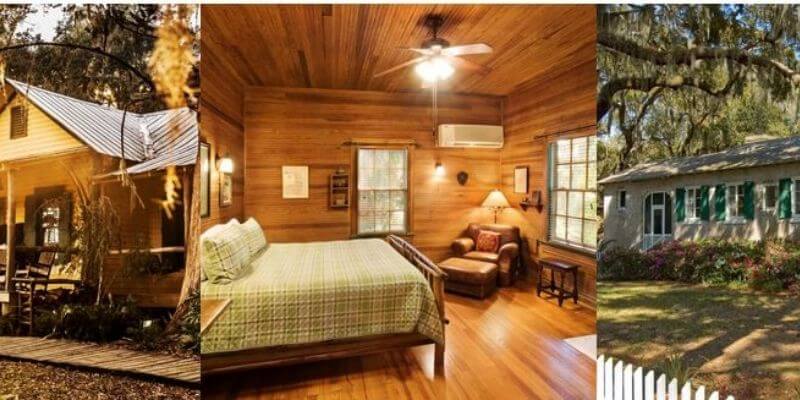 If you seek privacy, peace and looking to enjoy nature, you will love this all-inclusive resort. Featuring lodging that is rustic, charming, and cozy while still providing the amenities found at a resort.
The Lodge offers more than 10,000 acres and over seven miles of private beaches. Meals are prepared on-site at The Lodge by a local chef. The only access to The Lodge is by boat, and only 16 rooms are available. The maximum number of guests at any given time is 32. Quiet, peace and privacy are available to everyone.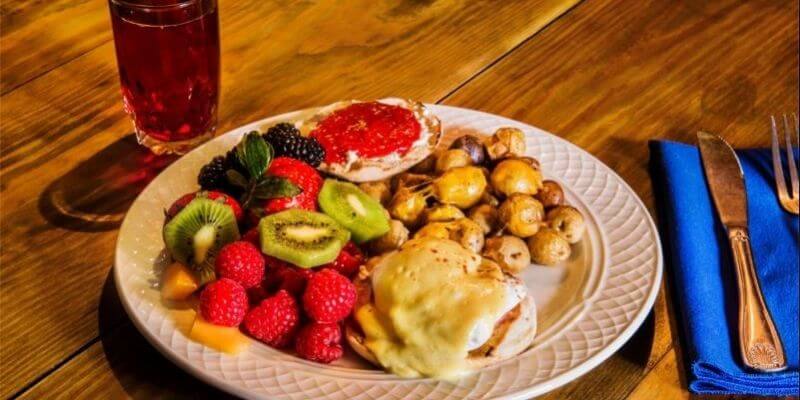 Stays are all-inclusive and include accommodations, boat transfers to and from the island, three prepared meals daily, soft drinks, all activities including naturalist-led excursions, and use of all recreational equipment. For an additional charge, you can add the option of including beer and wine to your all-inclusive experience.
Lodge at Little Saint Simons Island
Address: 1000 Hampton River Club Marina Dr, Saint Simons Island, GA
8 | White Stallion Ranch ~ Tucson, Arizona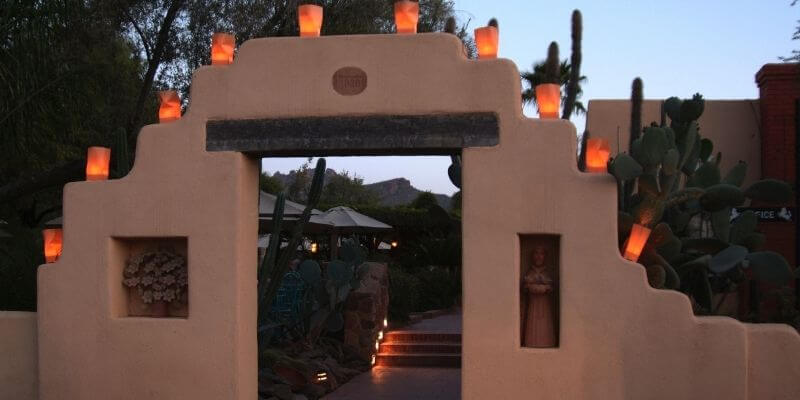 White Stallion Ranch is a traditional dude ranch blended with fine resort's service and amenities.
The Ranch sits on almost 3,000 acres. This all-inclusive dude ranch has 41 Western-style rooms. The White Stallion looks like a movie set, with desert, mountains, enormous cacti, and genuine cowboys.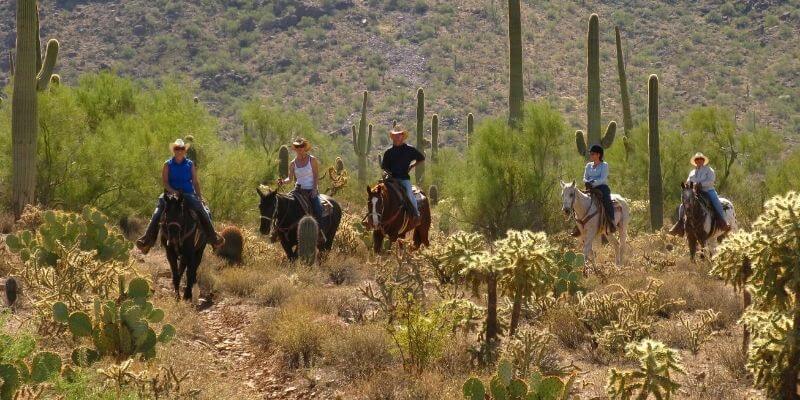 The ranch has an authentic western feel, from the family-style dining room to the rustic cabins and horseback riding. Your ranch adventure will include lodging, amenities, daily meals, and a wide array of ranch activities—from horseback riding to rock climbing, hiking, shooting, fat-tire bikes, and evening entertainment.
White Stallion Ranch
9251 W Twin Peaks Rd, Tucson, AZ
9 | Tombstone Monument Ranch, Tombstone, Arizona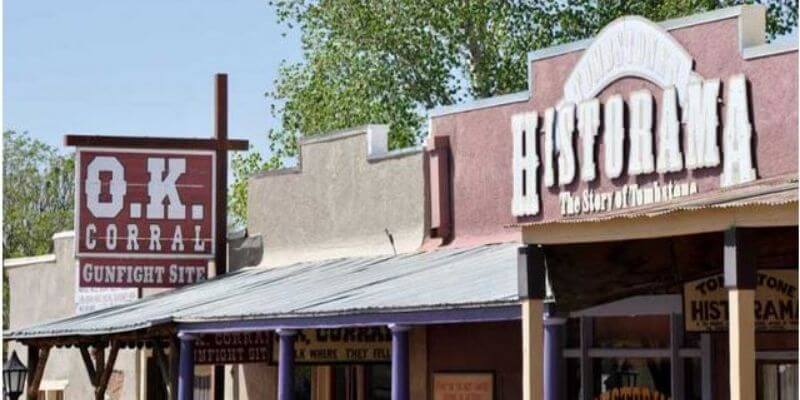 Tombstone Monument Ranch & Cattle Company is a working cattle guest ranch. Tombstone Ranch is situated in the Tombstone Hills. The ranch includes and is surrounded by historic mines, and hand dug wells, old railroad trestles, and ancient Indian petroglyphs.
The ranch itself looks like an old west town. The guest rooms line the street and are each individually styled. Guests can wake up in the "Grand Hotel," the "Marshall's Office," the "Blacksmith's," or even the "Jail."
Tombstone's all-inclusive full guest ranch package includes lodging, three meals daily, all horseback riding (except lessons), archery, kid's shooting (BB guns), soft drinks at the bar, bar snacks, and evening entertainment.
Tombstone Monument Ranch
895 West Monument Rd, Tombstone AR
10 | Club Med Sandpiper Bay ~ Port St. Lucie Bay, Florida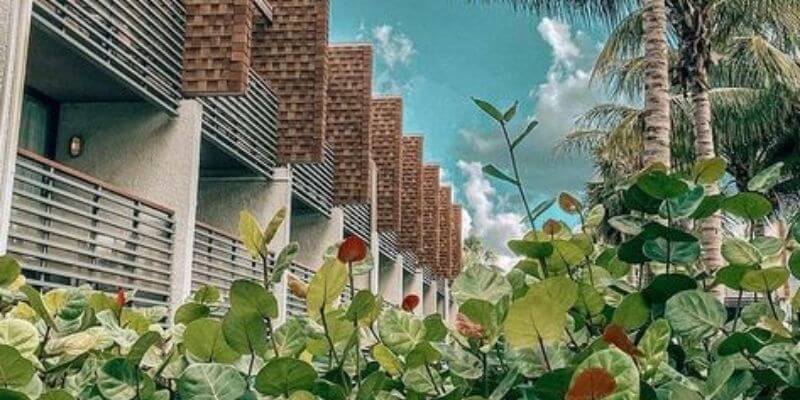 For an all-inclusive stay focused on sports, Sandpiper Bay is the ideal Club Med Resort for an active family vacation. Located along the St. Lucie River, amid wonderfully lush vegetation, Club Med Sandpiper Bay enjoys a delightfully tropical climate, a Sports Academy with top-ranked coaches, and an adult-exclusive infinity pool with a dedicated bar.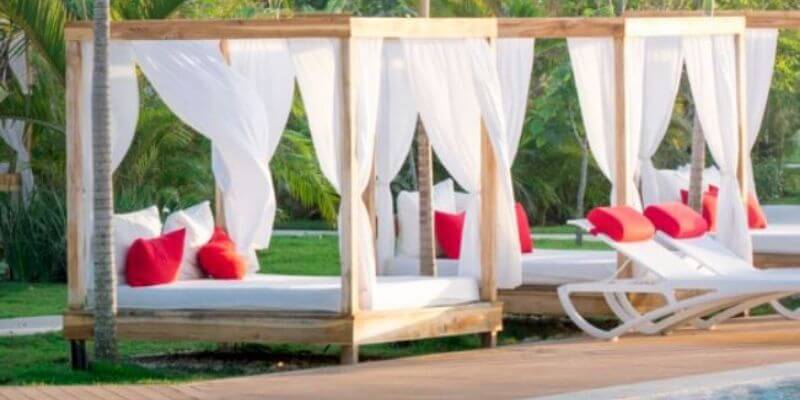 Club Meds All-inclusive package includes all-day gourmet dining & an open bar, unlimited water & land sports, open bar & snacking, and day and night entertainment.
Club Med
Address: 4500 SE Pine Valley St, Port St. Lucie, FL
---
These are just a few of the numerous all-inclusive resorts in the USA that we have found. We would enjoy visiting all of them. With so many to choose from, and all of them offering a different experience, you are sure to find the perfect one for your vacation.