Tips to Make Buying Luggage Easier
Buying luggage is no easy task. After spending hours shopping for the perfect luggage, I just had to bring shopping to a halt, and do some much needed research before going any further. To keep you from going through what I did when shopping for luggage, I've put together these "tips to make buying luggage easier".
There are so many things to consider when you go to buy luggage, these are just a few things that helped us narrow down our search and take the frustration out of shopping.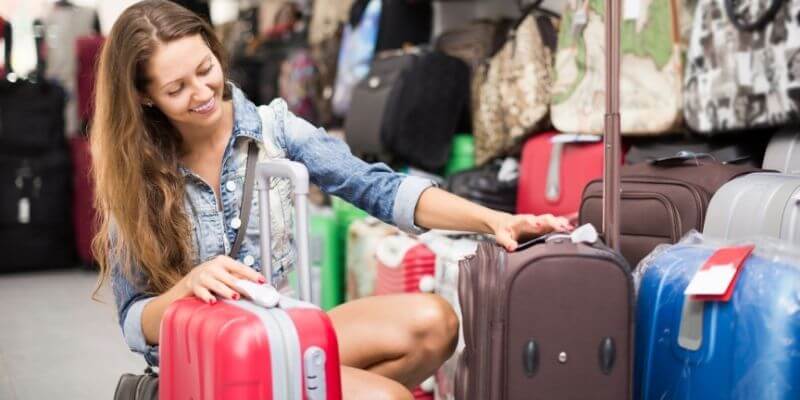 This post may contain affiliate or sponsored links. If you click on a link and make a purchase, I may receive a small commission (at no additional cost to you). Please see my full disclosure policy for details.
How will you be traveling? Knowing how you plan to travel will help you determine what kind of pieces are best when buying luggage. If you are flying one of your first concerns will be the size and weight. If you are looking to buy a suitcase for car travel and road trips you will want to take into consideration your trunk space and be looking for something more flexible. If you are planning on taking a cruise, having luggage that is stack-able or being able to store suitcases inside each other may be important.
What size luggage do you need? Not only your type of travel but your length of stay will determine the size you will be shopping for. If you are planning a two week vacation, you will be looking for something larger that can be checked. If your plans will only involve weekend travel you may only be looking for a carry on.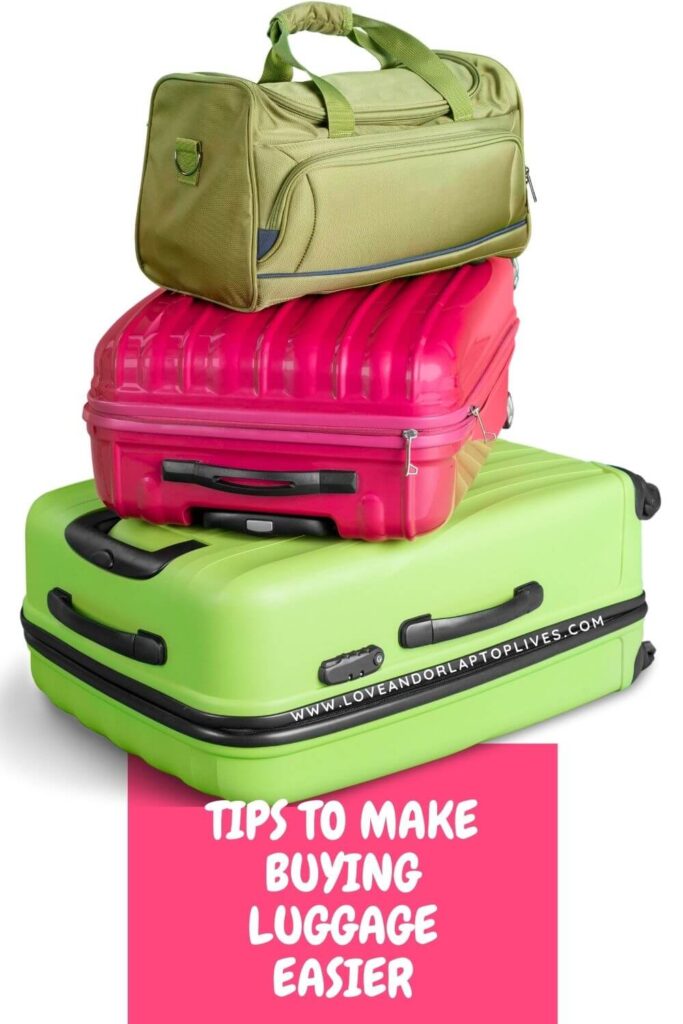 Carry-On or Checked Luggage
Carry-on or checked baggage ~ If you are planning on using only carry-on luggage then you are limited by size. If you plan on checking your bags, you have more options but still need to watch the weight restrictions.
Carry-on luggage is convenient for air travel because you can avoid standing in line to check your bags. The catch is the bags need to fit either in the over head compartment or under the seat in front of you. For most domestic flights your carry-on can be no larger than 22 inches high by 14 inches wide and 9 inches deep. Be sure to check with each individual airlines because some have their own regulations.
Checked luggage is anything that is larger than the carry-on size. These pieces usually come in sizes 24 inches to 36 inches. Always check with your airlines for their size restrictions. There is usually also a weight restriction per bag, If your bag goes over the allowed size and weight most airlines charge extra.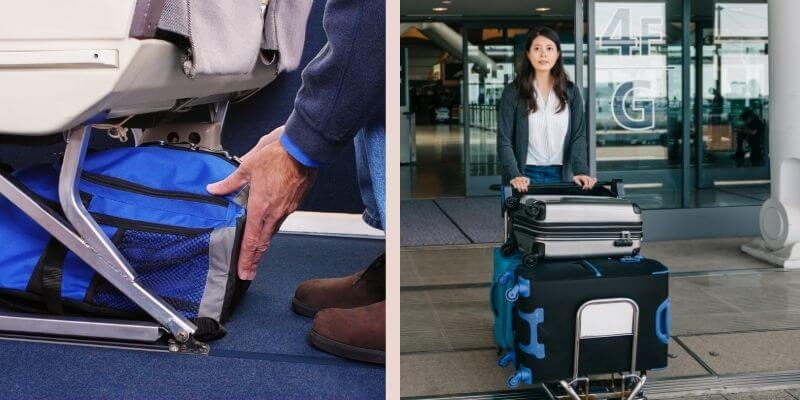 Carry-on vs checked luggage will be a personal choice. And you may need a combination of both. We like to check one bag and carry on another. There are some things that we travel with that have to be checked, and there are some items like lithium batteries that need to be in our carry-on.
When traveling for a lengthy period of time, its easier to check your bag rather than carry on, so you are not limited in size when it comes to how much shampoo you bring with. We never seem to pack enough.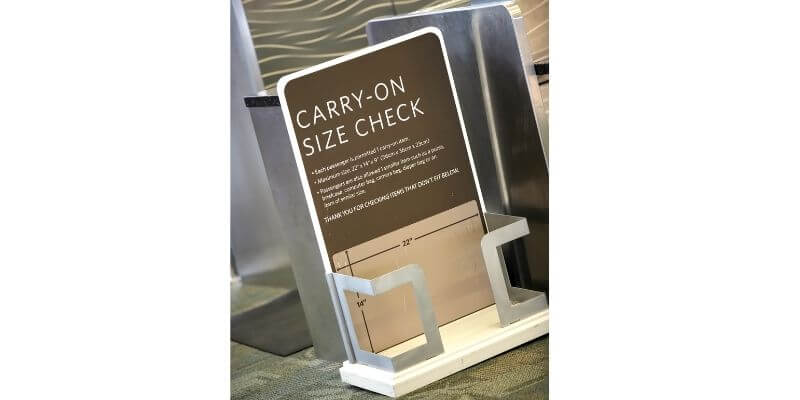 Size ~ Most carry-on bags need to be less than 21x14x9 inches to be stored in the overhead bin on most planes. Bags larger than this will need to be checked. Keep in mind some airlines charge for checking bags and some also charge for carry-on bags.
Airlines are becoming very strict when it comes to what you can pack in your carry-on and the size. Always go online to the airline you are traveling with and check their size requirements. All airlines have their own sizes.
Luggage Types to Consider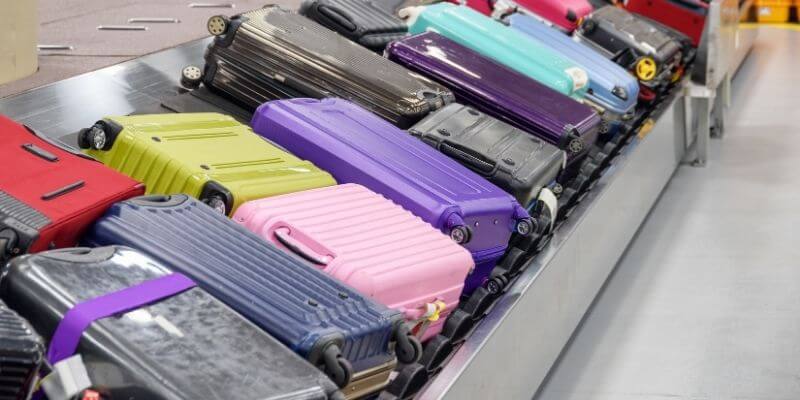 The soft side luggage should absorb shock better and be more flexible when it comes to trying to shove it into the overhead compartment. It will also be more forgiving when packing and light weight.
Two of the main fabrics of a soft side luggage are leather and nylon. The leather luggage is durable and will with stand years of travel, but will be prone to scratches and stains. The nylon luggage is tough and sturdy but not as pretty as leather.
Hard side luggage will protect your belongings better and will be more water-resistant, Common materials of hard size luggage is either plastic or metal. The plastic is prone to crack in extreme temperature changes. The metal luggage is good for extra protection when it comes to your gear ~ cameras, computers or video equipment.
Additional Considerations when Buying Luggage
Features ~ Today's suitcases come with a variety of bells and whistles to help with everything from holding your cup of coffee, to charging your phone. Keep in mind the more bells and whistles your suitcase has, the more it might weigh….some even have a built-in scale. The more the suitcase weighs the less you can pack.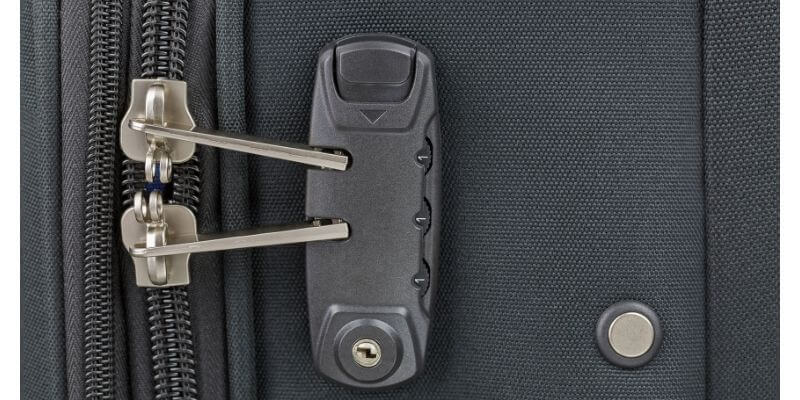 Safety ~ You are going to want a suitcase that either comes with a built-in TSA approved lock or has an inter-connecting zipper that can be locked with a TSA approved pad-lock. Make sure your zippers are made of tough metal.
Wheels ~ Luggage come with either no wheels, 2 wheels or 4 wheels. The two wheel version has wheels much like roller-skates and can only be wheeled when tilted. The 4 wheel versions are also are also known as spinners and each wheel swivels 360 degrees. You can push them or pull them in any direction. We prefer the 4 wheel version.
Handle ~ Hold onto the handle, it should feel comfortable in your hand, be tight and not loose or rattling. An extending handle is an option and should come to a comfortable length for you personally, and also adjusts and locks to different lengths. The extended handle can also be used to carry additional bags.
Price ~ Price can be a big factor, keep in mind your budget. The quality of the luggage may increase with the price. The amount of time you will be traveling and the price will play a major role when choosing your luggage.
Warranty ~ If you are buying your luggage to last for the long haul, check the manufacturer's warranty. A warranty that repairs or replaces your luggage is the best option.
Where to Purchase Luggage
TUMI has a wide variety of high quality hard side luggage. They have store locations and can be purchased online.
eBags has a wide variety of durable & innovative luggage, designed with the traveler in mind.
Amazon has a wide variety and assortment of brands.
Once you have the perfect luggage for your trip, head over to tips and tricks for packing a suitcase.
All luggage is not the same, and all luggage will not meet everyone's traveling requirements. You need the right bag for the right kind of travel. The right piece will make your packing and traveling easier! The wrong piece will be more bothersome than helpful.
Prior to buying luggage go online and check reviews. No one knows luggage better than another traveler. With these tips on buying luggage you should be all set to find the perfect pieces for your next trip.
Thanks for stopping by! If you would like to reach us with a
feature idea, you can email us at ~ [email protected]
We would love to partner with you to feature your travel destination.
Follow us on Social Media
Facebook @ Love and our Laptop Lives
Pinterest @ Love, Travel and our Laptop Lives
Instagram @ Love our Laptop Lives
Twitter @ Love and our Laptop Lives
Youtube @ Love and our Laptop Lives
Amazon Store @ Love and our Laptop Lives