What is it about sunflowers that just makes one happy? It's hard to look at the bright yellow blooms of the sunflowers and not be happy, at least it is for me. A field of sunflowers says summer.
Wisconsin summers seeming so short that the bright and cheery sunflower fields in Wisconsin are a welcome sight. They make you want to stop, wander, and get lost among all of the blooms and hold onto summer just a little bit longer.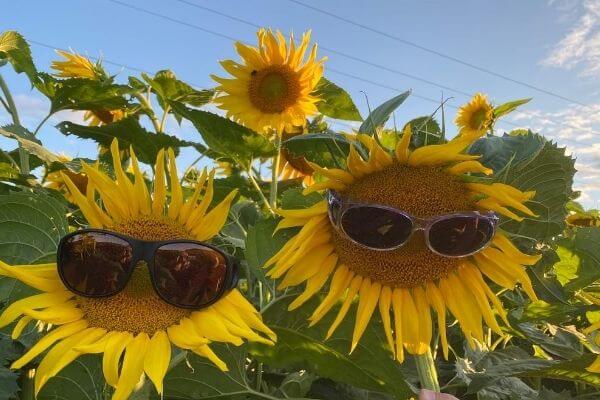 Gary and I have been venturing out every chance we get. Sometimes just a road trip going nowhere and other times with a purpose. I'm sure Kwik Trip is loving all of our business as much as we love them.
Our latest discovery is that Wisconsin is filled with several sunflower farms. Yes, I said farms, not just little gardens, entire fields. I remembered years ago, when I saw my first sunflower field, I pulled the car off the road and just sat there and enjoyed it.
Today the popularity of the sunflower farm is increasing, and we are discovering new ones each year.
Sunflowers start blooming anywhere from late July to early August. Several of the sunflower farms in Wisconsin hold festivals and activities during the peak bloom time.
The sunflower is only at its peak for a very short time. They will only bloom on average of one to two weeks, which is plenty of time to take a Wisconsin road trip and visit more than one sunflower farm?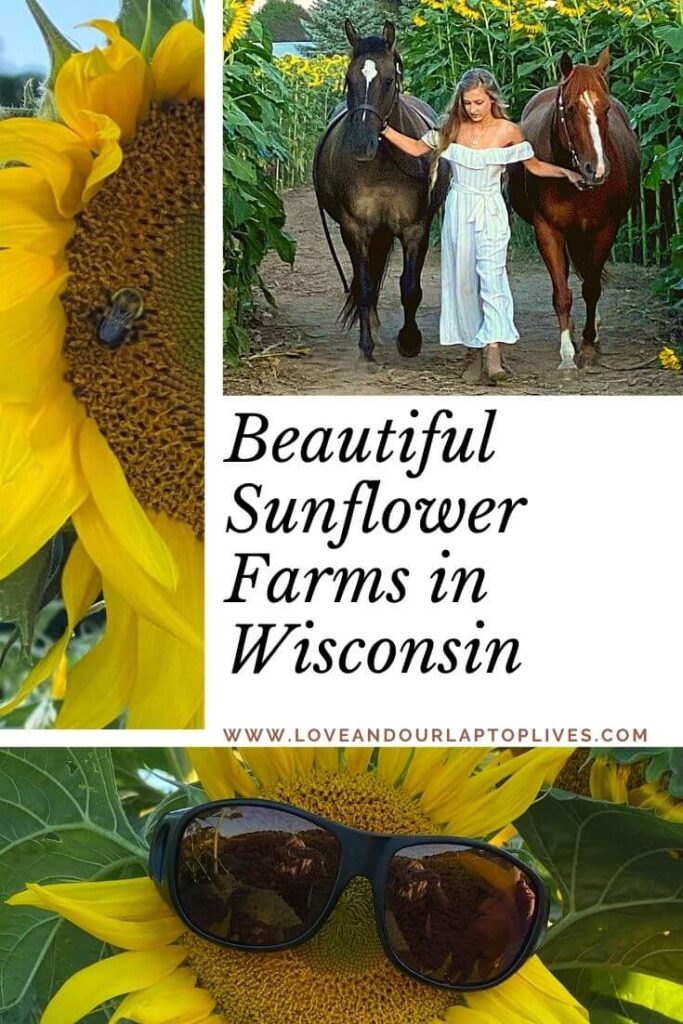 History of the Sunflower
The sunflower is amazing and complex. Sunflowers are native to North America, but it is only recently that they are being grown in North America as a cultivated crop.
The American Indian tribes found various uses for the sunflower. They ground the seeds into flour, cracked open the seeds, and ate them for a snack, and mixed the seeds with beans and corn for a meal. Oil was also squeezed or boiled from the seeds and used for making bread.
Sunflowers were not used just for food. Dyes were made for textiles and body paints, parts of the plants were used medically and the oil from the seeds was used on hair and skin. They used every part of the plant, the stalks were used as a building material, the head of the plant was used as a scrubber and the roots were used for tea.
For more amazing information about the sunflower, check out National Sunflower Association.
Fun Facts About Sunflowers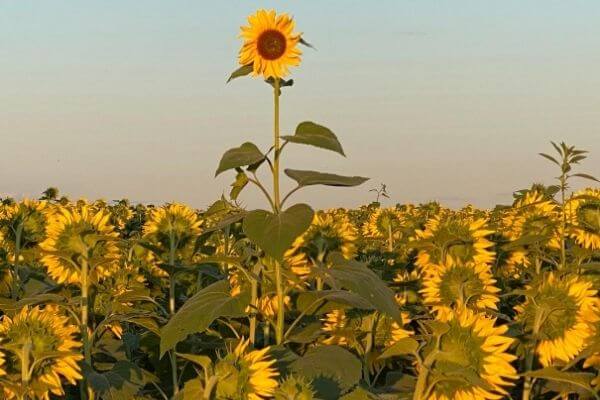 The Sunflower is one of only a few flowers with the word flower in its name.
Vincent Van Gogh loved sunflowers so much that he created a famous series of paintings called 'Sunflowers.'
Sunflower oil is good for conditioning your hair.
The average homegrown sunflower grows between 8 and 12 feet tall in 5 – 6 months.
The tallest sunflower ever grown was 30 feet 1 inch by Hans-Peter Schiffer in Germany.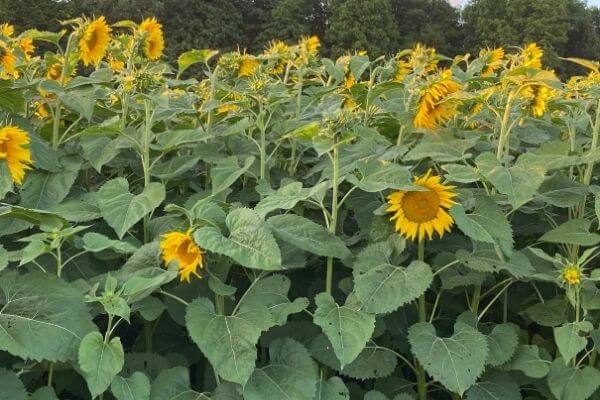 Sunflowers are thought to have healing power. They have been used for chest pains and other medical issues.
Sunflowers traveled to the moon in 2012 with Don Pettit. Don blogged about the sunflower's space adventure.
The sunflower is the state flower of Kansas.
Sunflowers track the sun. The young flowers will face the east in the morning and follow the sun throughout the day. Until the head becomes mature and too heavy, at which time it will remain facing east.
The largest sunflower head measured 32 1/2 inches in diameter.
A single sunflower can have up to 2000 seeds.
Each sunflower head is made up of 1000 – 2000 individual flowers.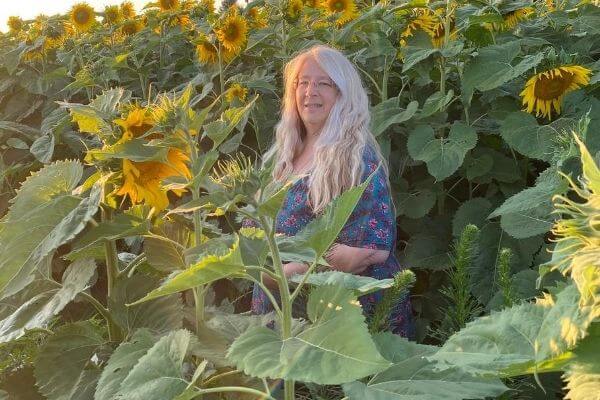 There are over 70 varieties of sunflowers. These varieties can be divided into three groups: giant sunflowers, dwarf sunflowers, and colored sunflowers.
Not all sunflowers are yellow. They can even be red or purple.
Dwarf sunflowers grow in clusters and are not usually taller than 3 feet—a great possibility for a small garden.
Sunflowers grow best in full sun.
Over 3 million acres of sunflowers are planted in the United States every year.
According to folk legend, you will be filled with wisdom if you sleep with a sunflower under your pillow.
I hope you found these facts about sunflowers as interesting as we did. Now see if you can stump your friends with all your new sunflower knowledge. I stumped Gary with most of these facts.
Sunflower Fields in Wisconsin
These are our top picks of Sunflower Farms in Wisconsin. I hope you enjoy them as much as we did.
Bergsbaken Farms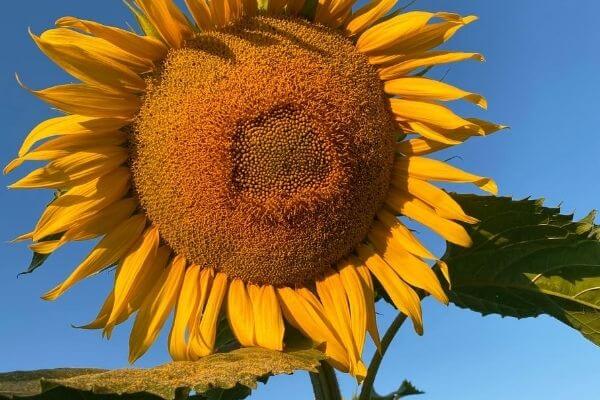 Bergsbaken Farm is located in Cecil, WI. This family-owned farm offers two sunflower fields to enjoy. A two-dollar donation for visiting is suggested. They offer a platform in the field for the best photo opportunities. The farm is also pet-friendly for photos with your furry friend. A one-dollar donation is suggested for each flower you pick. Open dawn to dusk.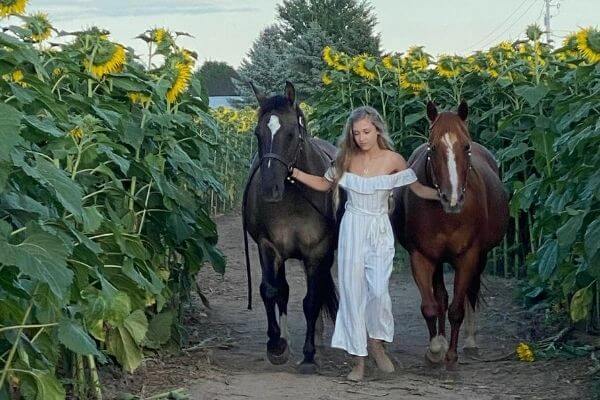 While we were at Bergsbaken Farm, we ran into Heather, who had taken her horses to the farm to have their pictures taken in the sunflower field. It was such pleasant sightseeing them together.
Address ~ W2095 County Rd E, Cecil, WI
Lannon Sunflower Farm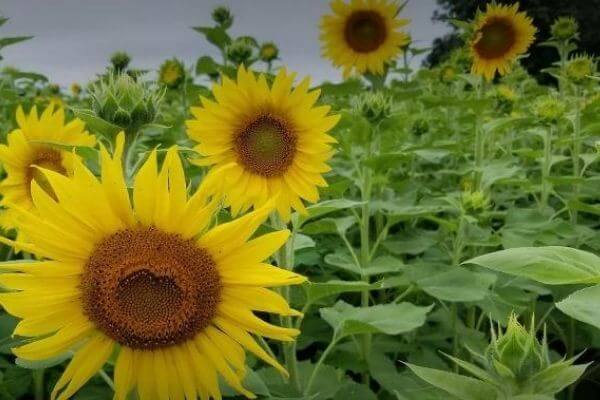 Lannon Sunflower Farm is located in Lannon WI, they offer u-pick sunflowers. The cost is $20 per car, allowing you to enjoy the sunflower maze and take 12 sunflowers home with you. Please bring your own cutter, something to put your flowers in, and a little water, so the flowers make it home fresh. They are open 7-7
Address ~ W204 N8525 Lannon Rd, Lannon, WI
Sopa Fairview Farm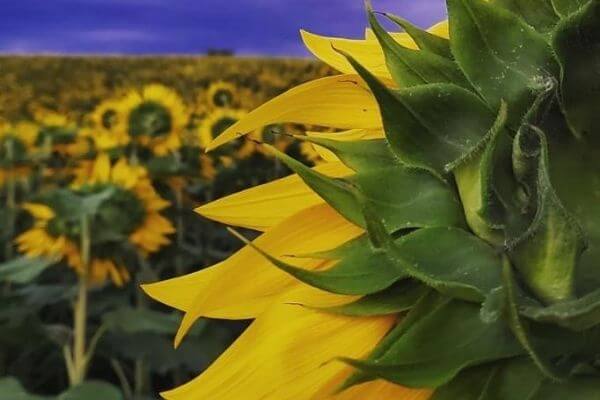 Sopa Fairview Farm is located in Amherst, WI, and is a 4th generation farm. The farm is open from dawn to dusk. Again it is recommended that you bring your own cutter, container, and water so that your sunflowers make it home safe and fresh.
Address: 8290 Old Amish Rd. Amherst, WI
There are many more sunflower farms than we have listed. These are just the ones we have visited and enjoyed. This list would not be complete without including this last sunflower farm.
Babbette's Seeds of Hope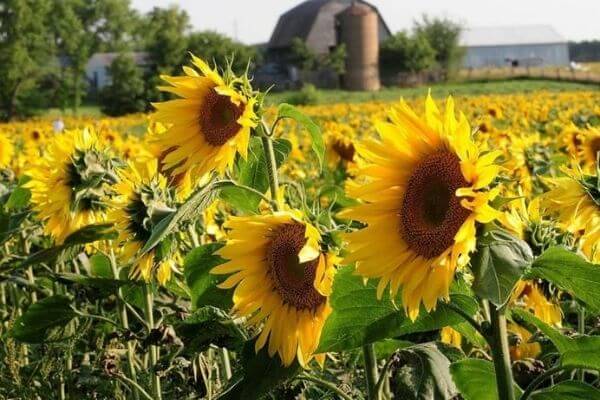 Babbette's Seeds of Hope is located in Eau Claire, WI. The Babbette's have been farmers all of their lives. They have an appreciation for family, nature, and the land. In 2014, Mrs. Babbette lost a 9 year battle with cancer. She dreamed of a life without cancer for herself and others.
In honor of his wife, Mr. Babbette plants miles of sunflowers. After the sunflowers breathtakingly bloom, he sells the high-quality seeds and donates a portion of the proceeds to help cancer patients and for cancer research.
Bird watchers, artists, photographers, and sunflower lovers are welcome to visit the farm and enjoy. What a wonderful memorial to the late Mrs. Babbette.
For more information on their farm and their donations, please visit Babbette's Seeds of Hope.
Sunflowers, in their own beautiful way, bring sunshine and smiles all over the world. With such a short time to enjoy their full blooms, it's wonderful that farmers have opened up their fields for all of us to enjoy. I know Gary and I enjoyed romantically strolling through the sunflower fields holding hands at sunset.
There are so many great sunflower products on the market. We have gathered many of our favorites and added them to our amazon store.
I love all of the beautiful summer flowers that grace us with their presence in the summer. Gary's son recently visited the Lavender Fields on Washington Island, WI I'm not sure which of us got the better visit. They were both amazing.
Fall is just around the corner make sure to check out our romantic fall bucket list and download your own Romantic Fall Bucket List to take advantage of every romantic fall moment.
Gary and Michelle
XOXO
We would love for you to stay in touch!
Whether you have a question about our site, want to work with us, have a feature idea, or want to say "Hi" please feel free to send us a message.
You can reach us at [email protected]
Or follow us on Social Media

Facebook @ Love and our Laptop Lives
Pinterest @ Love, Travel and our Laptop Lives
Instagram @ Love our Laptop Lives
Twitter @ Love and our Laptop Lives
YouTube @ Love and our Laptop Lives
Amazon Store @ Love and our Laptop Lives