Tybee Island is known for its quirky and vibrant atmosphere. These romantic things to do on Tybee Island will almost make you forget the island is only 3 miles long. This southern beach town may just offer the best beach getaway ever.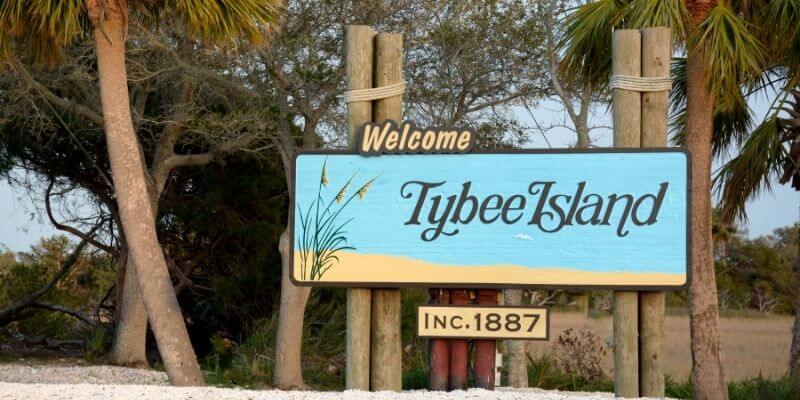 Tybee Island is not about the activities, it's about kicking back, putting your feet up, and sipping some sweet tea while you sit a spell. Yet in addition to relaxing in the sun and sand, we found there are so additional romantic things to do on Tybee Island as a couple.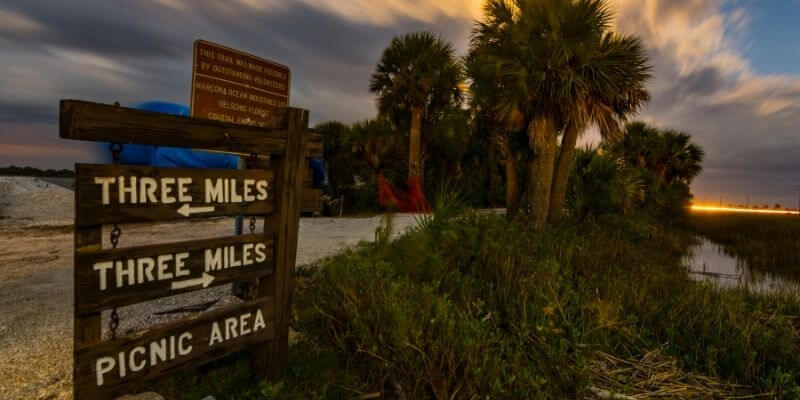 Whether you are looking to just kick back, relax and enjoy the beach, feel like a kid and build a sandcastle, surf the waves, have a picnic on the beach, explore Tybee's history, or bike along the shoreline together, Tybee is the perfect place for a couples getaway.
Tybee Island is less than a 30-minute drive from Savannah Georgia. Tybee Island was originally called Savannah Beach because it is located right at the mouth of the Savannah River.
Romantic things for couples to do on Tybee Island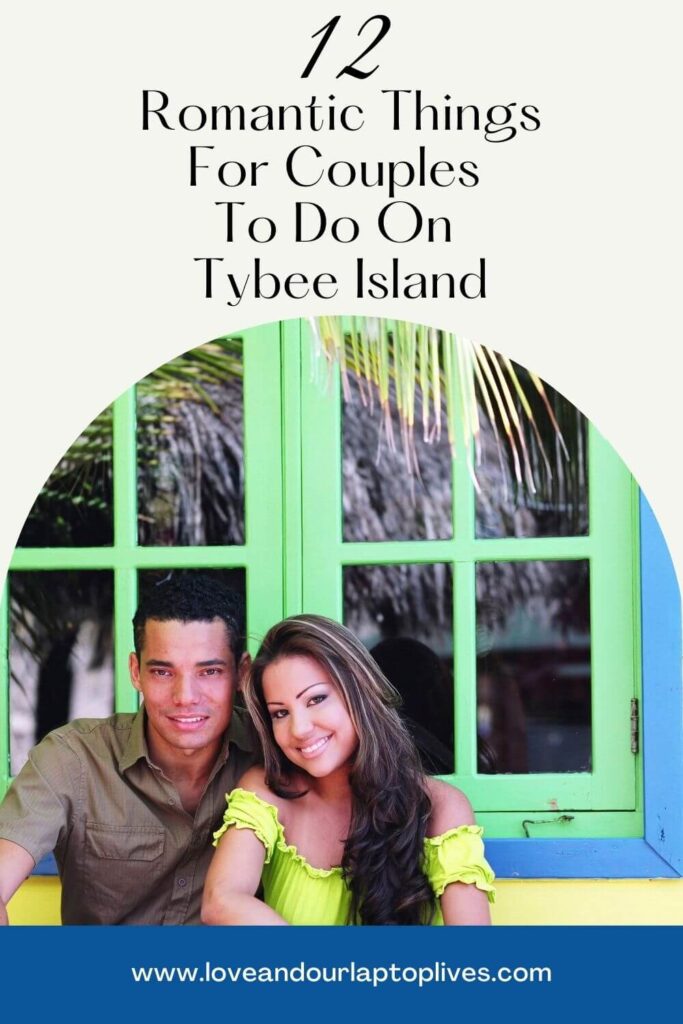 This post may contain affiliate or sponsored links. If you click on a link and make a purchase, I may receive a small commission (at no additional cost to you). Please see my full disclosure policy for details.
1 | Spend the day on one of Tybee Islands Beaches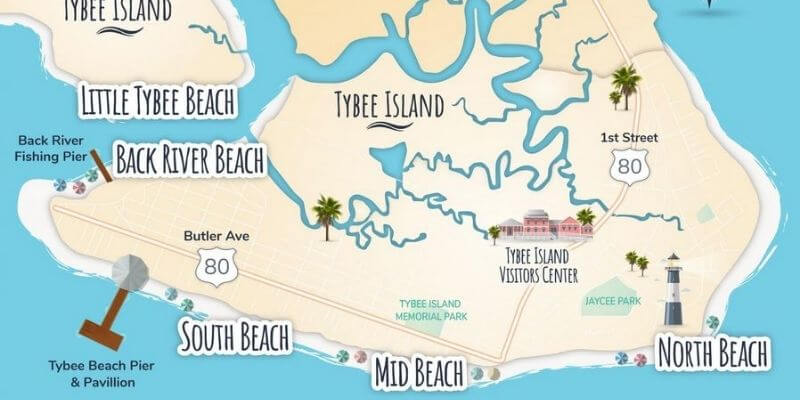 Tybee Island has been blessed with five beaches. Each beach offers their own unique views and coastal vibe. Tybee Island is one of the top-rated beach locations in the country.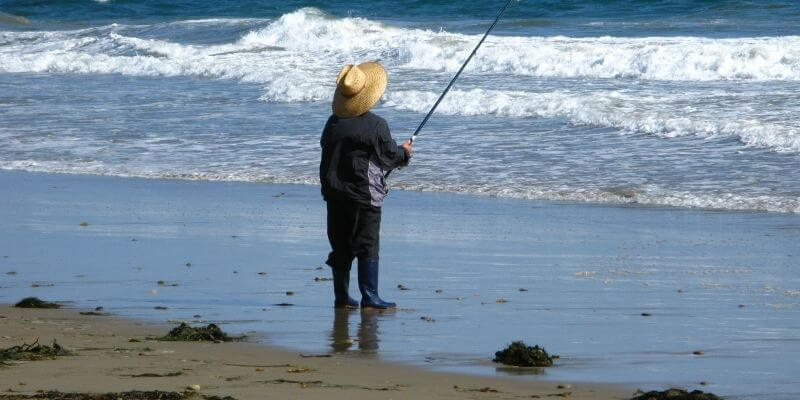 Fishing is just one of the most favorite pastime of residents and visitors. Tybee Island offers some of the best fishing in all of Georgia. With options such as deep-sea fishing, kayak fishing on the Back River, pier fishing, and even fishing right from the beach, it won't be hard to find one that fits into your schedule.
North Beach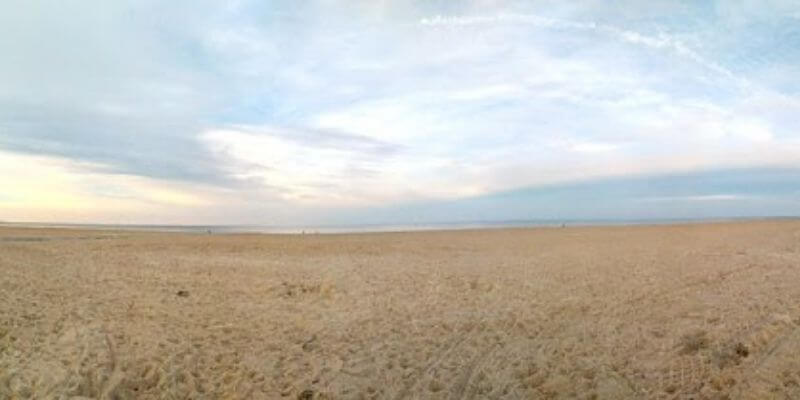 North Beach is the first beach you'll see when you arrive on Tybee Island. It is the closest beach to Savannah, Georgia and also a local favorite. The sand on North Beach is not as fine as the sand on the other Tybee beaches but don't let that stop you. It's the perfect spot to do some ship watching, sunbathing, or to pull up a chair and read a good book.
North Beach offers calmer water and plenty of room for you to have a sandcastle building competition with your sweetie.
Although this is the quieter of the beaches, there are plenty of activities available. While on the beach try your hand at fishing, sailing, kayaking, or even surfing.
North Beach is also known for its shopping district with a vast array of unique specialty boutiques filled with beach trinkets and quaint eateries.
Mid Beach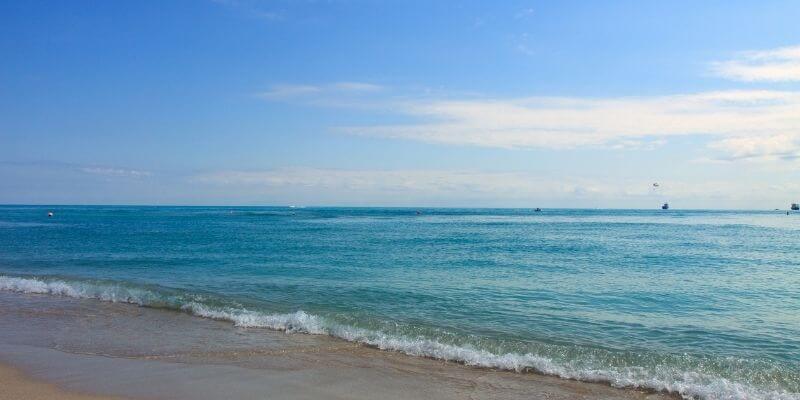 Tybee Islands Mid Beach is nestled in the middle of the island providing access to delicious dining, and beachfront lodging.
If you are looking for some intimate time together this may be the perfect beach. You can even check out the nearby bed and breakfast to complete that romantic beach getaway. DeSoto Beach Bed and Breakfast is the island's closest Bed and Breakfast to the beach. With only 3 rooms this beautifully decorated bed and breakfast remind you of a simpler era. With views of the ocean, you can even just spend your day lazing away in a hammock on their covered porch.
South Beach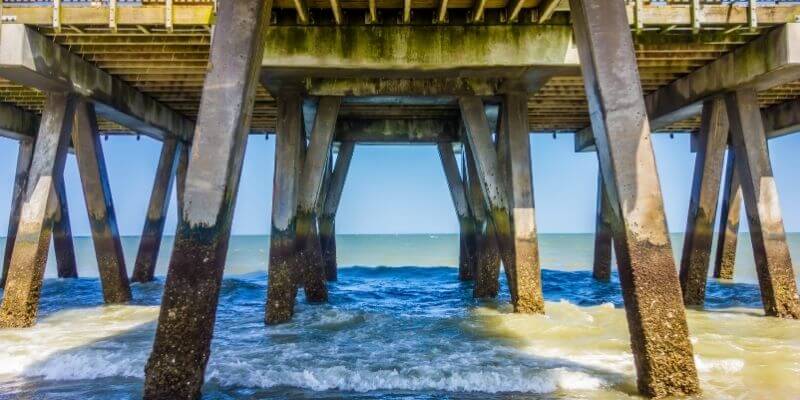 If you have come to Tybee for the fun and excitement, South Beach is calling you. It is the center of attention and easily found by its location to the Pier and many of the island accommodations. Many hotels are within walking distance to South Beach, making it easy to get out of bed and go for a morning stroll to the beach.
South Beach is also home to some of the best seafood eateries. How would a shrimp burger and frozen piña colada served beach side sound?
Little Tybee Beach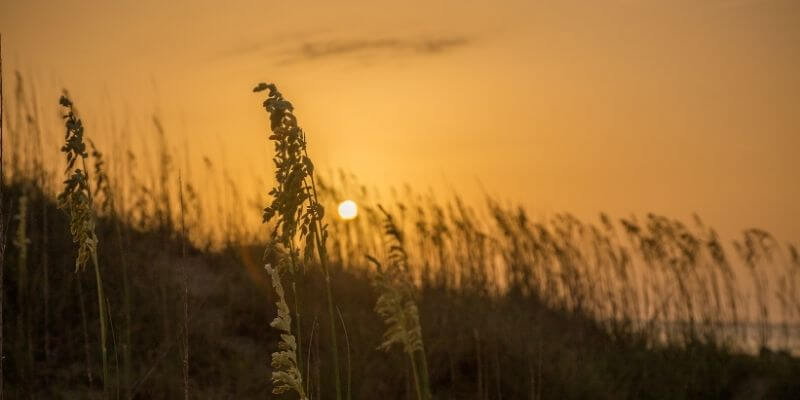 Little Tybee Island Beach is the perfect spot for people who enjoy camping on the beach under the stars. You can fall asleep to the gentle sounds of the waves while you enjoy the splendor of the Tybee night sky.
Little Tybee's pristine beaches and natural dunes also make it a birdwatcher's paradise.
Back River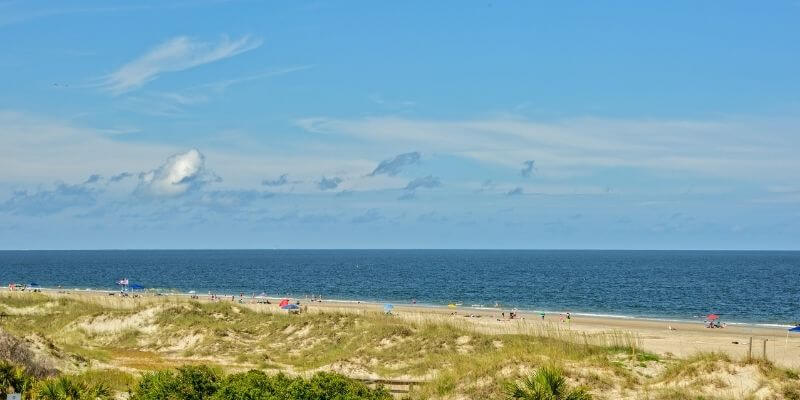 Tucked away on the outskirts of a quiet neighborhood is Tybee's Back River Beach. It is often referred to as the island's best-kept beach secret. It's wide stretch of sandy beach with gently rolling waves offered some of the best dolphin sightings and romantic sunsets. You'll want to sit back and enjoy the view from sunrise to sunset.
Looking for more…Check out a few of our other posts…
*What To Pack For A Beach Vacation
*Legendary Florida Charm on Anna Maria Island
*Essential Tips for Traveling as a Couple
2 | Enjoy a Tybee Island Restaurants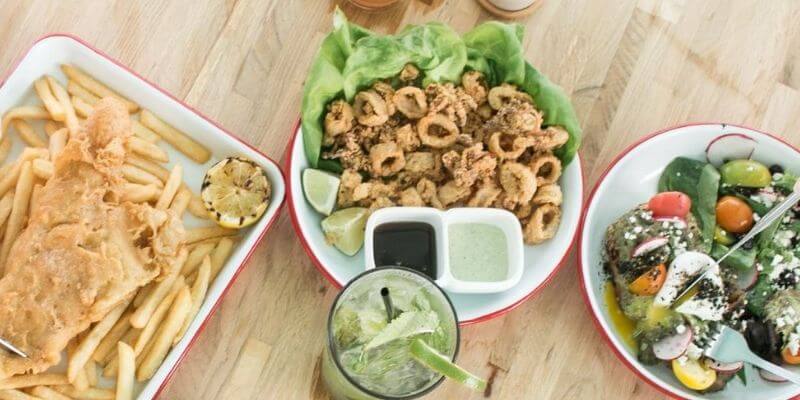 Tybee Island has countless places to grab a bite to eat for lunch on the beach or an exquisite sit-down dinner. Tybee has also been voted the Healthiest Beach in the U.S. by Health Magazine. So if you are looking for healthy eating or delicious fried seafood, Tybee has what will tempt your taste buds.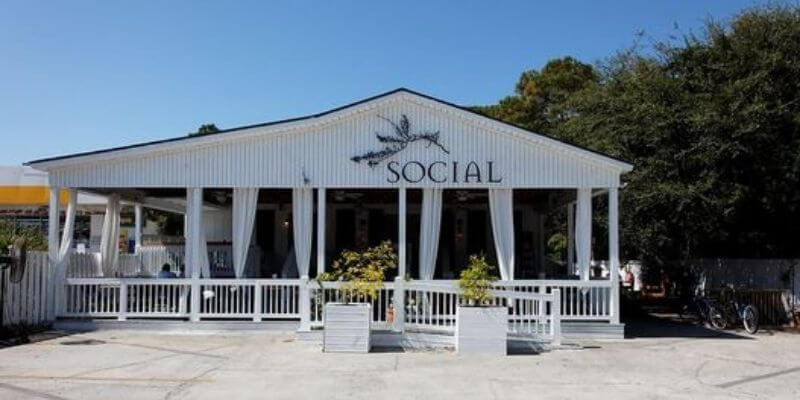 Island Social Club ~ Seriously, if you eat nothing else you need to stop at Tybee Island Social Club. Where to start? the lobster rolls? the fish tacos? the fish sandwiches? the burgers? the steak salad? the sangrias? or Sunday brunch with live music? Oh, and let's not forget the key lime pie! You can't leave Tybee Island without taking your sweetie to the Island Social Club at least once.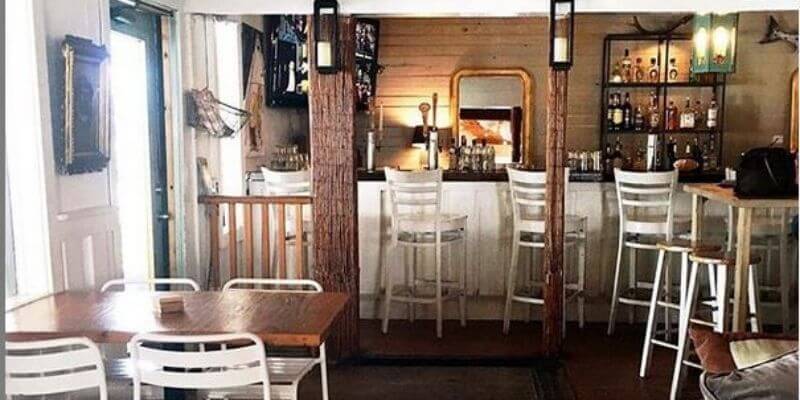 The Deck Beach Bar and Kitchen is Tybee Island's only oceanfront restaurant, conveniently located in the Beachside Colony Resort. They serve tasty coastal cuisine and refreshing beverages!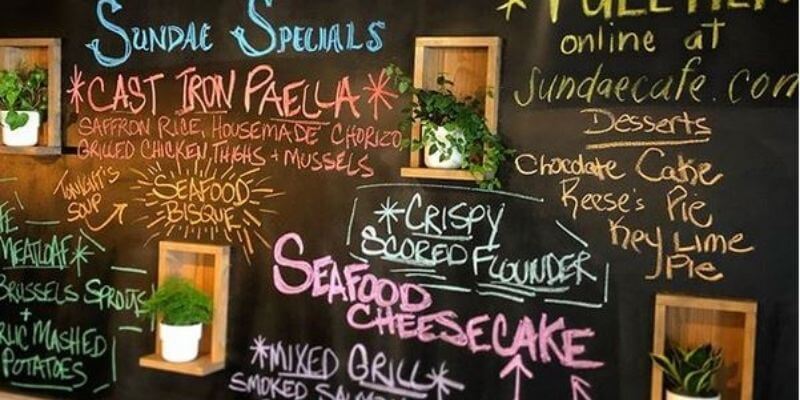 Sundae Cafe seems to be one of Tybee's best-kept dining secrets. I can't figure out how, with items such as lobster pot pie, braised short ribs, meatloaf, flounder, and even seafood cheesecake. They are open for lunch and dinner daily and are waiting for you!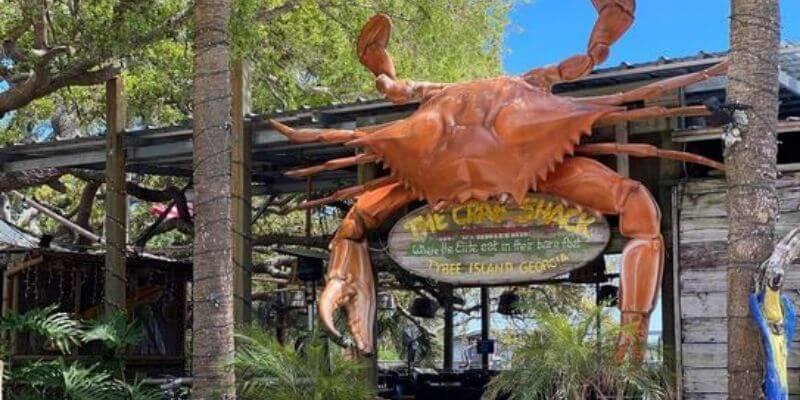 The Crab Shack "Where the elite eat in their bare feet!" The Original Crab Shack at Chimney Creek on Tybee Island offers steamed, boiled, and raw shellfish, as well as BBQ pork and chicken. Lot's of seafood but nothing fried. More than just a restaurant, The Original Crab Shack is a destination and an experience for those visiting or passing through.
One surprise at the Crab Shack was an interactive, "Gator Lagoon" home to live baby alligators and an aviary with rescued exotic birds.
More romantic things to do on Tybee Island for couples
Tybee Island has so many more romantic things for couple to enjoy in addition to the beaches and restaurants. I was amazed at how much there is in just 3 miles.
3 |Porch Sitting on Tybee Island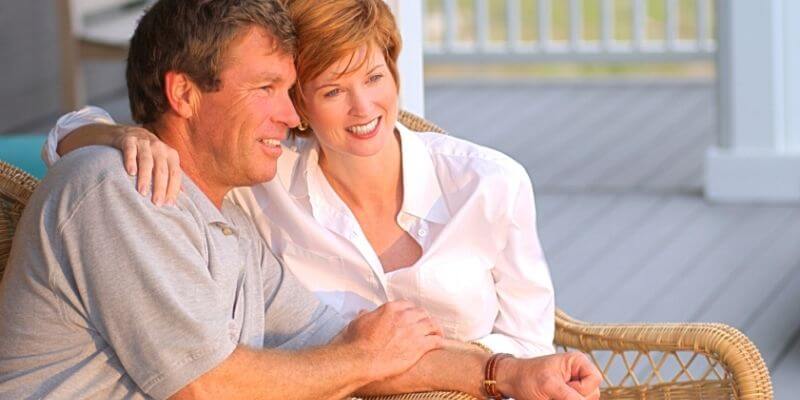 Yes, porch sitting is consider a favorite past time on Tybee Island. Every where you look you will see homes and businesses with porches ~ covered porches, screened porches, open porches, porches with rockers, porches with swings. Surely one of these porches will call your name and become your favorite. Ask any local for the best porch, they will not hesitate to share their favorite.
If you plan on visiting Tybee Island, you may want to practice your parade wave. A local pastime favorite is porch sitting while sipping a morning coffee or evening mint julep. If you happen to be walking past, be prepared to reciprocate a friendly southern greetings and a wave from one of the locals relaxing on their front porch.
4 | Shopping on Tybee Island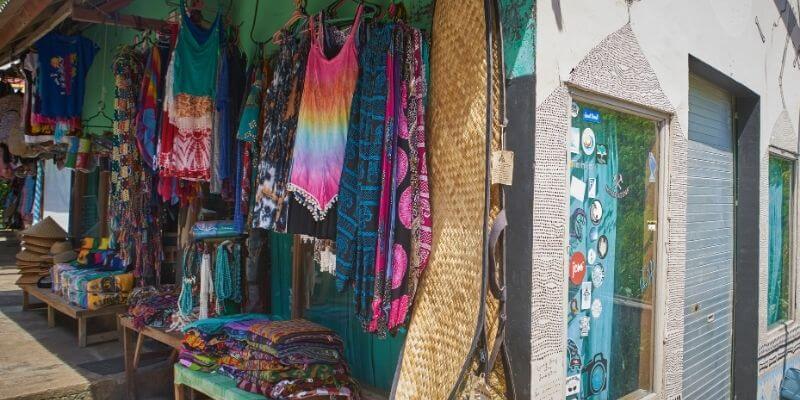 Tybee Island is home to artisans and crafters of all kinds. While strolling down Tybrisa Street, you will find apparel, jewelry, furniture, painting, pottery, photography, gourmet foods, and so much more, all crafted locally.
A trip to Tybee Island is not complete without visiting their beachy stores to grab a piece of Tybee to take home with you. Whether you are looking for a souvenir to take home, or want to pamper yourself with island treats, some of the best island shopping takes place on Tybee Island.
5 | Take a day trip to Savannah, Georgia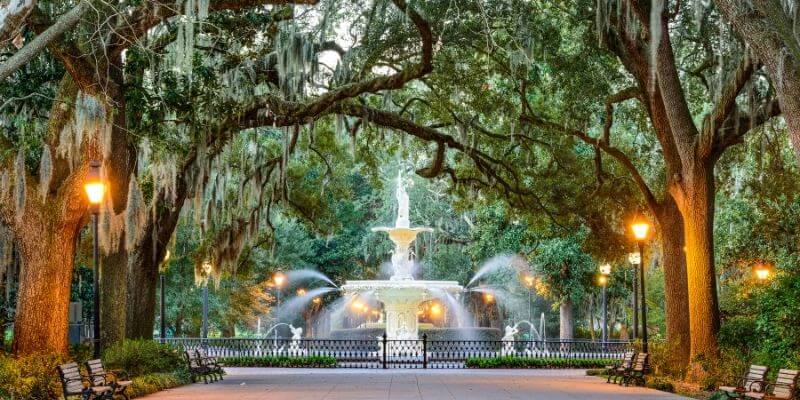 Just a short 30-minute drive from Tybee Island, is historic Savannah, Georgia, the perfect place for a day trip. There is so much to see and do in Savannah you could spend the entire week. If you do find yourself needing a break from the beach you couldn't find a more perfect place than Savannah.
A stroll on Bull Street takes you through Savannah's squares and parks, where some of Savannah's most favorite shops and restaurants await you. Twenty-two iconic squares of towering oak trees covered in Spanish moss and an ornate 160-year-old fountain, offers a perfect place not just for a stroll but a picnic lunch and a ton of memorable pictures.
Looking for more…Check out a few of our other posts…
*How to Stay Healthy While Traveling
*Visiting George Washington Vanderbilt Biltmore Estate
6 | Explore Tybee Island by Bike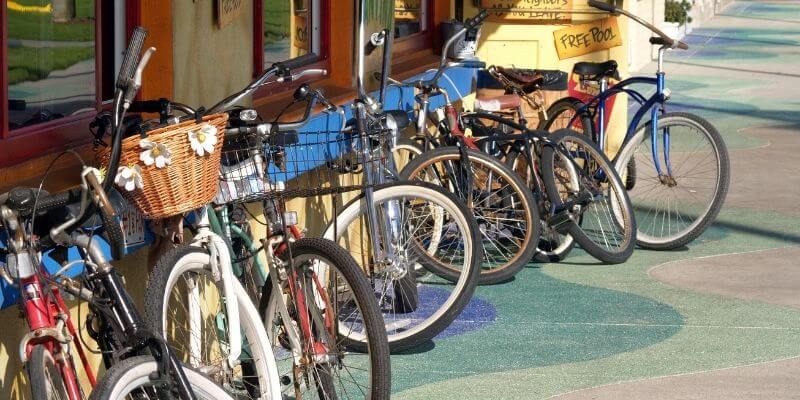 Biking is a good way to get around and enjoy all of the sights and sounds of Tybee Island. With it being only three miles from end to end, biking on Tybee is doable at a comfortable level for everyone.
Don't be concerned about bringing your own bikes, almost every type of bike can be rented on Tybee Island ~ Single bikes, tandem bikes, and even bikes with child strollers towed behind.
7 | Take a dolphin tours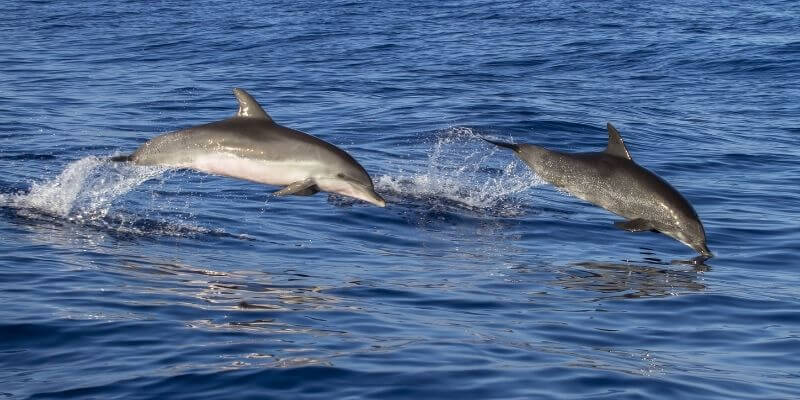 Experience the pleasure of seeing the friendly bottle-nose dolphins playing in their natural habitat while enjoying the beauty of nature and the scenery of Tybee Island from the water. The tour begins with sightseeing of Tybee Islands views of Tybee Islands Lighthouse and Fort Pulaski National Monument.
Captain Mike's Dolphin Tours have been offering the best dolphin tours and sunset cruises for years. They are rated as one of the best tours on Tybee Island by Trip Advisor.
8 | Have a drink with the Tybee locals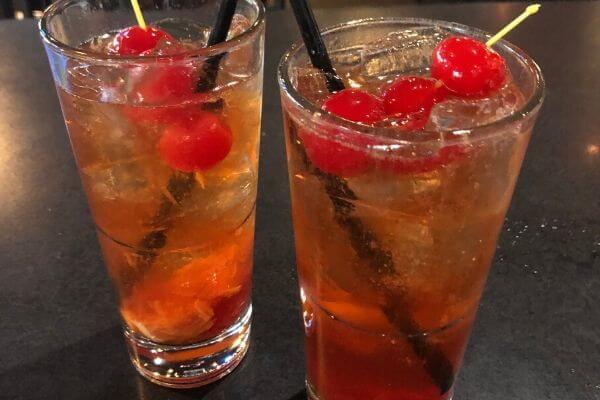 When you are on Tybee Island you are among friends. Everywhere you go you are encouraged to join in and treated like a local. Southern charm, hospitality, and manners are not hard to find on the Island, it is quite the opposite, finding a place where you are not welcome is almost impossible, so why not sit a spell and have a drink with the locals.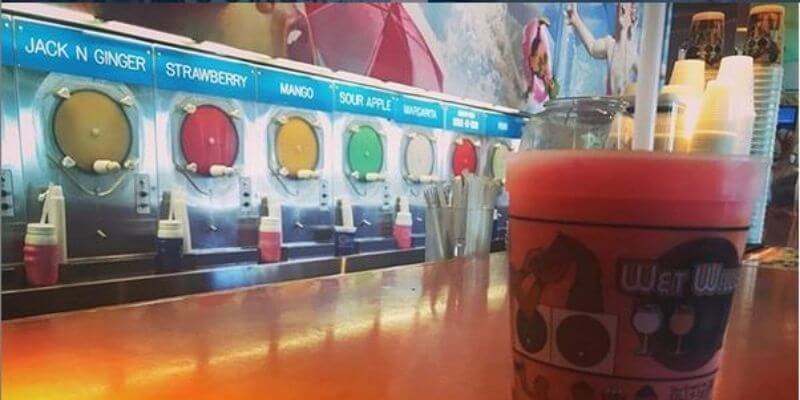 Wet Willies ~ Known for their vast variety of chilly alcoholic slushies. Wet Willies is a beach goer's dream come true. The full wall of icy concoctions available in every flavor and color may seem tough to choose from at first, but once you've sampled and mixed them, you're sure to find your perfect match. This is a perfect match for the younger crowd.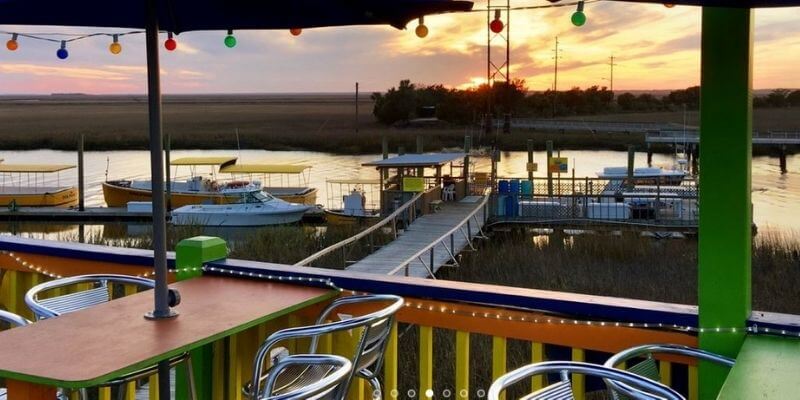 CoCo's Sunset Grill ~ Just as the name implies, this is one of the best spots to watch the sun set. CoCo's is a laid-back restaurant and bar, a favorite of locals and visitors alike. Grab a seat on the roof and raise your glass at their nightly sunset toast.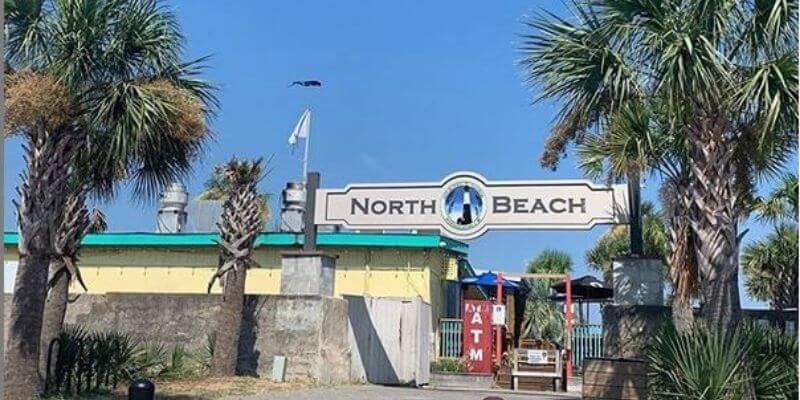 North Beach Bar and Grill ~ What could be better than dinner and drinks beneath the oldest and tallest lighthouse in Georgia? A perfect place for a cold beer or tasty daiquiri while you soak up the scenery. Their Caribbean menu is a culinary treat.
9 | Visit Tybee's Lighthouse and Museum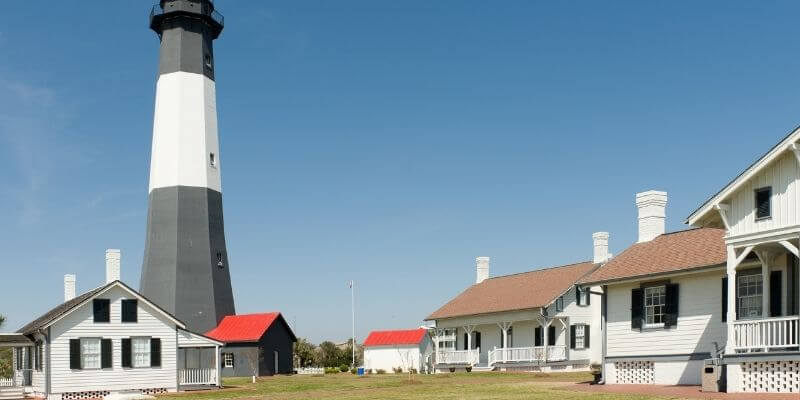 Tybee Lighthouse is Georgia's oldest and tallest lighthouse. The original lighthouse dates back over 285 years. In 1732 General Jame Oglethorpe, Governor of the 13th Colony ordered the construction of the original lighthouse. It has been guiding mariners safely into the entrance of the Savannah River ever since. It was also used as a signal tower to warn of British attacks during the War of 1812.
Although it has been rebuilt several times throughout the years, the Tybee Lighthouse and Museum is one of America's most intact lighthouses having all of its historic buildings on its five-acre site.
The lighthouse stands 145 feet tall and has 178 steps to get to the top, where you get an amazing view of the surrounding coastal area and the nearby light-keeper's cottages.
10 | Explore Fort Pulaski National Monument on Tybee Island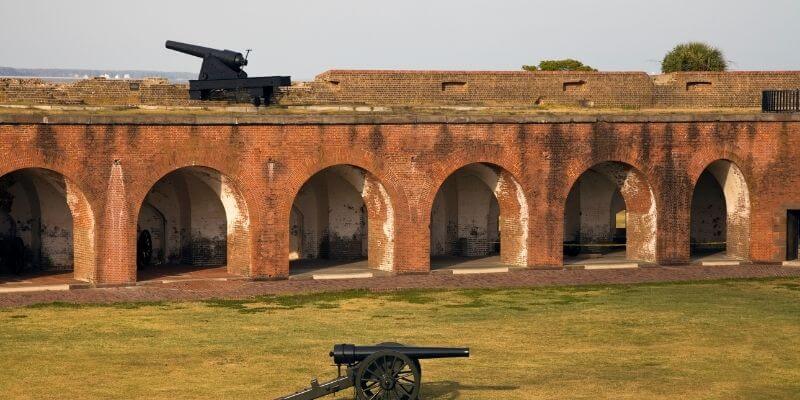 At Fort Pulaski National Monument you'll follow in the footsteps of the revolutionary thinkers, fearless commanders, and thousands of soldiers who built and fought for control of this massive fort. Guided tours and historic weapon demonstrations await guests visiting the fort.
Fort Pulaski was built between 1829 and 1847 on Cockspur Island to guard the sea-approach to Savannah. It was named after Casimir Pulaski who lost his life in an unsuccessful siege of Savannah.
In 1862 at Fort Pulaski rifled cannon were used in warfare for the very first time.
11 | Visit Little Tybee Island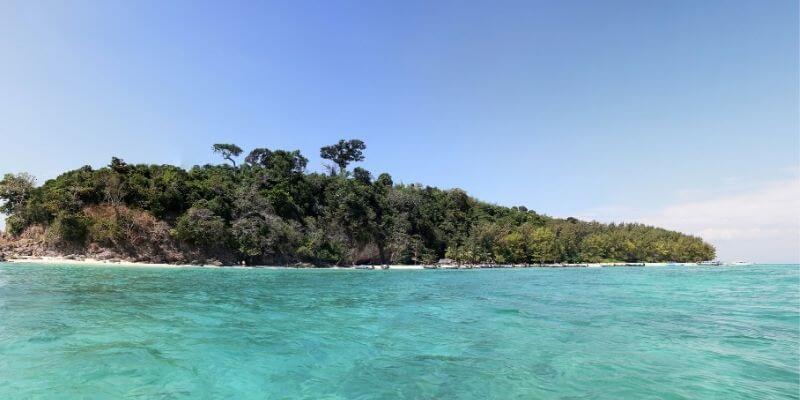 Just south of Tybee Island lies an uninhabited nature preserve called Little Tybee Island. This treasure is twice the size of Tybee Island and often overlooked by those visiting because it is only accessible by boat.
Little Tybee Island is the perfect location if you enjoy camping under the stars. Imagine falling asleep to the gentle sounds of the waves while you enjoy the stars of the Tybee night sky.
Nature buffs and bird watchers are also in for a treat. Little Tybee Islands wilderness showcases rich coastal salt marshes, pristine beaches and nature dunes – making it a birdwatcher's paradise.
12 | Enjoy Tybee's Sunset Together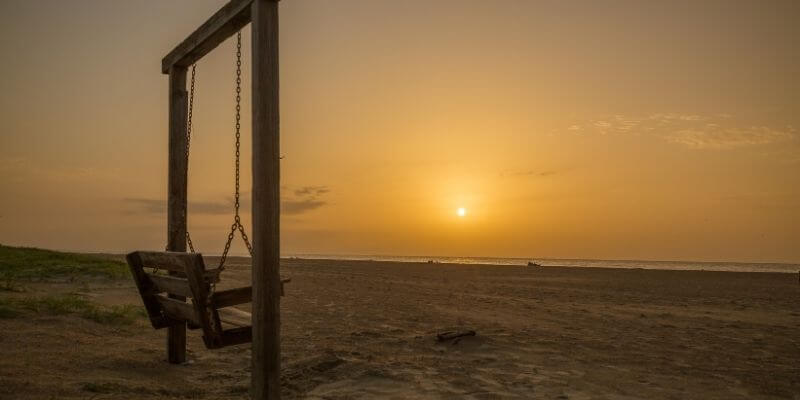 I can't think of a more perfect way to end the day on Tybee Island than to enjoy it's sunset. Whether sunset is your favorite time of day or not, Tybee is the perfect place to be. Imagine toasting to a day on the water while enjoying a romantic evening picnic with your sweetie.
PIN IT FOR LATER
There are romantic things for couples on Tybee Island around every corner. If you are looking for relaxation, fun, excitement, great seafood or just a little romance, you don't need to look any further than Tybee Island.
Thanks for stopping by. We love making new friends!
If you would like to reach us with a feature idea
or discuss an idea or product our readers will enjoy,
please email us at ~ [email protected]
We would love to partner with you to feature your travel destination.

Want to follow along? We love making new friends!
Follow us on Social Media.
Facebook @ Love and our Laptop Lives
Pinterest @ Love and our Laptop Lives
Instagram @ Love our Laptop Lives
Twitter @ Love and our Laptop Lives
Youtube @ Love and our Laptop Lives
Amazon Store @ Love and our Laptop Lives