What To Expect When Visiting The RV Hall Of Fame Elkhart, Indiana

"Located in the heart of the RV Capitol of the World is the RV Hall of Fame Museum. You will find some of the earliest and most interesting RVs ever to hit the road on display."
In 2020 we decided to take on a new way of travel. Gary and I (Michelle) love the excitement of the busy airport and stepping off the airplane in an exciting new place, but a virus put a damper on our chosen way of travel. So what do travel bloggers do? We find a new way to travel.
We took on the adventure of discovering more about our home state of Wisconsin. Having grown up in Wisconsin, we didn't expect to find as many "new to us" adventures as we did. We found ourselves taking bi-weekly road trips throughout the cheese state.
Those Wisconsin road trips lead us to fall in love with the adventure of the road. So much so that we purchased a travel trailer in the summer of 2021 to experience life on the road.
We did not know at the time that this travel trailer purchase would set about a chain reaction changing many things in our lives. It's exciting!!
Our purchase was a Grand Design Imagine travel trailer. It will become our traveling home on wheels.
Watch for the coming blogs on that process. What an adventure that purchase was.
After purchasing our Grand Design travel trailer, we knew we needed to learn as much as we could about RVing and the manufacturer of our RV as we could.
Although we knew we had fallen in love with the freedom of the road, we were new to the RV lifestyle. That desire and need took us on our first trip to Elkhart, Indiana, to attend the Grand Design National Owners Rally.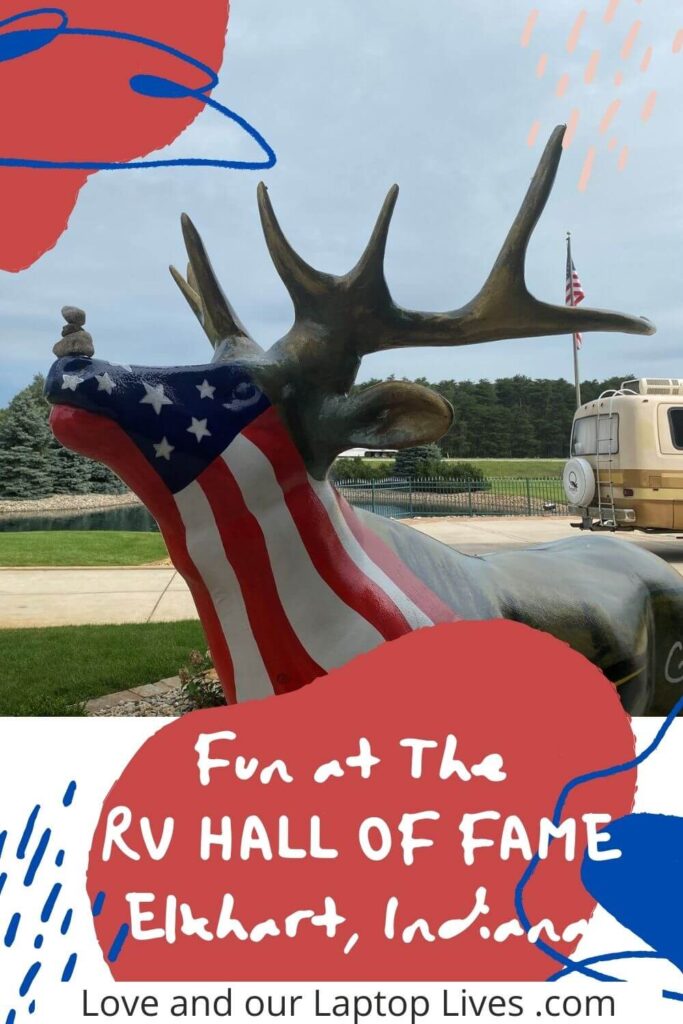 This post may contain affiliate or sponsored links. If you click on a link and make a purchase, I may receive a small commission (at no additional cost to you). Please see my full disclosure policy for details.
We seldom travel from point "A" to point "B" without detouring someplace, and this trip was no different. While traveling from Wisconsin to Indiana and making a nail-biting way through Chicago, Illinois skyway, we had to stop at the RV Hall of Fame Museum in Elkhart, Indiana.
Over 80% of all RVs are manufactured in Elkhart, Indiana, and it is considered the "RV Capital of the World." So when you find yourself traveling through the Rv Capital of the world in an RV, and you stumble across the RV Hall of Fame, it's pretty much a given that a stop is in order.
What is the RV Hall of Fame?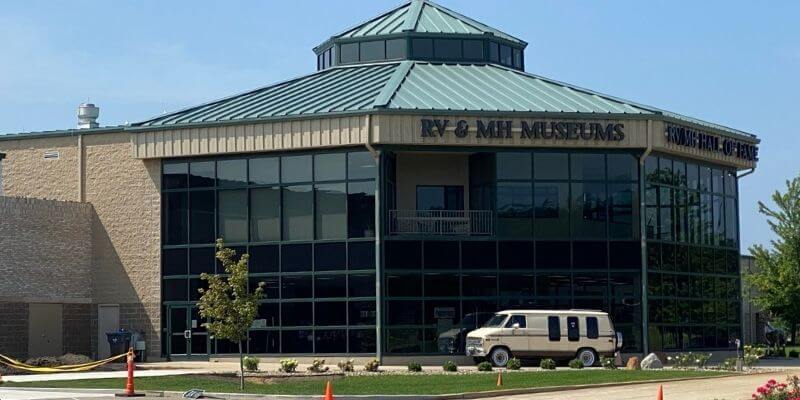 We had no idea what to expect. This stop was not on our radar, and we had not done any research before getting there. Since visiting, we have been so excited to share this fun place with you. You should visit the RV Hall of Fame at least once if you love RVing.
According to the RV Hall of Fame they are a place that recognizes, preserves, and honors the history, pioneers, and individuals who have been making the RV industry what it is today.
This one-of-a-kind museum provides a walk-through of RV history. You can experience almost a century of RV models and learn how RVs have changed over the years. This museum has RVs on display from the early 1900s until present-day models.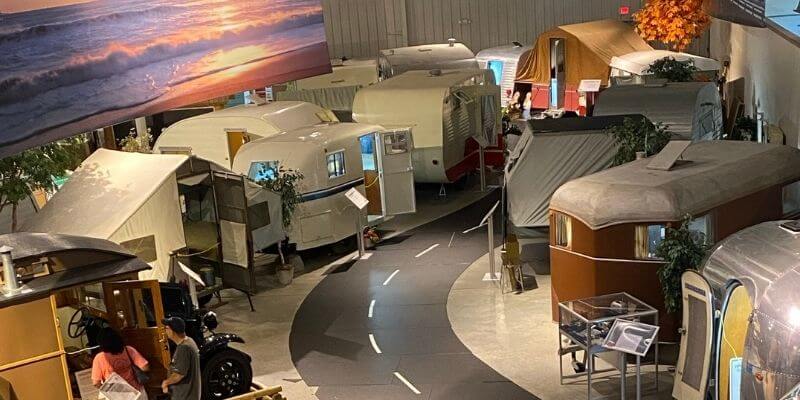 As you stroll through the museum on the almost whimsical road, It will take you on a journey from the beginning of the RV dream. Showcasing, the fun, the elaborate, the simple, and a few of the most sought-after RVs in history.
You can step inside many RVs on display and picture, feel, and even smell what it would have been like to RV almost 100 years ago.
Each RV, even the simplest ones, is unique and played a role in making RVing what it is today. These are just some of the highlights of our visit.
The 1913 "Earl" Travel Trailer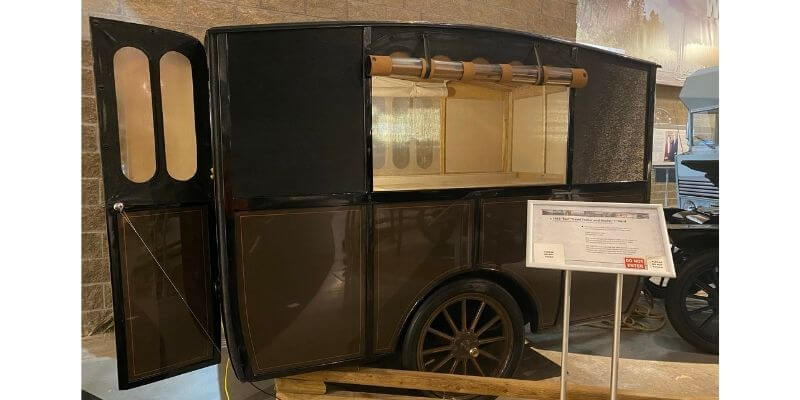 The oldest RV on display at the RV Hall of Fame is a 1913 "Earl" Travel Trailer with a Model "T" For companion. This is the oldest known non-tent travel trailer in the world. It was custom-made for a Cal Tech Professor by a Los Angeles carriage maker.
The "Earl" has a dining table that seats four, converts into a bed, and has storage on both benches, just like many of today's RVs do. Very simple, yet at the time, I'm sure very elaborate.
1916 Model T Telescope Apartment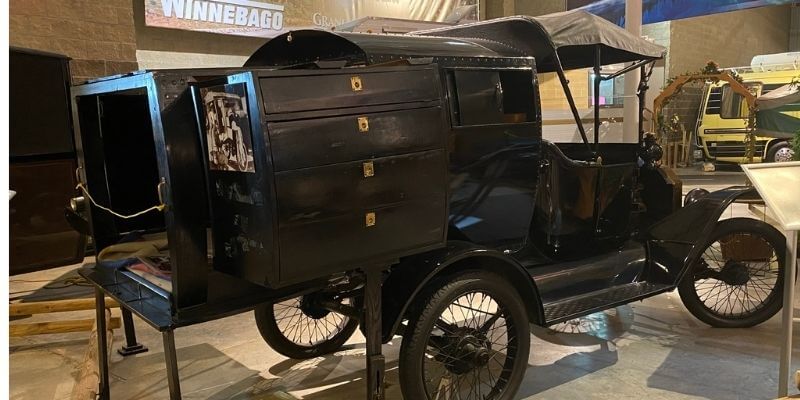 A 1916 Model T pickup truck that has been converted to an RV mobile home. The pickup box was so short that they made the bed telescope out so a bed would fit, similar to today's slide-out.
This 1916 Automobile Telescope Apartment was made in San Francisco and sold for $100.
The woodwork inside and out shows true creativity. Not a bad way to travel and live on the road.
It is very rare. Only two campers like this still exist today.
1916 Cozy Camp Tent Trailer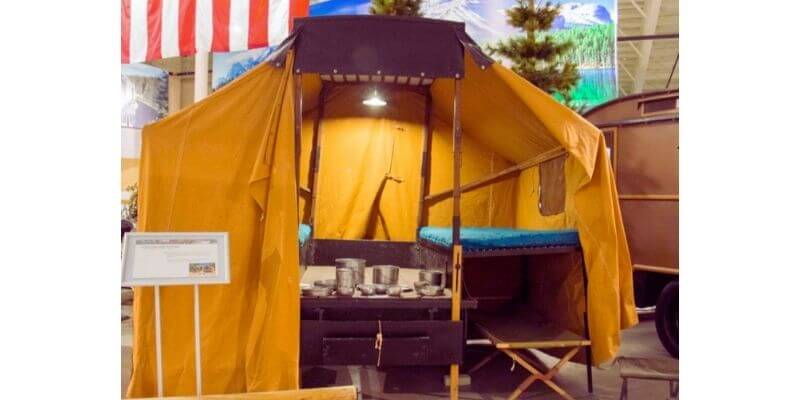 Habig Manufacturing of Indianapolis manufactured this Cozy Camp Tent Trailer. It is said to be the earliest version of a tent trailer. The Cozy Camp Tent Trailer advertisement noted one man could set it up in seven minutes.
It is also one of the first trailer models to be commercially produced.
1931 Tennessee Traveler Housecar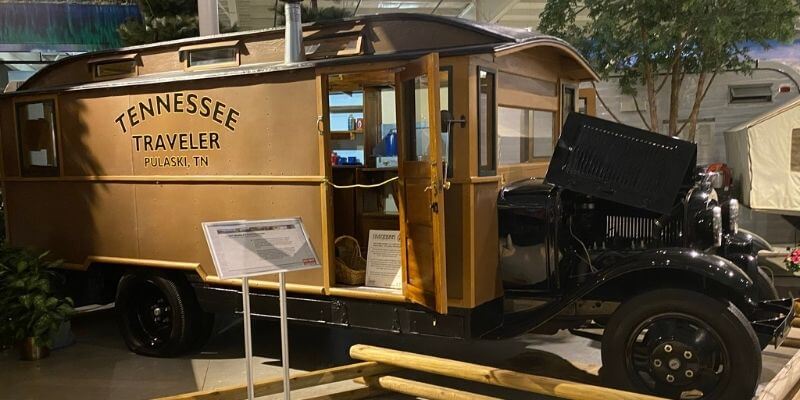 This 1931 House Car, called the Tennessee Traveler Housecar, was constructed from a Model AA. Local craftsmen customizing your vehicle was common, leaving many early versions of this Travel Trailer.
1937 Hunt Housecar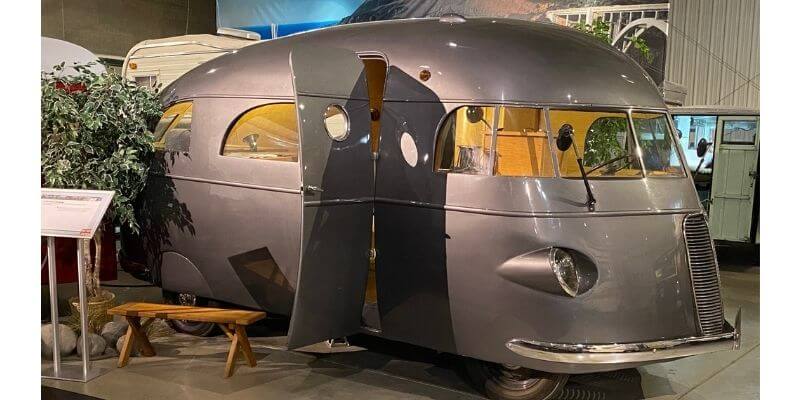 Hunt Housecar was manufactured in 1937. This was one of several unique housecars that Roy Hunt, a Hollywood cinematographer, made between 1935 and 1945.
This unit is designated "The Star" because of the star ornament on the vehicle. An identical vehicle, "The Turtle," is in another museum collection in California. The units are identical except for the emblem.
The hunt housecar was one of the first motor homes to have a combo shower and toilet.
1954 Yellowstone Travel Trailer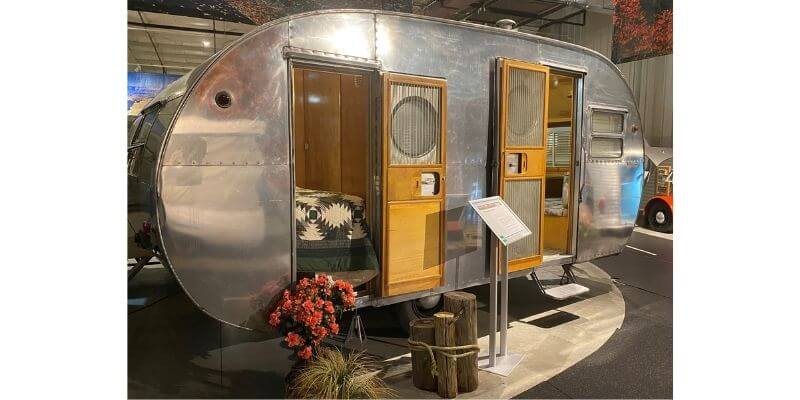 Yellowstone founder Elmer Weaver built this model in the late 40s and early 50s. It featured a bright aluminum exterior, an all-birch interior, and residential appliances.
Holiday Rambler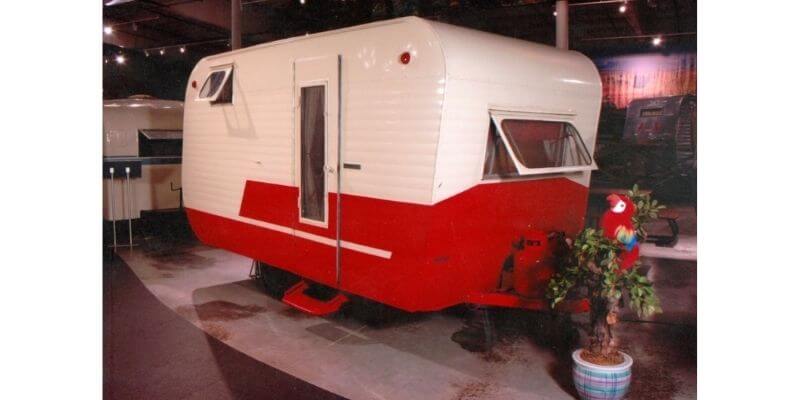 Holiday Rambler was a very popular RV for many years. They are responsible for many firsts in the RV industry. Holiday Rambler was the first to introduce the aluminum frame, ushering in an era of lighter and stronger RVs.
Holiday Rambler was also the first to feature built-in refrigerators, holding tanks, and slide-outs. In 1986 Holiday Rambler was sold to Harley Davidson, who turned around and sold it to Monaco Coach ten years later.
To know more about Harley Davidson's unique story, take a peek at our visit to The Harley Davidson Museum, Milwaukee, Wisconsin.
For even more Harley Davidson adventures, check out Doc's Harley Davidson. This is a very unique, over-the-top Harley Davidson experience that you won't want to miss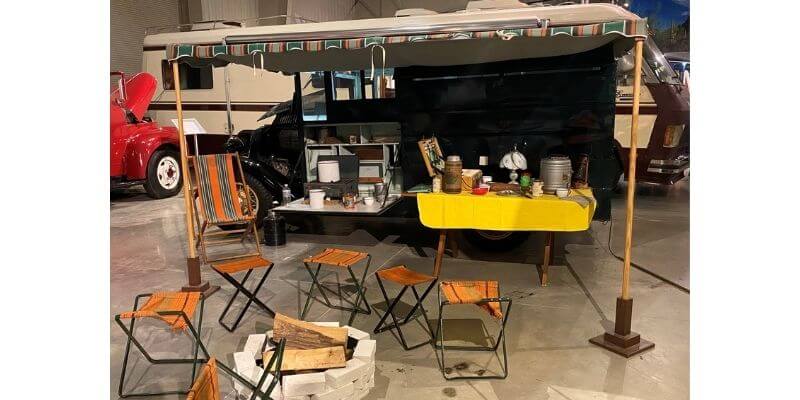 You will find the museum filled with so many additional unique RVs, like a 1939 Lindbergh Travel Trailer owned by Charles Lindberg.
The RV Hall of Fame in Elkhart, Indiana, is the only place to see Mae West's original 1931 Chevrolet Housecar. Bodville made the unit just for her to use as a dressing room. Mae Wests Housecar has a value of over 1/2 million dollars.
Do you remember seeing the movie with Lucille Ball called The Long, Long Trailer? One of the RV trailers at the Hall of Fame reminds me of the trailer in the movie. Although not the trailer used for the film, I felt like I was on the movie set and could picture Lucie's shenanigans when I stepped inside and sat down.
You will also see a covered wagon trailer, the smallest airstream trailer ever manufactured, a scale model of a present-day RV manufacturing facility, a collection of RV toys and models, a library of RV periodicals throughout the years, and so much more.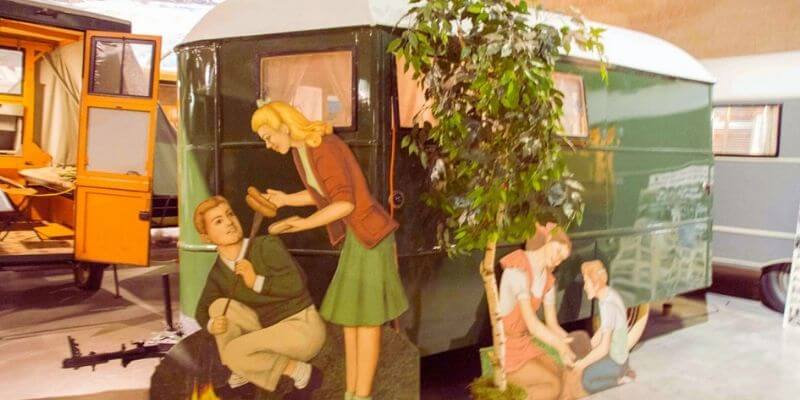 Location
The RV- MH Hall of Fame is located at:
21565 Executive Parkway, Elkhart, Indiana
Museum Admission
(At the time of publishing)
Adults ~ $12
Children (6-16) ~ $9
Children (5 and under) ~ Free
Seniors (60 and over) ~ $10
Hours
Hours vary from summer to winter – Call to confirm before visiting
Accommodations
The RV Hall of Fame is a member of "Harvest Host," A membership program that provides RVer access to wineries, farms, breweries, museums, and other unique attractions that invite self-contained RVers to stay overnight.
Members of the Harvest Host program and museum guests are welcome to stay overnight at the RV Hall of Fame Museum. No hookups are available, but guests can use their generators while respecting other guests.
For additional information on Harvest Host, please visit their website ~ www.harvesthost.com.
If a trip to the RV Hall of Fame is in your future, Pin me for later ~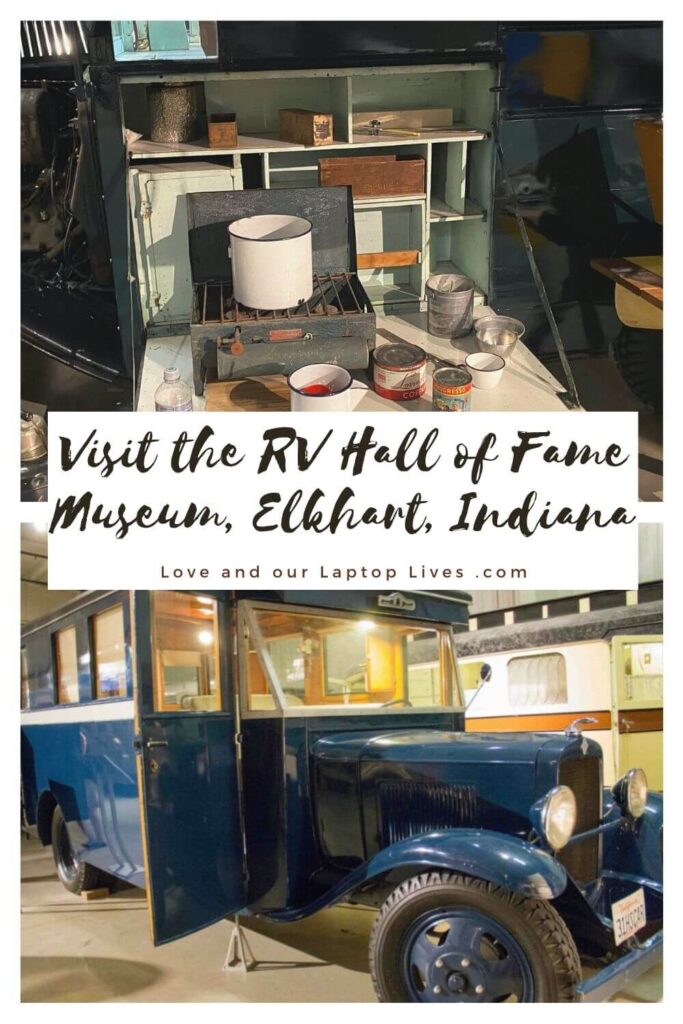 We thought our visit to the RV Hall Fame Museum would be a quick stop, but we spent about three hours looking at all the unique RVs and learning the history of RVing.
For us, this stop was worth the $12 it cost us to get in.
You may want to add this to your adventures when you find yourself in the Elkhart, Indiana area.
We would love to know if you have visited the RV Hall of Fame Museum in Elkhart, Indiana, and your thoughts. Please comment below and let us know.