Creative Ideas For A Romantic Dinner At Home

Creative ideas that will inspire you to plan your own romantic dinner at home for that special person in your life—use these easy tips to make the evening all about romance.
Imagine walking into the house after a long day at work to romantic music playing, candles lit, and the table set for a romantic dinner at home. How would you feel? You slip off your shoes and are handed a white wine (or your favorite beverage).
You would feel loved. You would feel appreciated. You would feel pampered. You would feel relieved that you didn't have to cook dinner. Just that quick visual as you walk through the door sets the mood for the evening.
There are many reasons to have a romantic dinner at home. A treat for your spouse, an intimate date away from the crowded restaurant, a celebration, or just a way to say "I Love You."
Regardless, the recipient feels showered with love, and the evening is filled with romance.
Creating these feelings and moments at home doesn't have to be a daunting task; it does not have to be something that takes days to prepare for.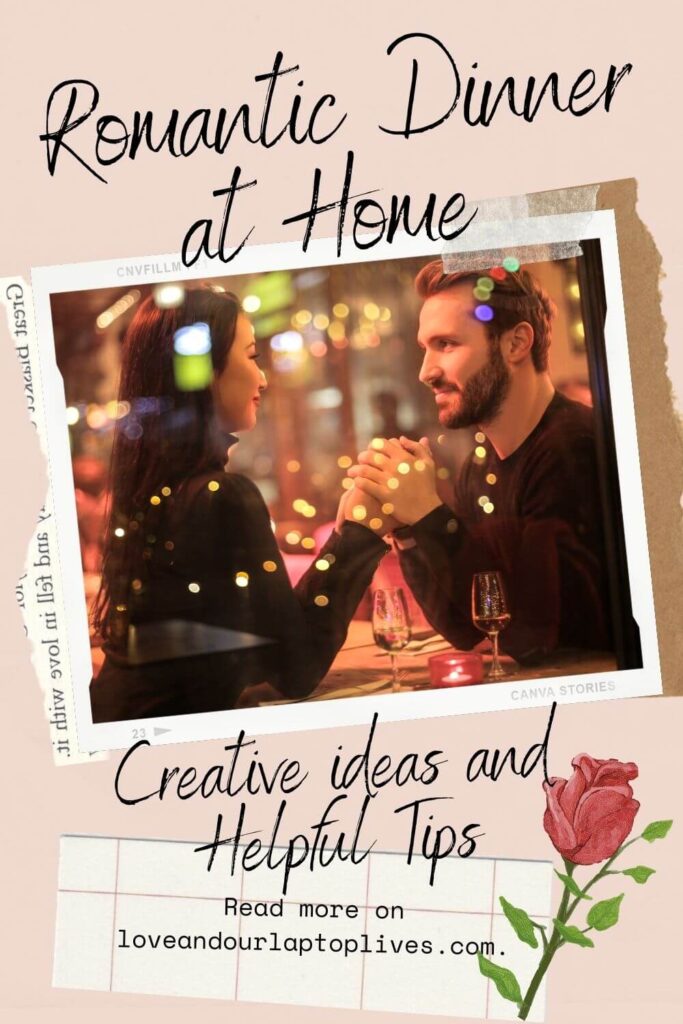 This post may contain affiliate or sponsored links. If you click on a link and make a purchase, I may receive a small commission (at no additional cost to you). Please see my full disclosure policy for details.
Tips for a memorable romantic dinner at home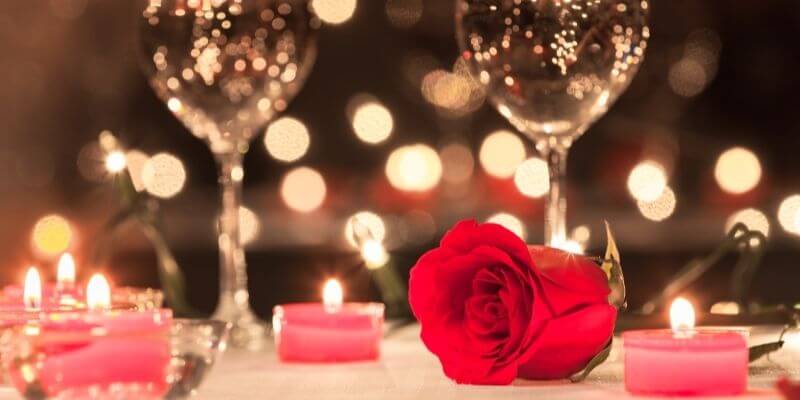 Set the stage ~ Candles and flowers are two effortless ways to set the mood. They are two items that can be purchased at your local department store.
Invitation ~ Find a creative way to invite or surprise your loved one to dinner, maybe a fun text or playful email at work.
One weekend when I had to work and Gary did not, he surprised me with a romantic dinner. To make sure everything went off the way he planned, he left me a text at work to message him when I was on my way because he needed me to stop at the store. After work, I called him to find out what I needed to pick up, only to be told he no longer needed it. I didn't know that my call was his signal to put the lobsters in the butter to poach.
Plan your Meal ~ Your Romantic Dinner at home does not have to be entirely over the top but plan so everything is not last minute. Even if you plan to get take out ~ yes, it's ok to do take out.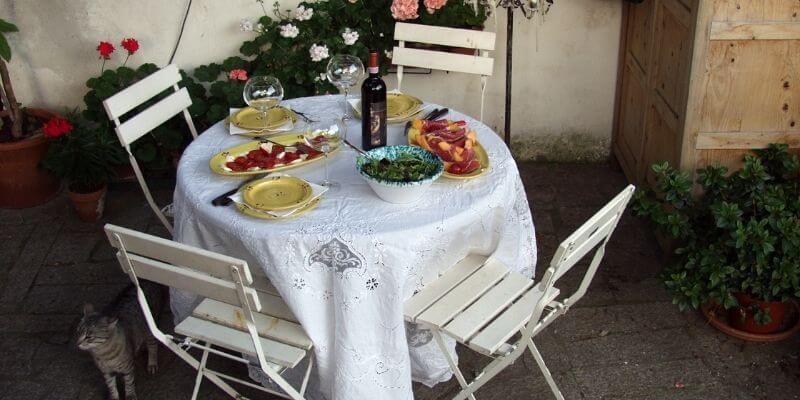 Set the Table ~ Candles and a table cloth or placemats make your table look elegant. Get creative when it comes to your table. Think out of the box, set the table up on the patio, under the big oak tree outback, a blanket by the pool, or even a blanket by the fireplace. Add a bunch of twinkle lights, and you have an excellent setting for your romantic dinner at home.
If you want more than a romantic dinner at home, get some creative ideas with our Romantic Staycation Ideas.
Set the Mood ~ That Romantic dinner at home starts with the mood. Add soft music to the candlelight and twinkle lights, and you have the start of a romantic night.
Get rid of the Distractions ~ The last thing you want is unwelcomed distractions. Turn off the phones, computer, and TV during dinner. If you are outside, spray for bugs ahead of time. Your partner gets all your attention.
Dessert ~ No matter how elaborate or simple your meal is, don't forget the dessert and top it with whipped cream.
Plan for after Dinner ~ Have a plan for after your romantic dinner at home, whether it's cuddling by firelight, a romantic DVD, or chocolates and strawberries in the living room. Have a plan, but not set in stone. Leave room for spontaneity.
All of these things are easy, right?! Many of them should come naturally.
We have more At Home Date Night Ideas to bring love and romance to the home front.
Creative Meal Ideas for an at-home Romantic Dinner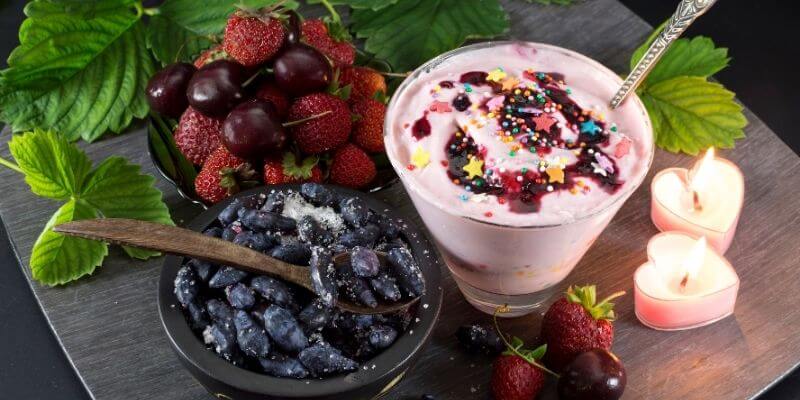 For some, the meal is the scary part. Even if you can master setting the mood, there is sometimes a fear of preparing the meal itself. I am no master chef. Gary is better in the kitchen than I am. Yet when it comes to pulling off a romantic dinner for the two of us at home, I've got some tips that help make it seem effortless.
Know your partner's favorites ~ Know what your Honey likes to eat—a seafood meal does not seem romantic if they would rather have a pizza.
Pizza is an acceptable option ~ Yes, you heard that right. It is ok to serve pizza for a romantic dinner at home. This is where your setting the mood comes in. I had a disappointed friend that he couldn't surprise his wife with a romantic dinner because first, he wasn't much of a cook, and she was that person who could eat nothing but pizza if you let her.
Following a few suggestions, he set the stage for the perfect evening. He picked up flowers, gathered all the candles he could find throughout the house, set up the table on their deck, and piped some music. He mixed up a pre-packaged salad from the local deli and dessert from their favorite bakery. His wife's favorite pizza was ordered to arrive just before she got home from work.
They both talked about that magical night for months. For him, it wasn't rocket science. He didn't have to master that fancy recipe, wash many dishes, and show his wife how loved and appreciated she was. His wife was blown away by his thoughtfulness and made every woman at work jealous by sharing how loving her husband was to go to such efforts just for her.
Try something new ~ I tread cautiously here. A romantic dinner at home can be the perfect time to try something new, or it can be a nightmare. If you are generally not in the kitchen, just the thought that you would attempt a romantic dinner at home may be what makes the night romantic. Make sure you both have an adventurous attitude in case the meal does not turn out.
If you want to try something new, I recommend doing it as a team. One of our favorite romantic at-home dinner dates involved us trying to make fondue at home for the first time. We planned the meal together, went shopping, did all the prep work, and shared the day's romance. Fondue can be a very intimate meal.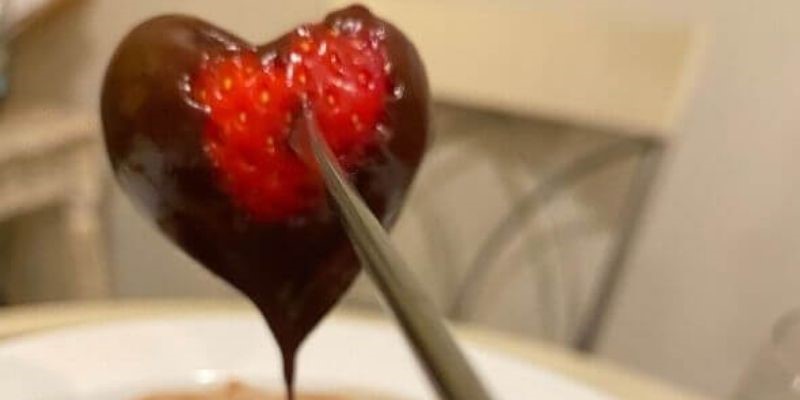 Our Romantic Fondue Date post has a few of the recipes we used. Even if you don't have a fondue pot, these are amazing.
Think outside the box ~ I know we previously said to plan ahead, but if an opportunity presents itself, don't let anything stop you from adding some romance to your relationship.
Gary reminded me that as much as I would like to think he plans, there are times when a romantic dinner at home does happen at the spur of the moment. One recent evening, Gary and I were talking on the phone while he was working late, and I was busy writing a blog post. I mentioned that even though it was late, I had not planned supper, and we could figure it out together when he gets home.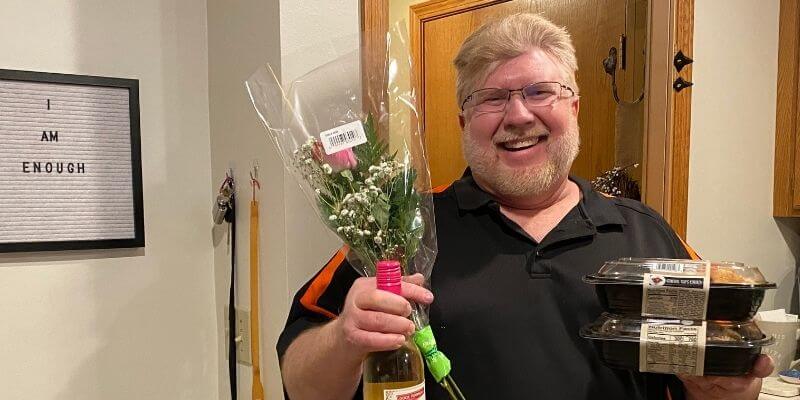 On his way home, Gary stopped at our local Kwik Trip and picked up a couple of their new take-home meals, a bottle of wine, and some flowers. Seeing him walk in the door with flowers, wine, and food in his arms made for the start of a perfect romantic evening, starting with dinner for two.
*For those not from Wisconsin and unfamiliar with Kwik Trip ~ It is a family-owned chain of convenience stores founded in 1965 with over 600 locations throughout Wisconsin and Minnesota. Kwik Trip is one of our favorite places to grab our necessities.

Read more about the Kwik Trip Story and see why they are one of our favorite places. Any place where Gary can pick up wine and flowers to surprise me is my kind of place.
Extra romantic foods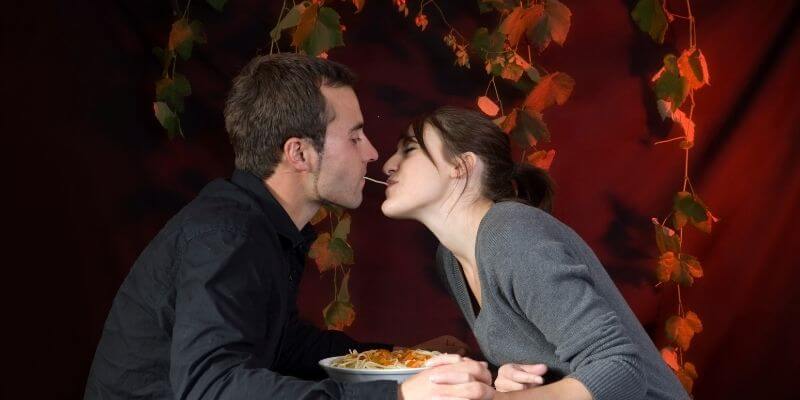 Whether single and creating a date night or happily in a relationship, they say that food is the way to someone's heart. These foods will take your romantic dinner at home to the next level. Adding any of these romantic foods might get each other in the mood for love.
Spaghetti ~ Have you ever seen Lady and the Tramp? You know you want to try this. How romantic when your lips touch.
Oysters ~ Casanova allegedly ate 50 oysters a day. Is it possible that this is what made him so lucky in love? Oysters are known as an aphrodisiac.
Chocolate ~ Chocolate brings on visions of romance and lets your partner know love is in your eyes. Chocolate helps the brain produce serotonin, which causes you to feel good.
Strawberries ~ are associated with the Goddess of Love, Venus. They are known as the Valentine fruit ~ red, heart-shaped and juicy.
Dipping the strawberries in chocolate becomes a sensual snack that makes your lips extra sweet and more kissable.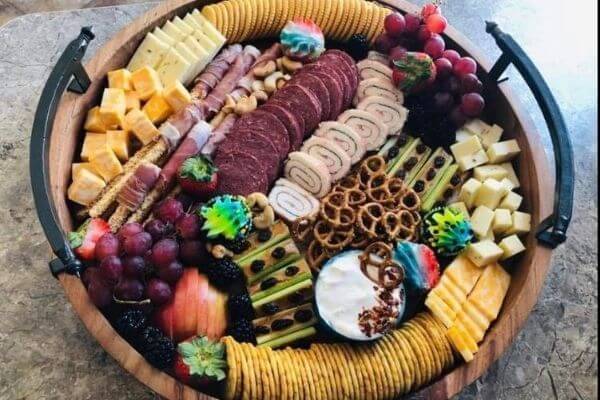 Finger foods ~ Sharing finger foods with someone is fun and romantic. It sets the stage for a fun evening.
A charcuterie board makes a fun and romantic dinner at home, and no cooking is needed. Our blog post will show you how to make your own romantic charcuterie board.
Fondue ~ There is something intimate about dipping into a bowl of cheese or chocolate with that special someone you love.
Whipped Cream ~ No dessert is complete without whipped cream. Light, fluffy, sweet, fun, and playful.
Any of these will take your romantic dinner at home over the top. But the essential element is spending time with each other, and your focus is on your partner. This is not the time to discuss the kids.
For years I was happy with a salad or sandwich. Who likes cooking for one? When Gary moved in, it took me some time to adjust to him being in the kitchen, and now wow. The sparks started to fly when we started 'cooking' together.
A romantic dinner at home says, "I love you," and you are the one I want to spend time with, uninterrupted.
Use these tips to start planning your romantic dinner for two tonight!
Pin me for later, so I'm easy to find.