20 Almost Forgotten Christmas Traditions That Will Rekindle Christmas Magic

Over the years things change, families grow, people move, jobs change, and our kids grow up. It doesn't matter what the change is. Over the holidays, it's nice to have some Christmas traditions that are the same from year to year.
Every family has different Christmas traditions. I have noticed that traditions are passed down in families ~ many times without even realizing it. Yet all too sad is the fact that some traditions get lost over the years.
One of the traditions for my family was that we always got dressed up and went to church on Christmas Eve for the kid's Christmas Pageant and then over to my grandparents for gifts.
When my grandparents passed away, it was important to continue that tradition. Without it, the holidays did not seem right. Even today, one way or another, kids, grandkids, and even great-grandkids prepare to head to my mom's for Christmas Eve. I love it!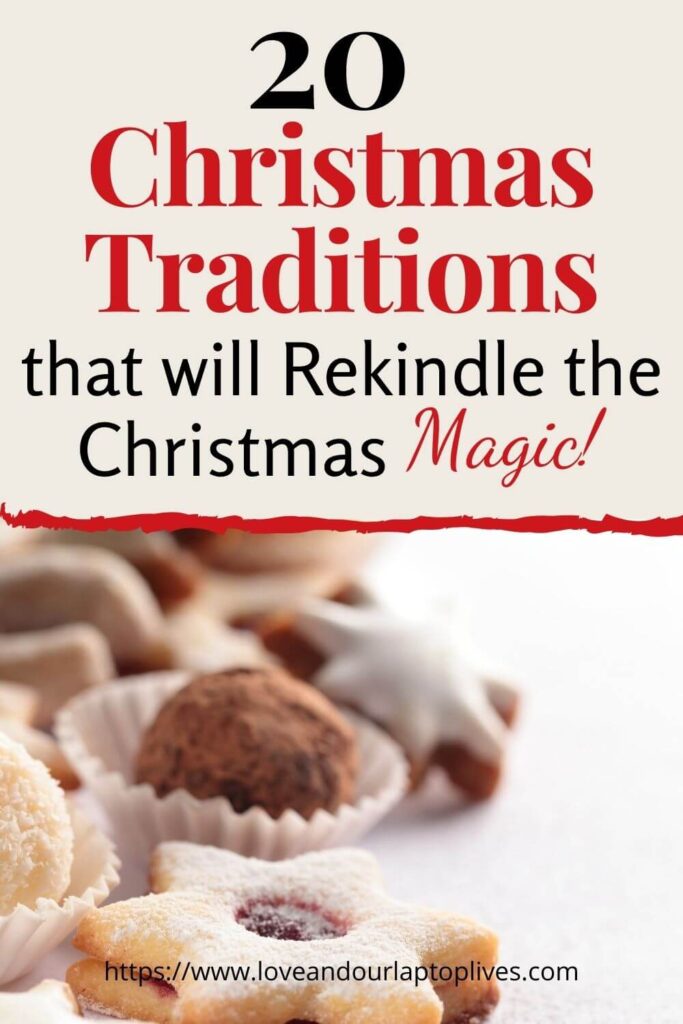 This post may contain affiliate or sponsored links. If you click on a link and make a purchase, I may receive a small commission (at no additional cost to you). Please see my full disclosure policy for details.
Almost Forgotten Christmas Traditions
Christmas traditions are something that families look forward to enjoying every year. Most of these traditions come from our heritage, making them individual for every family.
Some of these traditions seem to have disappeared. For some families, a few of these may still be bringing comfort and joy to your holidays. Maybe our list will offer you some ideas on new traditions for your family that will recapture the Christmas magic.
More Christmas ~

**Romantic Christmas Date Ideas
Baking Christmas cookies
My grandma would bake at least a dozen different kinds of Christmas cookies. Her kitchen and house smelled so good the entire month of December. I still use some of her original recipes written in her own handwriting. Yet there are a few recipes that were lost, and I wish a could duplicate them.
Chopping down a Christmas tree
Cutting down a Christmas tree was a tradition for many families. Some would make a day of it, venturing to the woods, choosing the right tree, and letting everyone take a turn cutting. The kids loved going out into the woods.
Cutting down a tree is a tradition that is said to go all the way back to Martin Luther. He cut down the tree and took it home to share the beauty with his wife. Once inside, he placed small, lighted candles on the branches and said it would be a symbol of the beautiful Christmas sky.
Christmas eve pageant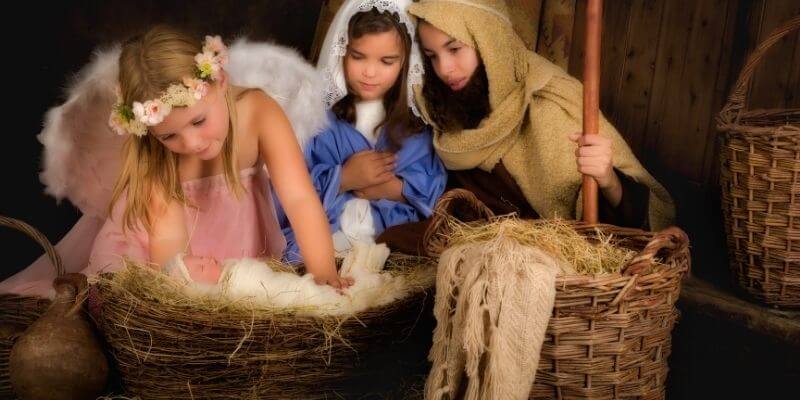 The Christmas pageant is a play that recreates the story of the Nativity. It usually takes place at church on Christmas eve. Kids in the church would practice for weeks, and on Christmas eve, all the families in the community would come together to watch the recreation and celebrate.
In many churches, kids would be excited about receiving a bag of peanuts, an orange, and chocolate as they left the church.
New Christmas clothes
Getting all dressed up on Christmas eve, in new clothes that were fancier than new school clothes, was a Christmas tradition for many. This is still a tradition for a few, but unfortunately not a Christmas tradition the way it was in years past.
Hanging Christmas stockings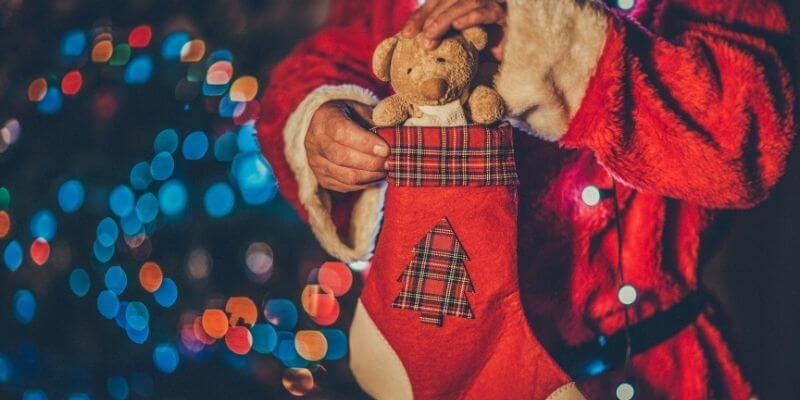 Hanging the stockings by the chimney with care is a long time tradition that is still part of many families today. The Christmas stocking tradition is thought to have originated from the life of Saint Nicholas.
Although this tradition has changed over the years, long gone is the practice of hanging real stockings by the fire to dry in hopes that Santa will fill them. This has been replaced with fancy store-bought stockings.
More Christmas

**Christmas Gift Ideas for Travelers
A pickle Christmas ornament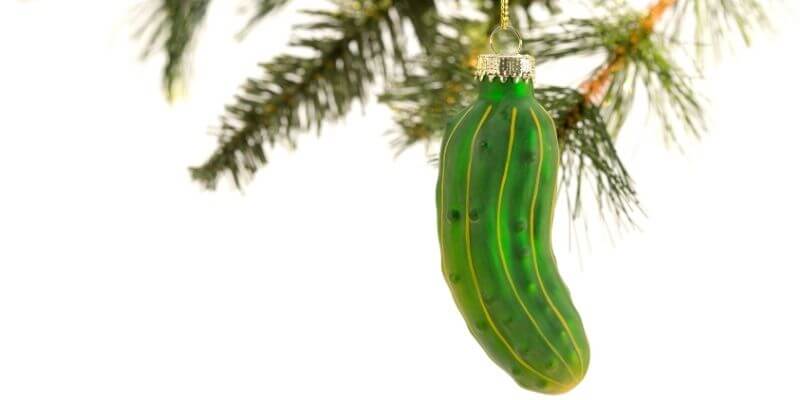 Each Christmas tree in our family has certain ornaments that hang within the branches. One of them is green and not always easy to spot. It is a Christmas pickle! If you have shopped for ornaments, I am sure you have seen this ornament and wonder why anyone would put a pickle on their Christmas tree.
As a child, it was so much fun to look for the pickle on grandma's tree. I always helped her decorate her tree and never saw the pickle until Christmas eve. The fun was in trying to find it wondering when she put it there.
When my kids were little, I enjoyed watching them circle the tree, looking for the pickle. This Old World Holiday tradition says it is good luck to be the first person to spot the pickle among the branches. I have also heard a variation of this tradition where the first child to find the pickle gets an extra gift, gets the first gift of the evening, or gets to hand out the gifts. Many believe this is a german tradition that was brought to this country.
Hanging mistletoe
Mistletoe is thought to be a plant that possesses mystical powers that bring good luck. People hung it in their homes to ward off evil spirits, and it was used as a sign of love and friendship. Kissing under the mistletoe was first illustrated in the first version of "A Christmas Carol," which might have made it become a popular forgotten Christmas tradition.
Mistletoe has also been associated with weddings because of the plants association with fertility. Mistletoe sounds like it has many interesting qualities.
Christmas Tom and Jerry's
Tom and Jerry is a frothy and comforting drink that is perfect for chasing the chills away. It is also known as a traditional Christmas cocktail. It is a variation of frozen eggnog, brandy, and rum. It is served hot and sprinkled with nutmeg.
My dad was always in charge of making Tom and Jerry's for guests. He made the drinks strong and good!
Tom and Jerry can still be purchased in the frozen department of the grocery stores and liquor stores.
Christmas crackers
Christmas crackers are a Christmas tradition that originated in the UK. The tradition dates back to the 1840s. Crackers today are made of short cardboard tubes wrapped in colorful paper. They are filled with a party hat, a toy or gift, and a festive joke. When the cracker's ends are pulled simultaneously, the cracker pops open, and goodies fall out.
On Christmas, a cracker is placed by each dinner plate on the Christmas table. Guests can pop their crackers before dinner or at the end.
Crackers are typically known for their bad jokes and the hat in the cracker looks like a crown and is thought to symbolize the crowns that the wise men might have worn.
Sleeping under the Christmas tree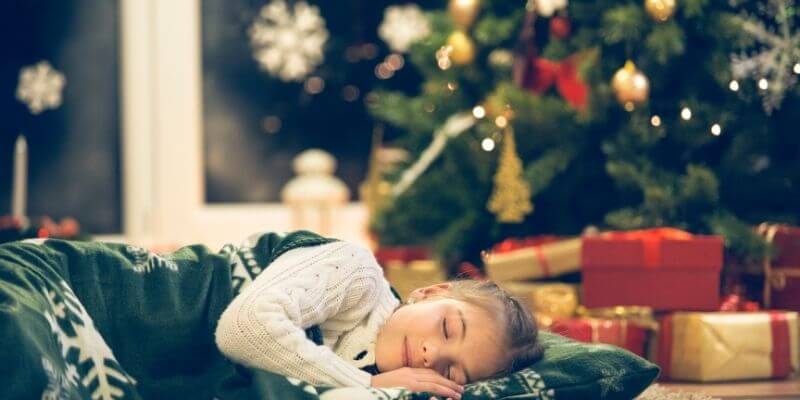 Who doesn't remember the anticipation of waiting for Santa on Christmas eve? It was a Christmas tradition in our house to want to stay up to catch Santa in the act that my brothers and I would fall asleep under the tree.
I want to think that this is a Christmas tradition that has not been forgotten.
Visiting Santa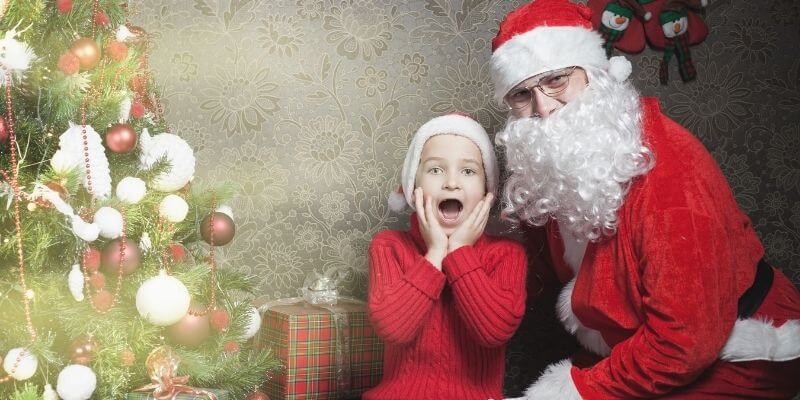 Making a list for Santa and going to visit him was the highlight of all of our Christmas traditions. When I was young, Santa's village was built in the cities downtown, decorated with lots of lights. It was a special evening when we got to stand in line, outside, waiting for our turn to go into Santas workshop and tell him what we wanted for Christmas.
Sending out Christmas cards
The Christmas tradition of sending Christmas cards has been traced back as far as the 16th century. Throughout the years, Christmas cards have changed, and so has the Christmas card tradition.
Over the years, Christmas cards have been used to share family adventures throughout the year, new additions, a move, and even the excitement of family vacations. Christmas cards were sent with family newsletters in them.
Thanks to social media, families no longer have unshared news at Christmas, and cards seem to have been replaced with a quick email greeting saying "Merry Christmas." I hate to say it, but I am guilty of this!
Taking a sleigh ride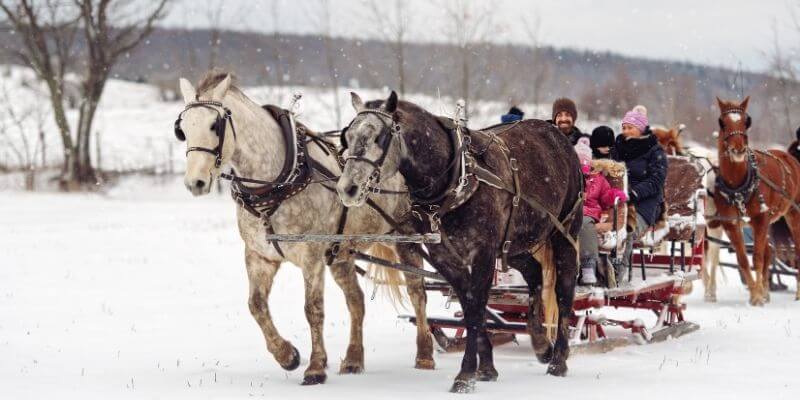 There is something about the winter snow, families, and the Christmas season that makes us want to add nostalgia to the season. It's the perfect time to take a sleigh ride. It lets us slow down and enjoy the best parts of the Christmas season.
Farm families would sleigh out to the woods to choose the perfect tree for their home.
Today the Christmas tradition of going to the wood to get your own tree is almost nonexistent, and so is the sleigh ride to the woods.
Listening for the animals to talk at midnight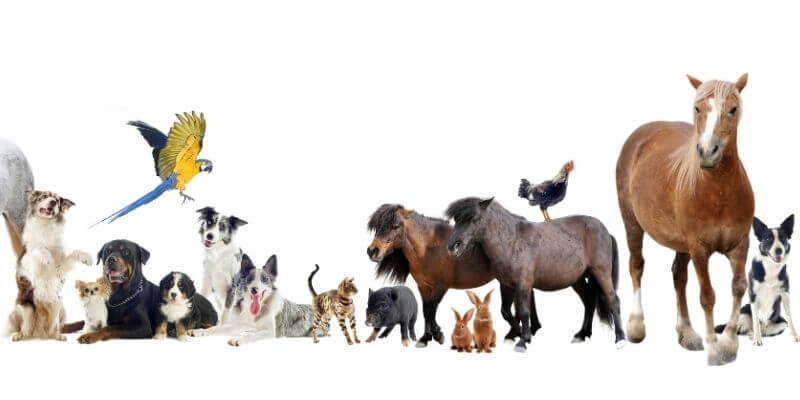 According to a legend, on Christmas eve at midnight, the animals gain magical powers and can talk. Some of the legends say that the animals can talk to each other.
Over the years, kids have waited up not only for Santa to come down the chimney but also to see if their pets could talk.
Old fashioned tinsel on the tree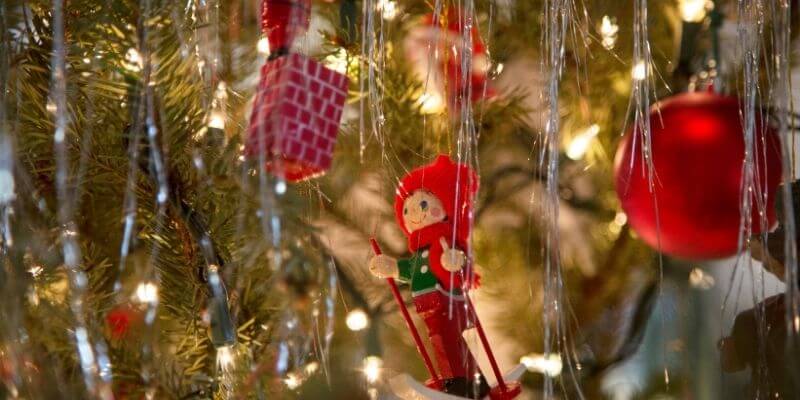 The very thin tinsel that was used to adorn our Christmas tree was invented in the 1600s. It was originally used to decorate sculptures. It was later added to the Christmas tree to enhance the flickering of the candles on the tree.
The tinsel represented the starry sky over Bethlehem.
Stringing cranberries and popcorn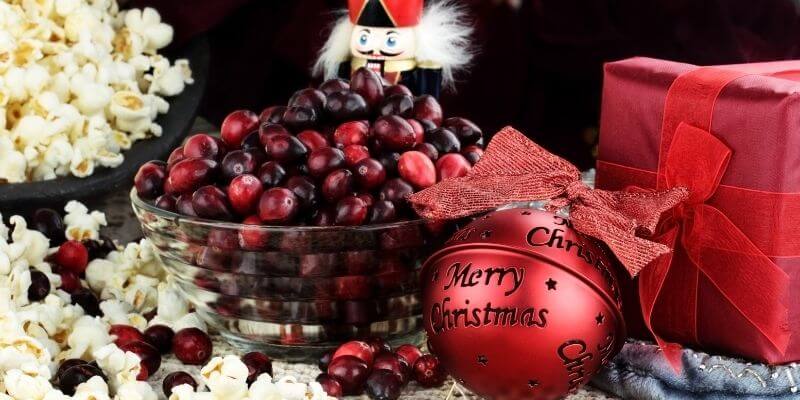 The first Christmas trees were decorated with fruit and other items. The Christmas tradition of stringing cranberries and popcorn into a garland to wrap around the tree was born from this. One perk of stringing popcorn was munching on popcorn while you worked.
When money was tight, a DIY approach was taken when decorating the American tree, and stringing popcorn was seen as a treat.
Yule log cake
The yule log cake is an elaborate creation made of rolled sponge cake frosted with chocolate to look like tree bark and decorated with meringue mushrooms and other edible decorations.
The yule log is a French Christmas tradition that dates back to the 19th century. The cake is meant to represent the yule log that families would burn starting on Christmas eve. The yule log represents the new year and would bring good luck to families that burned one.
A train around the Christmas tree
A train was the most popular gift to give for Christmas. Yet even more perfect to set it up around the base of the tree. Toy stores would display the Christmas trains at the base of the tree. Over the years, these gifts became a permanent fixture under many trees.
Advent Calendar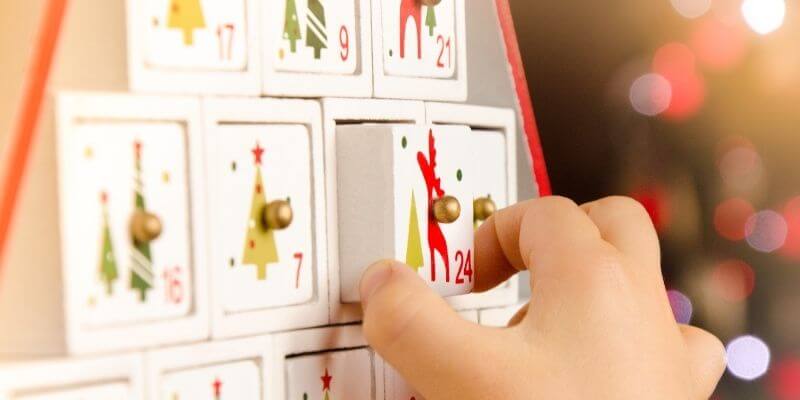 Advent calendars are a tradition born in Germany. Families enjoy advent calendars as a way to build excitement with a count down to Christmas.
There are many different kinds of advent calendars, some have treats, toys, or trinkets, and you get to open one door each day. Other calendars have a Santa or character that they move closer throughout the calendar until it reaches the last day.
Our family had a nice wooden calendar that we used each year. As you opened the doors during December, it reviled the Nativity story.
Reading the Christmas Story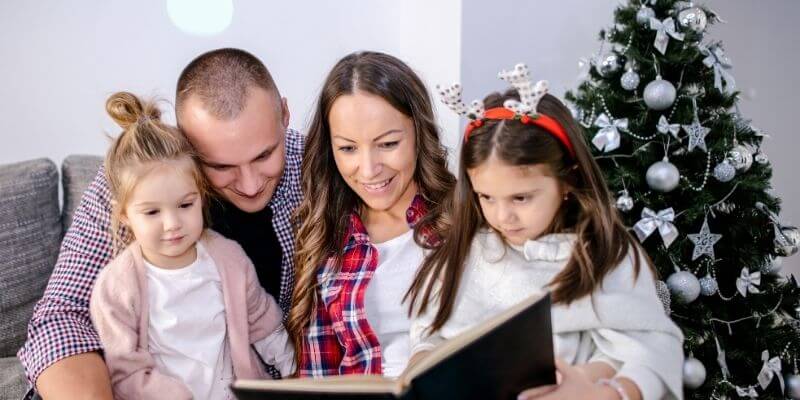 Picturing parents reading a Christmas story to children put a smile on my face. It was a tradition for parents and grandparents to read either The Night Before Christmas or the Nativity story to their children right before bedtime on Christmas eve for many years.
This isn't a practice I hear much of today, but it is something that will always be part of our families Christmas traditions.
---
Our German heritage gave us many of these traditions. What have I missed? I would love to hear about the family tradition that your family still enjoys today and one that you remember from your childhood that may have slipped away.