"Bathhouse Row is a collection of eight bathhouses that date back to the early 1900s.
A visit to Bathhouse Row Hot Springs National Park should be on your bucket list."
A stop at Bathhouse Row Hot Springs National Park in Arkansas was not on our list of places to stop at when we were traveling from Wisconsin to Texas, but this was our honeymoon trip, and we had extra time on our hands. Gary decided we were taking a detour 20 minutes before the exit to Hot Springs. That is one of the advantages of road trips. When you feel like a detour, they are right around the corner.
Our stop at Bathhouse Row in Hot Springs was one of the most romantic and exciting detours we have taken, and we are looking forward to many more.
What to pack for a road trip will help you be prepared when planning your road trip and help you know what to pack.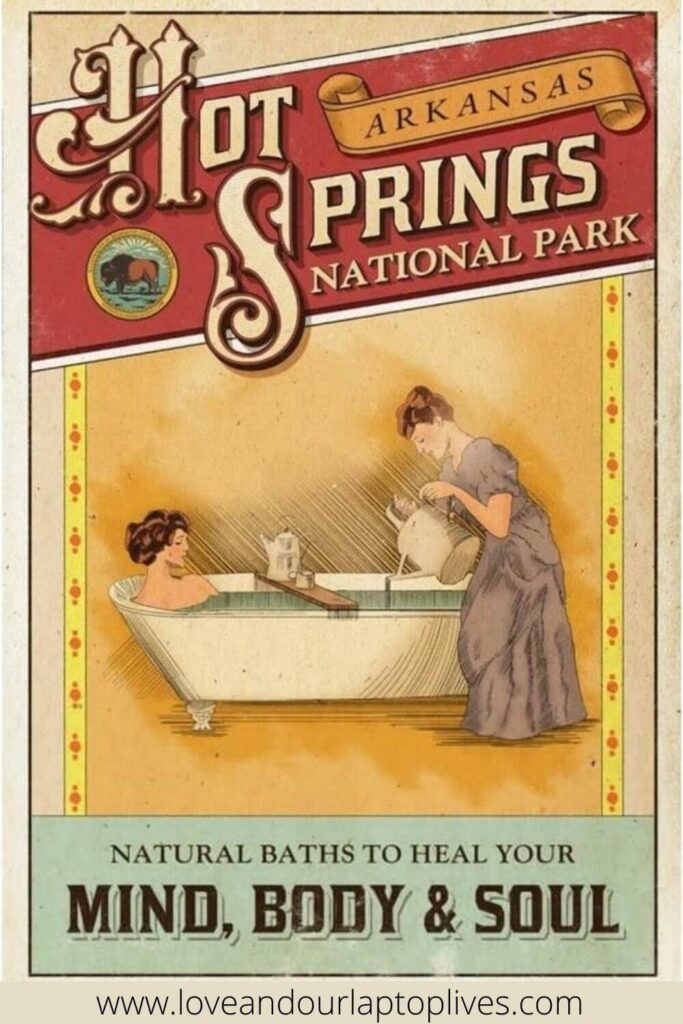 This post may contain affiliate or sponsored links. If you click on a link and make a purchase, I may receive a small commission (at no additional cost to you). Please see my full disclosure policy for details.
After the decline of bathhouse popularity Hot Springs, Arkansas, is again becoming a favorite tourist destination, with Hot Springs National Park located right in the middle of the city. Bathhouse Row Hot Springs National Park draws many people to the Hot Springs downtown.
When driving into town on the main street, one side of the street is considered Hot Springs, Arkansas, and the other side is Hot Springs National Park.
Hot Springs, Arkansas, is most commonly known for its collection of bathhouses. These bathhouses, built in the 1800s and early 1900s, make up what is known as Bathhouse Row. Each of the bathhouses is built over a natural hot spring. The water was siphoned into the bathhouses, where visitors could enjoy a soak in the hot mineral water.
The History of Bathhouse Row Hot Springs National Park
No one knows when the first American came to Hot Springs. Native Americans referred to Hot Springs as the "Valley of Vapers" It was known as a place where tribes could put their difference aside and enjoy the healing powers of the hot springs.
Guided by Native Americans, in 1541, Hernando de Soto was believed to be the first European explorer to enjoy the thermal springs. In 1804 a scouting party was sent out by Thomas Jefferson to explore the area. Then in 1832, 40 years before Yellowstone became a National Park, United States Congress declared Hot Springs a Reservation, a place to be preserved for future recreation. Then in 1921, the same area became a National Park.
Yellowstone National Park has always been referred to as the first national park, but many consider Hot Springs National Park the oldest. If you are going by the original date on which Congress declared Hot Springs a protected reservation, it would make Hot Springs the oldest National Park and the most unique of all the National Parks.
Hot Springs National Park was the first park to receive its own America the Beautiful quarter coin.
With the popularity of the hot springs in the 1800s, canvas huts were built for bathing areas. As the canvases deteriorated, wood structures were built. Those also began to deteriorate, and in the early 1900s as the popularity of Bathhouse Row Hot Springs continued to grow, permanent, very modern, and lavish structures were built to take their place.
Bathhouse Row Hot Springs, Then and Now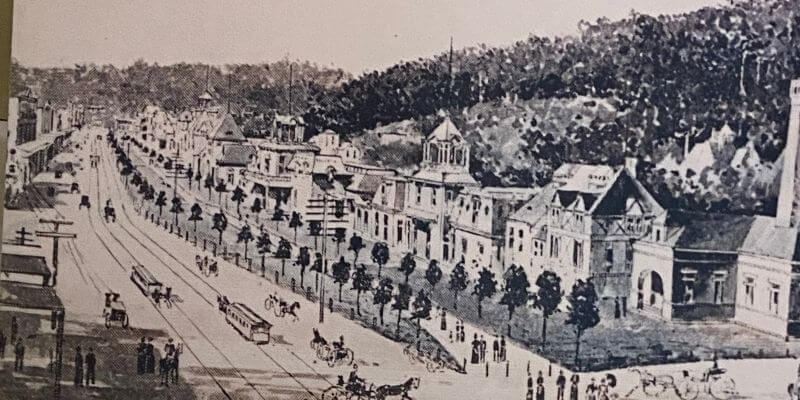 The healing powers of the thermal springs had people visiting the baths as early as the 1800s. Notorious gangsters such as Al Capone have visited the area frequently. Although gangsters and gambling are part of Hot Springs history, there were no major crimes in the area during that time. Could it be that just like the springs were a peaceful place for various native American tribes to gather, the area also became a place where crime took a break?
Hot Springs was The American Spa and was often referred to as "Spa City." During the early '20s '30s, and early 40s, the slogan for Hot Springs was "We Bathe the World." By 1946, the bathing industry had peaked, and Hot Springs bathhouses had given over one million baths.
Hot Springs National Park is the second smallest of all the National Parks. Surprisingly St. Louis Gateway Arch is the smallest National Park. Be sure to check out our visit to the St. Louis Gateway Arch. It was quite the adventure for Gary.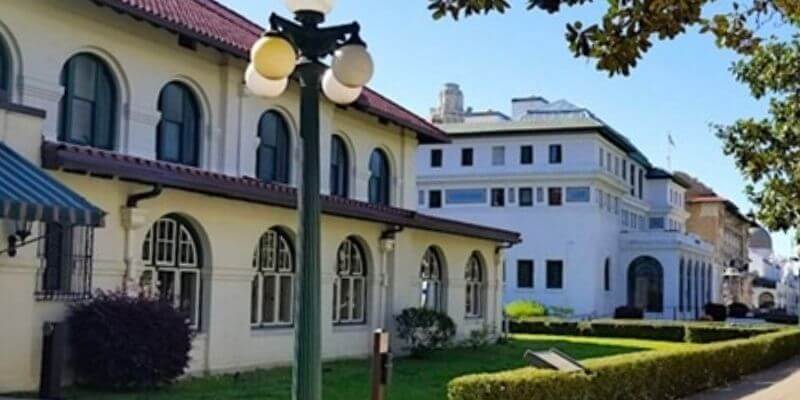 Today Bathhouse Row Hot Springs National Park is a warm and wonderful place to stroll and enjoy the beautiful architecture of the bathhouse buildings. Walking and enjoying the fresh air was invigorating as if the minerals were in the air from the water and had healing powers themselves.
The eight bathhouse buildings that still stand today were constructed between 1892 and 1923. Each building still stands as proud and beautiful as it did the day it opened its doors. Back in the early 1900s each of the eight bathhouses were operational and offered visitors a chance to enjoy the healing powers of the mineral water.
Today there are no soaking opportunities available outdoors. With a water temperature of 140 degrees, it would be an unpleasant experience. In town, there are two areas where small springs can be seen and even felt if you are adventurous.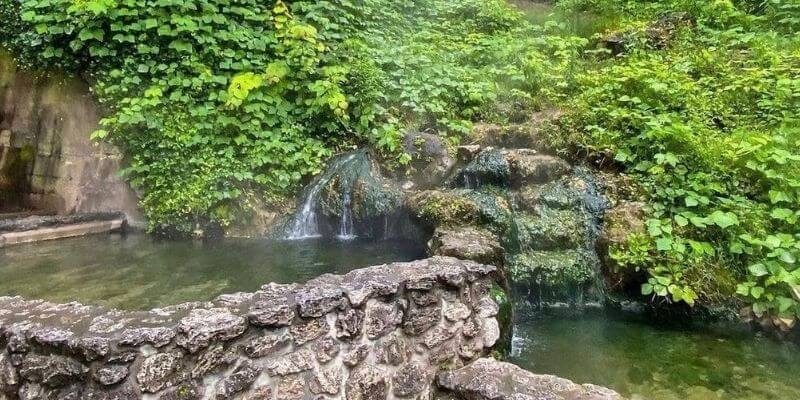 A small spring that you can dip your hand in, if you dare, is located behind the bathhouses.
There are still two bathhouses that offer visitors an opportunity to relax in a spa-like setting and enjoy the hot thermal water. Thermal spring water is still piped directly into the remaining two bathhouses, the same as in the early 1900s.
The two remaining bathhouses still operational today, The Buckstaff and The Quapaw, offer very different bathing and spa experiences.
Bathhouse Row, Bathhouses
Below is a list of the eight bathhouses that still stand proud in Hot Springs National Park. They are all located in a row right down the center of town. We enjoyed wandering through all of them. Even the no longer operational bathhouses give you a feel for what they would have been like in their glory days. We would love to hear which one you think would have been your favorite.
Buckstaff Bathhouse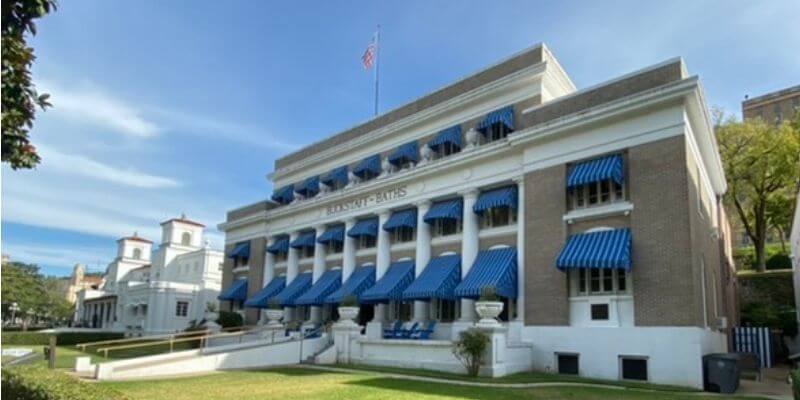 The Buckstaff Bathhouse opened its doors in 1912. It is the only bathhouse on Bathhouse Row in continuous operations since it opened its doors.
The Buckstaff is over 27,000 square feet and consists of 3 floors accessible by stairway or its original elevator. Since opening its doors, it has undergone many changes and is considered the best-preserved bathhouse.
The Buckstaff was one of two bathhouses to offer a large hydrotherapeutic department that used water in varying amounts, pressure, and temperature to relieve pain.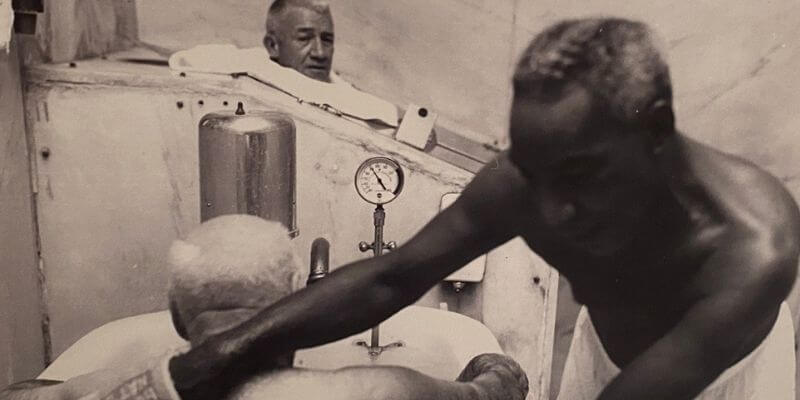 Today The Buckstaff offers its customers a traditional bathhouse experience. The very same bathing experience you would have received in the early 1900s. They use all the original bathtubs and equipment, making the overall experience extremely interesting. This kind of bathhouse experience may not be for everyone.
The Buckstaff also offers massages, manicures, pedicures, and facials to enhance your experience further. They also provide private tubs and separate facilities for men and women.
Over the years, the Buckstaff Bathhouse has hosted many prominent baseball players. The health benefits of the thermal water were the reason baseball came to Hot Springs. The players tended to drink a lot and believed that the hot bath regiment could boil out the impurities in their system.
Address ~ 509 Central Ave, Hot Springs, Arkansas
Hours ~ Tuesday – Sunday 8 am to 3 pm (By appointment)
Closed ~ Holidays
Quapaw Bathhouse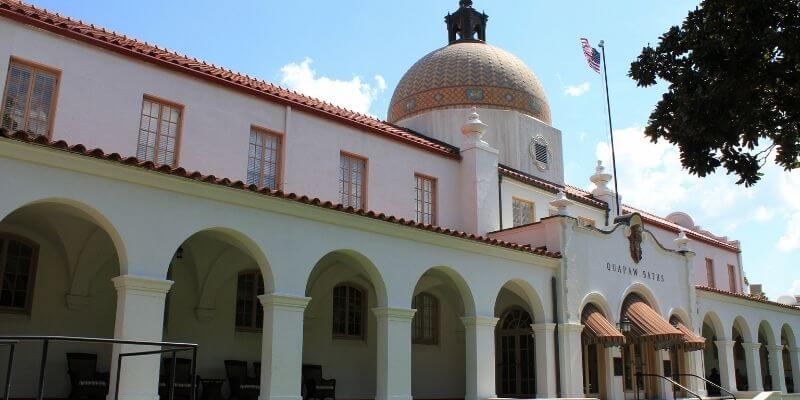 The Quapaw Bathhouse originally opened its door in 1922. It replaced two previous bathhouses when it was built, making Quapaw the longest building on Bathhouse Row. The Quapaw was named after the American Indian tribe that once inhabited the land in the area.
A unique feature of the Quapaw is that it has a natural hot spring in the basement that you can see. Most of the hot springs are hidden out of the public view. If you visit the Quapaw and use the steam cave, you can still see the spring through a window.
The Quapaw's doors closed in 1984 and reopened in 2008, ready to give visitors a more modern bathhouse experience.
The Quapaw offers private baths, four public pools, and modern spa services with amenities like massage therapy, esthetician services, thermal baths in public pools, or a private bath.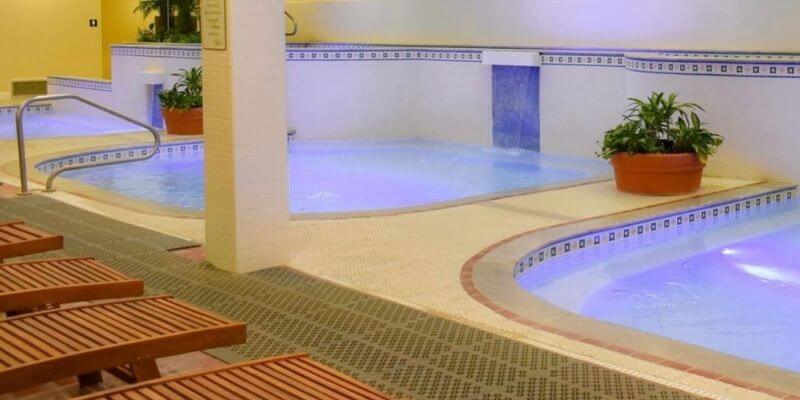 The Quapaw experience requires you to have bathing suits and flip-flops. For $20, you can spend time in one or all four of their thermal pools. Each pool is set at a different temperature. The hottest is 104, and the others are 102, 98, and 95. For your $20, you can enjoy the pools as long as you want. Reservations are not accepted for the pool area. It is strictly on a first-come basis. It is an experience that is well worth the wait.
The Quapaw is the perfect place for a romantic spa day together with that special someone. Take a private bath followed by a head-to-toe massage. This romantic time together will be worth every penny.
Ladies, after your romantic time, stop by the blowout bar, and they will have you looking fantastic for the rest of your date.
Address ~ 413 Central Ave, Hot Springs Arkansas
Hours ~ Wednesday – Monday, 10 am to 6 pm
Closed ~ Holidays
Fordyce Bathhouse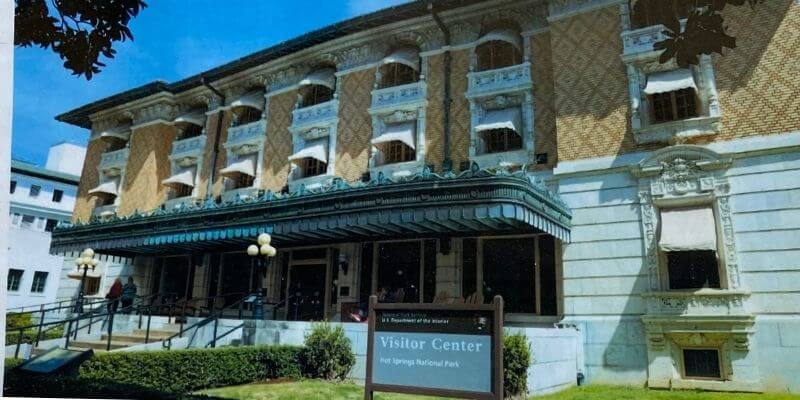 The Fordyce Bathhouse opened in 1915 and was the largest bathhouse on Bathhouse Row Hot Springs National Park. The Fordyce was a bathhouse for the wealthy and upper class. It was the most elaborate and the most expensive bathhouse on bathhouse row. The interior featured amazing stained glass windows, ceramic tile flooring, and interior fountains, including one fountain featuring De Soto.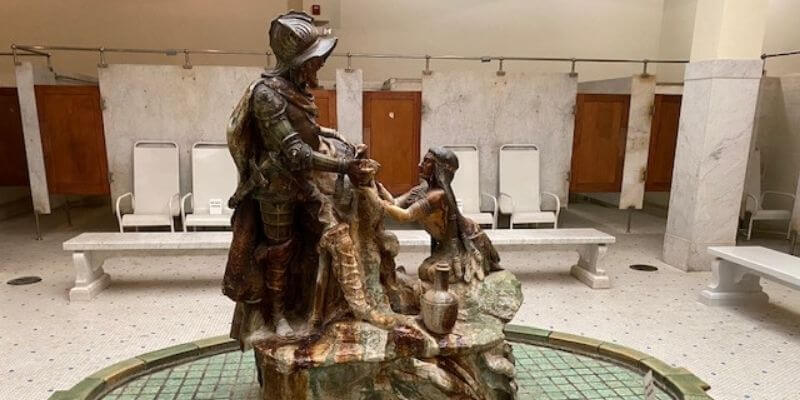 The Fordyce has three floors, a basement, and two courtyards. The third floor features a gymnasium.
A 1915 review listed Fordyce as the best bathhouse on Bathhouse Row Hot Springs National Park.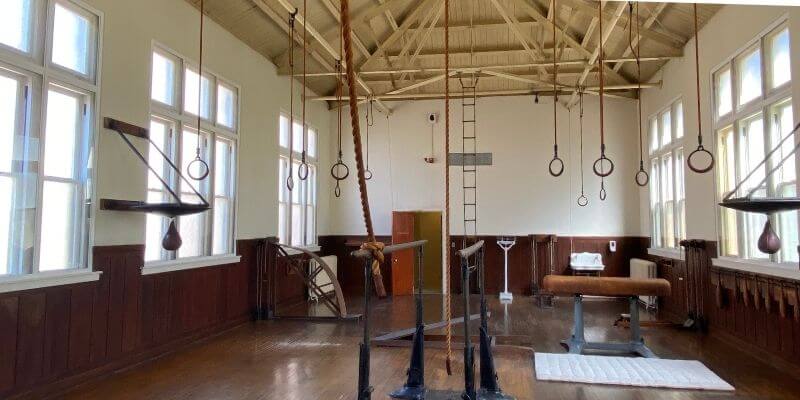 When the popularity of bathhouses started to decline, The Fordyce was the first bathhouse on Bathhouse Row Hot Springs National Park to close its doors.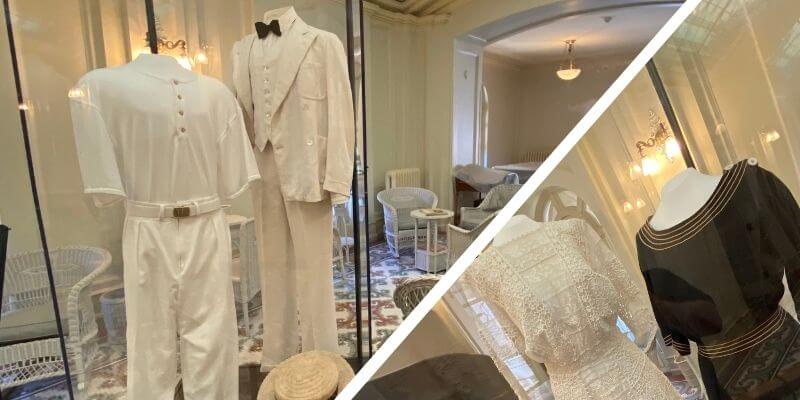 In 1989, the Fordyce Bathhouse was extensively restored and serves as a historically furnished museum and functions as the park's visitor center. You can take a self-guided tour through the Fordyce Bathhouse and see what it was like as a working bathhouse.
Address ~ 369 Central Avenue, Hot Springs
Hours 9 am to 5 pm daily Closed ~ Holidays
Superior Bathhouse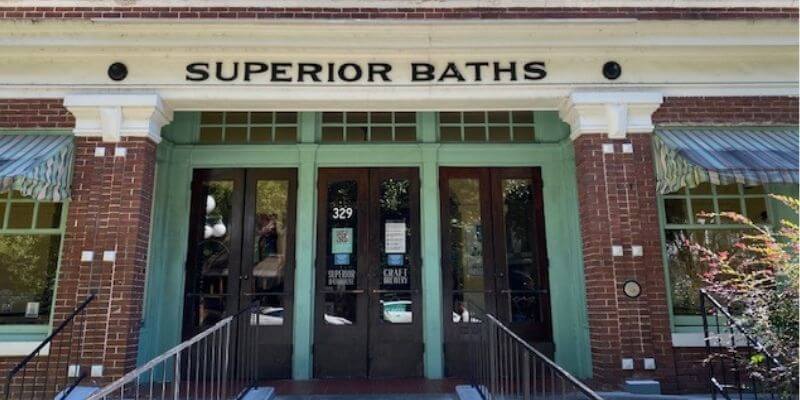 Superior Bathhouse was the smallest of all the bathhouses on Bathhouse Row. It opened its doors in 1916 and only offered basic hydrotherapy and massage services. Superior Bathhouse was also known for having the lowest rates. It closed its doors as a bathhouse in 1983.
Today the Superior Bathhouse is known for something very different. It is home to Superior Bathhouse Brewery, the only brewery located in a United States National Park. It is also the only brewery to brew its beer and root beer using thermal spring water as its main ingredient.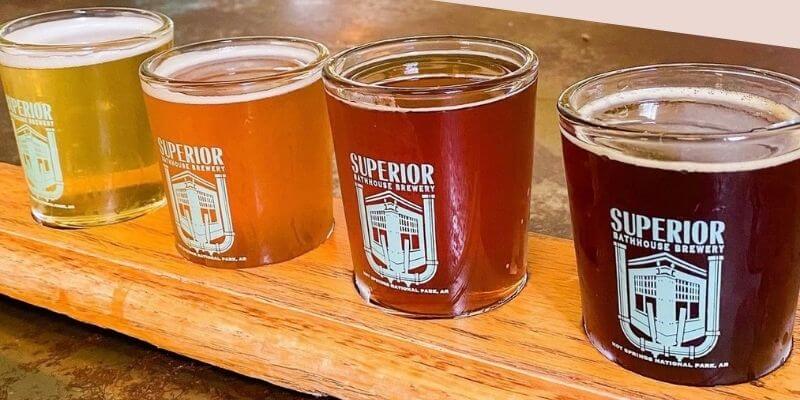 Superior Bathhouse Brewery is a full-service, family-friendly restaurant and beer tasting room.
A stop on Bathhouse Row would not be complete without a visit to try "Hot Springs On Tap." It was definitely our favorite stop of the day.
Address ~ 329 Central Ave. Hot Springs, Arkansas
Hours ~ Sunday, Monday, Wednesday and Thursday 11 am – 9 pm
Friday and Satu day 11 am – 10 pm
Closed on Tuesday
Maurice Bathhouse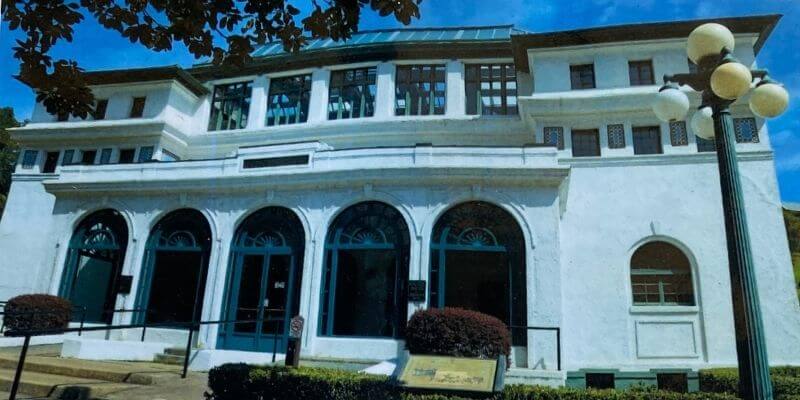 Maurice Bathhouse opened its doors in 1911. Their Victorian-style set the standard for all the other bathhouses. They offered a complete range of services. It was the only bathhouse to provide services for polio and other muscle ailments.
The three-story bathhouse with sea creature-laden stained glass ceiling in the bath hall included a gymnasium, a rooftop garden, and a once very popular amenity, a sizeable therapeutic pool. The Maurice Bathhouse was the only bathhouse on Bathhouse Row with a pool.
It has only been in the last 10 to 15 years that Bathhouse Row Hot Springs National Park has regained its popularity. Many of the bathhouses that had been closed are finding new life. The Maurice closed its doors in 1974 and is the last bathhouse still waiting for a new owner to bring life back to this magnificent building.
Ozark Bathhouse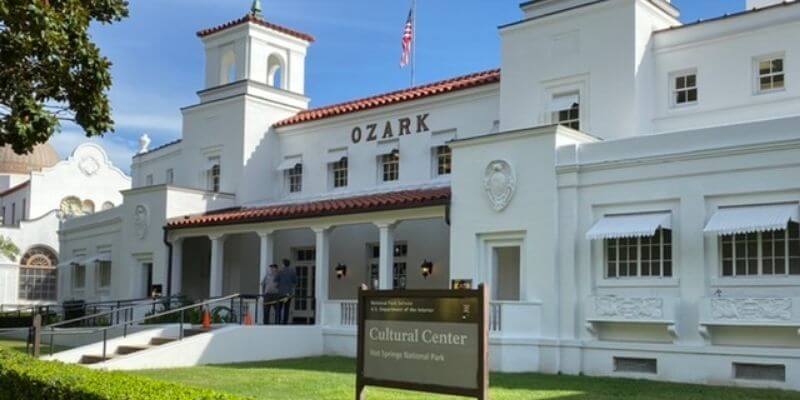 The Ozark Bathhouse opened its doors just on the heels of the Quapaw. The appearance of the Ozark was more lavish on the outside than it was on the inside. With only 27 tubs, the Ozark catered to the middle-class bather that wasn't looking for or could not pay for extra frills.
The Ozark Bathhouse closed its doors in 1977 and reopened as the Ozark Bathhouse Cultural Center in 2014.
Today it displays the artwork for the park's Artist in Residence program. It is a venue for park events and programs. Admission is free, and the displays are open to the public on Friday, Saturday, and Sunday afternoons.
Address ~ 491 Central Ave. Hot Springs, Arkansas
Hours Friday, Saturday, and Sunday, noon to 5 pm
Hale Bathhouse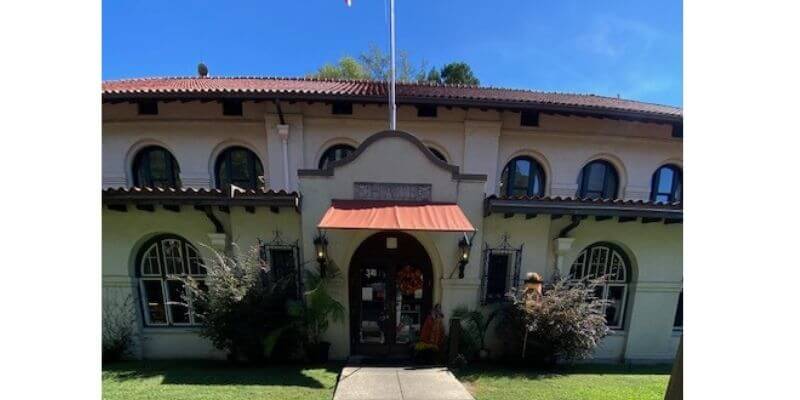 Hale Bathhouse is the oldest standing bathhouse. A unique feature of this bathhouse was that it was connected to a thermal cave that was carved out of the mountain and was used as a "hot room."
Although it is currently not operating as a bathhouse, Hale Bathhouse has been converted into Hale Hotel. Guests staying the night in the historic rooms of the hotel can experience the thermal mineral water baths in each of the hotel rooms.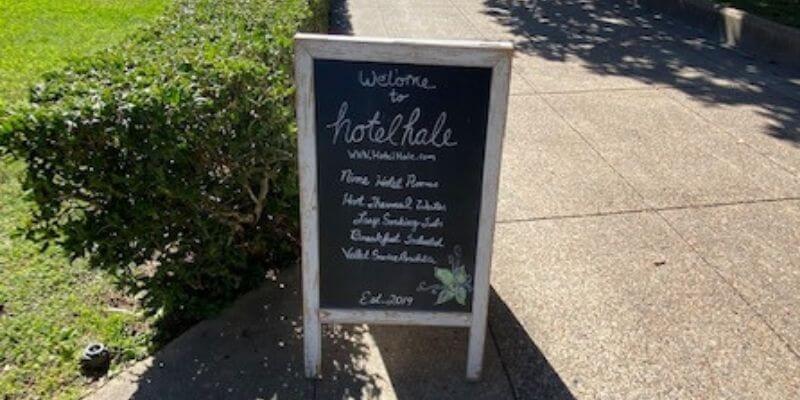 The Hale House is a boutique hotel, restaurant, and bar featuring a mix of modern and mid-century modern styling.
---
Find Hotels Near Bathhouse Row
Tips for your visit:
*Many of the things on Bathhouse Row are closed on Tuesday. It is still pleasant to visit the things that are open, but you will miss some things if you are only going on a Tuesday.
*Don't forget to pack your swimsuit and flip-flops. At times the Bathhouse requires them
If spending the night in a historic bathhouse is on your bucket list, you can make a reservation right here online.
---
Lamar Bathhouse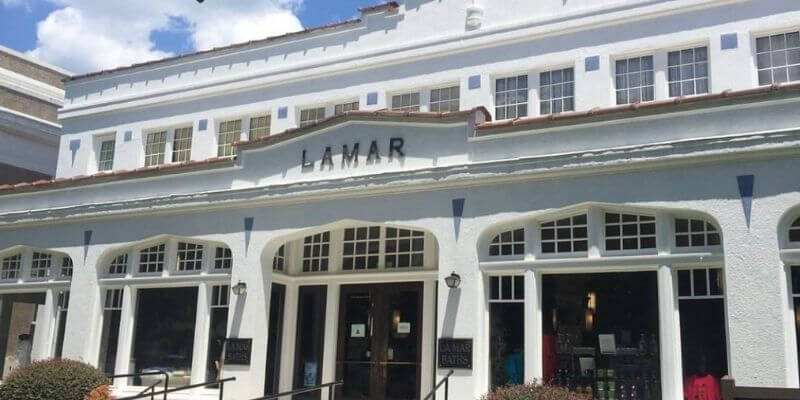 The Lamar Bathhouse opened its doors in 1923, replacing a previous wooden structure. One of the unique features of the Lamar Bathhouse was that it offered bathtubs of various lengths for people of different heights. It also provided a small coed gym and a separate area for women.
The Lamar closed its doors in 1985 during the decline of bathhouse popularity.
Today the Lamar is home to Bathhouse Row Emporium, the National Park Store at Hot Springs National Park. A park visitor can shop a selection of quality educational products and books that will enhance your National Park experience.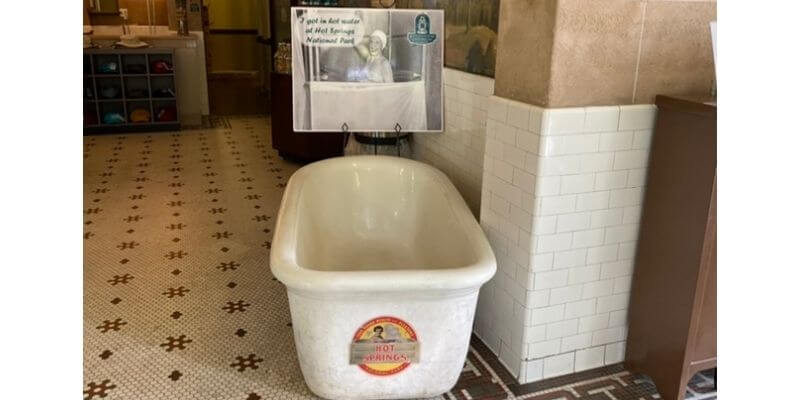 Bathhouse Row Emporium also has many original bathhouse fixtures on display.
Address ~ 301 Central Ave, Hot Springs, Arkansas
Hours ~ 9 am – 5 pm Daily
Closed – Holidays
Bathhouse Row Prices
The prices for the bathhouse will vary depending on the services you choose and the length of time for the service. The following is a general guide for the prices at the time of our visit in 2021.
Quapaw Bathhouse Prices
Public Thermal Pool ~ $20 per person, swimsuits, and flip flops are required.
Private Baths ~ $30 – $55 depending on the type of bath you choose. Private baths can be used single or as a couple. Clothing is optional in private baths.
Steam Cave Add on ~ $10 per person, swimsuits are required
Blow Out Service ~ $50-$80
The Quapaw also offers various spa services and specials: Swedish massages, hot stone, clay body wraps, foot scrubs, facials, and other body treatments, all at varying prices.
Inside the Quapaw public pool area is a cafe where you can grab a relaxing bite to eat.
Buckstaff Bathhouse Prices
Whirlpool Mineral Bath ~ $38, 20-minute whirlpool tub bath, sitz bath, vapor cabinet, and needle shower
Swedish Massage ~ $40, 20-minute full-body open hand Swedish style massage
Traditional Bathing Package ~ $82, whirlpool mineral bath, loofa mitt, and a 20-minute full-body massage
Deluxe Bathing Package ~ $94, whirlpool mineral bath, paraffin treatment for hand, and a 20-minute full-body massage
Bath add ons, for an extra cost, include choosing Loofah Mitt, Buckstaff Logo Loofah Mitt, or paraffin treatment for hands.
The Buckstaff also offers various spa services, manicures, pedicures, half facials, and full facials, all at varying prices.
Which Bathhouse is Best?
With each bathhouse offering close to the same services, but each in very different ways, only you can decide which bathhouse experience is right for you. We recommend you stay longer and enjoy both.
This is what to expect at each bathhouse.
Quapaw Bathhouse Experience
The Quapaw is a modern bathhouse experience in a historical bathhouse. They offer two modern-day bathhouse experiences. You have the choice of public or private.
The public pool experience is a great way to enjoy the benefits of mineral waters without a high price tag. They do not take reservations for the public pool. It is strictly on a first-come basis. When you arrive at the Quapaw, you check in and have your name added to the list. Bathers are spaced so that the pools are not overcrowded, allowing bathers time to enjoy the pools fully.
You may have a bit of a wait, but don't leave. If your name comes up and you are not there, they skip you, and you will have to re-add yourself to the bottom of the list.
To enjoy the public pool, you will need a swimsuit and flip-flops. Once you have paid and are checked in, they escort you to the locker room and give you a locker key and a wristband. Grab some iced tea or mineral water and head into the locker room to change.
You will need to thoroughly shower before entering any of the pools and wash off all your make-up and deodorant.
There are four different thermal water pools, each set at a different temperature. To help with your circulation, the idea is to first spend time in one of the heated pools and then in one of the cooler ones. Go back and forth doing this during your time in the pools.
In addition to your pool time, for $10 per person, you can add on time in the steam cave. The cave is built over a hot spring, and the steam from the spring fills the cave with mineral-rich steam.
The private bath experience can be booked and does fill up fast. So don't wait until the last minute to get private bath time. Private baths can be booked as a single or as a couple. There are many romantic couples packages online. Look through and find the one that fits your desires. Couples bath-time at the Quapaw is perfect for romantic time together.
Buckstaff Bathhouse Experience
The Buckstaff offers a bathing experience identical to what it would have been like in the early 1900s. The same bath fixtures, tubs, and such are still used today. For a truly unique experience, this is something you should try.
When you arrive at the Buckstaff for your appointment, yes, you will need to book your spot ahead of time. The men and women are separated and taken to the appropriate locker rooms. You will undress completely and wrap in a towel only. Once you are ready, your bath attendant will meet you and take you to the whirlpool or your first treatment.
The whirlpool room has many whirlpools all in the same room. The tubs are the original cast iron tubs from the early 1900s. Each tub is separated by a curtain, giving you a little privacy from the other bathers.
After you have soaked in the tubs, your bath attendant will come back in and use a loofa to rub your skin to increase circulation. Following your bath, your attendant will take you for a hot towel treatment, where your attendant will wrap your body with hot towels and your forehead with a cool towel.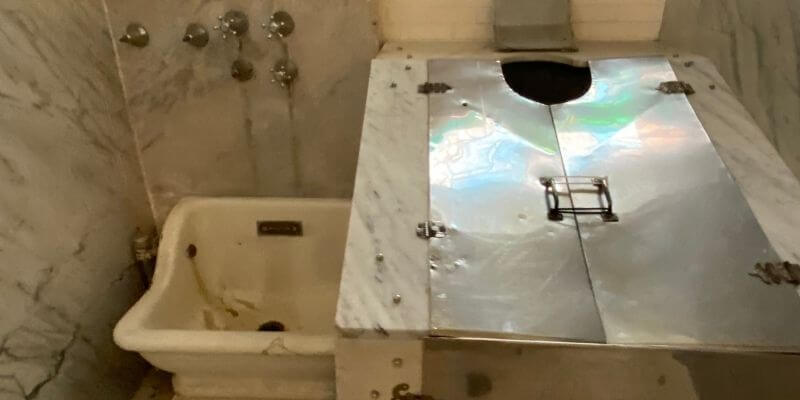 You will be taken for a sitz bath following your hot towel treatment. A sitz bath is where you will sit with just your bum in a small low tub of hot mineral water. Sitting with just your bum in hot water relaxes your hips and lower back.
Following the sitz bath, you will then go to the steam box. The steam box is precisely what it sounds like a metal box that you sit in with just your head sticking out. Your bath attendant will wrap a towel around your neck to trap the steam in the box. Be prepared to sweat like crazy.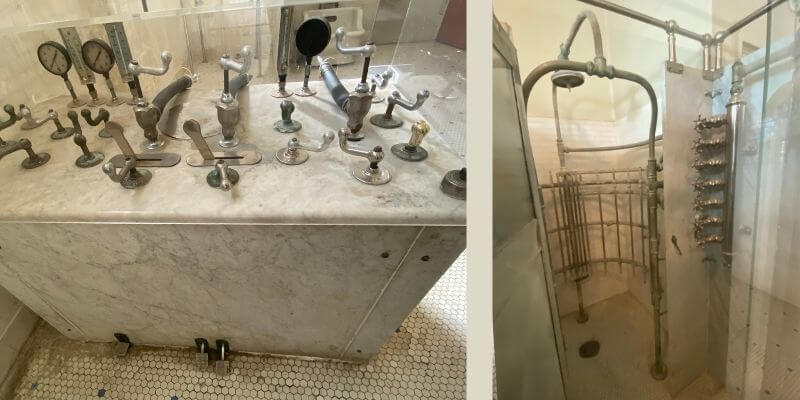 Your final bath experience is the needle shower. It sounds painful but is rather relaxing and invigorating. The water from the shower heads comes at you from all directions. Once you have showered, you are taken to a cooling room to lower your body temperature. After hanging out for 15 to 20 minutes, you can return to the locker room and dress.
Your bath attendant is with you throughout your entire bath time, and all of your bathing stations are in one large room. You are naked the whole time with just a towel. If you are modest or shy, this may be a very uncomfortable experience for you.
Each bath experience is very different. Only you can decide which bathhouse is right for you. How about trying them both?
Why is the Hot Springs Water so Hot?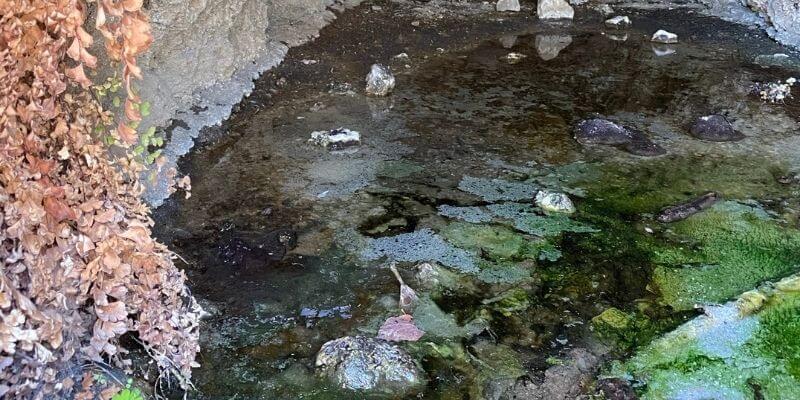 The Hot Springs is still being studied but, geologists believe that the springs result from a combination of specific rock types. The porous folds and faults in the rocks help create a path for the rainwater to travel deep below the earth's surface, slowly heating it as it goes along. Eventually, the water hits a fault line and moves back to the surface. It is believed the entire process takes about 4000 years.
As the water moves, the heat dissolves the minerals from the rocks. When the water reaches the surface, it is a piping hot 143 degrees and contains various dissolved minerals. This 4000-year process gives bathers the mineral-filled, healing water many come to Bathhouse Row Hot Springs National Park to enjoy today.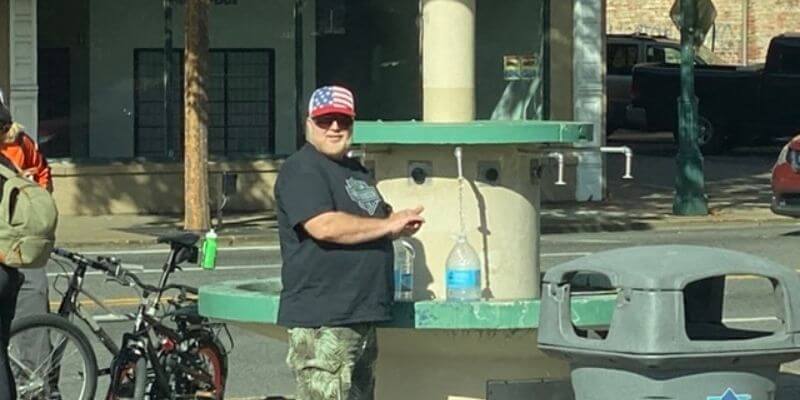 Not only is Hot Springs National Park's spring water great for soaking, but it is also completely safe to drink. Visitors of the park and Hot Springs area residents fill their bottles, jugs, and mugs to take the water home. There are also drinking fountains scattered throughout the park.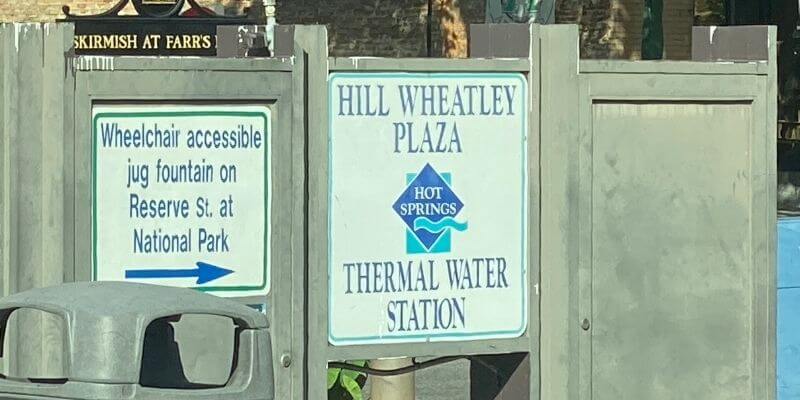 Is the water so hot you can steep your tea in it? Yes, it is! While we were filling our jugs to take with us, we were told of a lady who visits the fountain every morning with her mug and tea bag, brewing her tea with the hot water right from the fountain.
The Best Time To Visit Bathhouse Row Hot Springs National Park
We recommend visiting Hot Springs National Park when the weather is not extremely hot; spring or fall would be the best. February thru May or October thru December. We visited in October, and the weather was perfect. The Summer may be jam-packed with all of the summer vacation crowds, so unless you enjoy battling the crowds, we suggest avoiding the summer months.
Bathhouse Row is just the tip of what Hot Springs National Park offers its visitors. Hot Springs National Park will keep calling you back with three lakes, a booming downtown, Gulpha Gorge Campground, and over 26 miles of walking and bike paths.
Have you had a chance to visit Bathhouse Row Hot Springs National Park? We would love to know what you enjoyed most, what did we miss or maybe need to go back and do. Yes, I am looking for an excuse to have to revisit them.
Is a Visit to Bathhouse Row in Hot Springs National Park on your bucket list? Save this post on Pinterest so you'll have all the bathhouse information.