Slow Down and Enjoy the Unexpected Pleasure Life and Love Brings | Nueske's a Fun Find

There is a quote, "The finest of pleasures are always the unexpected ones." by Erin Morgenstern. What does this mean? There are apparent pleasures that you plan; a vacation, a romantic date night, a party, or even just a shopping trip with your friends. An unexpected pleasure, maybe something grand or something so tiny or surprising that you may overlook it.
Gary and I are determined to live life to the fullest. For us, that means that when an opportunity presents itself, we go off the beaten path and see where life takes us. Our life is filled with one unexpected pleasure after another thanks to this attitude.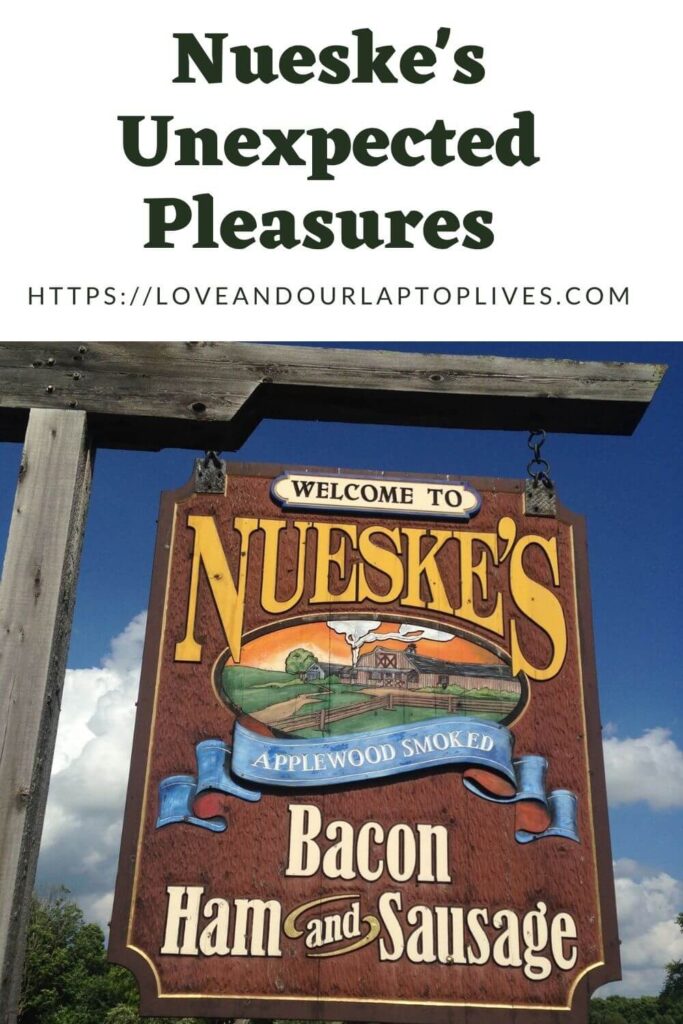 This post may contain affiliate or sponsored links. If you click on a link and make a purchase, I may receive a small commission (at no additional cost to you). Please see my full disclosure policy for details.
Many of our adventures are not ones that we plan or seek out. Some we stumble upon, and some draw us in. We recently kept seeing these unique little billboards on wheels saying Nueske's on a quiet romantic road trip together. After seeing several of them, we looked at each other and knew we had to take a detour and check it out.
These unique little billboards took someone with real creativity to come up with the idea. Nueske's small trucks were sure to hold an unexpected pleasure.
And what an unexpected pleasure these Nueske trucks lead us to find! We had stumbled upon a Wisconsin legend. This charming store is not someplace you would typically find us venturing to during a romantic outing, yet it turned out to be so much fun and so nostalgic. This find is a great reminder to always live in the moment. Slow down and take your time. Just enjoy being together.
Stepping inside Neuske's front door, we had to stop for a moment and take it all in. It was like a trip back in time with modern touches. We loved the rustic old appearance.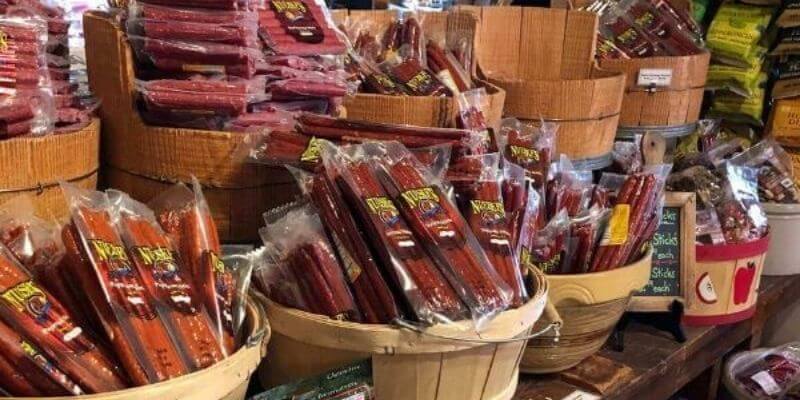 From the moment we stepped foot inside the door of Neueke's retail store, we were hit with the wonderful sights and smells of Neueke's. It was just enough to tantalize your taste buds and make your mouth water.
More of our Romantic Road Trips
Milwaukee A City Filled with Romance
Fragrant Isle ~ Lavender Farm ~ Washington, WI
Wisconsin Great River Road
House on the Rock ~ Spring Green, WI

The History of Nueske's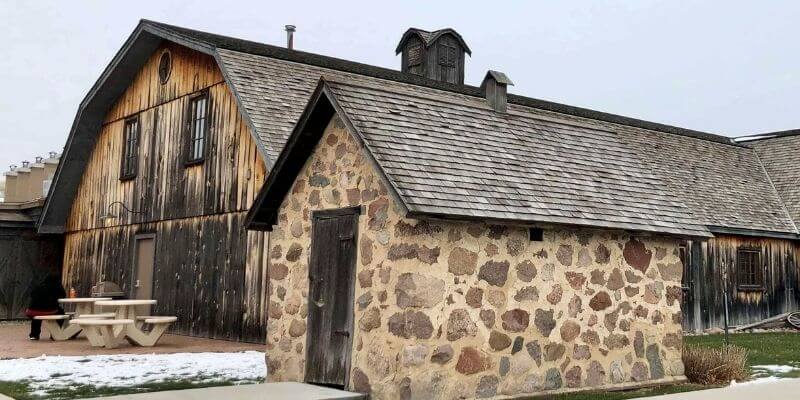 Nueske's is a third-generation family-owned business. The family ancestors came to Wisconsin in 1882 and brought with them the skills and recipes for Applewood smoking, spicing, and curing meat.

In 1933 the Nueske family couldn't find smoked meat as good as their own at home. Using their fathers' recipe, the family decided to produce their own products and take their smoked meats and sell them to friends, family, neighbors, and general stores in Wisconsin.
Still, during the depression, R.C. Neuske was confident his smoked meats were better than anyone could find elsewhere and knew they would sell. He was not only offering a great product but also something new and exciting to cheer them up.

So in a truck with a hand-painted sign, "Bob's Fancy Meats" filled with Applewood smoked bacon, ham, poultry, and sausage, R.C Nueske took to the road. This was the start of what has now became known as Nueske's.
As the business grew, R.C. Nueske was diligent in passing down the secrets of Applewood smoking, spicing, and curing meats. In addition to that, he took the time to make sure all of the little details were passed on as well, right down to choosing the right cuts of meat, blending the spices, and how to create the perfect glowing embers of Applewood for that excellent smoking meat.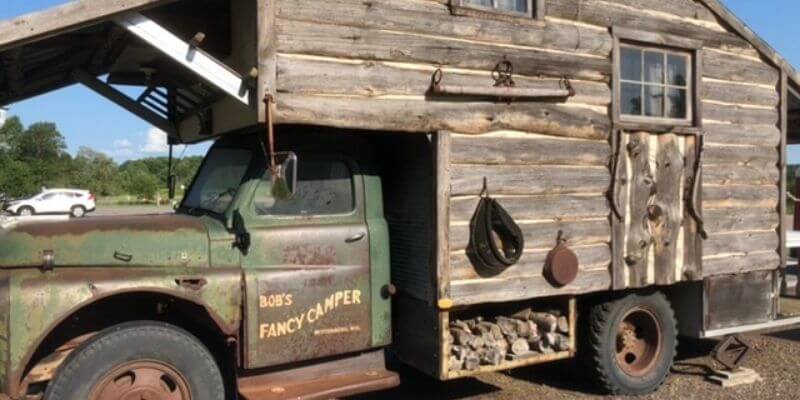 Nueske's small family business of smoking meat to perfection continues to be passed on from generation to generation. The recipe has not changed over the years. The same recipe that the Nueske's brought to this country is the same recipe used today. The smoking process is still the same, and the spices are imported and blended by hand. Now decades later, they still do it all by hand ~ no assembly lines or mass production.
In 1970 a fire struck the company, and the family had the choice of giving up or starting over. Many are thankful for their decision to start over and build something new.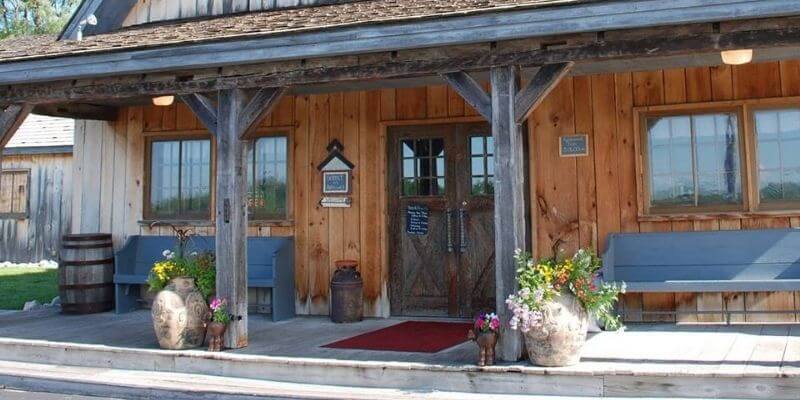 A large facility was constructed with the addition of a storefront. In 1980 Nueske's opened its retail doors to the public and waited for people to find them. This being before the World Wide Web, they had to rely on word of mouth.
The customers that did find them thought Neuske's was a restaurant. So Neuske's started offering samples. This greatly increased their word of mouth advertising.
Neuske's has stayed a family-owned business, just the way R.C. Neuske would have wanted it.
The charm of finding an unexpected pleasure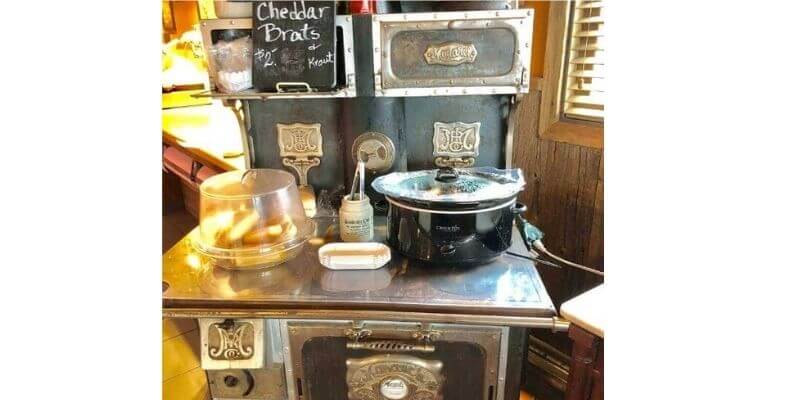 It is not surprising that we found so many things that day to fill our freezer. The sampling still works. Being able to try and then buy tantalized us to keep adding one more thing to our pile on the counter.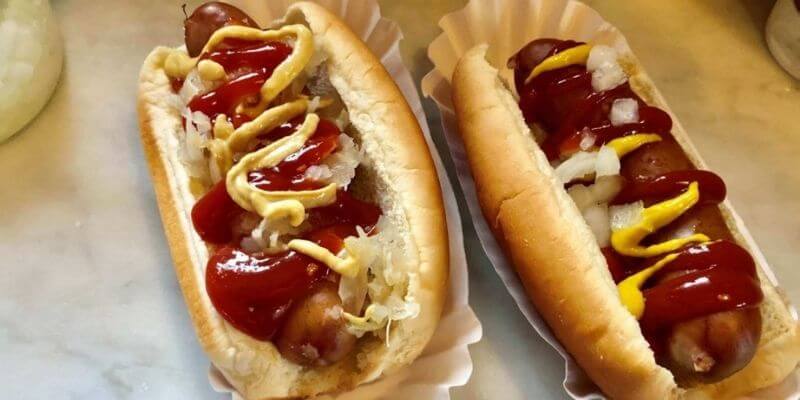 Before leaving, with arms full of smoked goodies, we noticed a sign. "Build your own brats." Of course, we had to give them a try. YUMMY!!
This also meant now we had to buy some brats to take home with us.
Sometimes life takes you down unexpected and unplanned roads. Together Gary and I are enjoying every one of those moments no matter what road we are on. At the moment, Gary is enjoying every moment of the journey we are on together almost as much as he is enjoying his Nueske's brat.
This is one of our favorite recipes using Neuske's Bacon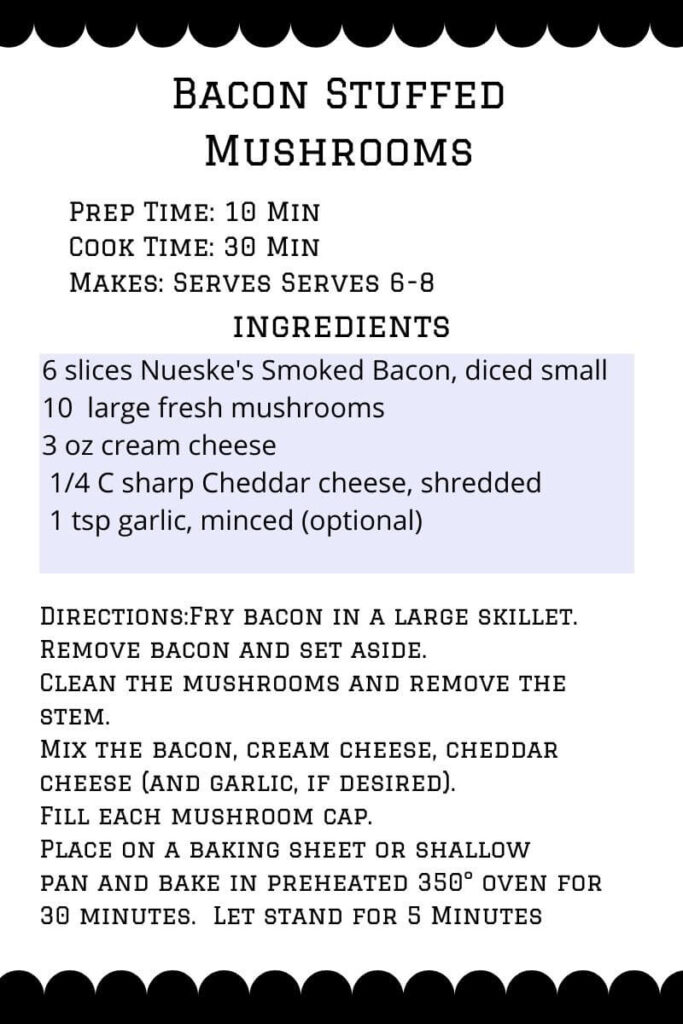 Check out more of our Neuske pictures HERE
Neuske's County Store Address: 1390 E. Grand Ave., Wittenberg, WI
Hours: Monday through Thursday 8:00 a.m. to 5:30 p.m.
Fridays from 8:00 a.m. to 9:00 p.m.
Saturday from 8:00 a.m. to 4:00 p.m.
Sundays – closed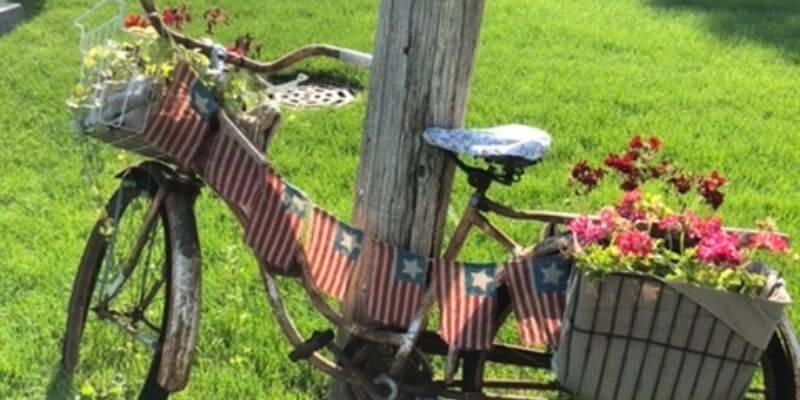 Always be open and willing to go where ever those roads take you. Years ago, Gary and I decided to go down one of those unplanned roads that brought us together. We are loving every minute of this life we are building. When you are on that road with the right person, every adventure is worth taking. Some may even get you some delicious food. 😊 Be sure to check out their thick-cut, black pepper bacon. It's one of our favorites.