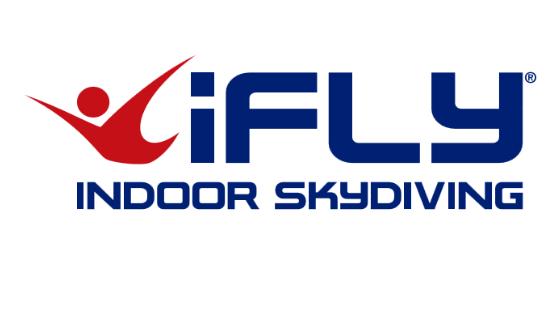 "Let's go indoor sky diving," Gary says! What….you have got to be kidding? This can't be real?  With Gary, you never know.  LOL! He is always coming up with something for us to try. Secretly I really like that! Just don't let him know that.
Yes, iFly is real, and their website says, "where dreams of flight become a reality. You'll fall in love with the sensation and the freedom that comes with floating on air".
That would imply that I have dreamed of flying. I can't say I have, but the more I think about it, the more intrigued with the thought I become.

Yet, we are not as young as we use to be. Is this something we can do?
We decided to go check it out and watch. There is no harm in that. Michelle had a chest cold on this trip and was concerned about the air pressure during flying. But then again, we were going to watch.
Have you ever wanted to try skydiving? Stepping out of that airplane several thousand feet in the air. I'm sure it gets the adrenaline flowing for many. Yet, at the same time, many of us would prefer to keep our feet planted firmly on the ground. Indoor skydiving might be a great alternative, a combination of skydiving and not having to go up several thousands of feet in the air. According to our instructor, the sensation is very much the same.
Indoor Skydiving is a skydiving experience without a parachute or airplane: just the jumpsuit, helmet, goggles, and the smooth column of air in the wind tunnel. The air in the wind tunnel is moving so quickly that it floats a person in mid-air. One of the best things is that you don't have to experience that feeling of falling.
It seems one of the advantages of indoor skydiving is that almost anyone with reasonable health and fitness levels can try it.  We saw a young girl age 4 trying it and couples older than us.
Really this is exciting! They seem to be floating. Young and old seem to be totally enjoying themselves. Having watched, I knew this was something we needed to try. So we ventured to the counter to get more info. Everyone was so nice and explained everything along the way.
First, we signed a waiver and then got our flight jumpsuits on. I even got Gary to show off his talents at braiding my hair. He is getting really good.
After we were in our jumpsuits, we watched a training video that showed us what to expect and how to position our body, arms, legs, and hands for flight. Johnny, who would be our flight instructor, Johnny came in and asked if we had any questions. He then explained a little more in-depth about what we had just seen in the video. Johnny was so nice. He instantly put me at ease and genuinely wanted us to have the best experience possible.
We definitely did have a great time. We will do it again!!
If this is something that we can do, so can you!! Overall, more there are more than 70 iFly locations worldwide. Check out their website: https://www.iflyworld.com/
Make sure to tell them Love & Our Laptop Lives sent you.